Just because it's called "pudding" doesn't mean it's only reserved for dessert. It's actually a good thing to start the day with one of these delicious treats that will keep you going the whole day. And, of course, we've saved you some trouble and gathered 25 of the best breakfast pudding recipes we could find to get you pumped-up in the morning!
25 Healthy Breakfast Pudding Recipes
1. Coconut black rice breakfast pudding by My New Roots. Black rice goes perfectly with coconut milk, and the passion fruit make this a truly tasty breakfast.
2. Orange lavender pudding with cashews by This Rawsome Vegan Life. A spectacular mix of flavors that's raw and so refreshing in the morning.
3. Berry chocolate chia pudding breakfast parfait by Hello Glow. Start the day with chocolate pudding and you'll never look back!
4. Coconut and date brown rice pudding by A Fresh Legacy. It works as a dessert, but it works even better as breakfast: a brown rice pudding made with dried apples and dates.
5. Raw strawberry pudding pie by The Taste Space. A lovely make ahead breakfast that you're going to enjoy all summer.
6. Savory bread puddings with garlic, mushrooms and ricotta by Amuse Your Bouche. Just because it's a pudding, doesn't mean it can't have mushrooms and cheese inside!
7. Coconut cashew millet pudding by An Unprocessed Life. Millet is a very nutritious, healthy grain that you can include in your diet, starting with this creamy breakfast pudding.
8. Pumpkin spiced whipped chia seed pudding by VeggieTot. Spice up your mornings with this creamy, rich and dairy free breakfast pudding.
9. Creamy almond brown rice pudding by An Edible Mosaic. Paired with fresh fruit, this brown rice pudding can easily be served as a healthy breakfast.
10. Semolina pudding with berry sauce by Cooking Melangery. Served hot or gold, semolina pudding is great for breakfast, served with sweet toppings.
11. Oatmeal pudding with cherries by The Dinnervine. Made with oats, flax seeds and dairy-free milk, this pudding is the perfect input of protein for mornings.
12. Chocolate zucchini breakfast pudding by To Her Core. A great way to sneak some veggies into an otherwise decadently tasting breakfast.
13. Coconut and kiwi fruit chia pudding by Becomingness. Kiwi and coconut are a match made in heaven, plus they bring vitamin C and E, potassium, copper and magnesium to the table!
14. Blueberry maple swirl buckwheat pudding by Will Frolic for Food. A lovely breakfast made with coconut milk, maple syrup, buckwheat and berries.
15. Creme pudding by Healthful Pursuit. A dairy free, vegan, low-carb pudding made with just three ingredients and sweetened with stevia.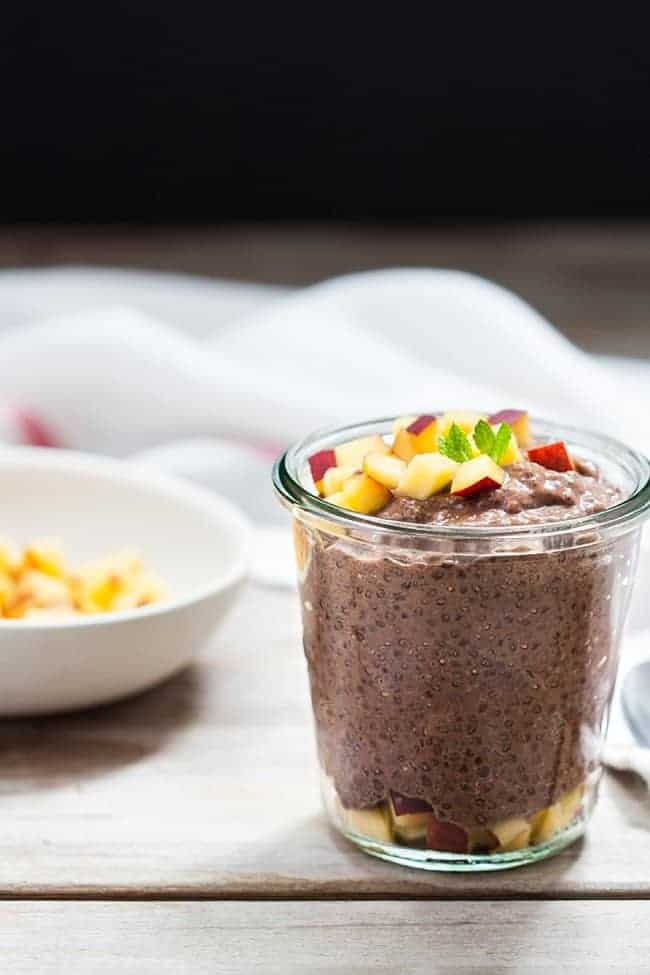 16. Simple chocolate chai-chia seed pudding recipe by Hello Glow. What better way to start the day then with an antioxidants-packed pudding that tastes delicious and it's super healthy?
17. Chia pudding with apple guava jelly by The Cook's Pajamas. A vegan, gluten free and dairy free breakfast that you can take with you in a jar.
18. Vanilla chai pudding with fig and raspberry by Hello Veggie. Chia seeds are loaded with fiber to help fill you up and they're also a great source of both protein and omega-3 fatty acids, making them a fabulous way to start your day.
19. Mexican oat pudding with spicy nut clusters by MJ and Hungryman. A powerful combination of 100% whole grain oats and the goodness low-fat dairy.
20. Millet pudding with rhubarb by Skoraq Cooks. This breakfast pudding has only a few ingredients, and one is tasty pink-colored rhubarb stems.
21. Mango sooji halwa by Yummily Yours. Made in only 20 minutes, this tasty mango pudding is perfect for any time of the day.
22. Chia seed pudding with pumpkin caramel by Hello Veggie. This gorgeous, fall-inspired chia pudding is better than any Starbucks latte!
23. Honey ginger semolina porridge by Sharing the Food We Love. Perfect for a crisp fall morning, this semolina pudding is filling and quick to make.
24. Mango pudding by Indian Kitchen. Made with oats and mango, this pudding is a tasty alternative to morning cereal.
25. Mango chia pudding by Healthy Nibbles & Bits. Chia pudding is a light breakfast, but it's very versatile to make with your favorite flavors.
34