When cold and flu season strikes, your immune system goes from fighting the occasional battle to being embroiled in an all-out war that can last all winter long, depending on where you live and how many germs you're exposed to. This is where essential oils can be a great option!
Essential oils have been shown to have antibacterial and antimicrobial properties. They can be especially helpful when fighting colds and the flu (and many other uses), and there are lots of ways to apply their beneficial properties.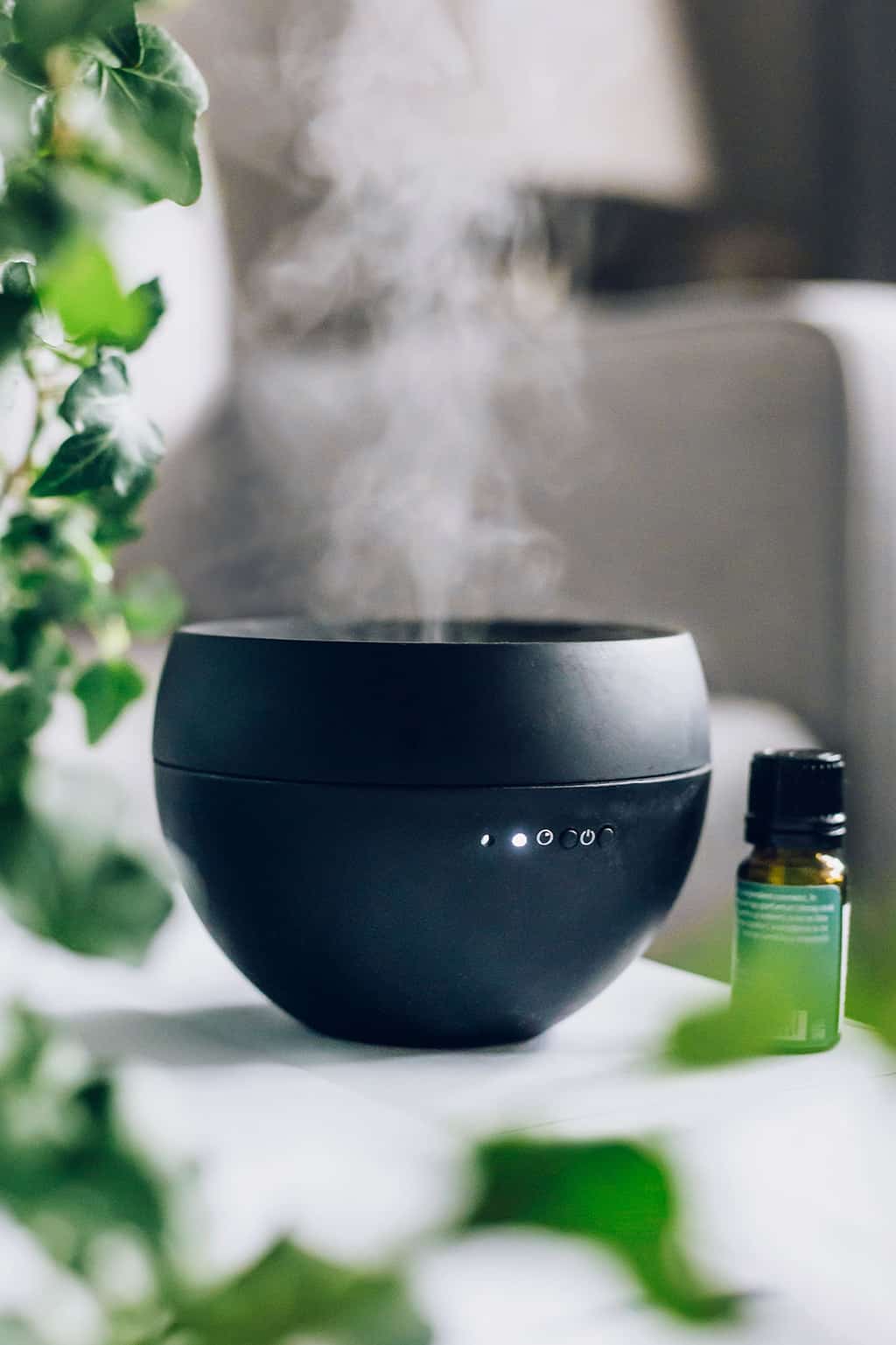 Best Essential Oils for Cold & Flu
Diffusing is one of the easiest ways to use essential oils, and this method can help purify the air. It is a good way to introduce the oils when dealing with congestion in the lungs. The Chalkboard gives a rundown on how to properly inhale and diffuse essential oils and the importance of using a carrier oil when inhaling. Many oils can also be applied to the bottom of your feet or added to body wash, lotions, or moisturizers.
And whether you're just trying to not get sick or fighting a stuffy nose, here are 11 cold and flu diffuser blends that are useful for this season.
Essential oils are a helpful addition to any winter survival kit, but buying individual oils can get expensive quickly. If you can only purchase a couple, I recommend choosing oils that have multiple benefits and are versatile enough to use in lots of different blends. If you can put them to work in beauty recipes, cold and flu remedies, and diffuser blends, you'll be able to reap the benefits all year long!

1
.
Oregano
Antiviral, antifungal, and antibacterial, oregano essential oil is a heavy-hitter. I frequently diffuse it during cold and flu season. It's one of the more potent antimicrobial essential oils [source], so it's no wonder that it's frequently used when dealing with infections and illness.
However, because of its potency, it can easily irritate the skin, so it should always be properly diluted when applied topically. According to Essential Oil Safety, it should be used at no more than a 1% concentration and is not recommended for those who are pregnant or breastfeeding.
Antimicrobial diffuser blend

1 drop oregano essential oil
2 drops cinnamon essential oil
3 drops turmeric essential oil
4 drops lemon essential oil
2
.
Thyme
Did you know that thyme essential oil is one of the original ingredients in Listerine? This oil has a number of uses due to its antiseptic properties. It's a good one to consider for upper respiratory infections.
The herb is often used in cough formulations, and one study found that thyme essential oil combined with primrose oil and thymol (a component found in thyme oil) was comparable to an over-the-counter expectorant for coughs stemming from upper respiratory infections [source].
Different species of thyme contain different percentages of compounds, so it's always a good idea to know which one you are getting. A good rule of thumb is to stick to using no more than a 1% dilution of thyme topically to avoid irritation. Additionally, diffusing thyme is always a great way to utilize its antiseptic properties!
Immunity support diffuser blend

3 drops lavender essential oil
3 drops tea tree essential oil
3 drops thyme essential oil
3
.
Eucalyptus
This antibacterial oil has tons of everyday uses and is often found in cough drops and ointments (if you've ever used VapoRub, you've smelled it). Eucalyptus essential oil stimulates the immune system [source] and combats inflammation [source], making it a no-brainer for cold and flu season. Use it to make your own steam inhalation remedy, which is a great option to consider when dealing with sinus infections.
Eucalyptus is a fantastic essential oil to use to support your health, especially in the winter months. However, it should always be used with caution and never on or around the mouth or nose of children under age 10.
Nose-clearing diffuser blend
4 drops pine essential oil
3 drops eucalyptus essential oil
3 drops rosemary essential oil
4
.
Lime
Like its cousin orange, lime essential oil has many uses. This essential oil is antiseptic, antibacterial, antifungal, and antiviral. It has been used to relieve symptoms of colds and flu, as well as bronchitis [source]. And like other citrus oils, it's perfect for diffusing in an air-purifying blend. It can also be added to natural household cleaners and is great at removing sticker residue and gum from surfaces.
But that's not all! Lime is also perfect for those times when you're feeling down in the dumps, or you need help feeling energized. So next time your immune system has taken a hit and you need a mental pick-me-up, reach for the lime essential oil!
Just remember, lime is phototoxic. If used topically, it should be very diluted, and sunlight exposure should be avoided for several hours.
No stress diffuser blend

1-2 drops patchouli essential oil
4 drops cedarwood essential oil
5 drops lime essential oil
5
.
Frankincense
Frankincense is an incredibly popular essential oil often used when dealing with respiratory illness. It's antimicrobial [source], and many like to use it for coughs, colds, and other respiratory issues.
Because it contains many powerful anti-inflammatory compounds [source], frankincense has been shown to help in conditions driven by inflammation, such as ulcerative colitis, arthritis, and asthma [source].
Use it in this DIY antiseptic spray when dealing with wounds. A few more options include using it in diffuser blends or even in a DIY body butter recipe.
Respiratory relief diffuser blend
3 drops peppermint essential oil
3 drops lavender essential oil
2 drops eucalyptus essential oil
2 drops frankincense essential oil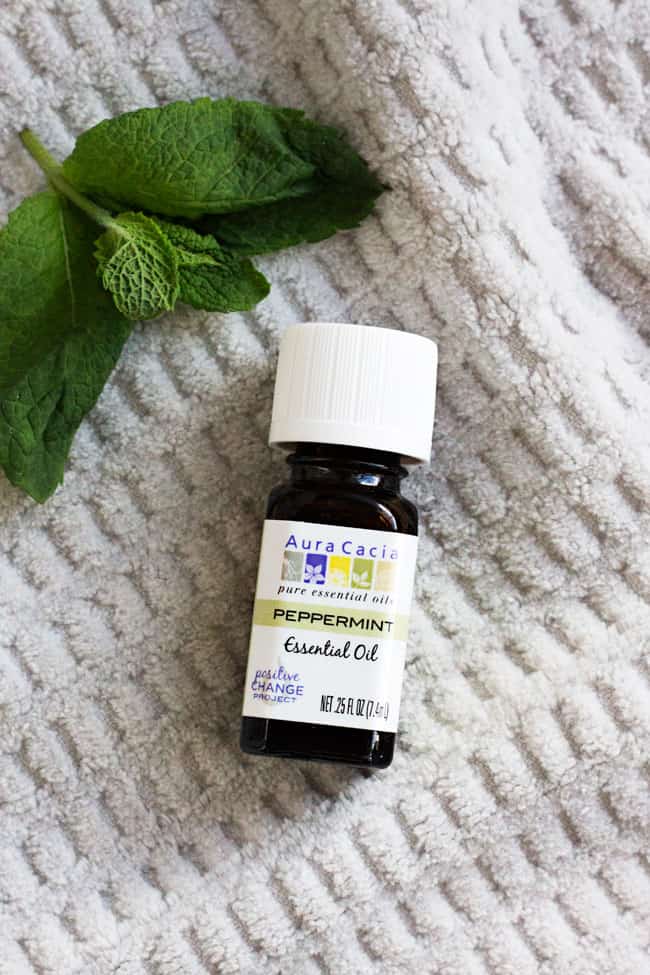 6
.
Peppermint
Peppermint essential oil just smells healthy, don't you think? It's often used to support the digestive system, as well as the respiratory system. And you can even make your own toothpaste with it.
This essential oil is also antibacterial and antiviral [source], and one sniff of the crisp, cool aroma can make you feel more energized, which is perfect for when you find yourself a little under the weather. However, due to its menthol content, peppermint should not be used around the mouth or nose of infants or young children.
Energizing diffuser blend
5 drops lemon essential oil
5 drops peppermint essential oil
7
.
Hyssop
The essential oil of Hyssop can help support the respiratory system and has traditionally been used as a cough suppressant [source] and has been shown to work as an airway anti-inflammatory in asthmatic mice [source]. Try this one if you get chronic bronchitis or just have a pesky cough that won't go away.
It has strong antiseptic properties that make it useful for a number of issues. However, hyssop should not be used if pregnant or breastfeeding and around infants or young children, according to Essential Oil Safety.
3 drops hyssop essential oil
2 drops tea tree essential oil
1 drops eucalyptus radiata essential oil
3 drops frankincense essential oil
8
.
Lemon
When illness has you feeling run down, lemon essential oil (mixed with a carrier oil) can help brighten your day. Lemon has antibacterial properties and a fresh scent, making it perfect for purifying the air or for use as a DIY air freshener. It is also especially useful in DIY cleaning formulas.
Lemon also happens to contain antioxidant properties [source]. This is significant because stress, illness, and toxins enable free radicals to wreak havoc on our bodies. This is where antioxidants come in—they help by scavenging and preventing damage from the free radicals.
Just remember that lemon is phototoxic, so if applied to the skin, it should be very diluted, and sun exposure should be avoided for several hours.

Cheery air cleaning diffuser blend
4 drops lemon essential oil
2 drop peppermint essential oil
2 drop rosemary essential oil
2 drops eucalyptus radiata essential oil
9
.
Clove
Besides being known for its toothache-remedying powers, clove essential oil is also anti-inflammatory, analgesic, and antibacterial [source]. It's often mixed with cinnamon, eucalyptus, lemon, and rosemary in a blend called Thieves oil that is often used to boost immune function. A few of these EOs have been shown in studies to help fight respiratory pathogens when vaporized [source].
Clove has warming analgesic properties [source] and is often used in formulations for muscle or joint pain. However, it can cause skin irritation if not diluted properly, and it should not be used around infants or young children.
Thieves diffuser blend
2 drops rosemary essential oil
2 drops clove essential oil
2 drops eucalyptus essential oil
2 drops cinnamon essential oil
2 drops lemon essential oil
10
.
Ginger
If nausea is what's getting you down (that darn flu!), you might give ginger essential oil a try. It's a fantastic option to consider because of its many beneficial biological activities [source].
Like clove, ginger is a warming oil that can be helpful for a number of symptoms. It has been used to alleviate cold symptoms and headaches and has potent antiviral properties. Studies have shown it can block a common respiratory virus from attaching to host cells [source].
It would be great to use in a diffuser blend to complement your regular medicines if you're struggling with digestive or respiratory issues, or if you simply want to help purify the indoor air. As with all essential oils, ginger should be used in appropriate dilutions and with caution around young children.
Cinnamon & Spice Congestion Blend
3 drops ginger essential oil
3 drops clove bud essential
2 drops black pepper essential oil
1 drop cinnamon bark essential oil
What essential oils do you use for colds and flu?
This post was medically reviewed by Dr. Holly Smith, a board-certified physician in nephrology and internal medicine with a background in nutrition. Learn more about Hello Glow's medical reviewers here. As always, this is not personal medical advice, and we recommend that you talk with your doctor.
459