As a DIY candlemaker, I would be lying if I said I didn't love a crisp, white candle. They're easy and inexpensive—my two favorite things. But colors are just more festive, aren't they? They're ideal for celebrations, birthday shindigs, or even just setting a fun mood. And since colors convey different meanings, if you plan to use candles for energy work, manifesting, or any other woo-woo endeavors, then incorporating color into you candles may speed things along.
But don't think you can just toss a couple crayons into the mix and call it a day. Since candles only burn if the fuel (melted wax) gets pulled up through the wick, some dyes can actually keep your candle from burning properly—or at all. And we don't want that.
Here's how to color candles like the pros.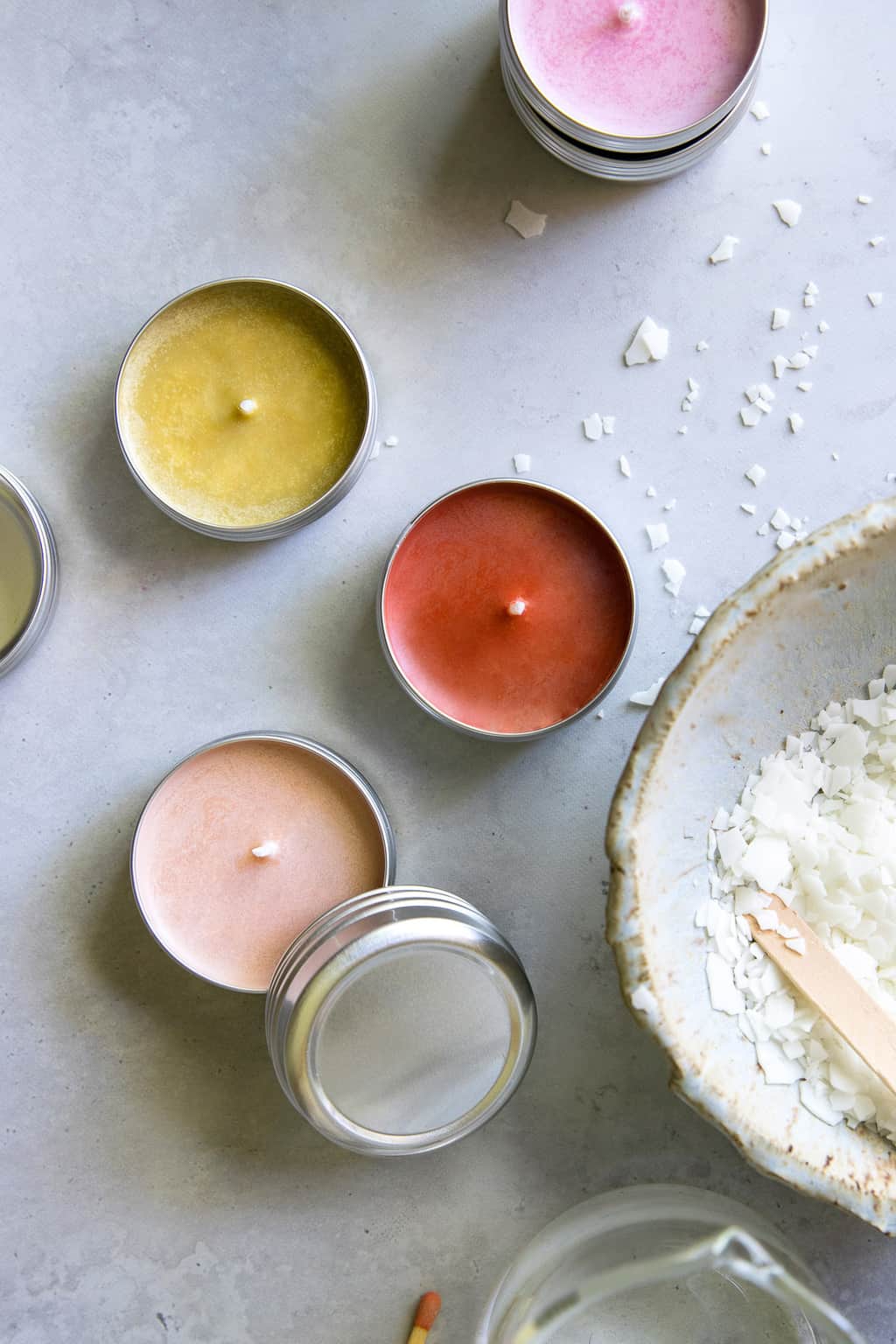 How to Color Candles
It's true what they say, dye matters. Okay, no one actually says that. But don't reach for the food coloring just yet, because the type of dye you choose can make or break your candles.
Step 1: Choose a Dye
There are several different methods you can use to color candles at home. Which one you choose all comes down to whether you want to do it the "right" way or not. I'm a rebel who throws caution the wind most days, and a clogged wick or crayon-like scent doesn't scare me. But if you plan to gift or sell your candles, or you'd just like to do things right the first time, then choosing a high-quality colorant is important.
Liquid Candle Dye – Like the name suggests, liquid candle dye is made especially for candles, so you won't run the risk of clogging the wick or snuffing out the flame before things really get going. Since it's a liquid, it's easy to create your own custom colors and it mixes with melted candle wax like a dream. It also gives you those bright, bold colors you find in store-bought candles.
Solid Candle Dye – Solid candle dye is really just colored dye chips that mix smoothly into candle wax during the melting process. I prefer solid candle dye to liquid dye because it's easier to store for long periods of time. And because they're mess-free, you don't need to worry about spills or stains when making candles. Otherwise, there's no difference between the solid and liquid candle dye varieties.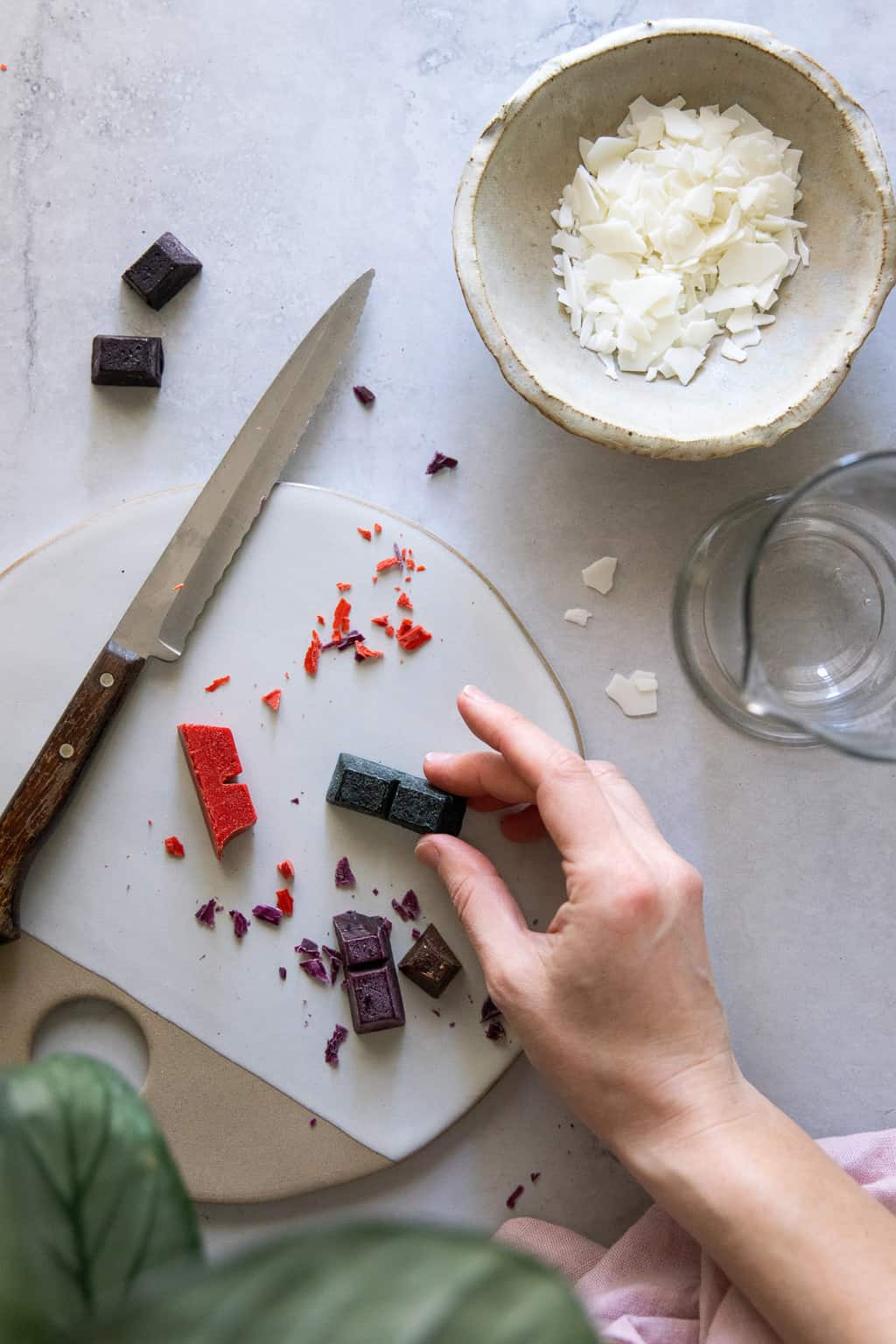 Optional Dyes
Because these dyes aren't made for candle wax, they may cause problems as your candle burns. That being said, I have used all of these in the past without running into major problems. I'd recommend these colorants if you're in a pinch or you'd like to save some money. Otherwise, stick to candle dye!
Oil-based food coloring – This may not surprise you, but candle wax is nothing more than oil that hardens at room temperature. Therefore, oil-based food coloring (which is typically used for chocolate or candy making) can be used to color candles in a pinch. They're highly concentrated, so a little bit goes a long way. But because oil-based food coloring isn't specifically made for candles, it may affect how your candle burns.
Crayons – I mentioned these early, but crayons are super popular for coloring candles because they're so easy to find and come into a ton of pretty, hard-to-find colors. The thing is, contrary to popular belief, crayons aren't 100% wax. They're actually a mixture of wax and solid pigments that can clog the candle wick in high quantities. If you choose to color your candles with crayons, only use a little bit.
Pigments / Oxides – Sometimes I use natural ingredients, such as turmeric, mica, flower petals, pink clay and beetroot powder to add a bit of color to my candles. Just note that of all the colorants you can choose from, these are the most risky. Because they're a dry powder, they may clog the wick and cause the flame to snuff out prematurely – especially if you go overboard with them.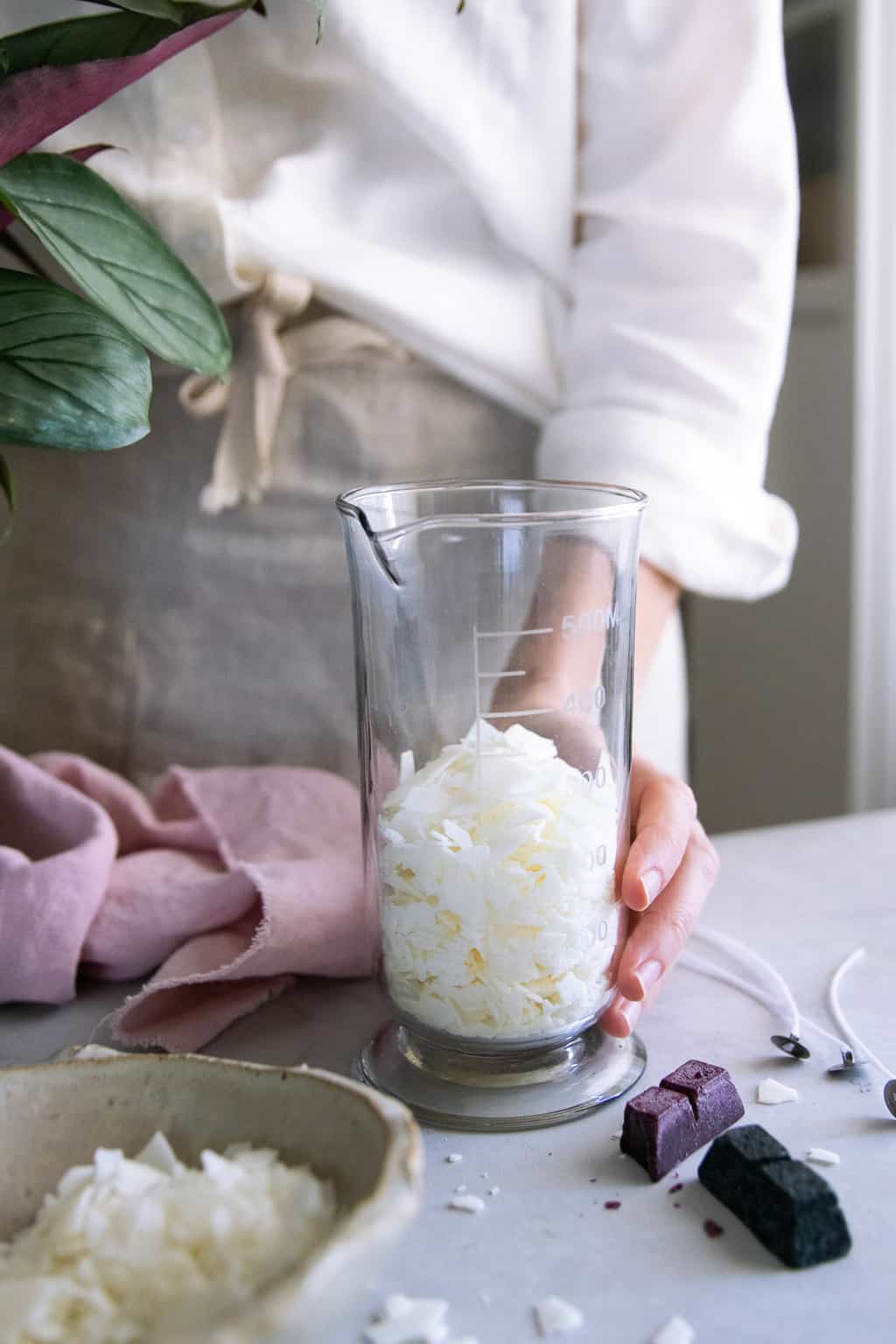 Step 2: Keep Wax in Mind
While all waxes hold colors the same, the shade and transparency of the wax may affect the final color.
Soy Wax – My favorite wax for homemade candles is soy wax. It's white, so the colors come out looking crisp and clean without any unexpected yellowing. It's also inexpensive and clean burning.
Beeswax – Since most beeswax has a yellow hue, it will give all your colors a warm, somewhat aged tint. If that doesn't bother you, beeswax is a great choice for candles because it holds color well and melts slowly, so your candles may last longer than with soy candles. Or you can choose white beeswax, if you'd prefer less of a yellow tint.
Coconut Wax – Like soy wax, coconut wax is solid white in color, which makes it a great wax dye. Coconut wax is considered a soft wax, so it's not great for pillar candles, but it is nice for container candles or candles made from a wax blend.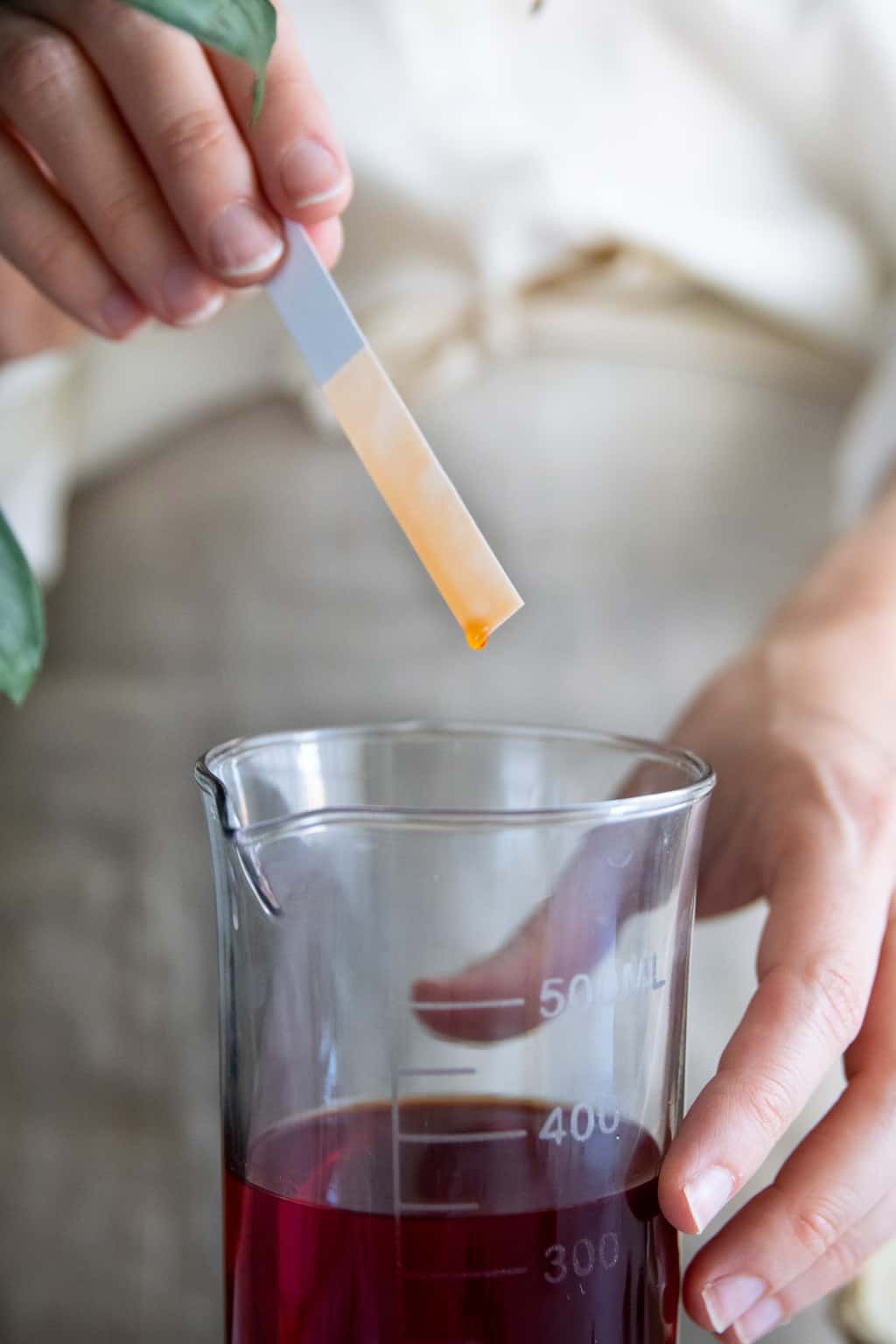 Step 3: Test Your Color
Even if you're used to making candles, getting the right color requires a bit of trial and error. I recommend testing the colors before actually making your candles.
Cut a few strips of white paper you can use as color test strips.
After melting your wax (or wax blend), add your dyes and stir well to combine.
Dip a strip of paper into the wax and set it aside to cool. The color of strip is the color your candle will be when cooled. If you would like to tweak the color, add more dye for deeper shades or a different color entirely to make a warmer or cooler hue. Then stir the wax and dip a new paper strip to re-test.
You'll want to perfect the color before adding any fragrance oils. That way you won't burn off the fragrance if you need to re-heat the oil to tweak the color.
Tips for Mixing Colors
—To lighten a color or get a pastel hue, add white dye or more candle wax.
—To darken a color, add more of the same color dye.
—Adding black or grey will muddy the color, so avoid adding black unless you'd like to give it a grey hue.
—Take notes of what combination of colors you use – and in what amounts – so you can create the same color again in the future.
—If using powdered colorants, don't use more than 1 teaspoon per pound of wax, maximum. Otherwise it may interfere with your candles ability to burn.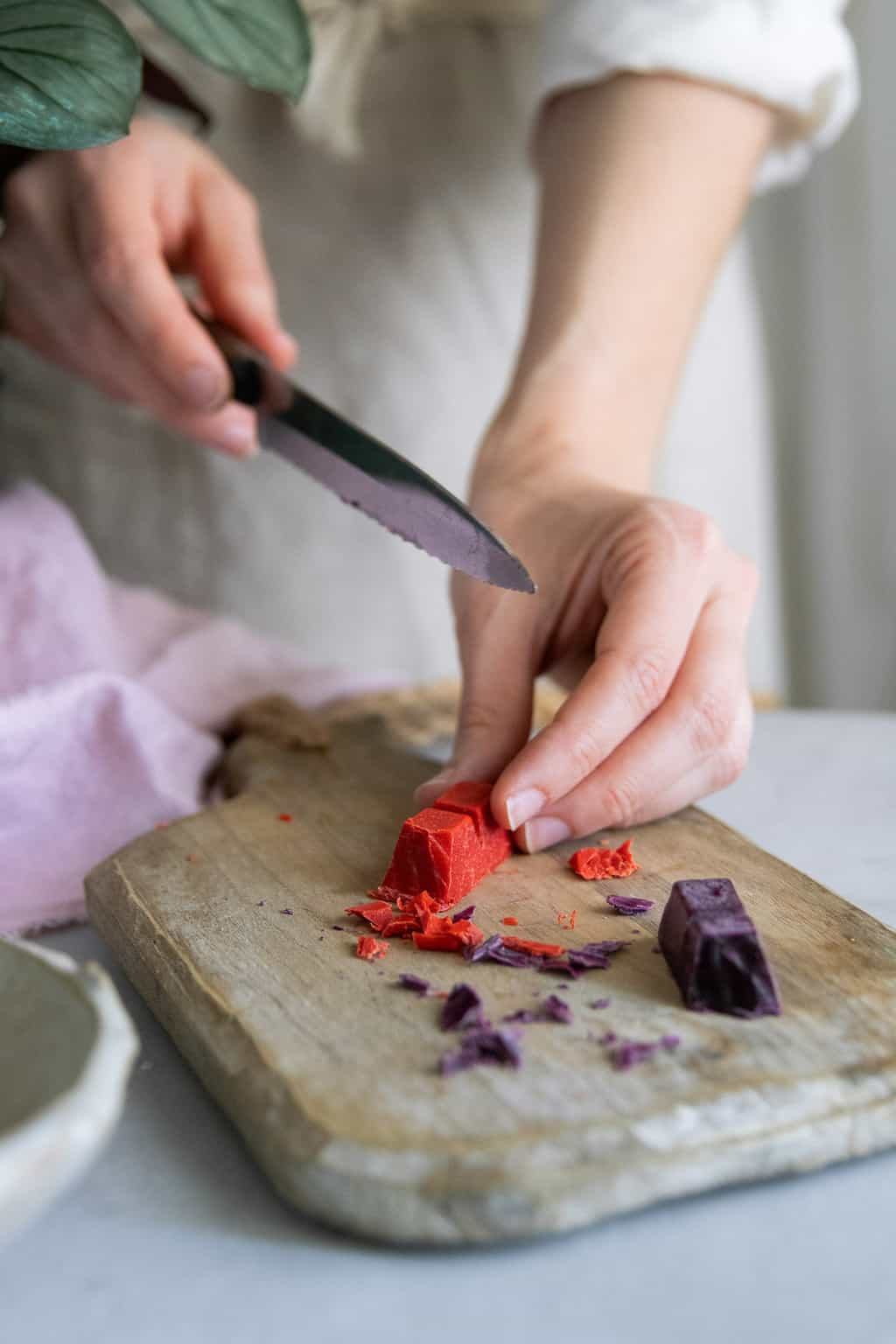 How to Use Solid Candle Dye
Since this is the dye I have the most experience with, I'm going to walk you through how to use this one. But if you would like to use other dyes, keep reading for additional tips and tricks.
If you'd like to dye your candles with crayons, the instructions will be the same as when using solid candle dye.
Supplies
—1 pound soy wax flakes
—Cotton candle wicks
—3-4 containers
—Solid candle dye blocks
—Essential oil
—Wax melting pitcher or microwave safe measuring cup
—Popsicle stick or old spoon
You'll want to start with 1/4 – 1/2 dye block per pound of wax. Rather than using just one dye block, I like to cut small chunks from several blocks and mix them together in the melted wax until I reach a shade I think I like. I'll then test the color using the paper strip method mentioned above.
Note that the color on the paper strip will be considerably lighter than the final color, so sometimes you just have to pour the candles and see how it turns out.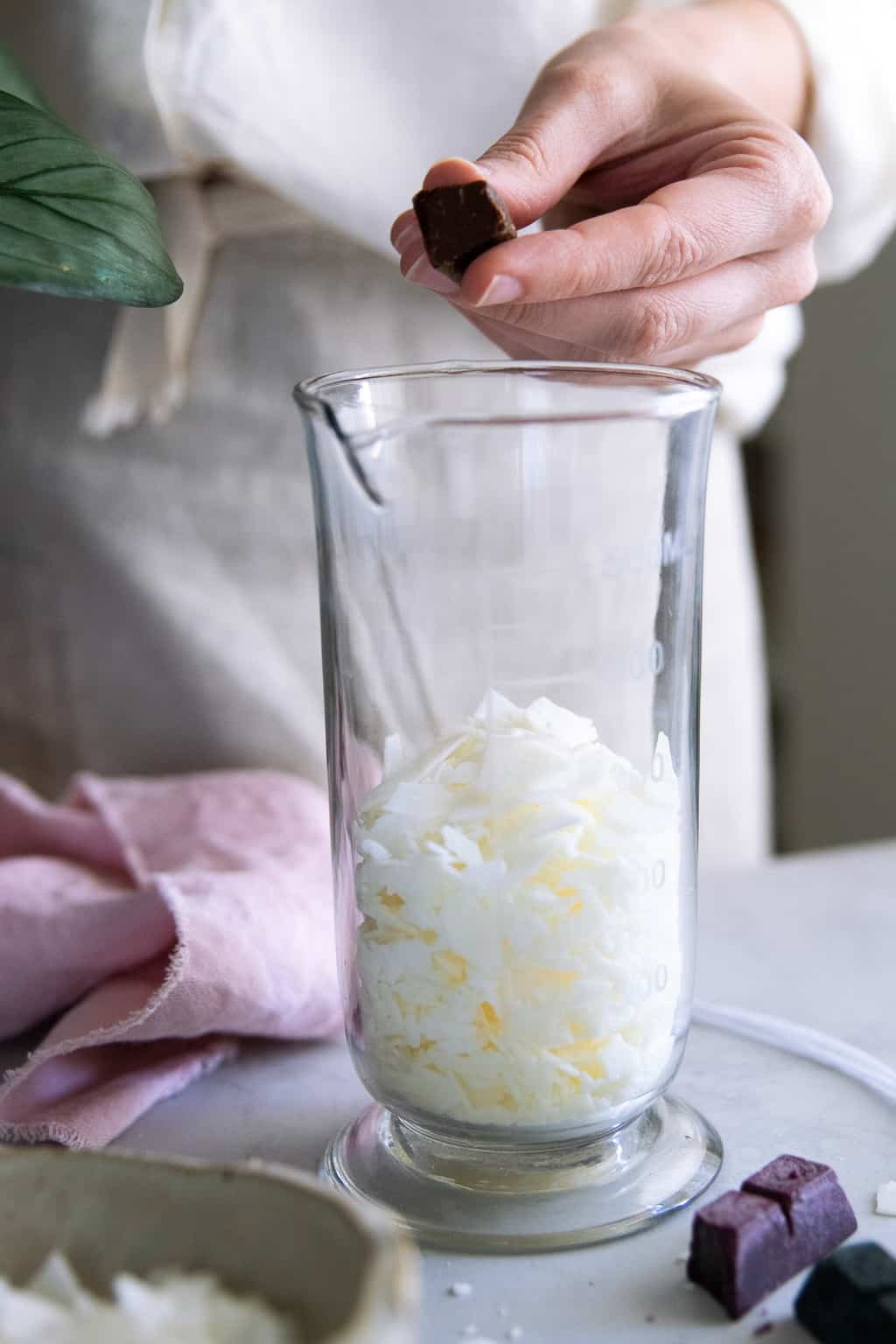 Add the dye to the wax before you melt it, that way there's plenty of time for it to melt and mix completely without leaving any color specks behind.
Melt the wax on the stove or in the microwave in 30-second intervals.
Give the wax a good stir using a popsicle stick or old spoon to help mix the color. At this point you can add more dye, if you like. You may need to heat the wax again to melt the dye block.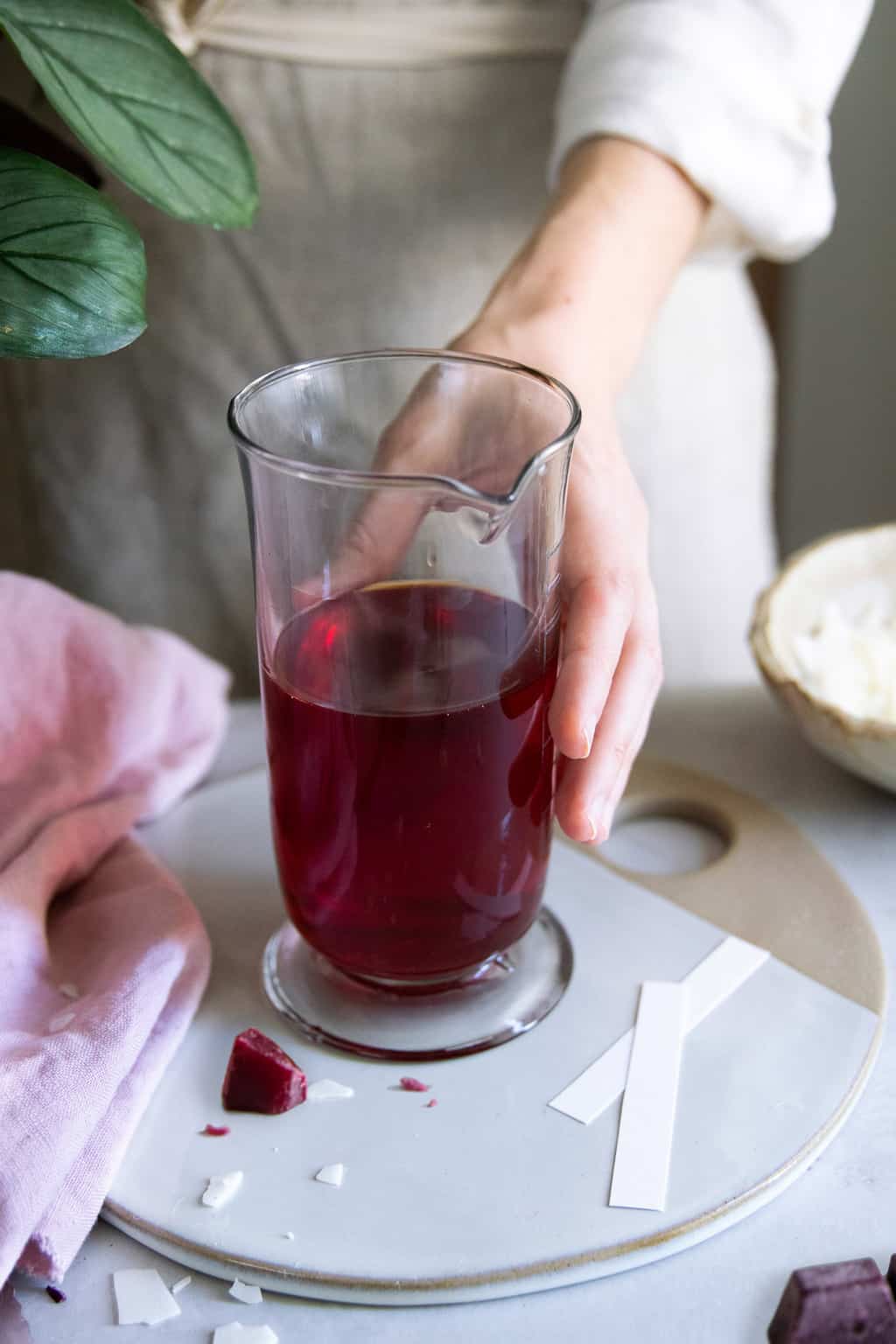 Let the wax cool for about 5 minutes before adding your essential oil. Stir well, then pour it into your container and let cool completely.
If you're not happy with the color after it cools, put the candle in the freezer for several hours. Once the wax has pulled away from the side of the container, remove the wax block and melt it down in a double boiler. Add more dye until you reach the ideal shade.
Tips for Using Liquid Candle Dye or Oil-Based Food Coloring
—Melt the wax, then let it cool to 185 degrees F before adding the color.
—Start by adding 3-4 drops of dye to the melted wax. Test the color, then add more dye as needed to reach the desired shade.
—Let the wax continue cooling to roughly 120 degrees F, before adding your essential oils.
—Be careful not to add too much liquid dye or it may alter the consistency and burn rate of your finished candle.
Tips for Using Pigment Colorants
—Only use 1 teaspoon pigment per pound of candle wax.
—Let the wax cool until it's a thick, but still pourable, before adding your pigment. If the wax is too hot and thin, all the color will just sink to the bottom.
—When burning your candle, keep an eye out for smoking or a burning smell. If the pigment starts to clog the wick or affect the candle's burn, you'll see and smell it. In that case, snuff out the candle and use less pigment next time (or experiment with candle dye).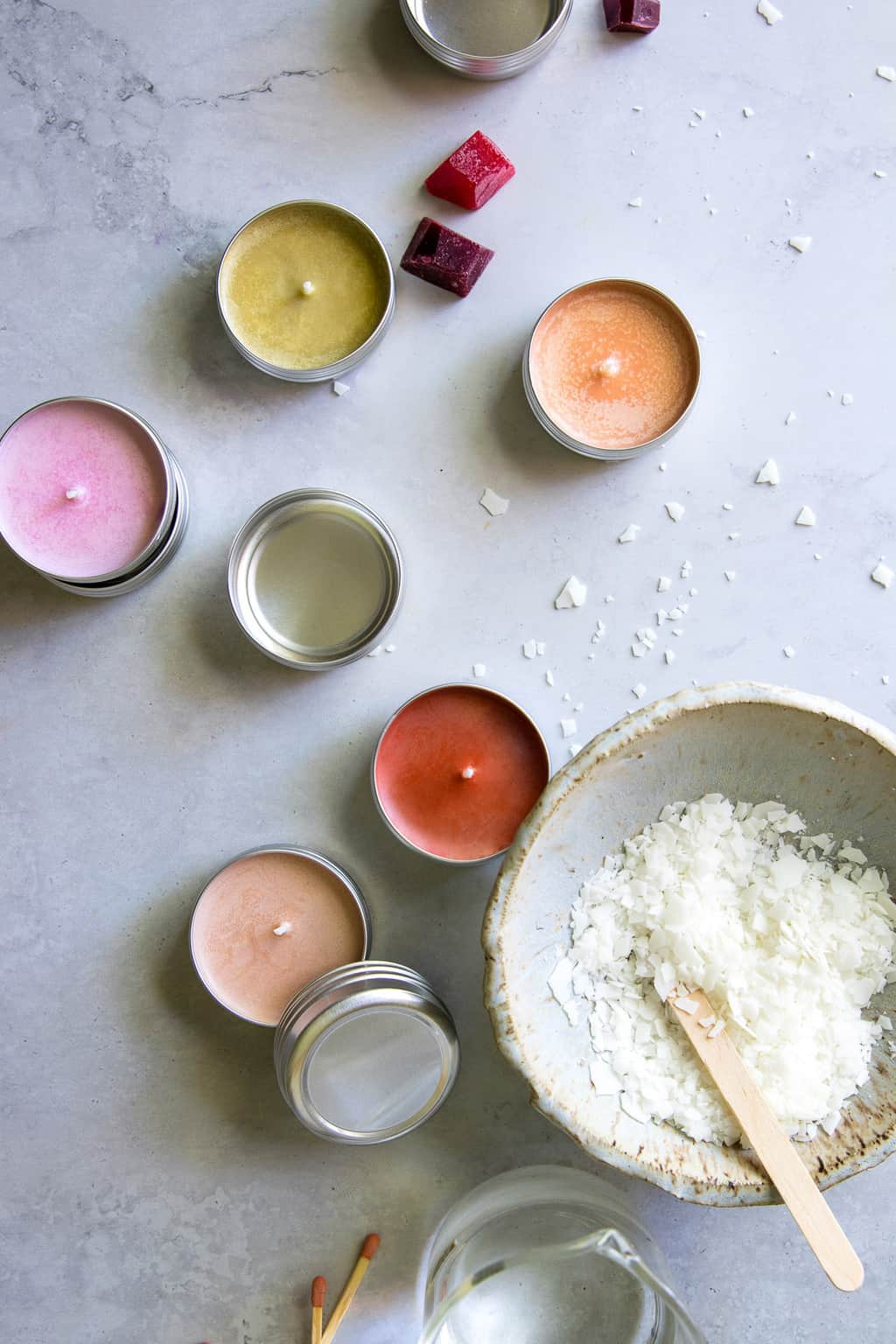 20