I'm kind of hooked on making homemade candles. They are so much fun to make. (And super easy, too!)
The really great thing about these DIY holiday candles is that each layer is not only a different color, but also a different holiday scent. So as the candles burn, the delicious scent of peppermint, balsam or frankincense wafts through the air.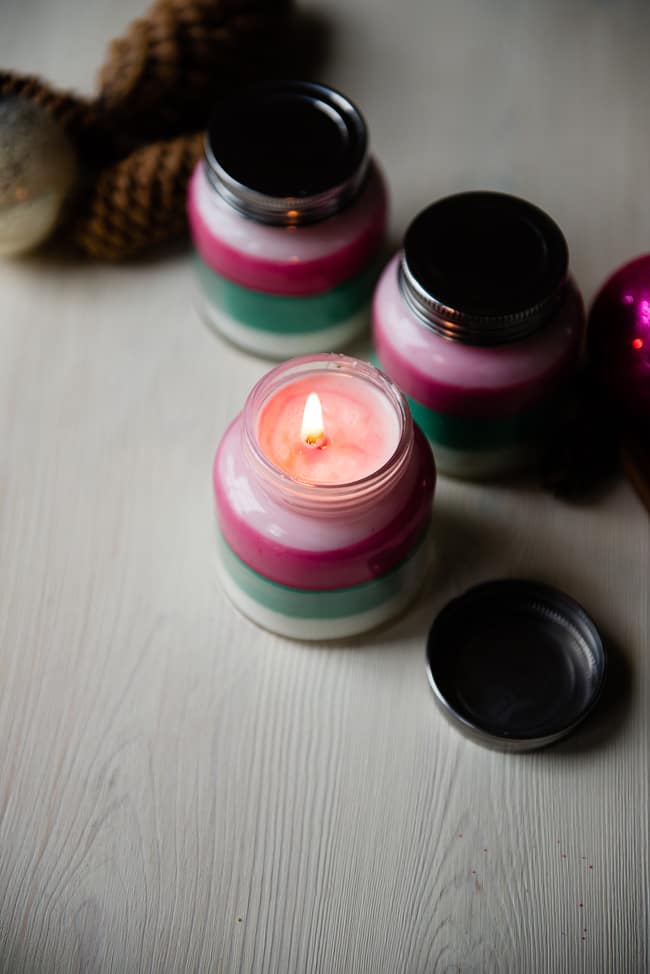 Here's what you need to make your own layered scent DIY candle:
Supplies needed
Small glass jars (be sure they are the kind that won't break when heated)
Essential oils
Crayons
Small pans
STEP ONE
Melt the wax. Work in smaller batches because each layer will need to cool completely before adding the next one.
I started with plain wax first for my white layer. For the other layers, I removed the papers from the crayons and broke them into small pieces.
They melt very quickly. Use more or less of the crayon pieces to get the desired shade.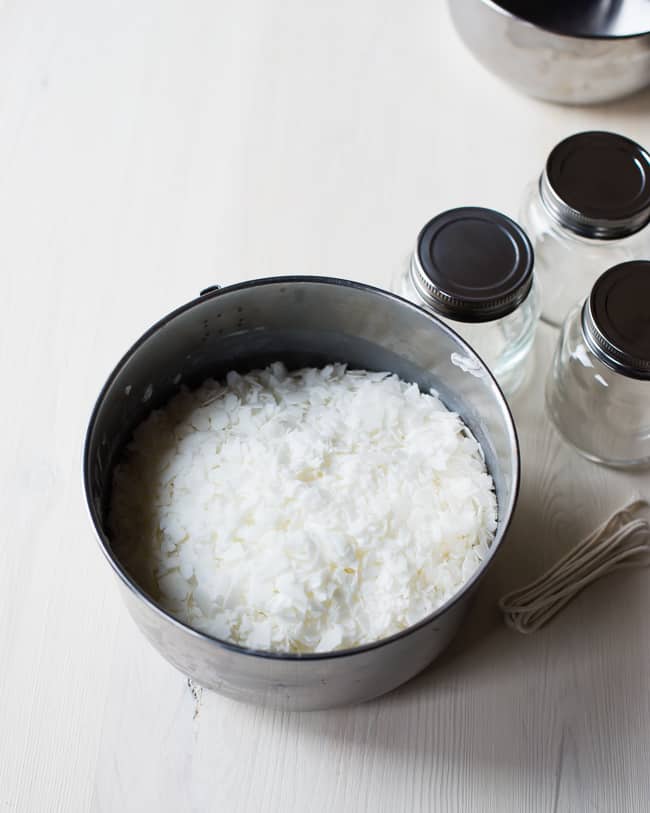 After the wax has completely melted, stir the desired essential oils into the pan with a small wooden spoon or popsicle stick. I chose vanilla (white layer), balsam fir (green layer), cinnamon + clove (red layer), sweet orange (pink layer). Use about 5-10 drops per color/layer.
STEP TWO
Adhere the wick to the bottom of the jar using a little melted wax. Wrap the top around a chopstick or skewer to keep it centered.
Pour the first layer into the jars. Let cool completely. Depending on the room temperature, this could take about an hour or more.
To speed up the process, you can place them outside or in the fridge, but it can affect the way the wax sets. For a very even layer without bubbling or cracking, let them cool at room temp.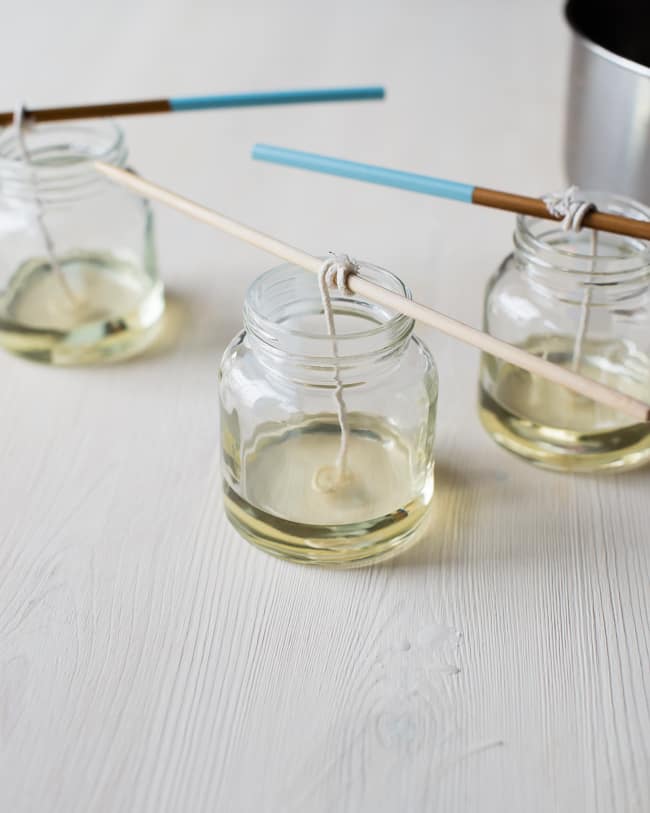 Repeat the process with the other layers and scents, allowing each one to cool completely before adding the next.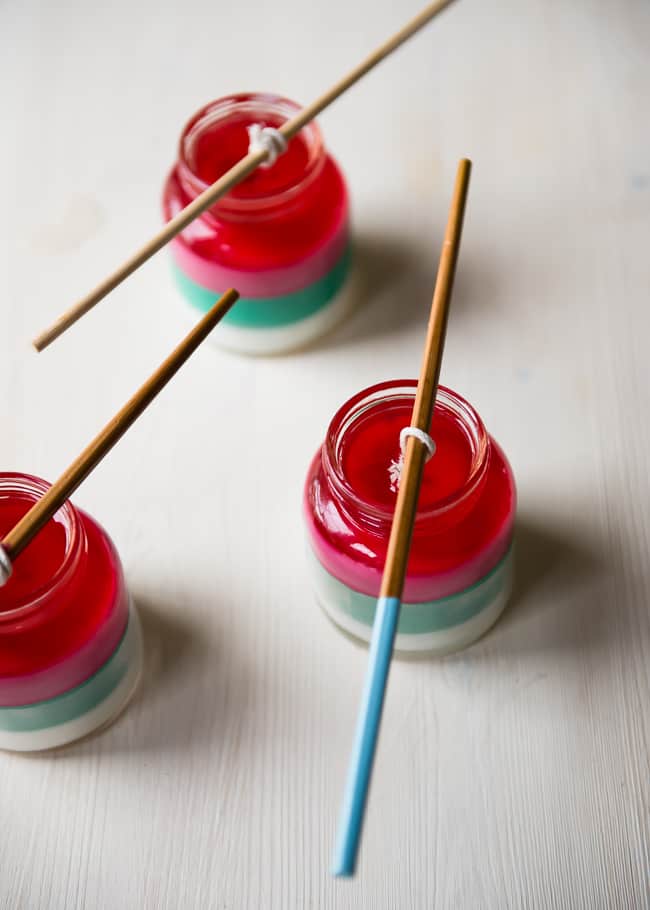 STEP THREE
Trim the wicks so there is about 1/2 to 1/4 inch at the top for lighting. Top with the lid and store until ready to use or give as a gift!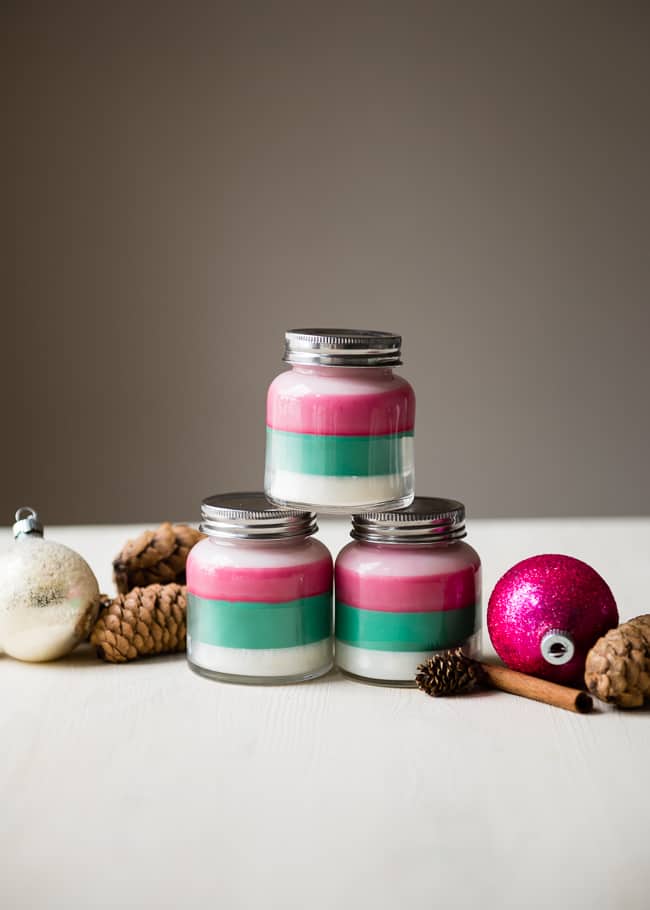 DIY Layered Scent Holiday Candles FAQ
Can you use beeswax pellets instead of soy to make these candles?
Yes, you can substitute beeswax for soy. However, beeswax has a stronger natural scent than soy, so you might not get the same effect with the layered scents.
Is it possible to color the wax without crayons if I don't have any on hand?
Instead of using crayons, you can color the wax by reusing old taper candles or by adding wax color dye chips or special liquid drops. Liquid food coloring won't work to add color to candles, however, because food coloring is water based, which will prevent it from mixing with the oils present in the wax.
Can you make a candle with just crayons?
Crayon wax is not the same thing as candle wax. When used on their own to make a candle, crayons don't melt well with a wick. Adding soy wax into the mix with the melted crayons helps with this issue.
How can I speed up the candle-making process?
If you're in a hurry, you can cool each layer of these DIY candles more quickly by placing them in the refrigerator or outside rather than cooling them at room temperature. But saving time can come at a cost: Cracking or bubbling of the wax can occur when you don't allow each layer to cool at room temperature, so keep that in mind.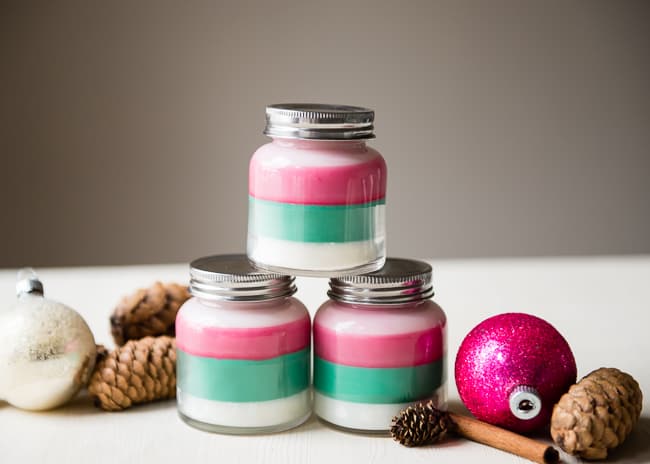 Looking for more DIY candles to make at home?
Try some of our other favorite DIY candle ideas:
* DIY French Vanilla Coffee Candles
* Pretty Chai Candles in a Canning Jars
* DIY Hidden Crystal Candles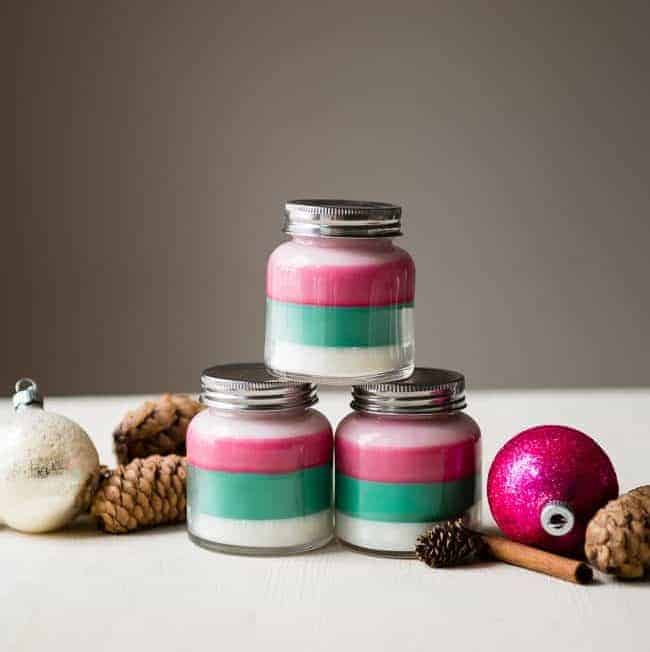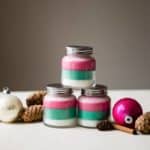 Print
Layered Scent DIY Candle
Just a few simple ingredients make up these cute, gift-worthy DIY holiday candles layered with holiday colors and scents.
Equipment
Several small bowls for melting wax

Small heat-proof jars

Chopsticks or clothespins for holding the wicks
Materials
Crayons in assorted colors

Essential oils
Instructions
Choose the number of layers you want to create for each candle. Divide the wax evenly. I used about 3/4 to 1 cup wax flakes per layer (so about 1/3 to 1/4 cup per layer, per jar). Remove the papers from the crayons and break into small pieces. Melt soy wax flakes and crayons in a pan. Slowly stir in 5-10 drop of the desired essential oil with a wooden spoon.

Adhere the wicks to the bottoms of the jars using a little melted wax. Wrap the wick around a skewer or toothpick to keep it centered.

Pour the first color layer into the jars. Let cool completely. You can speed up the process by placing them outside or in a cool place. Repeat the process with more wax, crayons and essential oils. To keep the new layer from melting the previous layer, it is helpful to let the wax cool slightly before pouring into the jar.

After the last layer is poured into the jar, let the jars sit undisturbed for several hours or overnight. Trim the wicks, top with the lids and package up to give as gifts.
Notes
These jars are about 8 ounces each. Each layer was about 3/4 to 1 cup of wax flakes for a total of about 3-4 cups of wax flakes. (I did have some wax leftover in the pan.) While you can place these in the fridge or outside to cool faster, it's best to allow each layer to completely cool at room temperature to avoid cracking or bubbling. 
99