Are you stuck in a natural beauty routine rut? Sometimes it's hard to think outside the box, but there's no reason to get bored! If you're tired of spritzing on the same perfume everyday it's time to get your DIY apron on and customize your own scent. Learning how to make a hydrosol is a great way to take nature up on its offer of a fresh, unique twist on your normal beauty routine. Plus it's useful for more than just the wonderful aroma!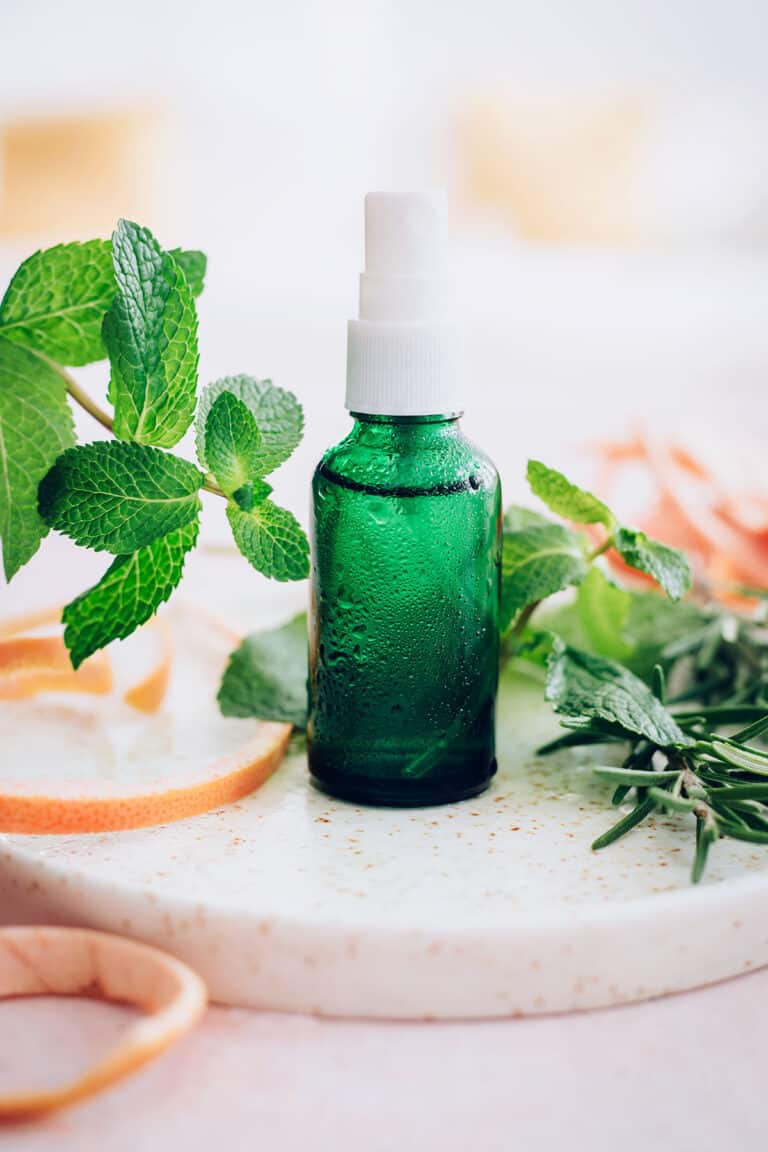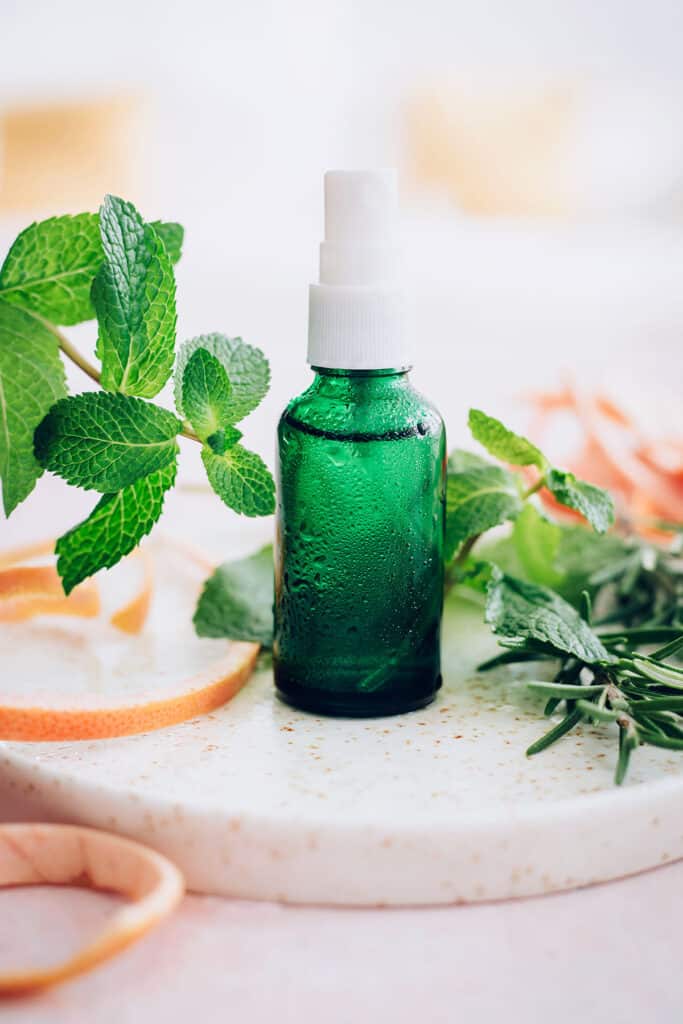 What is a hydrosol?
Making a hydrosol (or herbal distillate) may sound complicated, but the process simply requires simmering some fresh herbs or flowers in a pot of water. As the water evaporates into steam, it brings small amounts of the plant's essential oils and other lovely organic components with it. When condensed and collected, this steam becomes an aromatic water (AKA your new perfume) that contains some of the natural properties of the plants.
As you craft your own hydrosol, you can capture the fragrance of any herbs, flowers or fruit peels that suit you. It's the same process as making your own rosewater. For this perfume, I tried the woodsy and uplifting combination of rosemary, mint and grapefruit for a new daily mist that's great for its scent and for your skin.
Rosemary is antibacterial and anti-fungal so it not only smells amazing, but also works as a disinfectant and moisturizer on your skin and scalp.
Mint is a mental stimulant and can help stimulate hair growth if you want to give your scalp a spritz.
Grapefruit as a natural mood lifter and helps even out skin tone.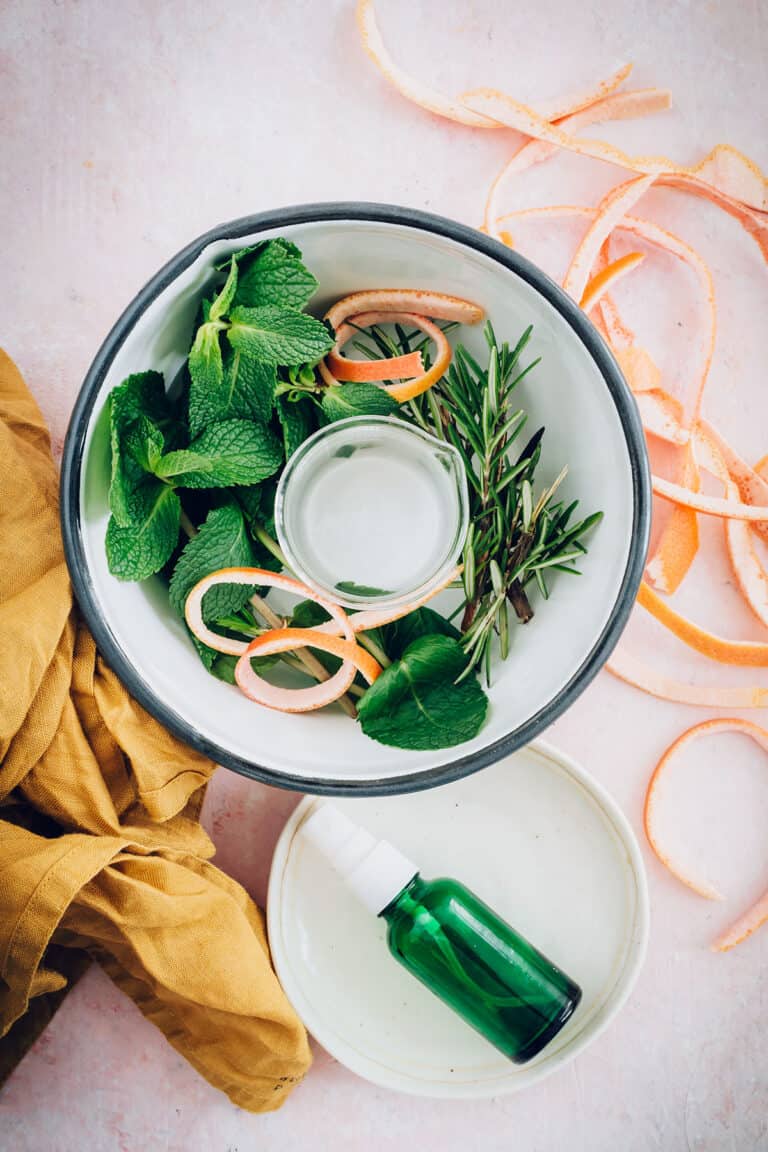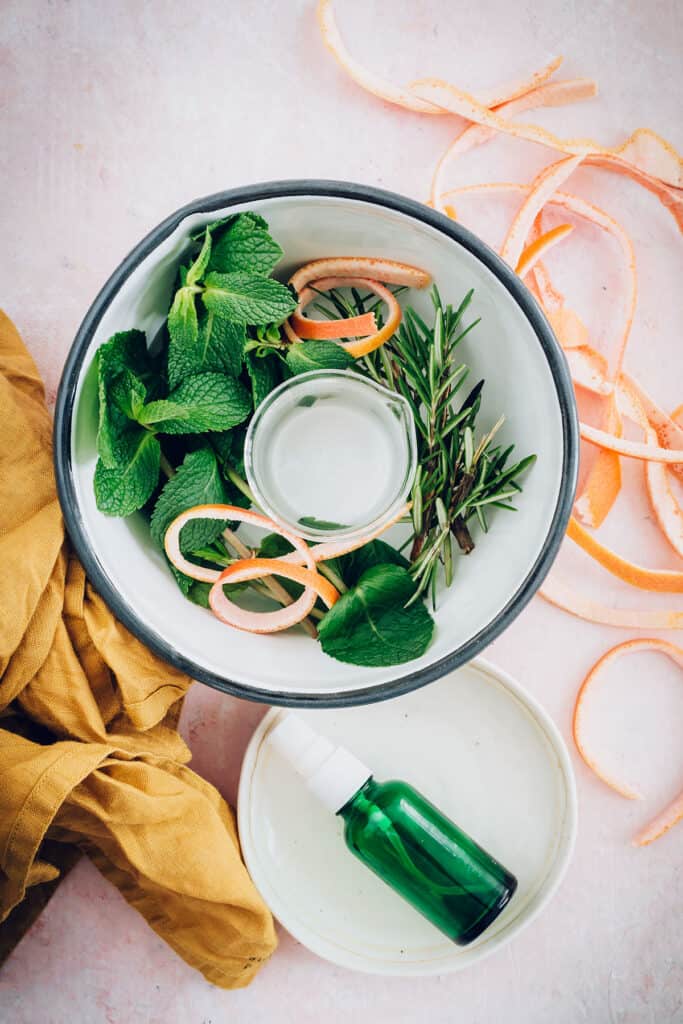 While these simple, aromatic waters are perfect for light perfumes, because of the additional properties picked up from the herbs, they can easily be incorporated into other natural products as well.
Try distilling rose petals to make a skin toner, lemon peels and thyme to make a cleaner for around the house, or lavender flowers to make a pillow mist to encourage sleep.
How To Make Your Hydrosol Perfume
To begin, grab a large stock pot and domed lid, a smaller heatproof bowl (such as a liquid measuring cup), some water, a bag of ice, and the rosemary, mint and grapefruit peels. You can use fresh or dried herbs, just be sure to buy organic, pesticide-free material whenever possible because you're using it on your skin.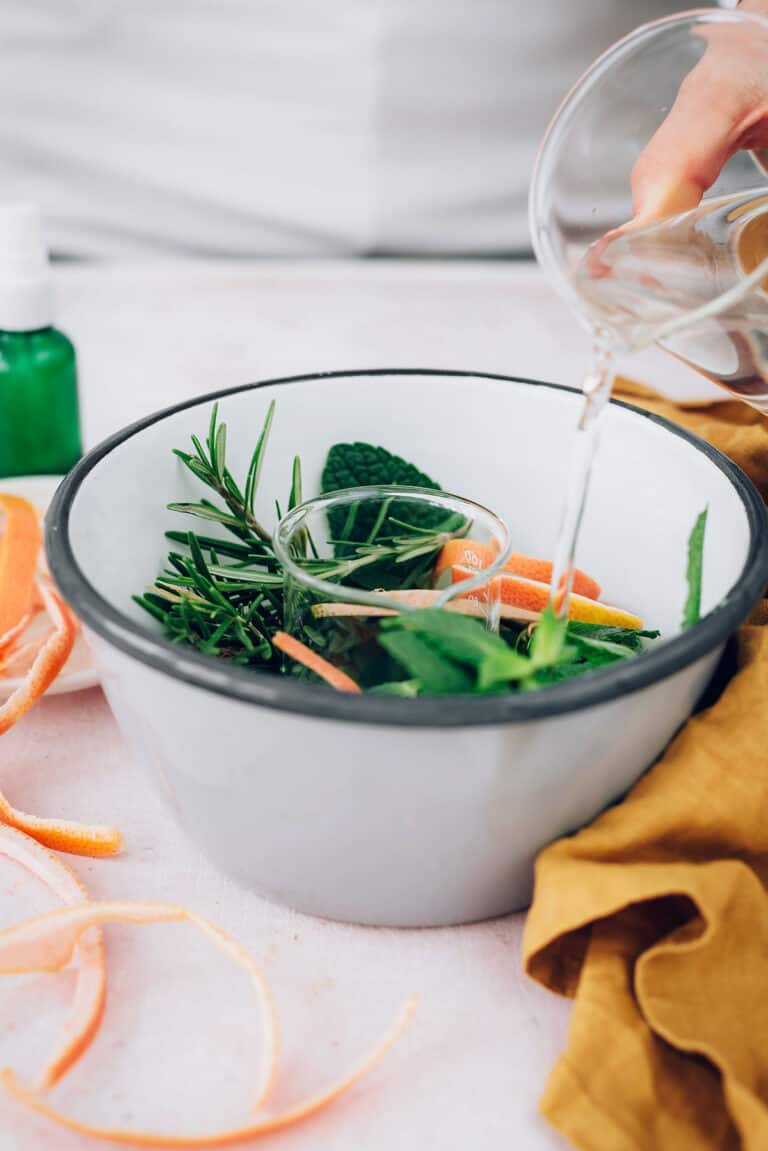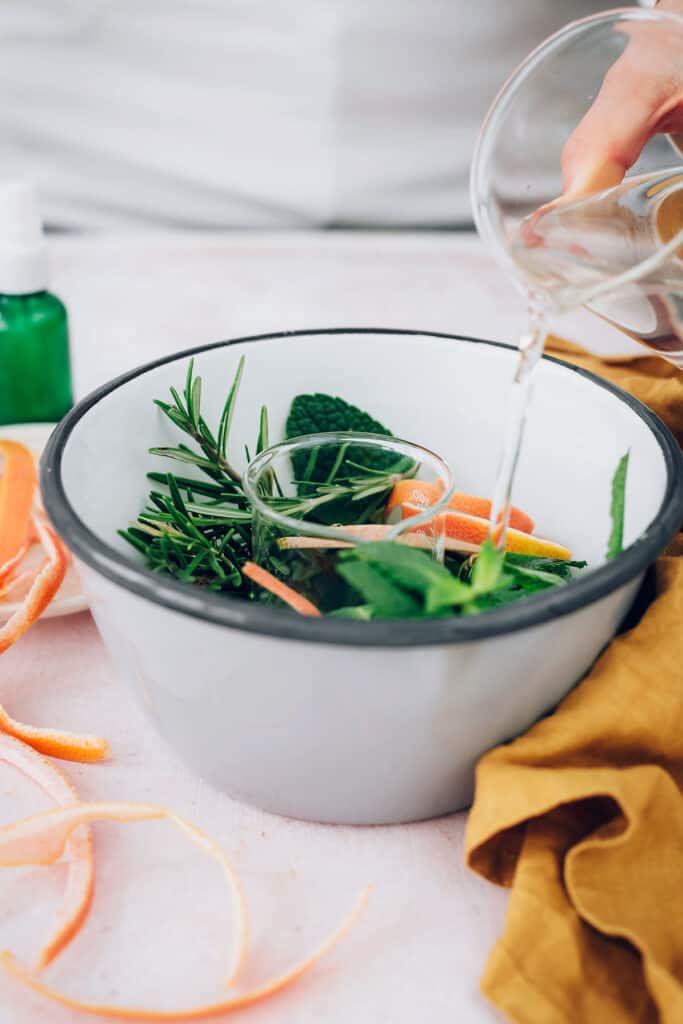 Place the heatproof bowl in the middle of your pot, arrange the herbs and fruit around it, and pour in your water. Now turn the lid upside down and place it on top of your pot with the handle directly over the smaller bowl. Put a bag of ice on top of the lid, then bring the water inside to a simmer.
Let the water simmer for about 25-30 minutes, replacing the ice periodically when it melts. As the steam rises in the pot, it will condense on the lid and drip down to the handle into the heatproof bowl, bringing good things from the herbs along with it!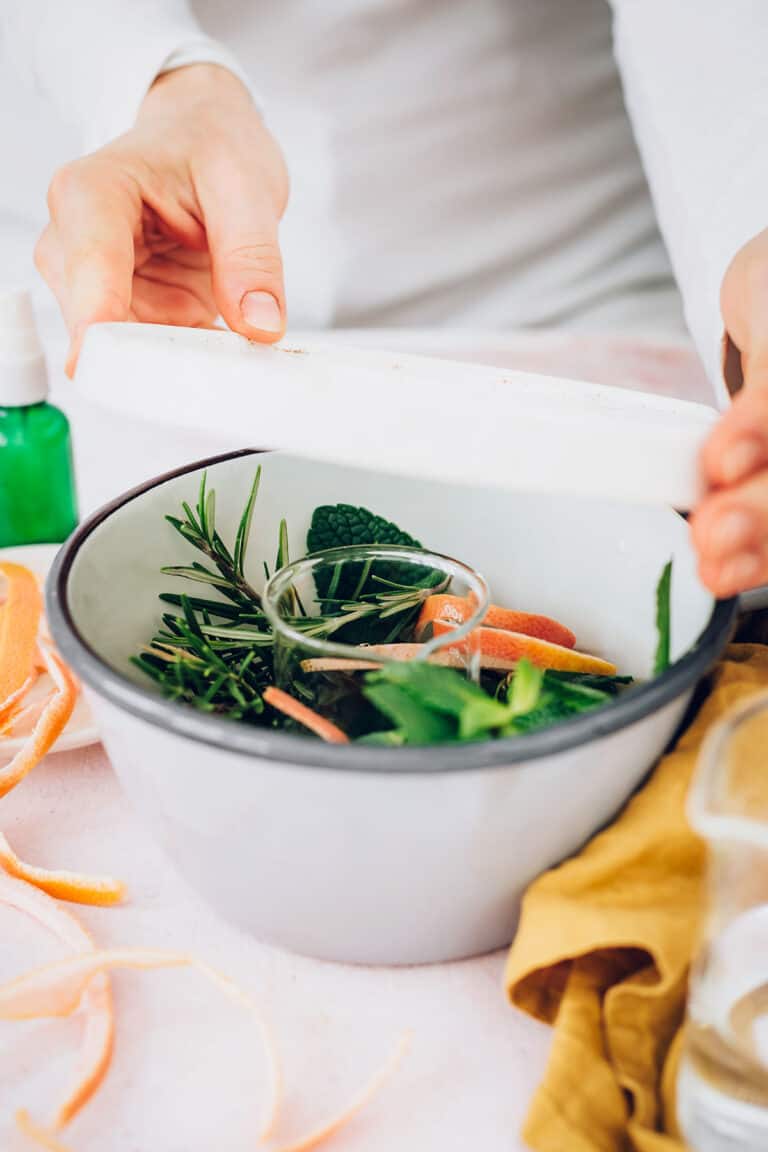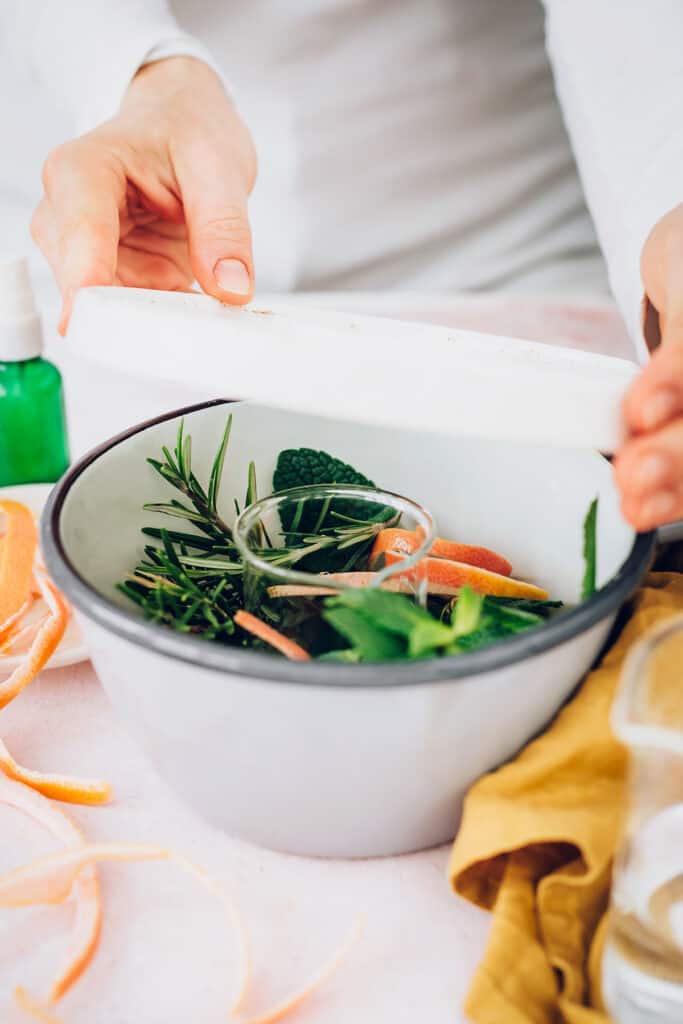 Once you are finished simmering, remove the pot from the heat and take out the smaller bowl to let the aromatic water cool. Pour the cooled water into a darker colored, glass misting bottle and enjoy your new naturally scented perfume.
To keep the hydrosol from spoiling, store it in a cool location away from direct sunlight (the refrigerator is perfect). Your homemade hydrosol should last for between 8 and 18 months.
Do you know of any interesting ways to use your homemade hydrosol? Let us know in the comments.
Photos by Ana Stanciu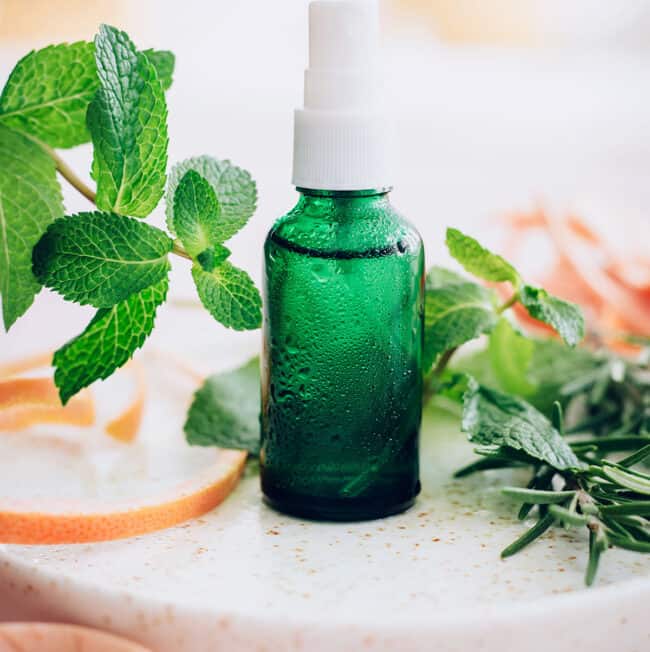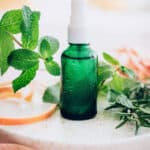 Print
Rosemary, Mint and Grapefruit Hydrosol Perfume
Mix up your natural beauty routine with this fresh, hydrosol perfume made with the uplifting combination of grapefruit, rosemary and mint.
Equipment
Stock pot with domed lid

Heatproof bowl or glass measuring cup

Large plastic ziploc bag
Materials
One small handful of fresh rosemary

One handful of fresh mint

Grapefruit peels from one grapefruit

3-4

Cups

distilled water

Ice in a plastic bag
Instructions
Arrange a heatproof bowl (such as a glass liquid measuring cup) in the center of a large saucepan or stock pot.

Place the rosemary, mint and grapefruit peels in the bottom of the pot around the smaller bowl. Pour the distilled water into the pot.

Cover with an upside down, domed lid with the handle centered over the smaller bowl, then place the bag of ice on the lid.

Bring the water to a simmer and let the condensation from the steam drip into the heatproof bowl for about 25-30 minutes. Replace the ice as it melts to continue the condensation.

When finished, remove the smaller bowl (now filled with your herbal water) and let it cool before transferring to a misting bottle.

Use generously and store in the refrigerator.
Notes
Wondering how to use it?
Spritz it liberally on clean, dry skin and let it sink in for a minute. Apply skin cream or oil to lock in moisture.
Use it as a makeup setting spray after applying your makeup in the morning.
Spritz it on pulse points as a soft, natural perfume.
Pour some on a cotton ball and use it remove eye make up at the end of the day.
Use it in place of water in your favorite face mask recipes.
Your homemade hydrosol should last for between 8 and 18 months in the refrigerator.
35