If you have dry skin like me, I hate to say it, but it's time to hop on the hyaluronic acid bandwagon.
For a while, it seemed like everyone I know – my friends, my dermatologist, heck, even Eva Longoria – were hounding me about investing in an uber-pricey bottle of hyaluronic acid serum. Despite their persistence, I'm forever a beauty minimalist (read: beauty skeptic), so it took me months to get around to trying it.
And truth be told, I didn't really see that much difference in my lackluster skin after burning through an entire bottle. Then I did something that changed everything—I made my own DIY hyaluronic acid serum—and I fell in love with the stuff.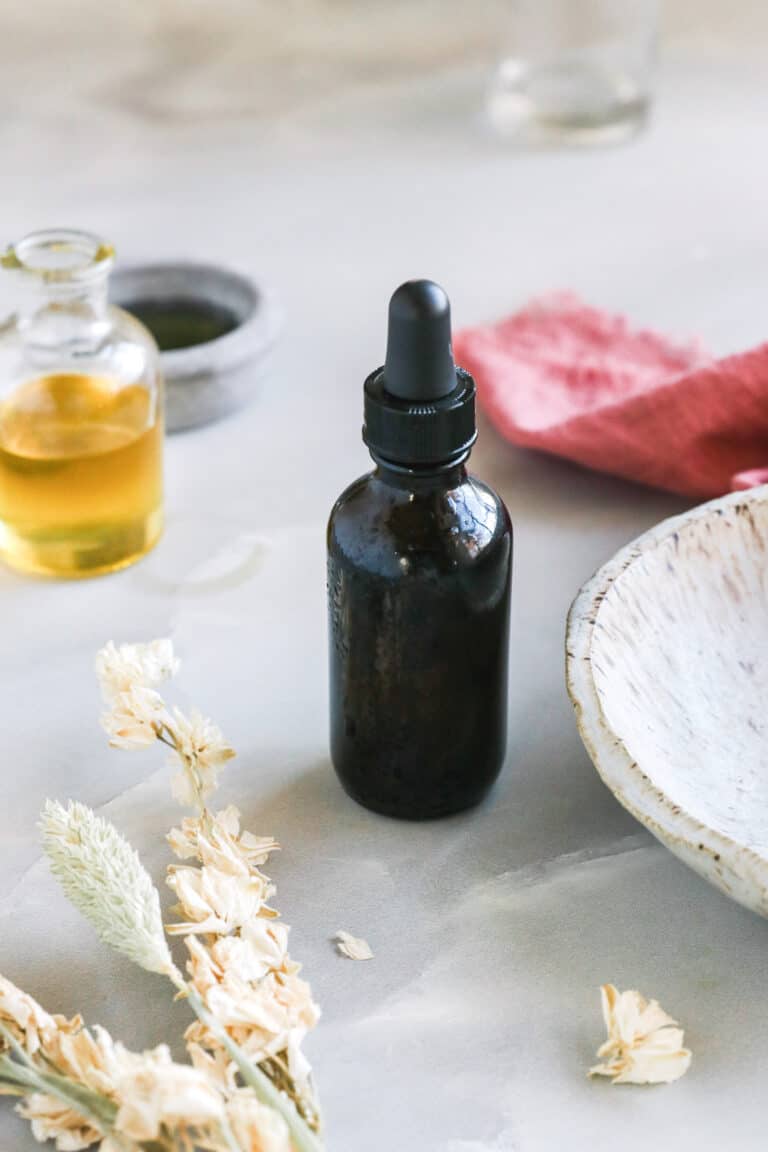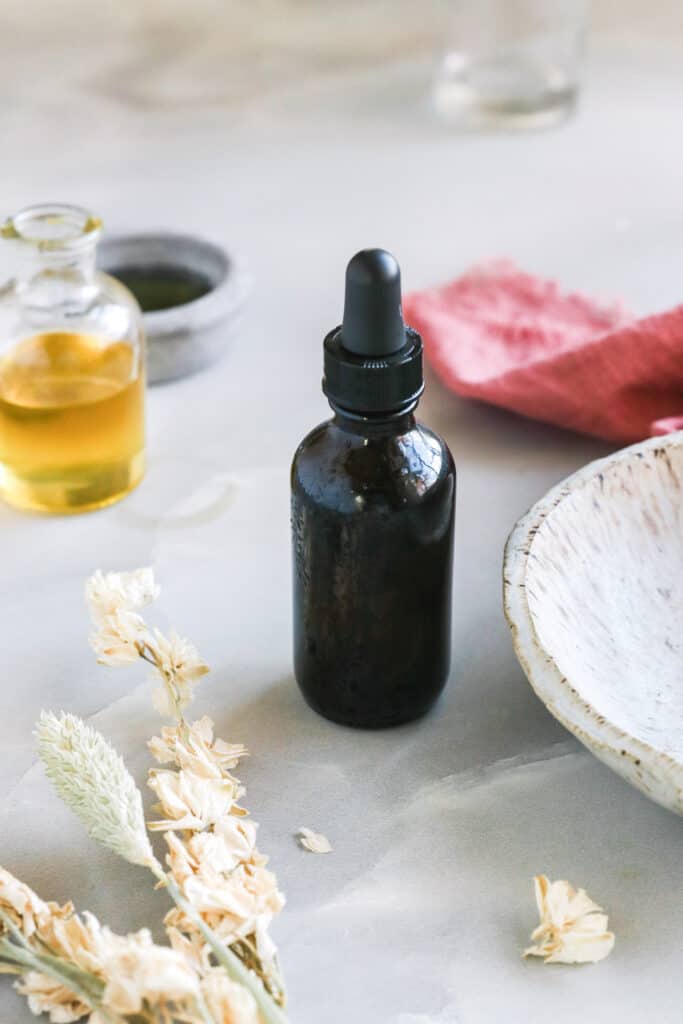 What is Hyaluronic Acid?
First things first—what is hyaluronic acid, anyway? At its most basic, hyaluronic acid is a molecule that's naturally found in your skin as well as the connective tissue in your body. It acts as a lubricant for the body – for joints, nerves, hair, skin, eyes, you name it – and its magic lies in its ability to attract and hold up to 1000x its weight in water!
As we age, the natural production of hyaluronic acid decreases, so our bodies don't look and feel quite as young or supple as they once did. From a beauty perspective, supplementing with it helps keep the skin moist, so it looks dewy, plump and young. When applied directly to the skin, it holds water in the skin and increases overall hydration without irritating skin or clogging pores.
By creating a protective barrier, hyaluronic acid serum is said to help alleviate dryness, facilitate healing and soothe redness. Basically, it's a game changer for healing dry skin and lessening the lovely side effects that come with it, like wrinkles, sagging and flakes.
In addition, hyaluronic acid helps to:
Soothe irritation
Repair skin's moisture barrier
Lessen the appearance of sun damage
Improve skin's overall elasticity
Protect against free radical damage
DIY Hyaluronic Acid Serum
Most store-bought brands contain somewhere between 0.25 to 2.5 percent hyaluronic acid, with the rest of the bottle being mostly water. But when you make your own serum, you get to control the amount of hyaluronic acid while also adding other ingredients to help nourish the skin.
Ideally, you want to aim for about a 1% hyaluronic solution in your DIY hyaluronic acid serum. This will provide enough skin firming and plumping benefits without irritating sensitive skin.
I swear by things like rose water and carrot seed oil for improving skin health. Neroli oil is my go-to for calming inflammation. And vegetable glycerin gives the serum a little substance and locks moisture into the skin. You can always add a bit of aloe vera gel for additional anti-aging benefits or jojoba oil for added hydration.
As always, feel free to tweak this recipe to meet your skin's particular needs.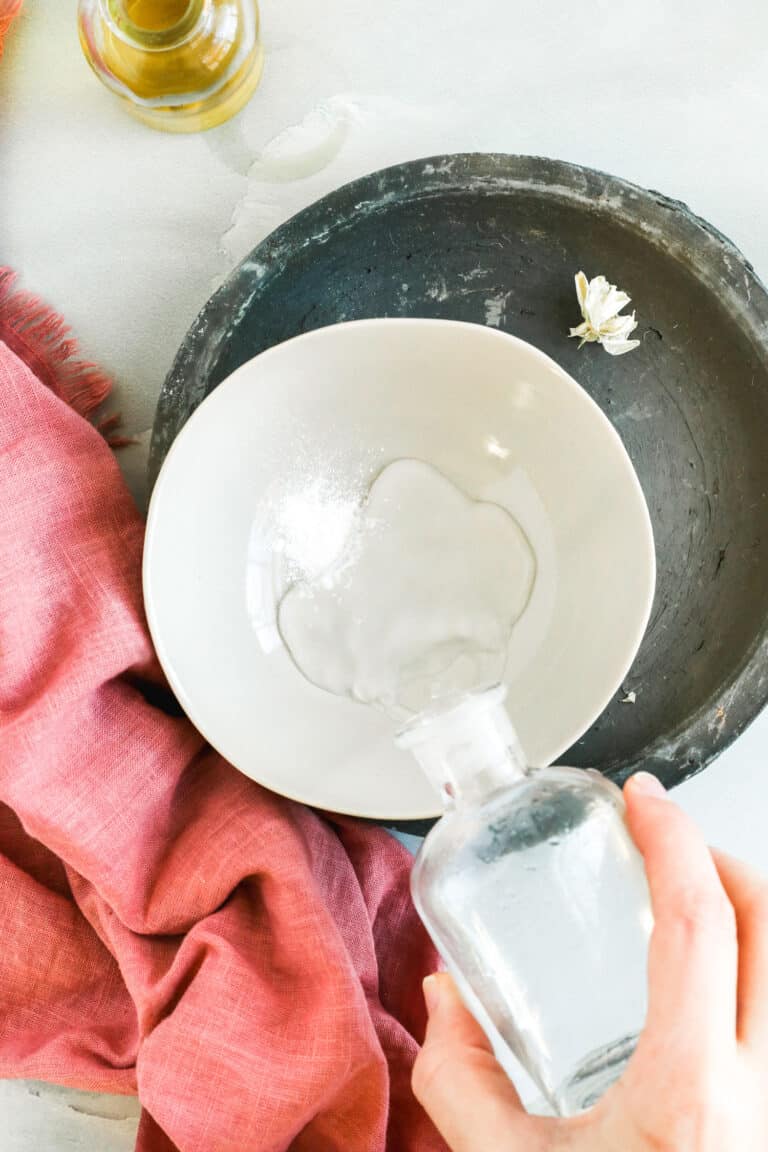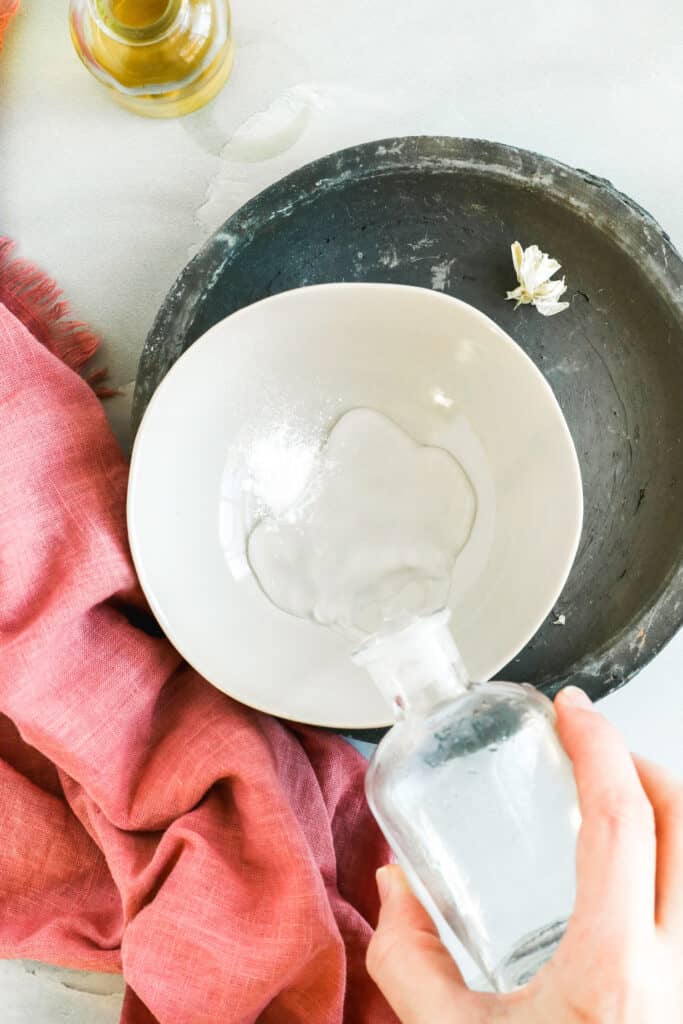 Is Hyaluronic Acid Safe for Sensitive Skin?
Since it's naturally found in the skin, hyaluronic acid is generally safe for all skin types, and you don't really need to worry about it causing irritation or exacerbating other skin issues.
But as with all beauty products, you may want to do a small spot test to make sure it, or some other ingredient in your serum, doesn't irritate your skin.
Hyaluronic Acid FAQ
Does hyaluronic acid serum really work?
Yes! And there's actually science to prove it. This study, in particular, details the effectiveness of hyaluronic acid on the skin.
It shows that "the depth of perioral and orbital wrinkles decreased significantly in all groups, with depth reduction ranging between 10% and 20%. Skin-tightness increased significantly in all groups, rising by 13 to 30%. Minimal significant changes in skin-elasticity could only be shown in individual groups."
Can I use a diy hyaluronic acid serum every day?
Yes, you certainly can. Go ahead and use it twice a day if your skin is especially dry or if you're battling stubborn wrinkles.
What's better: retinol or hyaluronic acid?
Retinol and hyaluronic acid do two different things.
Retinol encourages cell turnover, which stimulates collagen and elastin production. Meanwhile, hyaluronic acid absorbs moisture into the skin, plumping fine lines and wrinkles.
Both are important nutrients we need to replenish as we age. And both can help make skin appear younger and firmer. Because they do different things, there's no need to choose between the two. Alternating between both retinol and hyaluronic acid can make aging skin appear healthier and more vibrant.
Is there a difference between liquid hyaluronic acid and powder? Can I use the liquid instead?
So, the powdered hyaluronic acid we recommend is 100% hyaluronic acid. Whereas most liquid hyaluronic acids are already diluted to a .25 – 2.5% strength.
If you purchase a liquid HA, you can't control the strength (it's already diluted) and combining it with additional ingredients will dilute it even further, making it less effective. That's why we recommend using a powdered HA.
If you can find a 100% liquid, then go ahead and use it, if you prefer. Just know that we haven't tested it, so I'm not sure how much you should use in this recipe.
Can I use too much hyaluronic acid?
While you might be tempted to go a little HA happy, just know that using more than the recommended 2.5% might cause redness or irritation, especially if you have sensitive skin.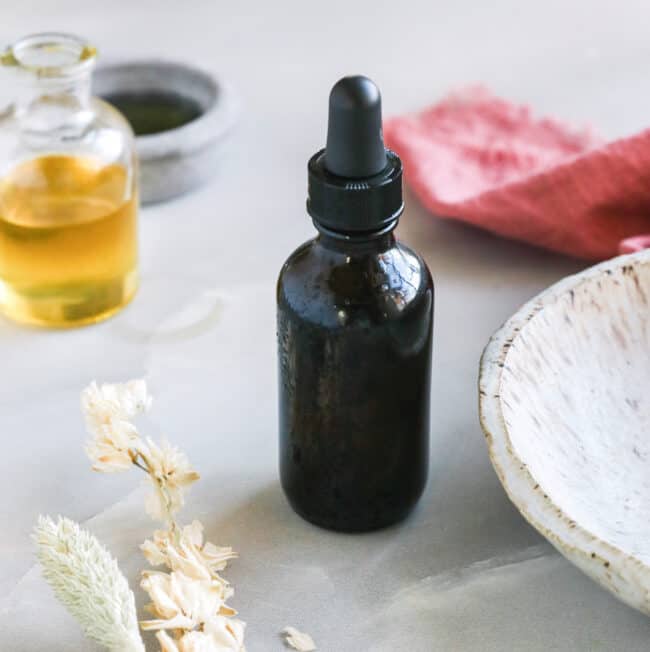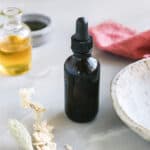 Print
Homemade Hyaluronic Acid Serum Recipe
How to make a hyaluronic acid serum that hydrates, plumps and protects your skin.
Equipment
small funnel

2-ounce glass dropper bottle
Instructions
Place the hyaluronic acid powder in a small bowl. Add the water and stir vigorously to dissolve. The cold water should help the powder dissolve more easily, but if you're still seeing chunks, you can put the mixture in a small blender or food processor to get it to mix completely.

Transfer the mixture to an amber bottle. Add the glycerin, carrot seed oil and neroli oil and shake well.

Let the serum sit for at least 4 hours to allow the hyaluronic acid powder to dissolve completely before using.
Notes
To use, apply a bit of serum to freshly washed skin and let it soak in. Follow up with any additional serums or creams. Apply 1-2 times a day to keep skin looking fresh and dewy.
Store remaining serum in the refrigerator for up to 2 weeks.
To keep your serum fresh, feel free to halve the recipe to make smaller portions. And while the supplies can be a little pricey upfront, they're used in such small quantities that they should last for a long time.
This post was medically reviewed by Dr. Jennifer Haley, a board-certified dermatologist with extensive experience in medical, cosmetic and surgical dermatology. Learn more about Hello Glow's medical reviewers here. As always, this is not personal medical advice and we recommend that you talk with your doctor.
80