Cooling down during summer means more than just adding some ice cubes to your regular drinks. Your body needs fresh nutrients to handle the stress of heat and adjust the activity of your cells.
Fresh juice is a great and easy way to support your health during the long, hot summer days. Cucumbers, watermelon, mint, aloe and leafy greens are made to keep us cool as… a cucumber!
With such a wide variety of fruits available now at the farmer's market, one would first think of adding as many of them to morning juices. Actually it's much better to eat your fruits as they are, to get the benefit from their fiber, rather than juicing them and ingesting more sugar than your body needs.
For a balanced nutritional load and a natural energy kick, we like to combine both fruits and veggies in a juice. As long as you keep your juice base loaded with veggies, adding a fruit or a superfood will only increase the nutritional benefits and make your body happy.
6 Summer Detox Juice Recipes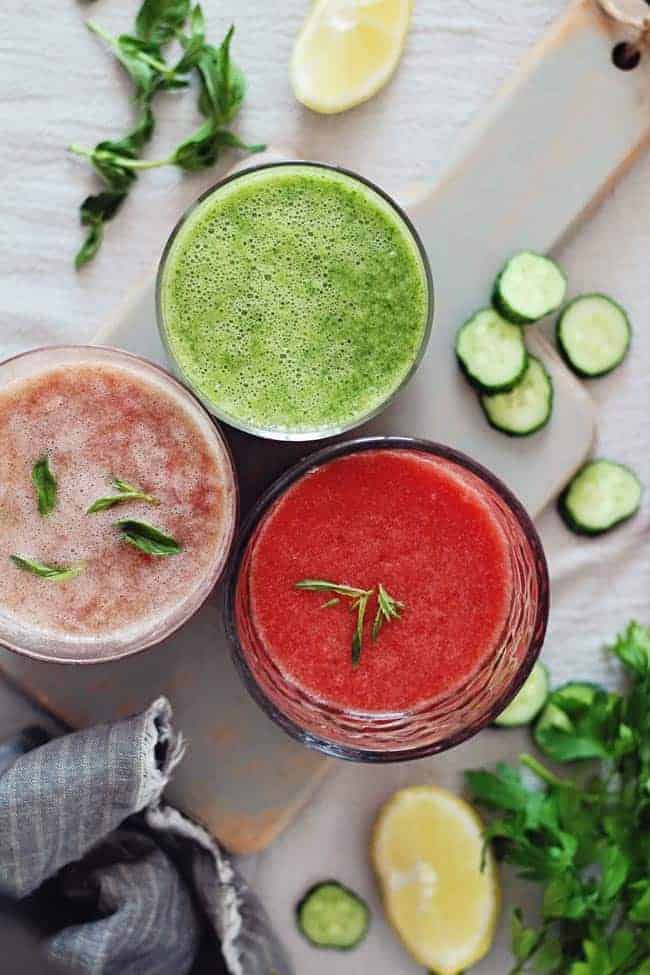 These 6 detox juices are major multi-taskers, though: they do a great job of cooling you down when heat and humidity strike (think of them as air-conditioning for your insides!), and are full of diuretic detox ingredients like watercress, parsley and celery that battle bloating and inflammation.
1. Watermelon Toxin Flush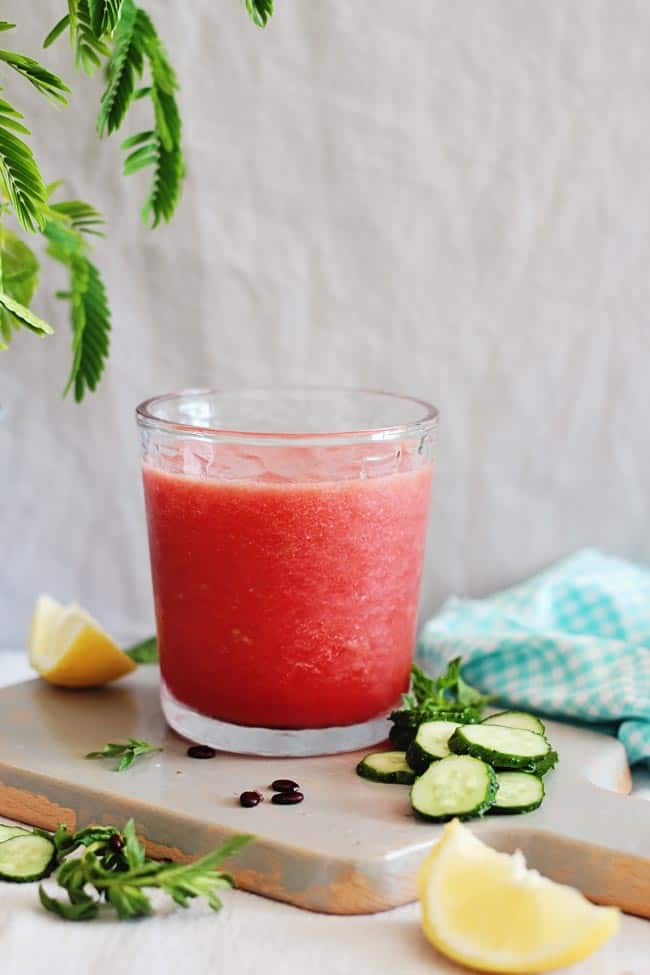 There's a reason watermelon has its name! If you're one of those people (present company included) who hacks off a piece to eat over the sink immediately after buying one, you'll love this juice. The combination of watermelon and mint is absolutely divine, and the lemon helps regulate your pH.
2. Cucumber Detox Elixir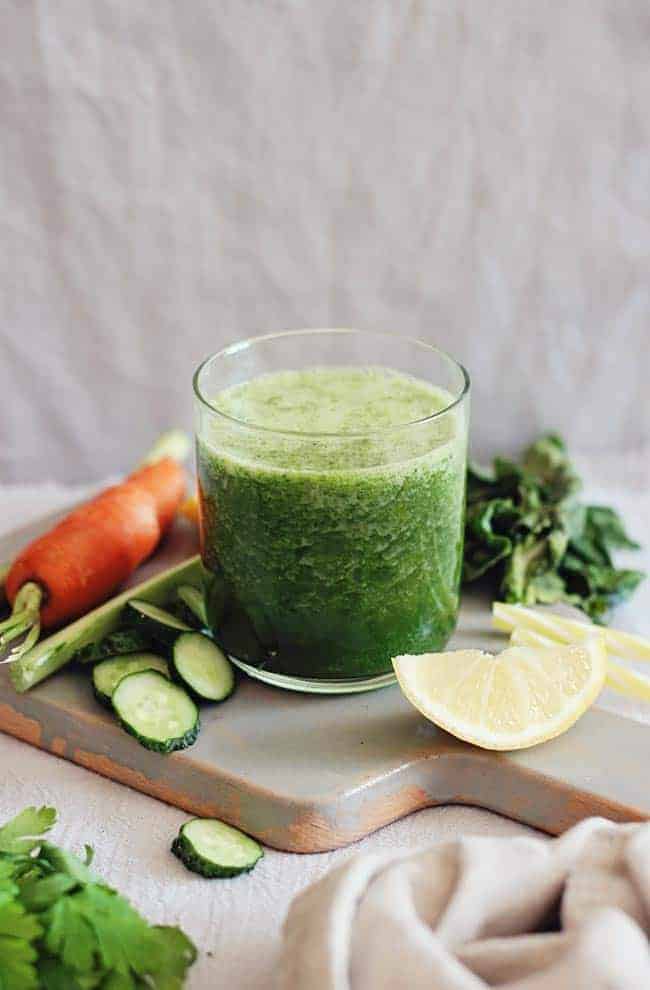 Bored with your green juice routine? Carrots sweeten this one up a bit, while lemon adds tang and watercress or dandelion leaves (your choice) add a peppery, slightly bitter flavor as well as calcium and antioxidants.
3. Mint Grapefruit Cool Down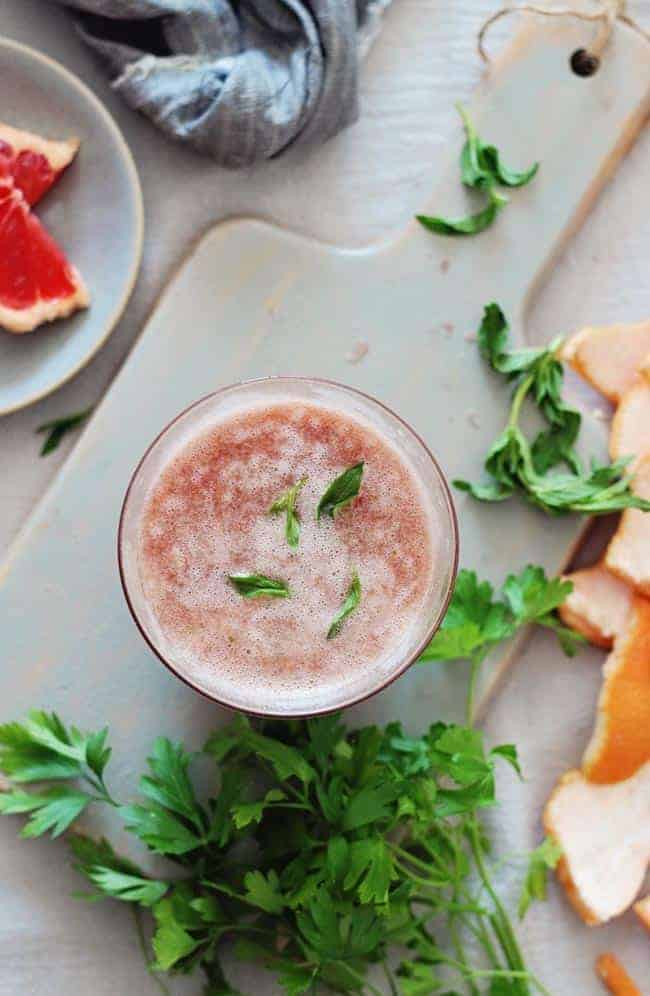 Mint also pairs well with grapefruit, and this easy drink has extra detox power thanks to the immune-boosting, inflammation-fighting properties in parsley, a natural diuretic.
4. Cool Cucumber Juice

Spinach is known for its anti-inflammatory effects and high mineral content, while cucumber adds its unique phytonutrients with a key role in cancer prevention.
5. Citrus Kiss Juice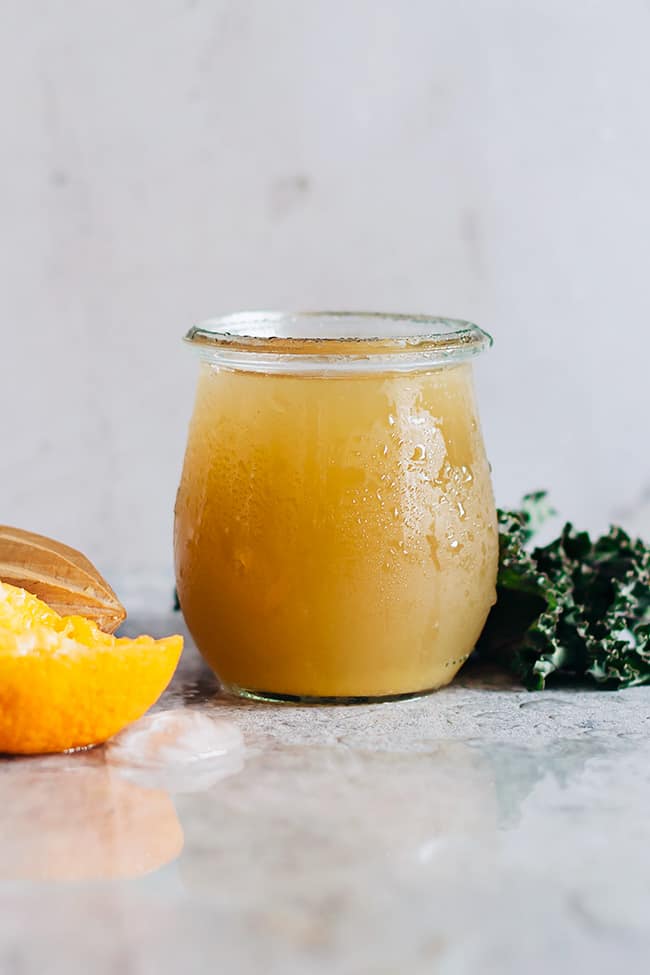 Rather than going for classic OJ in the morning, try this improved version with antioxidant kale, immune-boosting ginger, and hydrating romaine and dandelion.
6. Love the Liver Juice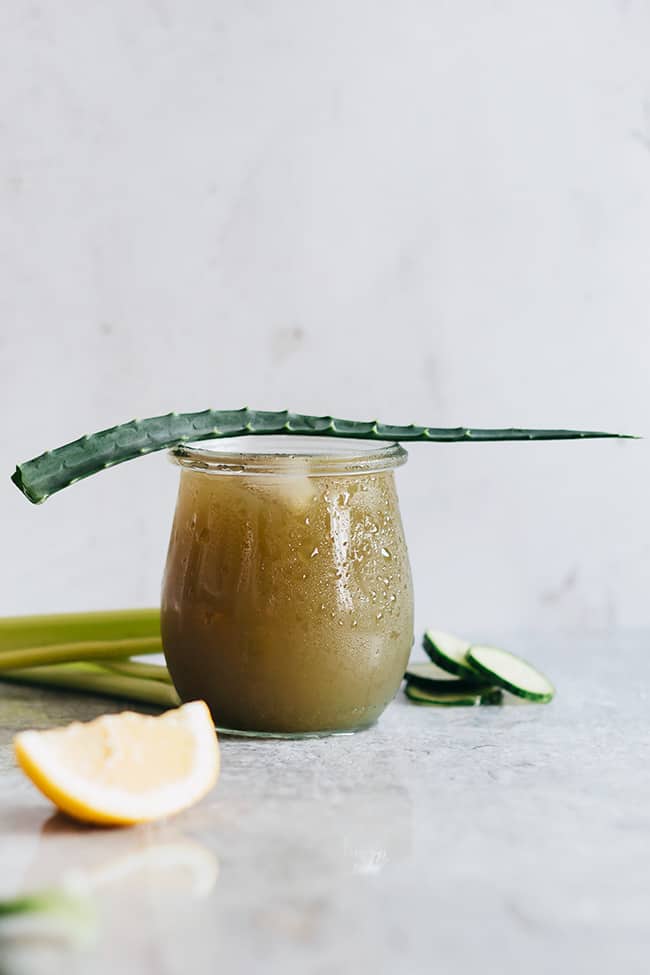 Give your liver a break with a different kind of green juice: aloe, parsley, cilantro, and alkalizing celery stalks.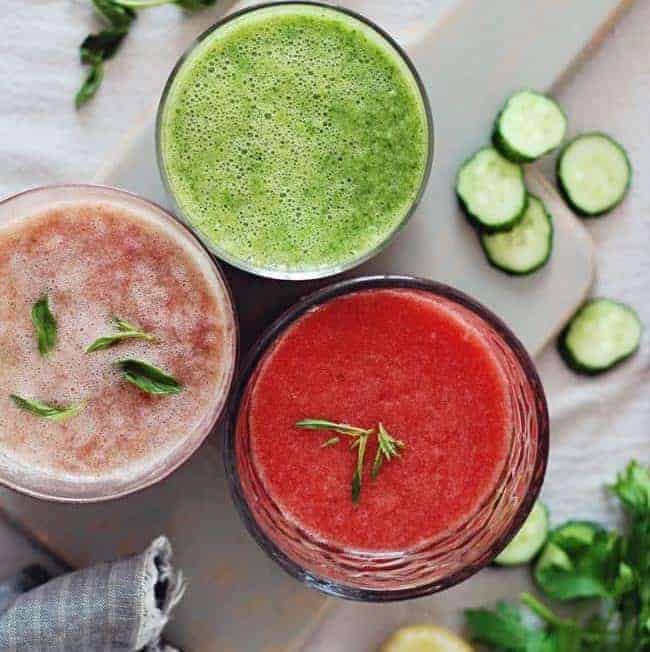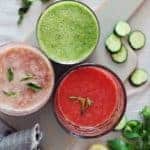 Print Recipe
Hydrating Summer Detox Juices
Hydrate and detox with these healthy summer juice recipes.
Ingredients
Watermelon Toxin Flush
1

cup

spinach

1

cucumber

2

cups

of watermelon

1

lemon

juice only

5

leaves

mint
Cucumber Detox Elixir
1

cucumber

3

celery stalks

1

handful

watercress

or 3 dandelion leaves

2

carrots

1

lemon

juiced
Mint Grapefruit Cool Down
2

grapefruits

1

handful

fresh parsley

1

handful

fresh mint
Cool Cucumber
1

handful

spinach

1/2

head

romaine lettuce

1

cucumber

1

handful

parsley

1/2

green apple

1

lemon

juiced

1

teaspoon

turmeric powder
Citrus Kiss
4

leaves

of kale

4

leaves

of romaine

4

leaves

of dandelion

1

orange

1/2

inch

ginger knob

peeled
Love the Liver
2

cucumbers

4

stalks

celery

1

handful

parsley

1

handful

cilantro

3

lemons

juiced

Aloe Vera Juice
Instructions
Juice all ingredients in juicer.

Pour into glass(es) and enjoy immediately.
Photos by Ana Stanciu
66