Since when did the holidays become synonymous with food? No matter how hard I try, I always fail to keep my diet in check and my elastic-waist pants tucked safely away in my closet during those last few weeks of the year. And I'm okay with that—or at least I have come to accept it. But my stomach is a different story.
All those rich, carb-heavy foods can be hard on the body. And our stomachs, when bogged down with sugar, salt, and other refined ingredients, may have trouble processing them. But that's where digestive bitters come in handy. Incorporating them into your diet can stimulate healthy digestion, curb sugar cravings, and lessen the food hangover that comes with all those hearty holiday meals. Here's how to make your own.

How to Make Digestive Bitters
As humans, we evolved eating a variety of wild fruits, greens, roots, and barks—most of which were rich in bitter flavors. Over time, our taste buds adapted so that bitter flavors actually stimulate our innate digestive response, which primes the body for food.
Bitter foods help activate the liver and encourage the production of digestive enzymes and juices so the stomach can better digest food [source]. But with modern food processing, most of our food's bitterness is stripped away in favor of salty or sweet flavors. And because bitterness is lacking, our digestive systems don't always operate as well as they should.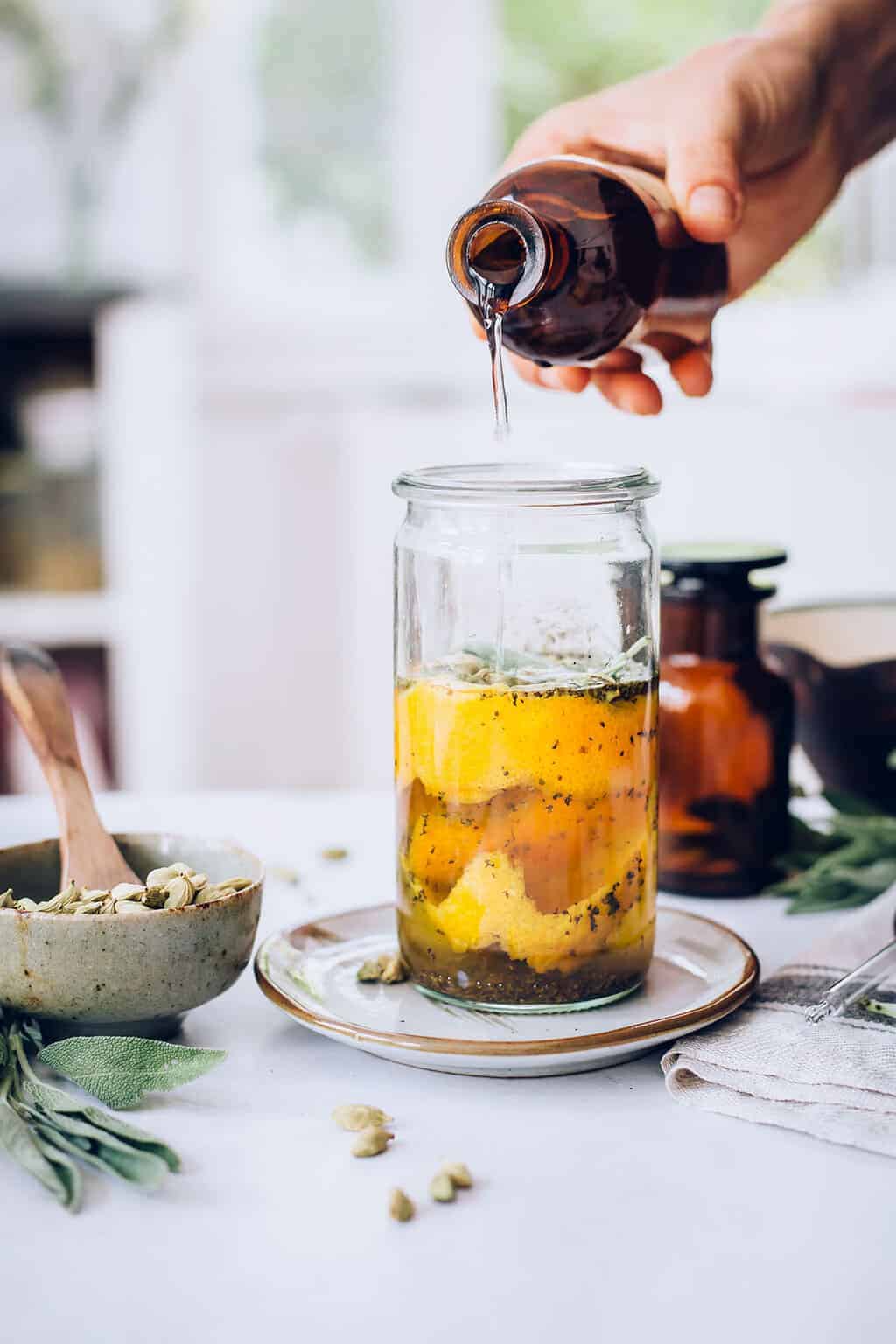 Taking digestive bitters before a large meal can replace the bitter flavor missing from our food help stoke the inner digestive fire [source]. Consuming bitters at least 15 minutes before eating has been shown to aid digestion, stimulate bile juices, and calm the nerves.
Not only that, but when you taste bitterness, your heart rate slows down, and your glandular and intestinal activity increases, priming your stomach to digest efficiently.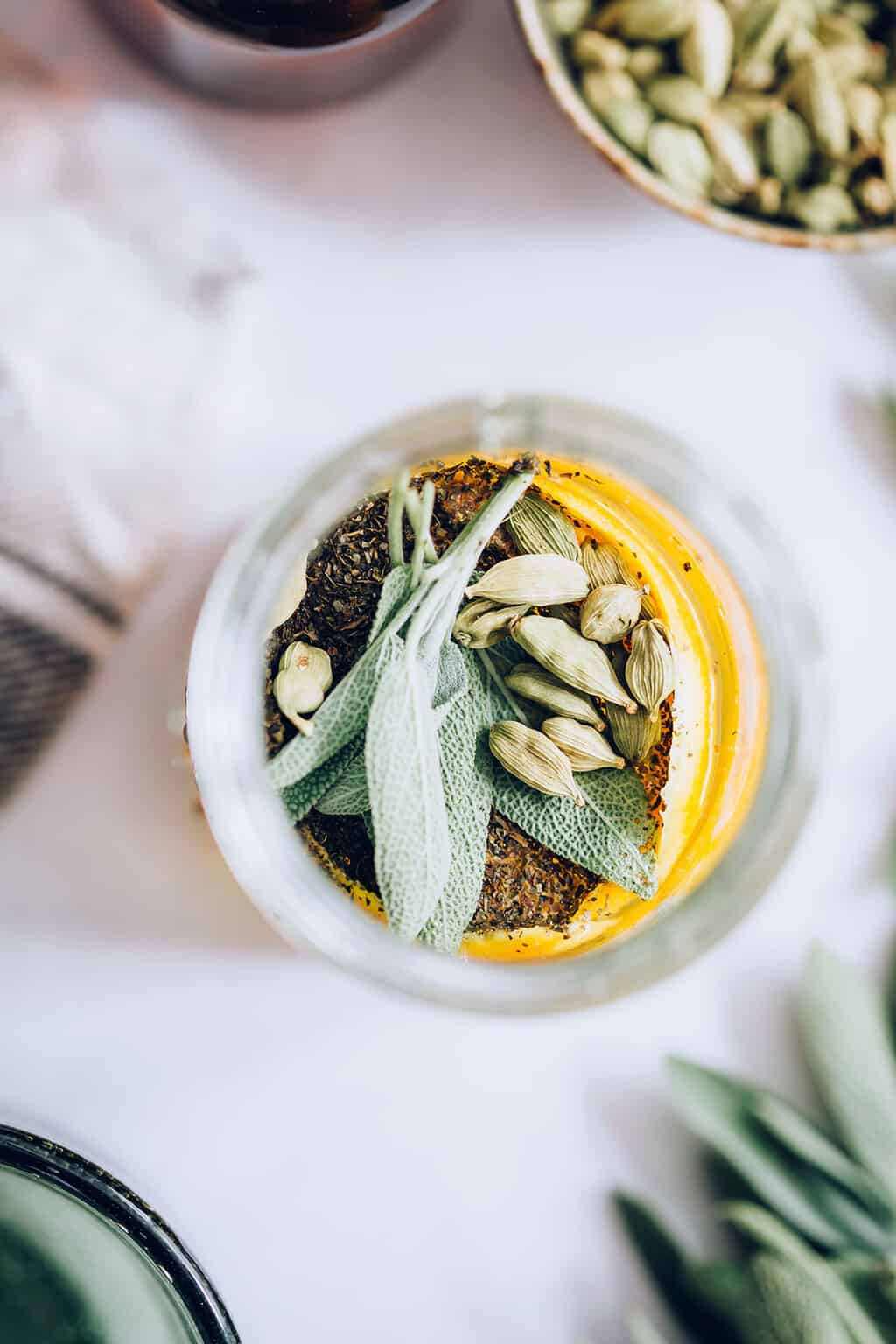 While digestive bitters used to be predominantly made from bitter greens, these days, they're typically alcohol-based and more of a tincture. You can use a variety of different herbs to make yours (especially if you'd like to play with the flavor), but herbs that naturally support the stomach go a long way toward settling it and encouraging healthy digestion. Here are some of my favorite ingredients for bitters:
Dandelion
Dandelion greens have long been used for their bitter and anti-inflammatory properties. They have been shown to trigger the release of digestive enzymes and aid in detox by helping the body break down and expel fat [source]. Plus, they're loaded with vitamins A and K, calcium, iron, and potassium, making them a nutritional powerhouse.
Citrus
Highly acidic citrus fruits like orange and lemon can help increase the acidity within the stomach and promote better digestion. Their peels contain phytochemicals with a multitude of health benefits [source]. By soaking the peels in alcohol, you can easily extract the oils that make citrus fruits bitter without watering down your tincture.
Sage
Sage is a well-known stomach-soothing herb that helps treat digestive problems like loss of appetite, stomach pain, bloating, heartburn, and diarrhea [source]. Plus, it adds a green, earthy flavor to the bitters, which compliments the citrus, making it more palatable.
Cardamom
Like sage, cardamom is often used to treat a myriad of health issues [source]. It improves digestion, helps stimulate the liver and gallbladder, and encourages a healthy appetite.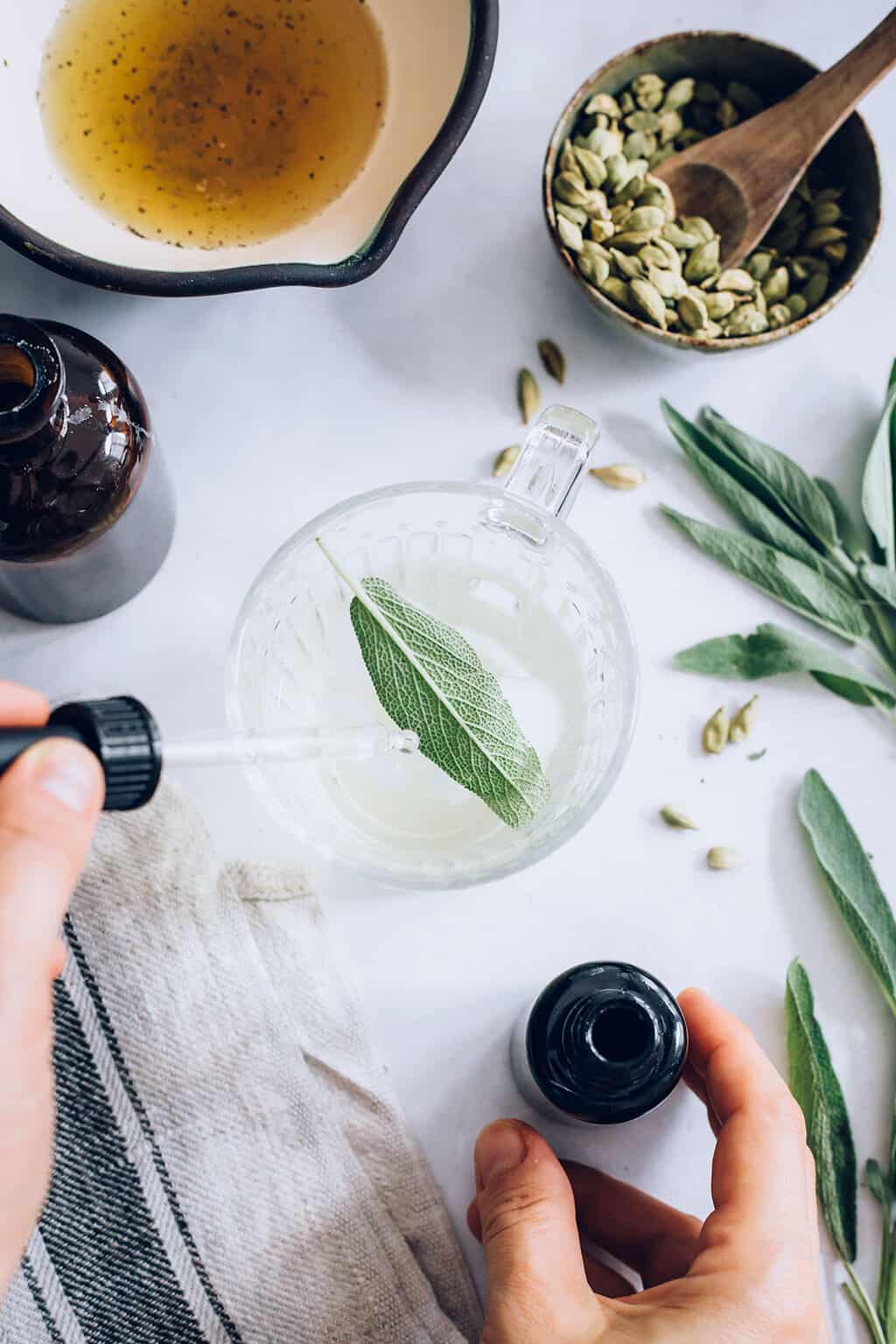 How to take digestive bitters
To prime the digestion, it's best to take bitters at least 15 minutes before you eat. You need to taste them to get the full effect, so place a few drops directly on your tongue or dilute them with a tablespoon of seltzer water.
If you really don't like the flavor, mix 1 to 2 tablespoons of bitters with 8 ounces of water and store them in a glass in the refrigerator. Take a sip before each meal, letting your tongue experience the bitter flavor as best you can.
Bitters can also be used for acute issues like upset stomach, indigestion, or occasional heartburn, so feel free to take them after you eat or whenever you're experiencing gastrointestinal upset.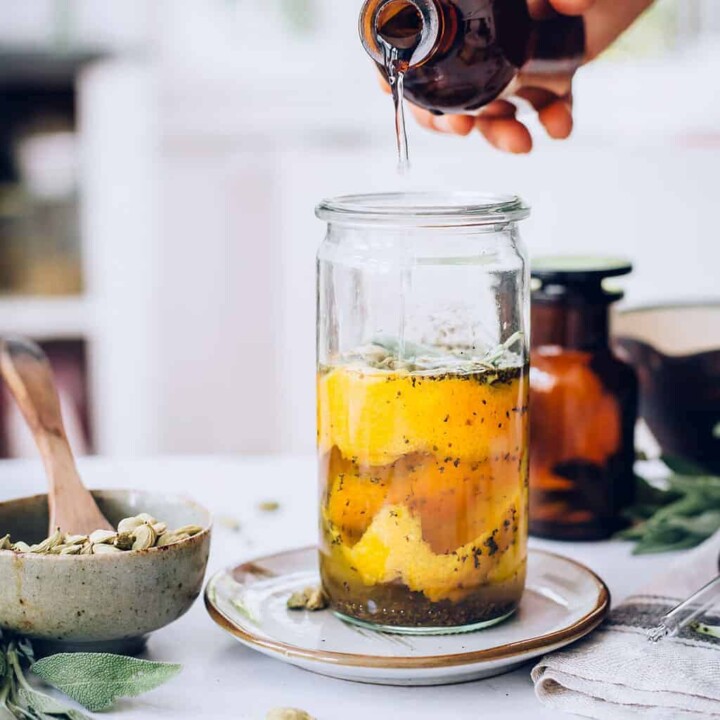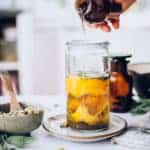 Print
Digestive Bitters
We'll show you how to make your own digestive bitters at home. If you suffer from stomach upset and indigestion after meals, give this a try!
Materials
Peel of 1 orange

(white pith removed)

2

tablespoons

dandelion leaf tea

(if using teabags, simply cut open the bag and shake out the tea)

3

fresh sage leaves

1

cup

gin

(white rum or vodka)
Instructions
Tear the orange peels into small pieces and place them in the mason jar. Add the dandelion, sage, and cardamom pods. Pour in the alcohol and fill to the top of the jar. Put the lid on and give it a good shake.

Place in a cool, dark cupboard. Shake daily for 2 to 3 weeks. After 3 weeks, strain the contents using cheesecloth and reserve the liquid. Pour into 2-ounce amber dropper bottles.

To use, place a ½-dropper amount directly on the tongue at least 15 minutes before a meal.  
Notes
Taking digestive bitters before a large meal can help stoke the inner digestive fire and replace the bitter flavor that's missing from our food. Consuming bitters at least 15 minutes before eating has been shown to aid digestion, stimulate bile juices, and calm the nerves.
Bitters should last 1–2 years if stored in a dark, airtight container.
This article was medically reviewed by Dr. Gina Jansheski, a licensed, board-certified physician who has been practicing for more than 20 years. Learn more about Hello Glow's medical reviewers here. As always, this is not personal medical advice and we recommend that you talk with your doctor.
120