I know I'm a little late to the game, but I recently became obsessed with making my own herbal remedies. It's not that I didn't believe they would work or that I poo-poo anything other than Western medicine. It's just that I never really had the time to figure it out. Then I received a medicinal herb garden kit for Christmas – a sign from the universe, if you ask me – and I took the hint. While I make a lot of teas, syrups and salves, I find that tinctures give the most bang for my herbal buck. They're incredibly easy to make, easy to take, and highly concentrated so a little goes a long way.
Here's how to make them, when to use them and some simple recipes to get you started with the process.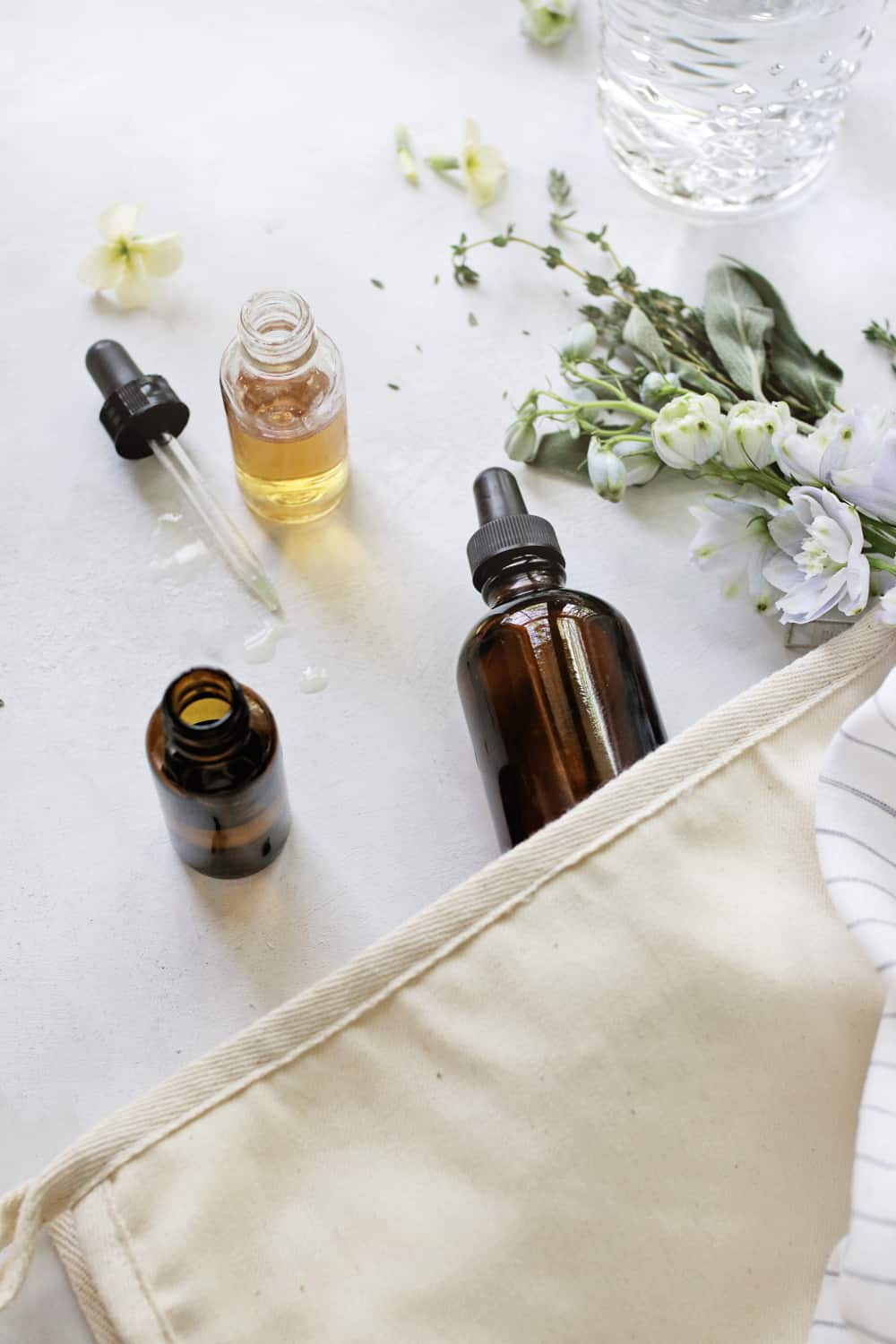 What is a tincture?
Don't let the word "tincture" intimidate you. A tincture is just a concentrated herbal extract made with alcohol, which can be taken straight or diluted in tea or water. In short, it's another way of extracting the active properties of an herb, except by using alcohol instead of water, vinegar or glycerin as the solvent.
As opposed to herbal teas or capsules, tinctures are easy to use, portable and more concentrated than other herbal remedies. Whereas you might need to prepare 4 or 5 cups of tea to get the benefits of an herb, you may only need a dropperful or two of a tincture. Plus, thanks to the alcohol, tinctures have a long shelf life and can often last up to 5 years or more.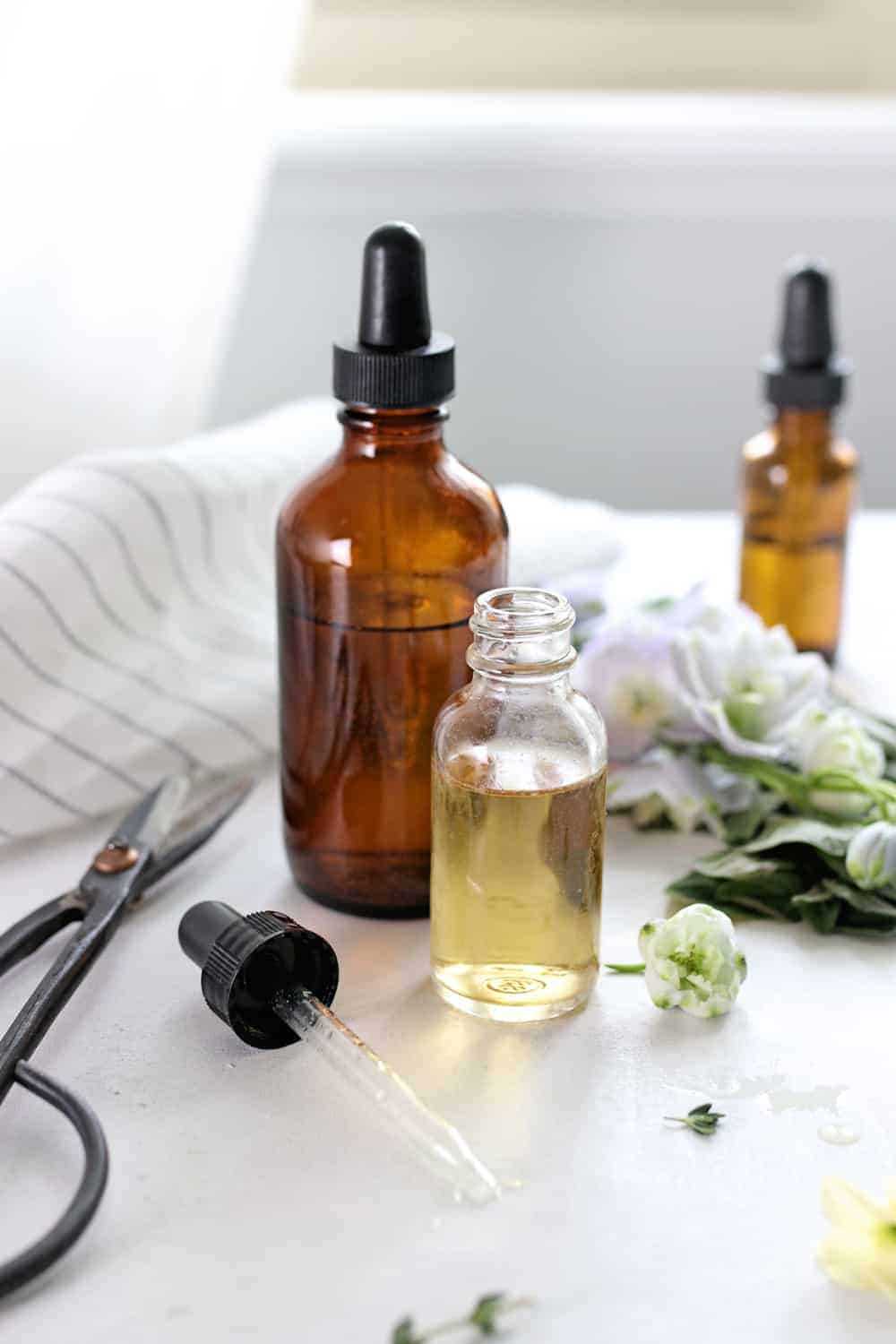 When to use them
Due to the alcohol in tinctures, the herbal extracts are quickly absorbed into the bloodstream and with effects being most noticeable within about the hour. Because they're fast-acting, tinctures are perfect for things like pain, tummy troubles, anxiety, and insomnia. I like to keep a few different tinctures on hand for whenever acute illnesses or aches and pains crop up. And I always have a toning tincture at the ready for PMS, hormonal acne, or other signs of hormonal imbalances.
But aside from acute illnesses, you can use a tincture for anything that you might use an herbal tea for, like:
Sleeplessness
Stress
Indigestion
Cold and flu relief
Allergies
How to make a tincture
Tinctures really only require three things: herbs, alcohol and a glass jar.
Alcohol
Alcohol is the solvent that extracts the medicinal properties from the herbs. You can use any type of alcohol you like, but I typically choose vodka because it has a more neutral flavor than other alcohols (although I have heard that rum works just as well). While standard 80 proof vodka is good for most fresh and dried herbs, choosing a higher proof will help draw out more of the plant juices.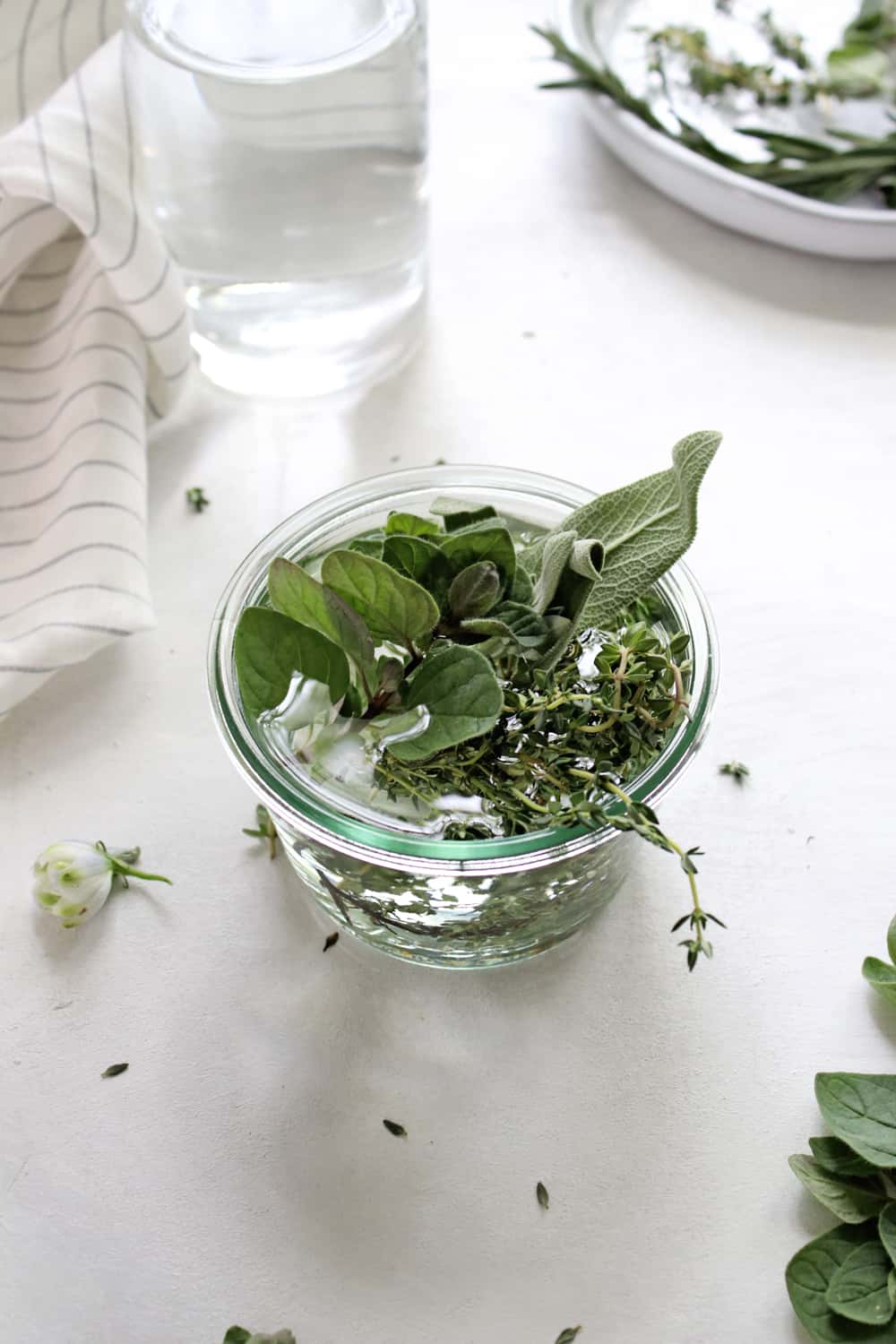 Here's how to use different proofs when making tinctures:
80 proof vodka: Considered standard for most tinctures, 80 proof vodka should be used on fresh and dried herbs that don't have a high moisture content.
80 proof vodka + 190 proof grain alcohol (use a 1:1 ratio): A higher alcohol content helps extract more volatile plant compounds, especially when using herbs with a higher moisture content.
190 proof grain alcohol: Grain alcohol is typically used for dissolving gums and plant resins found in barks and dried plant matter. While it more easily extracts essential oils and aromatics in plants, it makes for stronger-tasting tincture, which some people find hard to take. It can also dehydrate your herbs, affecting the quality of your tincture in the long run.
Herbs
Tinctures can be made with fresh or dried flowers, leaves, berries, or bark – basically any plant material that has therapeutic benefit. Since my medicinal herb garden is thriving, I usually use fresh herbs for my tinctures. But use whichever is easier for you.
While you can always measure your herbs to determine the strength of your tincture, I'll be honest, I just eyeball it. Here's a quick rule of thumb for how much plant material to use in your tincture:
Fresh herbs: Fill the jar 2/3 full
Dried herbs: Fill the jar 1/2 full
Fresh and dried roots and berries: Fill the jar 1/3 – 1/2 full

Instructions
Here's a quick video showing you how to make your tincture. Or skip to the instructions below.
Finely chop or grind your herbs with a mortar and pestle. Sometimes I'm lazy and don't do this (just toss it in! is my motto), but I definitely notice a difference in the strength of my extract when I do.
Once you have filled your jar with herbs, you'll want to fill the rest of the way with alcohol so that it completely covers the plants.
Screw on the lid. If using a jar with a metal lid, you'll need to keep it from rusting by placing a piece of parchment or plastic wrap over the mouth of the jar, prior to screwing on the life. Place your jar in a cool, dry, dark cabinet.
Shake the jar every couple of days and check to see that the alcohol hasn't evaporated too much. If the herbs are no longer totally submerged, top it off with alcohol (this will keep your herbs from molding).
Let the mixture extract for about 8 weeks.
When the extraction process is over, place a funnel in an amber dropper bottle and place a fine mesh strainer on top. Pour the tincture into the bottle. To extract more of the tincture, wrap the herbs in cheesecloth and squeeze the remaining liquid from the herbs.
Label each bottle and store in a cabinet until ready to use.
To take, either place a few drops directly under your tongue or squeeze a dropperful into a glass of water. The actual amount you should take depends on the strength of your tincture, the herbs used and your body chemistry. I usually start with half a dropperful and work my way up.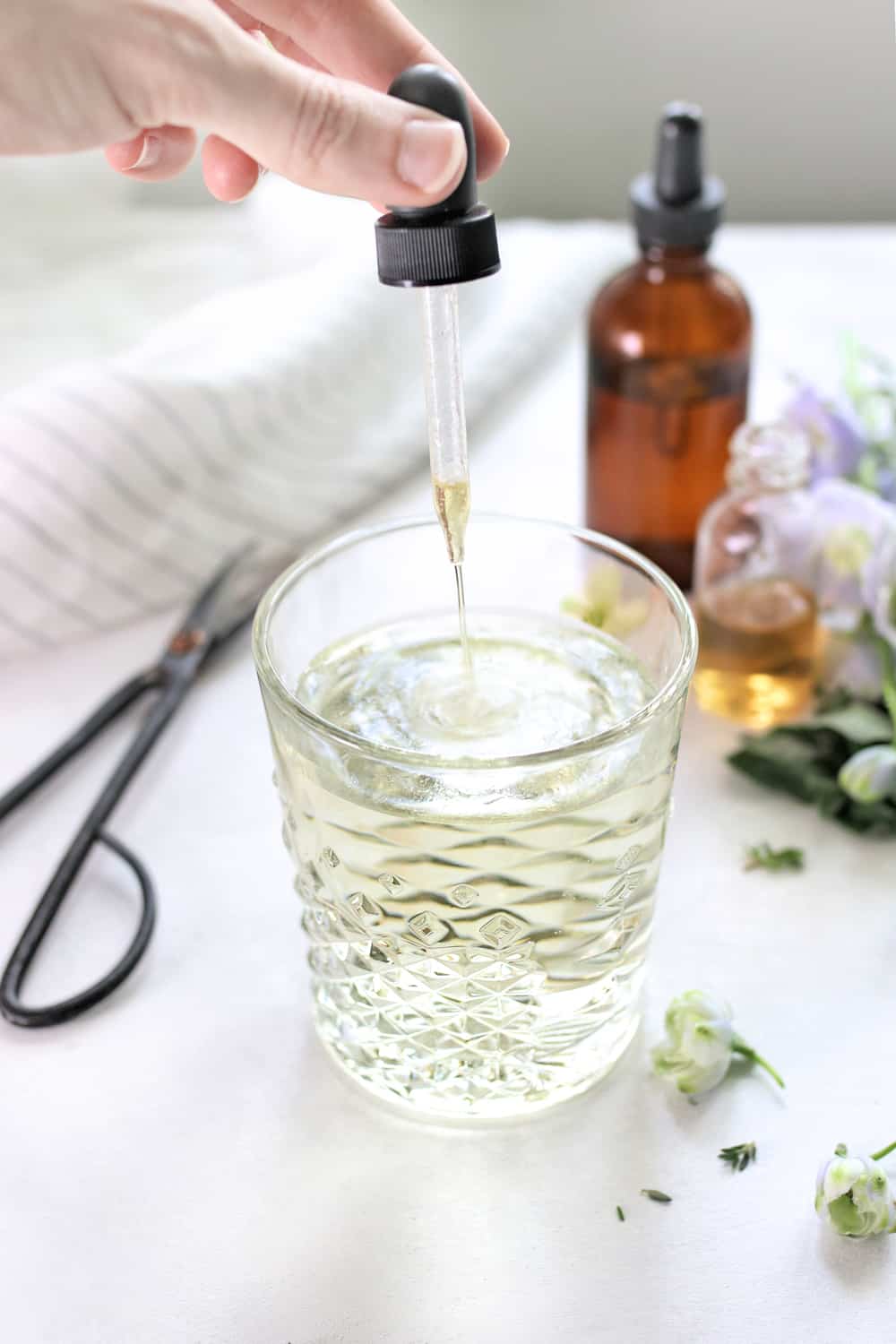 Tincture Recipes
Here are some of my favorite recipes to get you started. Don't worry too much about the ratios. Just eyeball the herbs as you place them in the jar.
Cleansing Tincture
PMS Tincture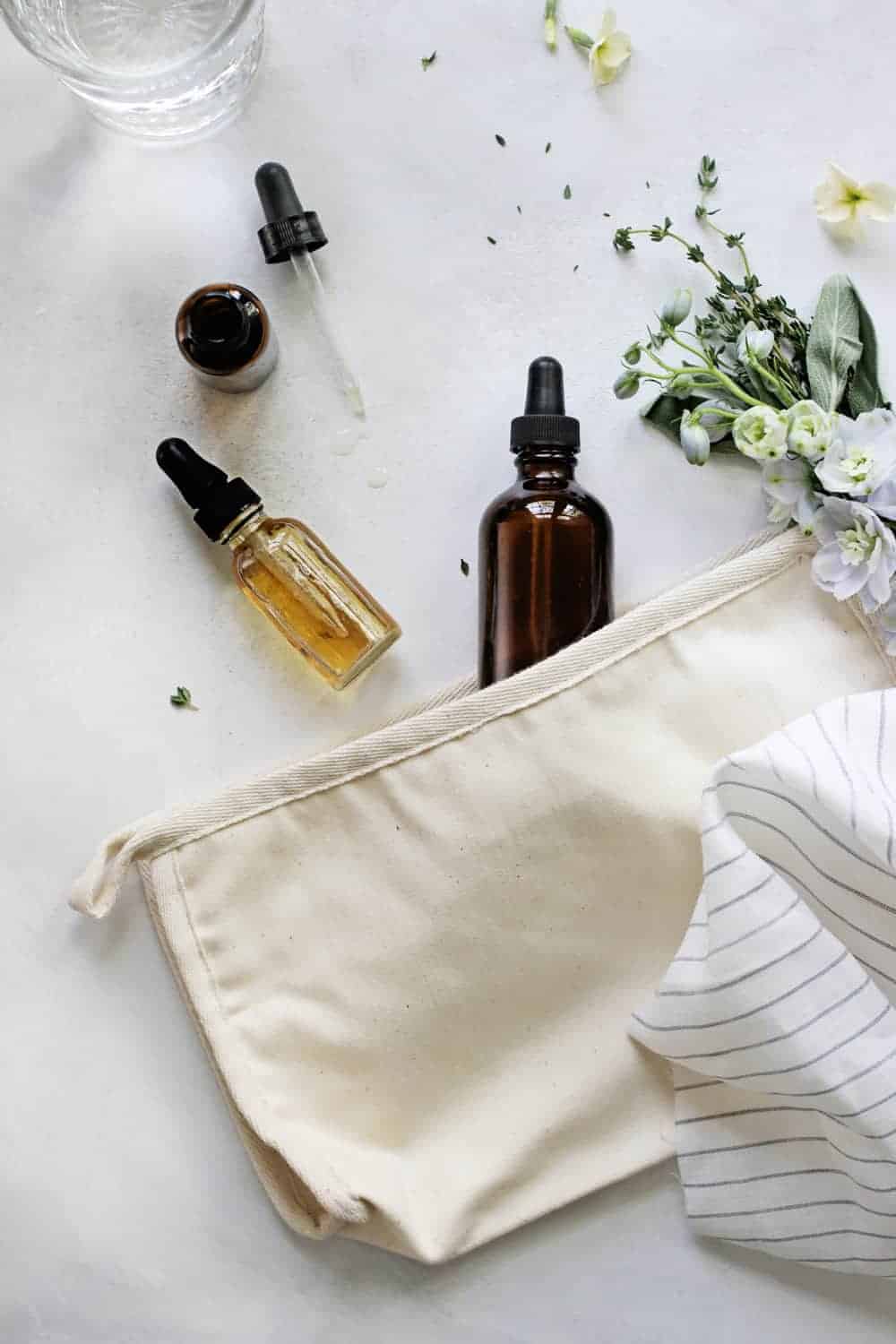 Sleep Tincture
Stress Tincture
253