Have you ever taken a whiff of an essential oil right out of the bottle? A quick sniff of eucalyptus will open the sinuses! Or put a drop of lavender in your palm? Breathing the scent is instantly soothing. Inhaling essential oils allows them to work quickly on the respiratory system as well as relieve stress and anxiety.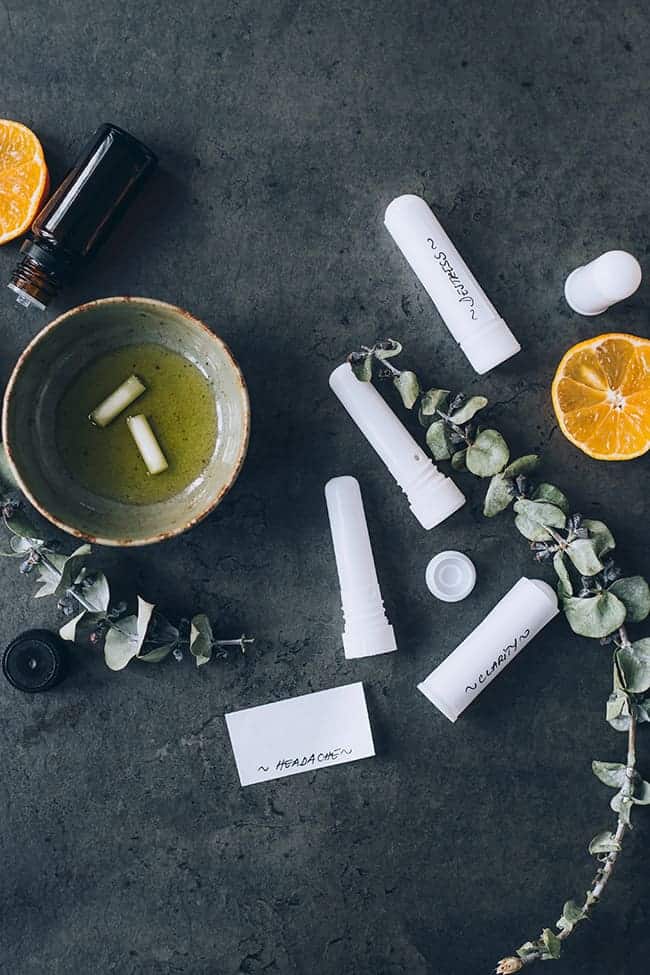 One tiny problem: taking essential oil bottles on the go is a bit of a hassle. They're breakable and can leak. DIY essential oil inhalers are the perfect solution!
They're convenient and portable. They're small enough to fit in your pocket, purse or backpack for the kids. And the scent stays strong for weeks.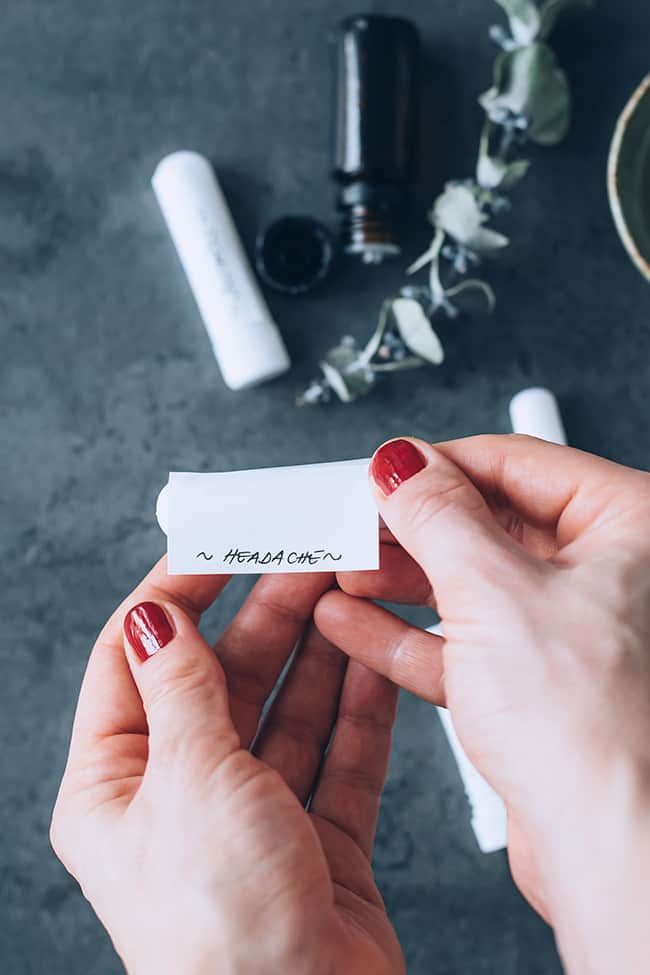 Last week we talked about diffusing essential oils, which transmits the oils into the air. But directly inhaling essential oils, whether from the bottle, in smelling salts, from the palm or in DIY inhalers, can work on a variety of ailments.
Aromatic inhalations address respiratory issues, headaches, sleep issues, nausea, and anxiety or stress. Peppermint and ginger, for example, are used to reduce nausea while lavender and rose calm and reduce stress.
How to make an essential oil inhaler
Here's how to make your own essential oil inhaler, plus a few recipes to get you started. Gather your essential oils and a small dish. Then break open your inhaler to separate the four parts:
outer lid
inner cylinder
cotton wick
plug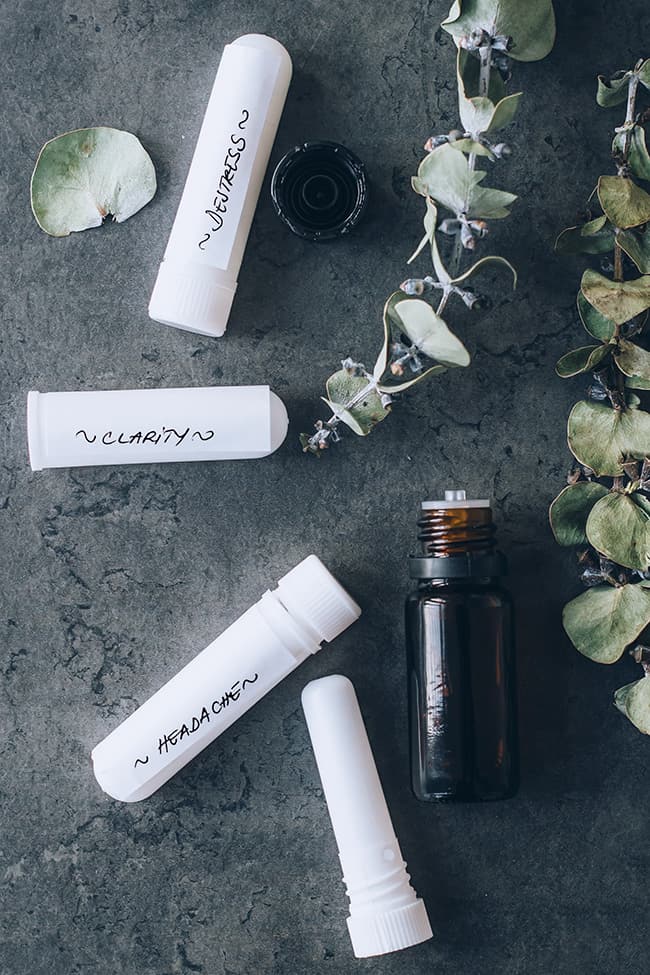 Add a total of about 15-20 essential oil drops to a small dish. Place the cotton wick in the dish and roll it in the essential oils for a couple of minutes or until the oils are fully absorbed. To avoid covering your hands in essential oils, use tweezers or a toothpick to move the wick around.
Pick up the cotton wick (preferably with tweezers) and stick it into the bottom of the inner cylinder. Grab the plug and press it into the bottom until you hear it click into place. Replace the outer lid. And don't forget to label it! Take out the cotton wick and refresh with essential oils when the scent starts to fade.
To use the inhaler throughout the day, just remove the outer lid and hold the inhaler under your nose. Breathe in and out, slowly and deeply, for 1-2 minutes. Try alternating nostril breathing by pressing one side of your nose closed with your finger and breathing in through the other nostril. Exhale through your mouth and switch sides.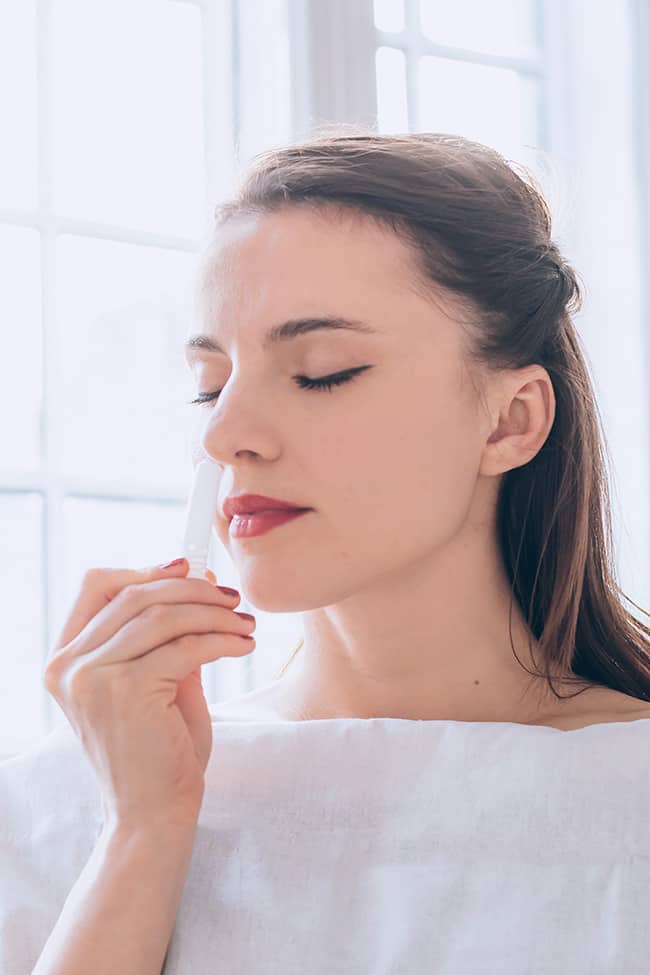 6 Essential Oil Inhaler Recipes
De-Stress
Clarity
Headache
Nausea and Motion Sickness
Burnout
Easy Breathing
80