Has anyone else noticed adaptogenic mushroom tonics, elixirs, and coffees are popping up all over Instagram and in many of our favorite trendy health spots? Well, it's because 'shrooms have some pretty amazing health benefits!
Magic mushrooms (not talking about the trippy kind!) have been used for thousands of years in Eastern medicine to treat a variety of ailments and, in particular, to support the immune system [source]. Indigenous cultures used these powerful superfoods in teas, soups, etc., and now wellness companies like Moon Juice, Four Sigmatic, and Sun Potion are making it easy for us to benefit from the functional fungi.
Adaptogenic mushrooms are available in a variety of forms: powdered, capsules, extracts, drinks, and as a whole food.
Health Benefits of Adaptogenic Mushrooms
Mushrooms are one of the most scientifically studied superfoods. Research shows that different types of mushrooms have incredible benefits for your brain, hormones, immune system, energy levels, mental acuity, mood, etc.
So who wouldn't want to embrace the 'shroom!? Here are six popular adaptogenic mushrooms and what they can do for your health: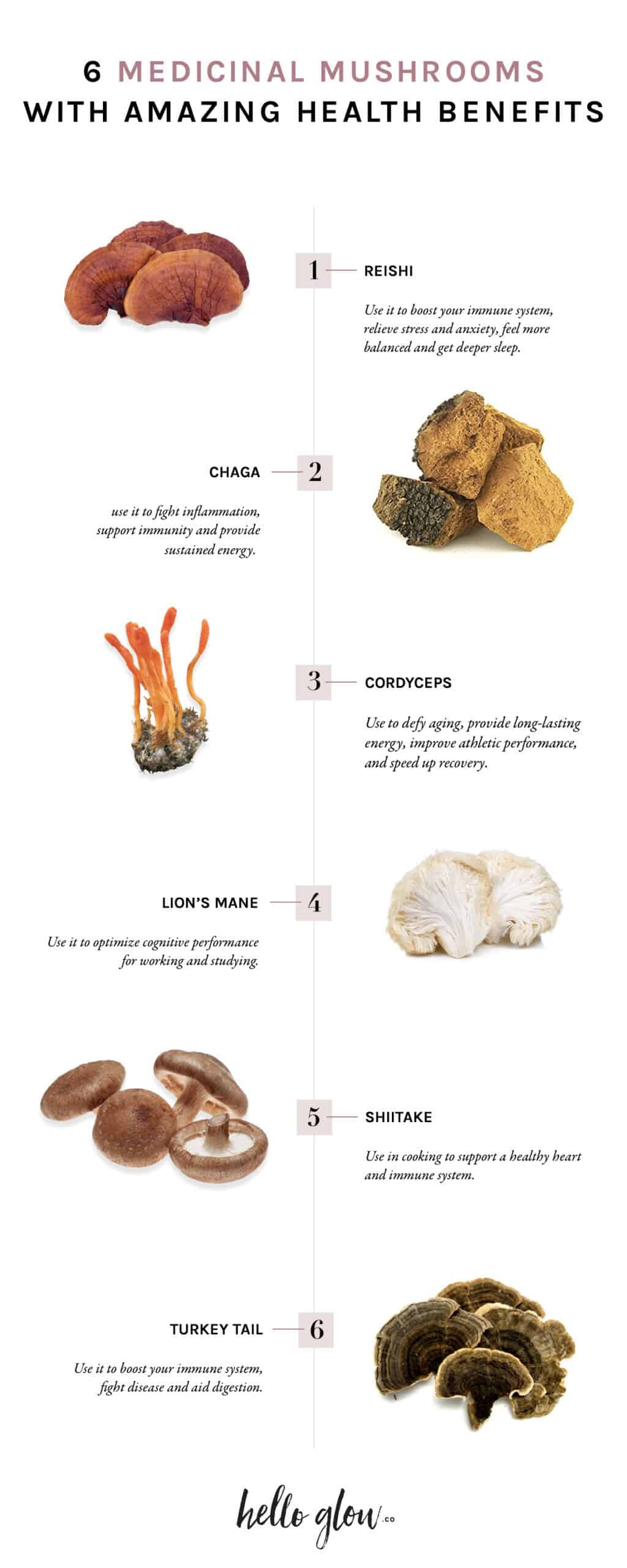 Types of Adaptogenic Mushrooms
1. Reishi
This mushroom is your drug-free Xanax.
Reishi mushrooms (also known as lingzhi) have been called the "mushroom of immortality" [source] and are known to have powerful adaptogenic effects on mind and body. Full of antioxidants and anti-inflammatory compounds [source], reishi tea has been used for thousands of years as an immune and longevity tonic [source].
Reishi mushrooms have been shown to have analgesic effects, so they're perfect for helping you wind down and relax [source]. Known to be immune boosting, these fungi contain compounds that help to promote many of the cells involved in immune system function [source]. They are also awesome for sleep and have been shown to enhance both the quality and quantity of deep, slow wave sleep [source].
Studies also show this mushroom can also help lower blood sugar in diabetics and decrease excess fat storage [source].
Use this adaptogenic mushroom to boost your immune system, relieve stress and anxiety, feel more balanced, and get deeper sleep.
2. Chaga
Chaga is your inflammation-tamer.
If you're working on lowering inflammation in your body, chaga should be your new best friend. Chaga mushrooms are jam-packed with antioxidants anti-inflammatories to help your body fight inflammation and scavenge free radicals [source].
Chaga is a powerful adaptogen that modulates the immune system [source]. Research has shown that it can be used to help fight off viral infections [source], prevent aging of the heart muscle [source], and possibly even to prevent and treat cancer [source].
Use it to fight inflammation, support immunity, and provide sustained energy.
3. Cordyceps
Cordyceps is your pre-workout energizer.
It's not a stimulant, but instead, an adaptogenic mushroom that supports your adrenal glands and helps your body produce and maintain consistent energy levels. Cordyceps increases cellular oxygen absorption, so it can be beneficial for those with asthma as well as athletes. It helps fight fatigue, boosts strength and stamina, can improve exercise performance, and expedite recovery from hard workouts [source].
As an antioxidant powerhouse, cordyceps is also an anti-ager [source]!
Use it to defy aging, provide long-lasting energy, improve athletic performance, and speed up recovery.
4. Lion's Mane
This mushroom is your all-natural brain booster.
Lion's Mane stimulates the production of NGF (nerve growth factor), a bioprotein that plays a critical role in the maintenance, health, and regeneration of neurons in the brain [source].
The mushroom has been shown to have pharmacological activity in the prevention of conditions such as Alzheimer's and Parkinson's disease [source]. Lion's Mane helps improve memory, boosts creativity, helps with concentration, and improves mental clarity.
Use it to optimize cognitive performance for working and studying.
5. Shiitake
This is your old reliable adaptogenic mushroom.
Shiitake mushrooms have been a symbol of longevity in Asia for more than 6,000 years. They are now pretty easy to come by in the grocery store and provide a great food source of B vitamins, vitamin D, and zinc.
They boost the immune system and have been shown to have cancer-fighting and tumor-inhibiting properties [source]. There is also some evidence that shiitake mushrooms support cardiovascular health by reducing blood pressure, working as an antioxidant to protect the arteries [source], and helping to lower cholesterol levels [source].
Use in cooking for a delicious way to support a healthy heart and immune system!
6. Turkey Tail
This one is your immune-boosting big gun.
Turkey tail is an adaptogenic mushroom with strong antiviral properties making it effective in preventing and/or treating influenza [source] and potentially other viruses. Studies have shown it has an inhibitory effect against certain bacteria, as well [source].
Turkey tail mushrooms have two powerful polysaccharides compounds called PSP and PSK [source], which are being extensively studied, specifically for their effects on boosting immune function in cancer patients going through chemotherapy [source]. Studies have shown this mushroom's effects on lung, gastrointestinal, and breast cancer [source].
Turkey tail mushrooms may also have some gut-healing benefits as they contain prebiotics, which nourish beneficial bacteria in the microbiome. You may experience smoother digestion while supplementing with turkey tail.
Use it to boost your immune system, fight disease, and aid digestion.
More Ideas For Using Adaptogenic Mushrooms
1. Brew up a Reishi Elixir as a nightcap after a stressful day.
2. Swap out your regular coffee for Four Sigmatic's Mushroom Coffee with Lion's Mane before crushing your morning to-do list.
3. Add Chaga Elixir to your smoothie or drink a cup mid-morning at the office if everyone is coughing and sneezing around you.
4. Mix Brain Dust (which includes Lion's Mane) into your Matcha Latte for a focused work day.
5. Down a Mushroom Coffee with Cordyceps before your morning HIIT class.
6. Brew a Mushroom Hot Cacao with Cordyceps after lunch to squash sugar cravings and keep you energized all afternoon.
7. Grab some shiitake mushrooms at your local farmer's market or grocery store, and sauté them up with ghee, garlic, and onions for a delicious immune-boosting side dish.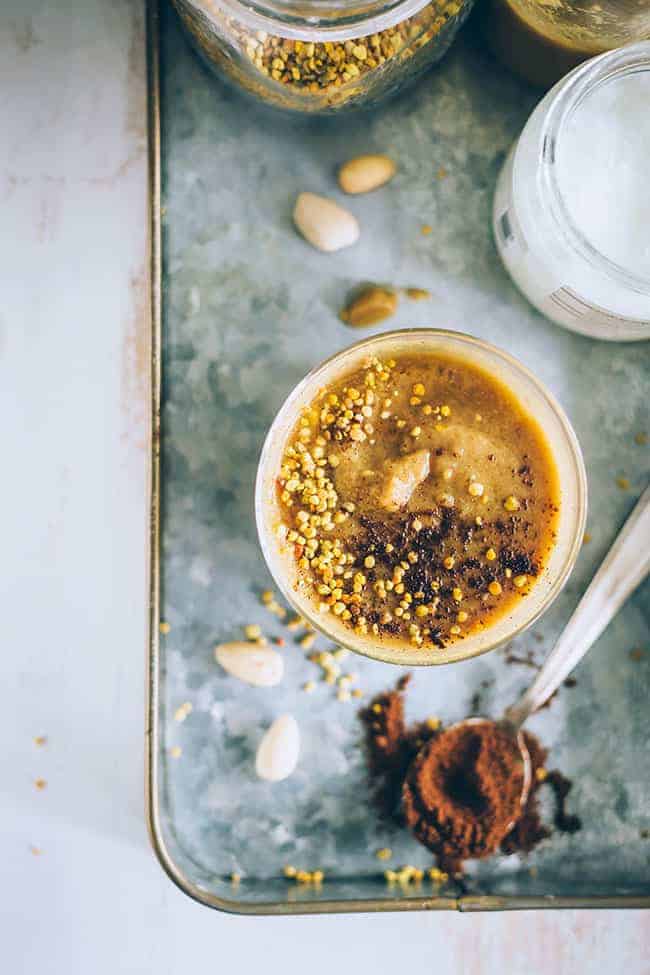 This elixir is made with chaga and reishi mushrooms, and it's designed to help your body cope with the hormonal imbalance that causes PMS. Chaga, for its calming, stress-reducing, anti-inflammatory, and immune-boosting properties, and reishi, for its plant sterols that act as hormone precursors and its liver function support.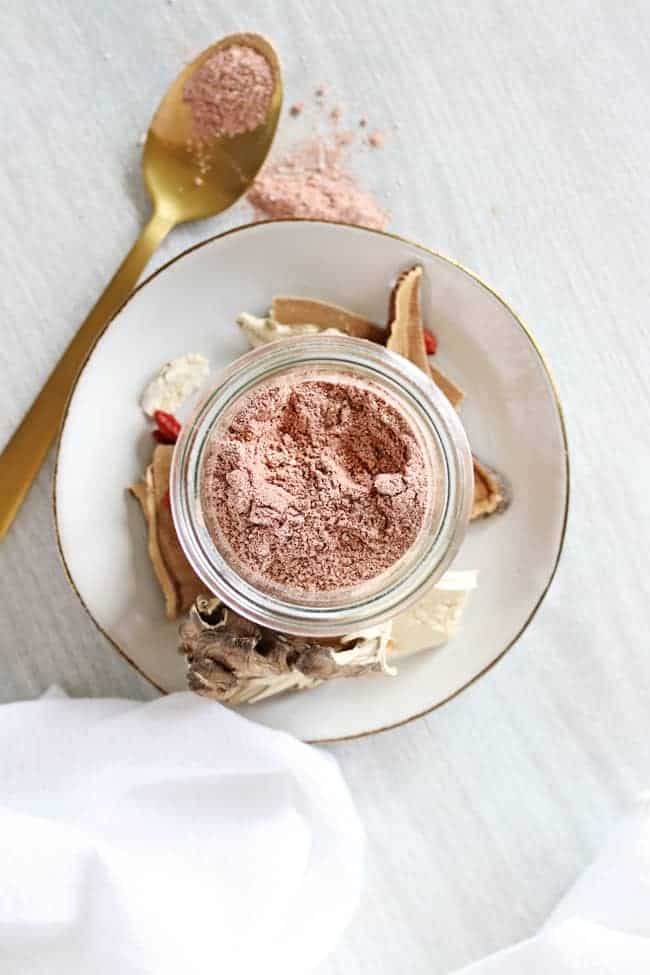 Boost your energy levels with our DIY moon dust recipe. The maitake mushrooms help regulate imbalances in the body with a combination of antioxidants, vitamins B and C, as well as potassium, fiber, and minerals.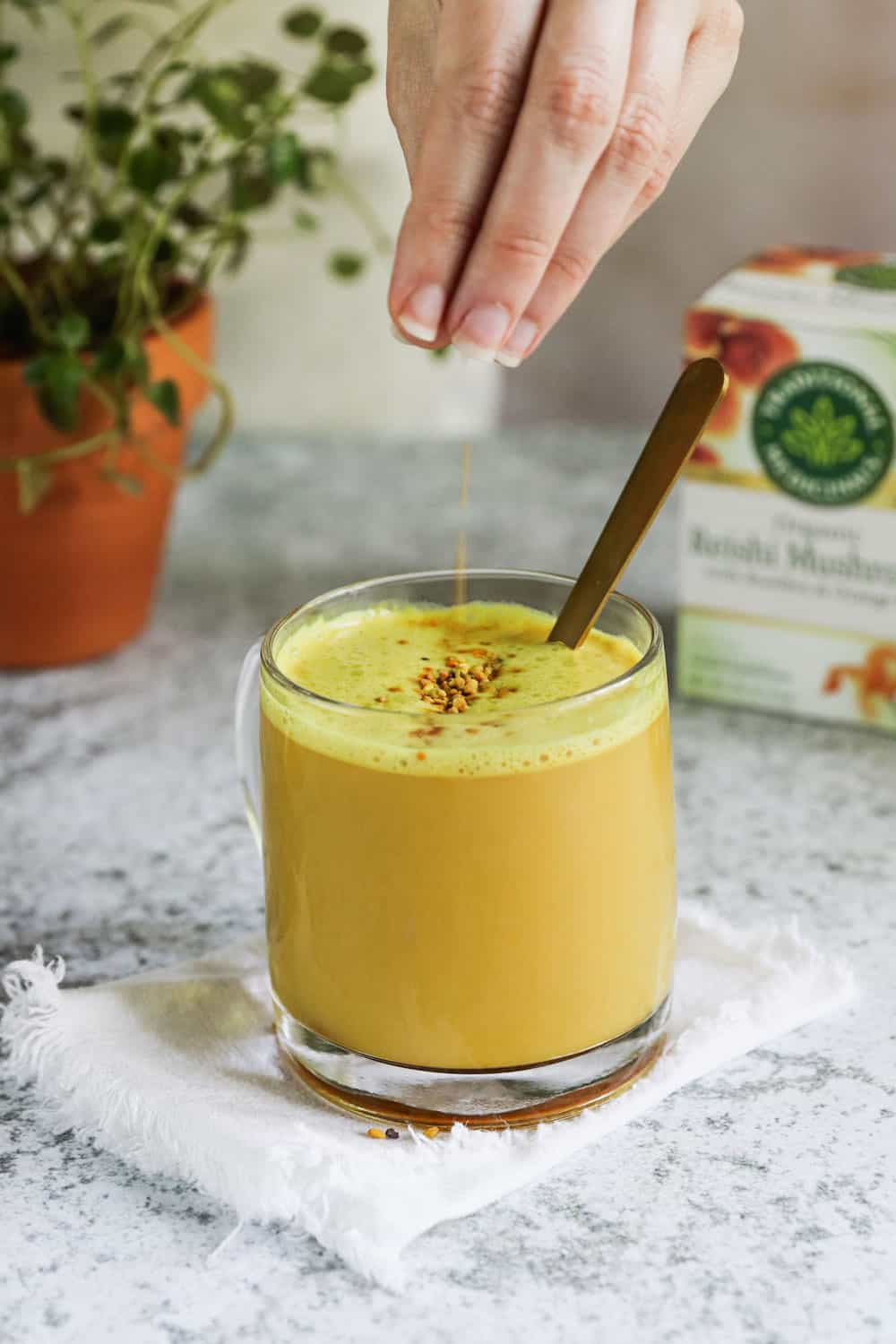 Immune Supporting Reishi Latte from Hello Glow
Combined with rooibos and orange peel, reishi mushrooms transform your morning brew into a wellness elixir that keeps you happy, healthy, and supported.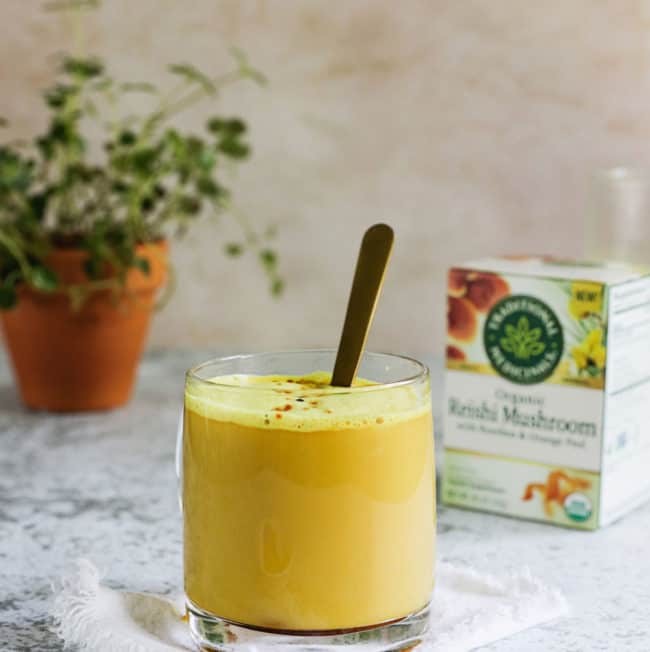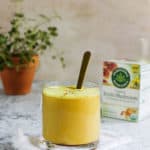 Print Recipe
Immune Supporting Reishi Latte
This warm reishi latte is full of ingredients that help support the immune system. It also just happens to taste amazing too!
Equipment
Tea kettle (optional)

Blender

8 ounce mug
Ingredients
1

bag Traditional Medicinals Reishi Mushroom Tea

8

ounces

freshly boiled water

1

teaspoon

coconut oil

½

teaspoon

ground cinnamon

1-2

teaspoons

honey

Pinch

turmeric

Bee pollen for garnish
Instructions
Pour 8 ounces freshly boiled water over 1 tea bag. Cover and let steep for 10–15 minutes.

Squeeze tea bag into cup and combine tea with coconut oil, cinnamon, honey and turmeric in a blender. Blend on high until smooth and frothy.

Pour into a mug and garnish with bee pollen. Enjoy 2–3 cups a day.
Notes
I like to use coconut oil, cinnamon and a pinch of turmeric and bee pollen in my lattes. Feel free to add coconut or cashew milk if you like yours to feel a little more substantive, but I usually skip it. Instead, I blend the hot tea with coconut oil in the blender, which gives it a creamy frothiness similar to traditional coffee shop lattes. And the cinnamon and turmeric help stabilize blood sugar while a little sprinkle of bee pollen gives you some extra immune support.
Nutrition
Serving:
8
ounces
|
Calories:
84
kcal
|
Carbohydrates:
12
g
|
Protein:
0.1
g
|
Fat:
4.5
g
|
Sodium:
1
mg
|
Potassium:
12
mg
|
Fiber:
0.6
g
|
Sugar:
11.5
g
|
Calcium:
12
mg
This post was medically reviewed by Dr. Holly Smith, a board-certified physician in nephrology and internal medicine with a background in nutrition. Learn more about Hello Glow's medical reviewers here. As always, this is not personal medical advice, and we recommend that you talk with your doctor.
174