Natural options for skincare and makeup get a lot of attention, but one of the most difficult—and most important—switches for me was "greening" my mouth care routine. Yes, do-it-yourself toothpaste is one of the toughest transitions, second only to natural deodorant, if you've used commercial products for years.
Having fresh breath and healthy teeth is important, and these do-it-yourself dental products won't let you down.
Give Your Oral Care Routine a Natural Overhaul
And don't worry, if you're not yet into DIY, we've found the best natural products to make brushing and flossing safe and effective.
1. Replace Your Toothbrush
First, toss your old toothbrush (because it's probably time to get a new one anyway!) Skip the traditional plastic toothbrushes that are often too harsh and abrasive on your teeth and gums.
Look for BPA-free nylon, like in these charcoal-infused bristles (how cool is that?) for extra cleaning and whitening power. Or go totally plant-based with this option for castor bean oil bristles.
A toothbrush is used to mechanically reduce bad bacteria in the mouth, but new studies reveal that ionic toothbrushes introduce unique benefits. Research has proven that these special toothbrushes reduce hypersensitivity, plaque, and bleeding, making using them one of our favorite ways to clean our teeth.
Dr. Tung's Ionic Toothbrush // An ionic toothbrush temporarily reverses the polarity of the tooth surface from negative (-) to positive (+), which draws plaque towards the toothbrush head. As a result, you are able to clear more plaque. In addition, because their polarity is temporarily reversed, your teeth will reject plaque even in areas that haven't been touched by bristles.
2. Go Gentle with Toothpaste
Toothpaste is key to maintaining good oral health, acting as an antibacterial, but what type are you choosing? Detox your toothpaste by eliminating fluoride, sodium lauryl/laureth sulfate, triclosan, sodium hydroxide, and other nasty ingredients.
These chemicals are damaging to the body as a whole, and can even reduce the healthy bacteria (probiotics) in the mouth. Opt for a toothpaste that uses natural antibacterial agents and breath fresheners such as baking soda, neem (source), licorice, eucalyptus (source), clove, and peppermint instead.
Or better yet, create your own!
Start with this easy 3-ingredient coconut oil recipe and then venture into adding trace minerals and probiotics. It does take some time to adjust because the consistency is very different from conventional toothpaste. Not only does it taste way better (no more feeling like your mouth is on fire!), but you also get fresh minty breath and soft coconut-y lips.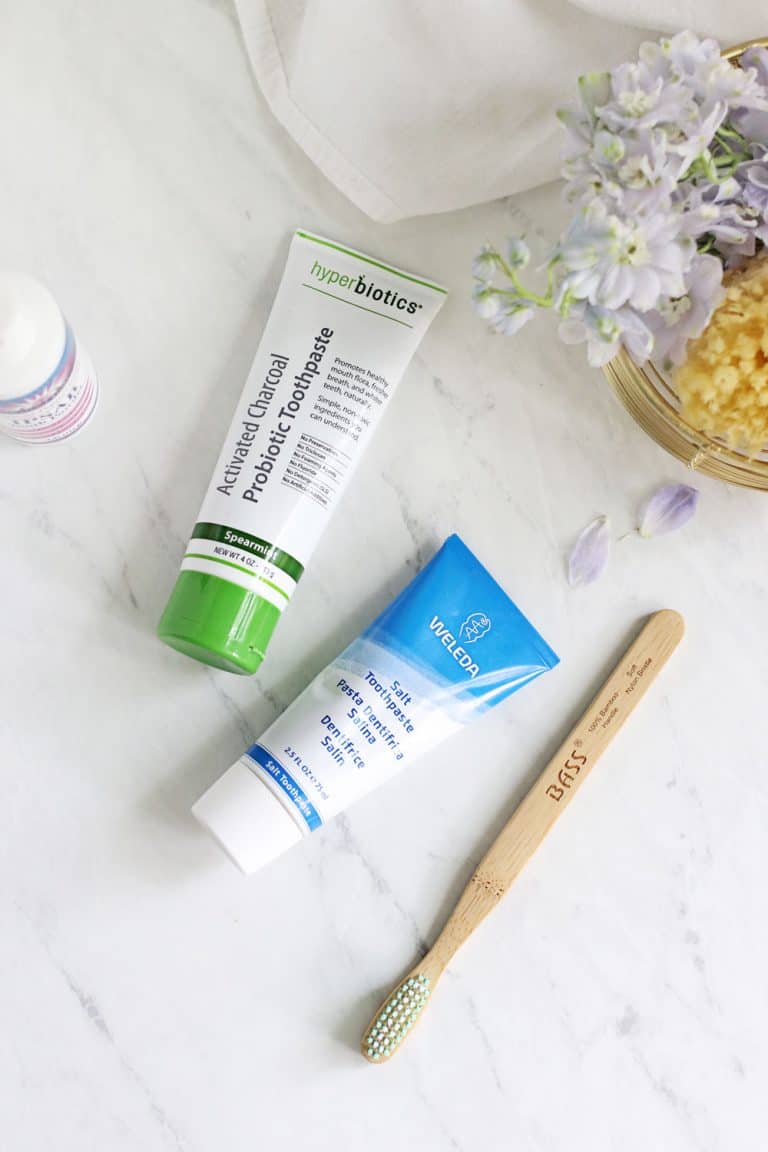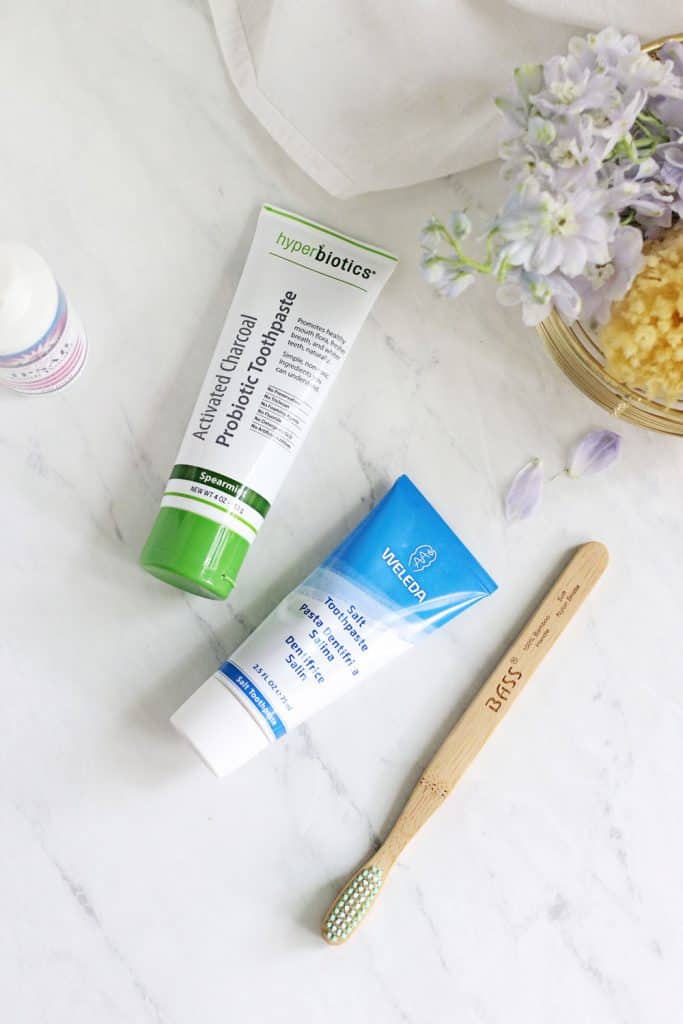 Not ready to DIY? Try two of our favorite natural options:
Salt Toothpaste // Weleda's Salt Toothpaste uses 100% natural sea salt to gently clean teeth, remove stains, and get rid of tartar buildup. It also contains myrrh and ratanhia to tighten and restore circulation to the gums.
Since it contains salt, I wasn't expecting it to taste as great as it did (it's actually pretty tasty). But I love how sparkly clean it made my teeth feel—like I had just left the dentist's office.
Activated Charcoal and Probiotic Toothpaste // I love probiotics and activated charcoal, so this toothpaste was a must. Activated charcoal has been used for ages to whiten teeth and remove stains.
And probiotics restore beneficial bacteria to your mouth. I'm a huge coffee and tea drinker, but I noticed that my teeth looked a lot whiter after just a couple of uses. And my husband commented on how great my breath smelled after using it, which I chalk up to the probiotics.
Tooth Powder // Most of us are used to traditional toothpaste, but this IPSAB Tooth Powder is a great, long-lasting alternative. It's a combination of salt, soda, and prickly ash bark that gently cleans teeth without the use of water (uh-mazing if you travel a lot). Just sprinkle some on your toothbrush, brush as usual, then spit out.
3. Oil Pulling Before You Brush
Before you brush, try oil pulling, an ancient Ayurvedic holistic dental care method that involves nothing more than swishing cold-pressed oil in your mouth for a certain amount of time. The idea behind oil pulling, is that swishing your mouth with the oil helps "pull" toxins from your system as you pull the oil through your teeth and gums. The oils typically used are coconut, olive, and sesame oil.
We tried it out and found a whole host of benefits: healthier gums, less plaque, better breath, stronger teeth, and super soft lips! You can use the oil that you have in your cupboard or try these pre-portioned coconut oil packets.
4. Freshen Breath Naturally
If you needed another reason to avoid commercial mouthwash, some scientists now believe that alcohol-based mouthwashes are partly responsible for the worldwide increase in oral cancer. It is believed that alcohol dehydrates cells in the mouth, which then allows carcinogens to more easily permeate the skin and cause cancer.
So, while you think you're doing something good for your teeth and gums every time you swish, you might really be making things much, much worse.
But the good news is that you can still get the disinfecting benefits of mouthwash without the alcohol. This DIY minty mouthwash uses peppermint and tea tree essential oils to freshen breath, kill harmful germs, and leave your mouth feeling sparkling clean.
It also contains minerals to help replenish mineral stores in your teeth and gums, and baking soda to help remove stains and whiten teeth. Plus, it tastes great!
Mineral Mouth Rinse // One of the problems with traditional oral hygiene products is that they don't help to replenish the nutrients in your teeth and gums. That's where a mineral mouth rinse like this one from ConcenTrace comes in handy.
It contains sea salt, colloidal silver, and essential oils to help restore trace minerals and nutrients in the mouth. While I definitely can't speak for everyone, I noticed less sensitivity after using it, and it leaves my mouth feeling so fresh and clean.
5. Don't Forget to Floss and Scrape
Your dentist is definitely going to recommend that you floss your teeth, but if you're feeling guilty about not doing it as often as you should, there's reason to take heart. The New York Times reported last summer that the evidence that flossing reduces plaque and tooth decay is "very unreliable," though there may be more solid proof that flossing reduces gum inflammation.
If you're a major flosser, keep it up! If you hate it (like I do, ugh), a natural floss can make the process more pleasant. Or add a natural disinfectant like tea tree oil to reduce bad oral bacteria.
Research indicates that tea tree oil significantly reduces gingivitis and bleeding of the gums, even in those with gingivitis. So grab some tea tree oil floss to blast those bugs hiding in between your teeth!
The fastest and easiest way to get those icky bugs out of your mouth is with a tongue scraper. A traditional technique in Ayurveda, tongue scraping cleans bacterial build-up, food debris, fungi, and dead cells from the surface of the tongue. This helps to clean the mouth and freshen breath.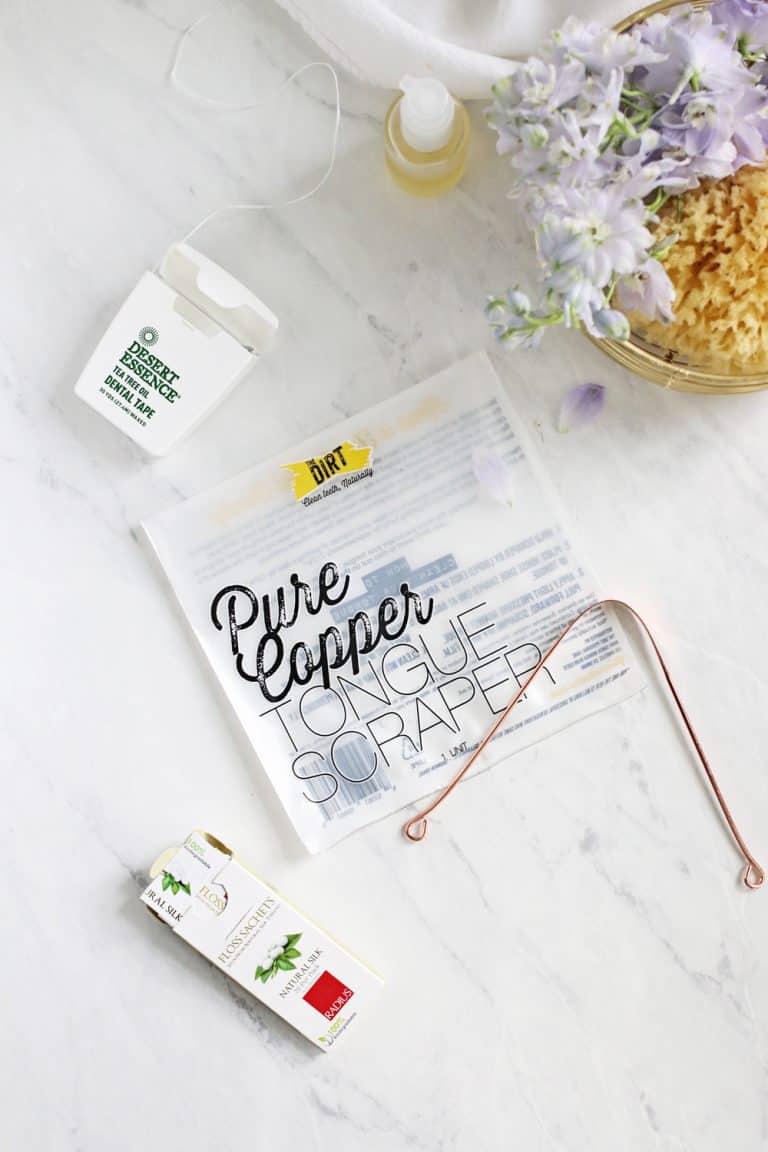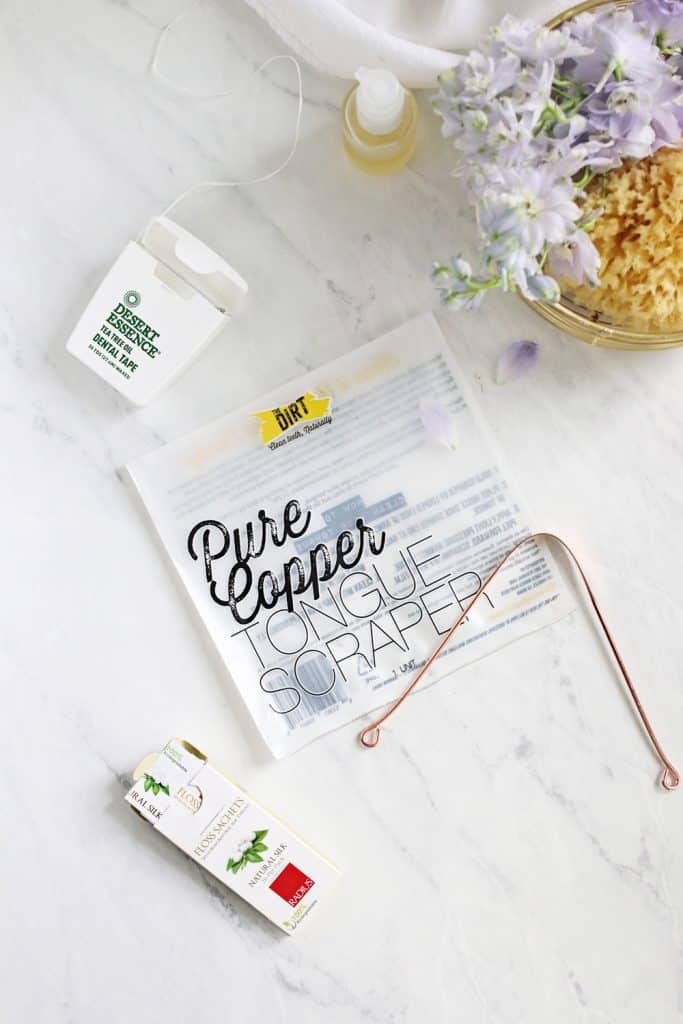 Natural Silk Floss Sachets // No matter how you cut it, traditional dental floss is not good for the environment. It's heavy on packaging, not biodegradable, and a choking hazard for wildlife. But these Natural Silk Floss Sachets change all that.
They're made of natural silk thread instead of wasteful plastic. Plus, they come in individually wrapped packages so you can use them on the go. And did I mention they're 100% biodegradable? I always carry a few in my purse or travel bag for dental emergencies.
Tea Tree Oil Dental Tape // While this floss from Desert Essence isn't as environmentally friendly as the natural silk sachets, it is great for your teeth and gums. Tea tree oil is naturally antibacterial, so it kills germs lurking in your gums. And it's slightly thicker than traditional floss, so it doesn't shred and get stuck between your teeth (a flossing party foul).
Tongue Scraper // This is a new one for me, but since I started using it, I'm a total convert. Unlike brushing and flossing, tongue scraping helps remove toxins and bacteria from your tongue, getting rid of bad breath and decreasing the likelihood of cavities.
Starting in the back of your mouth, pull the scraper forward two or three times until your tongue looks clean, and the film has been removed. Rinse the scraper and repeat once a day.
6. Natural Ways To Whiten
Keeping teeth bright and white is a constant battle, especially if you're a coffee or wine drinker. Hydrogen peroxide, baking soda, activated charcoal, and sage are all common remedies for at-home whitening without the harsh chemicals (source).
Strawberries are another favorite. Besides that, they're delicious, strawberries contain malic acid, which works as an astringent to help get rid of stains found on your enamel.
Baking soda, or sodium bicarbonate, removes plaque while polishing teeth, so the combination of these two ingredients makes for a powerful and affordable smile enhancer. Try this strawberry whitening recipe once a week for a whiter smile.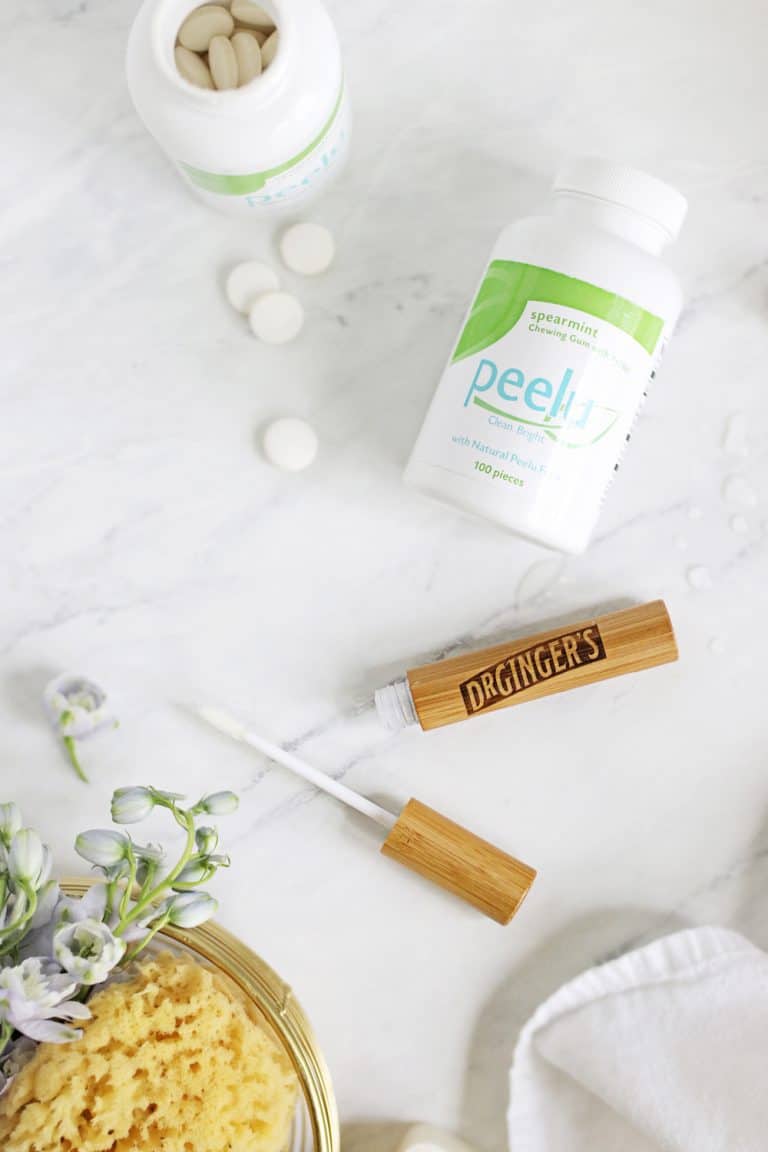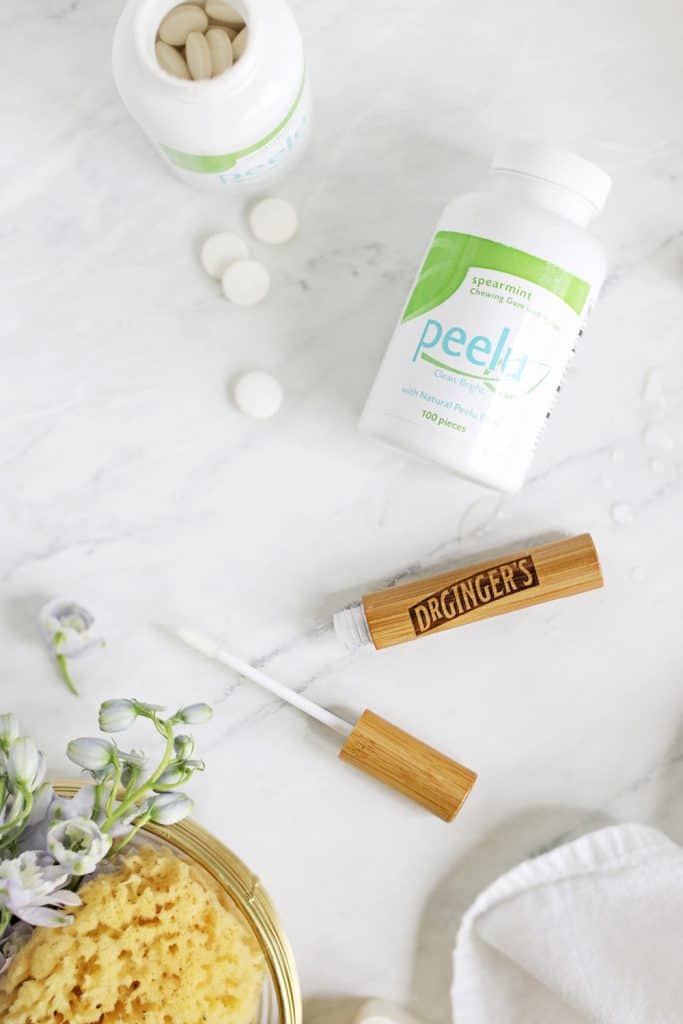 Peelu Chewing Gum // When it comes to natural teeth whitening, sometimes you have to keep at it for a while to see results. Since I don't have tons of time to whiten every day, I like products that do it for me. Peelu Chewing Gum uses peelu fiber to "scrub" teeth, keeping them clean and bright.
I'm not usually much of a gum chewer, but I chew this stuff almost constantly throughout the day. The flavor lasts for a really long time, and it makes my teeth feel like I just brushed 'em.
Coconut Oil Whitening Pen // This is another easy way to get whiter teeth. Just brush Dr. Ginger's Coconut Oil Whitening Pen on twice a day and let it dry.
The coconut oil and hydrogen peroxide naturally remove stains, brighten teeth, and improve gum health. While more subtle than traditional whitening agents, I love that it removes stains without causing sensitivity and gum pain.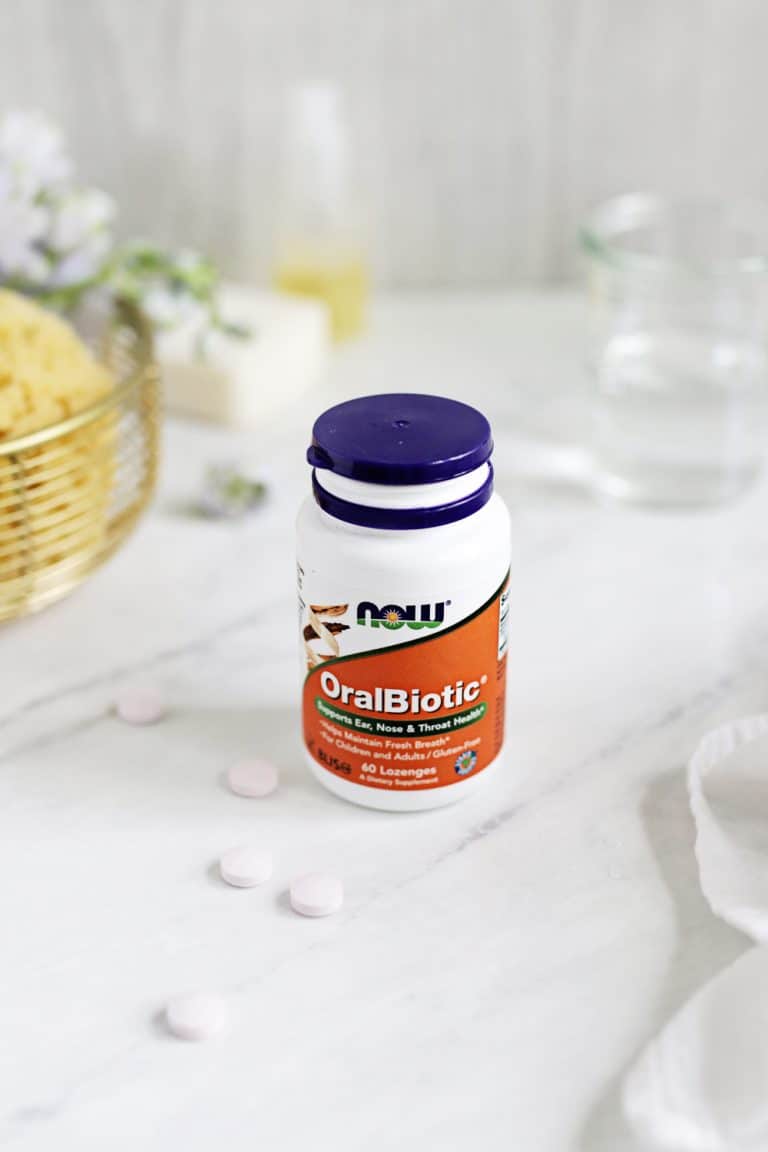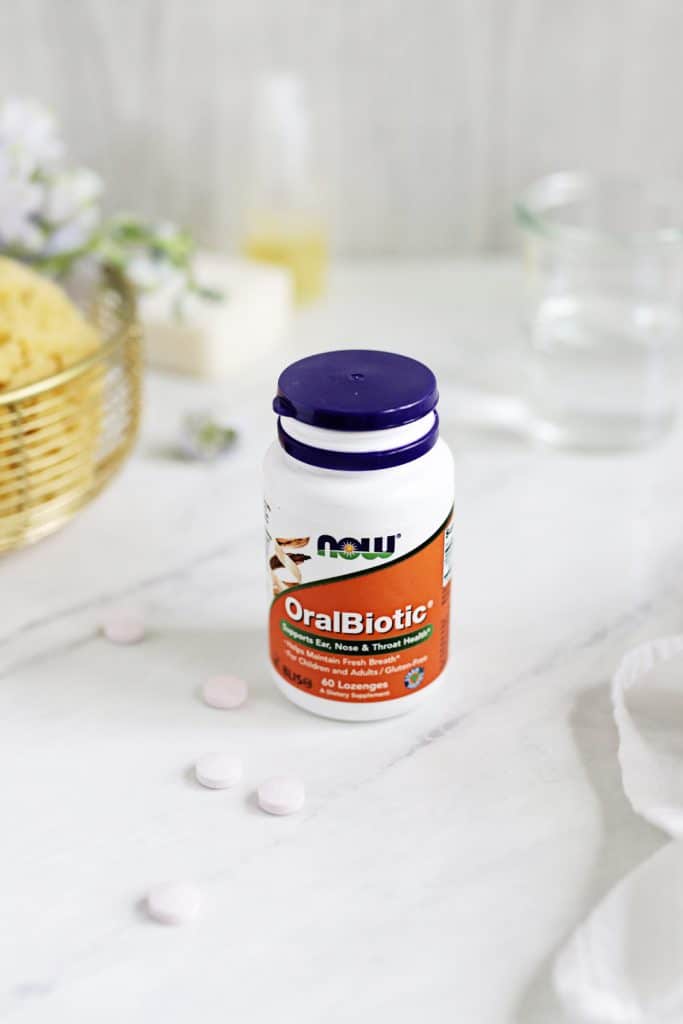 7. Fortify Your Teeth and Gums
We've been so focused on balancing the good bacteria in our gut with fermented foods and kombucha, that we have forgotten all about the mouth! The mouth needs good bacteria too, which is why taking oral probiotics can be extremely beneficial, especially if cavities are a frequent occurrence.
The more good bacteria you have, the more of a defense you have against the bad bacteria, reducing the incidence of inflammation and infection (source).
In our efforts to not only boost our immune system, but to keep our gums happy too, we have been keeping up with a daily dose of vitamin C. Vitamin C is needed for healthy gums, reducing the incidence of bleeding gums, gingivitis, and even periodontitis (source).
OralBiotic // Probiotics aren't just for your stomach. Now Foods OralBiotic lozenges are an all-around wellness supplement for your mouth. They're chock full of probiotics and enzymes that colonize your ears, nose, throat, and mouth.
Over time, they work to improve oral health and maintain the body's natural defense system. I noticed a huge improvement in my in-between-brushing breath from day one, so now I use them to keep my mouth fresh when I can't get to a toothbrush.
Camu Camu Powder by Immunologic // Rather than getting it from a synthetic vitamin tablet, we are using the superfood Camu Camu. Camu Camu contains 250mg of Vitamin C per teaspoon, containing more Vitamin C than any other known botanical source.
The good news is that the effects of Camu Camu go far beyond a healthy gumline, helping to improve immunity and the texture of the skin while repairing and maintaining cartilage, bones, and teeth.
8. Switch to Green Tea
Drinking green tea not only protects against radiation, boosts your mineralization, and helps you to lose weight, but it can improve your oral health as well. Research has found that the frequent consumption of green tea may promote healthy teeth and gums, reducing periodontal disease.
It is believed that green tea's mode of action is through its high levels of the antioxidant, catechin (source). Previous studies have demonstrated catechin's ability to reduce inflammation in the body, as well as the initiators of periodontal disease, thereby reducing bad bacteria in the mouth.
Try: 25 Tasty Ways to Up Your Green Tea Intake
This article was medically reviewed by Dr. Gina Jansheski, a licensed, board-certified physician who has been practicing for more than 20 years. Learn more about Hello Glow's medical reviewers here. As always, this is not personal medical advice and we recommend that you talk with your doctor.
52