If you suffer from frequent headaches but feel a bit squeamish about dosing yourself with potent headache medicine, you know what a conundrum it can be. Here are 8 natural headache remedies to help soothe your pain.
Tension headaches, also known as stress headaches, are the most common type of headaches among adults. In fact, up to 80% of adults get them from time to time, and 3% even report getting them daily [source]. Eeek!
Headaches are my nemesis. In college, I used to get pounding headaches that would last for days. I cringe thinking of all the pills I popped and the time I spent holed up in my room with the shades drawn tight to keep the light out. Since then, I've learned that most of them were caused by sinus and allergy issues.
Now I treat a headache as my little warning sign—it's telling me to stop and pay attention because I'm most likely dealing with allergies and congestion, or I'm stressed out and anxious—things I can remedy before the pain gets too intense.

8 Secret Weapons for Stopping a Headache
1. Water
One of the biggest headache remedies of all time is simply to drink more water. People consistently say this, but it turns out it's actually true. This type of headache is just your body letting you know that you're dehydrated [source].
2. Peppermint Massage
Peppermint essential oil is great for a tension headache. I find that these headaches usually happen when I'm stressed or have been staring at the phone or computer for too long.
So take a break from the screens and give yourself a quick massage. Dilute 5 drops of peppermint oil with 1 tablespoon of almond oil, and rub the mixture onto your temples and the base of your neck.
According to a 2015 review of published studies on the action of essential oils, peppermint can help reduce pain and ease tension, both of which can soothe your headache [source]. Not only is the aroma relaxing, but peppermint is anti-inflammatory and will help dilate blood vessels to improve blood flow. This works for stress headaches, not migraines.
If I feel like sinus issues are causing the headache, then I'll add eucalyptus oil to help with congestion. You can mix both with a bit of oil and give yourself a head massage.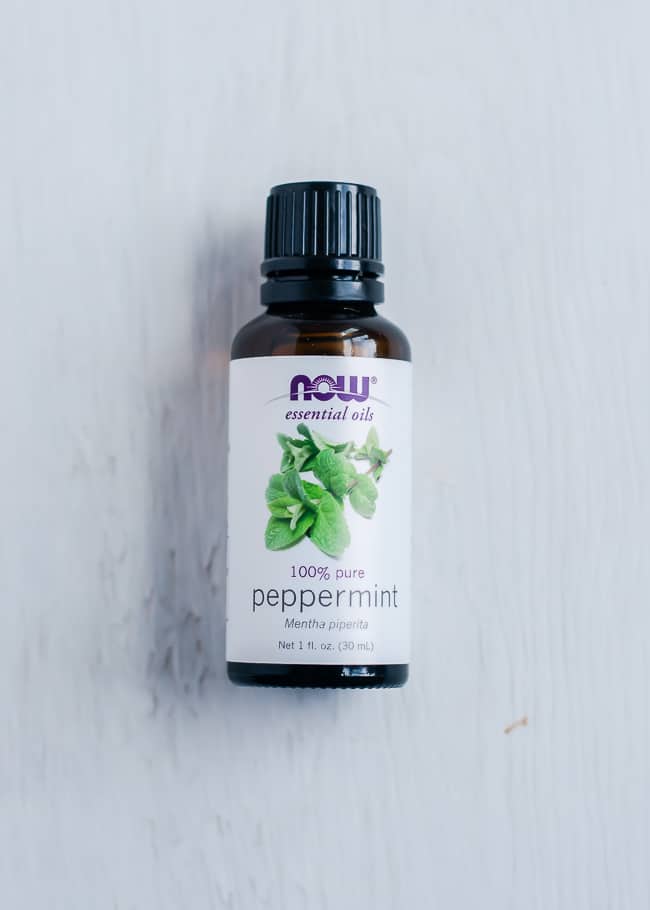 3. Magnesium Bath
I was curious about magnesium after reading about my friend's success with it for migraines. Turns out, this mineral helps relax nerves that transmit pain impulses to the brain and also soothes internal inflammation [source].
Magnesium is sometimes recommended to frequent migraine sufferers to help prevent recurring episodes [source]. It is thought that magnesium affects changes in blood vessels in the brain, helping to relieve the pain and inflammation associated with headaches [source].
You can either take magnesium in supplement form, like Natural Calm, or simply eat more magnesium-rich foods. If you choose the latter option, try incorporating more leafy greens such as spinach, chard, and kale into your diet. Or you can also eat more pumpkin seeds, yogurt, almonds, black beans, and avocados to get a magnesium boost.
One of the easiest ways I've found to get more magnesium is with an Epsom salts bath. You'll absorb a significant amount of magnesium through your skin with a nightly bath of 2 cups Epsom salts and ½ cup baking soda, along with a few drops of soothing lavender essential oil.
4. Hot foot soak
Another hydrotherapy option is a hot foot bath. Putting your feet in hot water dilates the blood vessels in your feet and constricts the blood flow to the head [source]. To help further draw blood away from your head, wrap an ice pack in a dish towel and place it on your forehead, temples, or the back of your neck.
Soak your feet for 20 minutes, adding more water when needed to keep it hot. Putting in a tablespoon or two of mustard powder will help remove toxins through the feet. After the 20 minutes are up, run cold water over your feet, dry them off, and go lie down in a quiet place with your eyes closed for an additional 15 minutes.
5. Ginger Tea (or Coffee)
I'll admit that one of the first things I try when I feel a headache coming on is a bit of caffeine. In fact, clinical trials have shown that caffeine can reduce the frequency and intensity of headaches [source]. But don't go overboard, because coffee and other caffeinated beverages will dehydrate you, leading you back to tip #1!
If a little caffeine doesn't help, try a cup of ginger tea. Ginger is a natural anti-inflammatory that's long been used to fight headaches and nausea [source].
Simply grate one 2-inch piece of ginger root and steep in 8 ounces of boiling water for 15 minutes. You can also add the juice of half a lemon and a teaspoon of honey to make ginger-lemon tea. Sip throughout the day until headache symptoms have subsided.
6. Fish Oil
Some studies show that taking fish oil supplements may help reduce migraines and head pain, thanks in part to its high concentration of omega-3 fatty acids [source].
The omega-3s in fish oil and other natural sources help reduce inflammation, prevent blood clotting, and lower blood pressure—and this, in turn, may help to reduce head pain caused by inflammation and pinched nerves [source].

7. Cayenne Pepper
Capsaicin, the active ingredient in cayenne pepper, is believed to bring headache relief by directly affecting the neurotransmitters responsible for sending pain signals to the brain [source]. Cayenne pepper is also said to equalize blood pressure in the body, which relieves pressure in your head.
Most studies suggest that the capsaicin needs to be applied topically to the nose in order to be effective [source]. To do this, you can buy capsaicin cream or make a simple mixture of cayenne with water.
¼ teaspoon cayenne pepper

4 ounces warm water

Cotton swabs
Dilute ¼ teaspoon of cayenne pepper in 4 ounces of warm water. Use a cotton swab to stir the solution and to prevent the powder from immediately sinking to the bottom. Make sure to mix this well.
Once the cotton swab is immersed in the cayenne mixture, apply a very tiny amount to the inner rim of each nostril. It will sting at first! But if you're patient enough to wait until the sting subsides, you should also notice the headache pain has subsided as well.
Then drink the rest of the water with some lemon or honey.
8. Yoga
Our overworked, tired bodies often react to chronic stress by tensing up, and the muscles go into spasm, creating tension headaches [source]. Luckily, a little stretching can help to release the tension and relieve headache pain.
Doing basic yoga moves as soon as the pain starts up can help, but it's best to set aside a few minutes every day to practice yoga before the headaches even start.
What natural ways have you found to stop a headache?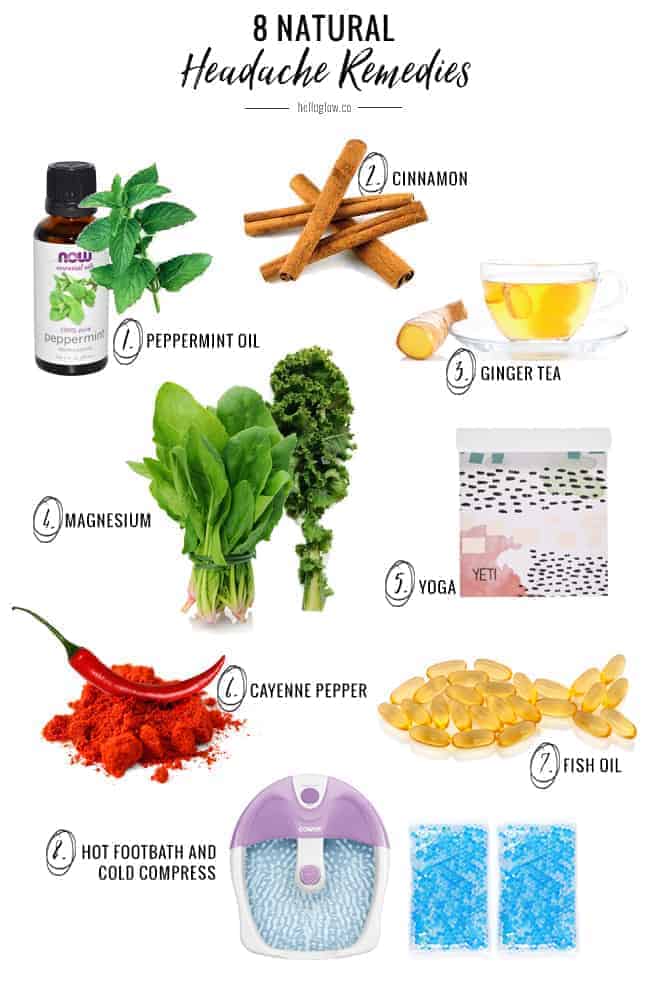 This article was medically reviewed by Dr. Gina Jansheski, a licensed, board-certified pediatrician who has been practicing for more than 20 years. Learn more about Hello Glow's medical review board here. As always, this is not personal medical advice and we recommend that you talk with your doctor.
54