I have become the person who thinks nothing of ordering a 20-pound bag of Epsom salt. Totally normal, right? But when you learn there are 8 reasons why you should soak up all of the Epsom salt bath benefits, you'll want to order one too.
People have been soaking in the magnesium-rich waters of the Dead Sea for thousands of years. The healing aspects of regular treatments, called balneotherapy, have been studied for conditions such as arthritis [source] and psoriasis [source]. The mineral waters have anti-inflammatory effects on the skin and perhaps even for other parts of the body. Wouldn't it be great to recreate this therapy at home?
Epsom salt baths saved me when my first barre class left me barely able to walk for three days. And these baths are my go-to for kids who might be getting sick or won't stop scratching bug bites. After I went through my huge bag, I started using mermaid bath salts, but my kids were not too excited about the green bathwater.
My friends often ask me how to get started with DIY beauty, and my answer is always the same: take an Epsom salt bath. Here's my non-recipe recipe: buy a big bag of unscented Epsom salt, and dump a cup or two into a warm bath. Add a big scoop of coconut oil if you like.
Soak for half an hour, and you'll get out feeling soft and oily and ready to fall right to sleep. Of course, take care to step out as the tub will be slippery. For an added boost, add a few drops of an essential oil with properties that match your health goals.
But if you prefer using a recipe, try this herbal Epsom salt bath soak or these aromatherapy DIY bath salts. There's also a pretty easy recipe at the end of this post!
Why am I such an Epsom salt evangelist? Because this inexpensive natural remedy has lots of health benefits and has the potential to help so many ailments. Whether you're sore, can't sleep, stressed out, or having cramps, an Epsom salt bath is the way to go.
8 Reasons to Take an Epsom Salt Bath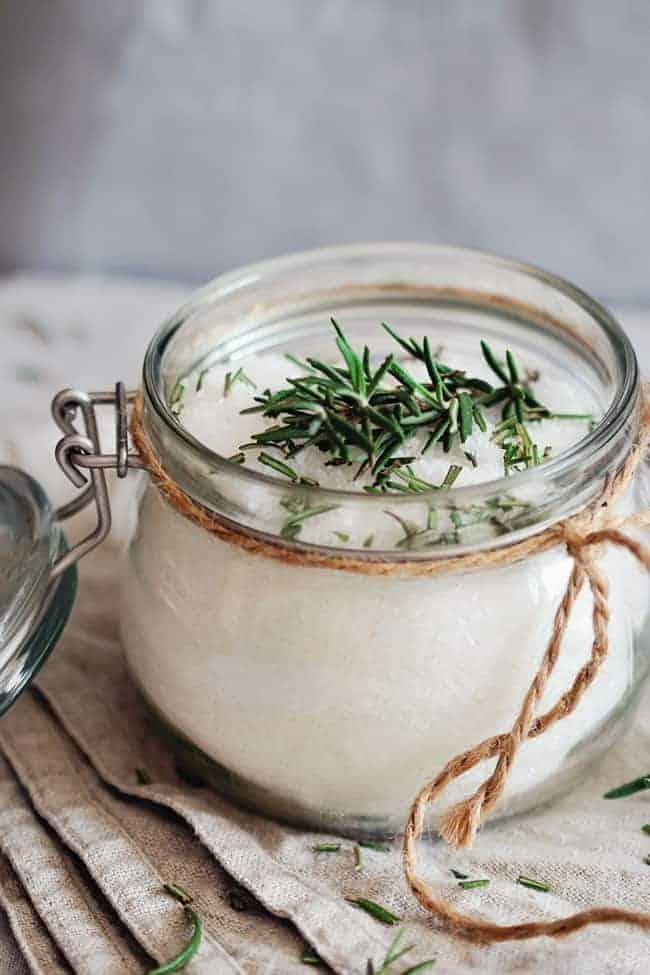 1. Epsom salt contains magnesium
Epsom salt is not really salt. It's actually magnesium sulfate, a mineral that helps your body relax and impacts more than 300 enzyme systems [source]. And it's not just the magnesium that has healing effects on the body, but sulfate has many health benefits as well [source].
These days, many people are magnesium deficient, which is associated with a whole host of problems, like type 2 diabetes, increased anxiety, PMS, migraines, muscle aches, and high blood pressure and other cardiovascular diseases [source]. If you're stressed or consume caffeine, salt, or alcohol, your magnesium levels could probably use a boost.
I'm a fan of magnesium-rich foods like leafy greens and beans, but I'm an even bigger fan of soaking in the tub. Unfortunately, with current farming practices, most of our soil has become deficient in magnesium. So you are likely deficient, even if you are eating plenty of leafy greens unless you are growing them yourself or buying them at local farmers' markets.
Evidence for magnesium from baths actually entering through the skin in any appreciable amounts is controversial [source]. And the literature seems to be mixed with studies on different spa therapies, some with salt water and others with mineral water containing different combinations of salts like magnesium sulfate, and that needs to be sorted out.
In the meantime, it makes sense to me to continue taking therapeutic baths and reaping the personal benefits. You never know…perhaps there is a small amount of absorption, and if so, I'll be the first one to partake. Bathing in Epsom salt at home has been shown to be safe, and it surely brings relief!
2. Epsom salt helps you de-stress
Stress and magnesium are interrelated. Anxiety and depression are often present when there's a magnesium deficiency [source]. You need magnesium to deal with stress, but stress lowers magnesium levels [source].
When you're stressed, your body is constantly pumping out adrenaline. Magnesium helps regulate those hormone levels. It relaxes the body and mind by activating the part of the nervous system that creates feelings of calm [source].
A recent review looked at studies that evaluated cortisol levels, a marker of stress, with spa therapy and found some evidence of benefit. They concluded that balneotherapy can improve the body's response to stress [source].
3. Epsom salt treats inflammation
There is a long history of using mineral baths to treat inflammatory conditions such as arthritis, and their effectiveness is proven [source]. The mechanism is still unclear but is thought to be related to a combination of the heat and a calming modulation of the immune system [source] [source].
4. Epsom salt eases muscle aches and pains
One of the reasons your muscles ache is because lactic acid builds up in the tissues. Adequate magnesium levels help prevent lactic acid from building up by clearing it out faster [source].
A long soak also helps to relax muscles, particularly when there are spasms or tightness. This prevents and treats soreness that develops from the constant contraction of the muscle.
There is also some very recent evidence that supports a role for balneotherapy in chronic muscle pain syndromes such as fibromyalgia [source], low back pain [source], and shoulder tendonitis [source]. It was shown to be therapeutic in many cases, with improved quality of life [source], and safe [source].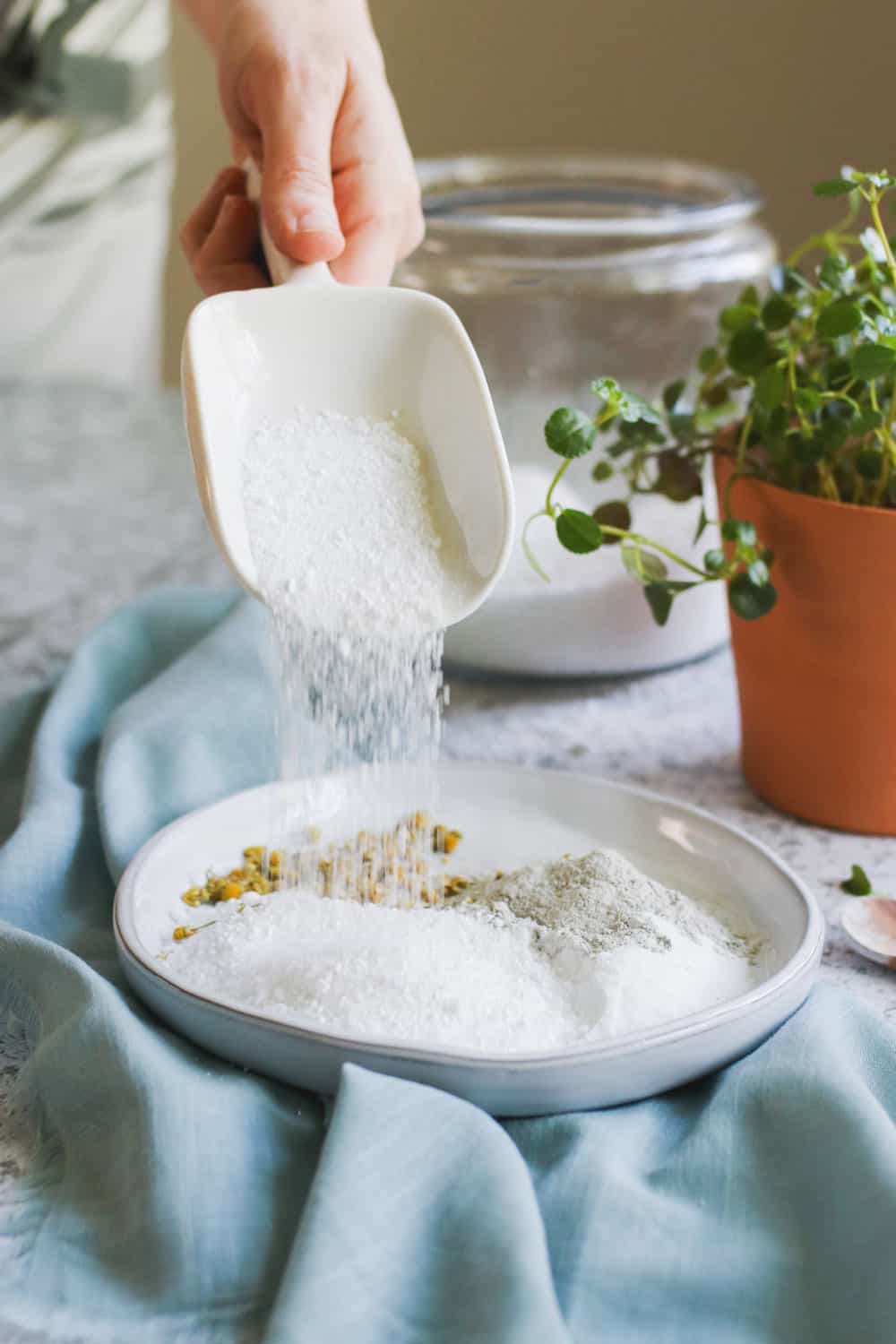 5. Epsom salt cleans and softens skin
A mineral-rich bath soak will soften and smooth out rough, dry skin. Its anti-inflammatory effects have also been shown to help eczema [source], the skin microbiome in patients with psoriasis [source] and other chronic skin diseases [source], and improve the function of the skin barrier [source].
To up the cleansing effects, massage the Epsom salt granules into your skin while you bathe to exfoliate dead skin. After the salt has dissolved (the granules are too rough for delicate skin), you can massage it into your face to break up blackheads and draw them out of your pores. Avoid contact with your eyes, of course.
6. Epsom salt helps your body detox
Epsom salt makes a simple but effective detox bath. The sulfates help flush toxins and heavy metals from your cells. And soaking in the mineral-rich water triggers reverse osmosis in your pores, so salt is pulled out of your body and yucky toxins along with it.
7. Epsom salt draws out splinters and stings
Epsom salt seems to have a therapeutic effect on bug bites, splinters, or small cuts that start looking red. A long soak draws out toxins and brings splinters to the surface, and its anti-inflammatory effects soothe red, irritated skin.
8. Epsom salt helps you sleep
Everyone knows the beneficial effects of hot baths before bedtime on sleep [source]. But it has shown that balneotherapy promotes improvements in sleep quality, including restlessness, difficulty falling asleep, and even nightmares [source]. When combined with physical therapy, mineral baths were shown to aid sleep in older patients with osteoarthritis [source].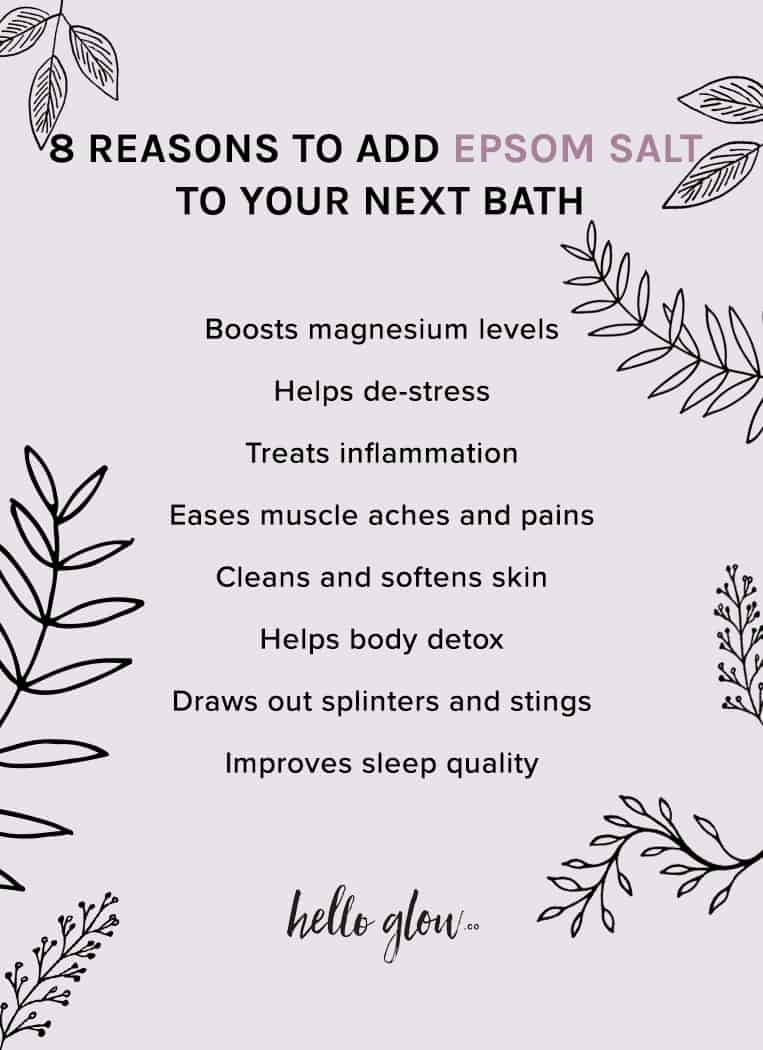 Ready to soak
?
This post was medically reviewed by Dr. Jennifer Haley, a board-certified dermatologist with extensive experience in medical, cosmetic, and surgical dermatology. Learn more about Hello Glow's medical reviewers here. As always, this is not personal medical advice, and we recommend that you talk with your doctor.
79