When I think of peppermint essential oil, I automatically think about its benefits for headaches, digestive troubles, and even its antimicrobial properties. I'm a big fan of the fresh, minty aroma, and my brain immediately begins perking up when I smell it. I've long known that peppermint is an incredibly versatile essential oil, and it's been a staple in my essential oil collection since the beginning of my natural living journey. In fact, I rarely leave home without it!
But did you know that peppermint is also beneficial for hair and scalp health? We'll just add that to the list of many things that peppermint is great for!
Peppermint Benefits for Your Hair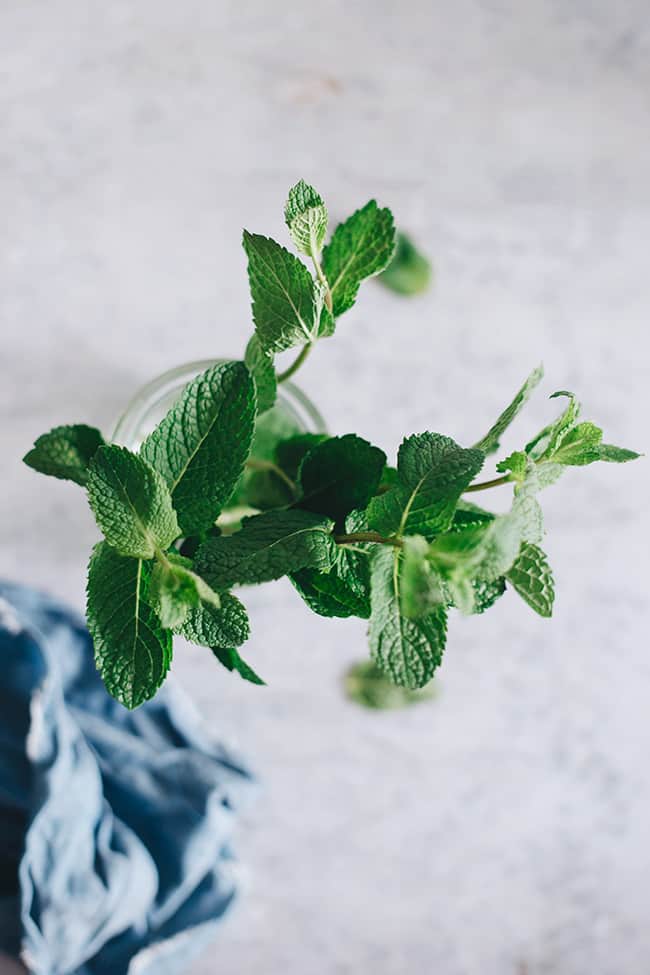 It's antimicrobial
Peppermint contains antibacterial, antiviral, and fungicidal properties [source]. While this makes it an excellent choice for cleaning, fighting germs, and many other household tasks, these antimicrobial properties also make peppermint oil a great option for cleansing the hair and scalp. This helps to support the health of your tresses in general, as well as hair growth.
It's anti-inflammatory
In addition to being antimicrobial, peppermint also contains anti-inflammatory properties [source]. This is especially beneficial for those who struggle with inflammatory scalp conditions such as dermatitis, psoriasis, and even dandruff. Since scalp health can directly affect hair health, it's important to give it the TLC it needs, which means making sure that inflammation is addressed and healed.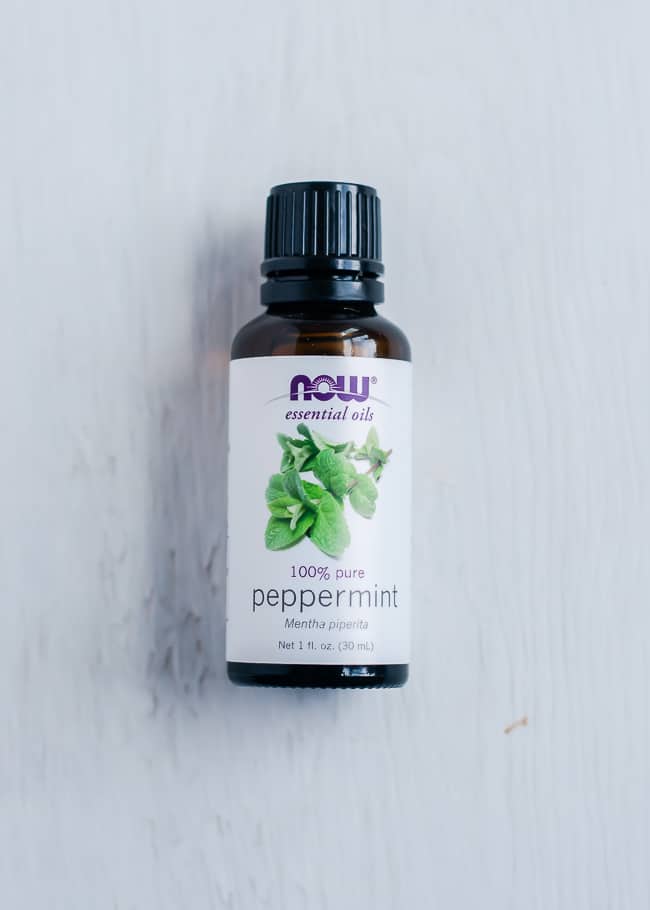 It helps with hair growth
Did you know that peppermint oil may help with hair growth? Although human studies are lacking, an animal study published in 2014 found that an application of diluted peppermint essential oil increased the number of hair follicles, follicle depth, and dermal thickness in mice [source].
In fact, peppermint oil performed better than minoxidil (a common hair growth treatment)! As an added bonus, the cooling effects of topical peppermint oil make it especially lovely to use on the skin and scalp!
It's anti-itch
Peppermint oil also contains anti-itch properties. A 2016 study found that peppermint oil was effective for participants suffering from chronic itchiness caused by certain medical condition [source].
In fact, it was shown that participants who used a peppermint oil solution had significant improvement. This is great news for individuals who battle an itchy scalp! With its anti-itch, anti-inflammatory, and antimicrobial properties, peppermint essential oil is a no-brainer to promote a healthy scalp.
How to Use Peppermint Essential Oil for Hair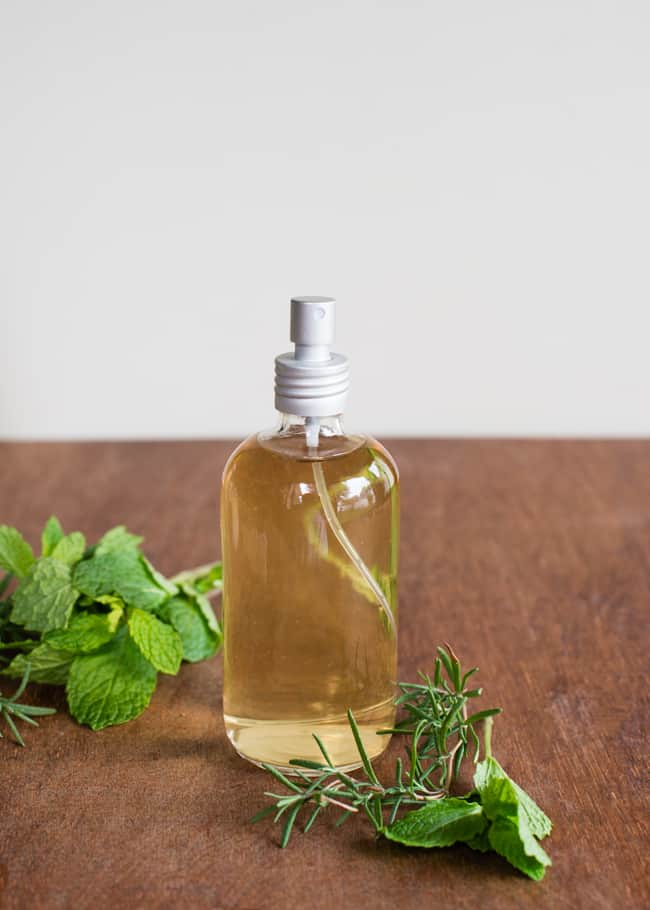 1
.
Hair growth serum
It's actually incredibly simple (and inexpensive!) to make your own hair growth serum. Plus, you get the added bonus of using a freshly formulated, all-natural product! The awesome thing about making your own products is that you get to choose the ingredients you want, but if you need help getting started, we have a super guide that can help.
Bonus: hair growth serums are very easy to use. All you do is coat your hair with the serum, leave it on for 20 minutes, and then shampoo and condition as usual. There are many essential oils and carrier oils that can support hair growth, so feel free to pick the ones that best suit your needs!
2
.
Scalp cleanser
I'm one of those people who likes to keep things as simple as possible. True confession: even though I know how good it is for me, sometimes I can get overwhelmed with natural living, especially when life gets busy. That's why I try to make things easier on myself when I can.
Did you know that you can really boost the cleansing power of your shampoo by simply adding a drop or two of peppermint oil? Just pour the shampoo into your palm, add 1 to 2 drops of peppermint essential oil, and then scrub away! Seriously, it doesn't get easier than this!
3
.
Smooth flyaways and frizz
I have naturally curly hair, so I'm constantly fighting flyaways and frizz. But even those of us with the silkiest hair combat flyaways occasionally. My favorite way to do this is with a little bit of natural oil, such as coconut or jojoba oil. Follow these steps for using coconut oil to smooth your strands, and be sure to add a drop or two of peppermint oil to help wake you up, nourish your hair, and make it smell minty fresh!
4
.
Hair mask
A nutrient-filled hair mask is just the ticket for tired, limp, or overprocessed hair. A number of natural ingredients are also beneficial for your hair, such as avocados, honey, bananas, carrier oils, clays, herbs, and several essential oils.
I particularly like this DIY Clay Hair Mask because it's incredibly customizable. Simply add 10 to 15 drops of peppermint essential oil to the recipe, and you'll have an incredibly nourishing hair mask to pamper yourself with!
5
.
Scalp mask
If you've been struggling with a dry, itchy, or irritated scalp, it may be time for a scalp mask. All you need to do is mix one ounce of a carrier oil such as jojoba, olive, almond, or avocado oil with two drops of peppermint essential oil in a 1 oz dropper bottle.
Then massage as much scalp oil as needed onto your scalp for 5 minutes or so. Be sure to take your time and let yourself enjoy the massage—don't rush through it! Afterward, just rinse, shampoo, and condition your hair as normal. Trust me; your scalp will thank you for it!
References:
1. Singh R, et al. Antibacterial and antioxidant activities of Mentha piperita L. Arab J Chem. 2015.
2. Chumpitazi BP, et al. Review article: the physiologic effects and safety of peppermint oil and its efficacy in irritable bowel syndrome and other functional disorders. Aliment Pharmacol Ther. 2018.
3. Oh JY, et al. Peppermint oil promotes hair growth without toxic signs. Toxicol Res. 2014.
4. Elsaie LT, et al. Effectiveness of topical peppermint oil on symptomatic treatment of chronic pruritus. Clin Cosmet Investig Dermatol. 2016.
25