Why is it that once you hit your 30s, a night of fun ends up permanently etched on your face for days—even weeks—after? It feels like I'm perpetually hungover (no alcohol needed at this point), sleep-deprived, jet-lagged, or screen-shocked, and my under-eye bags love to rub it in.
So let's just say that these DIY gel eye mask patches are a mainstay of my medicine cabinet. They're made to cool, de-puff, and hydrate sensitive under-eye skin, so you look like you're still the spring chicken you once were.
You can thank me later.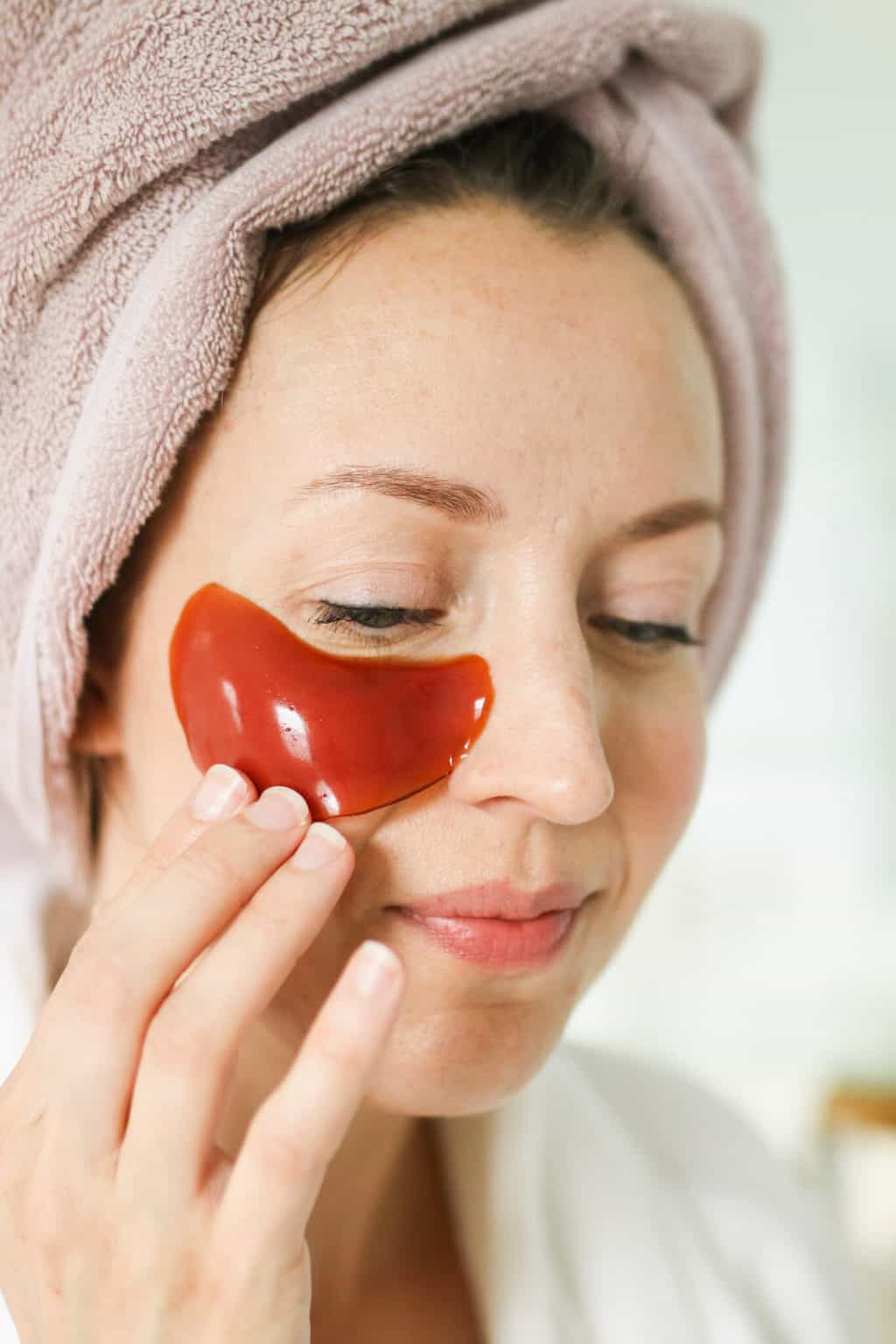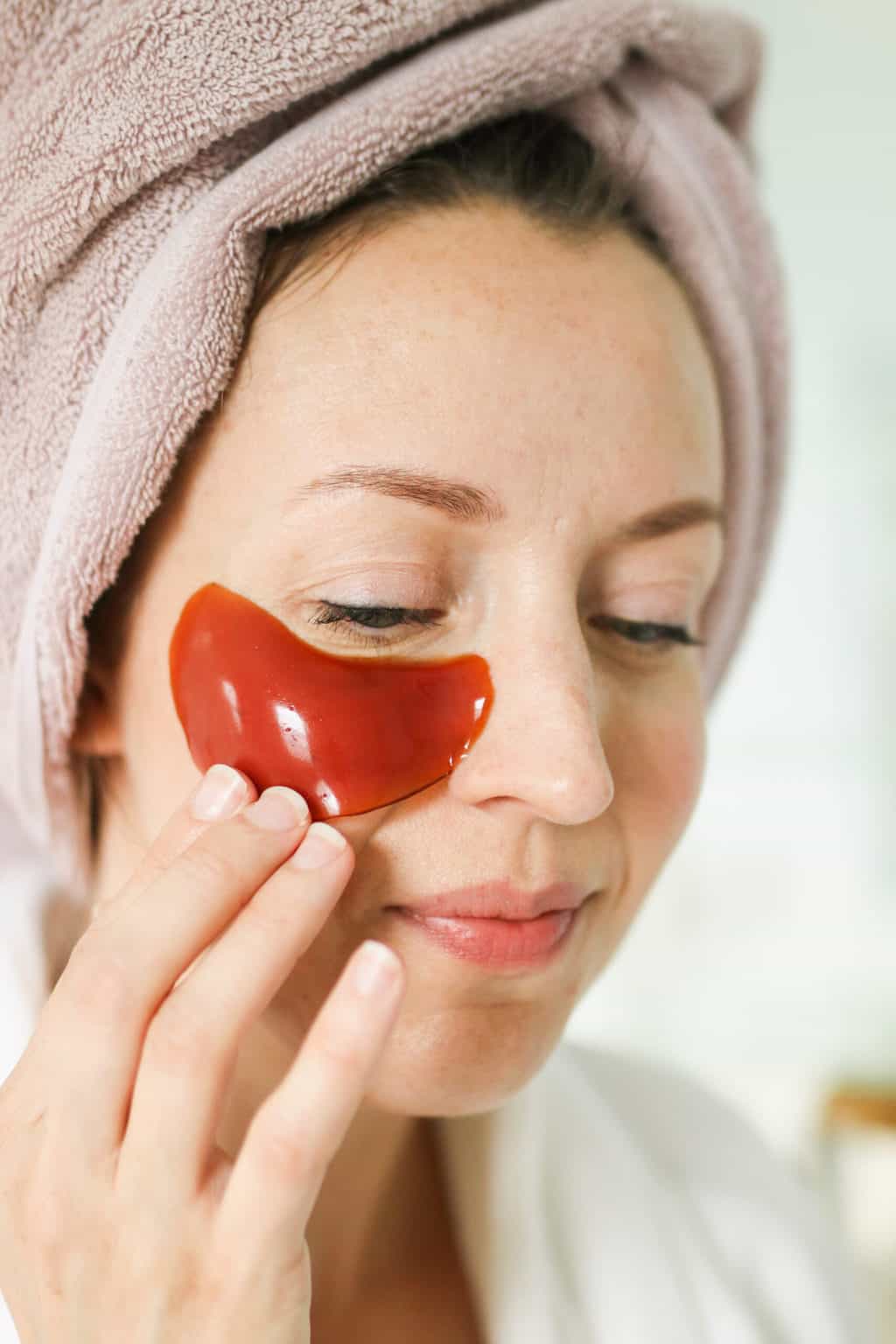 Gel Eye Mask with Pomegranate and Rosehip
This mask gets its magic from pomegranate, which has been shown to have a myriad of beauty-boosting effects [source]. It's also what gives this mask its vibrant red color.
But if you've hung around here long enough, you know that I couldn't stop there. So I also added rosehip seed oil and a bit of hyaluronic acid for extra soothing and moisturizing properties.
Pomegranate
Pomegranate has been used as a beauty booster for thousands of years. The peel has astringent properties, while the seeds are said to help facilitate skin repair. Alternatively, pomegranate seed oil has been shown to thicken the epidermis and encourage collagen synthesis [source].
I used organic pomegranate extract powder in my gel eye mask because it's high in vitamins and antioxidants. But you can use a few drops of pomegranate seed oil either in place of or in conjunction with the powder for added beauty benefits.
Rosehip Seed Oil
One of my all-time favorite facial oils, rosehip seed oil gets its benefits from its potent antioxidants: ascorbic acid and phenolic compounds [source], as well as its healthy fatty acids [source], among others. I like to apply it directly to my skin in the evening after washing off my makeup.
But when my eye bags rear their ugly heads, I make sure to add it to whatever mask I'm making at the time. Not only does it hydrate tired skin, but it also replenishes nutrients that may have been sapped from the skin during times of stress.
Hyaluronic Acid
Hyaluronic acid is another game-changer in the moisture department. Considered a humectant, hyaluronic acid works by drawing moisture into itself and holding it there [source]. When used on the skin, it helps draw moisture into the upper layers of the skin, making it look softer and more supple [source].
You can use either hyaluronic acid powder or serum in your gel eye mask, but I chose the powder because it's what I had on hand. Whatever you choose, a little goes a long way, so make sure to pour with a light hand.
Gelatin
Last but not least, gelatin is what gives this mask its shape. But it's also a good source of amino acids and protein, both of which are building blocks of the skin.
If you're vegan, you can make your gel eye mask with agar agar, a jelly-like substance derived from red algae (just see the notes section in the recipe card for alternate instructions).

How to Make Gel Eye Mask Patches
The hardest part of making eye mask patches is finding the molds.
I used an old pair of store-bought gel eye mask containers I had lying around, and they worked perfectly. I was initially worried about being able to get the mask out of the mold without it tearing, but I never ran into any issues. Simply run a sharp knife around the edge before pulling out the mask, and you're good to go.
If you don't have any old gel masks kicking around, you can actually purchase eye mask molds on Amazon. But for the price, it might be cheaper just to purchase a gel eye mask at the store and keep the plastic container when you're done.
You can also make these without a mold, but they won't look or fit quite as nice. Just line a small, flat container (such as a 4" x 4" baking dish) with wax paper or parchment.
Then pour your gelatin mixture into the container, distribute it evenly, and let it solidify. Use a sharp knife to cut the gelatin into an eye mask shape as best you can before peeling it off the wax paper.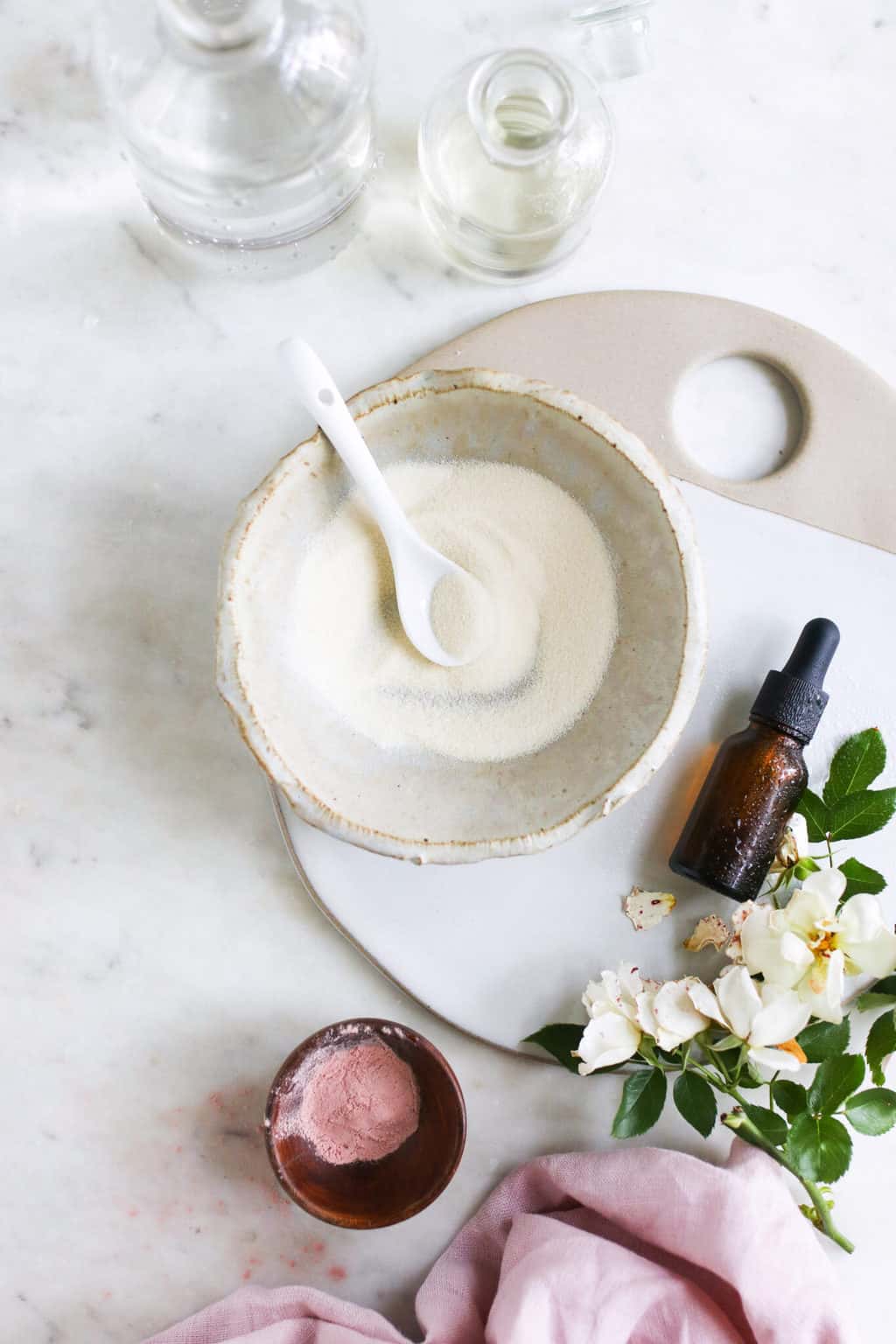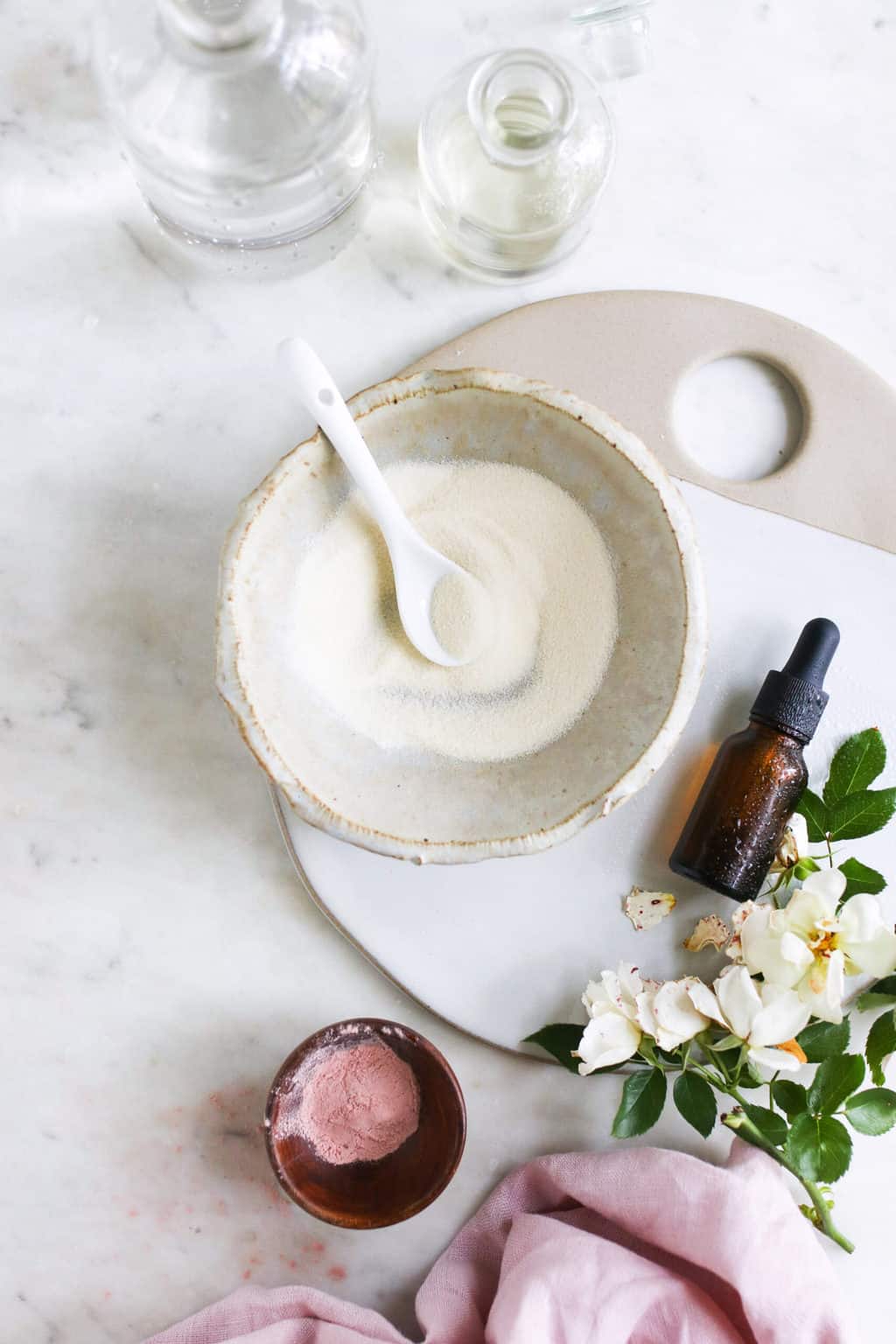 Ingredients
Instructions
1. Place 2 tablespoons of cool water in a small bowl. Sprinkle the gelatin over the cool water and let it sit for several minutes.
2. Bring ¼ cup water to a boil and pour it over the gelatin. Whisk until smooth. I used a fork to break up chunks against the side of the bowl as best I could. What I couldn't get out, I filtered out with a mesh strainer, but that's not completely necessary.
3. Add the pomegranate powder, rosehip seed oil, and hyaluronic acid. Stir well.
4. Spoon the mixture into your molds and place in the refrigerator for 30 minutes or until solid.
5. Before removing it from the mold, run a sharp knife around the edge of the eye mask to help it release cleanly.
6. Apply to the under-eye area for 15 minutes. Since it's made of gelatin, it will liquefy somewhat while you wear it. Rinse off, pat skin dry, and follow up with serum or moisturizer.
Store extras in the refrigerator for up to 1 week or in the freezer for up to 3 months.
Gel Mask FAQs
How often can I use a gel eye mask?
I recommend using them 2–3 times a week. While it's possible to use them more often, keep an eye out for itching or redness and take a break if you notice any irritation.
Is it better to use these in the morning or at night?
It depends on what you're using them for. If you'd like to decrease swelling and under-eye bags when you first wake up, then apply them in the morning before putting on your makeup. If you'd like to unwind after a long, stressful day, then make them part of your p.m. skincare routine.
Do I need to wash my face after using an eye mask?
You probably don't need to use soap to get the gel off. Simply peel off the mask as best you can, and use warm water to dissolve the lingering gel. If needed, use a washcloth to gently wipe off any stubborn bits.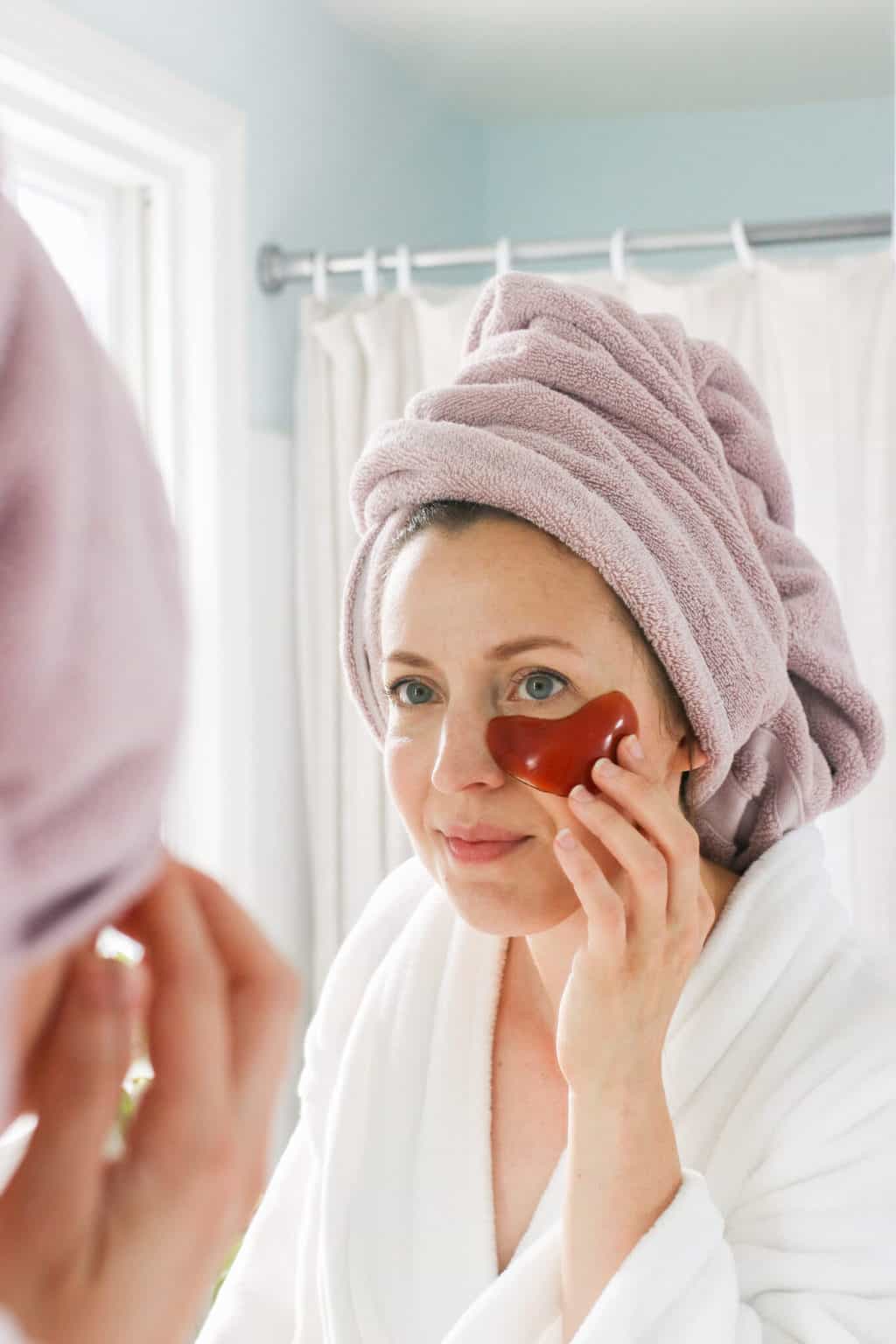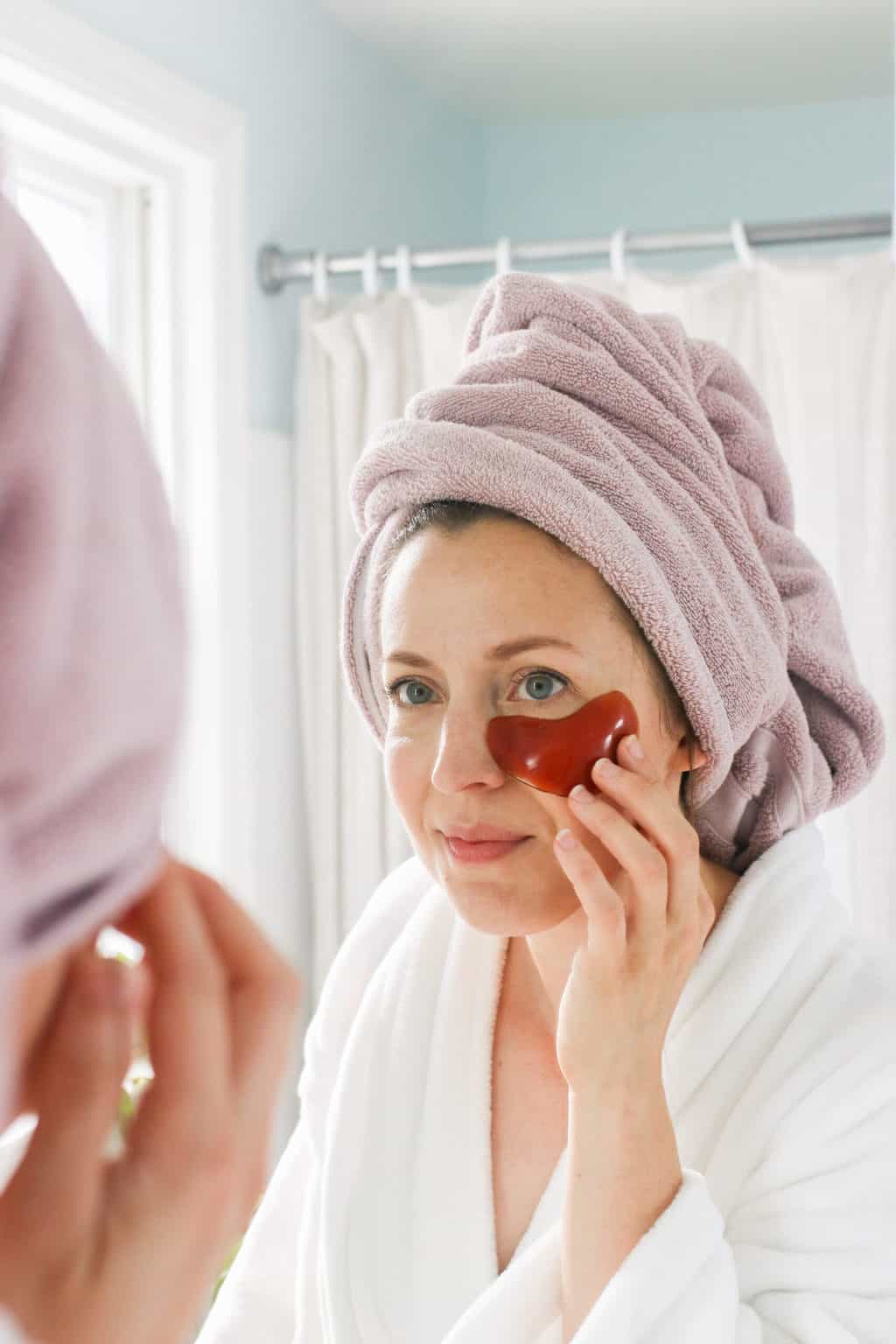 This article was medically reviewed by Dr. Gina Jansheski, a licensed, board-certified physician who has been practicing for more than 20 years. Learn more about Hello Glow's medical reviewers here. As always, this is not personal medical advice and we recommend that you talk with your doctor.
5