Thinning hair is a total downer, let's be honest. And, unfortunately, it can happen to anyone—men and women, at any age. What the heck! Luckily, there are plenty of natural thinning hair remedies designed to stimulate growth and thicken hair. Whatever the cause, know that you're beautiful and that our hair doesn't define our beauty!
Most people lose around 50–100 strands a day and even more on days when we shower. There are literally dozens of reasons why women, in particular, lose their hair at a higher rate than normal. Pregnancy, major surgery, extreme stress, drastic weight loss, genes, certain medications, autoimmune diseases, and excessive styling are all possible reasons behind hair loss. In fact, almost 50% of men and women will experience some hair loss by age 50 [source].
10 Natural Thinning Hair Masks for Fuller Hair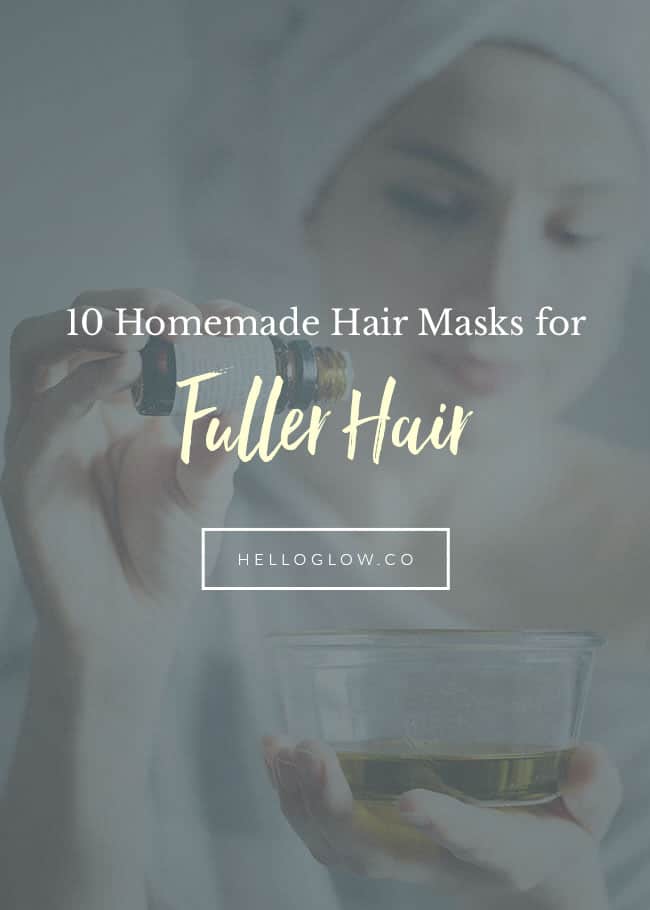 It can be hard to pinpoint hair loss causes, so in addition to trying these time-tested natural remedies, it's a good idea to seek some medical advice to better treat the condition.
1. Soothe Your Scalp with Aloe Vera
This powerful plant has such amazing healing and nourishing properties. Try giving your follicles some extra TLC once a week by rubbing a palm-sized amount of aloe vera gel all over your scalp. Let it sit for 10–15 minutes, then rinse and shampoo.
Keeping your hair follicles strong is essential for preventing breakage. You can combine this with a DIY scalp scrub to exfoliate, stimulate growth, and remove product buildup.
2. Prevent Fallout with a Protein Egg Mask
One factor for hair loss is insufficient protein in the diet. If you're not a meat-eater, you're probably already aware of the different ways to infuse protein into your diet, but you can also create a protein mask for your hair!
Just combine ½ an avocado, 1 egg, 1 tablespoon of coconut oil, and ½ teaspoon of honey. Apply to your hair for at least 30 minutes, and then shampoo to remove.
Note: Eggs are also a good source of arachidonic acid, which has been shown to stimulate hair growth in the follicles [source]
3. Stimulate Growth with Olive Oil + Ginger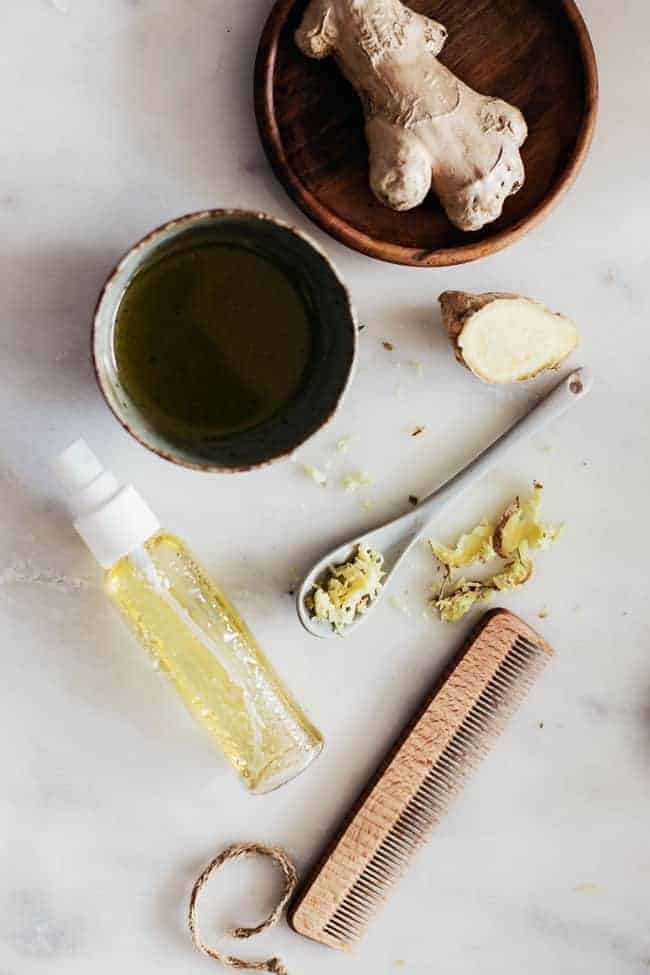 Olive oil is like hair's best friend. Full of important vitamins, olive oil nourishes your hair from the scalp to the ends. Like many other plant extracts, it contains oleanolic acid, which has been proven to promote hair growth [source].
It will also add body to your hair, which is a great trick if you have hair thinning. Simply combine olive oil with minced ginger or ginger essential oil and massage it onto your hair. Leave it on for 30–45 minutes and then rinse. Alternatively, you can leave it on overnight and rinse it out in the morning (make sure you wrap it up so you don't get oil everywhere).
Get a ready-made ginger hair growth serum here, which also includes ginseng—see more on that below.
4. Thicken Hair with Rosemary + Nettle Tea
Rosemary has been studied for its ability to stimulate hair growth and was actually found to have benefits equivalent to minoxidil in one study [source]. Stinging nettle seems to have positive effects on the blood vessels, helping to support the growth of new hair [source]. This combo can actually help thicken hair and promote new hair growth.
Create a spritz with ¾ cup fresh rosemary and 1 nettle leaf tea bag to 1 cup boiling water. Remove from the heat and steep for 1 hour. Strain it and allow to cool completely. You can either pour it over your hair, combing through to saturate strands for 10 minutes before you rinse and shampoo, or into a spray bottle to spritz on wet hair and leave on overnight.
5. Strengthen Follicles with Fenugreek Seeds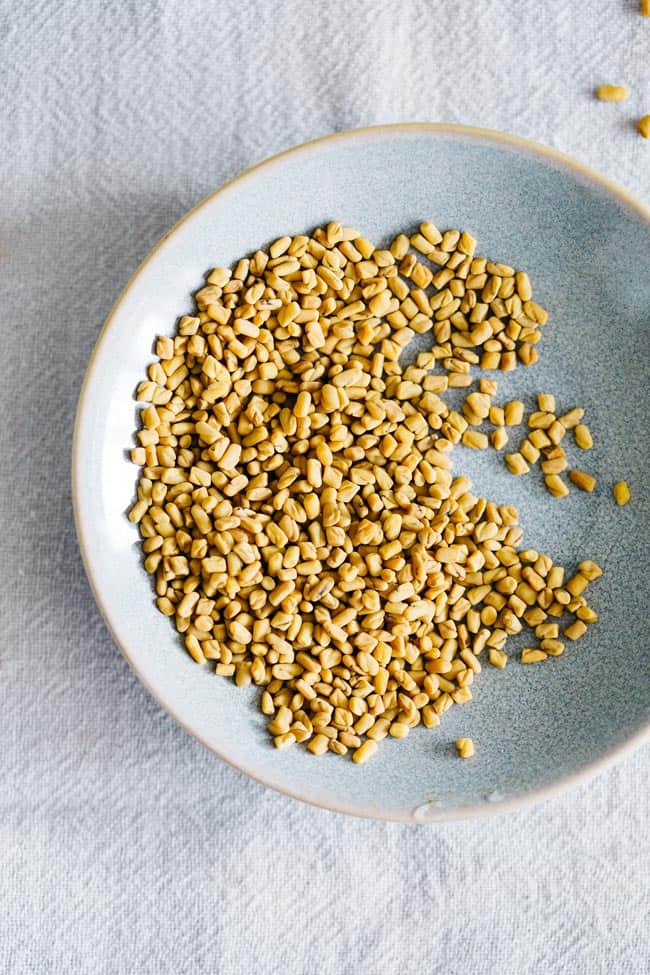 Ever hear of these magic seeds? Considered a legume, fenugreek is one of the oldest cultivated medicinal plants in southern Europe and Asia. To see its benefits for your hair, soak 2 tablespoons of protein- and lecithin-rich fenugreek seeds overnight, then grind them into a paste and apply to the scalp. Leave the paste on for 30 minutes before rinsing. These seeds are great for treating dandruff, too.
6. Boost Volume with Apple Cider Vinegar + Green Tea
Green tea helps with pretty much anything. It is an antioxidant and anti-inflammatory, and it has also been shown to—believe it or not—help with hair growth [source]! Here's another great recipe to boost volume and soothe any scalp inflammation.
Combine ¼ cup of apple cider vinegar with 1 cup of cooled green tea. After shampooing, pour the mixture over your hair and comb through to saturate the strands. Do not rinse. If you have white or blonde hair, do a spot test first to make sure it won't discolor your strands.
7. Boost Collagen Production with Onion
Yikes, right? Your hair might smell a bit funky for a while, but it may be worth it in the end. Onion is a rich source of sulfur, which aids in hair growth by increasing collagen production [source].
Apply a mixture of onion juice and honey to the scalp, followed by a rinse, every other day for 2 weeks. This is a good treatment to do at night when you're not going anywhere, and then you can fully wash your hair in the morning.
8. Strengthen Strands with a Coconut Milk Mask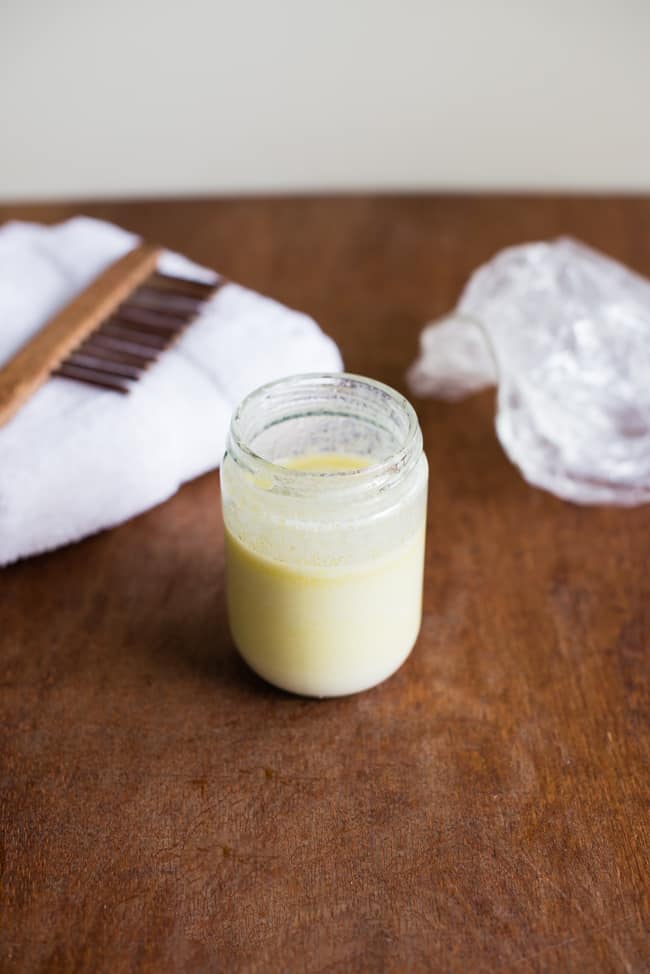 This coconut milk mask is full of healthy proteins and essential fats, both of which boost hair growth. Combine 3 teaspoons of olive oil with ½ cup of coconut milk and warm slightly.
Massage the mask into your scalp and through the ends of your hair. Wear a shower cap to allow your body heat to help with deeper penetration. Leave on for 10–15 minutes and then follow with shampoo to rinse the mask off.
9. Ginseng for Thickening
The use of ginseng root for natural medicine has a long history, but very few people know about its hair growth-promoting properties. It has been shown to stimulate the hair shaft as well as prevent hair loss [source].
You can combine ginseng root powder with olive or coconut oil to apply as a mask, or make a tea to comb through your hair and leave in overnight. If you have difficulty getting ahold of ginseng root, you can get a ready-made ginseng hair thickening and growth serum here.
10. Add Shine with Orange Juice
Orange juice isn't just for breakfast! Turns out, it's also great for making the hair shiny and even preventing dandruff. All you need to do is peel an orange, juice it in the blender, and apply it to your hair for 20 minutes once a week.
Not only will it lead to glossier hair, but your hair will smell nice and fresh (might be a good thing to do after the onion juice treatment!)
Bonus Hair Mask Recipes
Coconut oil: Thinning hair can be a frustrating issue to deal with, but there are natural ingredients you can use to make a hair mask that can help promote hair growth and thickness. One such ingredient is coconut oil, which is rich in healthy fats and has been shown to penetrate hair strands and prevent protein loss. To make a hair mask with coconut oil, simply melt 1 tablespoon of coconut oil and mix it with 1 teaspoon of honey. Apply the mixture to your hair, focusing on the roots and scalp, and let it sit for at least 30 minutes before rinsing out with warm water.
Aloe vera: Another ingredient to consider for a hair mask is aloe vera, which is known for its soothing properties and ability to help reduce inflammation in the scalp. To make an aloe vera hair mask, blend ¼ cup of fresh aloe vera gel with 1 tablespoon of castor oil and 1 egg. Apply the mixture to your hair, and let it sit for 20–30 minutes before washing out with a gentle shampoo. This hair mask can help improve circulation to the scalp and provide nourishment to hair follicles, leading to stronger, healthier hair.
References:
Guo EL, et al. Diet and hair loss: effects of nutrient deficiency and supplement use. Dermatol Pract Concept. 2017.
Munkhbayar S, et al. Role of arachidonic acid in promoting hair growth. Ann Dermatol. 2016.
Liu B, et al. β-Catenin is involved in oleanolic acid-dependent promotion of proliferation in human hair matrix cells in an in vitro organ culture model. Fitoterapia. 2017.
Panahi Y, et al. Rosemary oil vs minoxidil 2% for the treatment of androgenetic alopecia: a randomized comparative trial. Skinmed. 2015.
Pekmezci E, et al. Proprietary herbal extract downregulates the gene expression of IL-1α in HaCat cells: possible implications against nonscarring alopecia. Med Arch. 2018.
Kwon OS, et al. Human hair growth enhancement in vitro by green tea epigallocatechin-3-gallate (EGCG). Phytomedicine. 2007.
Sharquie KE, et al. Onion juice (Allium cepa L.), a new topical treatment for alopecia areata. J Dermatol. 2002.
Choi BY. Hair-growth potential of ginseng and its major metabolites: a review on its molecular mechanisms. Int J Mol Sci. 2018.
This article was medically reviewed by Dr. Gina Jansheski, a licensed, board-certified pediatrician with more than 20 years of practice experience. Learn more about Hello Glow's medical review board here. As always, this is not personal medical advice, and we recommend that you talk with your doctor.
828