Last August we started a major kitchen renovation. That meant packing up the entire kitchen and storing it in the garage until the project was done. We decided to replace our dishwasher and stove, but the fridge was pretty new so no reason to buy a new one.
We emptied it out and hauled it to the garage where it sat until the week finally came in October when we could install the appliances. I was beyond excited to have a stove again. And a sink. And a refrigerator!!!
The guys brought the fridge in to hook it up, and when I opened the door, the smell almost knocked me out. My heart sank. I realized I had emptied out the fridge but hadn't cleaned it out. So every little crumb and spill left in there had been growing some kind of grossness for the past three months.
Long story short, I spent the entire afternoon, literally hours and hours, cleaning every nook and cranny that refrigerator. Now I have a new appreciation for a clean refrigerator. And by golly, that fridge is going to stay clean.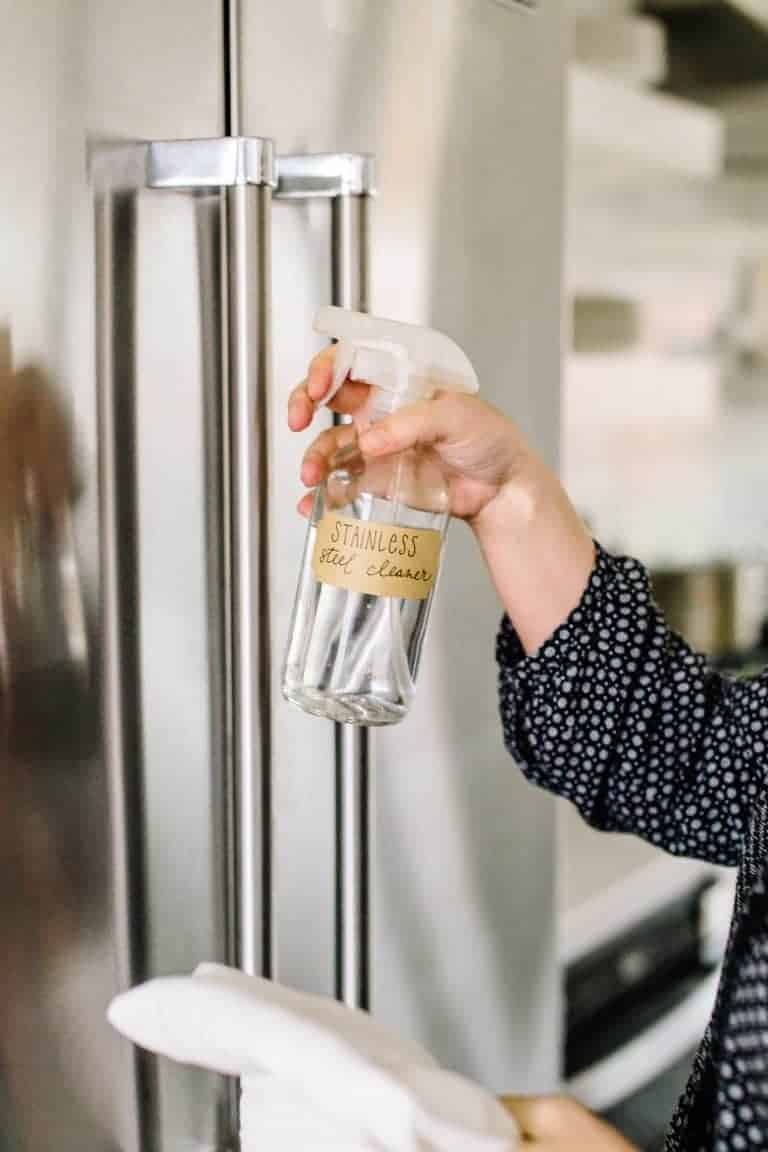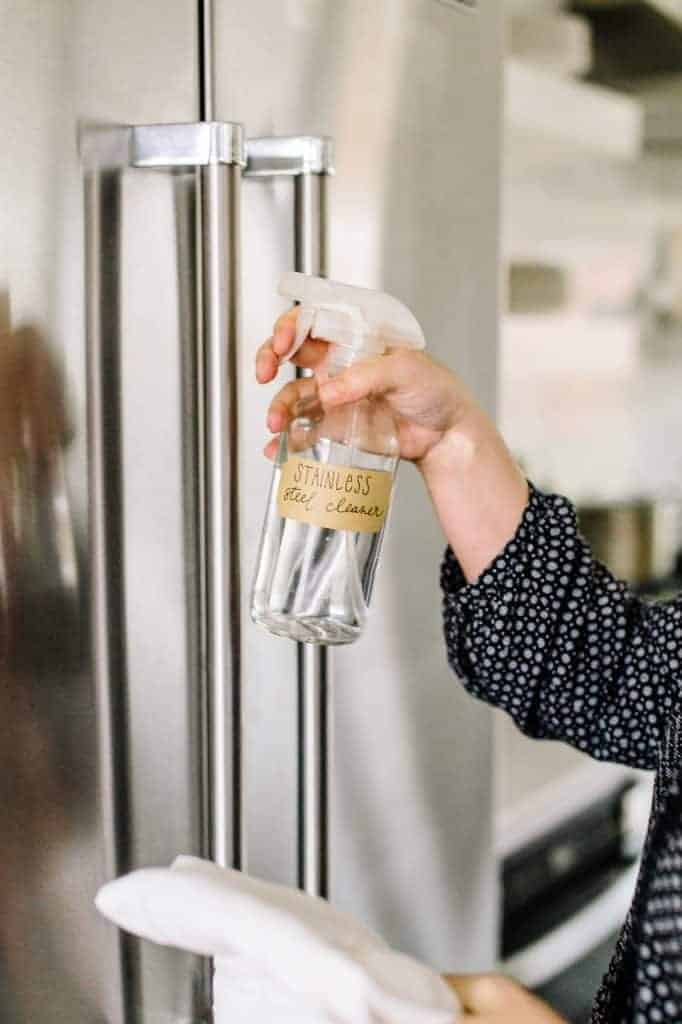 Now the fridge is back in action. And it didn't take long for art projects and school calendars to cover every available space. And the magnets, where do they all come from? It may sound scrooge-like, but I like clean, clutter-free doors. No magnets from the dentist we've never seen or sports schedules from months ago. So I took them all off, and the simplicity of the fridge makes me really happy.
But now it gets dirty. A lot. Stainless steel easily gets smudges, fingerprints and water stains. You can still shadows from the magnets. Little hands are in there all the time to grab apples or cheese sticks.
Enter the super easy Stainless Steel cleaner. It's awesome for making appliances shine. I spritz it on my fridge, dishwasher, and even the stainless steel oven hood. Because it's beyond annoying to climb up onto the counter to clean the oven hood, only to see a bazillion streaks and smudges as soon as you crawl down.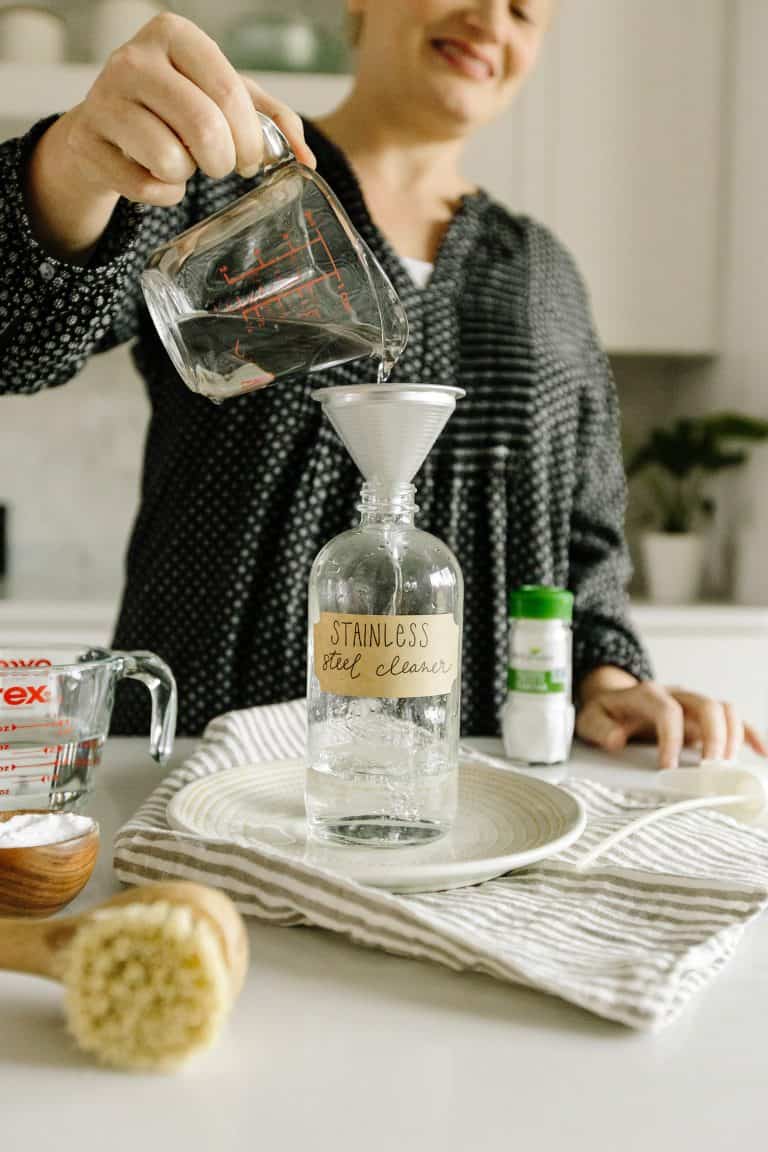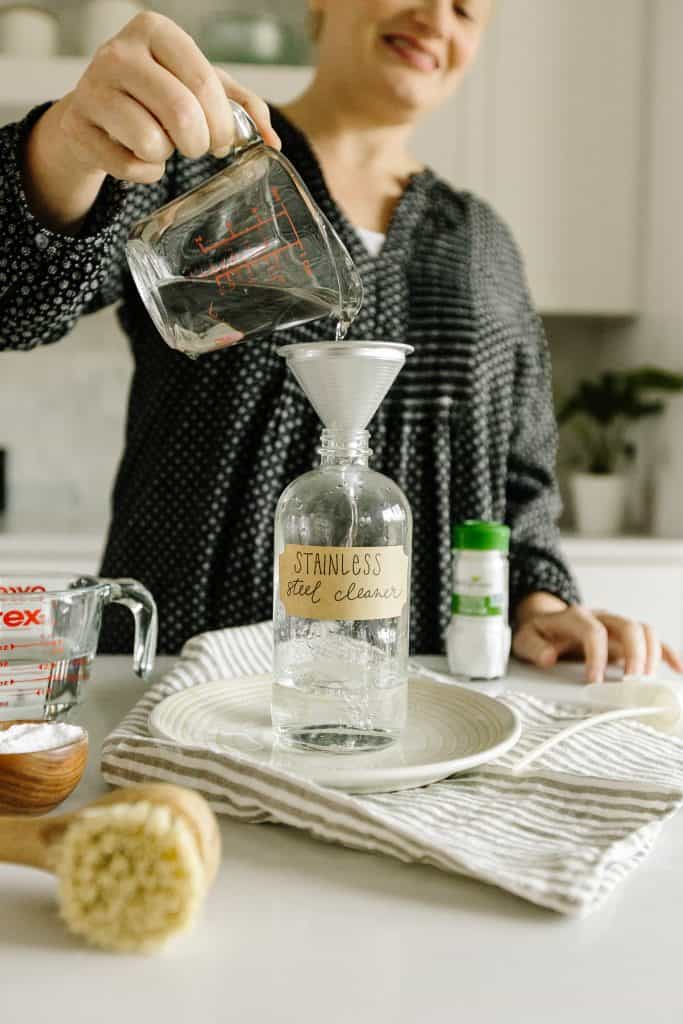 Are you ready for how easy this is? You only need 2 ingredients: water and rubbing alcohol. Combine them in a 1:1 ratio in a spray bottle and go to town.
The rubbing alcohol evaporates quickly and doesn't leave a residue, which makes appliances shine. Alcohol also has the added bonus of acting as an antiseptic to disinfect surfaces. And this combo helps prevent appliances from picking up future smudges and fingerprints.
15 Ways to Use Rubbing Alcohol
Rubbing alcohol is a handy weapon to have in your cleaning arsenal. Here are a few more ways to use this solution:
1. Use it as a disinfectant for high touch things like doorknobs and light switches
2. Clean bathroom sinks and fixtures
3. Clean your workout gear
4. Clean dry erase boards
5. Use as a spot remover for ink, marker, grass and coffee stains
6. Spray on mirrors to remove hairspray
7. Clean glass and windows
8. Use as a shower spray if you have a glass surround
10. Clean granite countertops
11. Pour onto hands (and then wash) to remove garlic odor
12. Clean sofa stains
13. Mix 1 part rubbing alcohol with 3 parts water in bag and stick in the freezer for a reusable ice pack.
14. Wipe phones and keyboards with rubbing alcohol to clean. Don't combine with water to avoid water damage.
15. Spritz to kill fruit flies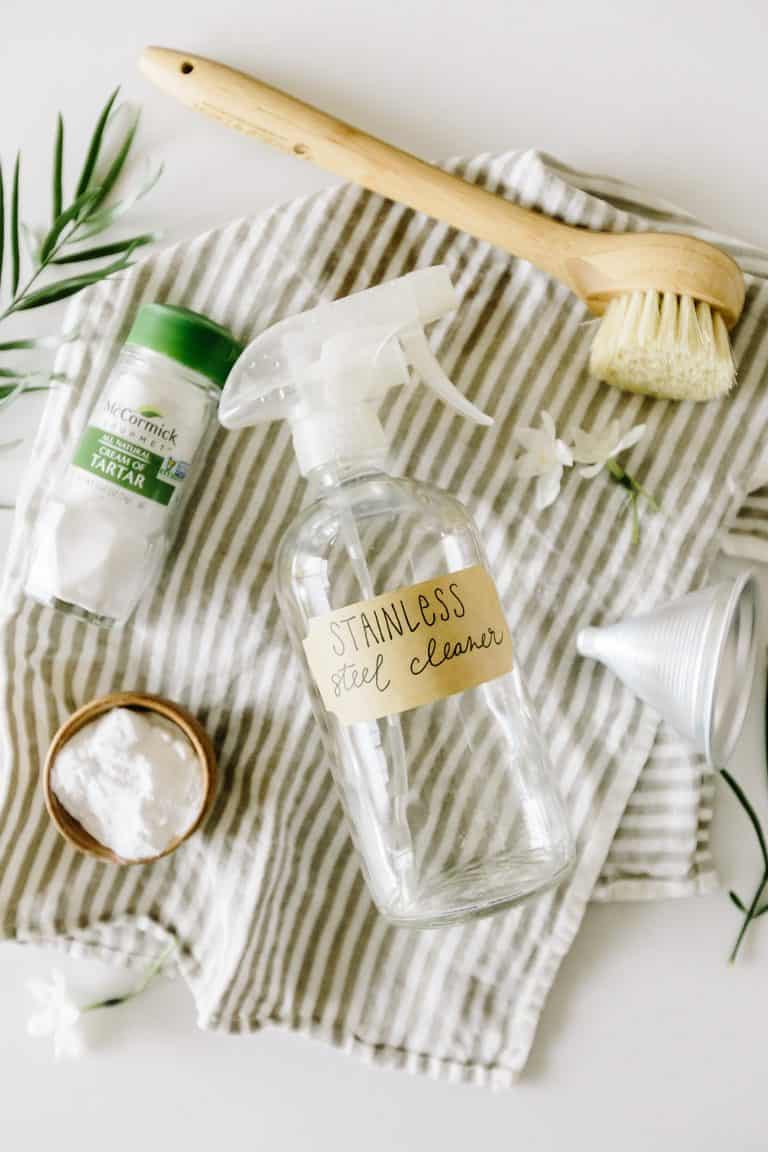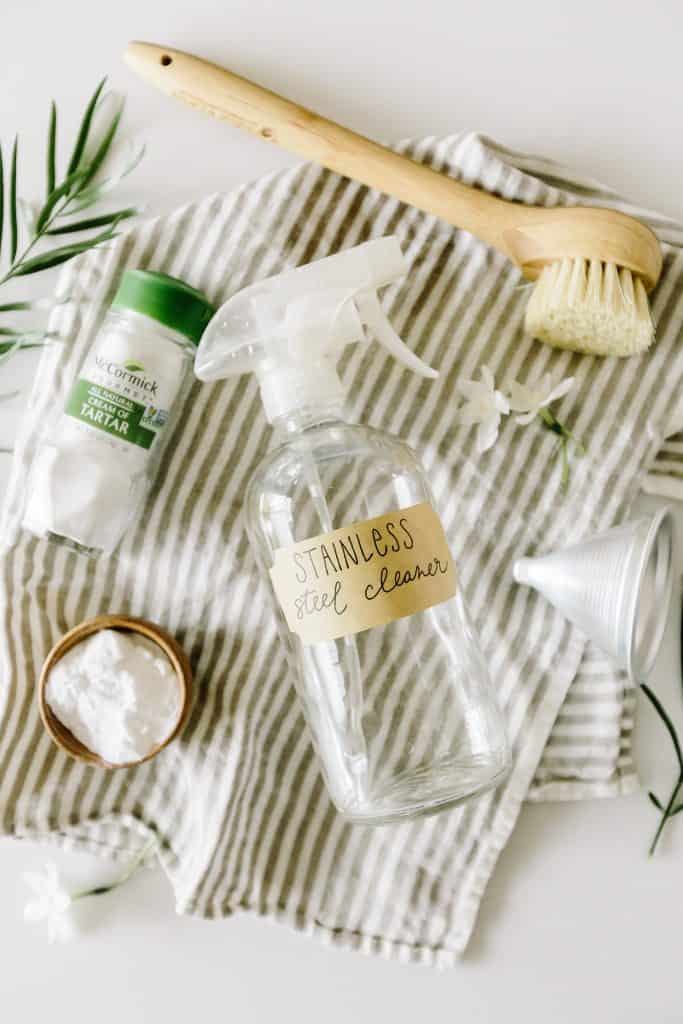 The other common solution I found for stainless steel streaks and smudges was olive oil. You're supposed to wipe the surface with a bit of oil on a soft cloth. I tried that method first, but it didn't make the surface shine. It just made everything look dull.
And because I know someone will ask, no, you don't need cream of tartar for this recipe. I'm not sure how it ended up in this photo :) It's for another post coming up so stay tuned!
P.S. Find out the other must-have natural cleaning ingredients and our favorite ways to use vinegar.
Photos by Abby Coyle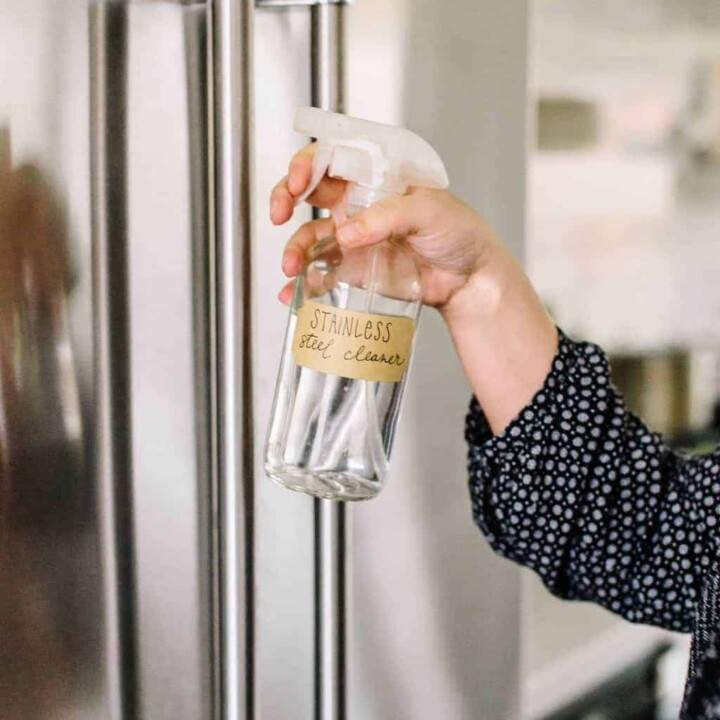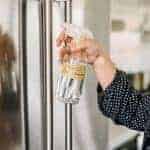 Print
Stainless Steel Cleaner
Tired of cleaning your fridge only to end up with even more streaks and smears than when you started? You need this cleaner in your life.
Equipment
Funnel

16 ounce spray bottle
Materials
¾

cup

distilled water

¾

cup

70% isopropyl rubbing alcohol
Instructions
Remove the spray nozzle from your spray bottle.

Measure and pour the water and rubbing alcohol into the bottle. Increase or decrease the amounts of water and alcohol used, keeping a 1:1 ratio.

Replace nozzle and agitate to combine.

To use, spray onto stainless steel and wipe up using a soft cloth. Wipe with the grain of the appliance.
Notes
Rubbing alcohol has a strong smell so open the windows and ventilate if you're doing a lot of cleaning. And don't use around heat or flames.
Make a fresh batch of spray every couple of months.
227