Ready for soap that does double duty? Then, I'd like you to meet my newest skin obsession: an all-natural, head-to-toe beauty bar infused with turmeric, raw honey, and witch hazel. This extra-gentle turmeric soap is superfatted, meaning it contains additional plant butters and oils to help hydrate as it cleanses.
And it's loaded with skin-loving botanicals to soothe irritation and treat problem skin anywhere on the body. Because it's so gentle, you can use it as a facial cleanser, body wash, even as a nourishing hand soap, and just about anything in between.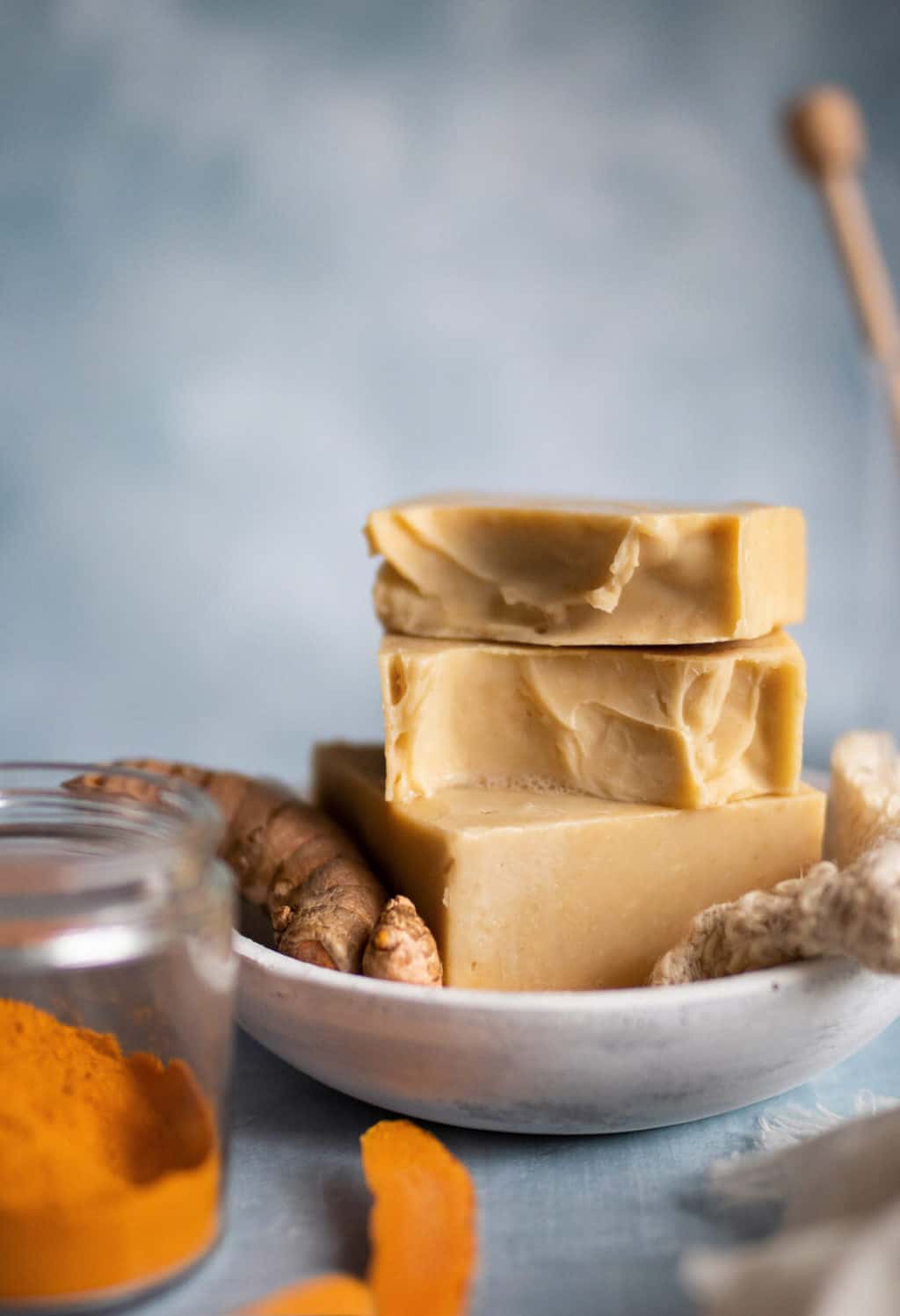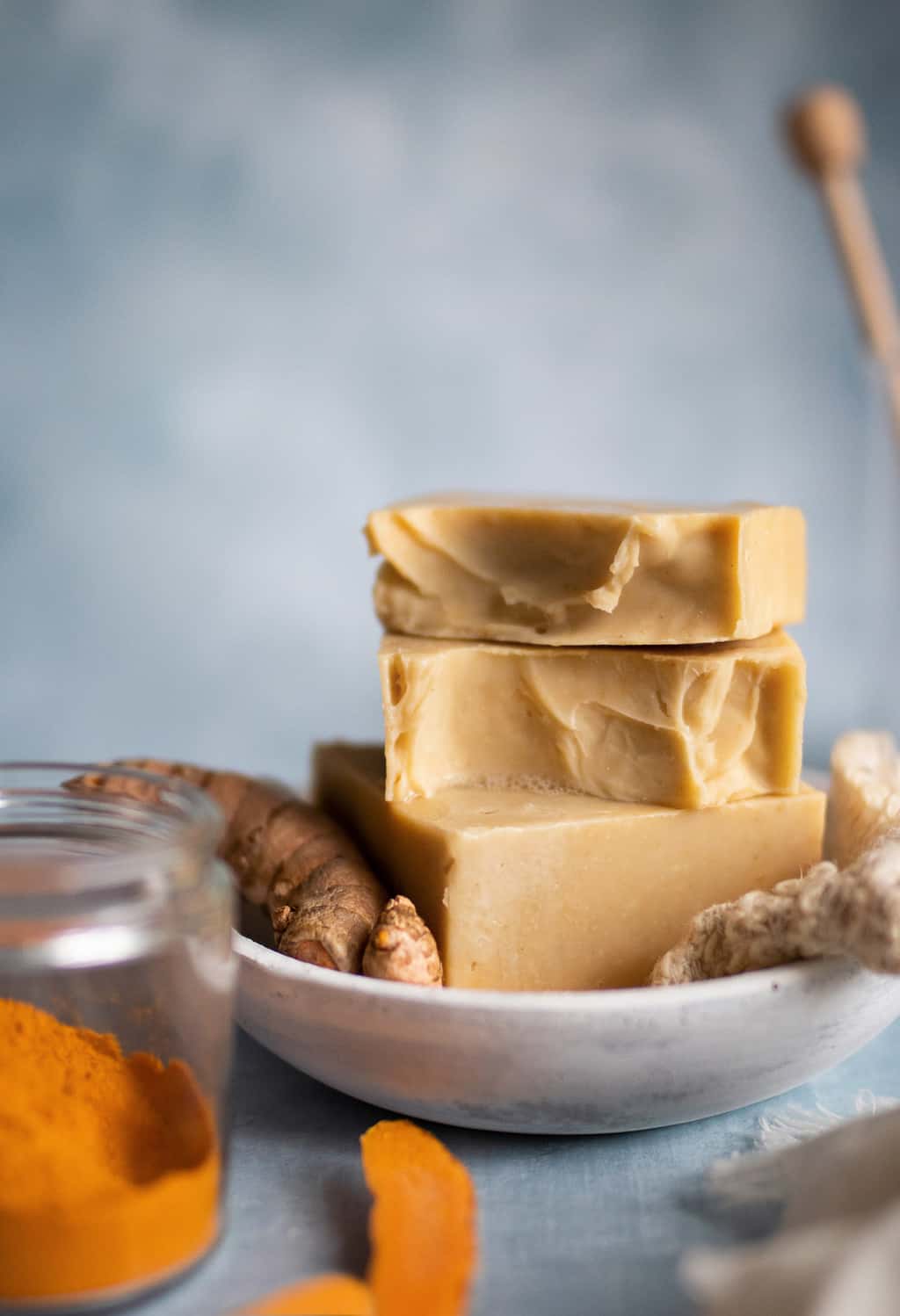 Benefits of Turmeric Soap
If you've hung around here long enough, you'd know that we have a thing for turmeric. It's one of the few spices scientifically proven for soothing inflammation [source], encouraging wound healing, and modulating skin health [source], so we're keen on throwing it in just about everything.
And lately, one of our favorite ways to use it is in soap.
In Ayurveda, turmeric has been used for centuries to help with things like:
-Slowing the appearance of aging
-Encouraging wound healing
-Soothing a variety of common skin conditions, such as eczema and psoriasis
-Treating breakouts
-Fading discoloration
-Decreasing the appearance of scars
-Brightening skin
When combined with the nourishing oils in homemade cold process soap, turmeric helps cleanse and nourish skin while also soothing irritation and treating a variety of minor skin ailments.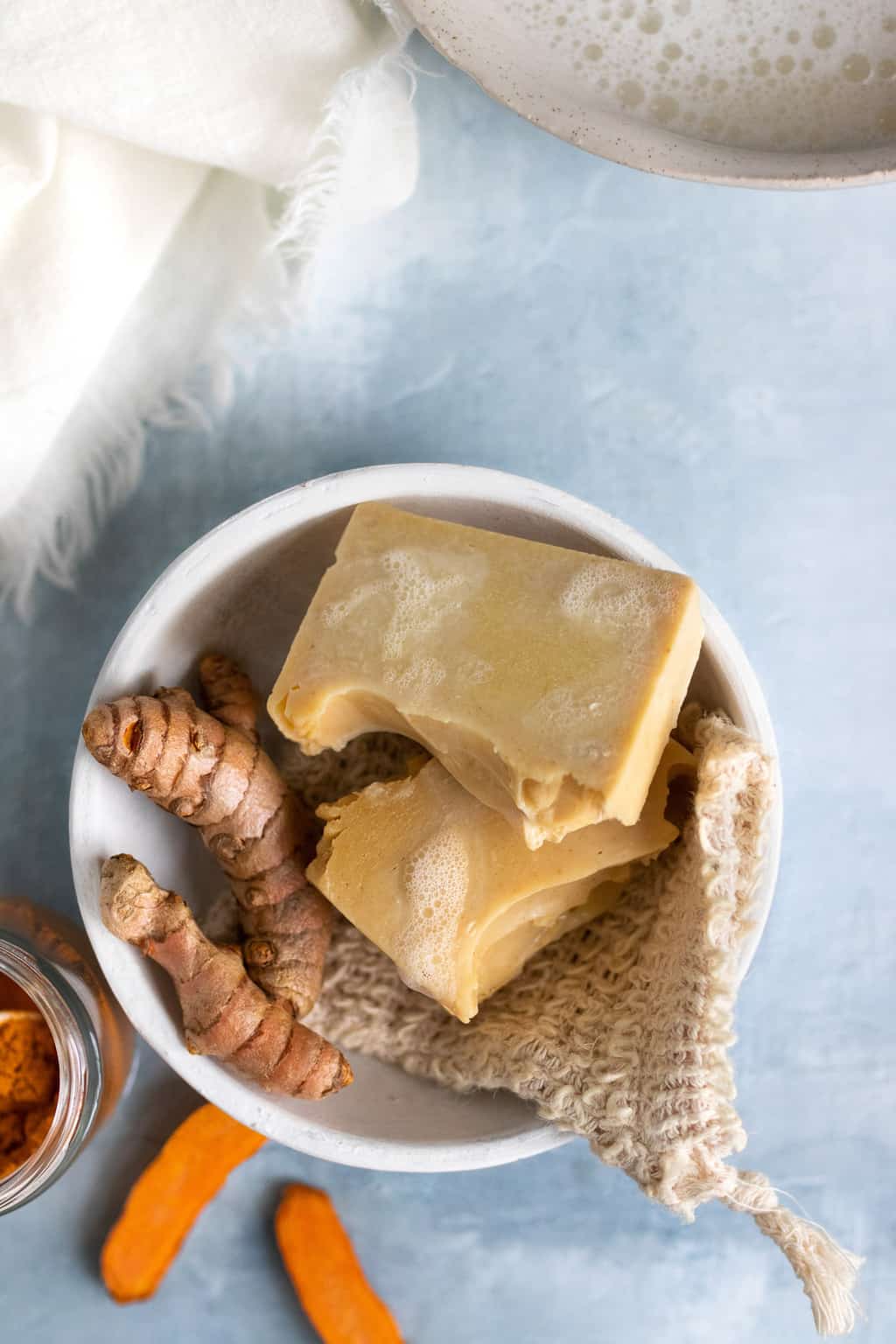 Tips for Making Turmeric Soap
Be forewarned: this soap contains a lot of oils—but there's a good reason for that.
Including extra fats in a soap recipe (referred to as "superfatting") gives the soap a creamy, hydrating effect, which prevents it from stripping skin of much-needed moisture. Plus, different fats affect the soap's lathering abilities and hardness, so each oil in this recipe was chosen with a specific purpose in mind.
I also added raw honey and alcohol-free witch hazel to further boost this soap's beautifying properties.
Witch hazel leaves and bark contain up to 10% tannins, which give it its astringent properties. And it's long been used as an antibacterial treatment that helps alleviate inflammation caused by acne and eczema [source].
Meanwhile, raw honey is rich in phenolic compounds, enzymes, and sugars that are said to have antioxidant, anti-inflammatory, and antimicrobial properties. Applying honey directly to the skin may help accelerate wound healing and soothe skin inflammation [source].
I also decided to skip the essential oils this time. While you're free to use them, sometimes adding extra ingredients or essential oils can cause unforeseen skin irritation or reactions, and I wanted this soap to be as soothing as possible. If you would like your soap to have a scent, add about 20 drops of a soothing essential oil, such as chamomile or lavender, once your soap reaches a thin trace.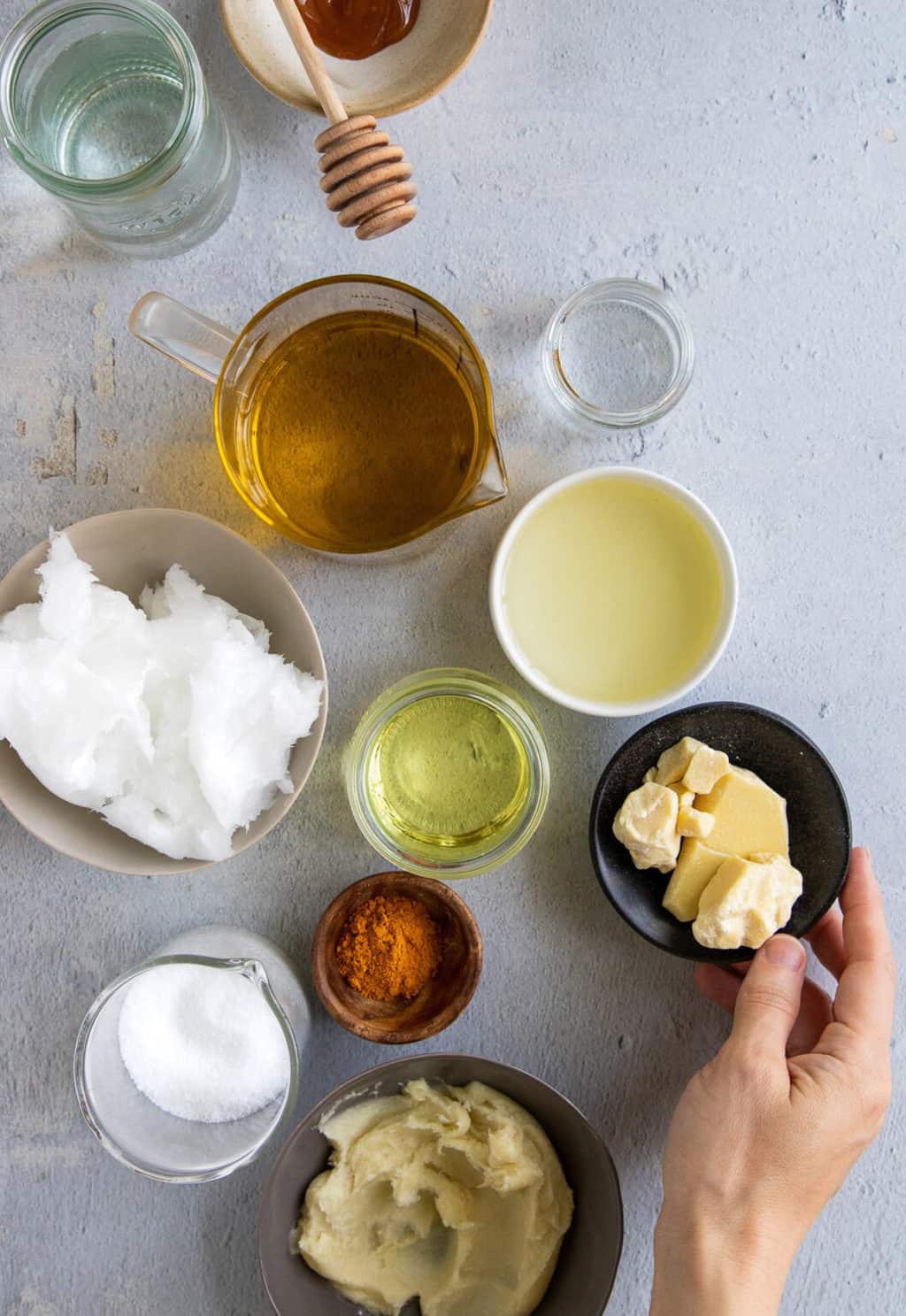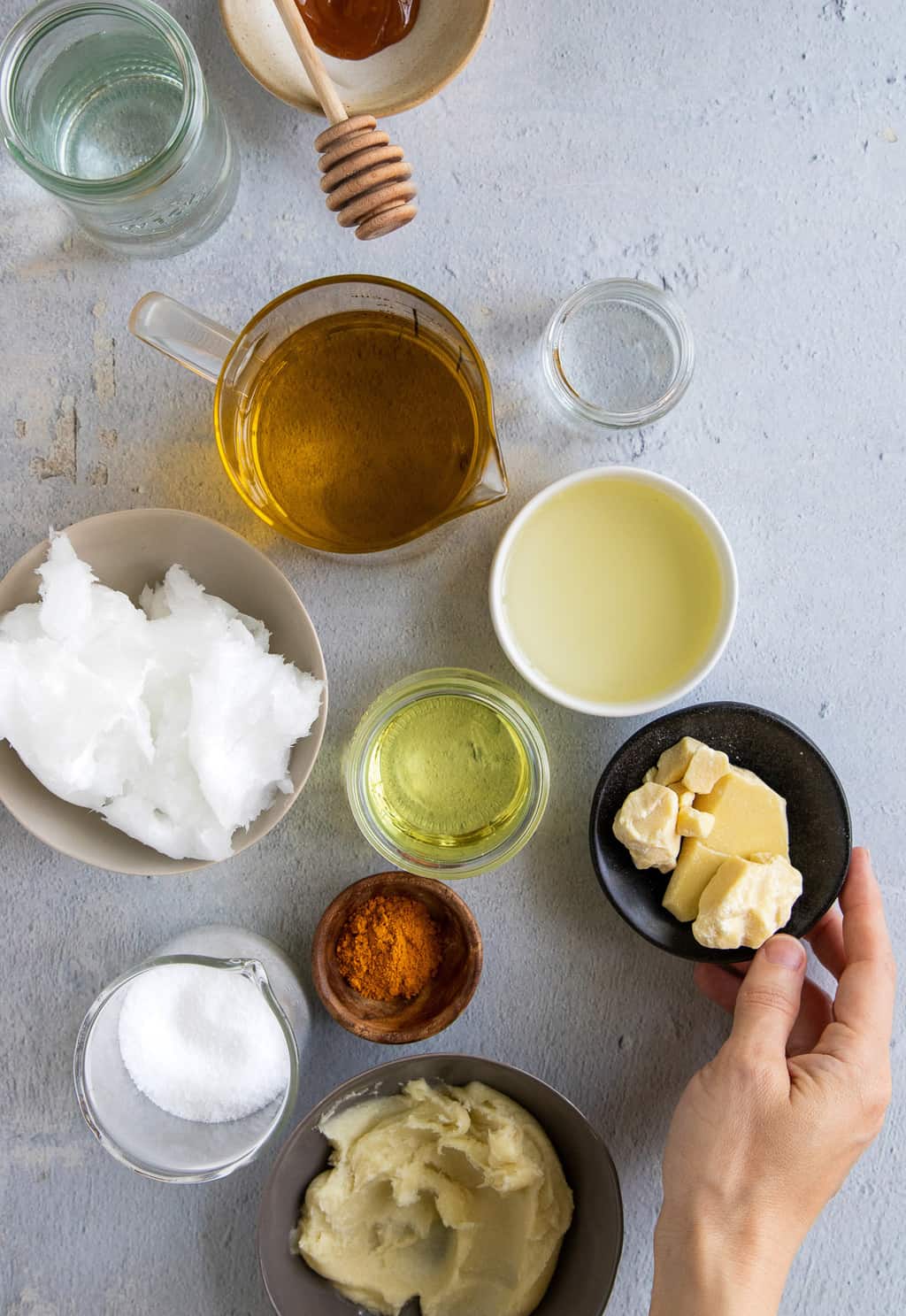 How to Use a Beauty Bar
1. Wet the bar with warm water, and rub it between your hands to create a gentle lather.
2. Apply it to your skin in circular motions, taking care to focus on rough spots, breakouts, or anywhere you need extra hydration.
3. Rinse well and gently pat the skin dry.
4. If your skin is especially dry, follow up with moisturizer, serum, or skin oil.
5. To store your bar, put it some place it can dry out thoroughly between uses. Never let it sit in a pool of water.
Turmeric Soap FAQs
Will the turmeric stain my tub or sink
?
I found that the bright orange color of the batter lessened considerably over time as the soap cooled. After cutting my bars and setting them out to cure, the color faded even more. So no, I don't believe that the turmeric in this soap is enough to stain surfaces.
Can I leave out or replace some of the oils
?
When it comes to soap making, it's not as simple as just leaving out some oils and increasing others. There are all sorts of calculations involved in order to get the right ratio of solid fats, liquid fats, and lye. Rather than just adjusting the oils at random, try using a lye calculator to ensure you've got the right ratio of fat to lye.
Why does the soap take 4–6 weeks to finish curing
?
This is a rather soft soap, thanks to all the liquid oils in the recipe. Allowing the soap to cure for 4–6 weeks helps it dry out, which makes it last longer.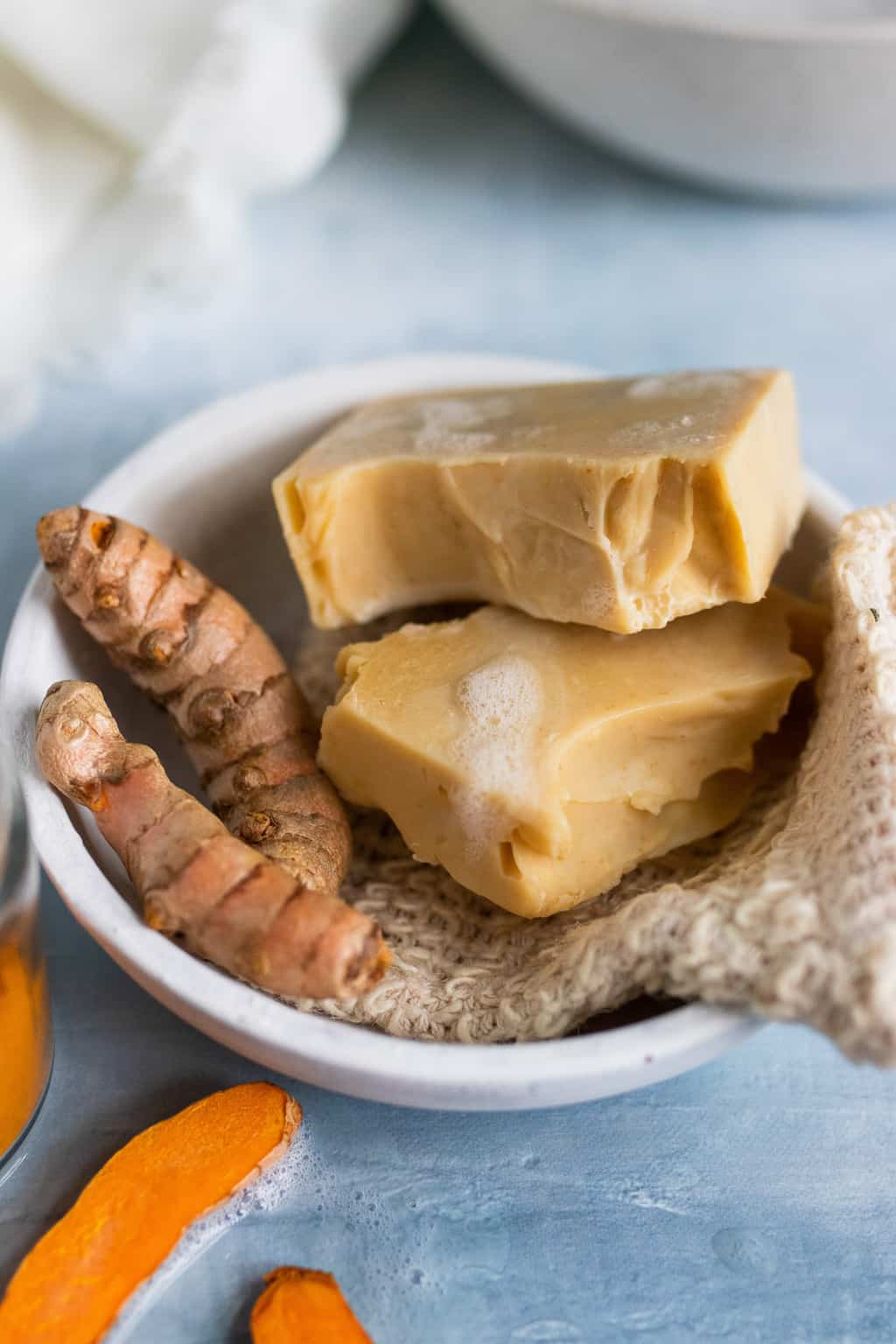 8