I read recently that actress Thandie Newton called turmeric her "secret beauty weapon." Isn't that spice just for curry? Nope! It turns out Indian brides have long used turmeric as a head-to-toe body scrub and face mask to brighten skin before their weddings. It's easy to get glowing skin with this no-fail DIY turmeric mask recipe. Plus, learn the secrets to using turmeric without staining your skin!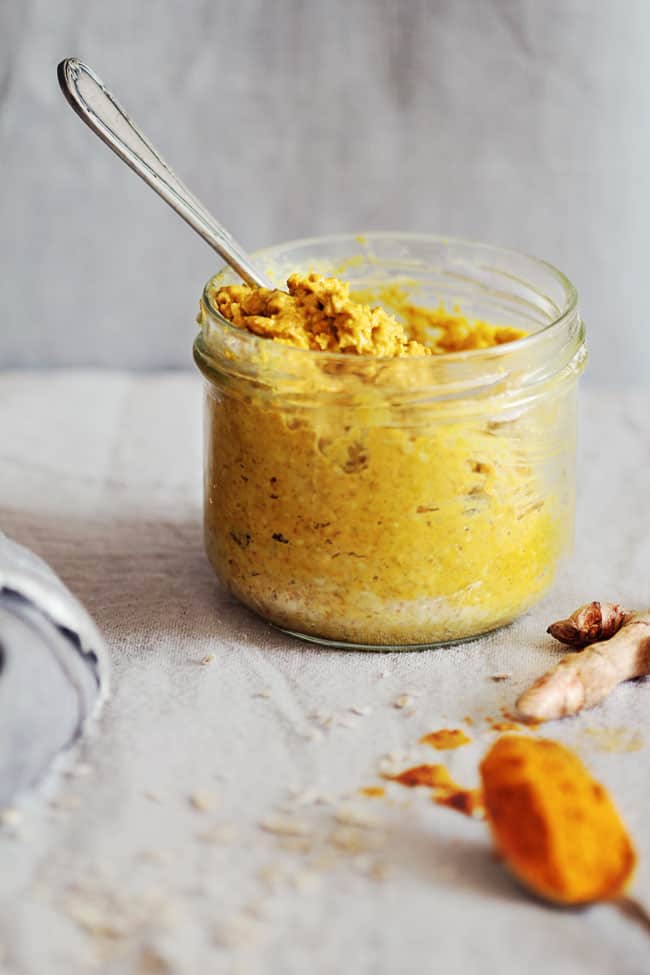 Jump to:
Turmeric Beauty Benefits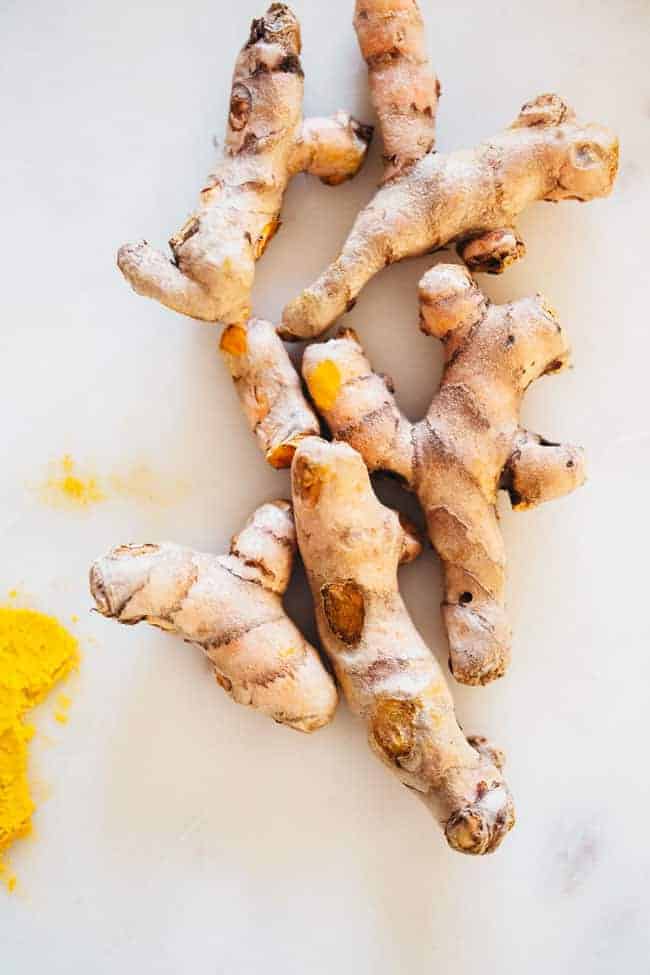 Turmeric is one of the most researched natural ingredients for healing inflammation, and it works in both anti-inflammatory turmeric recipes and when applied to the skin. Naturopathic physician Dr. Trevor Gates notes that turmeric's primary active compound, curcumin, has been scientifically proven to be a potent anti-inflammatory that soothes redness and itchiness [source].
"Turmeric impacts the growth of microorganisms on the skin, helping to ward off acne-causing bacteria, and it prevents other infections from spreading," Dr. Gates explains [source]. "It also contains powerful antioxidant properties, balances sebum secretion, and helps clean out pores."
Turmeric benefits:
Sounds like the perfect ingredient for a face mask, right?
Face Mask Ingredients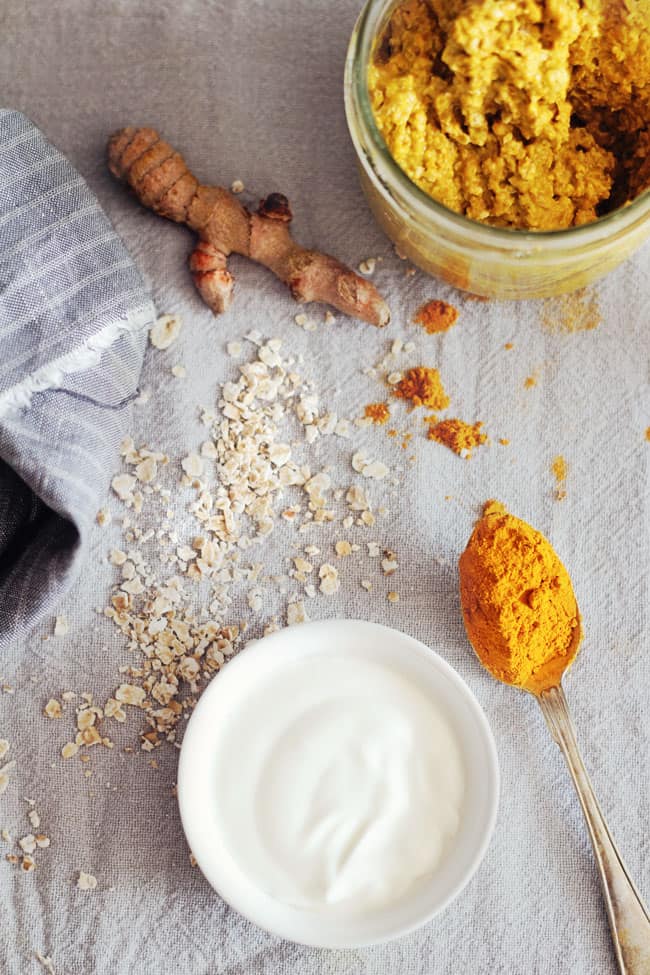 This is the best turmeric face mask formula that you can test and tweak to find what works best for your skin.
2 tablespoons organic chickpea flour
¼–1 teaspoon turmeric
3 tablespoons full-fat milk or Greek yogurt
¼ teaspoon honey (any kind will work, but Manuka is especially good for acne)
Face Mask Instructions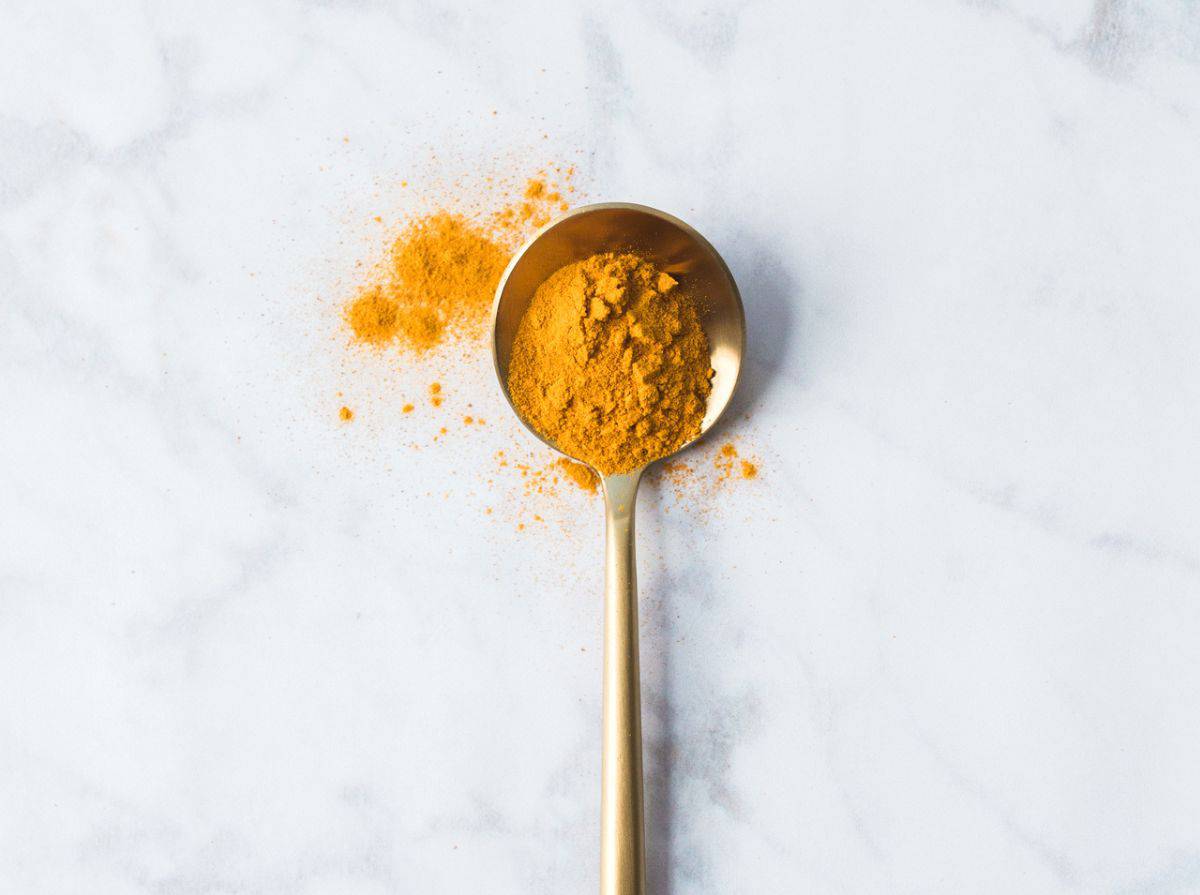 Step 1 | Start small with ¼ teaspoon of turmeric.
Yes, turmeric stains, so go easy. Start with ¼ teaspoon, and don't go higher than 1 teaspoon of turmeric per mask.
Turmeric should make up just about 10–20% of your face mask. So start with 1 part turmeric and 9 parts flour and work up to 1 part turmeric to 4 parts flour.
The remaining 75–90% of your mask is usually made with chickpea flour.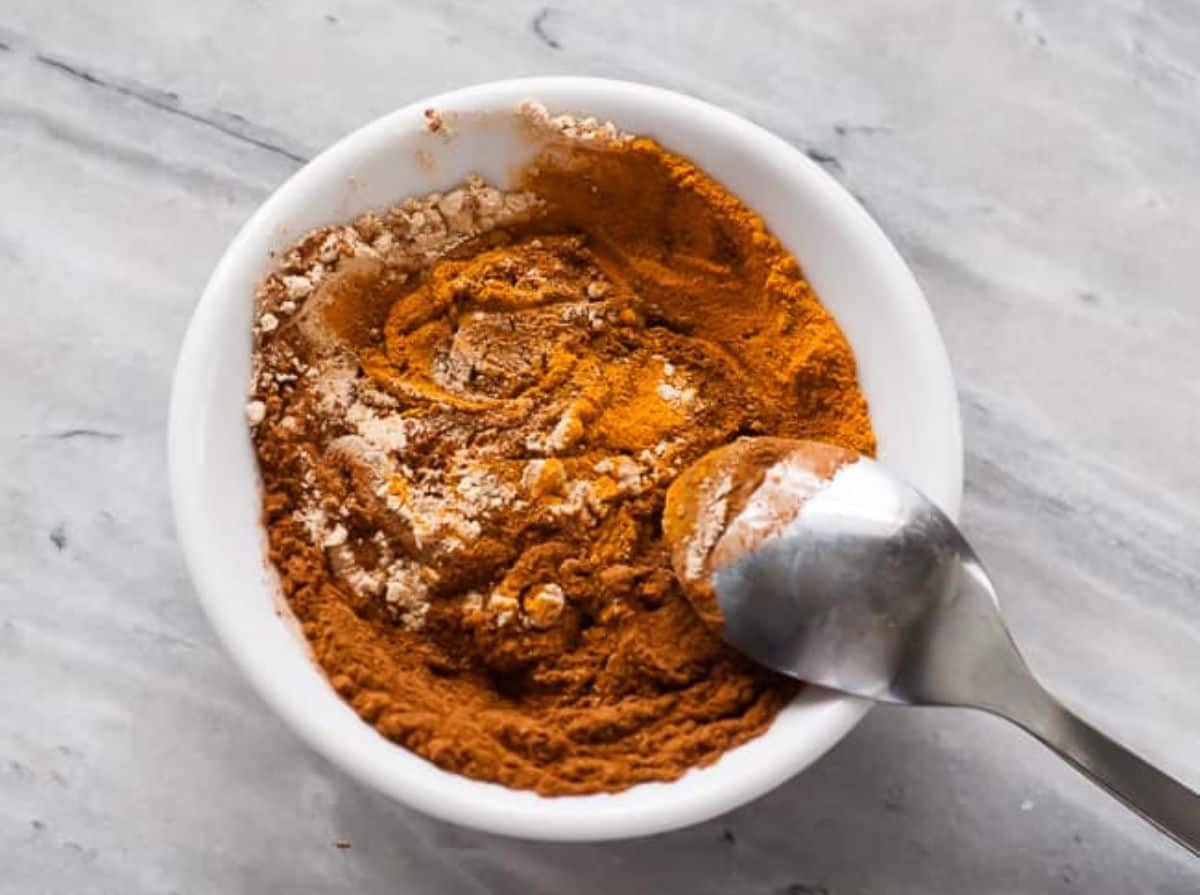 Step 2 | Add 2 tablespoons of chickpea flour.
Why chickpea flour? It's sticky and thickens the mask, keeping it from sliding down your face.
But you can customize the ingredients for your skin type and your skin's needs. Try mixing in Fuller's earth or bentonite clay with chickpea flour to dry out oily areas, or use ground oats if your skin is on the dry side.
Don't have chickpea flour: Use regular flour, rice flour, or ground oats (for dry skin). Or just leave it out, and stick with full-fat yogurt and honey.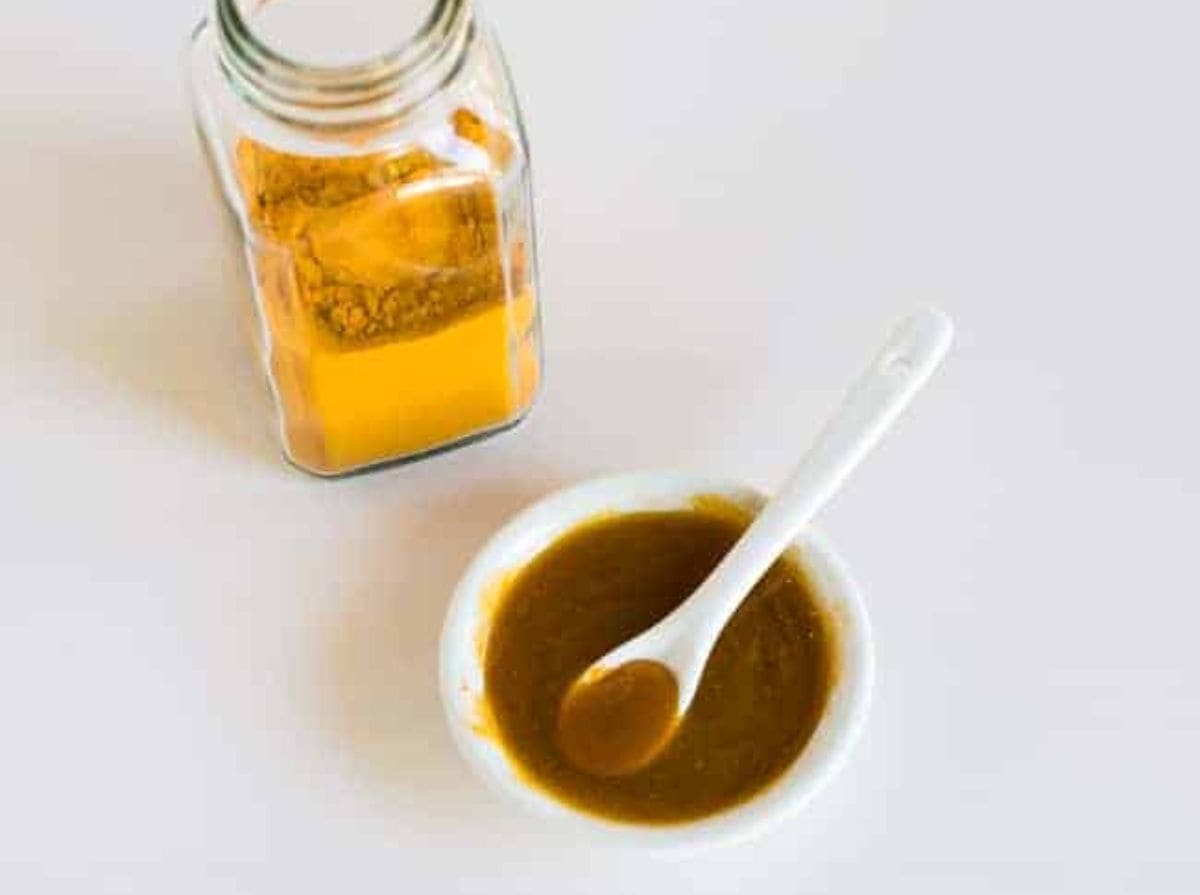 Step 3 | Add liquid to make a paste.
After you combine the turmeric and flour in a small bowl, add the milk or yogurt until you have the right consistency. You want to create a thick paste that you can slather on your face—it shouldn't be runny! If it's too milky, add more flour to thicken.
You can also use unsweetened coconut milk, almond milk, rose water, apple cider vinegar, or fresh juice like orange, pineapple, or grape juice.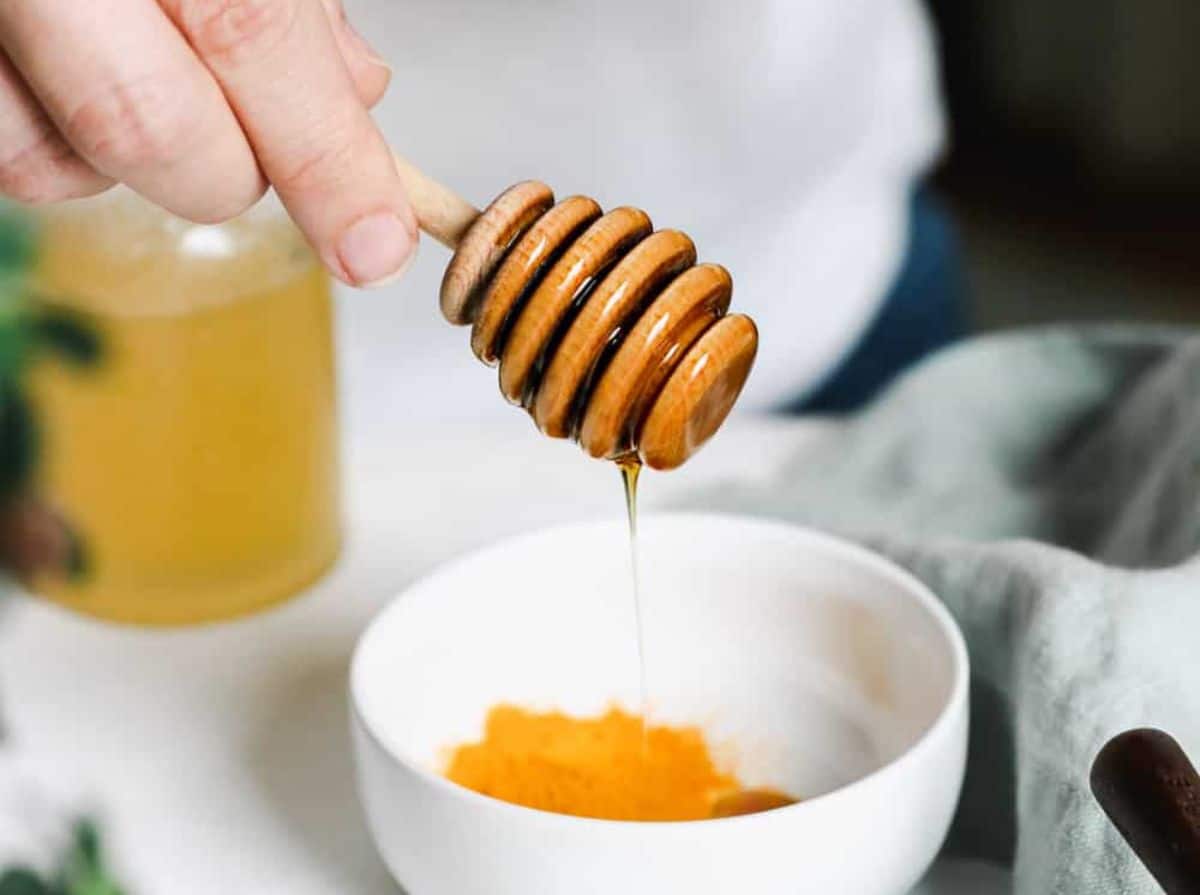 Step 4 | Add ½ teaspoon of beneficial extras.
Add a small amount of additional ingredients—like ½ teaspoon—to make it more moisturizing or add other benefits.
Honey or aloe vera gel makes the mask more moisturizing.
Apple cider vinegar or tamanu oil is great for acne.
Mix in an egg white to tighten skin.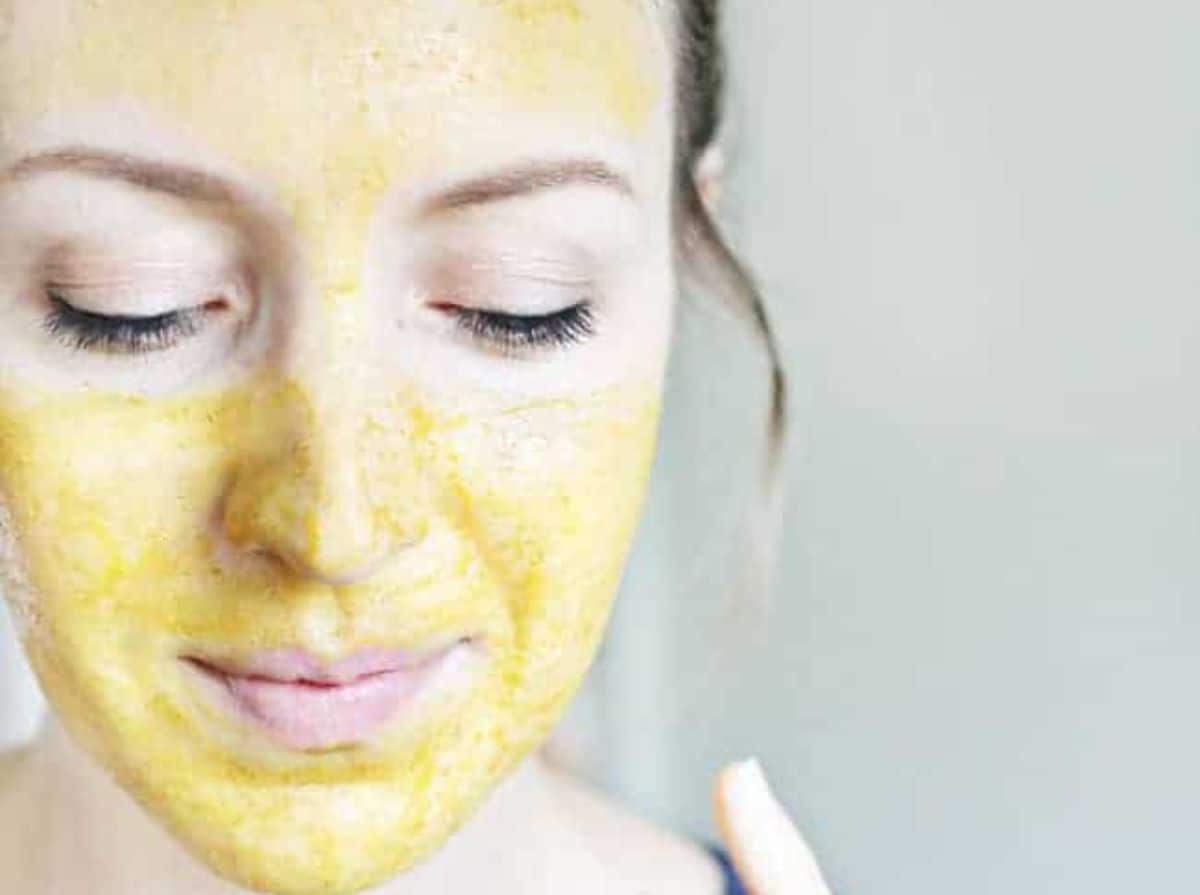 Step 5 | Apply a thin layer to your face.
Scoop up the paste, apply it to your face with your fingers, and let it dry on your skin.
Apply a thin, even layer—the more you pile on, the greater your chances of staining, especially on your neck, where the skin is thinner. I noticed some staining on my hands, but it came off easily.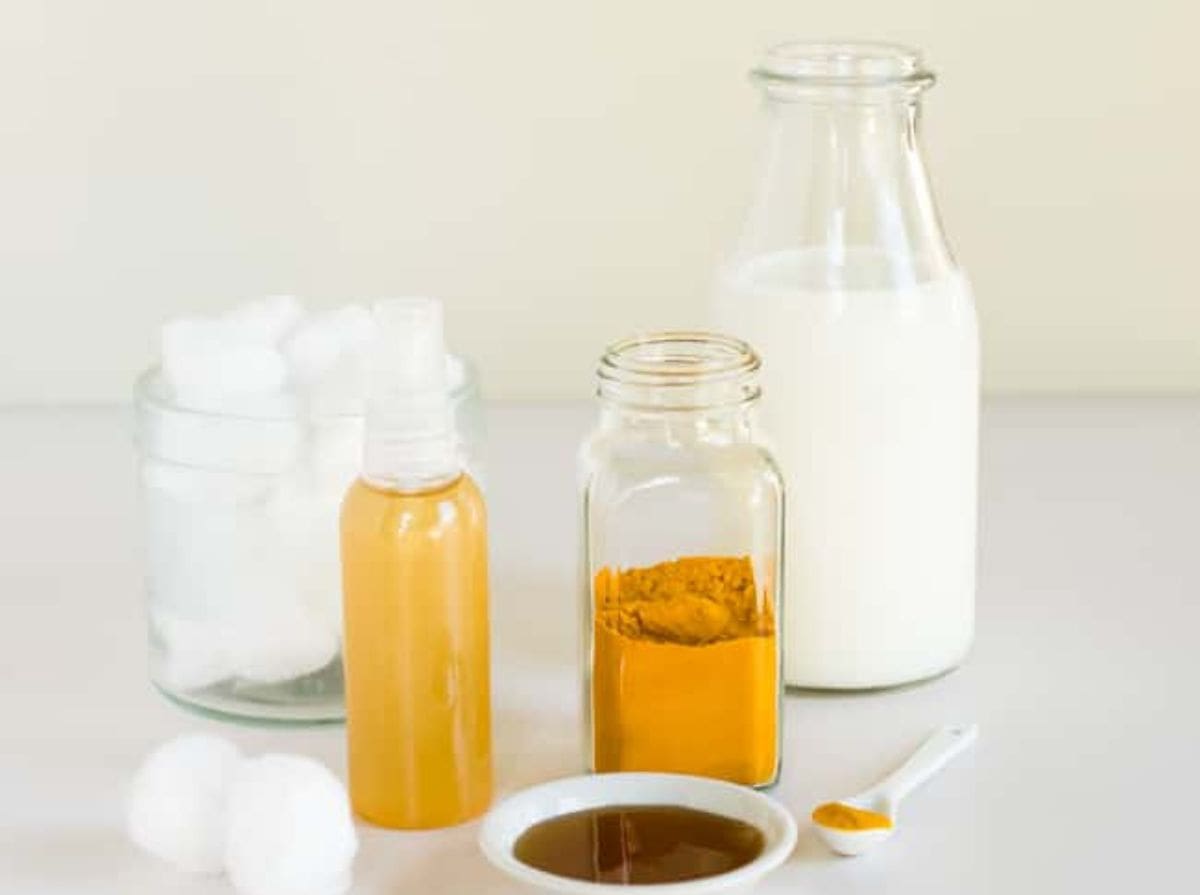 Step 6 | Leave it on for 10–15 minutes.
Keep the mask on till it's almost dried but not completely dry and cracking. Around 10 to 15 minutes is all you need.
Step 7 | Rinse off the mask with warm water.
Massage the mask into your skin as you rinse with warm water to help remove the turmeric. Swipe your face with milk to remove any residual turmeric.
Hint: This mask is a good one to use before bed. If there is minor staining, it will disappear by morning.
Will Turmeric Stain My Face?
Let's tackle the biggest question: Will I turn yellow? Yes and no. Some folks never have staining; it can often depend on your skin tone. If you're very fair, you might get a tinge of yellow, but it's not permanent.
While the powerful antioxidants present in turmeric impart that vibrant yellow color, be aware that this same color can stick around a little too long. I learned first-hand just how powerful turmeric is at coloring my pores.
So, yes, turmeric may stain pale skin if used in a DIY skincare recipe, BUT: 1) you can follow the steps above to minimize staining and 2) use the suggestions below to remove any temporary turmeric stains.
Removing Turmeric Stains on Skin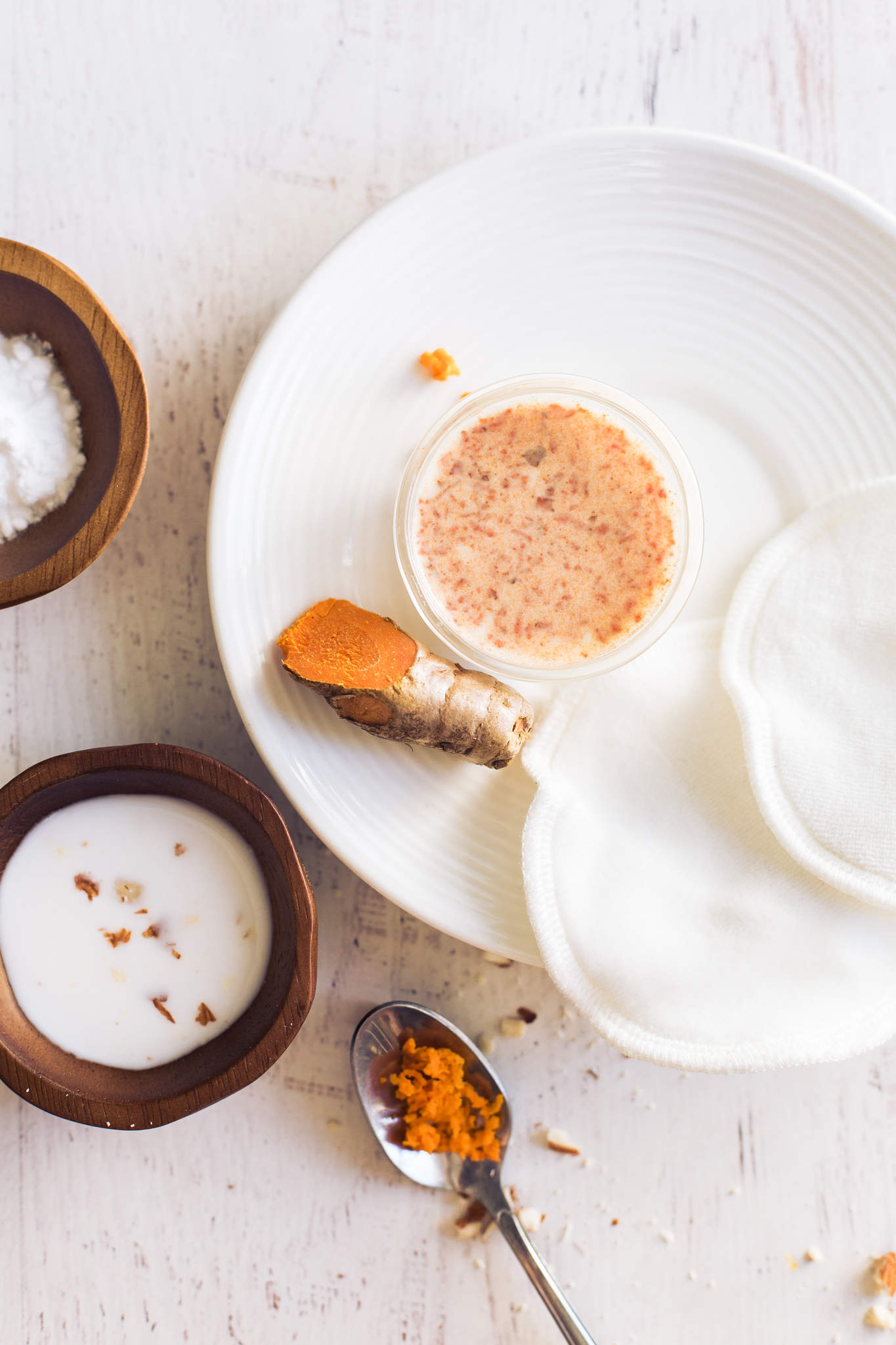 If you're left with a bit of a turmeric tint, don't fret; there's a simple solution. Turmeric is oil soluble, so reach for something containing fat to help absorb the color.
Milk cleanse: Wipe your face with a milk-soaked cotton ball to help remove any staining.
Oil cleanse: Pour a bit of olive oil (or sweet almond, jojoba, or even coconut oil) into your hands and massage it into your face for about a minute. Then wipe it away with a soft, damp washcloth.
Yogurt massage: After rinsing off the turmeric mask, massage your face with yogurt to lift the color. You can leave the yogurt on for 10 minutes or so if you want.
Tweak your routine: Apply the mask between your double cleansing process, then swipe on some toner with a cotton pad to get rid of the stain completely. Cleansing balm/oil → turmeric mask → water-based cleanser → toner → rest of routine.
Face Mask Variations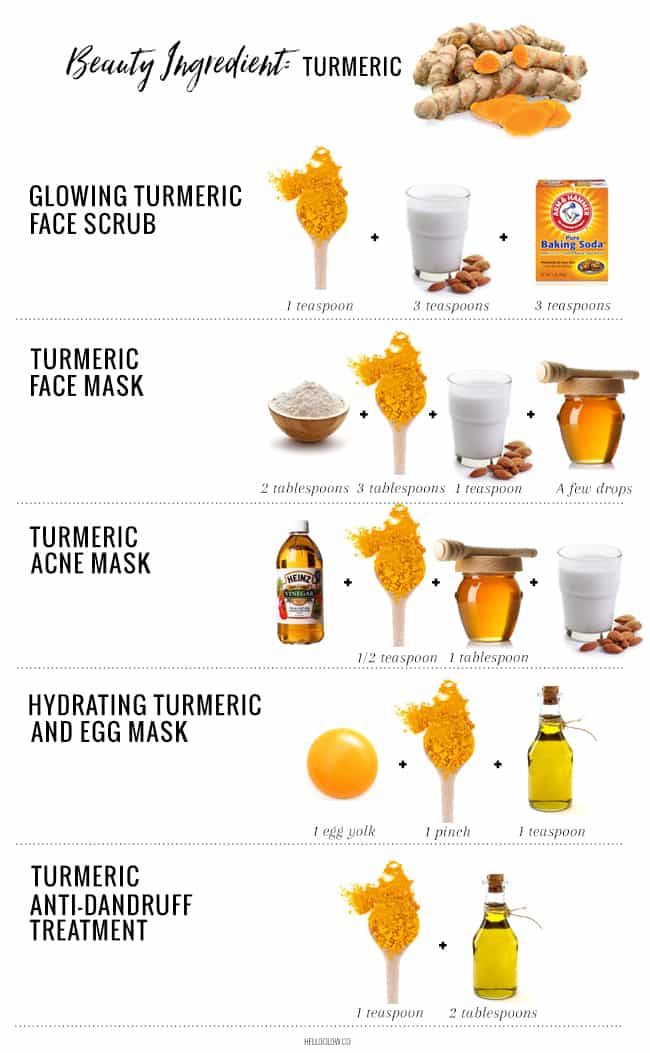 FAQ
How often can I use a turmeric mask?
You can do it as often as daily, but once or twice a week should be enough to get results.
Should I do a patch test before using?
A good rule of thumb is to try it on the inside of your arm for a few minutes first. You'll see if you have any adverse reactions and also get an idea of how long it takes to stain the skin.

You can use the 1-minute rule: if you notice no discoloration after 60 seconds, leave it on for another 4 minutes. Test again, keeping it on for 15 minutes, which should be the max for most products and at-home solutions.
Why does my turmeric mask feel like it's burning?
If you use retinoids and feel a burning sensation with a turmeric mask, wash it off immediately. This is a common skin reaction with retinoids and turmeric, so patch test before using.
How do I use turmeric for acne?
Combine the anti-inflammatory power of turmeric with the healing power of raw honey for a super simple turmeric acne mask. Use a 1:1 ratio of raw honey and turmeric for a quick spot treatment on blemishes. You can also make a turmeric-water paste and apply it like a spot treatment.
What kind of turmeric should I use?
Look for organic turmeric to make sure it doesn't include any yellow dye. You can also use Kasturi turmeric, which is not meant for cooking and may stain less.
Can I make a turmeric hair mask?
Yes, turmeric makes an excellent scalp mask to fight off flakes. Combine 1 teaspoon of turmeric with 2 tablespoon of olive oil and apply to your scalp. Leave on for 15–30 minutes before shampooing out.
This post was medically reviewed by Dr. Jennifer Haley, a board-certified dermatologist with extensive experience in medical, cosmetic, and surgical dermatology. Learn more about Hello Glow's medical reviewers here. As always, this is not personal medical advice, and we recommend that you talk with your doctor.
34