When it comes to loving anything and everything pink, I am guilty as charged—this pink clay soap bar included. It contains pretty much every single pink ingredient used for skin care that I could even think of, namely pink clay, rosewater, and Himalayan pink salt.
Needless to say, when all ingredients come together, they create a gorgeous color that you just want to use on your face. It also makes a great gift for birthdays, holidays, or those "just because" occasions.
How to Make Pink Clay Soap Bars
Making your own soap sounds like a relatively complicated process. After all, soap, in general, is tasked with a pretty important job: keeping our skin, hair, and hands clean.
Making your own might seem intimidating—will you be able to create a product that lives up to the task? Well, I'm here to tell you that it's actually relatively easy.
In fact, once you learn how to do it, you will probably wonder why you spent so much money over the years, not to mention decades, buying the store-bought varieties. The whole time you could have been DIY-ing it up at home and using cleaner products on your supple skin.
One of my favorite things about this soap bar recipe is that it can be used to clean just about anything, from your face to your body.
Pink clay has a myriad of benefits. First, it's rich in silica, an all-natural ingredient found in gravel, clay, and sand—ever heard of pink sand?
Silica has long been known to improve the skin's texture, enhancing elasticity and encouraging cell renewal so that younger cells come to the skin's surface. [source]
Pink clay also has some impressive acne-fighting abilities. The clay itself is great for absorbing shine on oily skin, as well as any debris.
Choosing a Soap Base
The secret to super easy DIY soap is premade melt-and-pour soap base. But there are so many kinds to choose from; it can be confusing if you're just getting started.
Our guide to using melt and pour soap is a great place to start if you have questions about types, scents, and colors. But here are some of our favorites:
Glycerin – a clear soap base without any other additives
Shea butter – super hydrating and nourishing —thanks to an abundance of healthy fats [source]
Goat's milk – contains a plethora of fatty acids that encourage cell turnover and brighten skin
Oatmeal – a natural exfoliator, oatmeal helps calm irritation and smooth and soften skin [source]
As for brands, I personally use Our Earth's Secrets when I can, because they stick to cleaner ingredients than some others. But use whichever brand you prefer!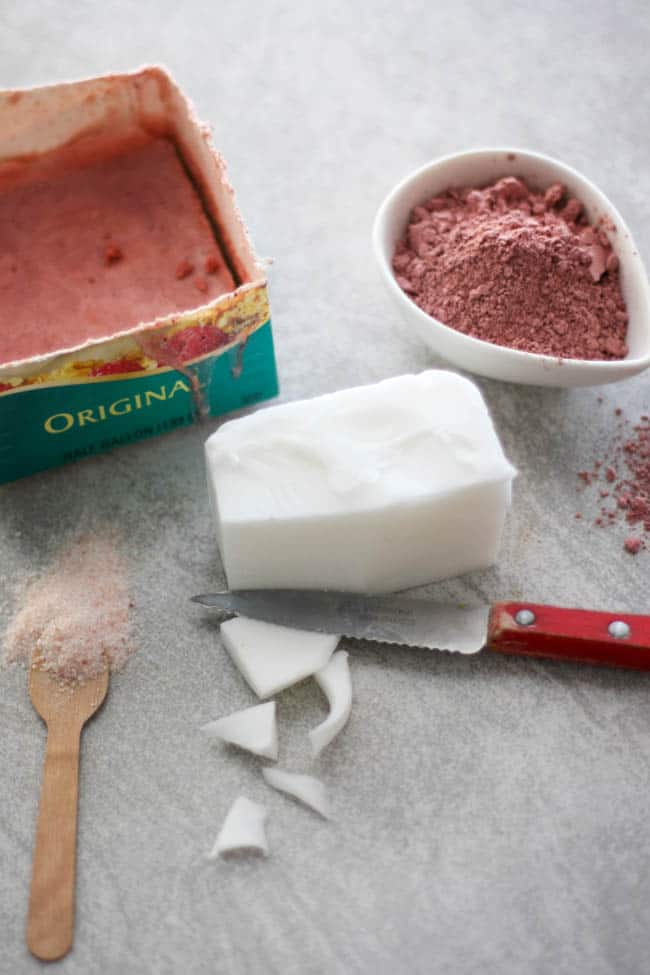 Rosewater + Pink Clay Soap
Supplies needed:
Step 1: First, you'll want to cut the soap base into small cubes and melt them in a bowl that's safe for use in the microwave (always check that it says "microwave-safe"). Microwave the mix in 15- to 30-second bursts until it is fully liquefied but not overly cooked (this will totally change the texture).
Step 2: In a separate small bowl, combine rose water with clay and salt. Stir until the clay has dissolved completely.
Step 3: Next, add rose water and oil to the melted soap, and stir vigorously until the mixture thickens. It may take a minute or two for this to happen.
Step 4: Lastly, pour the soap mix into the mold, and let it harden. If you don't have a soap mold, you can simply use a food storage container or milk carton instead. Once the soap mix has cooled inside the mold, remove it and cut into bars—whatever size you desire is fine. Let it cure overnight before using.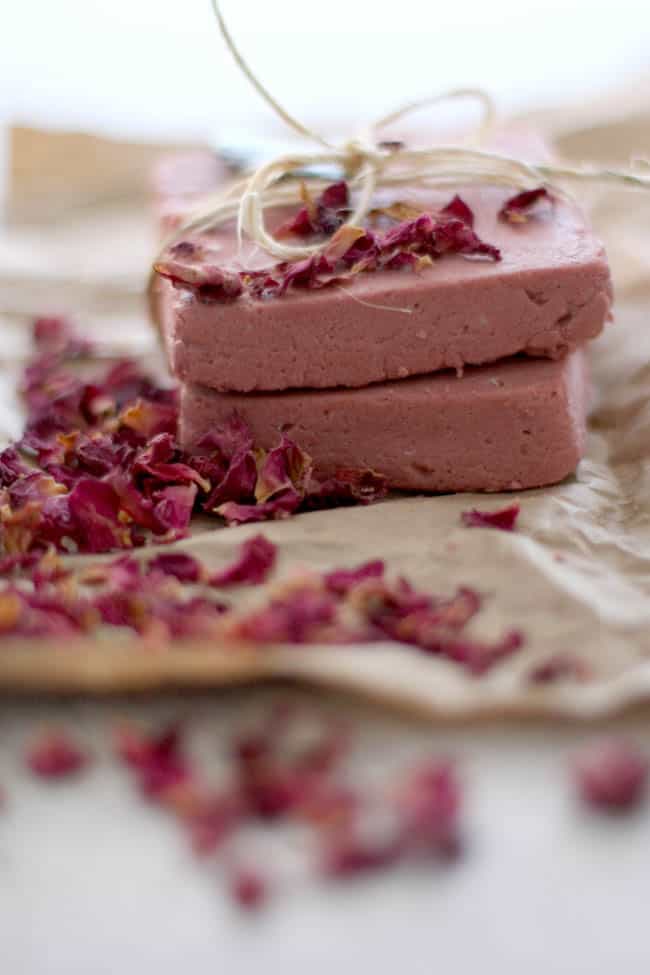 Pink Soap FAQ
Can I use coconut oil in place of the jojoba oil?
I haven't tried using coconut oil myself, but I don't think it would hurt. For best results, melt it in the microwave first, and quickly stir it into your soap base.
You can also use any liquid-at-room-temperature oil, such as almond, argan, or olive oil, in place of the jojoba oil.
Why does my soap feel crumbly?
The additional dry ingredients may cause your soap to crumble somewhat once it cools. To fix this, just use more soap base or add less clay and sea salt.
Will the clay clog my drain?
Not in small quantities. I would avoid rinsing big chunks of soap down the drain, but little bits at a time should be fine.
Is there a good vegan soap base I can use?
Plain glycerin soap is a great option for vegans because it usually doesn't contain any milk or other animal-based products. Just make sure to read the list of ingredients to be sure.
What else can I use in place of pink clay?
Bentonite, European (French) green clay, or red clay can all be used in place of pink clay.
This article was medically reviewed by Dr. Gina Jansheski, a licensed, board-certified physician who has been practicing for more than 20 years. Learn more about Hello Glow's medical reviewers here. As always, this is not personal medical advice and we recommend that you talk with your doctor.
524