Summer means hot, humid days that call for short shorts and light, breathable tank tops. But, let's be honest, most of us aren't super comfortable exposing a long expanse of arms and legs all day and night. I speak from experience when I say my days of short shorts are over.
They've gratefully been replaced by uber-comfortable and figure-flattering capris and long, flowy pants! If I do decide to rock more skin than usual, or if the hot weather decides I have no choice, I depend on a summer body oil for a gentle hint of color and shine that makes a huge difference.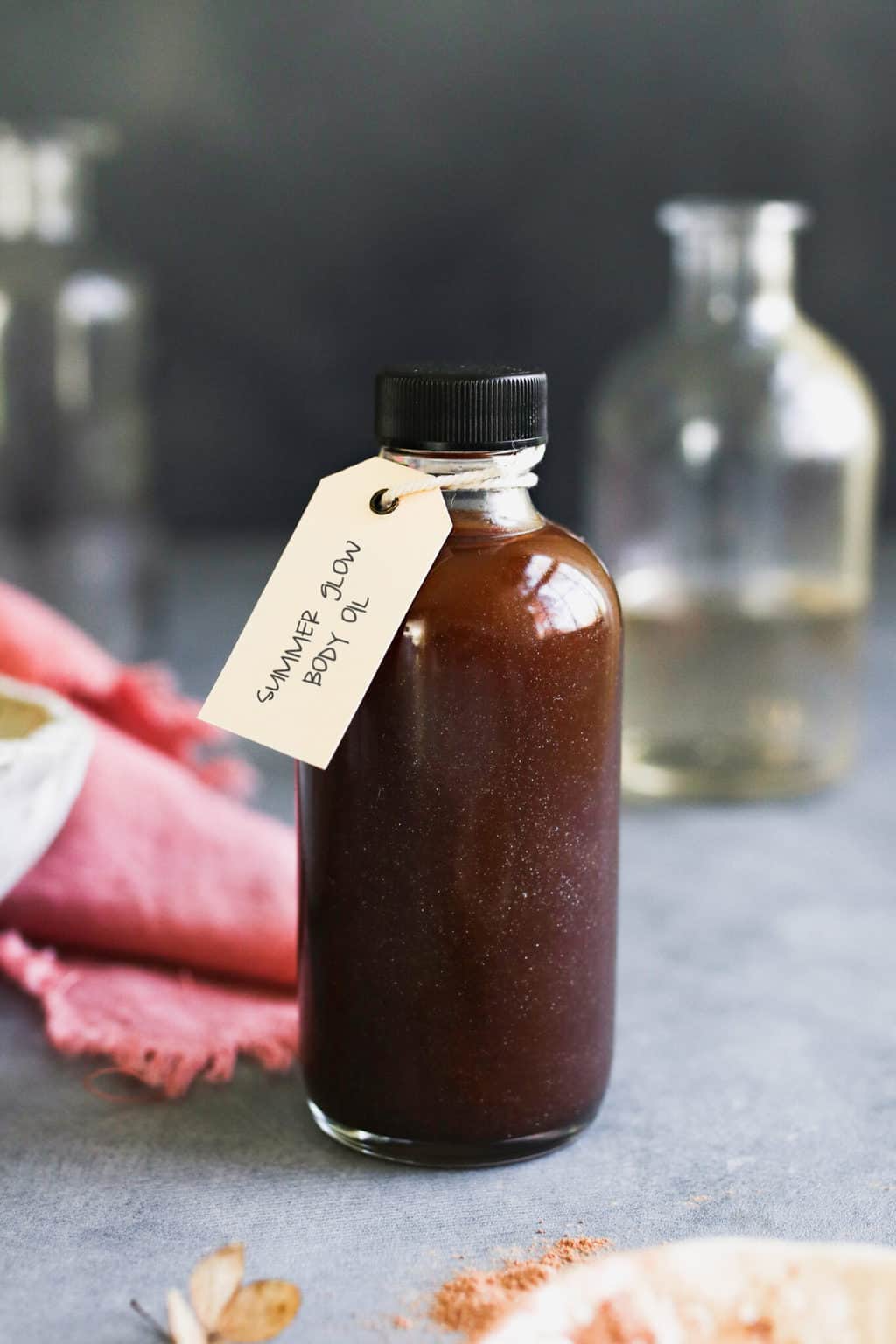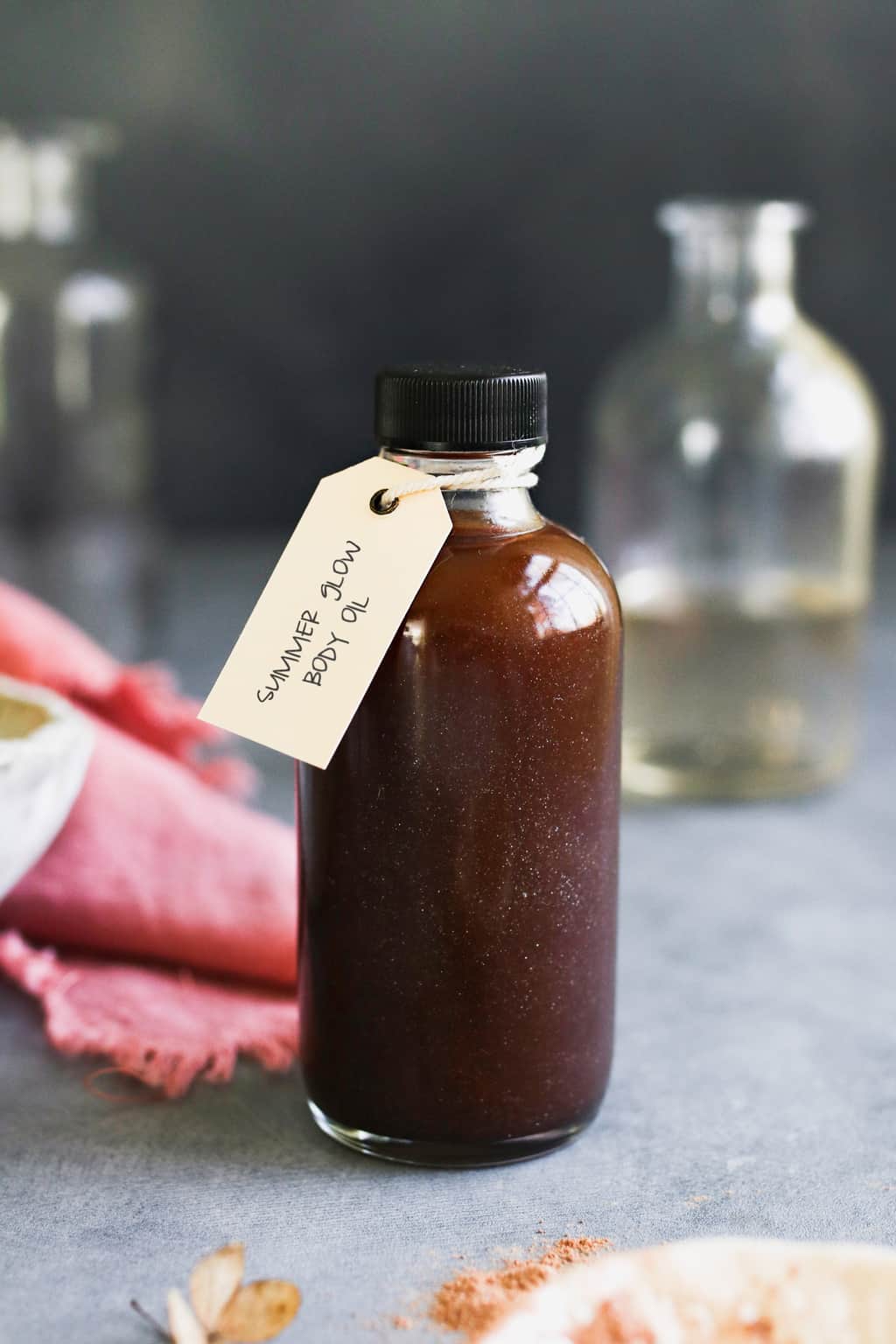 Summer Glow DIY Body Oil
Body oil not only enhances the appearance of arms and legs (or really any body part on which you apply it), but it also does wonders for hydration. Dry skin gets a lot of attention in the winter, but what about summer?
The drying effects of the sun combined with plenty of time in the pool or ocean can leave your legs looking like a dried-out alligator in no time. Prolonged sun exposure may impair the integrity of the protective skin barrier, leading to cosmetically displeasing dry, cracked skin. But applying certain plant oils can change all that [source].
That's why body oil is my go-to in the summer. All you have to do is add a bit of shimmer for the perfect lightweight moisturizer that keeps your gams looking almost airbrushed.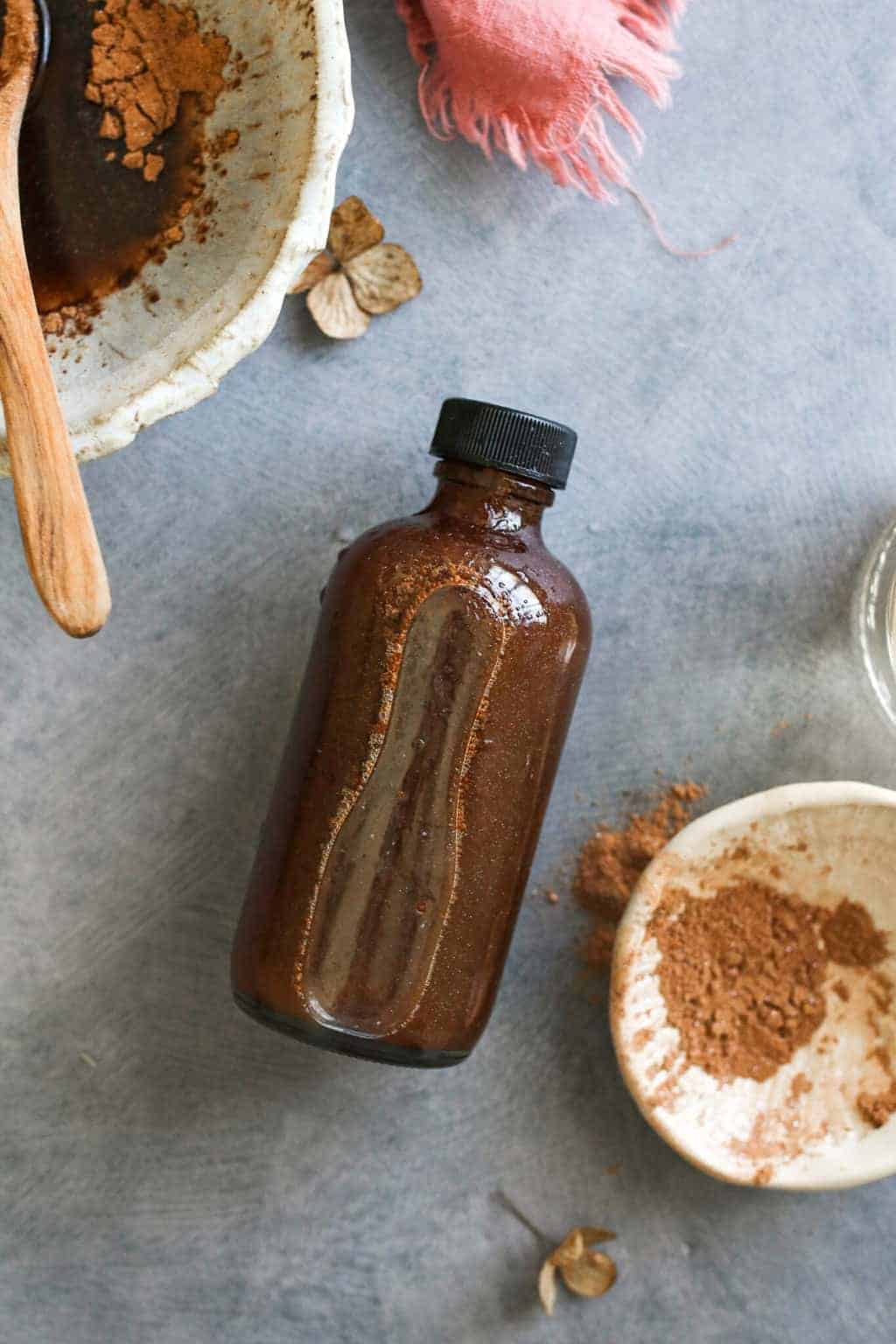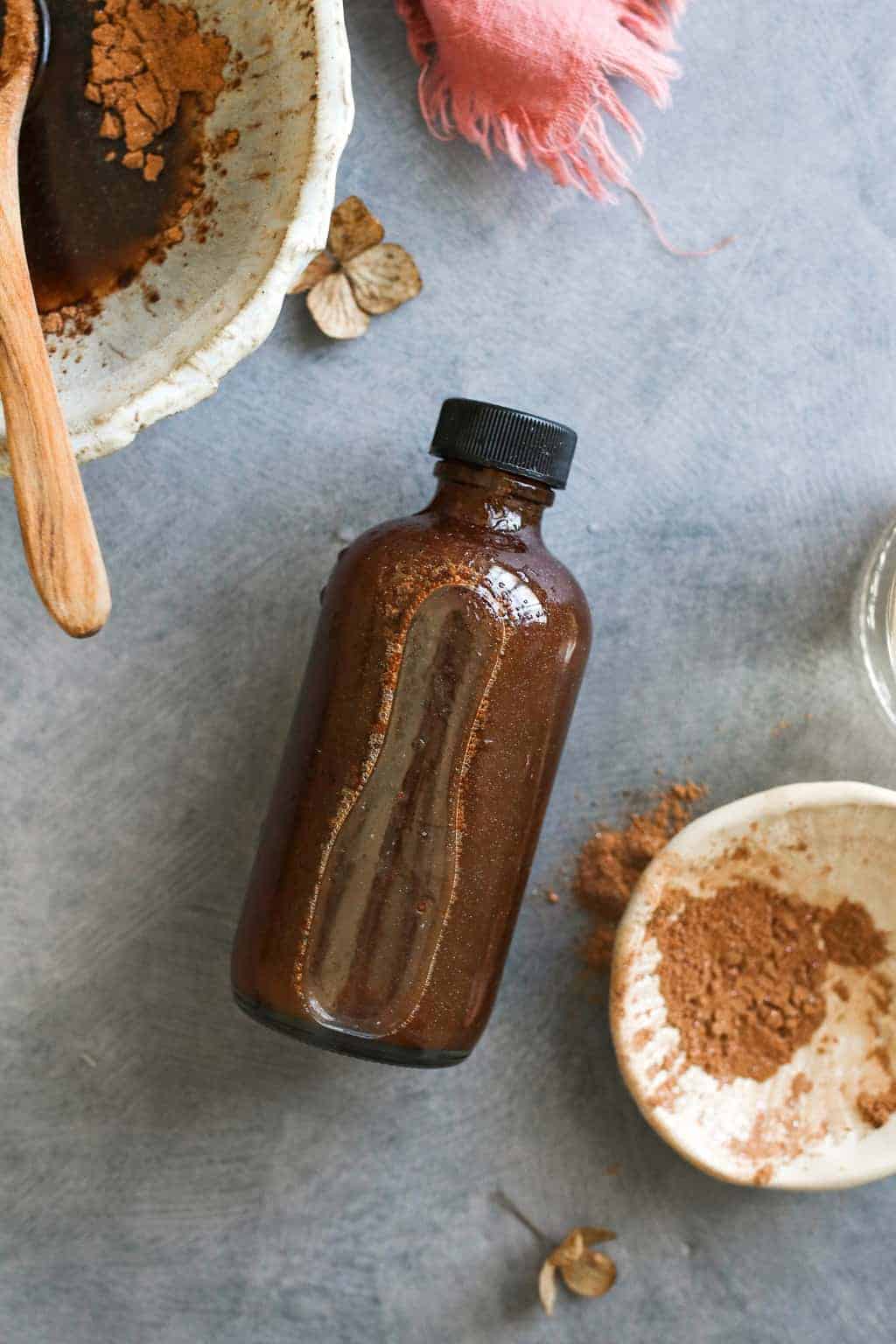 To make your own summer glow body oil, you only need two ingredients: a lightweight oil and shimmery eyeshadow. I made this by combining a sunflower oil with a shimmery bronzer from Honest Beauty. The brand doesn't really matter, but since you'll be rubbing it all over your body, a clean beauty brand is highly recommended.
Same goes for the color. If you just want shimmer without the bronze shade, use a white- or pearl-colored eyeshadow or powder highlighter.
Just look for a color that is concentrated because it will appear lighter once you apply it to skin.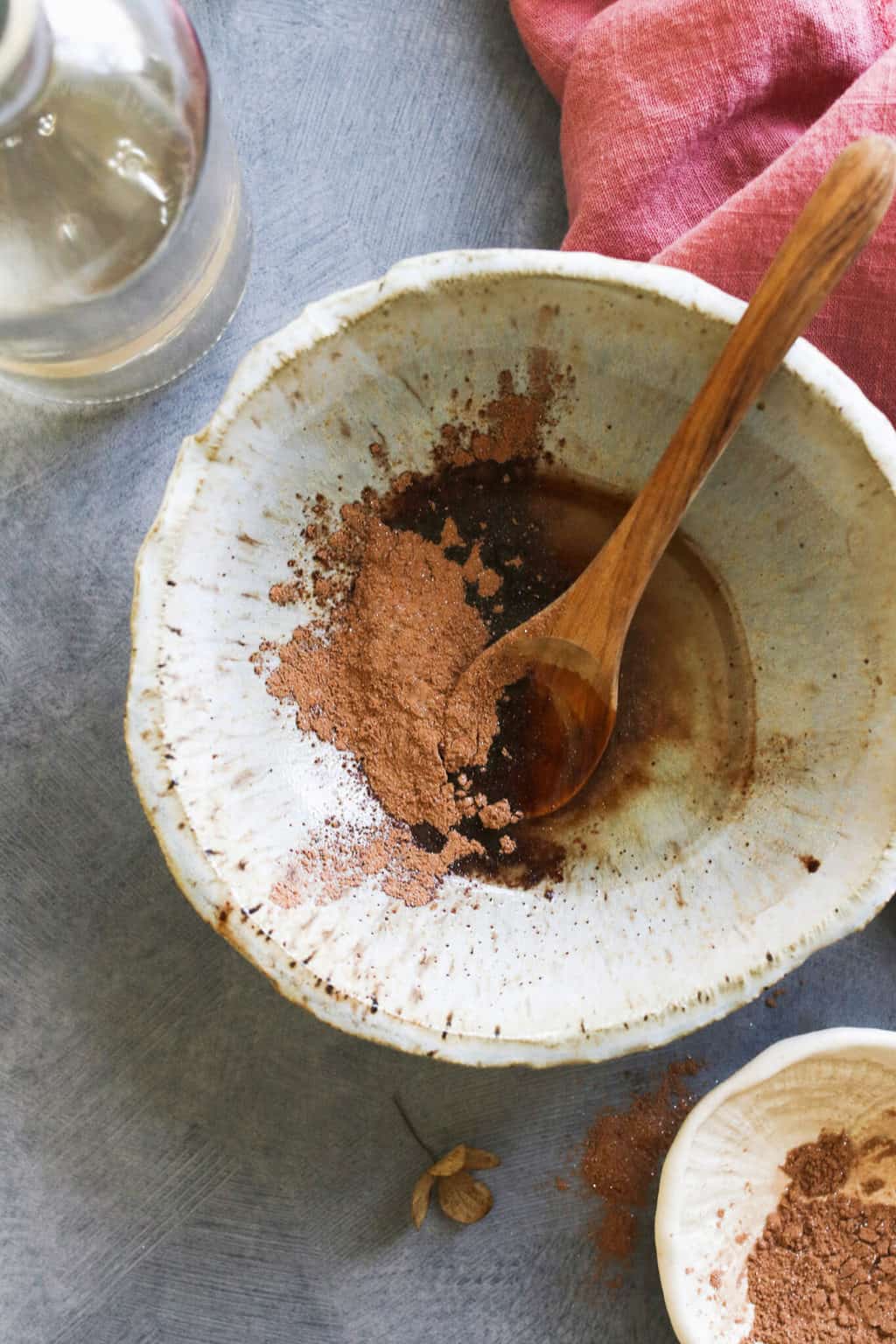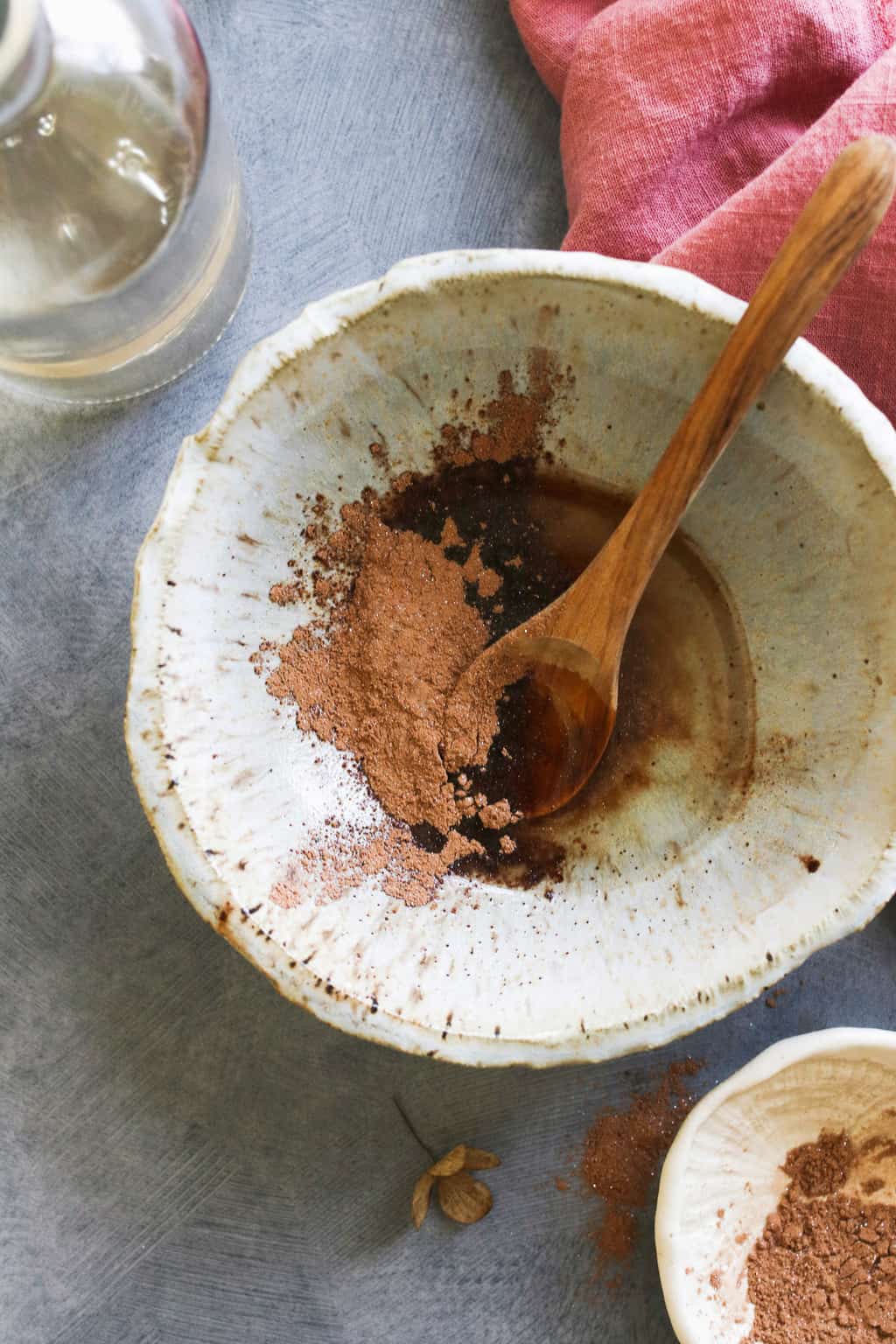 Instructions
1. Combine the ingredients in a small bowl, and stir until thoroughly combined. Use the back of a spoon to break up large chunks of eyeshadow and create a smooth oil. Continue adding eye shadow until you get a color you like.
2. Transfer to a lidded glass jar and keep for up to a year.
Your DIY body oil may look dark in the bottle, but trust me, it isn't going to transform your skin to that shade. The effect is very subtle, and the shadow tends to settle at the bottom of the oil, so you'll need to shake before each use to recombine.
Best Dry Oils for Body Oil
Dry oils will give you that soft, radiant glow without making your skin feel greasy or oily, and that's why they're often recommended for body oil recipes. While you can use any oil you like for this recipe (no need to buy anything fancy), here are a few of our favorite all-natural dry oils:
Bronzing Oil FAQ
Can I use this oil on my face?
Sure! Just use it sparingly, and keep it away from your eyes (if you get hot, it might melt and run into your eyes. Not good!)
Will this DIY body oil make me break out?
No, it shouldn't! Just stick with noncomedogenic oils, such as jojoba, grapeseed, hemp seed, or sweet almond oil, which are low on the oil-clogging scale.
Can I add essential oils to this recipe?
A few drops of essential oil would be great in this recipe. Avoid citrus oils, as those can make skin more sensitive to the sun. But gentle oils, such as lavender, chamomile, or frankincense, can be used liberally. Just make sure to dilute them by putting 10–12 drops into one ounce of carrier oil before applying to the skin.
Does body oil take the place of lotion?
If your skin is especially dry, you might want to use both lotion and body oil to tackle dry skin from all angles. I would recommend applying lotion immediately after getting out of the shower and letting it sink in. Then apply body oil to exposed skin after getting dressed.
If your skin isn't overly dry, body oil alone should be enough to lock in moisture and keep skin soft and supple.
Will the color rub off on my clothes?
It might. If you're wearing white or light-colored clothing, either use body oil with a white shimmer or apply your DIY body oil sparingly.
Next up: 8 Favorite Beauty Uses for Coconut Oil or All Natural DIY Bronzing Lotion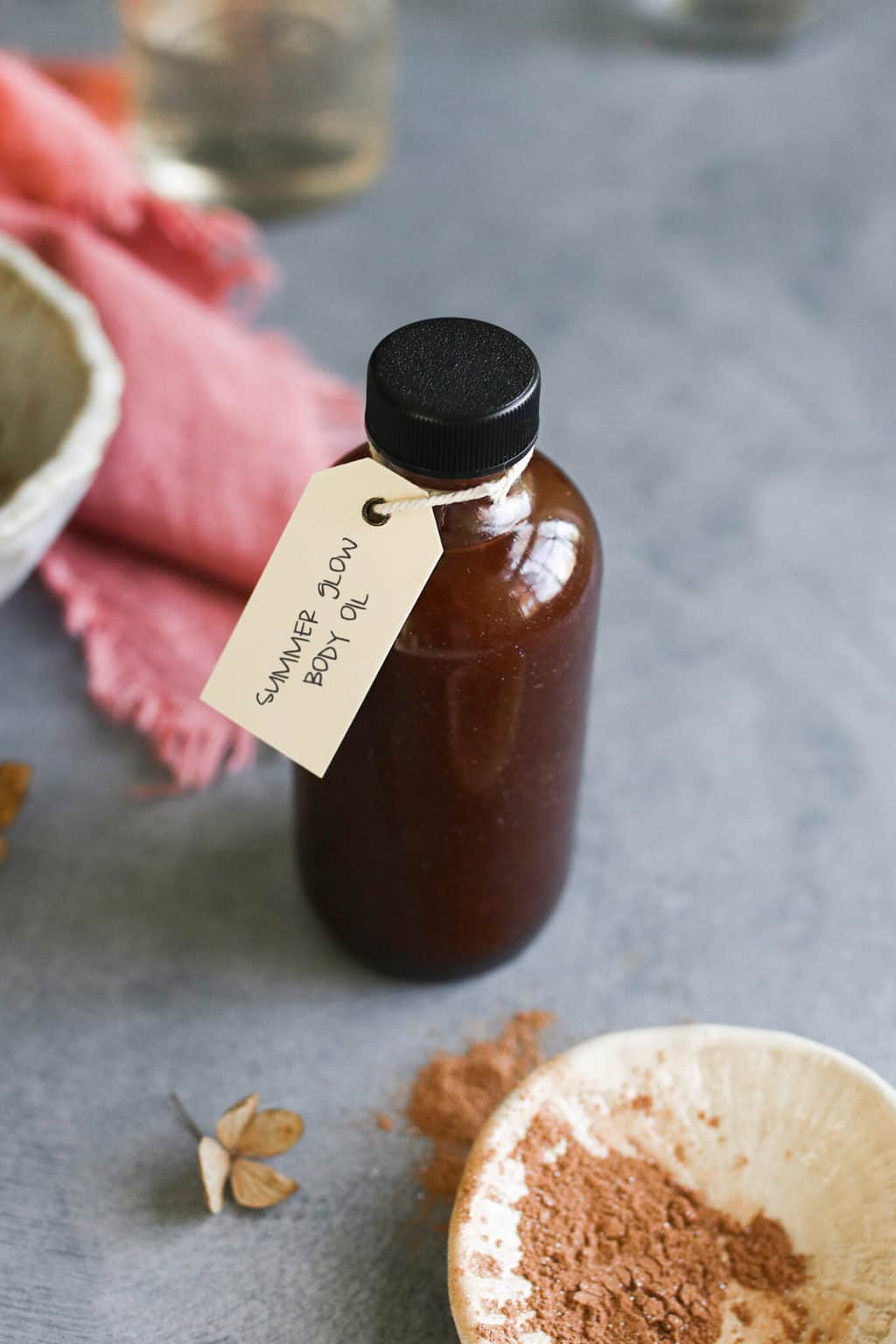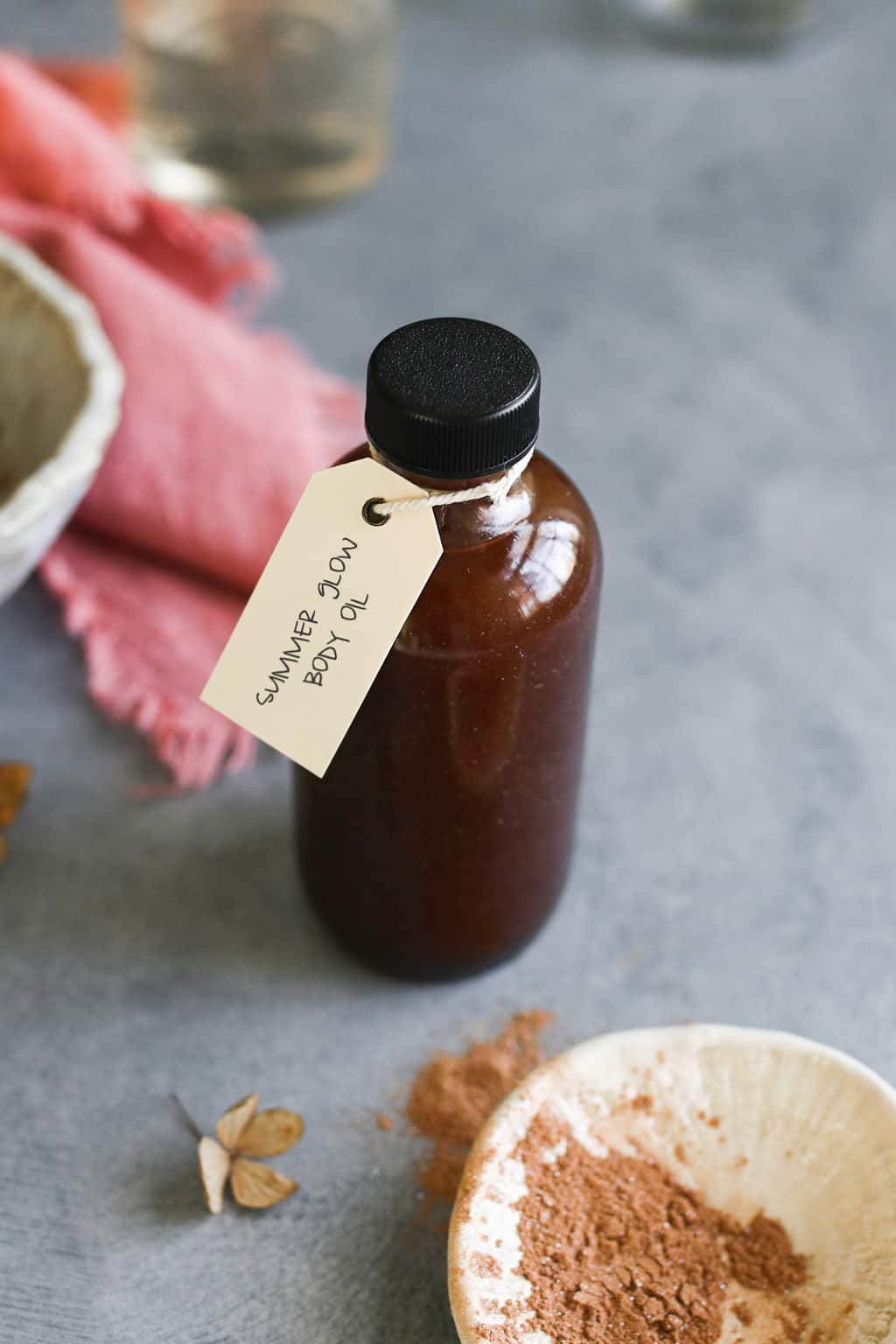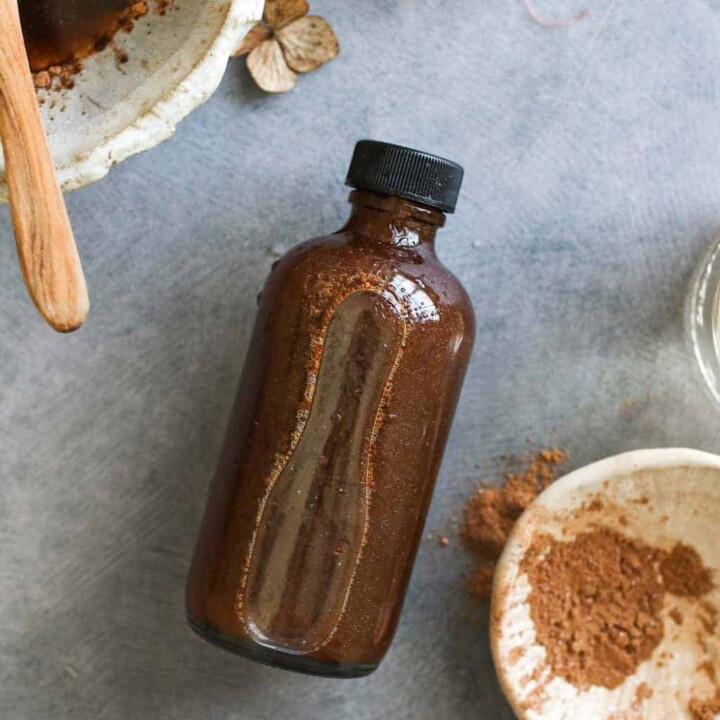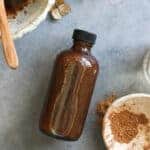 Print
Summer Glow Body Oil
A DIY summer body oil that gives just a hint of color and shine.
Equipment
1-ounce glass bottle with lid
Instructions
Combine ingredients in a small bowl, and stir until thoroughly combined.

Pour into a lidded glass jar.
Notes
Shake before each use.
Should last 1 year without the need for refrigeration.
This post was medically reviewed by Dr. Rina Mary Allawh, M.D., a dermatologist who practices adult and pediatric medical dermatology, skin cancer treatment, and cosmetic dermatology. Learn more about Hello Glow's medical reviewers here. As always, this is not personal medical advice, and we recommend that you talk with your doctor.
385