Summer means hot, humid days that call for short shorts and light, breathable tank tops. But, let's be honest, most of us aren't super comfortable exposing a long expanse of arms and legs all day and night. I speak from experience when I say my days of short shorts are over.
They've gratefully been replaced by uber-comfortable and figure-flattering capris and long, flowy pants!). If I do decide to rock more skin than usual, or if the hot weather decides I have no choice, I depend on a summer body oil for a gentle hint of color and shine that makes a huge difference.
Summer Glow DIY Body Oil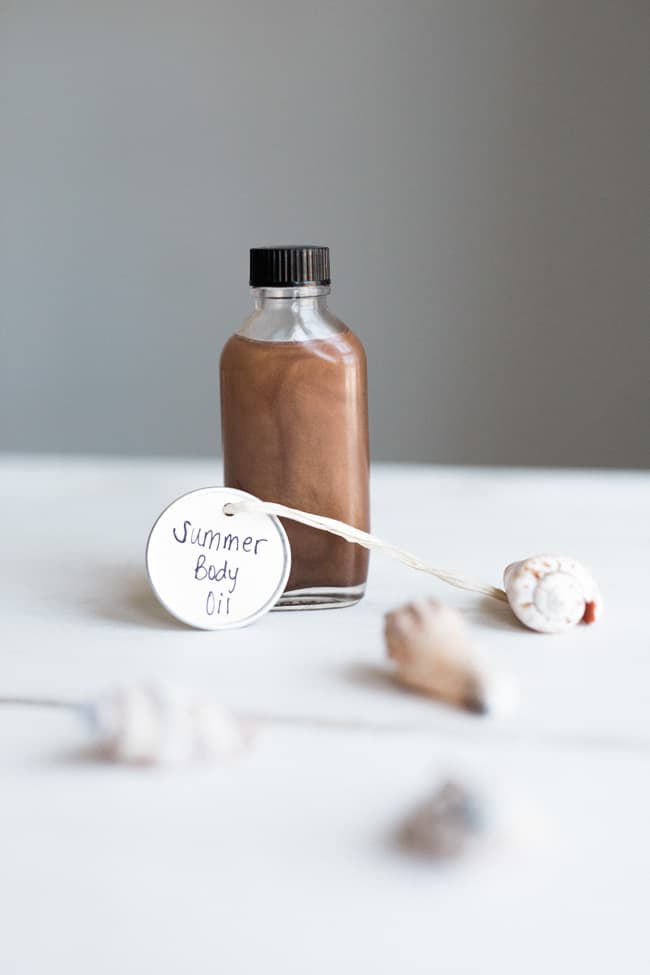 Body oil not only enhances the appearance of arms and legs (or really any body part on which you apply it), but it also does wonders for hydration. Dry skin gets a lot of attention in the winter, but what about summer?
The drying effects of the sun combined with plenty of time in the pool or ocean can leave your legs looking like a dried out alligator in no time. Prolonged sun exposure may impair the integrity of the protective skin barrier leading to cosmetically displeasing dry, cracked skin.
That's why body oil is my go-to in the summer. All you have to do is add a bit of shimmer for the perfect light-weight moisturizer that keeps your gams looking almost airbrushed.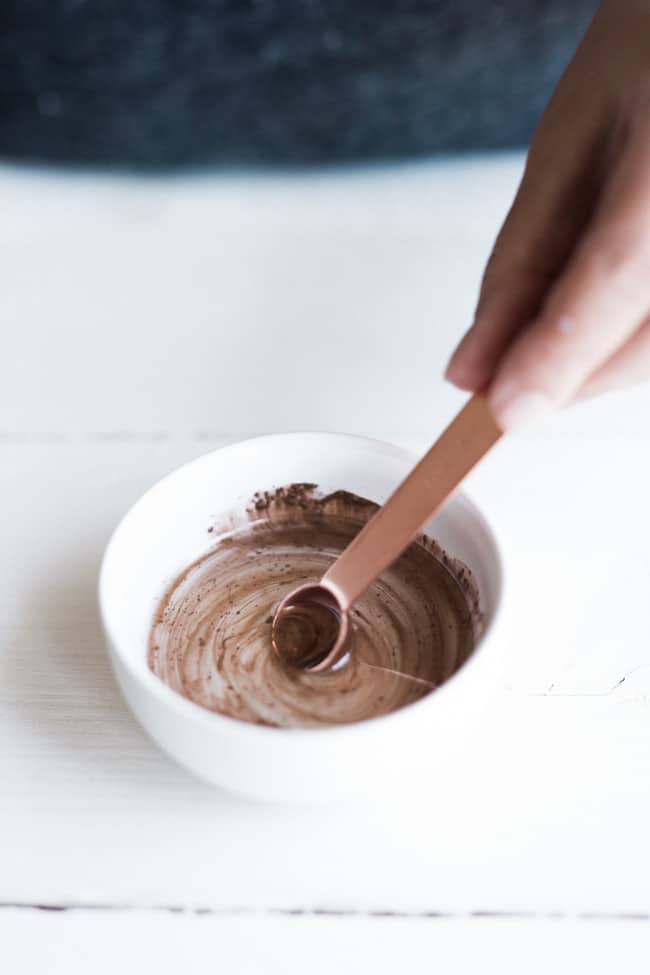 To make your own summer glow body oil, you only need two ingredients: a lightweight oil and shimmery eyeshadow. I like to use a sunflower oil combined with bronze Beautycounter eyeshadow. If you're not familiar with the brand Beautycounter, they sell a myriad of skin care products from cleansers, moisturizers and toners to face oils, serums and even sunscreen all of which is safer and cleaner than the leading competitor. They also sell makeup—and I'm a big fan of their shadow. If you just want shimmer use a white/pearl colored one.
I tried using mineral foundation powder and just didn't get the same results—the color was too light and it ended up just looking more like muddy water. Bronzing powder may also work, since it tends to be darker, but the choice is really up to you.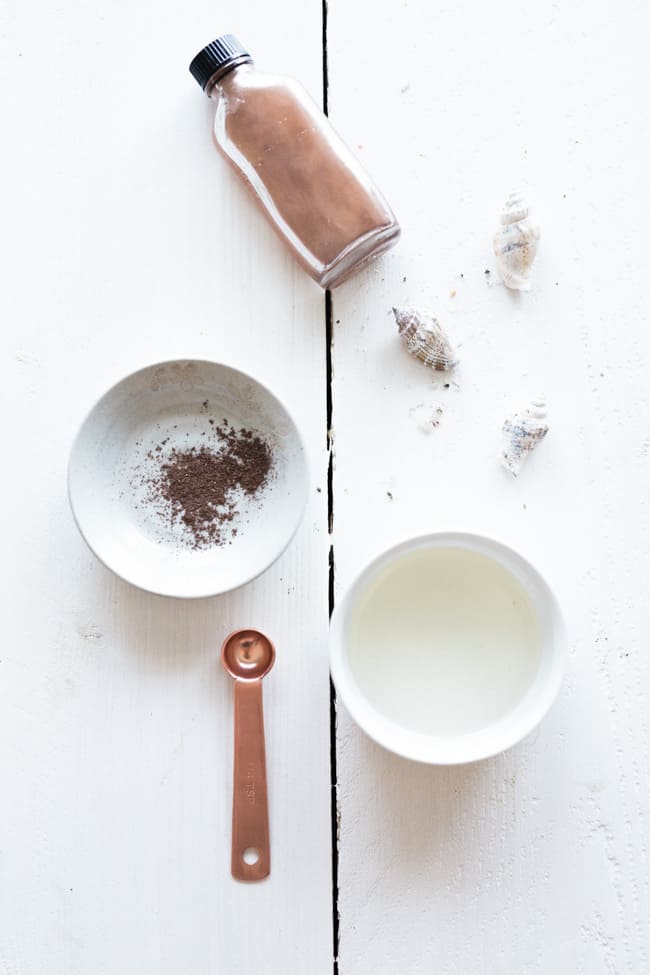 Once you have your selected ingredients ready to go, it is actually pretty simple to make your own body oil. First, start with a small amount of oil (like an ounce) and add about 1/4 teaspoon of eye shadow. Next, scrape the eye shadow out into a bowl with a spatula, but do so carefully as to avoid getting the powder everywhere. Then measure, combine and stir the mixture. Keep adding eye shadow until you get a color you like.
The oil may look dark in the bottle, but trust me, it isn't going to transform your skin to that shade. The effect is very subtle and the shadow tends to settle at the bottom of the oil so you'll need to shake before each use to recombine.
Read: 8 Favorite Beauty Uses for Coconut Oil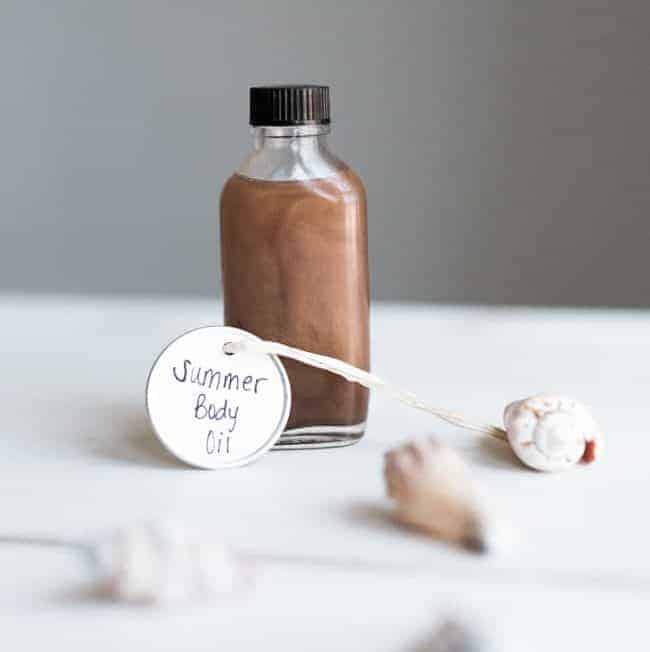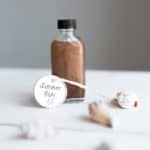 Print
Summer Glow Body Oil
A DIY summer body oil that gives just a hint of color and shine.
Materials
1

ounce

sunflower oil

1/2

teaspoon

bronze eyeshadow

Container with lid
Instructions
Measure ingredients and combine in a small bowl.

Stir until thoroughly combined.

Transfer to a container with a lid.

Shake before each use.
This post was medically reviewed by Dr. Rina Mary Allawh, M.D., a dermatologist who performs adult and pediatric medical dermatology, skin cancer treatment and cosmetic dermatology. Learn more about Hello Glow's medical review board here. As always, this is not personal medical advice and we recommend that you talk with your doctor.
Photos by Mikaela Hamilton
299