Though I wish I had the type of skin that exuded that "I-woke-up-like-this," Instagram filter-free brilliance, the reality is quite different. Ever since my teenage years, I've battled constant, unremitting breakouts, specifically around my t-zone. And although the severity of my acne has shifted as my hormones matured, I've tried pretty much everything to soothe my ever-sensitive skin.
I've tested the extreme route, including Accutane and various antibiotics. These undoubtedly helped but also left my pores overly dry and irritated—not to mention the potential internal risks. I've also tried prescription topicals and basically anything and everything CVS sells.
But then I discovered a powerful combination that finally left me feeling clear and radiant, and—believe it or not—it came from Mother Nature herself: witch hazel. This ingredient in some of my fave all-natural beauty products has been a game-changer for cleansing my pores, removing makeup, and preventing breakouts.
It took until the age of 30 and plenty of trial and error. By using it at sundown and sunrise, along with a blue light device, I've finally been able to find what works for me. And I'm amazed by the impressive difference this seemingly simple addition has made. Here is a guide to witch hazel, along with some uses and products to try yourself at home:

So
,

what is witch hazel?

Well, it isn't a top seller from Salem, Massachusetts. And nope, Sabrina probably didn't use it to clear up her zits in high school before a date with Harvey. It won't cast you under a spell, but in my opinion, it is pretty magical. Witch hazel is actually a medicinal shrub found in North America that has been used for generations, according to medical intuitive and best-selling author Amy Leigh Mercree.

"Extracts and teas derived from its bark and leaves have been used to heal numerous ailments including skin conditions for millennia. Native American tribes used the plant frequently for many maladies," she continued.

You can buy forms of pure witch hazel, which can be quite intense on your pores since it does have drying effects. Or, you can choose a formula that incorporates other ingredients to soften the exposure.

Just be wary of drugstore buys, according to Mercree, who says some include 14 percent alcohol, as well as fragrances and acids. As with any product you apply to your body's largest organ, your skin, being mindful of the back label is essential.
Why it wards away breakouts
Witch hazel is one of those antioxidants that anyone with oily or acne-prone skin should consider. As Mercree explains, it contains tannins and polyphenols that protect our pores when applied topically.
"These compounds help speed healing and prevent skin cell damage, curbing the aging effects of sun and pollutants on skin," she continues. "Witch hazel is also an anti-inflammatory. It soothes the soreness of sunburns, improves dandruff, and calms acne flare-ups because of this property."
Personally, I use witch hazel in the morning as a toner under my moisturizer. And at nighttime, after removing my makeup, I use witch hazel to get rid of any leftover foundation, mascara, lipstick, you name it—and then apply an antiaging serum and light-weight, oil-free moisturizer.
This ensures my pores are completely clean and protected before I nod off or tackle my overbooked calendar. Marcree explains the astringent qualities of witch hazel are super helpful since it clears away oil and sebum that can clog pores and cause breakouts. She also notes it can dissolve existing build-up and battle blackheads and whiteheads.
5 Ways to Make Toner with Witch Hazel

1. Fight sun damage: hibiscus tea toner with witch hazel
Hibiscus is known for its ability to cleanse, tone, and balance the skin's delicate pH. It is rich in alpha-hydroxy acids that naturally exfoliate and amino acids that provide a tightening effect without stripping the skin's natural oils (sebum).
The tea also has a high vitamin C content [source], which helps fight sun damage and the signs of aging. Combine ¼ cup of cooled hibiscus tea with ¼ cup of witch hazel and swipe on after cleansing. You can also add ½ teaspoon of vitamin C powder.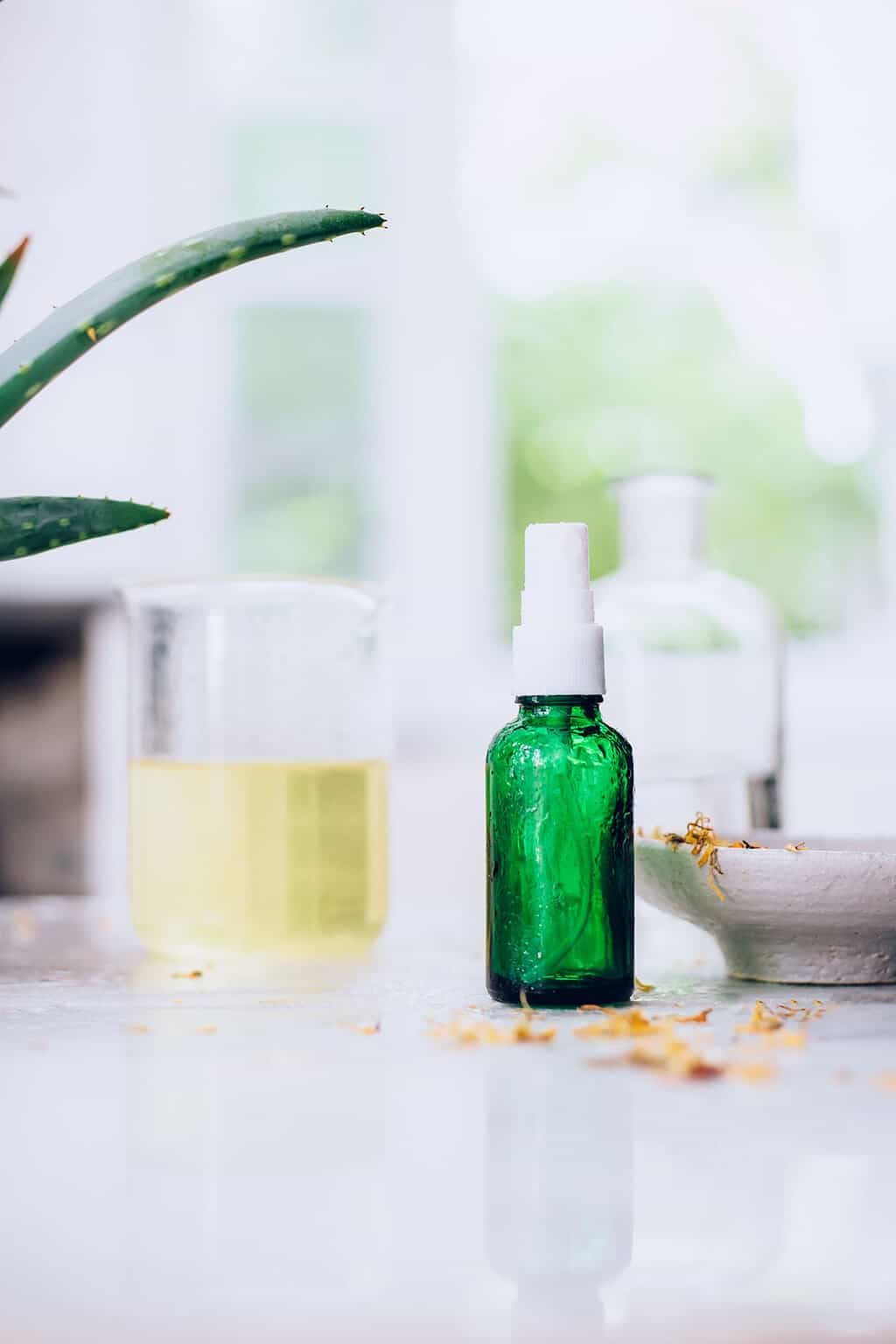 2. Tame oily skin: green tea face mist with witch hazel
Contrary to popular belief, all skin types need a toner. And toners can be used in several forms; misting is a perfectly acceptable method to apply witch hazel. This mist addresses hydration for oily skin without clogging and tightens pores—thanks to the witch hazel.
-2 ounces (¼ cup) cooled green tea
-2 tablespoons alcohol-free witch hazel
-1 teaspoon aloe vera gel
Combine ingredients in a 4-ounce spritz bottle. Shake to combine before each use.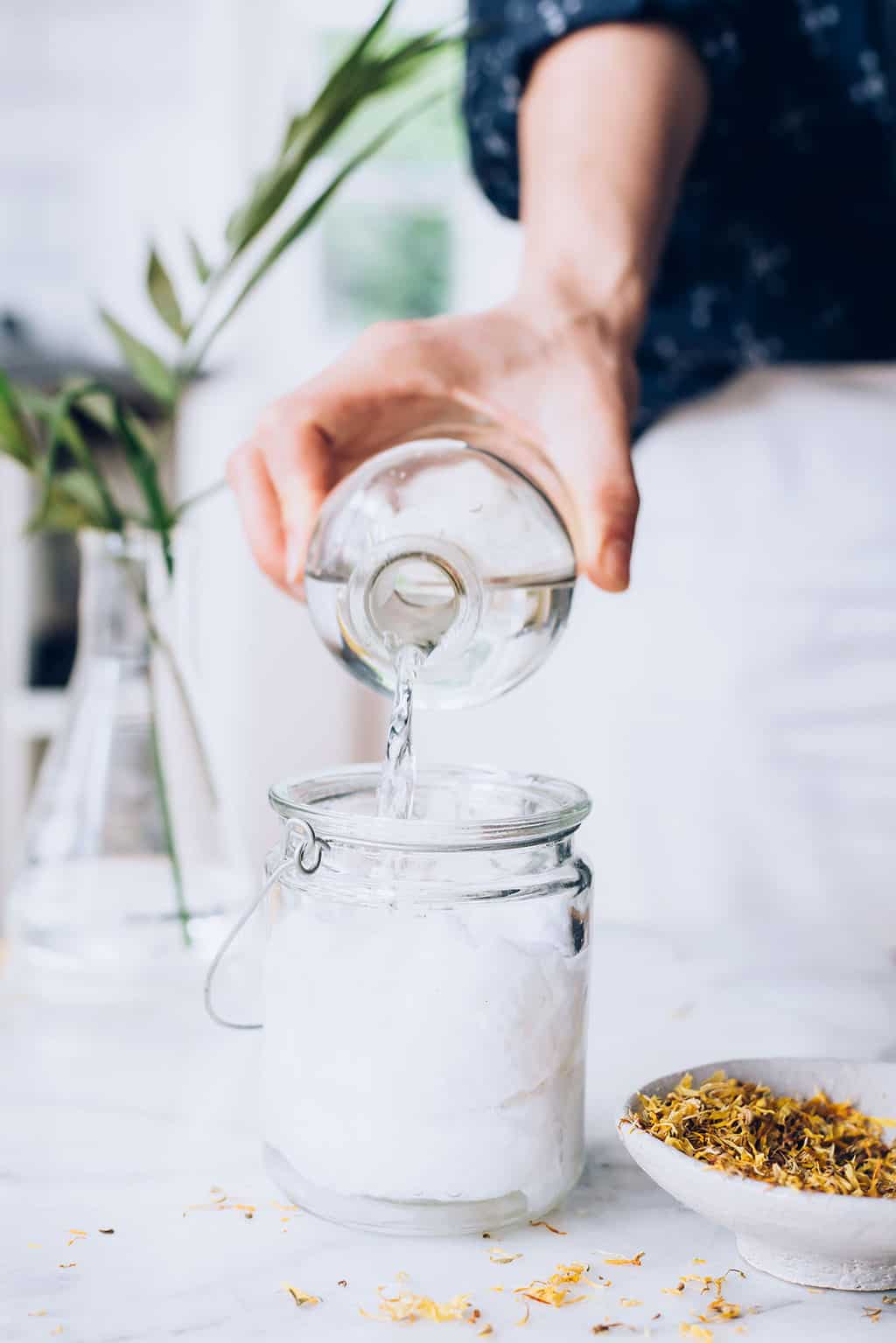 The combination of witch hazel and aloe is perfect for a post-exercise wipe down for your face and chest. Combine 1 part aloe to 3 parts witch hazel and stir together until combined.
You can also add a couple of drops of essential oils for your skin type if desired. Stack your face pads in a jar, and pour the mixture over them. Give it about an hour for the pads to soak up all of the liquid.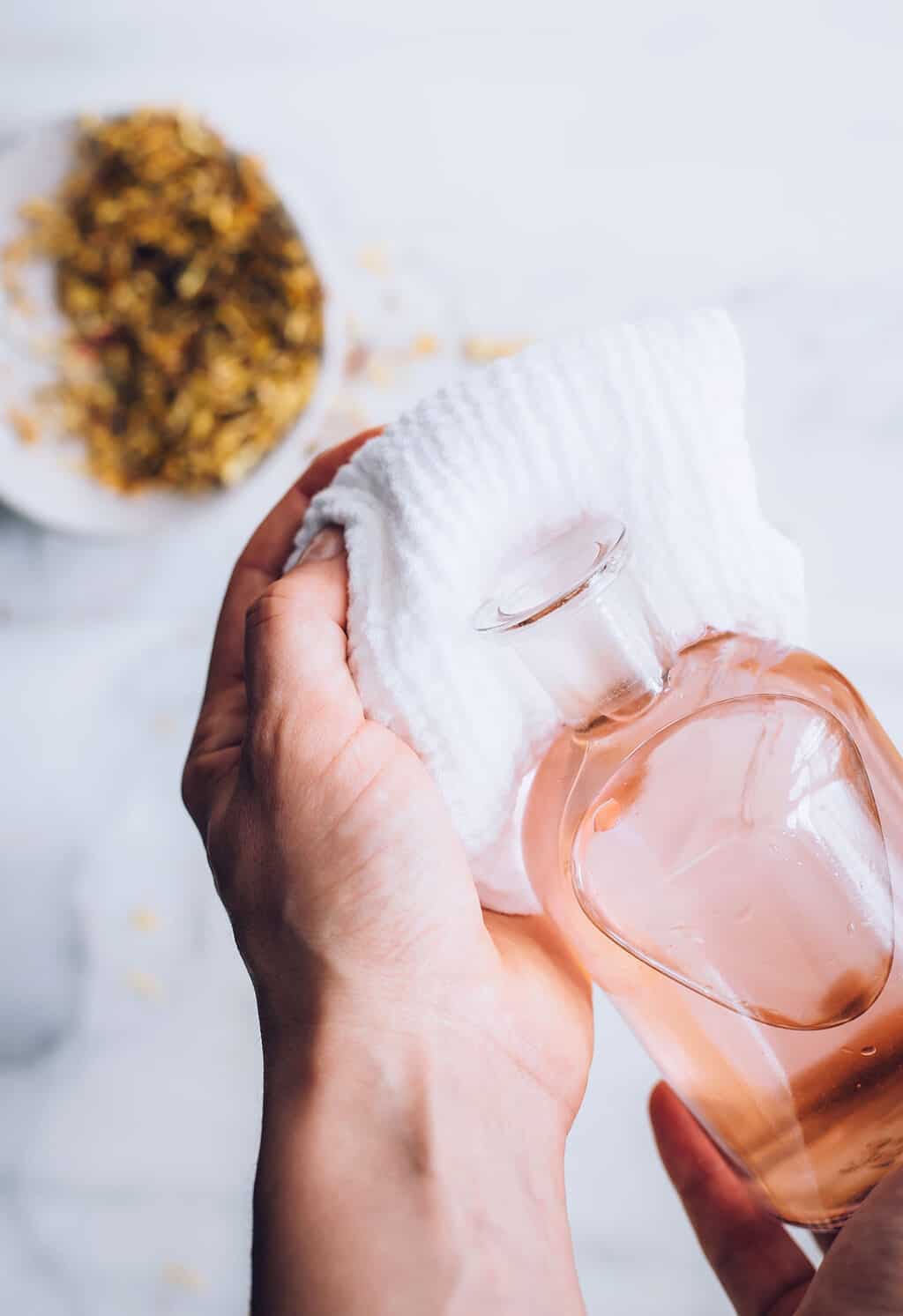 4. Soothe skin: Rose water toner with witch hazel
Combine ½ cup of rose water (you can even make your own) with ½ cup of alcohol-free witch hazel and 1 tablespoon of fresh lemon juice. Stir to combine and transfer to a sealed container.
Clean your face and remove any makeup. Then apply toner with a cotton ball and follow with moisturizer.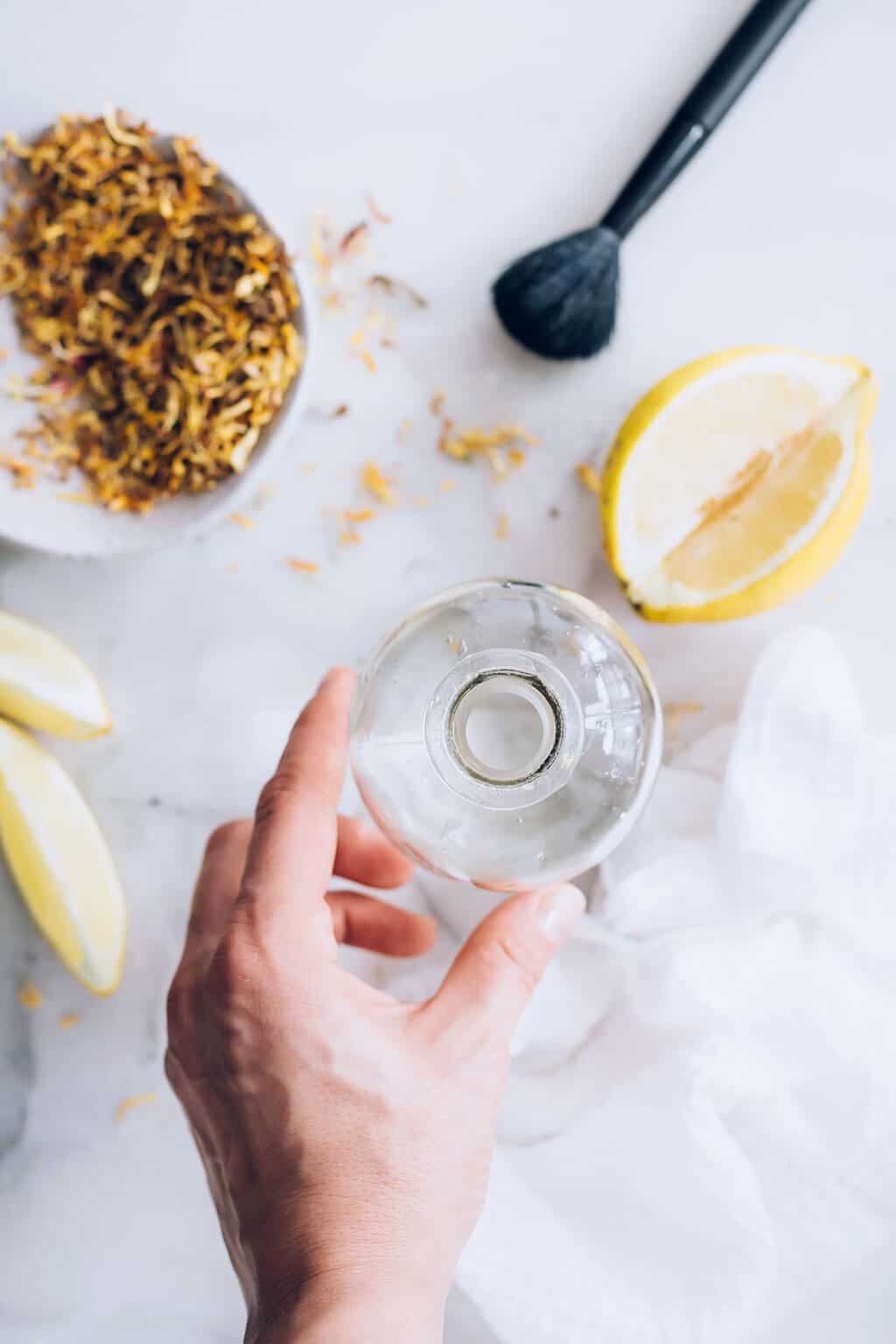 5. Lighten age spots: Lemon toner with witch hazel
The best way to use vitamin C on your age spots is with lemon juice. The citric acid in lemon juice can help gradually fade the spots and even out your skin tone. Combine the juice from ½ a lemon + ½ cup of witch hazel.
Products To Try
If you are experiencing pesky flare-ups like me, consider implementing witch hazel into your routine. You should start slow since it can be drying.
These organic, natural products made for your face and body could improve the overall quality and texture of your pores. Here are a few to consider if you would rather purchase instead of DIY:
100% PURE Tea Tree & Willow Clarifying Astringent
As my personal go-to, this astringent can't be beat. This USDA organic hydrating toner is made with witch hazel and tea tree, offering impressive anti-inflammatory features. While the witch hazel balances my natural skin oils, the tea tree and willow serve as antibacterial forces to cleanse and soothe pores. It goes on easy and doesn't dry out either!
Quinn's Witch Hazel and Rose Petal Toner
A gentle, alcohol-free toner that includes soothing rose and aloe vera. Worth it for the aesthetically-pleasing bottle alone!
Don't forget to give the area below your chin a little TLC. This product is meant to be an antiaging superstar that smooths your delicate neck and décolleté areas. It's made with what they call a "symphony of healing herbs," including witch hazel, aloe, and other natural healing ingredients.
LATHER Blemish Control Cleansing Gel
If you want to try a witch hazel wash, this is a great place to start. As a foaming gel cleanser using wasabi, witch hazel, aloe, and nettle, it digs deep to clear out any impurities, all while soothing your skin.
Replace your old toner with this bad boy, which alleviates many skin concerns—from dehydration and dryness to uneven skin tone. As the name suggests, it's formulated with vitamin C, witch hazel, peach extract, chamomile, and other goodies from the plant kingdom. Though it does have an artificial fragrance, its peachy scent will leave you energized!
This post was medically reviewed by Dr. Jennifer Haley, a board-certified dermatologist with extensive experience in medical, cosmetic, and surgical dermatology. Learn more about Hello Glow's medical reviewers here. As always, this is not personal medical advice, and we recommend that you talk with your doctor.
171