Witch hazel is a time-tested beauty ingredient with plenty of modern day uses. Extracted by steaming twigs from the shrub, witch hazel is remarkably cooling and refreshing. But witch hazel does more than just give skin a soothing pick-me-up.
The natural astringent tightens pores and tones skin, and its natural anti-inflammatory and anti-microbial properties reduce swelling and speed healing. Read on for 13 ways to use this natural herbal remedy on everything from acne to varicose veins.
13 Ways to Use Witch Hazel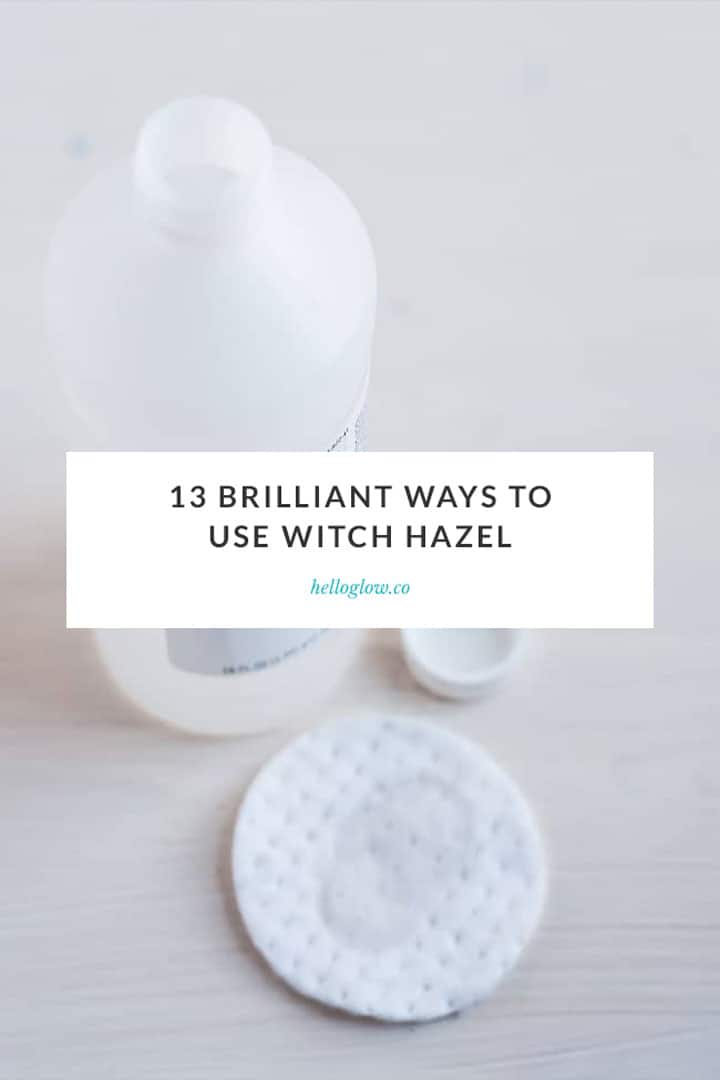 1. Combat oily skin
This natural astringent removes excess oil and can be used daily as a toner for oily skin. Apply with a cotton swab after cleansing to balance oil production and dry up pimples.
For normal to oily skin use one part water to three parts witch hazel. Witch hazel can by too drying for dry skin, so reduce the ratio to 1:1 and add a splash of rosewater.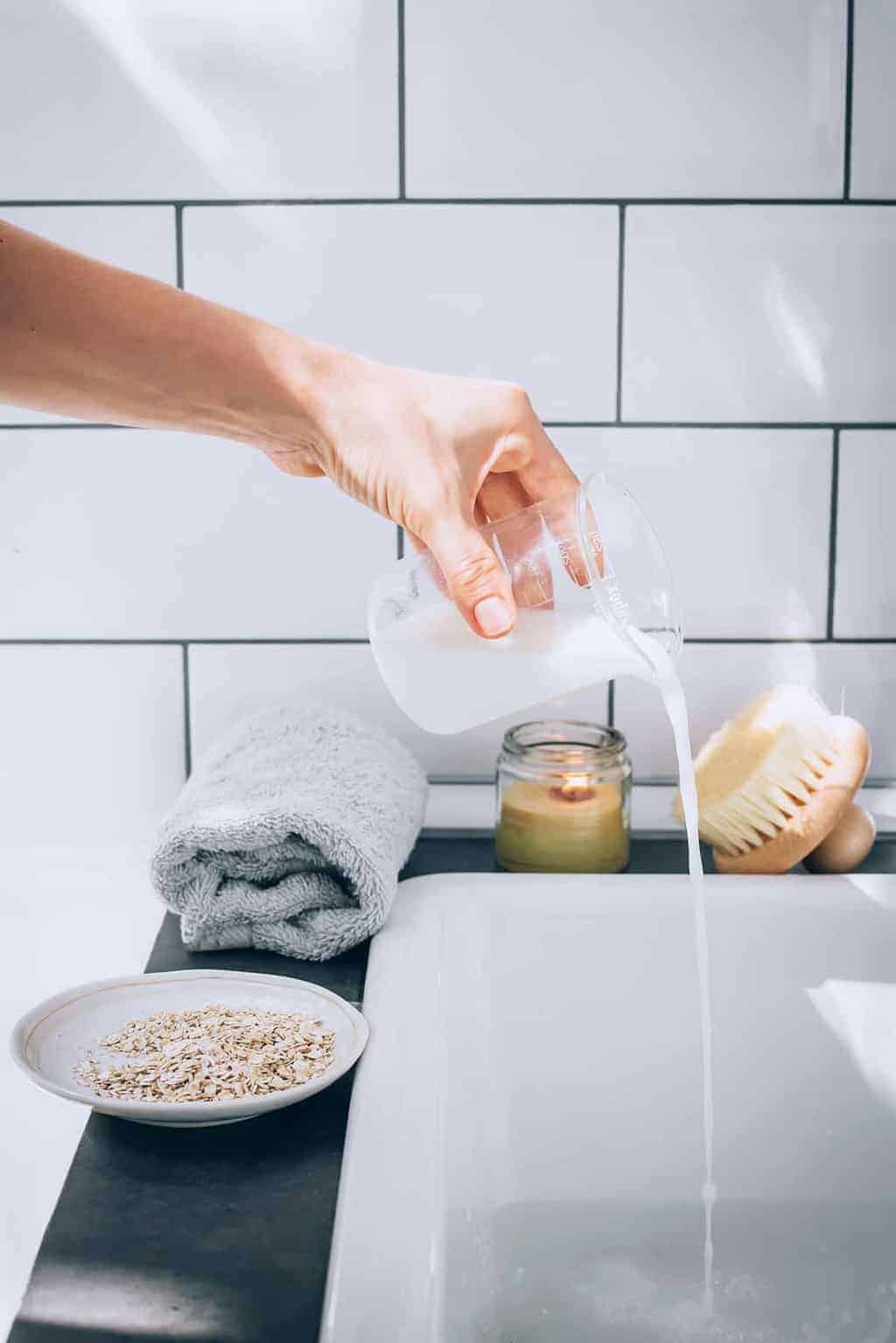 2. Sunburn relief
To treat a sunburn, add a little bit of witch hazel to aloe vera gel and apply on affected area. Or make a sunburn soothing bath by adding 1-2 cups of witch hazel to a lukewarm bath. The anti-inflammatory properties will help soothe the swelling and pain from too much sun and help protect the skin from sun damage.
3. Natural bug spray
Witch hazel with jojoba and essential oils makes an excellent natural bug spray. But if you do get bitten, witch hazel can relieve both pain and inflammation from bee stings, bug bites, and poison ivy and poison oak. Soak a cotton ball and then apply to bite area or rash.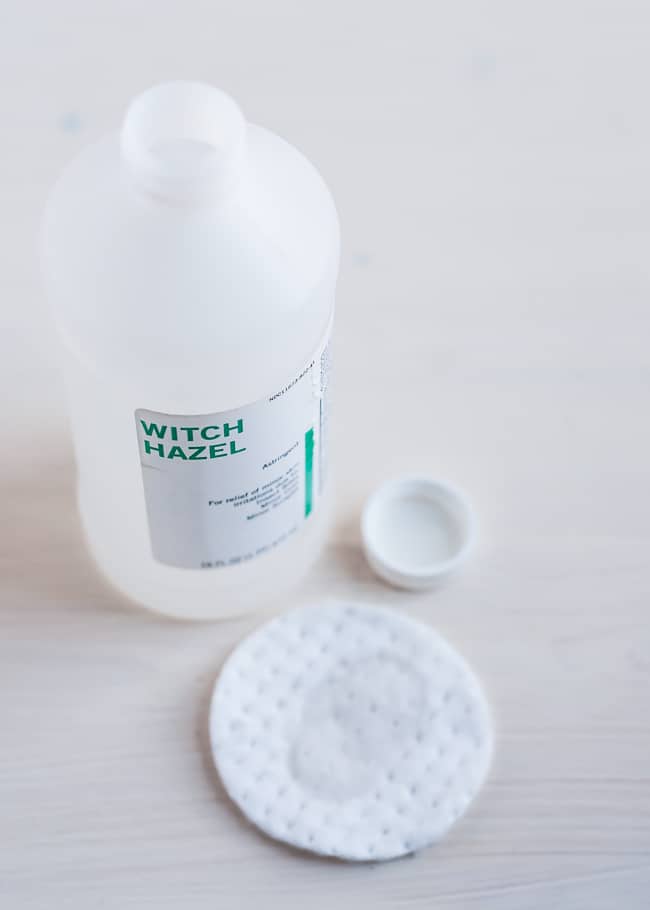 4. Treat varicose veins
Witch hazel is not only a natural astringent for cuts and wounds, it's also a great herb for strengthening blood vessels. Its anti-inflammatory tannins and gallic acid work together to shrink puffy veins and reduce swelling from varicose veins.
To treat reduce the appearance of varicose veins and temporarily reduce pain or swelling, soak a wash cloth in chilled witch hazel and place it on the affected area twice a day. If treating legs, or ankles, be sure you have them raised to decrease blood flow to the area. You can also place add witch hazel to a tub and soak your legs for at least 15 minutes.
5. Puffy eyes
To shrink swollen or puffy eyes, gently dab witch hazel under the eyes, being careful to avoid the eyes itself as stinging will occur if any gets in the eyes. Chilled witch hazel is extra refreshing and soothing for tired eyes. Apply a bit to a cotton pad or ball and let sit on closed eyes for 5 minutes for an instant refresh that reduces eye bags.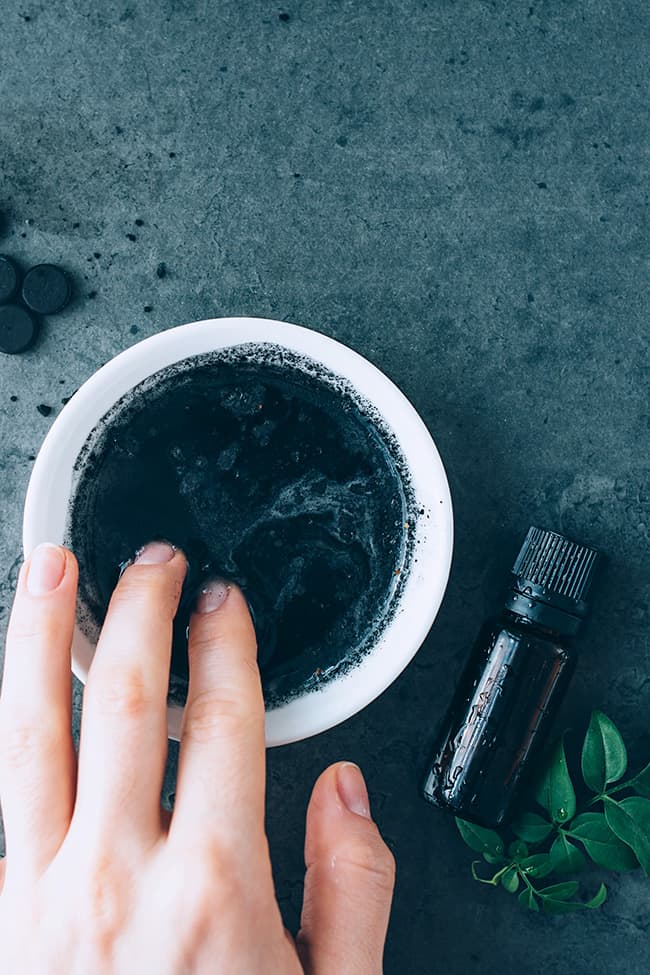 6. Acne treatment
Witch hazel is especially helpful in dealing with acne because it naturally decreases oil without drying out the skin. Try this acne-fighting cleanser with activated charcoal to draw impurities, dirt, and bacteria out of pores.
For a quick spot treatment use a q-tip soaked in witch hazel and apply to pimple or blemish for a few seconds to bring the swelling down.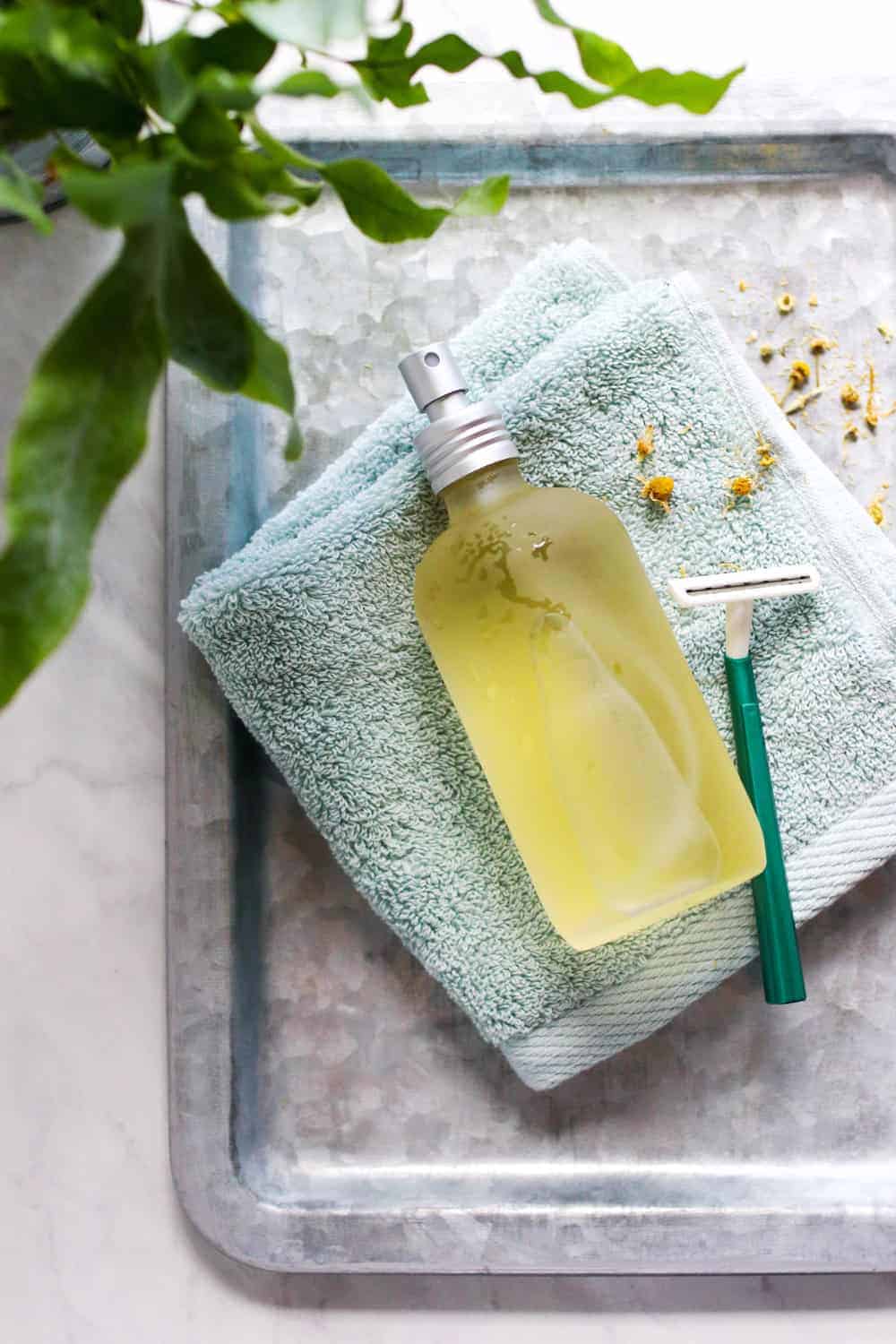 7. Shaving aid
Skip the aftershave and use cooling witch hazel instead. To reduce razor burn, you can apply witch hazel to the skin before shaving.
If you're unlucky enough to get razor burn, try swiping irritated skin with witch hazel, and the the natural antiseptic will reduce skin inflammation. Witch hazel is a star ingredient in the this razor burn spray that you can use as a pre-shave oil to soften hair or as an after-shave mist to reduce swelling and prevent bumps.
8. Treating cuts and scrapes
Witch hazel helps wounds heal faster, cleanses cuts and scrapes and fights infections. Use witch hazel to wash and disinfect minor skin injuries and help stop the bleeding.
9. Heal bruises
If you need a bruise to heal quicker, the tannins in witch hazel can help reduce the pain and swelling as well as speed healing. Soak a cotton pad in witch hazel and add a few drops of lavender essential oil then apply directly to the bruise to constrict blood vessels, reduce inflammation and promote healing.
10. Skin refresher
Make a face mist with witch hazel and aloe to refresh skin whenever it feels hot, oily or dirty. Combine in a spray bottle and add a few drops of essential oil (this guide can help you find the right essential oil). Spritz during the day for hydration (that won't clog oily skin) and pore tightening, thanks to the witch hazel.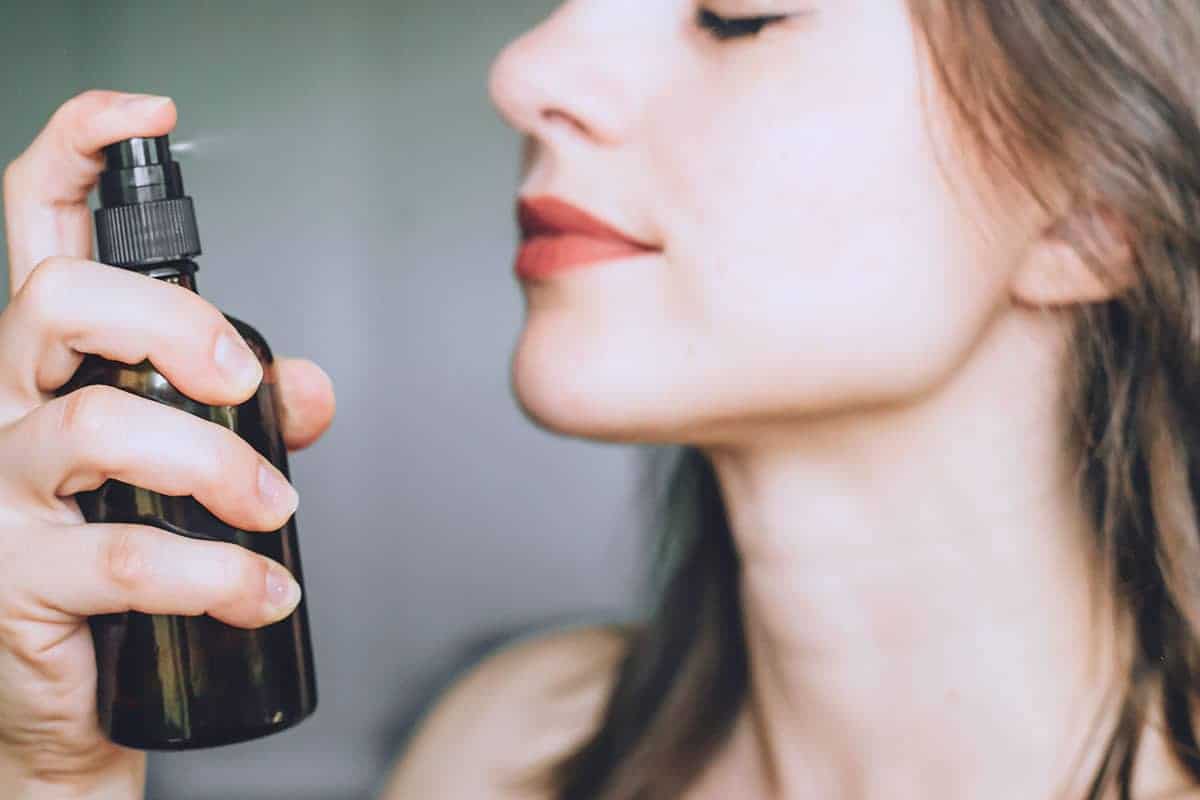 11. Hand sanitizer
Combine witch hazel and aloe vera with naturally antibacterial essential oils like lavender, tea tree and frankincense for a DIY hand sanitizer that kills germs without the sting (or the stink!). Witch hazel takes the place of rubbing alcohol and acts as a second line of defense against germs.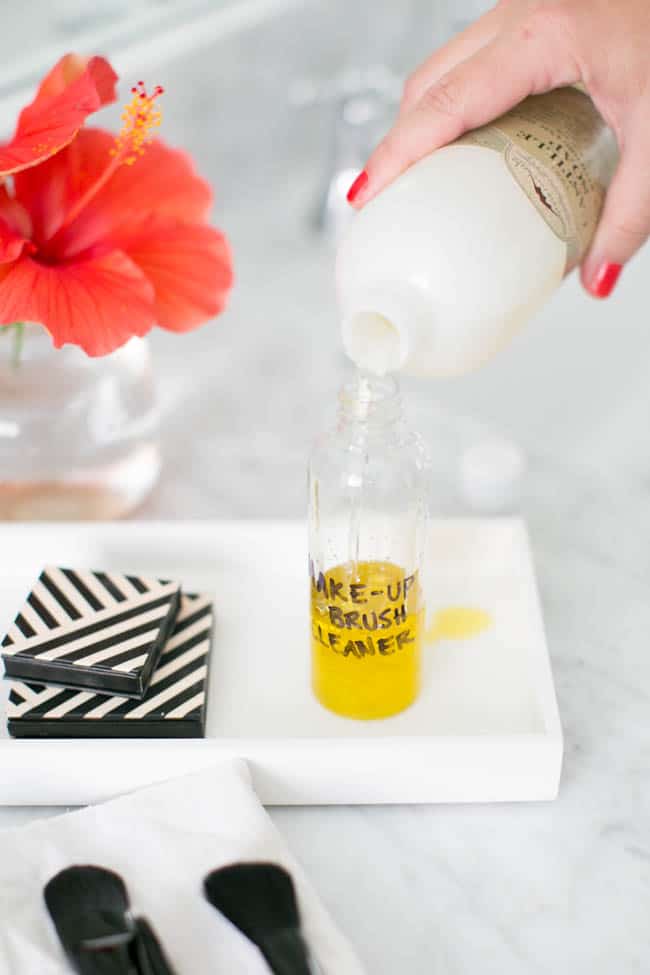 12. Makeup remover
For a gentle, all-natural make-up remover try this easy recipe with witch hazel, oil and water. Witch hazel also helps you clean your makeup brushes. After using a homemade brush cleaner, give brushes a witch hazel spritz to kill any remaining bacteria.
13. Ease eczema
Witch hazel is wonderful at treating the dryness and inflammation often associated with eczema. You can apply witch hazel using a cotton swab to the affected area twice daily for relief from pain, itching, redness and scarring. Use witch hazel only for a few weeks at a time before giving your body a break.
68