Fortunately, a dewy face is something that is desirable these days, but not blackheads. They can stretch the pores, create a dark dot or mark as the blackhead oxidizes, and can develop into an infection—pimples—if left untreated.
So let's aim for that dewy complexion without the pestering blackheads! These simple blackhead remedy recipes can help reduce the appearance of blackheads without stripping the skin of its natural, hydrating oils.
If you tend to have clogged pores or a greasy sheen on your face most of the time, the last thing you might think to apply is more oil! However, cleansing your face with oil is proven to gently dissolve away dirt, makeup, sebum, and other "bad oils." The best thing to remove oil is oil, and a few drops of the right kind of plant oil can even help regulate and balance further oil production.
How? Oil binds to skin's surface grime and washes it away with the cleanser. Cleansing oils help to hydrate the skin and gently remove excess "harmful" skin oils, which is more beneficial than alcohol-based, drying traditional cleansers.
What are Blackheads + What Causes Them?
Comedonal acne—blackheads and whiteheads—results from occlusion or blockage of hair follicles (pores) by the keratinized lining of the upper portion of the hair follicle. Keratin (i.e., skin debris) is normally shed through the follicular opening.
However, when this debris is retained and trapped by excess oils on the skin, a whitehead is created. When the blocked pore opens, it appears grayish-black to the naked eye, creating a blackhead [source].
What causes blackheads is often the same as what leads to other kinds of breakouts. How your skin responds to external factors, whether it be with blackheads, whiteheads, or full-blown acne, is mainly determined by genetics [source].
But here are some things that may be exacerbating your blackheads:
Excess oil production

Bacteria on the skin

Irritation and inflammation

Hormone imbalances

Ingredients in skincare products or makeup
How to Get Rid of Blackheads
Since blackheads are usually the result of oily buildup + accumulated dead skin cells, the best way to get rid of them is by dissolving the dirt and grime that is blocking pores. You can then help to keep pores clear with a cleansing mask.
If you suffer from breakouts of any kind, in addition to the recipes below, it is important to consult with your board-certified dermatologist as acne left untreated may result in scarring and hyperpigmentation.
Oil Cleanser for Blackhead-Prone Skin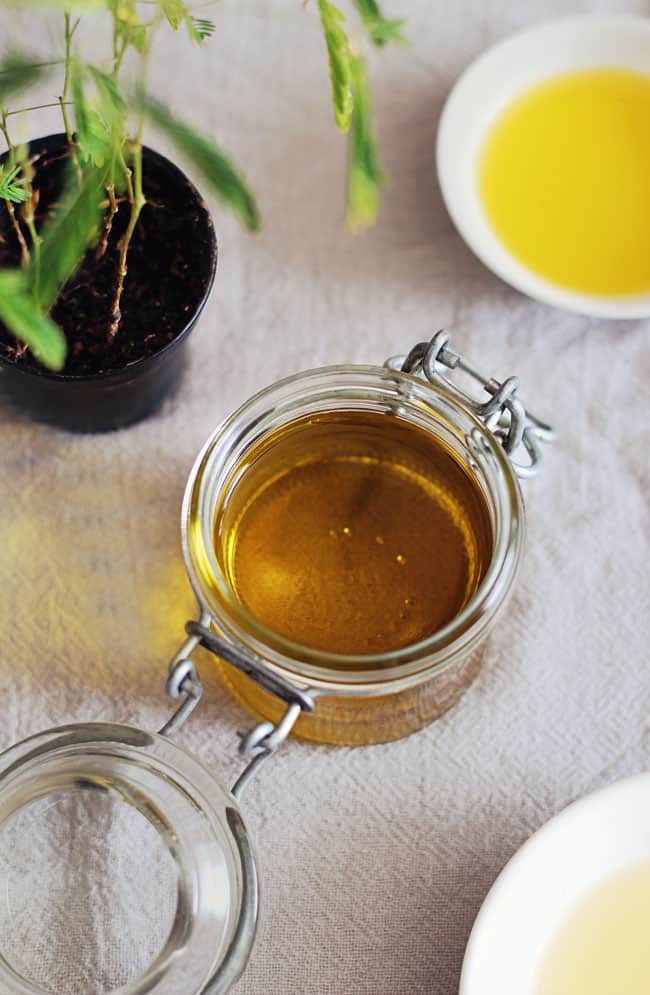 Combine 3 parts jojoba oil to one 1 part tamanu oil. Then add 9 drops of frankincense essential oil for every 2 ounces of oil. Shake to combine the oils before using, and pour a small amount into your hand. Press the oil into the face (avoiding the eyes) and rub gently in circular motions with your fingertips.
Leave on for 1–2 minutes, then remove with a warm, wet washcloth. If you like the 2-step face washing process, follow with a foaming cleanser.
Deep Cleansing Mask for Blackheads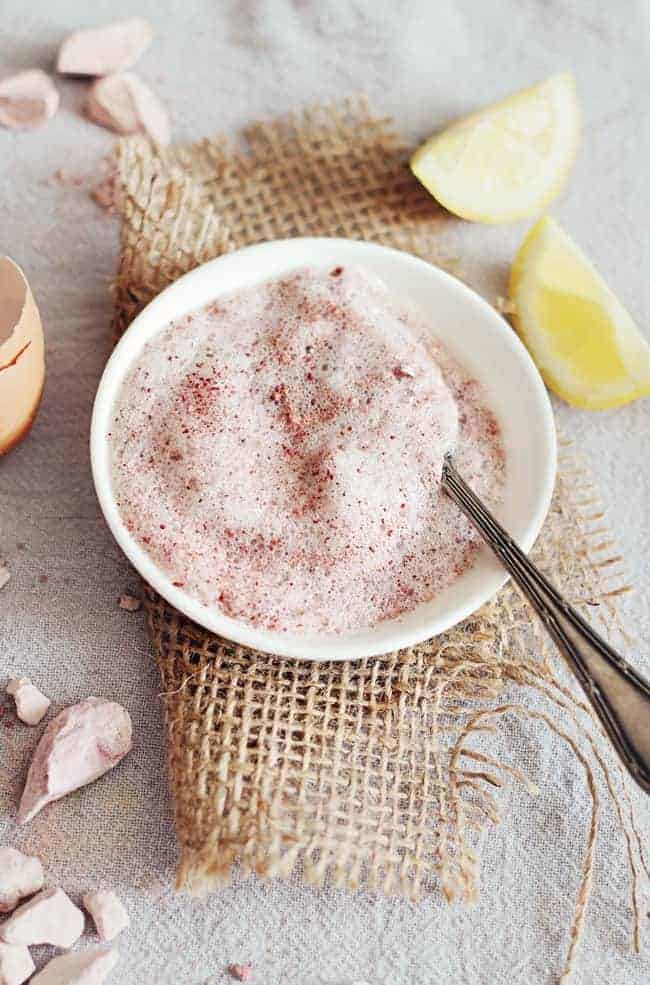 Regularly using a deep cleansing mask designed to clear out and control oil accumulation in your pores is crucial to keeping blackheads at bay. While no mask can remove blackheads—that is done by manual extraction—it can help prevent them from developing and loosen the existing blackheads.
This mask should be applied once a week at night since the lemon juice can make skin photosensitive (sun exposure may lead to rashes and skin hyperpigmentation).
Beat the egg white until fluffy, then add in the clay and lemon juice and mix well. It will form a paste that you will apply to your t-zone or any other areas prone to blackheads. If it's a bit thick, which will depend on the type of clay you use, add a 1/2 teaspoon of water. After 10 minutes, rinse with warm water. Follow with the appropriate nighttime facial oil or moisturizer.
How to Keep Blackheads from Coming Back
Sometimes prevention is the best remedy.
1. Don't over-cleanse. Stripping your skin of too much moisture only gives your skin the signal to make more oil to compensate. Skip the harsh cleansers that break down your skin's moisture barrier, and use a non-comedogenic oil to replenish moisture when needed.
2. Switch to natural makeup. Chemicals and toxins in your makeup can clog your pores, cause inflammation, and make blackheads worse. Switch to an all-natural makeup brand, and wear makeup less often to help keep your pores radiantly clear.
3. Exfoliate regularly. To free your pores of debris, such as dirt and dead skin cells, gently remove buildup with a soft, wet washcloth every other day.
4. Splash your face with cold water. After cleansing your face, use your usual toner or splash your skin with cold water to close the pores and keep grime from getting in.
5. Use an acid serum. If you're like me and nothing seems to keep blackheads away for long, try an acid serum. I swear by The Ordinary's Mandelic Acid for breaking down the grime, shrinking my finicky pores, and preventing blackheads.
*Beware that acne is often not caused solely by surface clogging, but it can be due to a bacterial problem or inflammation caused by hormone imbalances [source]. So while these recipes can be beneficial for oily skin, they won't necessarily treat acne.
If you experience inflammatory and/or hormonal breakouts that remain persistent, it is important to consult your board-certified dermatologist for the management of your acne.
This post was medically reviewed by Dr. Rina Mary Allawh, M.D., a dermatologist who practices adult and pediatric medical dermatology, skin cancer treatment, and cosmetic dermatology. Learn more about Hello Glow's medical reviewers here. As always, this is not personal medical advice, and we recommend that you talk with your doctor.
385