Cleansing isn't just about detox diets and gut health…your skin needs cleansing too! There's been a lot of discussion in the beauty industry about 2-step cleansing processes to keep skin looking healthy and young. As an aesthetician, I'm just thrilled when my clients clean their faces every day!
However, if you'd like to kick your cleansing routine up a notch, I've done some research on what a 2-step cleansing process looks like and how it's beneficial for your skin.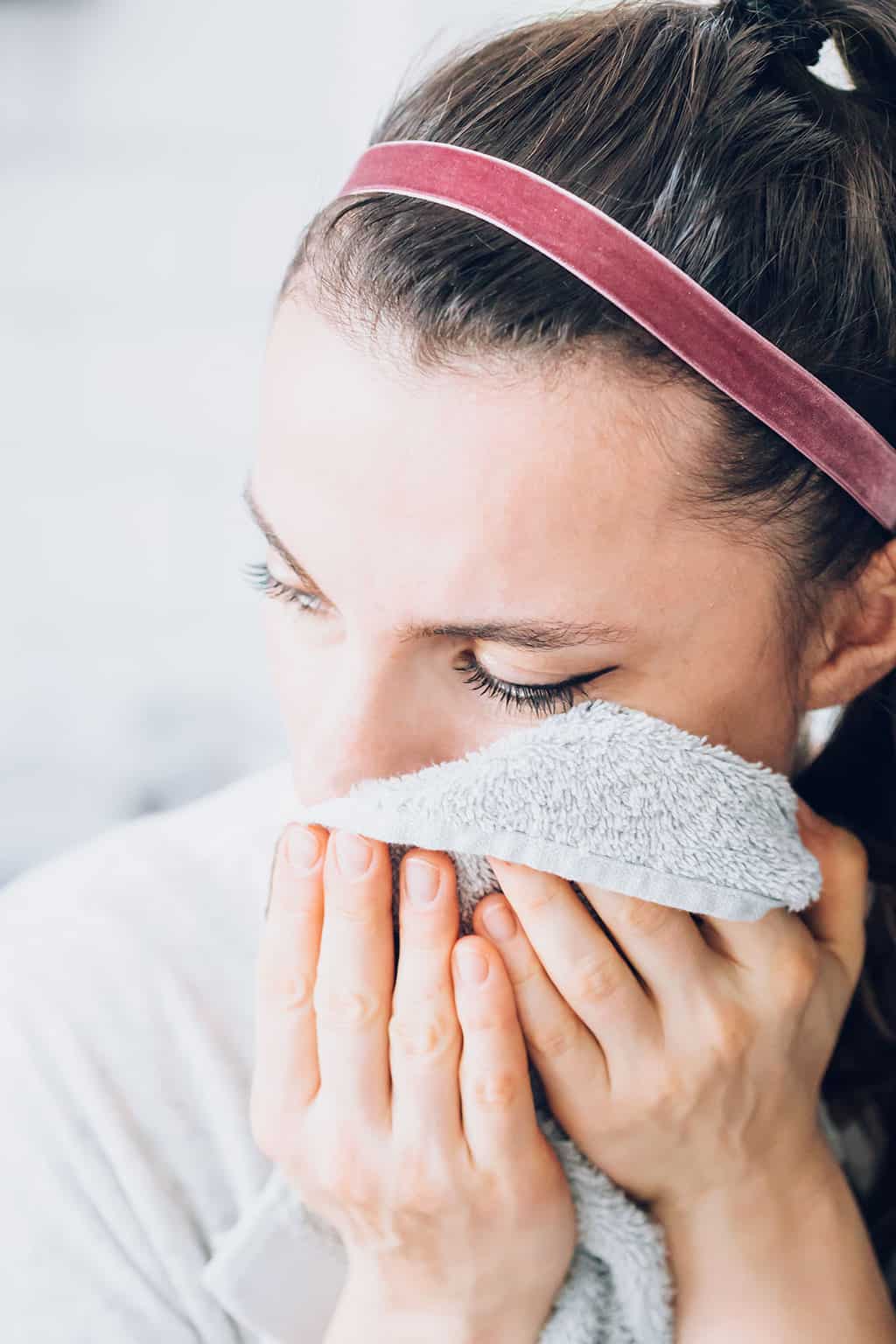 Basics of Making a Cleanser
If you're looking for a natural and cost-effective way to cleanse your skin, you may want to consider making your own cleanser at home. Not only is it better for your overall health and wellness, but it can also save you money in the long run. Here are some wellness advice and steps to make your own cleanser using natural ingredients:
Start by choosing the right ingredients that will help cleanse your skin while providing nutritional benefits. Some great options to include in your homemade cleanser are essential oils, vegetable juices, lemon water, and green tea.
Combine your chosen ingredients in a container and mix them together well. You can adjust the amounts of each ingredient depending on your preferences.
Apply the mixture to your face and gently massage it into your skin. Be sure to avoid the eye area.
Rinse off the cleanser with warm water and pat your face dry with a clean towel.
Cleansing baths and juice cleanses can also be helpful in eliminating toxins from your body, it's important to ensure you are still consuming enough solid foods and getting adequate sleep to stay healthy!
Making your own cleanser at home can be a powerful tool in removing toxins and promoting glowing skin. Just be sure to do your research and choose ingredients that are safe and effective for your specific needs.
How To Do a 2-Step Cleansing Process
The best 2-step beauty routine only requires a couple of things: a nourishing oil and a gentle cleanser. From there, you can add serum, moisturizer, eye cream, or anything else you like to target trouble spots—but it's optional.
Step One: Cleanse with Oil
Cleansing with oil is recommended as the first step to remove makeup and break down dirt and sunscreen residing on the skin's surface. This should be done at the end of the day, ideally before bedtime.
To start, you'll want to choose an oil that's appropriate for your skin. This guide can help determine which oil is right for you, but a few of our favorites are:
Next, take a quarter-sized amount of oil and rub it between your hands. Apply it to your face in circular motions, starting at the outer edges and working your way towards the T-zone and eye area. This will keep the oil on the dryer parts of your skin the longest, such as the cheeks.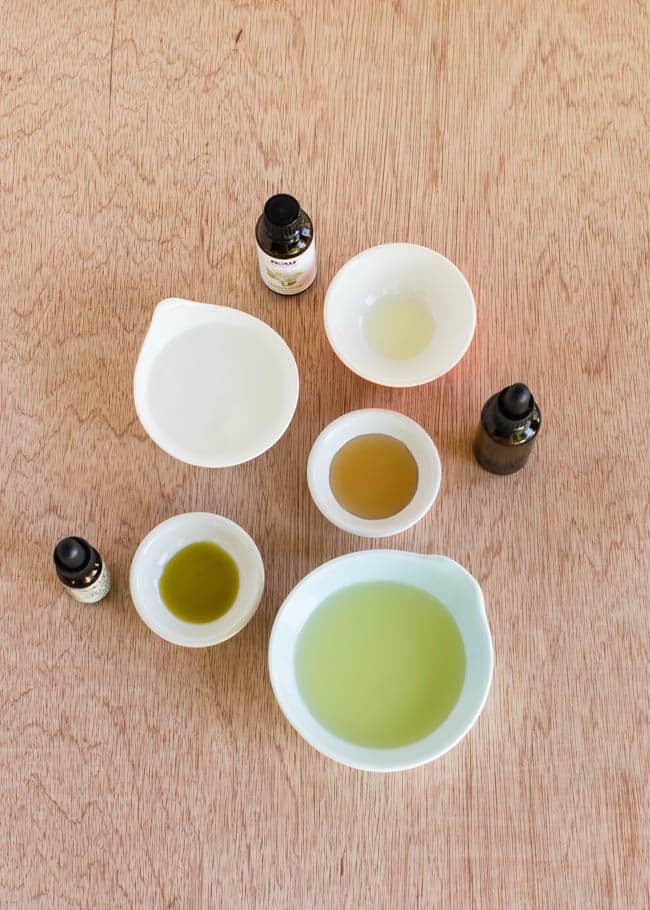 There is some debate as to whether oil should be applied to damp or dry skin; I think it's more a matter of preference than anything. But since oil and water don't mix well, if you want to apply to a damp face, just make sure it's not dripping wet. Gently damp from a washcloth or fingertips will suffice.
Massage for at least a minute or two; you can even cleanse your eyelids and lashes with the oil. In fact, oil is wonderful for removing eye makeup and conditioning the eyelashes. Just make sure your eyes remain closed the entire time, or you could experience some eye burning or visual cloudiness.
If you suffer from acne or occasional breakouts, hold a washcloth under hot running water for several seconds. Wring out the washcloth and drape it over your face, allowing the steam to open pores and the oil to sink in.
After a minute, splash your face with warm water to remove the oil and everything else that comes with it.
Step Two: Use a Gentle Homemade Foam Face Cleanser
Now, you'll want to do a second cleansing using a gentle foam or gel cleanser. This will remove any excess oil left on the skin.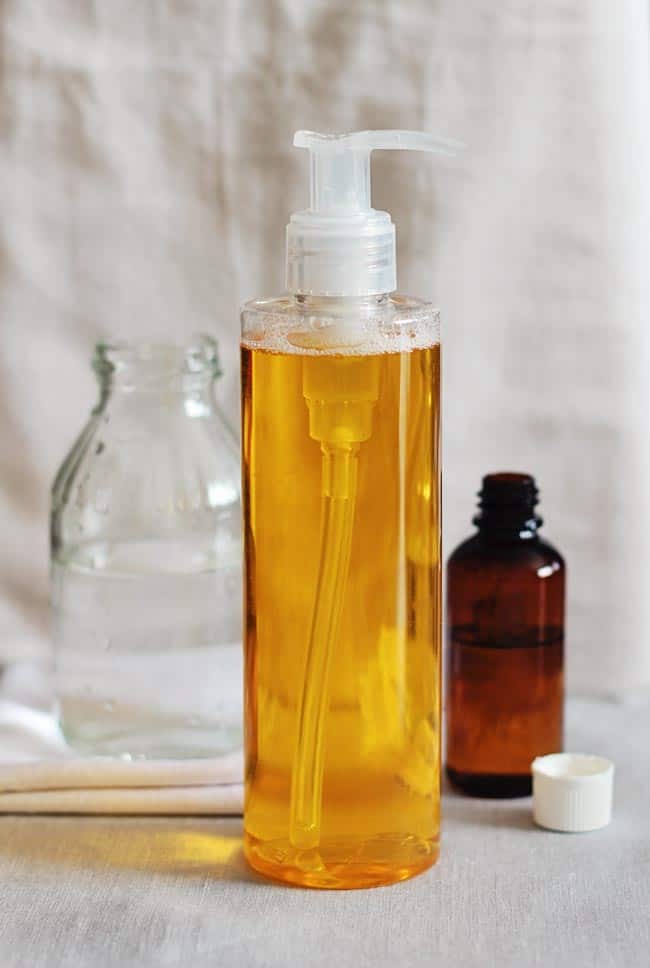 Ingredients
1/4 cup

castile soap

1 cup distilled or purified water

An empty, clean

foam dispenser bottle

5–10 drops essential oils (optional) – This

guide

is ideal for choosing an essential oil that works well for your skin type.
Combine these ingredients and shake before each use.
This time, you should start in the T-zone area and work your way out to the dryer parts of the face. Most foam cleansers can immediately be applied to damp skin. Gel cleansers should be lathered in your hands first and then applied to your face.
Working in circular motions, massage the skin as you cleanse. It's wonderful for lymphatic drainage, and you'll even hit a few pressure points around the nose that can help clear the sinuses. Rinse with warm water when you're done.
Secrets to Healthier Skin
Having healthy skin is important for overall well-being, and one way to maintain skin health is by using homemade face cleansers. A homemade face cleanser can be made with natural ingredients that are gentle on the skin and free of harmful chemicals. Some suggested ingredients for homemade face cleansers include honey, coconut oil, oatmeal, and tea tree oil.
In addition to using homemade face cleansers, maintaining a healthy diet can also contribute to skin health. Eating a diet rich in fruits, vegetables, and healthy fats can provide essential nutrients that support skin health.
Detox diets can also be really beneficial for skin health, as they help to eliminate toxins from the body that can contribute to skin problems. Some detox foods include leafy greens, berries, and cruciferous vegetables.
In addition to physical health, spiritual and mental health can also impact skin health. Practices such as spiritual cleansing and taking a spiritual bath can help to remove negative energy from the body and promote overall well-being. Additionally, taking care of mental health through practices such as meditation and therapy can also contribute to overall health and wellness.
It's important to remember that our bodies naturally detoxify themselves, and supporting the digestive system can aid in this process. Consuming fiber-rich foods, staying hydrated, and limiting processed foods can help to support digestive health and contribute to overall well-being.
Cleansing Oil and Foaming Face Wash FAQ
Is coconut oil a good moisturizer for the fall/winter months?
While many people swear by coconut oil for keeping their skin looking radiant, I recommend testing it first. Coconut oil can be pretty comedogenic, meaning it can clog pores, leading to increased acne. And sometimes it can irritate sensitive skin.
But if you find out that it doesn't cause any problems for you, then go ahead and use it as an oil cleanser or post-cleansing moisturizer any time of year. Just rub it between the palms of your hands until it melts, then apply it to skin as you normally would.
Can I make this cleanser without a foaming soap dispenser?
Yes, you can, but it will be the consistency of water. While they can be kind of pricey, I invested in a few foaming soap dispensers a couple of years ago, and I use them for everything from face wash to hand soap to foaming shaving cream. They do it all.
Can oil cleansing cause breakouts?
Few scientific studies have been done on oil cleansing and acne, but anecdotal evidence suggests that oil cleansing (with the appropriate types of oil) actually helps lessen the severity of breakouts. That's because oil is said to sink into pores and dissolve the grease, sebum (the waxy stuff made by your skin's sebaceous glands), and bacteria that soap and water can't touch.
In my personal experience, as long as I used non-comedogenic oils, such as jojoba and the others mentioned above, oil cleansing helped clear up my skin and made my hormonal breakouts less severe.
Is oil cleansing good for oily skin?
Yes! Just like with your scalp, washing your face with soap every day strips the skin of much-needed oil and moisture. In order to compensate, your body often produces more oil to balance things out, leaving you on this oily skin hamster wheel.
But by replenishing oil through oil cleansing, you're signaling to your body that it doesn't need to make as much, and you may see oil production start to slow down.
Which cleansing oil is best for acne?
Argan, rosehip, and jojoba oils are all non-comedogenic and won't clog pores. Jojoba oil is quite similar to our skin's natural sebum, anti-inflammatory, and known to help acne.
So if you have sensitive skin, I would start there. Meanwhile, rosehip and argan oils are very soothing and nourishing [source].
Do I need to use a serum or moisturizer after this 2-step cleansing process?
You'll definitely want to follow up with the rest of your daily skincare routine, whatever that may be. If your skin feels tight or looks flaky after using our foaming cleanser, then feel free to apply a light serum or moisturizer when you're done.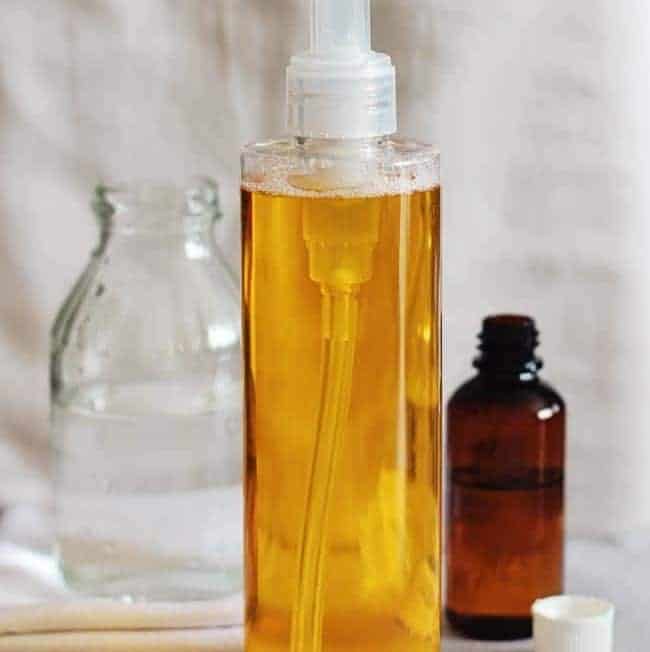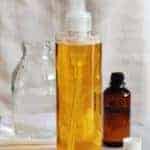 Print
Homemade Foaming Cleanser
Try this 2-step cleansing process to effectively remove all the oil, dirt, and sunscreen that accumulates after a long day. Your skin will thank you.
Materials
1/4

cup

castile soap

1

cup

distilled or purified water

5–10

drops essential oils

(such as lavender or chamomile)
Instructions
Combine the ingredients in a bottle, secure the lid, and give it a good shake.

Working in circular motions, massage the skin as you cleanse. Not only is it wonderful for lymphatic drainage, but you'll also hit a few pressure points around the nose that help clear the sinuses. Rinse with warm water when you're done.
Notes
Shake well before each use.
Since this contains water, it's best if used within 1 week. You're free to halve the recipe if you'd like to make a more manageable amount. 
This article was medically reviewed by Dr. Gina Jansheski, a licensed, board-certified physician who has been practicing for more than 20 years. Learn more about Hello Glow's medical reviewers here. As always, this is not personal medical advice and we recommend that you talk with your doctor.
554