Detoxing daily supports your liver, which has 500 metabolic jobs to empty out the toxic waste that hampers weight loss and leads to belly bloat. But this does not mean you need to starve. Here's a simple 24-hour plan to take care of your body and flatten your belly.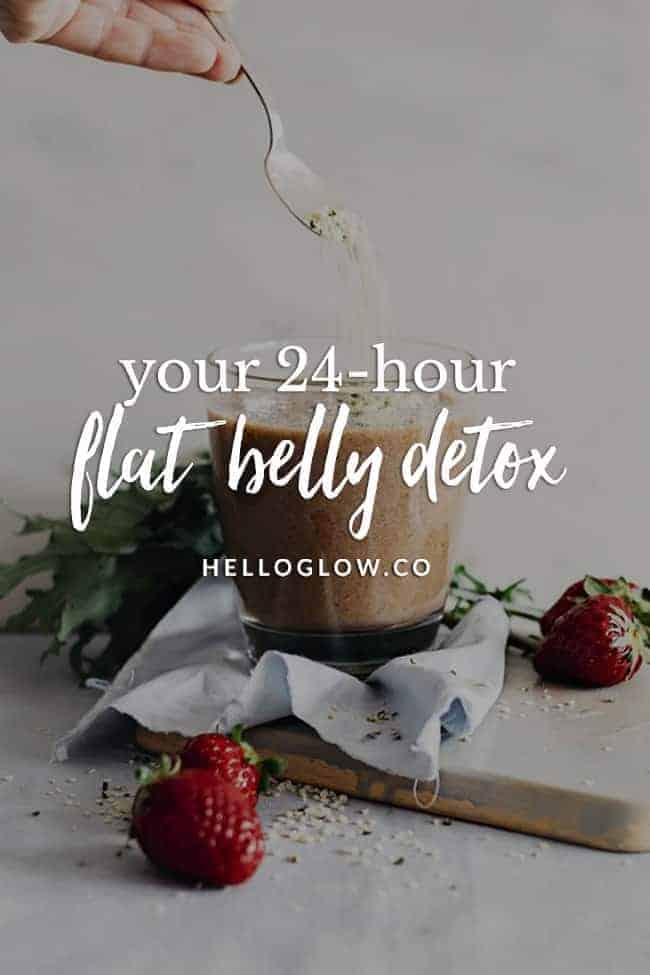 Our bodies are detoxing themselves naturally all the time to prevent us from getting sick. However, the toxins present in our modern world put increasing demands on the body's detoxification pathways. When the system gets overloaded, we can experience one or more of the following:
Inflammation
Thyroid issues
Headaches
Adult acne
Belly bloat
Weight gain or weight loss
Allergies (chemical or food)
Poor sleep
Loss of sex drive
Mood swings, anxiety, depression
IBS or constipation
Diabetes, cancer, or other diseases
Welcome to Your Flat Belly 24 Hour Detox
Take the next 24 hours to improve the quality of your digestion, which will lessen the belly bloat. Along with simple meals that give your digestion a rest, practice dry skin brushing and try a castor oil pack. Taking an Epsom salt bath also helps detox through your skin and up your intake of magnesium, which is needed for good digestion and healthy detoxification, which leads to weight loss and a flatter belly.
Breakfast: Strawberry Kale Smoothie
As they say, breakfast is the most important meal of the day. This means choosing a breakfast that is not only healthy, but also one that will help you get through the day with energy. Hydration is also an essential part of detoxing, and that includes starting your day with plenty of water. It's a good idea to get some light exercise in before breakfast, even just a quick yoga workout. It's important to not overdo it, but just enough to get your blood flowing.
Once you're hydrated and energized, this strawberry kale smoothie is a sure way to start your detox day. Not only is kale amazingly healthy, the chia seeds add a much needed dose of fiber and protein. Plus, the strawberries add just the right amount of sweetness.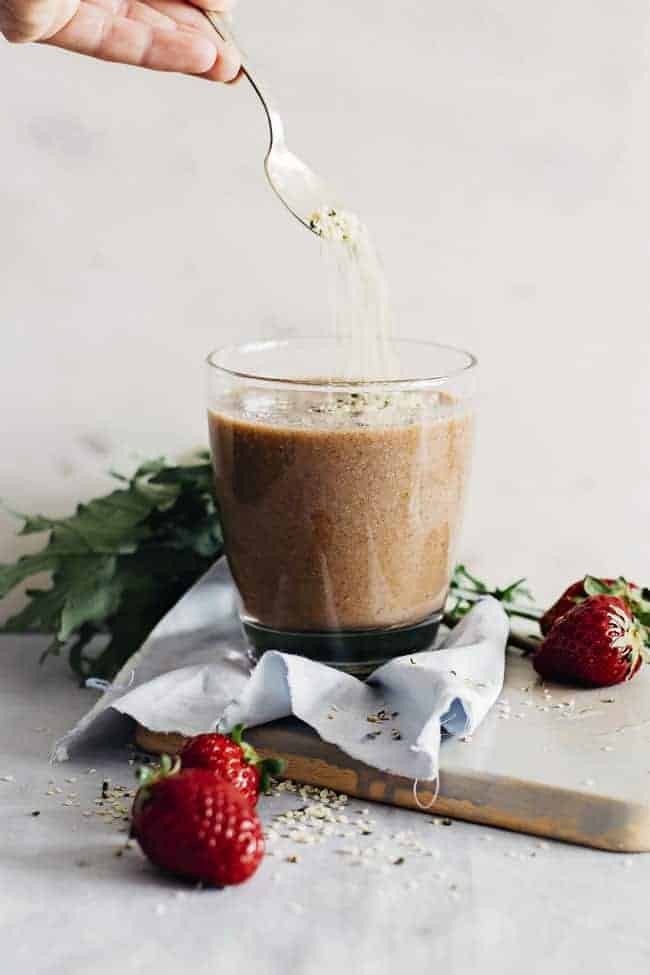 Lunch: Avocado Salad with Lime Dressing
Lunch is always the time when we start getting really hungry and sometimes close to a midday slump. During a detox, it's very important to watch what you eat and make sure you're getting the nutrients your body needs. This is also another great time for a quick exercise, even if it just means getting up and walking around the office or do some desk stretches.
A light lunch like this avocado salad is perfect for filling you up without weighing you down – the main point of detox! Incorporating heart healthy fats, like avocado, is a great way to eat healthy and light. The spinach is also an excellent ingredient during a detox period to fill you up with loads of vitamins and minerals.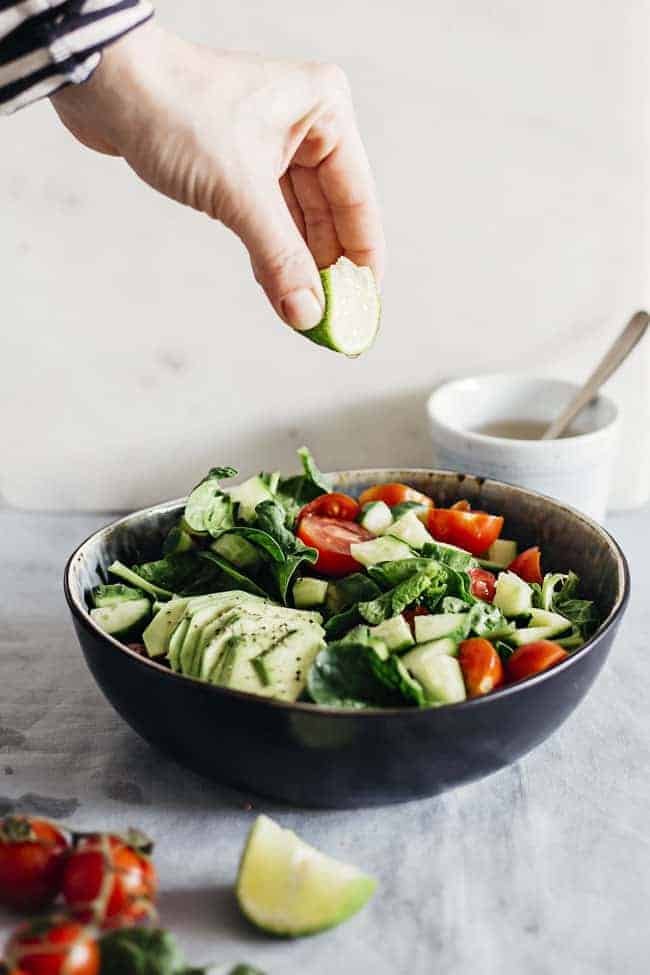 Dinner: Belly Bloat-Busting Salad
Ah – evening, time to unwind. Instead of slumping down on the couch (although tempting), try to do something special for yourself. You're taking care of your body while detoxing, so take care of your mind, too. Exercise, meditate, hit the sauna, or go for a swim. When it comes time for dinner, don't take it to the TV. Try sitting at the table so you can better focus on your meal and avoid overeating.
After trying out this delicious bloat-busting salad, it's time to relax. Take a bath and avoid technology before bed to ensure a restful sleep. Sleep is one of the most important things we can do for our bodies. And, when detoxing, it's essential to make sleep a priority.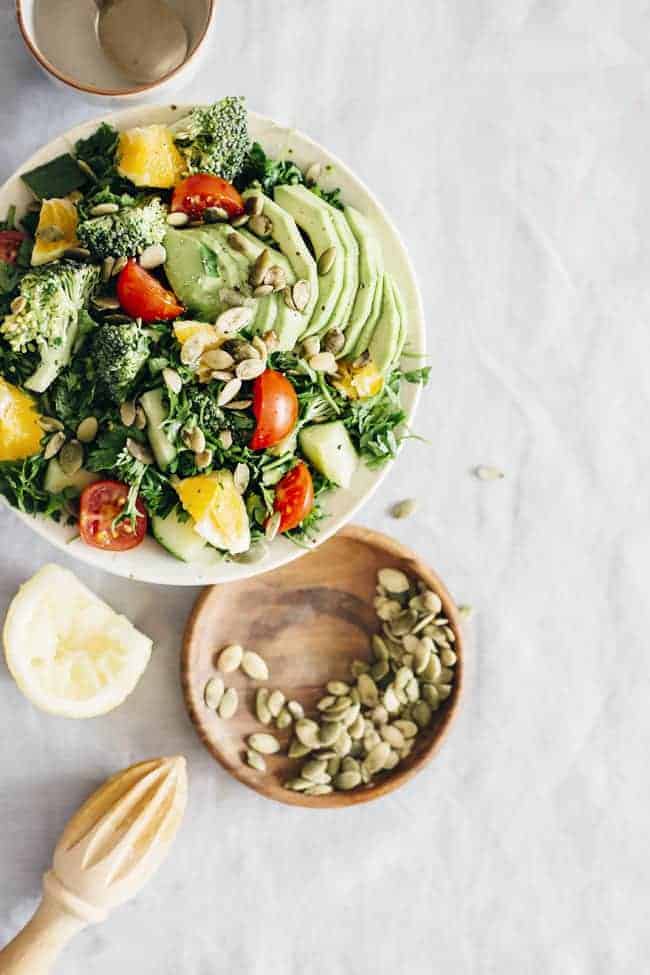 Favorite Flat Belly Snack: Kale Chips
This is our favorite flat belly snack but you can also have a smoothie, green juice, or 15 raw almonds as a snack.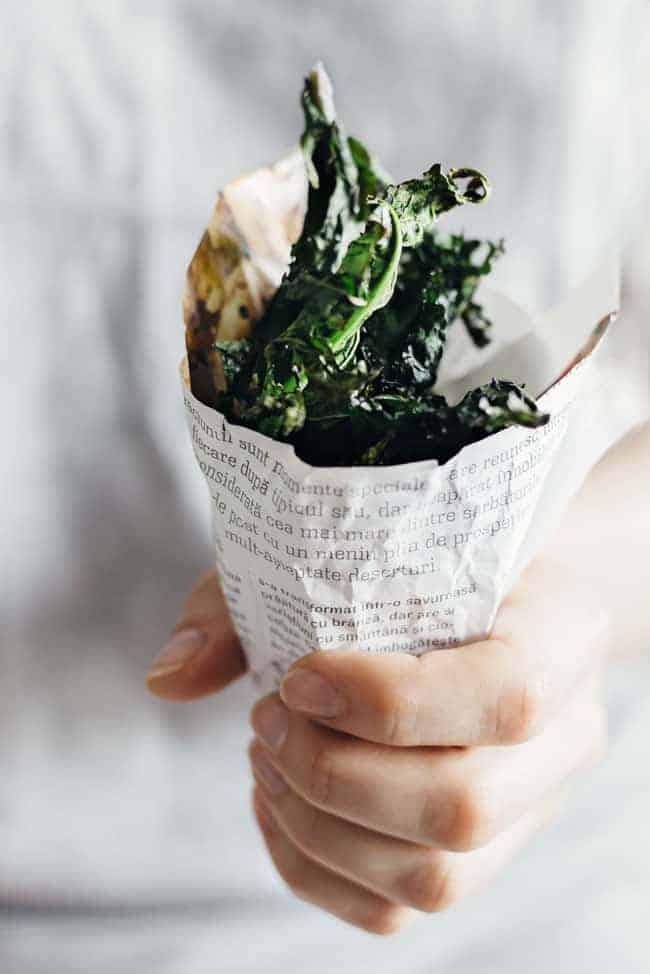 I cannot wait to hear how you feel. I know when I take one day to reset my body, I feel amazing. Imagine how you would feel if you did this plan for a longer period of time.
61