Smoothies are hands-down one of the easiest breakfast options. The stuff mixes by itself while you're checking your phone or applying mascara, and you get a healthy dose of fruits and veggies from the get-go. Plus, you can also sneak in collagen supplements or protein powder without altering the delicious taste! If you use the right combination of ingredients, your morning smoothie will keep you full until lunch, too.
The best thing about protein shakes is that you can take them with you if you're in a rush—and no, you don't need protein powder for a smoothie that keeps you full all morning.
Our favorite morning smoothie is a blend of healthy fats, proteins and carbs:

—½ cup of blueberries (for fiber, carbs, and antioxidants)
—1 cup coconut milk (for fat)
—2 tablespoons of hemp seeds (for protein and omega-3 fats)
—2 scoops collagen protein powder
—Dash of cinnamon to help stabilize blood sugar
12 Filling Breakfast Smoothie Recipes
If you're looking to switch things up, these breakfast smoothie recipes are filling enough to keep you going until lunch.
1. Healthy Pumpkin Pie Smoothie
Start the day with pumpkin pie… in smoothie form! This one is packed with minerals, magnesium, zinc, and high-quality protein your body loves.
Hemp seeds have essential fatty acids (omega-3 and omega-6) along with 3.5 grams of protein per tablespoon [source], while bee pollen contains high-quality proteins, antioxidants, and amino acids [source].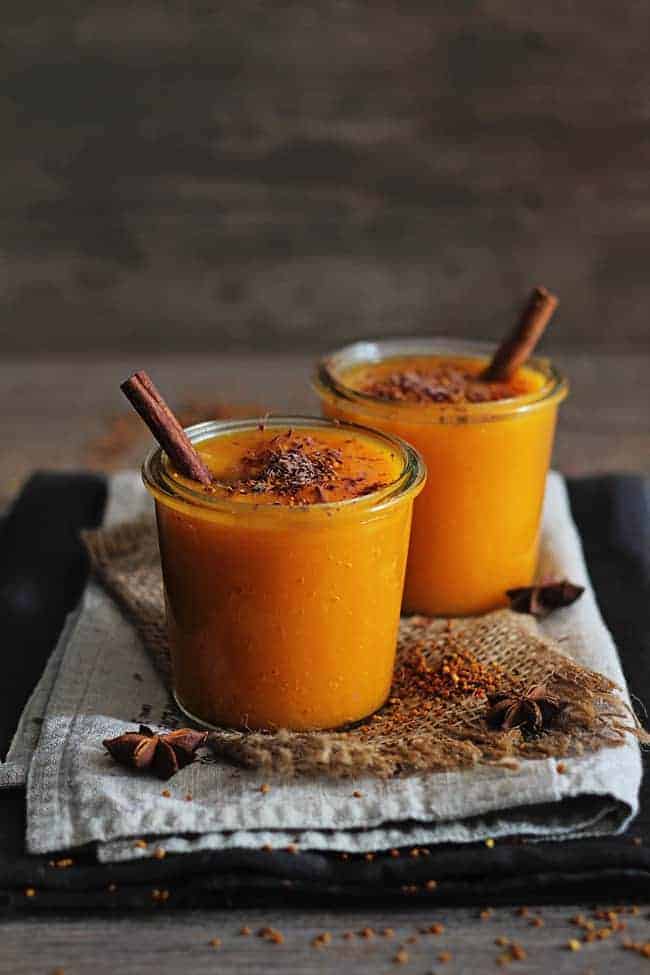 Pumpkin Pie Smoothie Recipe
—1 cup pumpkin, pureed
—½ teaspoon grated ginger
—2 tablespoons raw pumpkin seeds
—1 tablespoon hemp seeds
—1 teaspoon bee pollen
—1 teaspoon coconut oil
—½ teaspoon cinnamon
—½ teaspoon nutmeg
—1 tablespoon organic raw honey
—1 cup filtered water
—1 small piece of chocolate
Place hemp and pumpkin seeds in the blender, add water and process to make a creamy milk.
Add the pureed pumpkin, pollen, spices and honey, and blend for 1 minute, until you obtain a smooth liquid.
Pour in glasses and top with bee pollen and chocolate flakes.
2. Cherry-Kale Protein Smoothie Bowl
A smoothie bowl that will keep you full and satisfied all morning long—no protein powder needed! Almond butter and Greek yogurt are both great sources of protein.
Greek yogurt has around 17 grams per cup! Icelandic skyr is another great option, but it's a good idea to just stick with plain yogurt to keep the sugar content low and sweeten your smoothies naturally with whole fruits. Cottage cheese is another great option.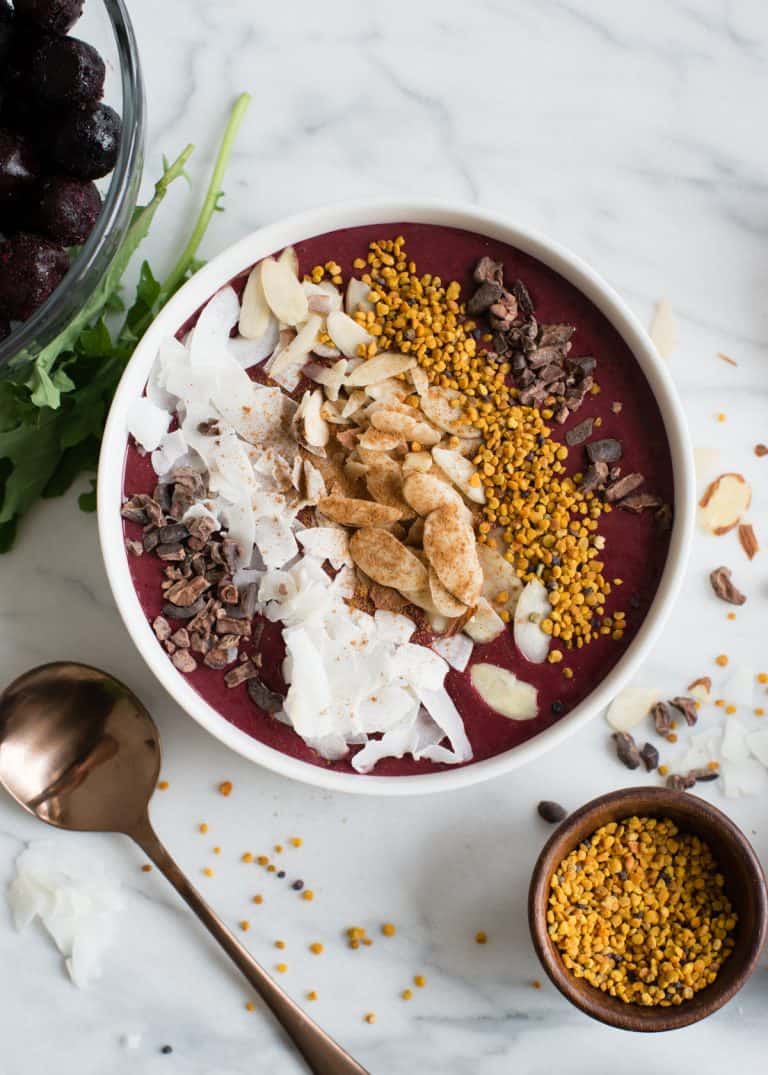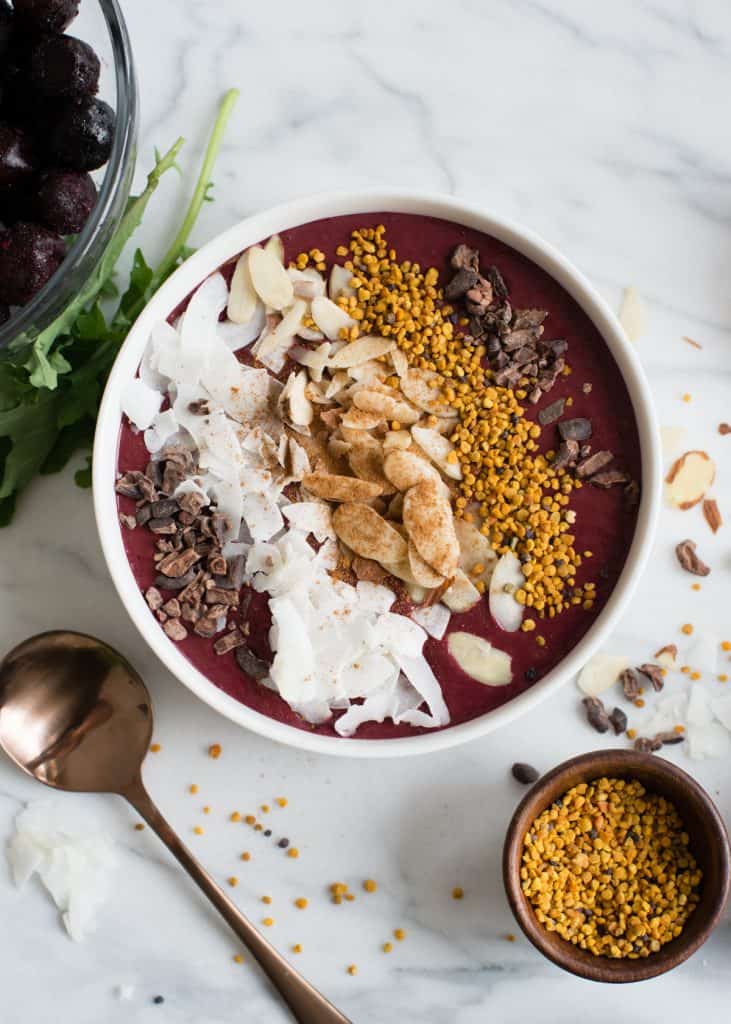 Protein Smoothie Bowl Recipe

—1 cup baby kale or spinach
—½ cup Greek yogurt
—1 ½ cups frozen dark sweet cherries
—1 tablespoon almond butter
—½ teaspoon ground cinnamon
—Toppings: bee pollen, sliced almonds, shredded coconut, cacao nibs
Place kale, Greek yogurt, frozen cherries, almond butter, and cinnamon into a blender. Blend until smooth. You may need to stop the blender and scrape down the sides. If absolutely necessary, add a little water if your blender is having trouble. The mixture is supposed to be thick and spoonable.
Transfer to a shallow bowl. Garnish with desired toppings. Eat immediately.
3. Chocolate Chia Kale Smoothie
For a creamier taste than a typical fruit shake, try this recipe loaded with good-for-you fats and superfood kale greens. One packed cup of kale not only adds vitamin K and folate, but it also provides 3 grams of protein [source] for your drinking pleasure.
Plus, the fiber from the chia seeds keeps you feeling full! Chia seeds contain 2.5 grams of protein per tablespoon and a hefty share of heart-healthy omega-3 fatty acids [source].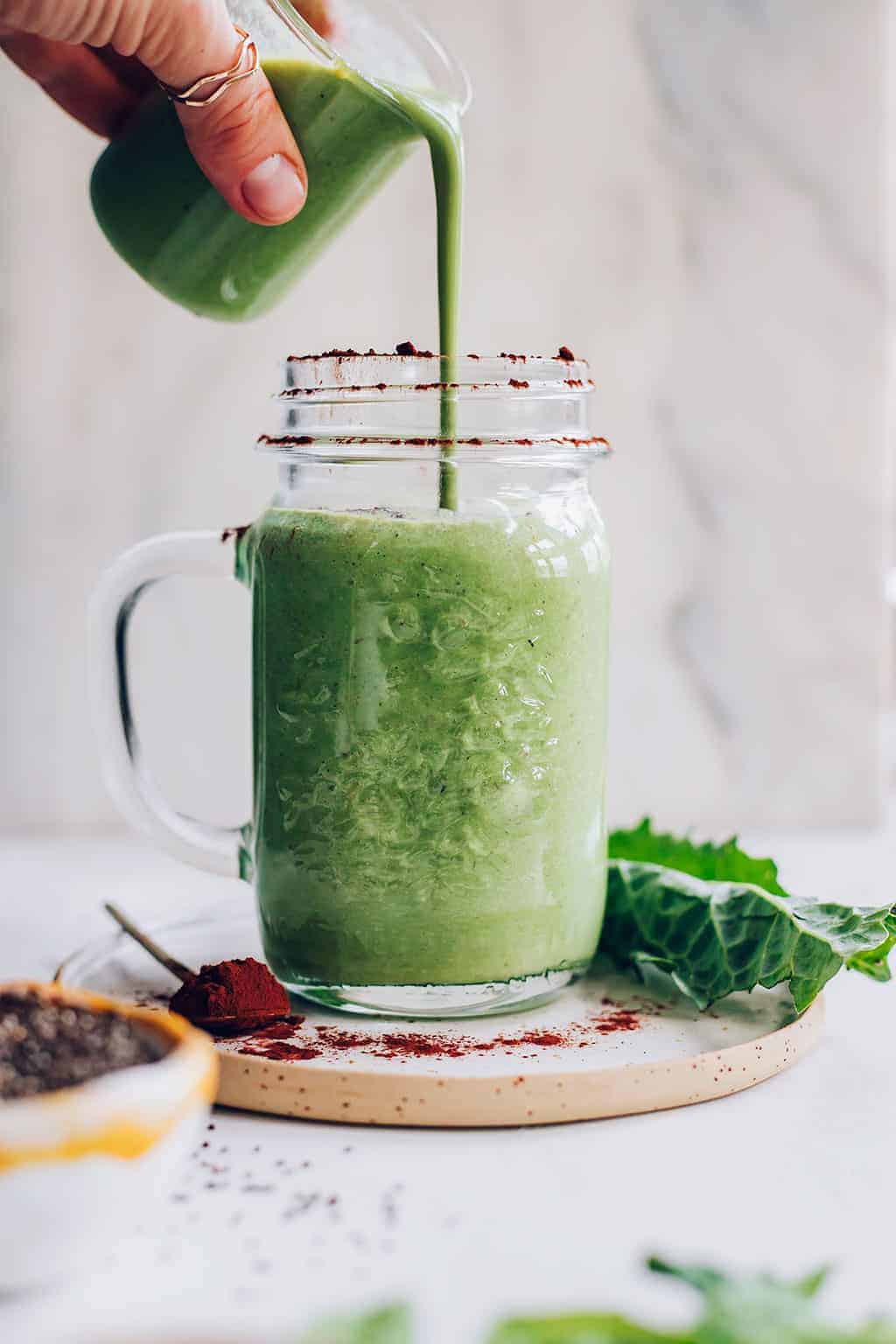 Chocolate Chia Smoothie Recipe

—1 cup ice
—1 cup coconut milk
—2 tablespoons cocoa powder
—2 tablespoons chia seeds
—2 scoops chocolate flavored protein powder
—½ banana, frozen
—Handful of kale
Add all of the ingredients to blender and blend until smooth.
4. Gingerbread Cookie Smoothie
You'll love the creamy goodness of cashew milk in this smoothie recipe that tastes like a cookie! Avocado supplies the good fats that make you feel satisfied while flax and almond butter fill you up with fiber and protein.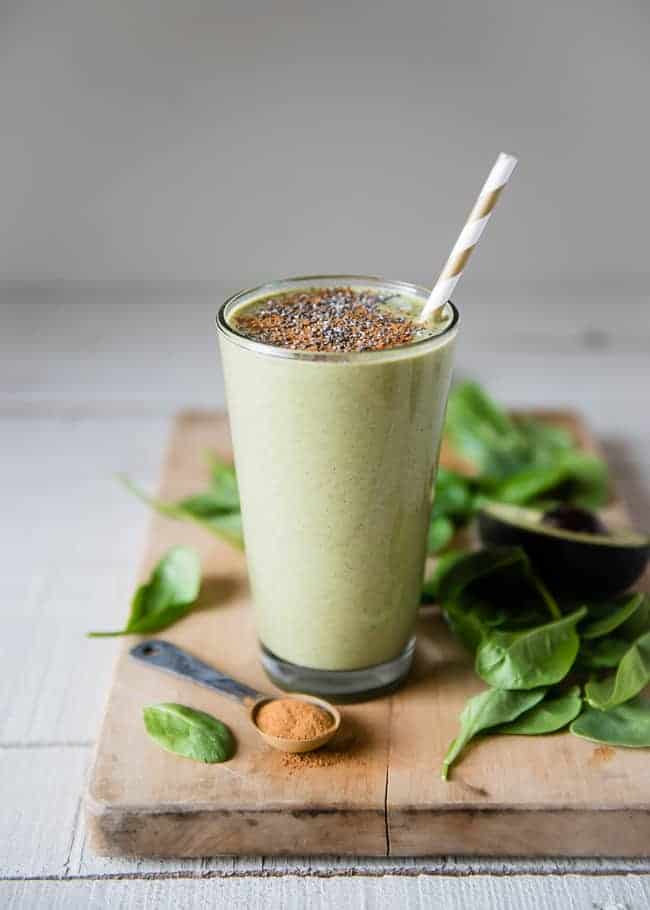 Gingerbread Cookie Smoothie Recipe
—1 cup cashew milk
—1 tablespoon ground flaxseed meal or chia seeds
—1 teaspoon cinnamon
—½ avocado
—1 cup spinach
—1 tablespoon almond butter
—½ banana or stevia to taste (optional)
Add ingredients in a blender and blend thoroughly.
Add ½ frozen banana if desired or a handful of ice. Drink immediately.
5. PB & J Breakfast Smoothie
If you want the taste of a peanut butter and jelly sandwich pretty much all the time… get a lightened-up version in the form of this delicious smoothie!
This vegan peanut butter and jelly smoothie contains simple carbs (from fruit and the optional honey) to get you going in the morning, as well as fiber, protein, and complex carbs from kale, chia seeds, and nut butter that will keep you full for hours.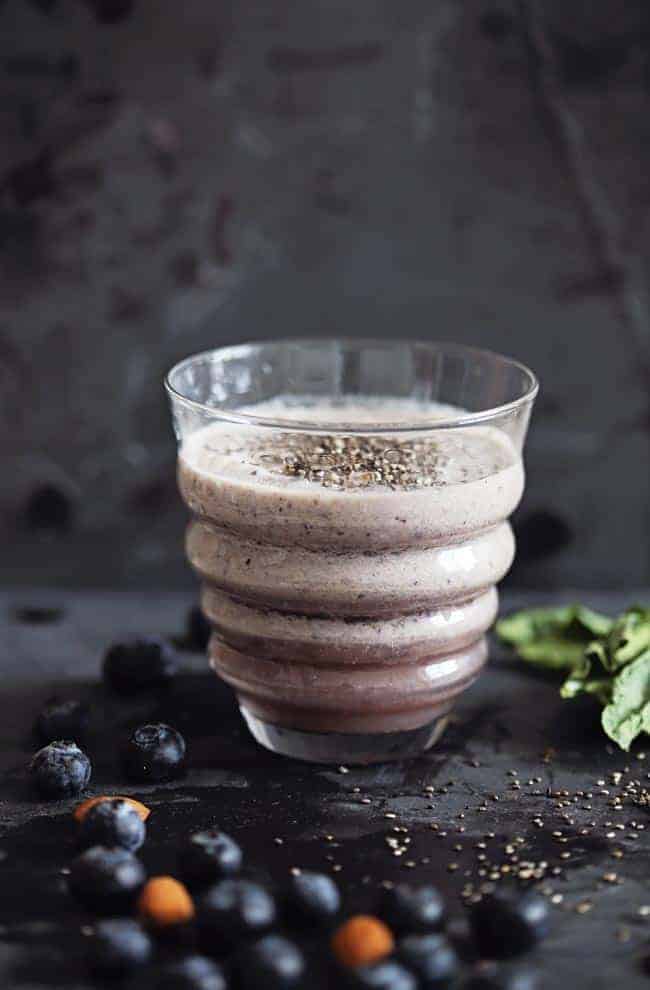 PB & J Breakfast Smoothie Recipe
—1 cup unsweetened non-dairy milk or cold green tea
—1 tablespoon chia seeds
—1 tablespoon peanut or almond butter
—1 cup frozen berries
—½ cup kale
—1 teaspoon honey, if desired (you may want to use more if you opt for the green tea)
Add all ingredients to the blender (place the liquid in first) and blend until smooth.
6. Berry Green Tea Smoothie
A super simple 4-ingredient smoothie loaded with protein, healthy fats and gut-healing probiotics thanks to Greek yogurt, hemp seeds and berries.
Green tea is high in free-radical fighting antioxidants and nutrients, but its super power actually comes from a compound called EGCG. EGCG is an antioxidant that has been shown to have a thermogenic effect on the body which helps increase fat burn in the liver and makes you feel less hungry.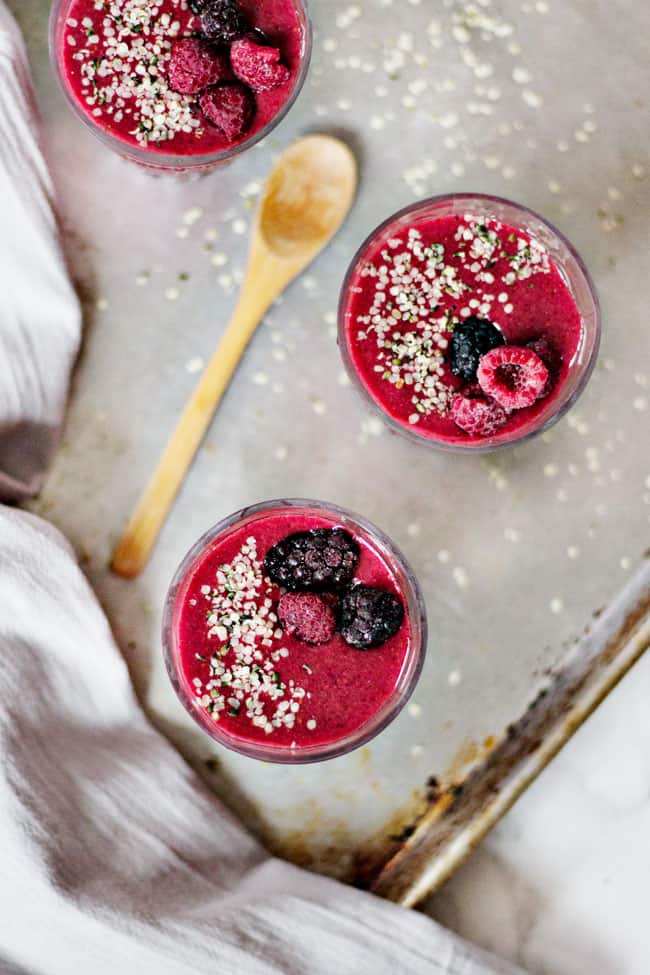 Green Tea + Berry Smoothie Recipe
—¾ cup chilled green tea
—1 ¾ cups frozen mixed berries
—½ cup Greek yogurt
—1 tablespoon hemp seeds
—Banana or raw honey for sweetness, optional
Combine all the ingredients in the base of a blender and blend until smooth. While I prefer my smoothie on the tart side (for the digestive benefits), if you prefer yours a little sweeter you can add banana or raw honey to taste.
Garnish with hemp seeds and drink immediately.
7. Banana Mocha Smoothie
Replace your Starbucks run with this banana mocha smoothie. Banana and cocoa powder make it feel like a treat while coffee revs up your energy and almond butter and collagen powder keep you full.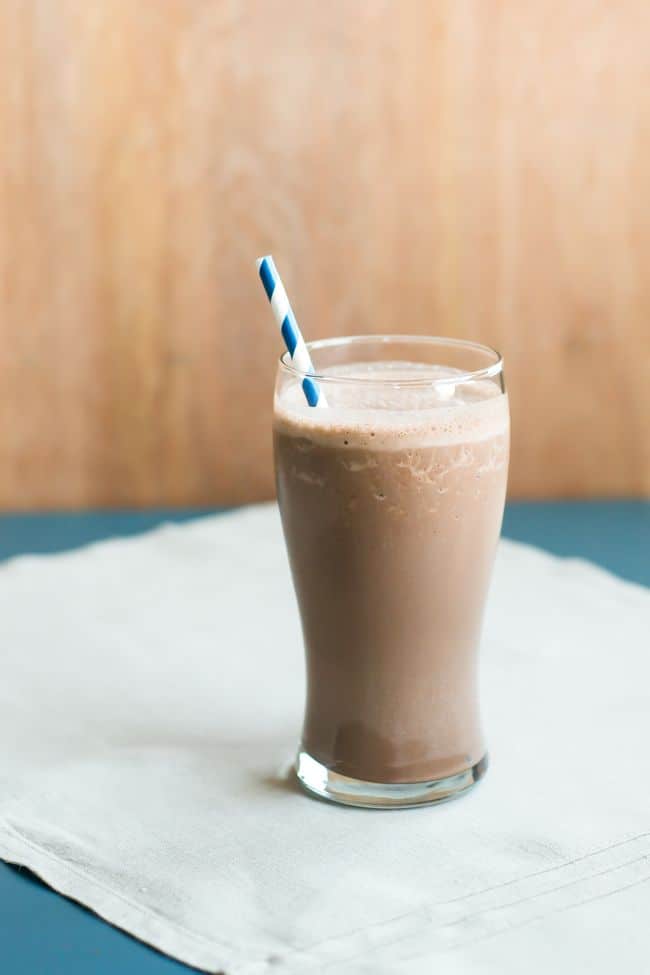 Banana Mocha Smoothie Recipe
—1 banana
—½ cup coffee, cold (great way to use up leftovers)
—½ cup unsweetened almond milk
—1 tablespoon unsweetened cocoa powder
—1 tablespoon almond butter
—2 scoops collagen powder
—Handful of ice cubes
Place all ingredients in blender and blend for about 1 minute or until all ingredients are combined into a smooth texture.
If you want, feel free to leave out the coffee entirely and replace with water or nut milk.
8. Blackberry Coconut Smoothie Bowl
This smoothie gets its gorgeous color from blackberries, but the creamy combo of spinach, banana and coconut milk will power you through the morning until lunch.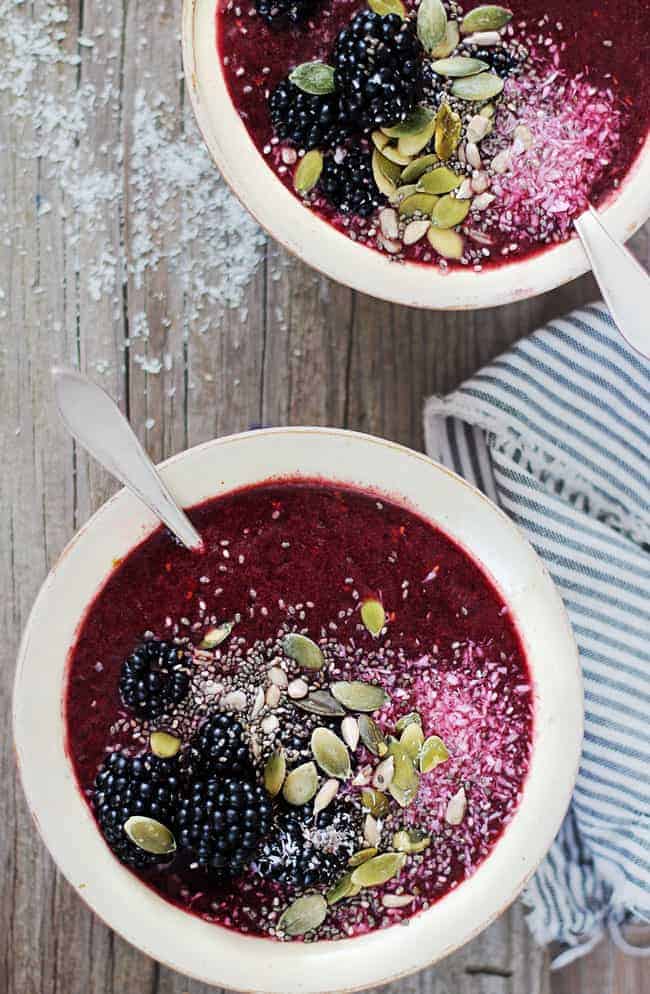 Blackberry Coconut Smoothie Bowl
—1 cup blackberries
—1 ripe banana
—¼ cup coconut flakes, unsweetened
—1 cup coconut milk or yogurt
—2 teaspoons chia seeds
—1 teaspoon raw pumpkin seeds
—½ cup fresh spinach
Add spinach, banana and milk or yogurt in the blender and process until creamy.
Add blackberries (setting aside a few for garnish) and pulse two or three times to incorporate.
Distribute the smoothie evenly in the serving bowls. Garnish with fresh blackberries, top with chia and pumpkin seeds and sprinkle with coconut flakes. Serve right away.
9. Strawberries n' Cream Smoothie Bowl
This smoothie is a protein triple threat with chia, flax and hemp seeds. They nutritional powerhouses are packed with essential fatty acids, protein and nutrients. They're also rich in insoluble fiber which cleanses the digestive tract and reduces sugar cravings.
Berries are high in vitamin C and fiber to keep you feeling full and as well reduce blood sugar spikes and limit insulin-induced weight gain. Plus, spinach adds a boost of green phytonutrients and helps boost veggie intake for the day.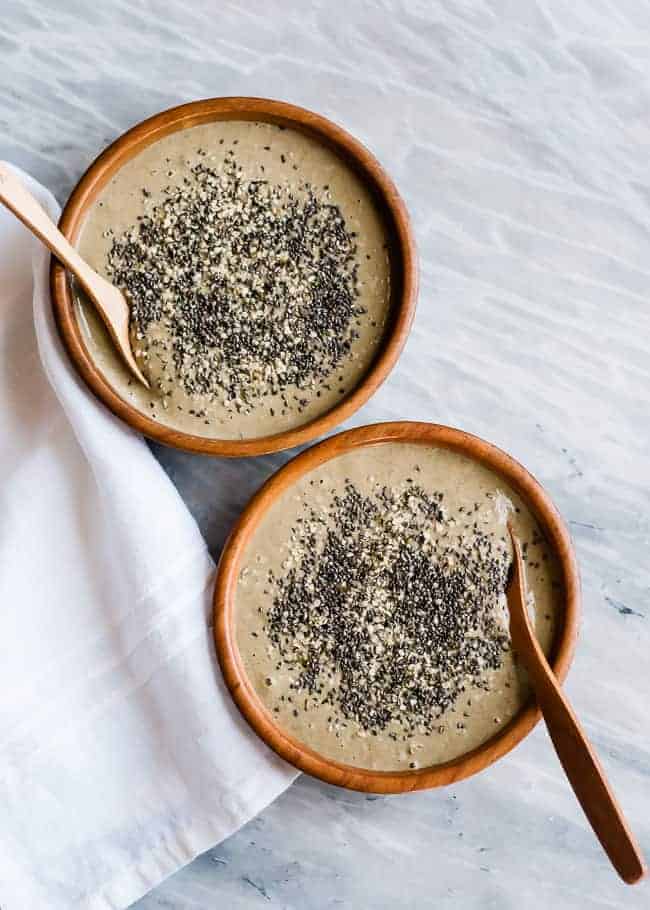 Strawberries Smoothie Bowl Recipe
—1 cup unsweetened almond milk
—1 large ripe banana
—2 cups frozen strawberries
—1 teaspoon vanilla extract
—1 tablespoon chia seeds
—1 tablespoon flax seeds
—1 tablespoon hemp seeds
Put all ingredients in the blender and blend until smooth. Serves 2.
The creamy taste of almond milk combined with nut butter and Greek yogurt makes this smoothie super filling. Plus, the vitamin E and omega-3 fatty acids in almonds are also fantastic for glowing skin and healthy hair.
Nut butters are delicious smoothie mix-ins and stick-to-yer-ribs satiating. They bring along about 4 grams of protein per tablespoon. Add in banana and collagen peptides to keep you full until lunch.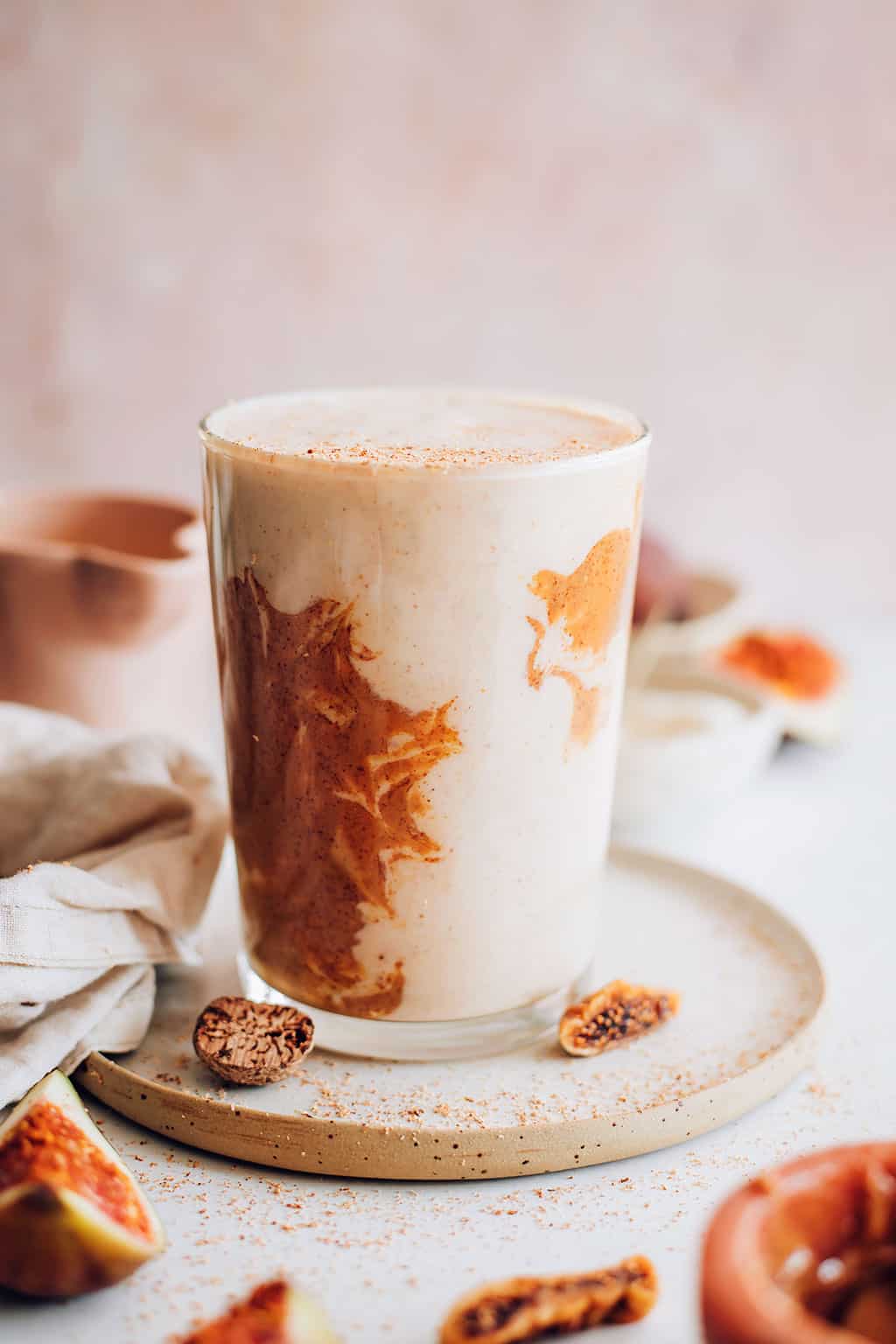 Fig Almond Butter Smoothie for Healthy Hair
This healthy hair smoothie is packed with nutrients that nourish your locks.
Check out this recipe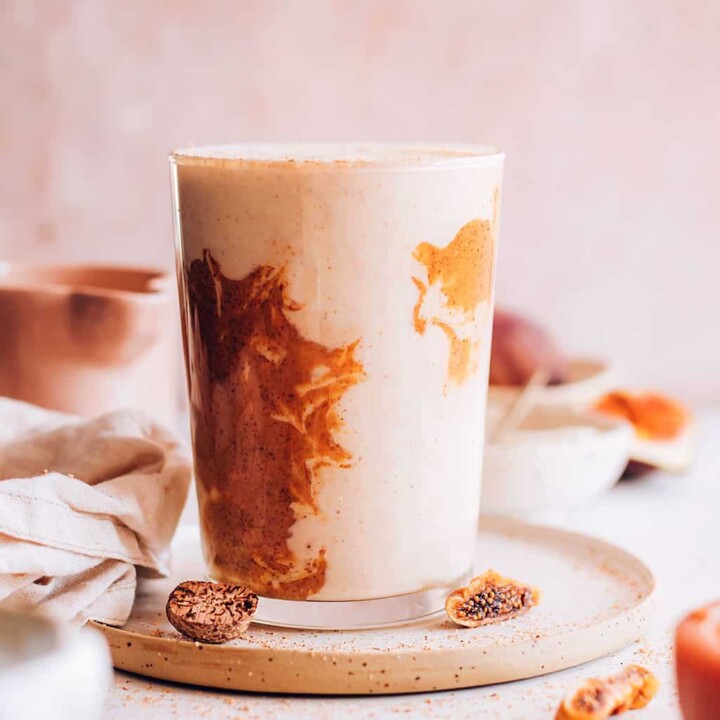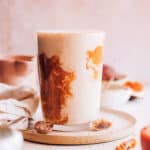 Keep your blood sugar stable with low-glycemic frozen berries, healthy fats, leafy greens, and clean protein. Up the protein with protein powder that encourages muscle recovery, replenishes nutrient stores, and keeps you feeling full longer.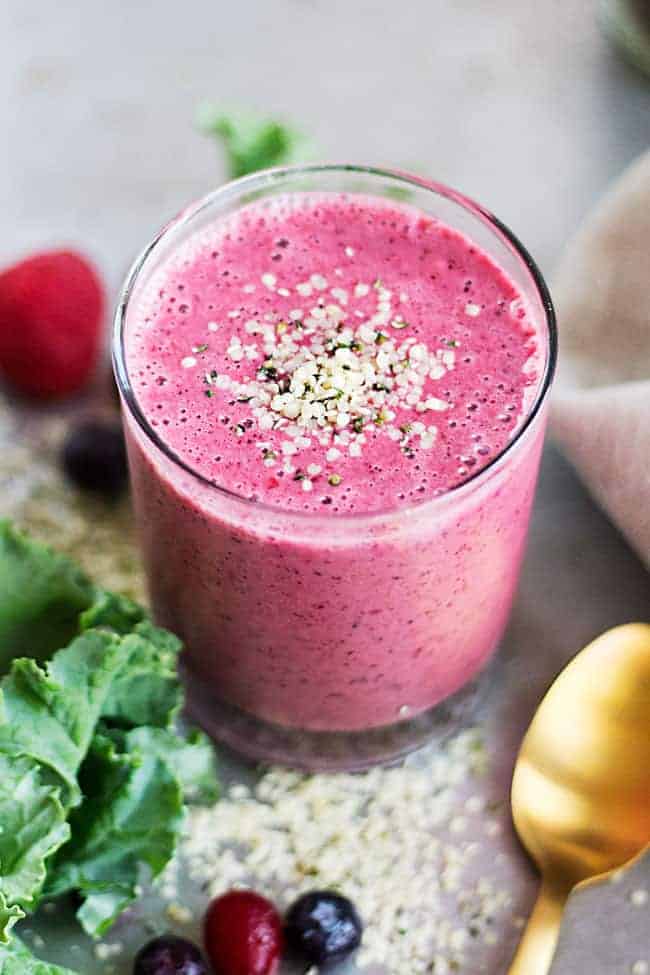 Mixed Berry Protein Smoothie
Healthy fats, fiber, and lots of protein—this smoothie is a satisfying meal in sippable form.
Check out this recipe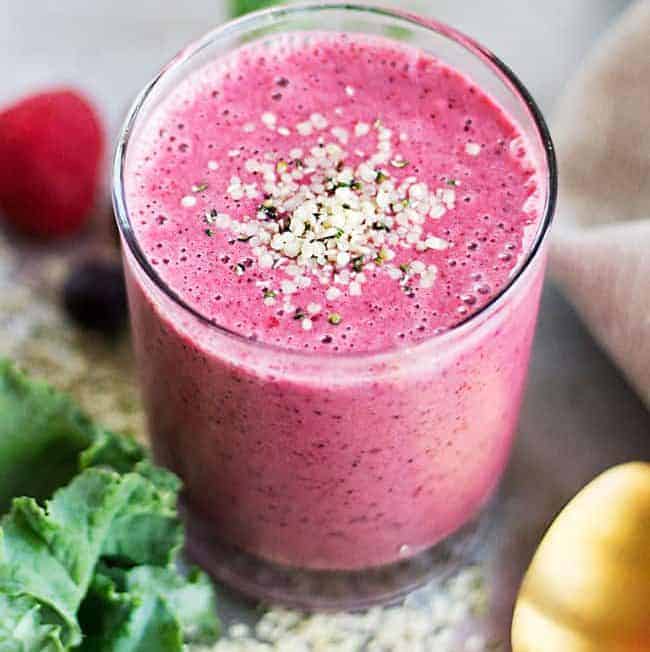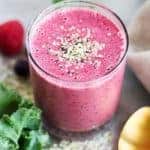 Jennifer Aniston starts her day with this smoothie recipe that includes chocolate, cherries, chia seeds, and collagen. If you don't love protein powder, collagen powder is an excellent alternative. It provides about 9 grams of protein per scoop and is virtually tasteless.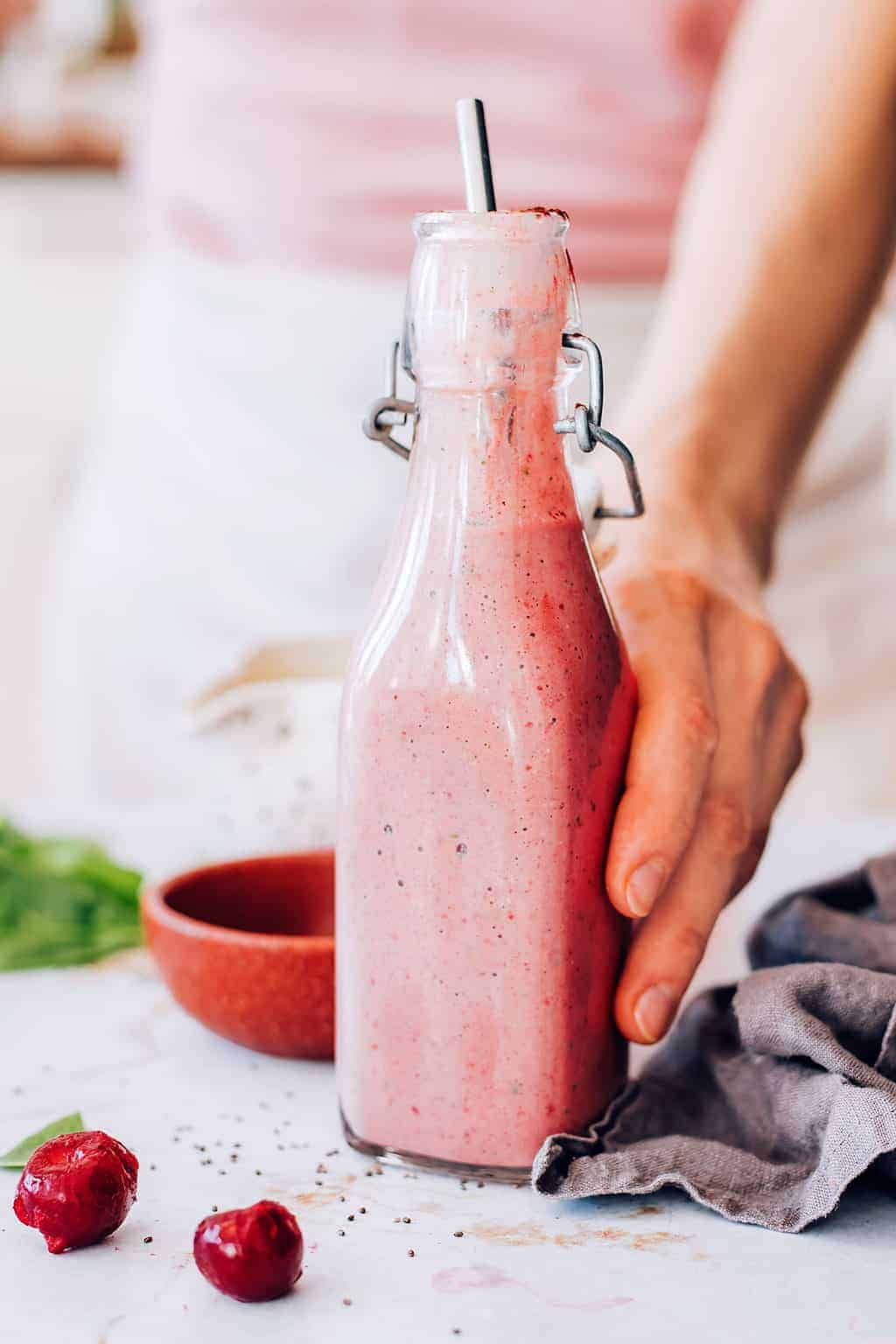 Glowing Chocolate Cherry Smoothie
An easy-to-make smoothie that's well balanced with healthy fat, protein, and carbs.
Check out this recipe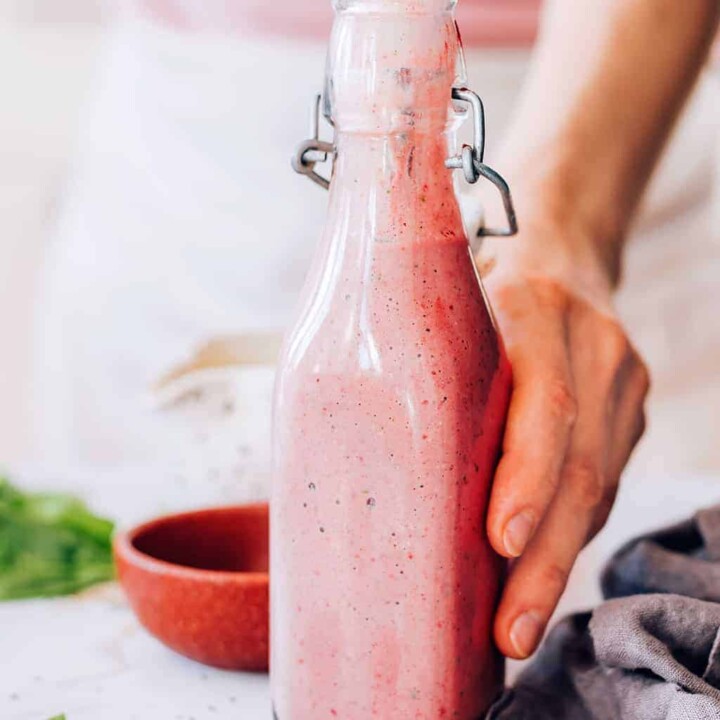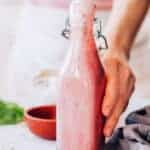 This article was medically reviewed by Dr. Gina Jansheski, a licensed, board-certified physician who has been practicing for more than 20 years. Learn more about Hello Glow's medical reviewers here. As always, this is not personal medical advice and we recommend that you talk with your doctor.
477