Smoothies are hands-down one of the easiest breakfast options. The stuff mixes by itself while you're checking your phone or applying mascara, and you get a healthy dose of fruits and veggies from the get-go. Plus, you can also sneak in collagen supplements or protein powder without altering the delicious taste! If you use the right combination of ingredients, your morning smoothie will keep you full until lunch, too.
The best thing about protein shakes is that you can take them with you if you're in a rush—and no, you don't need protein powder for a smoothie that keeps you full all morning.
Our favorite morning smoothie blends 1/2 cup of blueberries (for fiber, carbs, and antioxidants), coconut milk (for fat), 2 tablespoons of hemp seeds (for protein and omega-3 fats), a scoop of vanilla protein powder, and a dash of cinnamon to help stabilize blood sugar.
7 Filling Breakfast Smoothie Recipes
If you're looking to switch things up, these breakfast smoothie recipes are filling enough to keep you going until lunch.
The creamy taste of almond milk combined with nut butter and Greek yogurt makes this smoothie super filling. Plus, the vitamin E and omega-3 fatty acids in almonds are also fantastic for glowing skin and healthy hair.
Nut butters are delicious smoothie mix-ins and stick-to-yer-ribs satiating. They bring along about 4 grams of protein per tablespoon. Add in banana and collagen peptides to keep you full until lunch.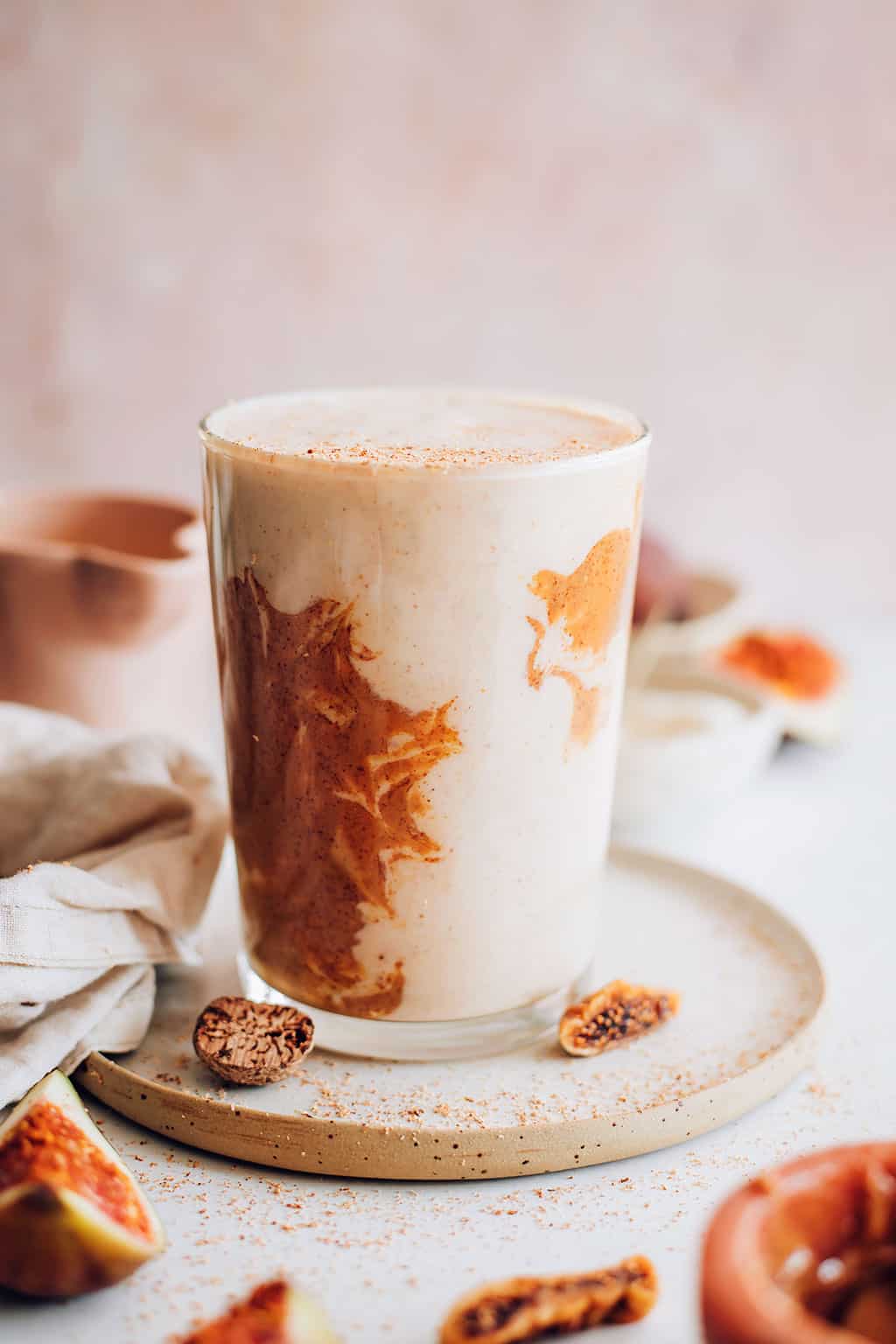 Fig Almond Butter Smoothie for Healthy Hair
This healthy hair smoothie is packed with nutrients that nourish your locks.
Check out this recipe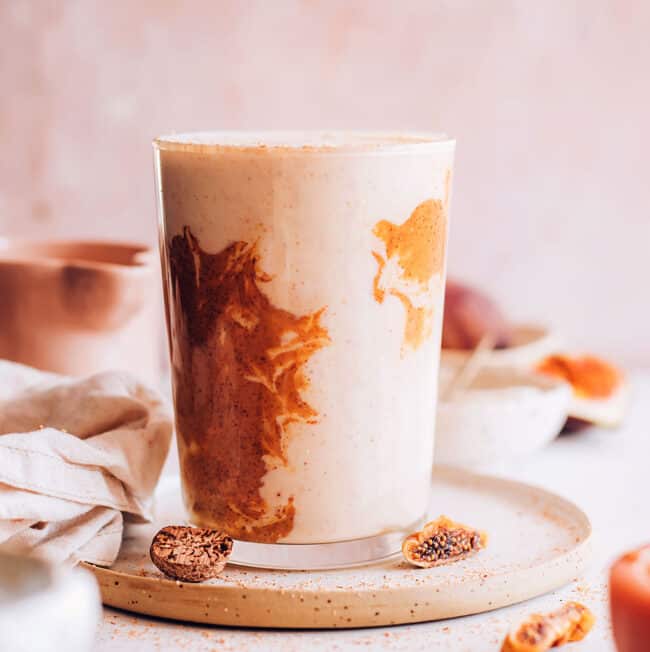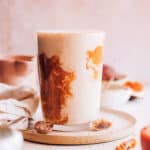 Start the day with pumpkin pie… in smoothie form! This one is packed with minerals, magnesium, zinc, and high-quality protein your body loves.
Hemp seeds have essential fatty acids (omega-3 and omega-6) along with 3.5 grams of protein per tablespoon [source], while bee pollen contains high-quality proteins, antioxidants, and amino acids [source].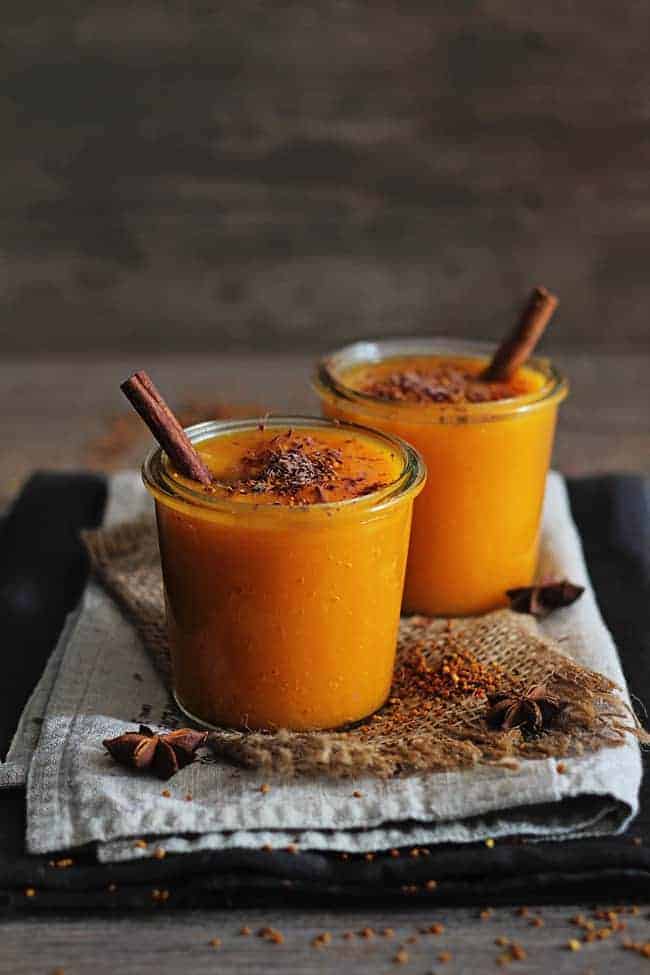 Protein Power Pumpkin Pie Smoothie
A pumpkin spice smoothie packed with protein, perfect after a workout but also as a healthy dessert or breakfast.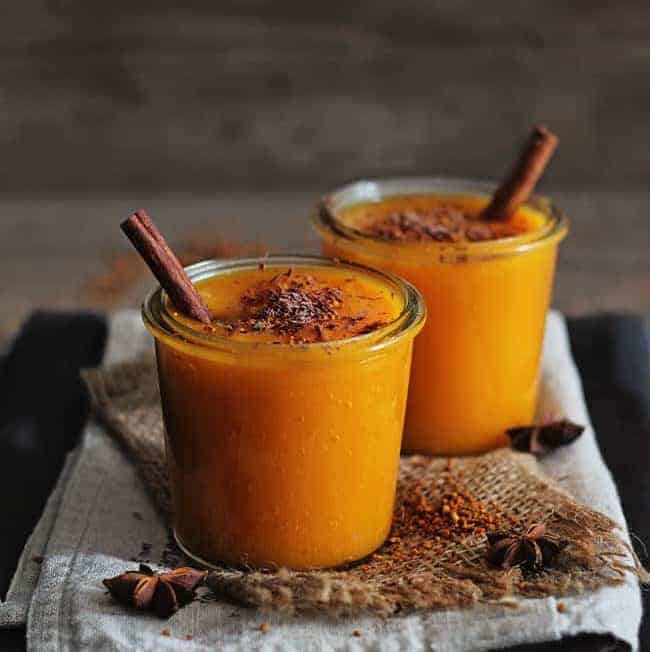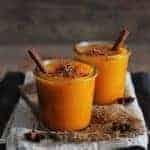 A smoothie bowl that will keep you full and satisfied all morning long—no protein powder needed! Almond butter and Greek yogurt are both great sources of protein.
Greek yogurt has around 17 grams per cup! Icelandic skyr is another great option, but it's a good idea to just stick with plain yogurt to keep the sugar content low and sweeten your smoothies naturally with whole fruits. Cottage cheese is another great option.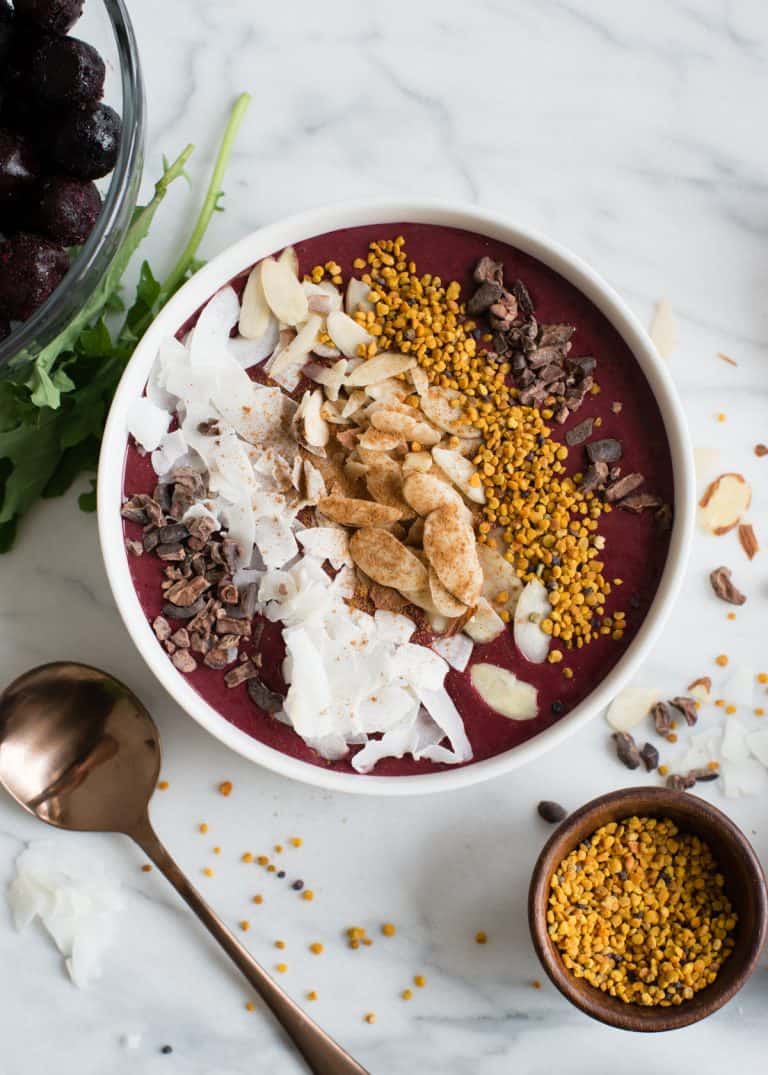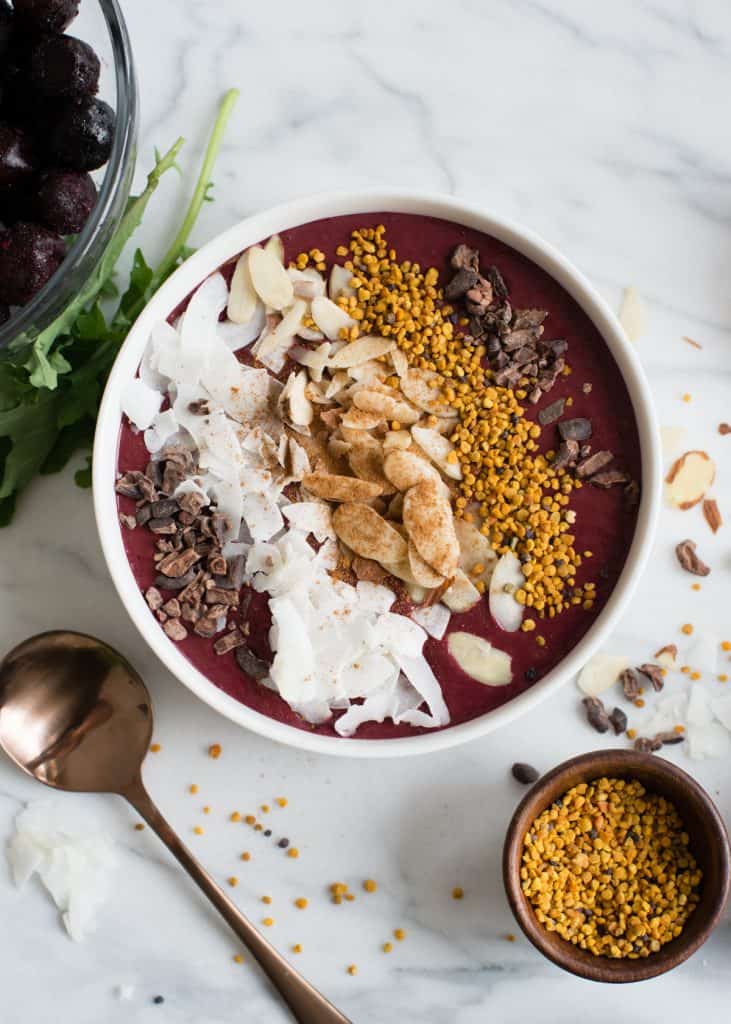 Cherry-Kale Protein Smoothie Bowl
This sweet and ruby-hued cherry smoothie bowl is full of vitamins, minerals, antioxidants, fiber, and protein. Oh, and it's absolutely delicious too!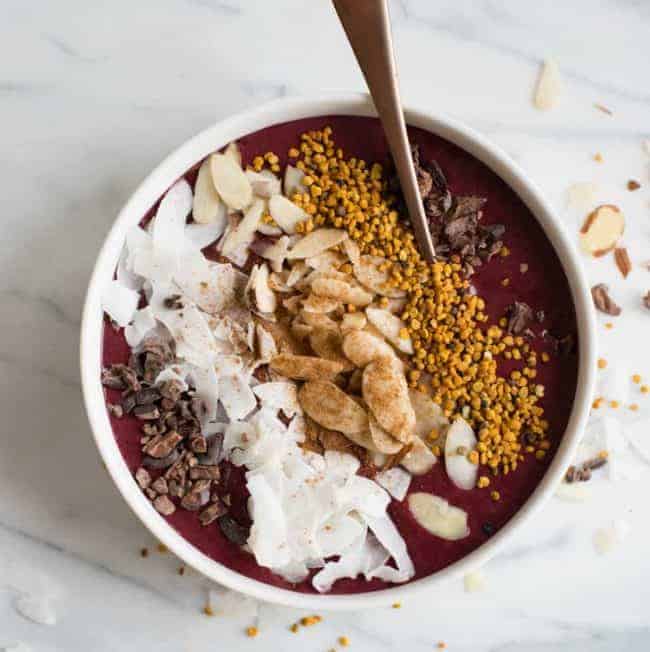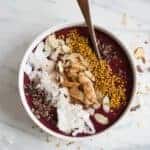 Keep your blood sugar stable with low-glycemic frozen berries, healthy fats, leafy greens, and clean protein. Up the protein with protein powder that encourages muscle recovery, replenishes nutrient stores, and keeps you feeling full longer.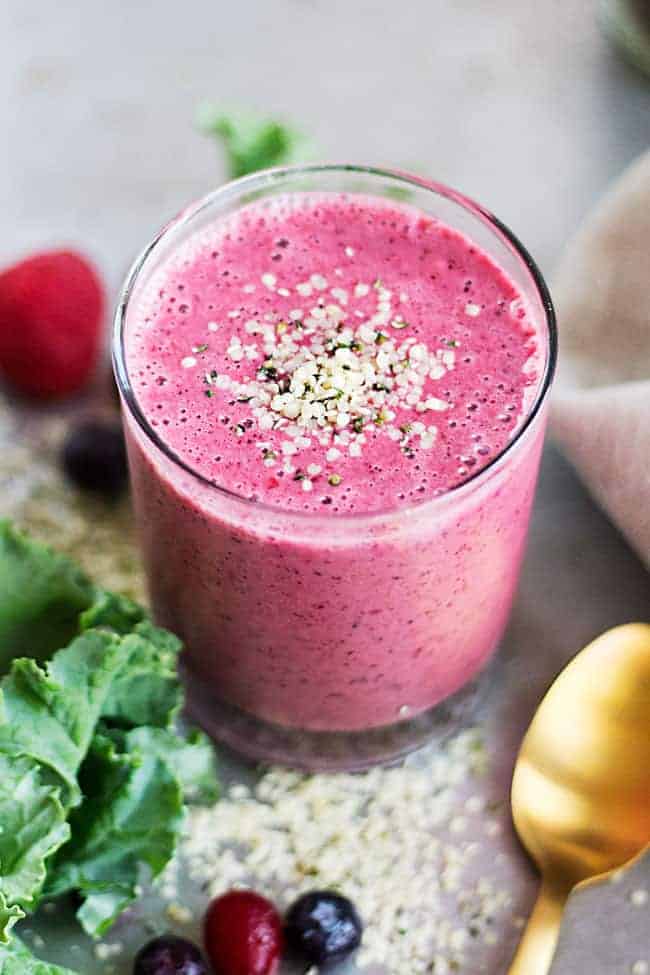 Mixed Berry Protein Smoothie
Healthy fats, fiber, and lots of protein—this smoothie is a satisfying meal in sippable form.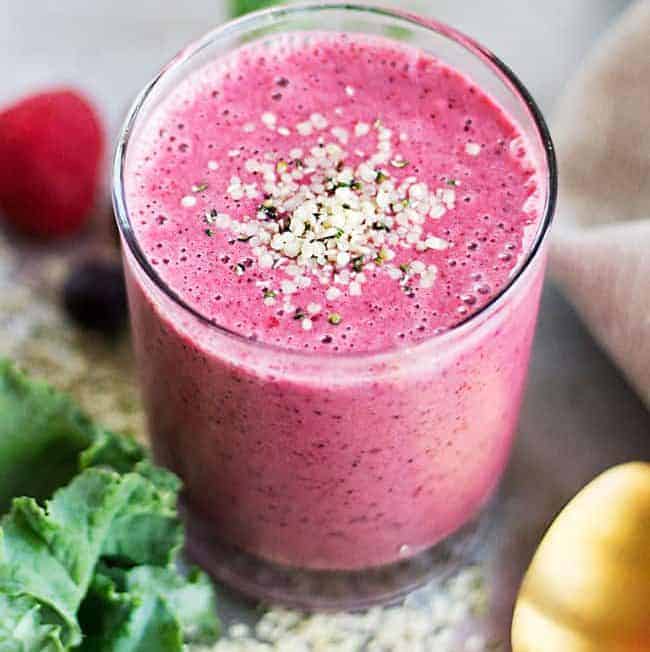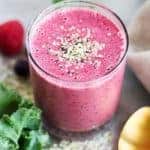 For a creamier taste than a typical fruit shake, try this recipe loaded with good-for-you fats and superfood kale greens. One packed cup of kale not only adds vitamin K and folate, but it also provides 3 grams of protein [source] for your drinking pleasure.
Plus, the fiber from the chia seeds keeps you feeling full! Chia seeds contain 2.5 grams of protein per tablespoon and a hefty share of heart-healthy omega-3 fatty acids [source].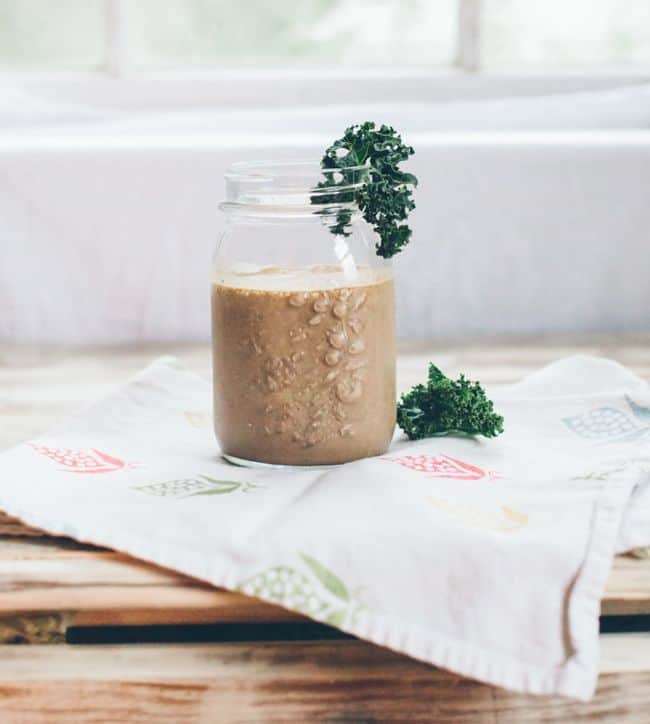 4 Kale Beauty Smoothie Recipes
A creamy (and decadent tasting) smoothie with plenty of fiber to keep you full.
Check out this recipe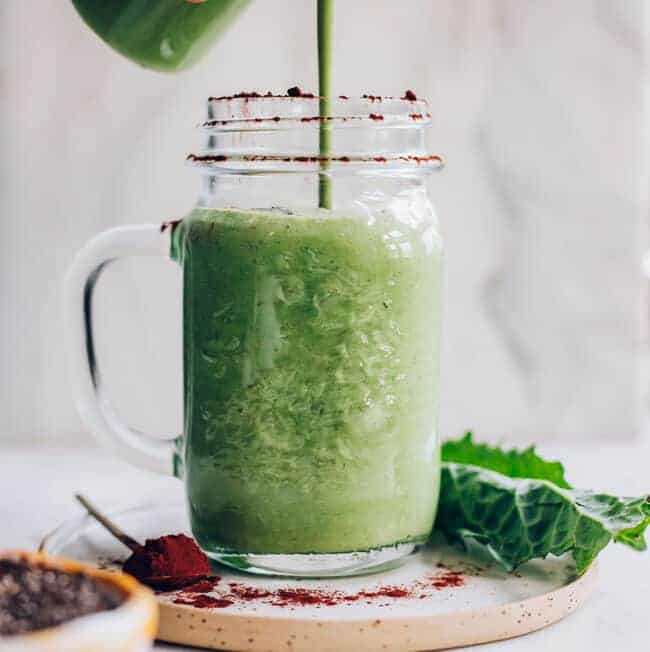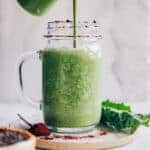 Jennifer Aniston starts her day with this smoothie recipe that includes chocolate, cherries, chia seeds, and collagen. If you don't love protein powder, collagen powder is an excellent alternative. It provides about 9 grams of protein per scoop and is virtually tasteless.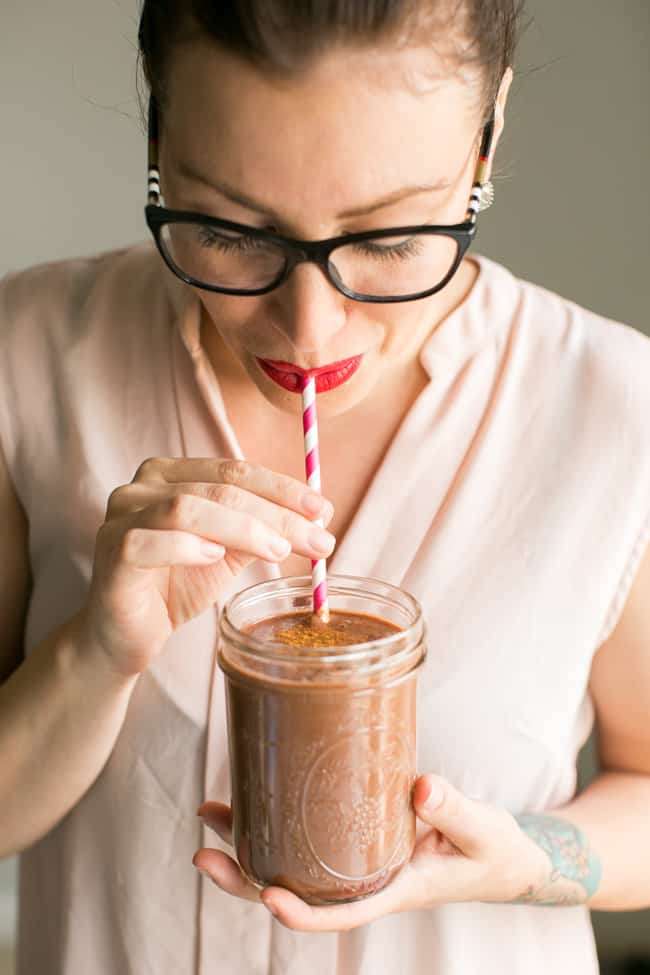 Glowing Chocolate Cherry Smoothie
An easy-to-make smoothie that's well balanced with healthy fat, protein, and carbs.
Check out this recipe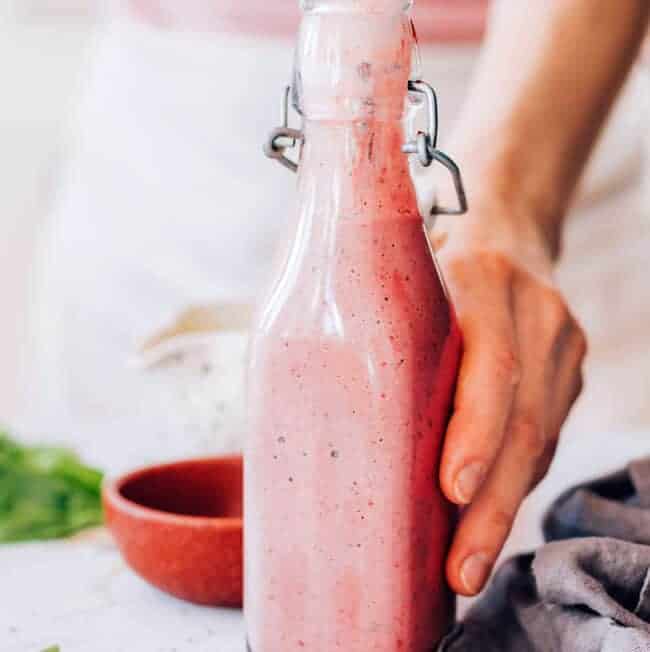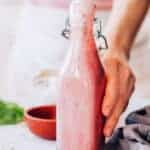 7. PB & J Breakfast Smoothie
If you want the taste of a peanut butter and jelly sandwich pretty much all the time… get a lightened-up version in the form of this delicious smoothie! This vegan peanut butter and jelly smoothie contains simple carbs (from fruit and the optional honey) to get you going in the morning, as well as fiber, protein, and complex carbs from kale, chia seeds, and nut butter that will keep you full for hours.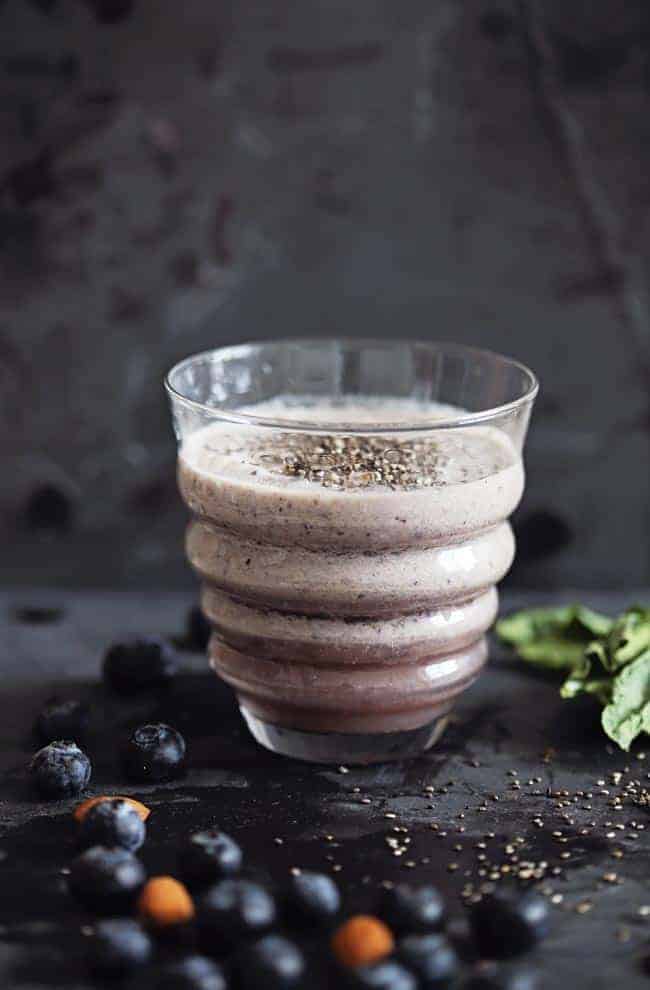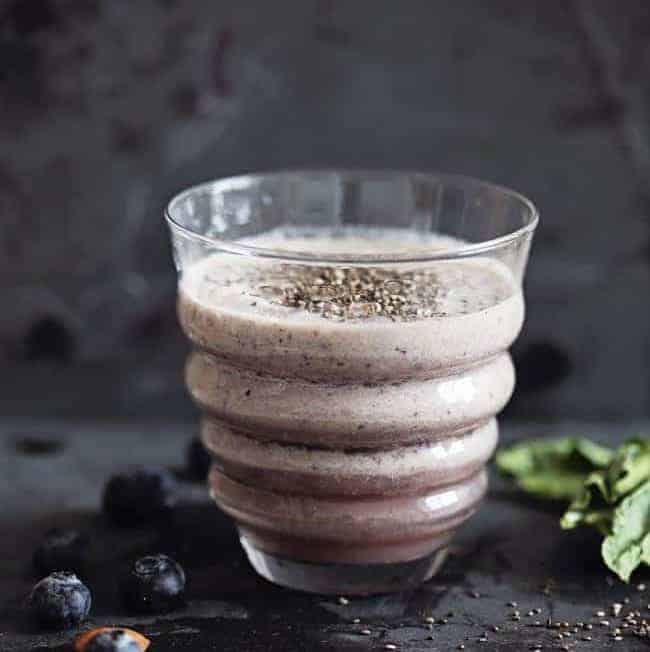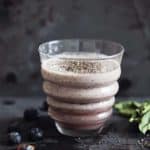 Print Recipe
PB&J Energy Smoothie
For an easy breakfast on the go, this vegan peanut butter and jelly energy smoothie will keep your energy going all morning long.
Ingredients
1

cup

unsweetened non-dairy milk OR cold green tea

1

tablespoon

chia seeds

1

tablespoon

peanut or almond butter

1

cup

berries

frozen will thicken the smoothie

½

cup

kale

1

teaspoon

honey

if desired (you may want to use more if you opt for the green tea)
Instructions
Add all ingredients to blender (place liquid in first) and blend until smooth.
Notes
If not drinking immediately, store in a covered glass jar in the freezer, then thaw in the refrigerator the night before serving.
This article was medically reviewed by Dr. Gina Jansheski, a licensed, board-certified physician who has been practicing for more than 20 years. Learn more about Hello Glow's medical reviewers here. As always, this is not personal medical advice and we recommend that you talk with your doctor.
473