Few experiences compare to a relaxing bath after a long, stressful day. As you slip your body into the hot water and lay your head back, that feeling can certainly fade any remaining stress away [source]. Why not embrace this glorious moment by also helping to detoxify your body and soften your skin?
Best Bath Ingredients
One of the best parts of a bath is the variety. We've put together a guide to drawing a better bath and most of the ingredients you probably already have in your home!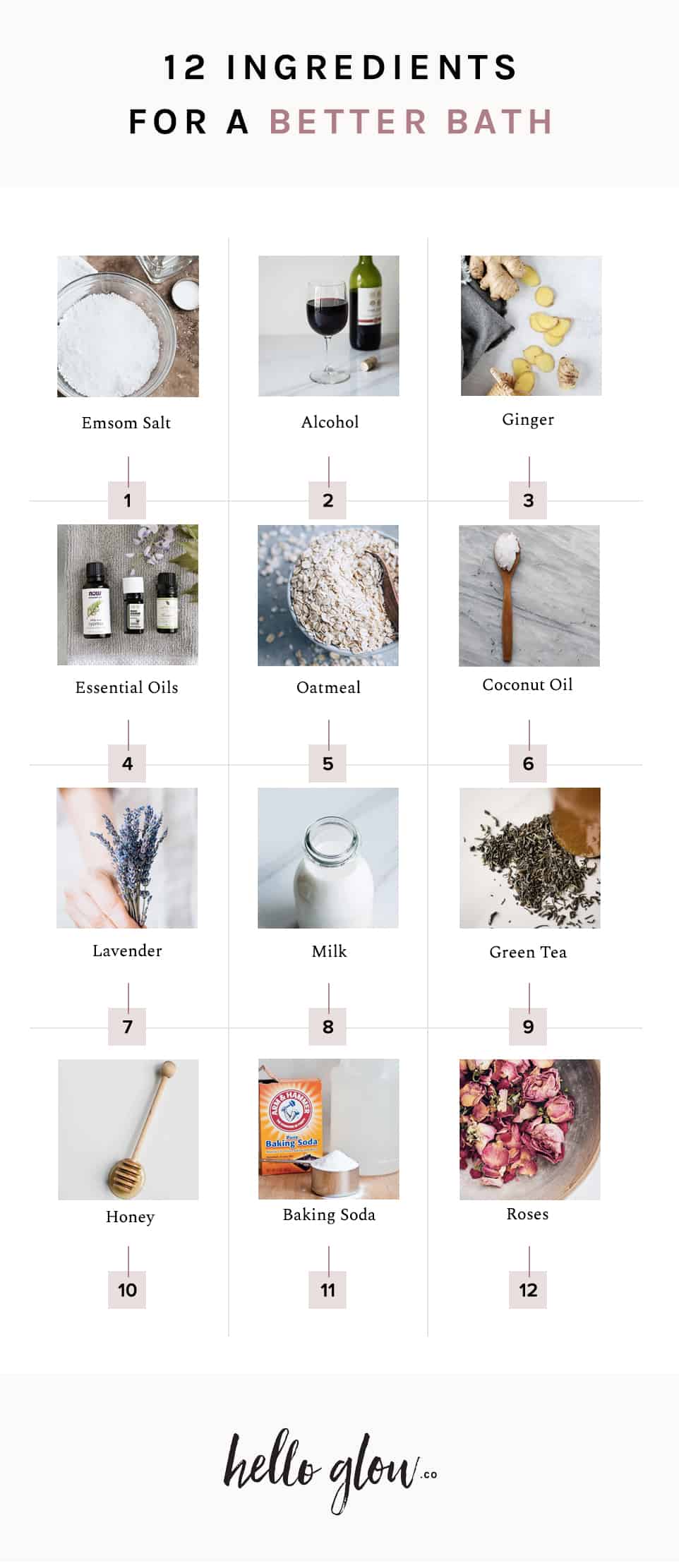 1. Epsom salt
Wonderful at easing muscle soreness and relieving tension, Epsom salt can be added to almost any bath salts recipe. It's also a good source of magnesium [source] and makes skin soft and smooth.
2. Alcohol
It's not just for happy hour! Both the anti-aging properties and the polyphenols in alcohol can reduce inflammation and redness. Try a red wine bath soak or a bubbly champagne bath to reap the benefits. Just make sure to rinse off well when you're done!
3. Ginger
If you're battling headaches or need a good detox bath, ginger (freshly grated or ground) is just the ingredient you'll need. It causes toxins to be released through sweat and will leave you feeling cleansed. It also helps you sweat out aches from a cold or flu, and clears up chest and nasal congestion [source]. Note that ginger can cause sensitive skin to react, so test it on your skin first
4. Essential Oils
The perfect way to tailor your bath for your needs, this guide to essential oils for gorgeous skin is the key! Lavender, rose, vetiver, chamomile, or sandalwood essential oils will help calm you down after a long day.
You can add essential oils to bath salts for their aromatherapy benefits. If you want to add them to your bath, they will need to be diluted in a carrier oil or emulsifier first. All the instructions you need for doing that can be found here.
5. Oatmeal
If you're suffering from itchy or irritated skin, oatmeal is very soothing to add to your bath [source]. If anyone in your house gets poison ivy or sunburn, this is a great way to treat it.
6. Coconut Oil
One of the best bath ingredients for soft skin, coconut oil has antimicrobial, anti-inflammatory, antiparasitic, and antifungal properties [source]. Mix a tablespoon of coconut oil into running water to moisturize and soften during your bath. Or, use coconut oil in one of these 101 ways!
7. Lavender
Noted as one of the most relaxing herbs [source], lavender would be the perfect choice to wind down and ensure a good night's sleep. Dried lavender or lavender essential oil can be used in your next soak (see the link in #4 above for instructions on safely adding EOs to the bath).
8. Milk
The lactic acid in milk is both exfoliating and softening for our skin—it's even said to be a great remedy for eczema. This milk bath is simple, with only three ingredients. If you are sensitive to milk, try substituting with coconut milk. Just make sure to rinse off well when you're done!
9. Tea
Adding a few tea bags to your bath is an easy recipe for reviving skin. Green tea is a perfect choice for helping your skin fight the effects of the environment and aging [source], and chamomile is a great before-bed relaxer [source].
10. Honey
Moisturizing, anti-aging, and antibacterial [source], honey is a powerhouse for our skin! This honey bubble bath recipe is just the ticket if you need some extra bubbles.
11. Baking Soda
Both soothing and detoxifying for your skin, baking soda is a simple ingredient to add to your next bath after a hard workout. It's also a natural exfoliant and can help fight acne. Get creative and make a fun bath bomb using baking soda.
12. Roses
They aren't just sweet to smell and equally decadent, but rose petals and rose water are also antibacterial, anti-inflammatory, and moisturizing [source]. Try a rose milk bath next time you need a little indulgence.
This post was medically reviewed by Dr. Jennifer Haley, a board-certified dermatologist with extensive experience in medical, cosmetic, and surgical dermatology. Learn more about Hello Glow's medical review board here. As always, this is not personal medical advice, and we recommend that you talk with your doctor.
796