In my opinion chia seed pudding is probably one of the easiest and pretty nutritious breakfast you can make in just a few minutes, doesn't require cooking skills or efforts and it's perfect for those times when you are on the run. I love the way these tiny chia seeds turn into a pudding just by being mixed with my favourite vegan milk. Proteins, fibre, omega 3 and minerals – they are all concentrated into the chia seeds, making the chia pudding a healthy way to start the day fuelled with nutrients to support your body cells activity.
I also love its versatility – the chia pudding crunch pairs perfectly with creamy nut butters, stewed fruits, quick berry jams, fresh fruits or vegan caramel – the combinations are endless!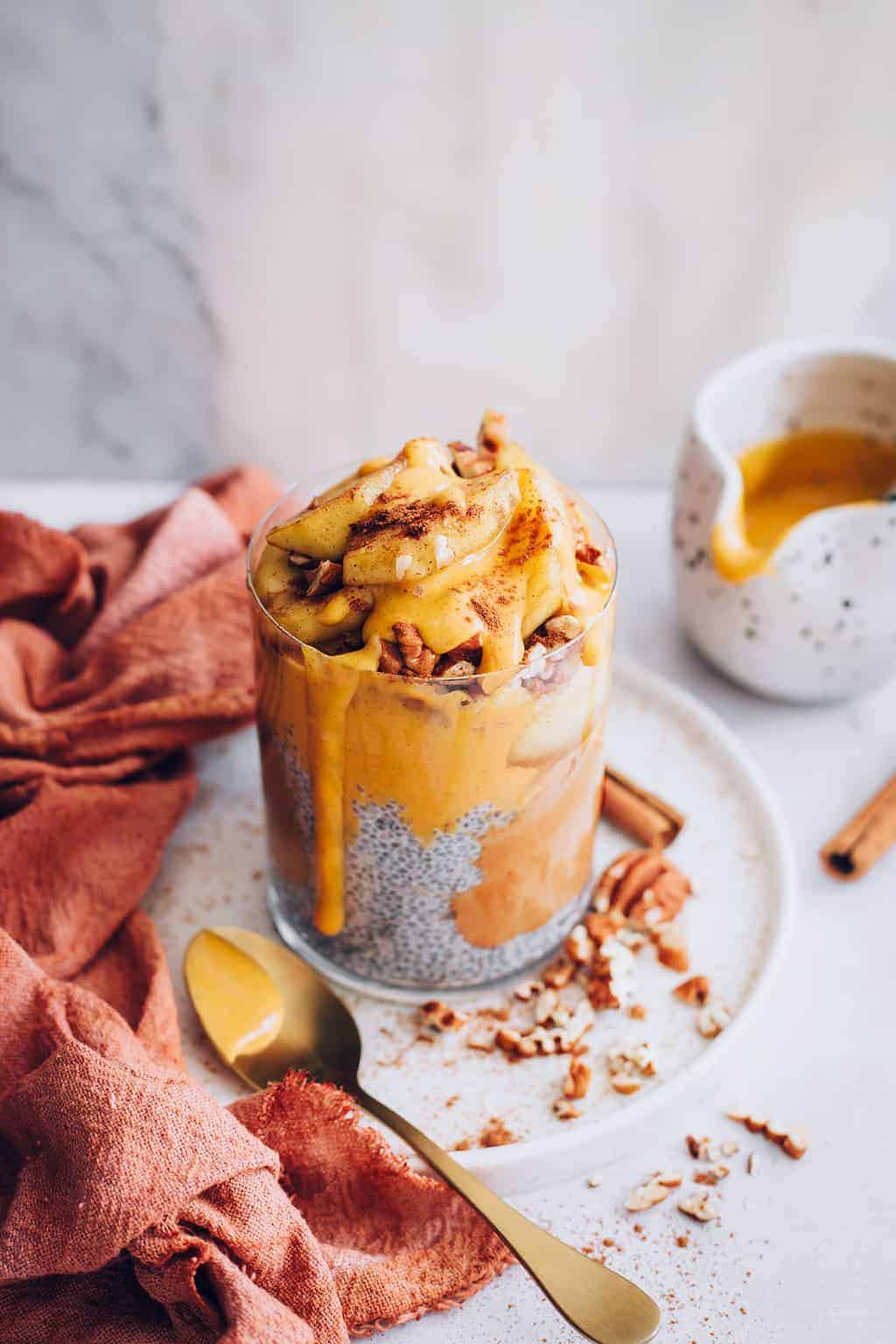 How to make chia seed pudding
There is nothing easier than making chia pudding! It basically requires the simple action of stirring altogether the chia seeds and the vegan milk. Any other ingredient is optional – sweetener or toppings. After you make your chia pudding the first time, you will probably tell yourself – that easy? this is going to become my favourite breakfast to-go!
If you are wondering how to thicken my chia pudding, the answer is basic – it will thicken itself. Chia seeds contain soluble fibre that absorb several times their weight in liquid, creating a jelly that stays together just like magic. The whole idea is to add enough chia seeds and enough milk to make sure the seeds have enough liquid to absorb, while also not getting a loose pudding. Here are the simple steps of making a chia pudding: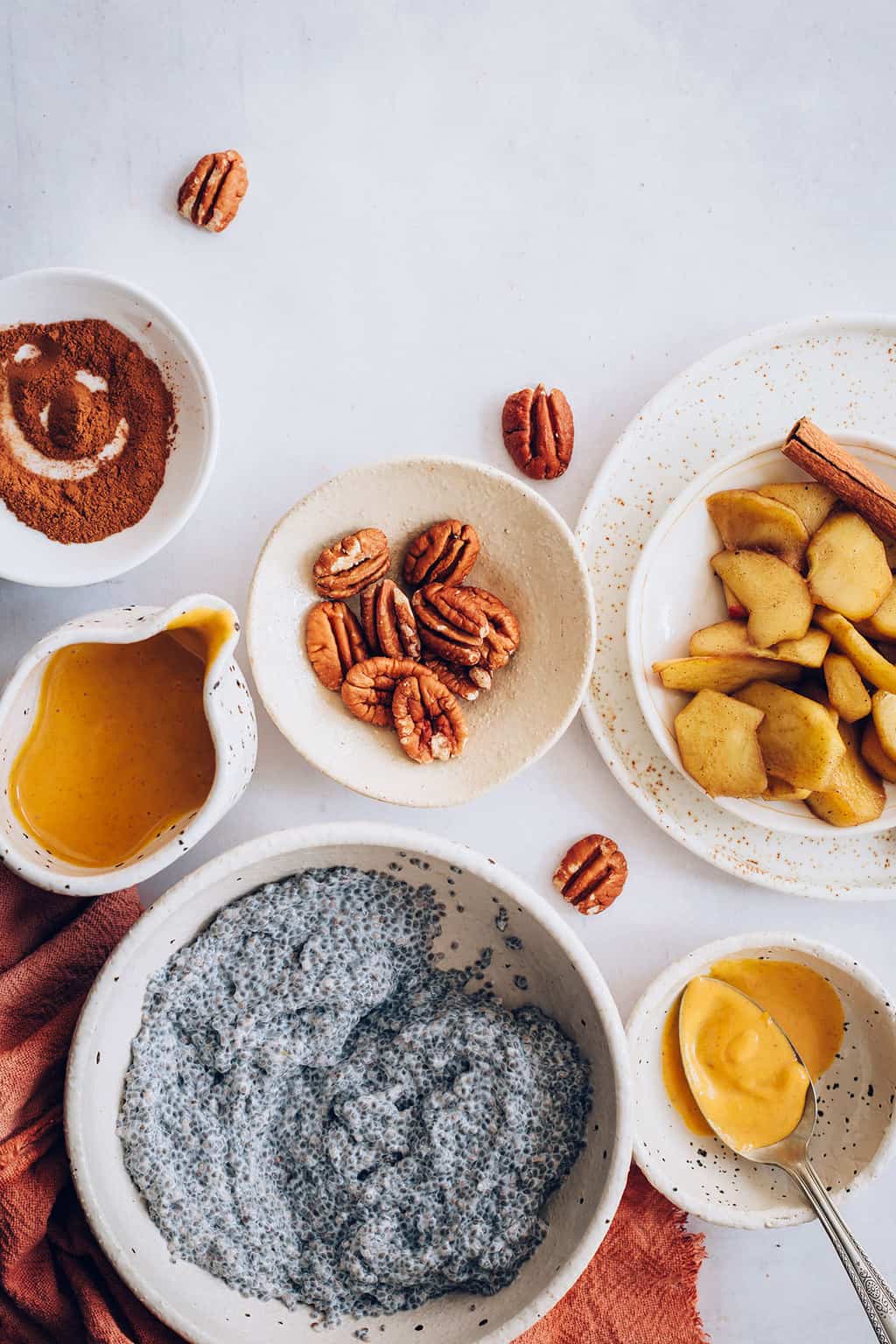 1. Add the chia seeds into a medium bowl, then gradually pour the milk while stirring continuously – the chia will start absorbing the liquid immediately. I really like to make my chia pudding with almond milk, but you can also use coconut milk or any of your favourite plant-based milk. To get the perfect chia pudding, the ratio is 2 tbsp chia seeds for 1/2 cup milk.
2. Set aside the bowl for 15 minutes, or if you're preparing it in the evening to-go, let it sit overnight.
3. Add your favourite sweetener (use raw honey for a non-vegan version, pure maple syrup or coconut sugar for a vegan pudding, or erythritol for a low-carb keto chia pudding), and transfer into a lidded jar or divide into serving bowls. Top with your favourite fruits, coconut chips, nuts, nuts butter or any ingredient you prefer and serve or lid the jar and have it later at the office.
How long does chia pudding last?

Planning to make chia pudding part of your weekend meal prep? Great idea! Just make sure to refrigerate it until ready to serve. It usually lasts up to five days in the refrigerator. You can store it in bulk, or you can arrange it in lidded jars and simply grab it in the morning from the fridge.
Looking for more easy ways to add chia seeds to your diet? Try our Superseed pumpkin energy balls, our Breakfast Pep'n'Power Bars or our Coco Mango Overnight Oats.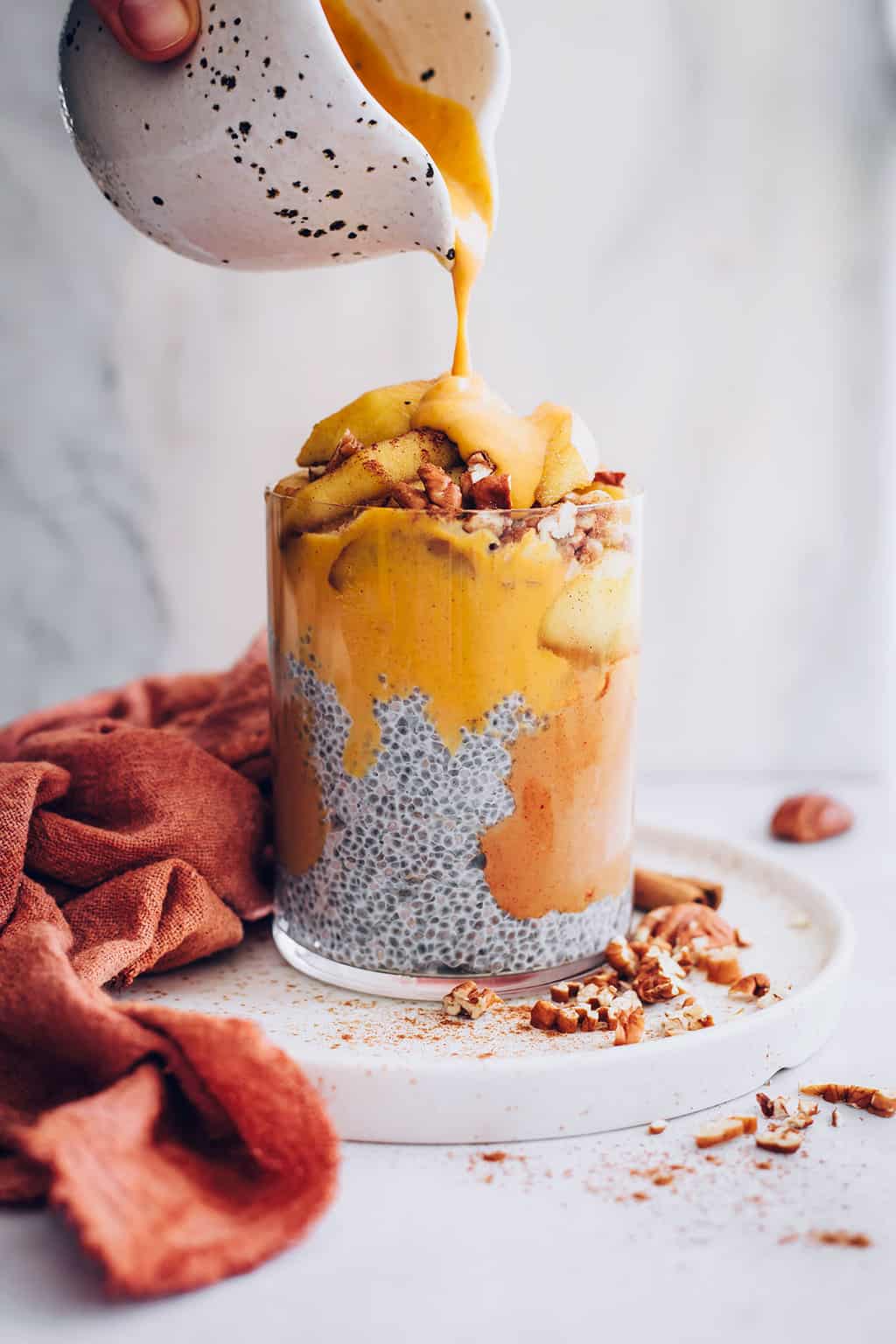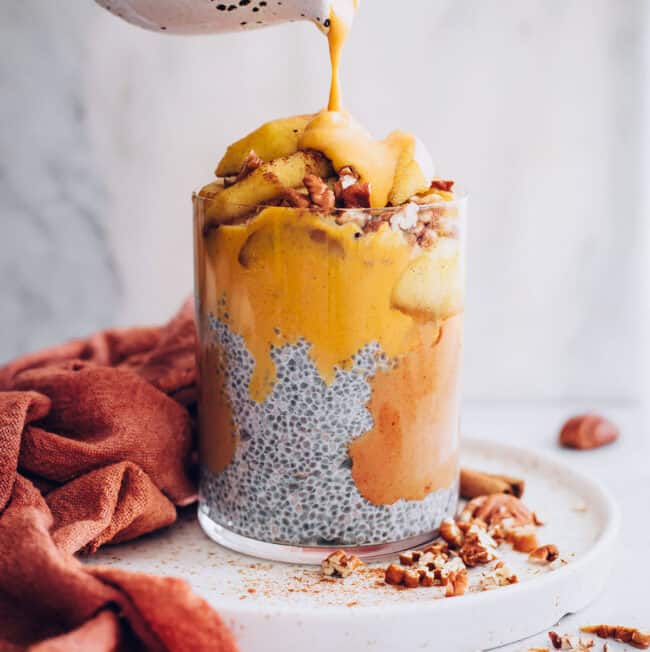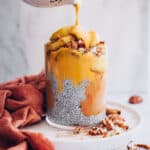 Print Recipe
Cozy Chia Seed Pudding with Pumpkin Caramel
A delicious fall breakfast, this chia seed pudding is all vegan and it's made with the best ingredients of the season - stewed apples and pumpkin.
Ingredients
4

tbsp

chia seeds

1

cup

unsweetened almond milk

warm

2

red apples

peeled, core removed, cut into slices

1

tsp

coconut sugar

3

tbsp

water

2

tbsp

coconut oil

melted

4

dates, pitted

soaked

2

tbsp

pumpkin puree

canned

1/2

cup

full fat coconut milk

warm

1

tsp

pumpkin spice

1/2

cup

chopped pecans

lightly toasted

1/4

tsp

salt

2

tbsp

almond butter
Instructions
Add the chia seeds into a medium bowl, then add the almond milk gradually, stirring continuously. Set aside for 15-20 mins.

Heat 1 tbsp coconut milk into a non-stick skillet, add the apples, coconut sugar and water, mix and bring to boil over medium heat. Simmer for 5 minutes, until the water is absorbed, and the apples are slightly cooked but still a crunchy.

Drain the dates and add them into the blender with the coconut milk, pumpkin puree, 1 tbsp coconut oil, pumpkin spice and salt, and process to obtain a smooth liquid.

Divide the chia pudding into the serving jars, top with the stewed apples and almond butter, drizzle with pumpkin caramel and garnish with chopped pecans.

Serve immediately or lid the jars and pack to go.
Nutrition
5