Could bananas be one of the world's most perfect foods? You be the judge. Popular? Check. Convenient? Check. Tasty? Check. A superfood? Check. Let's find out why bananas deserve this characterization and how it benefits our health and hair, no matter your hair type or your season in life.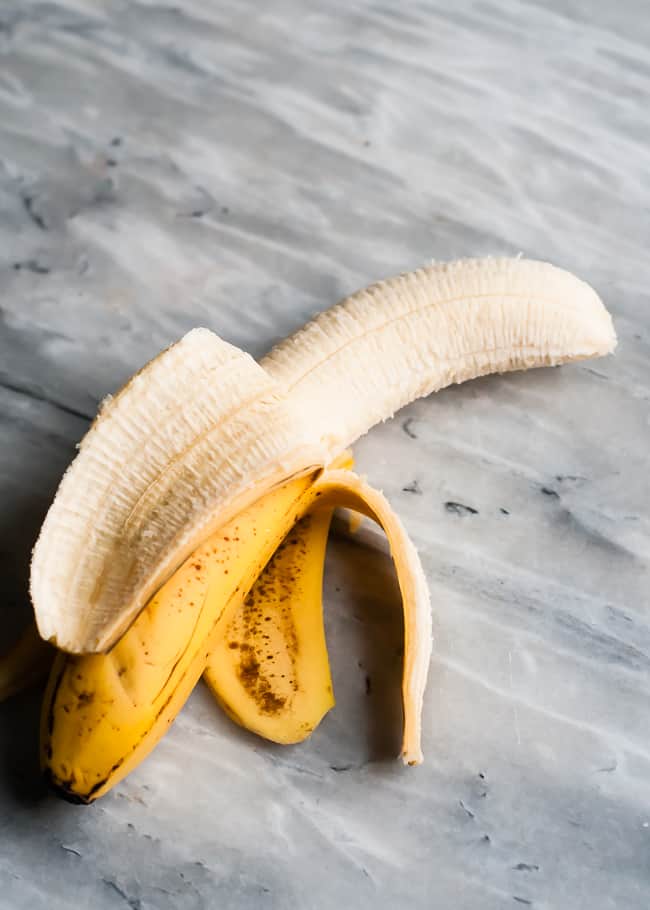 Banana Benefits for Hair
Potassium rich
One of the most potassium-dense foods, bananas help improve muscle function, making them a perfect choice after a run or tough workout. The potassium in bananas is an essential mineral that also supports our heart, muscles, and nerve function [source].
Nutrient dense
Are there any other vitamins and minerals found in bananas that benefit our bodies, skin, and hair? Absolutely—they also contain antioxidants, vitamins A, B2, B6, E, and C, magnesium, iron, and manganese, to name just a few [source]. Vitamin A, in particular, restores moisture in both skin and hair, while folic acid helps the hair shine.
Silica strong
Silica is also found in bananas [source], and our body uses it to produce collagen. Collagen is not only crucial for healthy skin [source] but also helps hair stay healthy and glossy.
Hair texture, strength, and shine can change throughout life. Hormones, environment, diet, life changes, and stress can all impact our hair health. With a few minutes and a couple of bananas, let's restore strand shine.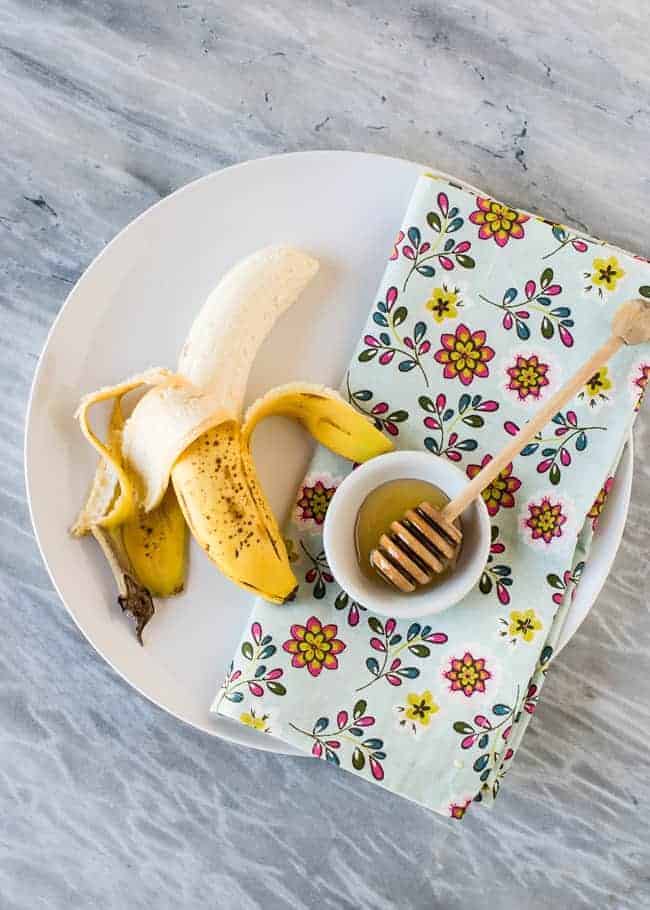 How to Do a Banana Hair Mask
It's perfectly natural to be questioning the wisdom of putting a banana in your hair. "Won't that be a TOTAL mess?" you ask. The answer is no, not if you do it right!
The key is getting the right consistency with the banana. You do not want to be picking banana pieces out of your hair!
To avoid that, you want to start with a cream-like banana puree. Mashing alone is not enough! Think of it like you're making banana ice cream. This ensures the banana will easily wash out of your hair.
It's hard to blend a whole banana in a blender without liquid, so we recommend either using a smaller blender (like a single serve or an immersion) or a food processor. First, break up the banana in a bowl with a fork, then add it to the blender with any additional ingredients.
And blend away! You can't overdo the mixing, so let it run for 20 to 30 seconds. Aim for a runny, smoothie-like consistency with zero lumps.
Then wrap a towel around your shoulders to catch drips, and apply the banana mixture to your hair from roots to ends. Put on a hair cap or wrap your hair in a towel or plastic wrap to avoid getting banana everywhere. Wait 15 to 20 minutes, and then rinse, shampoo, and condition as usual.
Here are 6 mask recipes to try!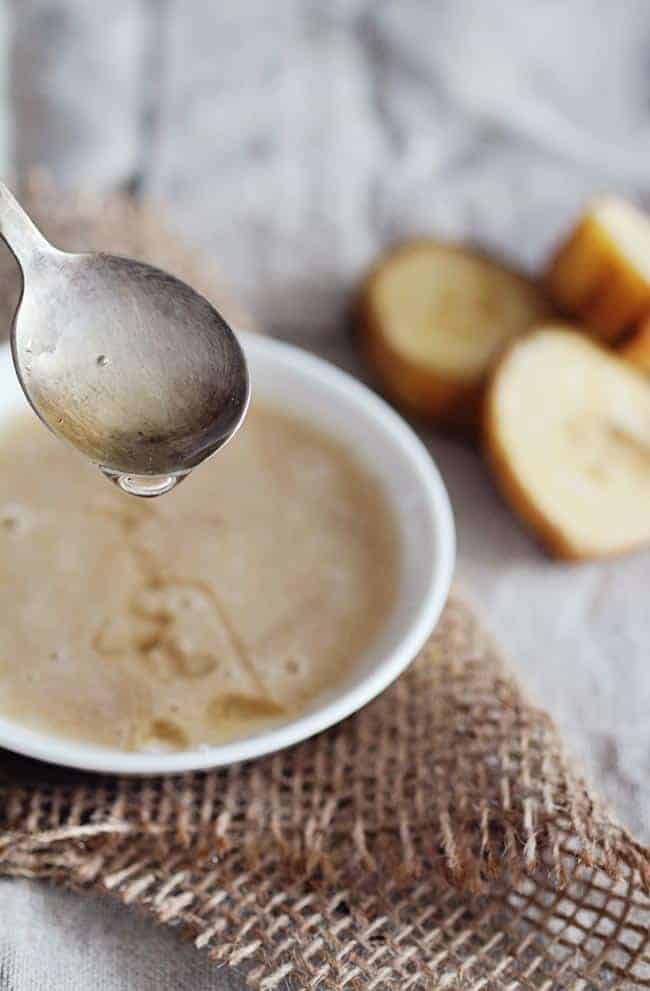 1
.
2-Ingredient Banana Hair Mask
Super simple and effective, this 2-ingredient hair mask reduces frizz and increases shine. The vitamin A and potassium in bananas help repair and strengthen strands, while hydrating amino acids penetrate the follicles to moisturize from within. Honey, a natural humectant, locks in moisture and enhances shine.
—1 ripe banana
—1 teaspoon honey
After peeling one banana into a bowl, use a fork to mash it until it reaches a soft, thickly pureed consistency. Add the honey as you mix it together well. Apply to your hair, paying careful attention to the roots and the ends. Cover with a shower cap and leave it on for 20 minutes. Then rinse, shampoo, and condition as normal.
2
.
Banana Cream Mask
Take our two-ingredient mask and kick it up a notch with an added boost of hydration. Adding just a few tablespoons of olive oil packs a lot of moisture if your hair is feeling dry or brittle.
—1 ripe banana
—1 teaspoon honey
—1–2 tablespoons olive oil
In a blender, combine 1 peeled banana, 2 tablespoons of olive oil, and 1 tablespoon of honey. Apply the mixture to damp hair from roots to ends and cover with a shower cap. Let it sit for 15 minutes, and then rinse. Use it once every other week.
3
.
Nix Fall-out Fruit Mask
Losing a bit more hair each time you brush or wash your hair? This mask is a wonderful scalp treatment to stimulate and nourish your hair follicles.
—½ banana
—1 egg
—1 tablespoon coconut oil
—½ teaspoon honey
Combine these ingredients well. Apply the mixture to damp, clean hair, focusing on the scalp, and let it sit for 20 minutes. Rinse. Repeat once a week.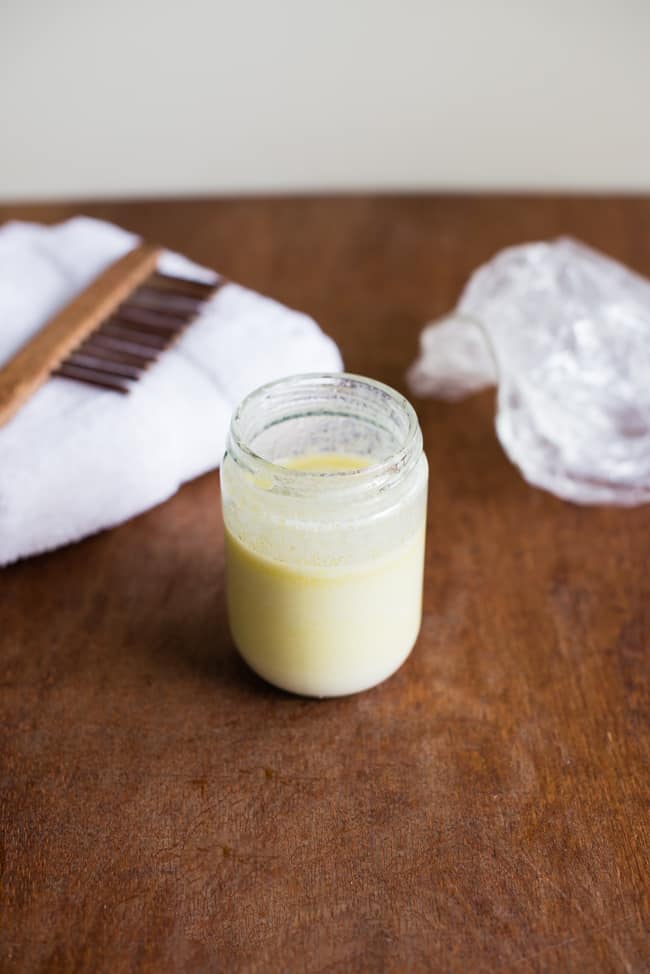 4
.
Scalp Treatment
By putting the antioxidants from bananas [source] and avocado to work, this treatment leaves your hair and scalp soft and conditioned. Coconut milk contains lauric acid [source] that helps repair hair damage and supports the building of keratin, the protein that strengthens hair.
—½ banana, very ripe
—½ avocado
—3 tablespoons coconut milk
Mash the banana and avocado together in a small bowl until you have a very smooth consistency. Add the coconut milk and stir to combine. Massage the mixture into dry hair, then wrap your hair with a warm towel and leave it on for 15 minutes. Rinse hair and shampoo as usual.
5
.
Banana Scalp Scrub
Remedy a flaky scalp with a banana sugar scalp scrub. The fruit's antimicrobial agents [source] kill dandruff-causing fungus, and the sugar whisks away flakes.
—1 banana, mashed
—¾ cup sugar
Combine the ingredients in a bowl. Rub the mixture on a damp scalp for 1 minute, then wash and rinse.
6
.
Anti-Frizz Banana Mask
If summer humidity has turned your hair into a frizzy mess, try a banana hair mask. The fruit's water content combined with the fats in yogurt deliver extra moisture, while banana's amino acids seal the hair cuticle.
—1 banana, mashed
—½ cup plain yogurt
Combine the ingredients in a bowl. Apply the mixture working from the roots to the ends of damp hair. Sit for 15 minutes, then rinse and shampoo. Repeat weekly.
19