While I love this time of year—and all of the fun holiday activities that come with it—I do not love the congestion that comes with cold and flu season. This time of year, it seems like someone in my family is always dealing with chest or sinus congestion.
Whether I have a common cold, a sinus headache or a general case of the sniffles, nothing seems to soothe me like a hot, steamy shower. I love to close the bathroom door, turn the water on as hot as I can stand and just enjoy the steam as it fills the room. Lately I've been taking my at-home steam session to the next level by adding a few spritzes of this homemade eucalyptus and lavender spray to my shower.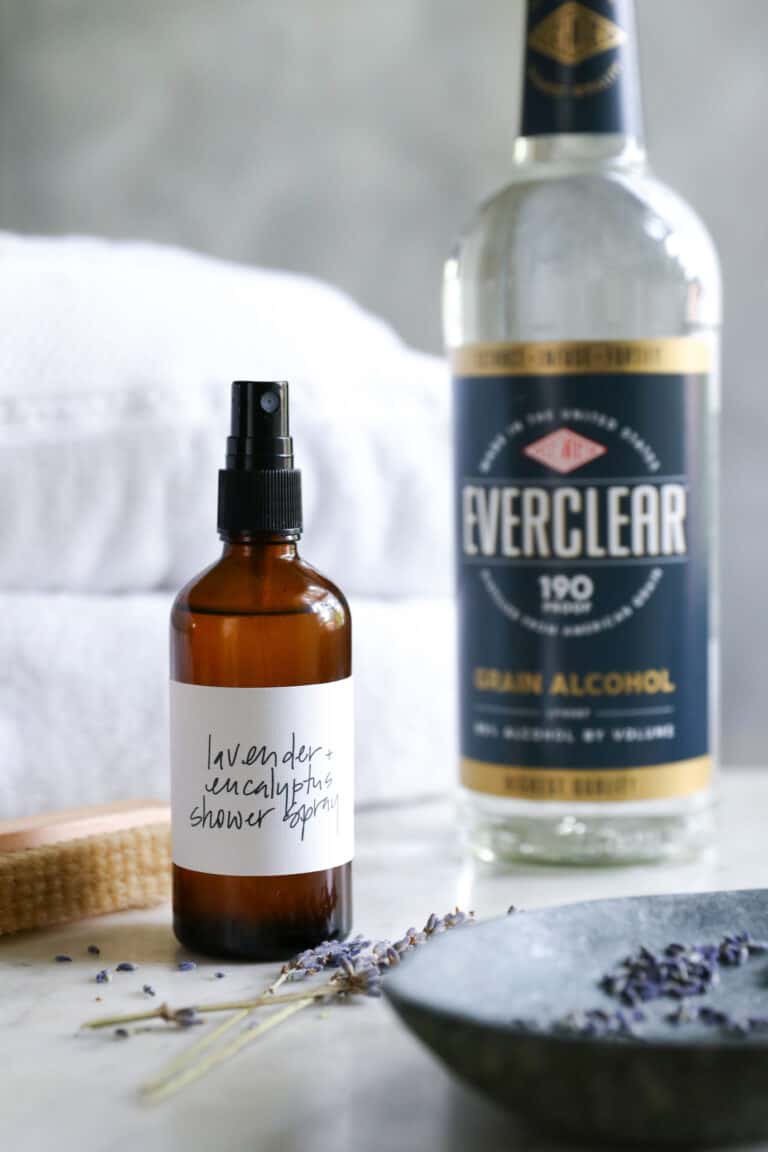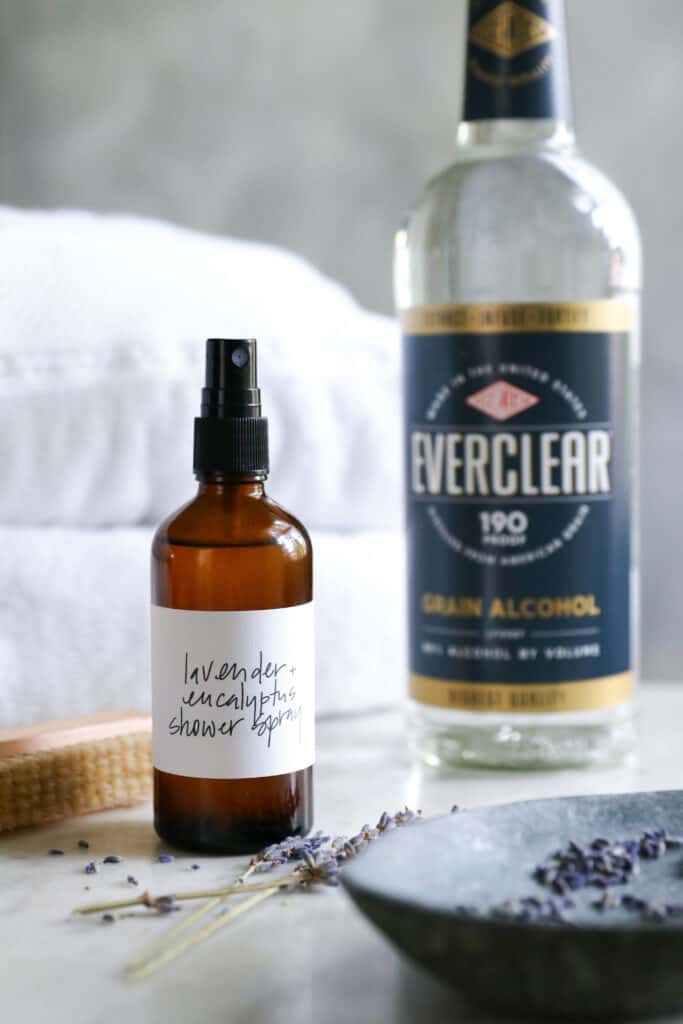 How to make an aromatherapy shower spray
If you've never tried an aromatherapy shower spray before, you're in for a treat. The scent of the essential oils is so comforting!
Plus, this recipe is so simple to make—just combine lavender and eucalyptus essential oils, water and Everclear® Grain Alcohol (the real star of this DIY recipe!) in a spray bottle and shake to blend. It's that easy!
I like adding Everclear to the mix because it helps bind the essential oils to the water. Once you add the essential oils to this blend, you can't really smell the alcohol anymore—you're just left with the relaxing scent of lavender and eucalyptus.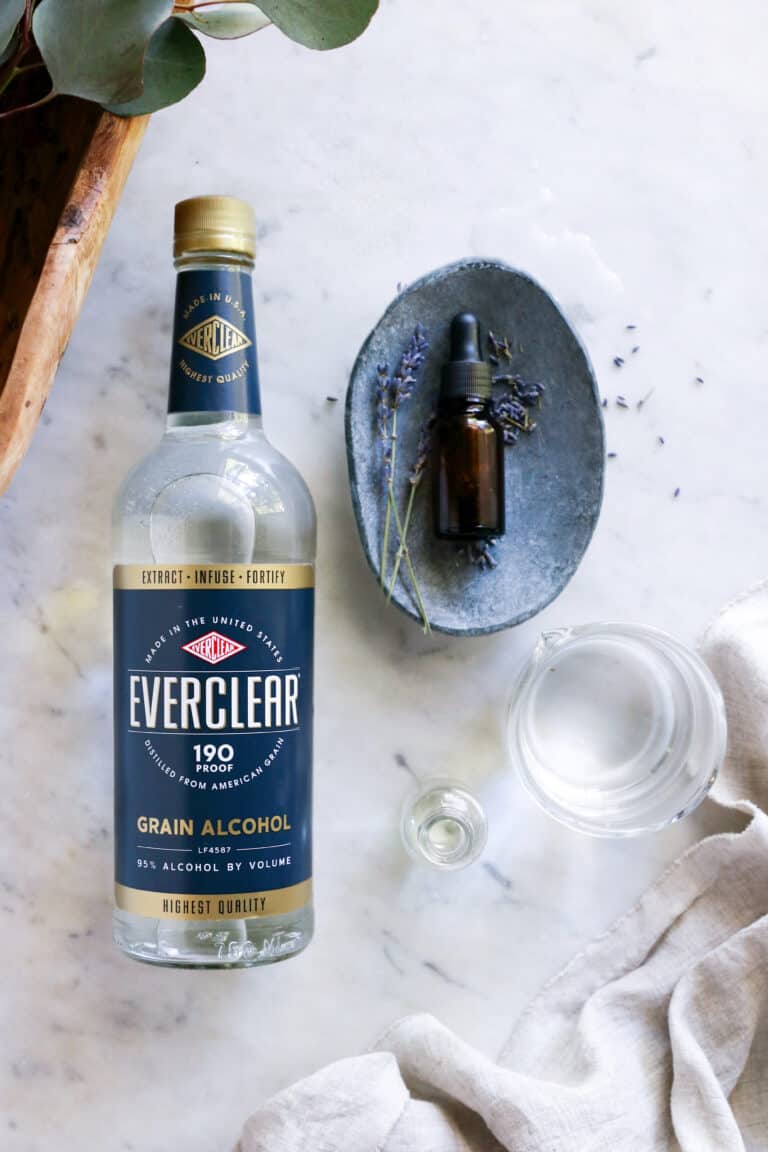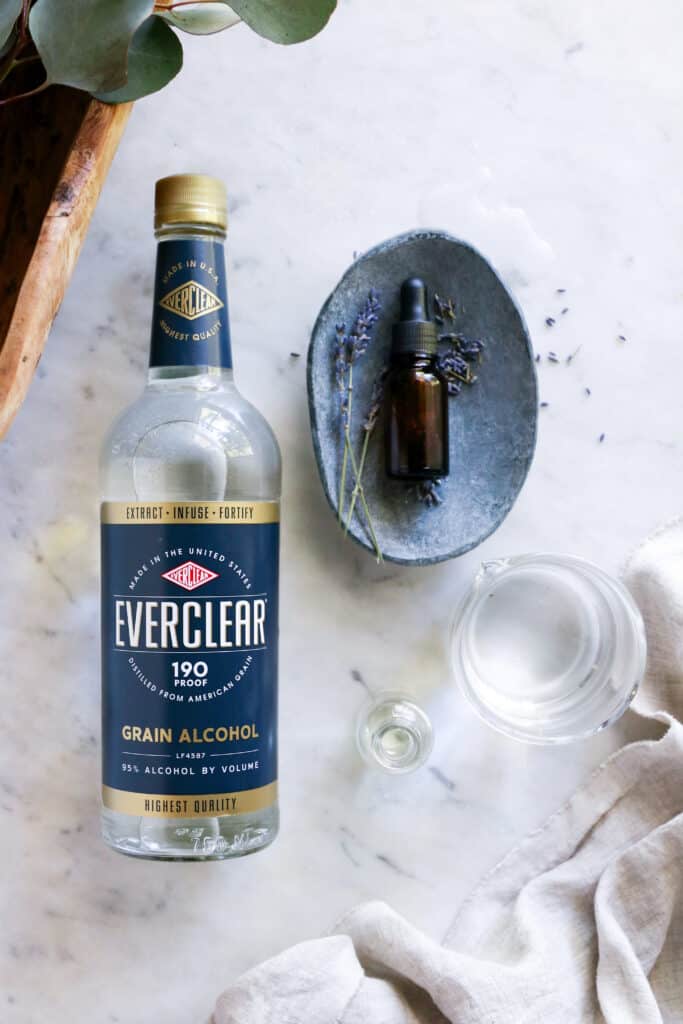 To use this spray, you'll need to turn on the shower (I like to set the temperature to as hot as I can stand it!), let the bathroom fill with steam and spritz your homemade mist in the shower a couple times. The steam will help diffuse the essential oils and disperse them into the air, so they can be gently absorbed by the body as you breathe them in.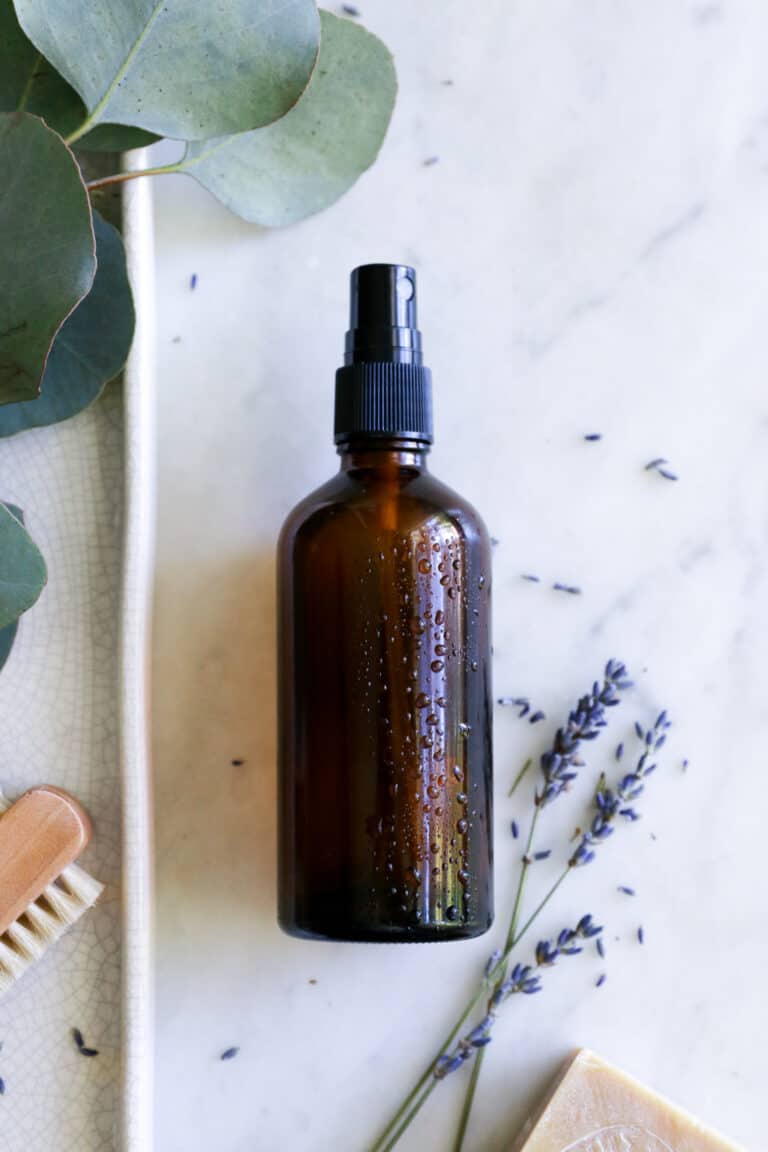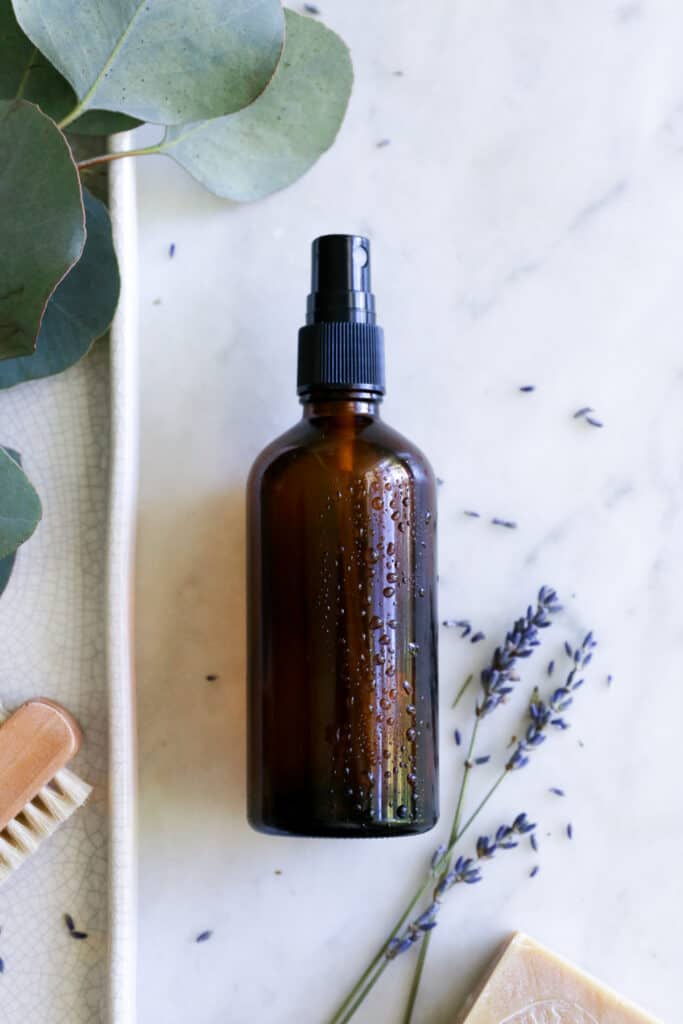 At this point point in the process, I like to close my eyes, concentrate on taking deep breaths and let the hot water work its magic on my congested chest and any inflammation I may be experiencing. If I'm sick and feeling extra stuffy at night, this aromatherapy shower is my go-to trick to get into the right headspace for a good night's sleep.
Even if you're not feeling under the weather, this shower mist is a such a lovely treat to help you relax and melt away the stress of a long day. It's such a simple way to transform your shower into a fancy steam room. This essential oil scent blend always reminds me of a trip to the spa (minus the hefty price tag of a true spa day!).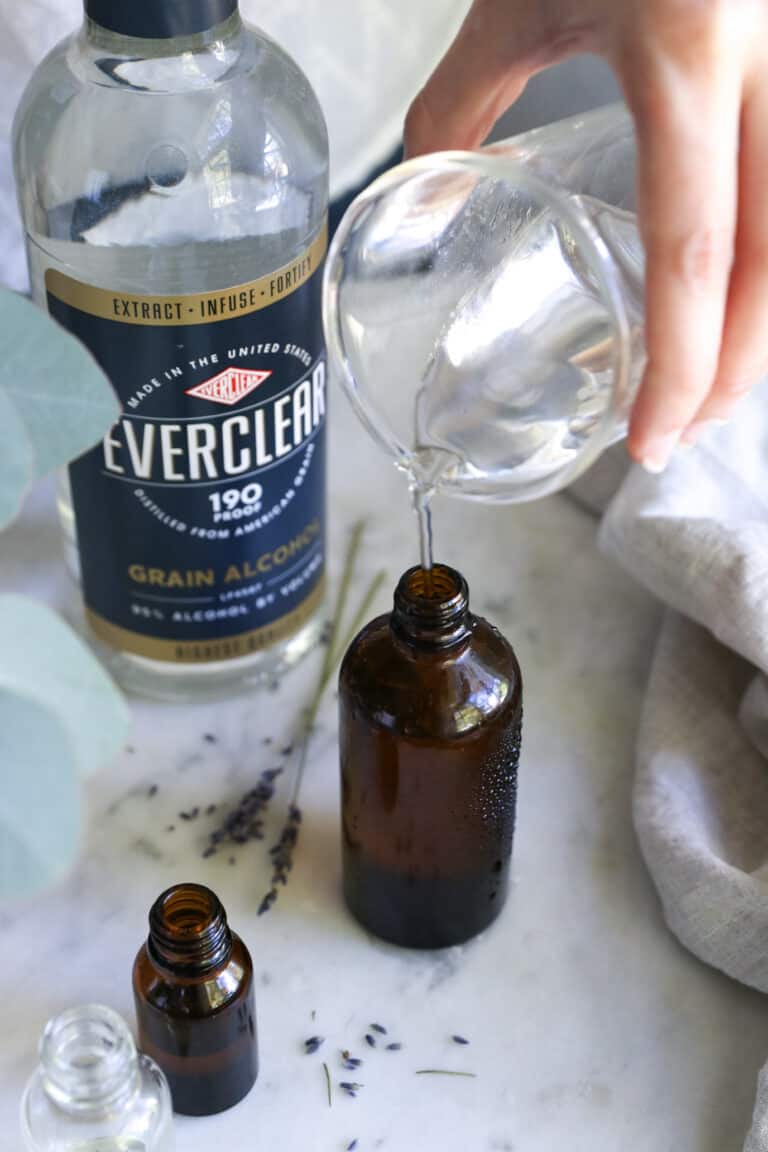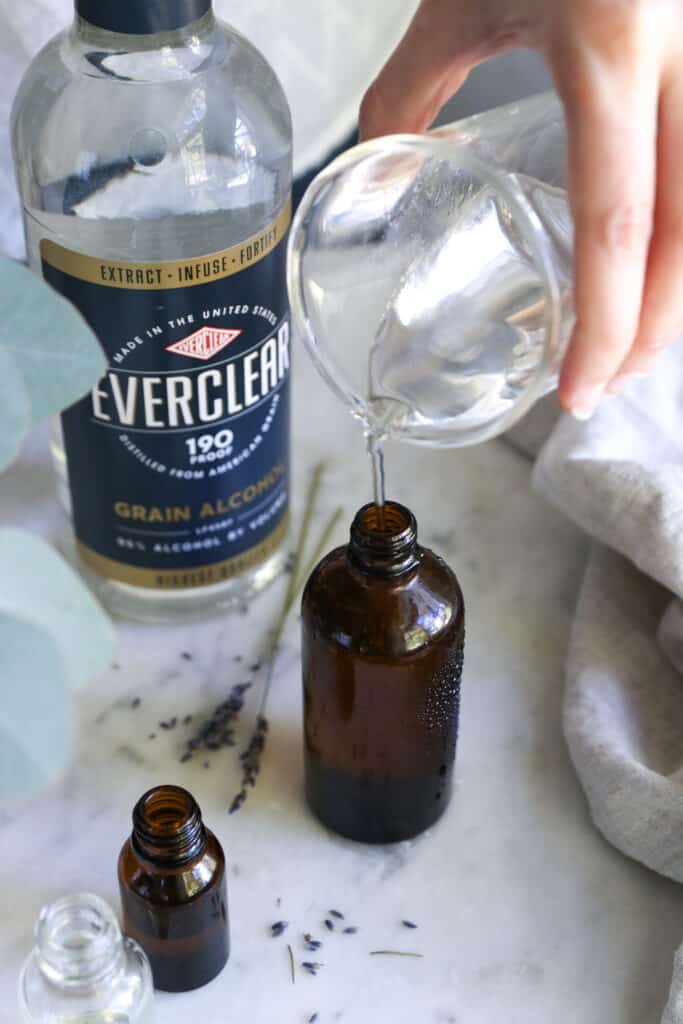 Let's face it: I don't have time to book a spa appointment—let alone spend an entire day indulging in my favorite treatments—but I can almost always carve out time for a quick shower. So why not capitalize on that brief opportunity to destress and make it a true moment of zen?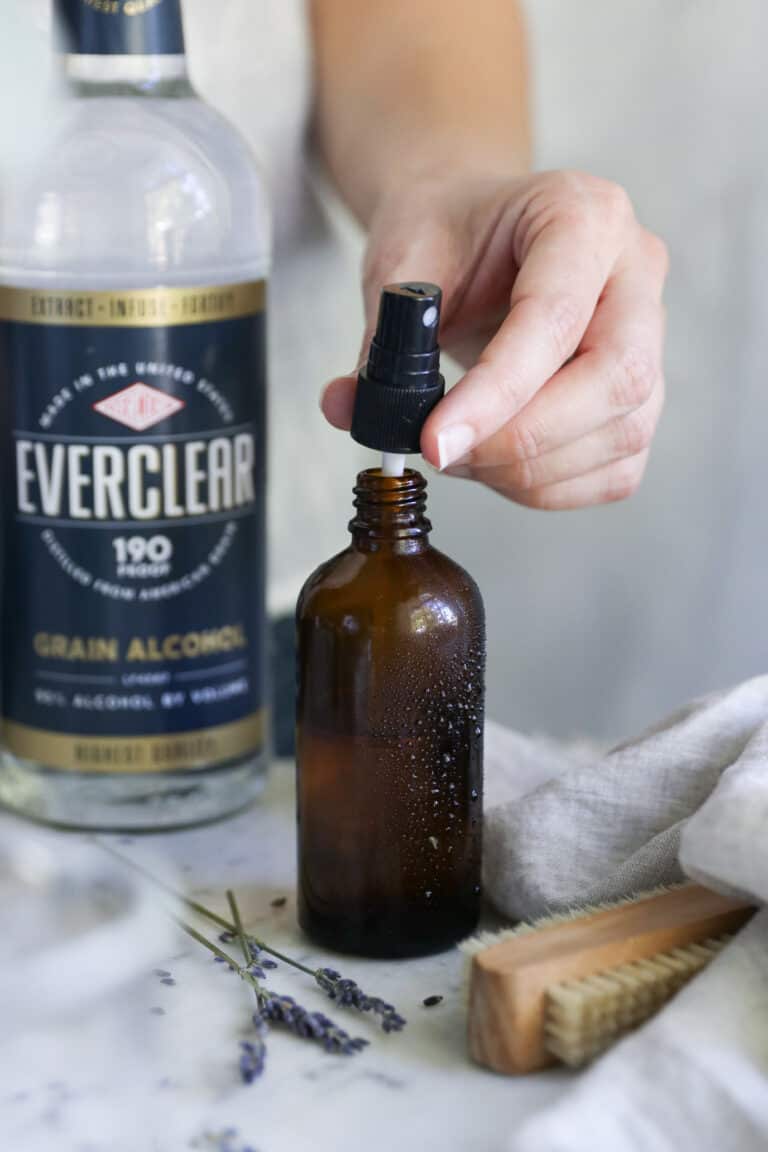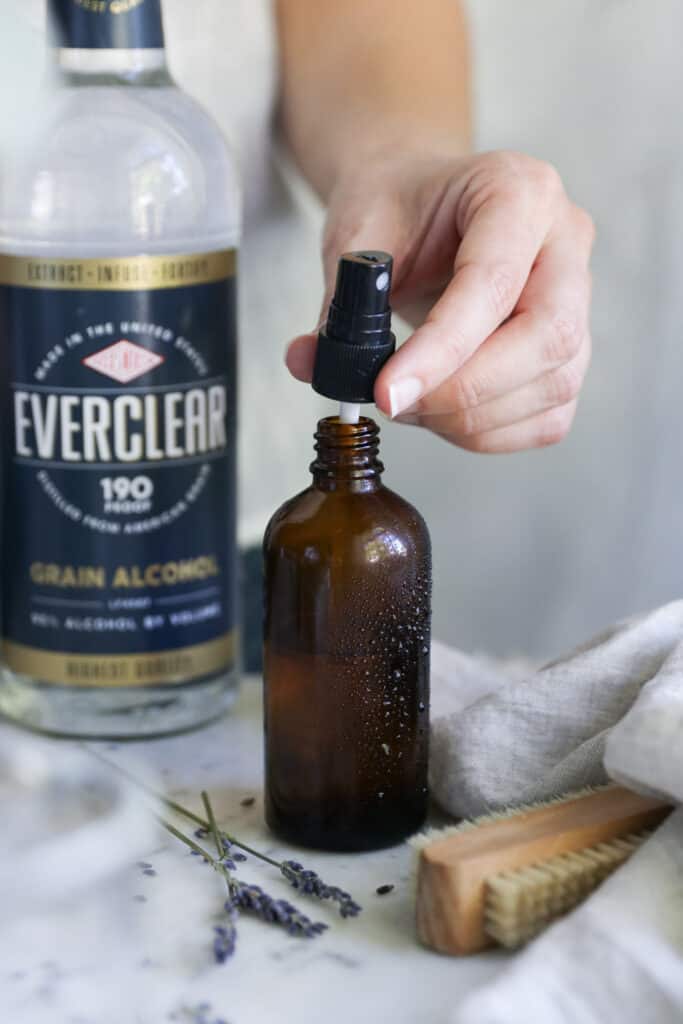 Have you tried using essential oils in the shower? If so, I'd love to hear your favorite essential oil blend! The great thing about this recipe is that you can customize it to suit your own scent preferences or the changing of the seasons. Simply start with the same base of Everclear and water and change up the essential oils to suit your mood!
You can find Everclear at your local retailer or online via Cask Cartel, Caskers or Drizly. You can also search Everclear's product locator page online!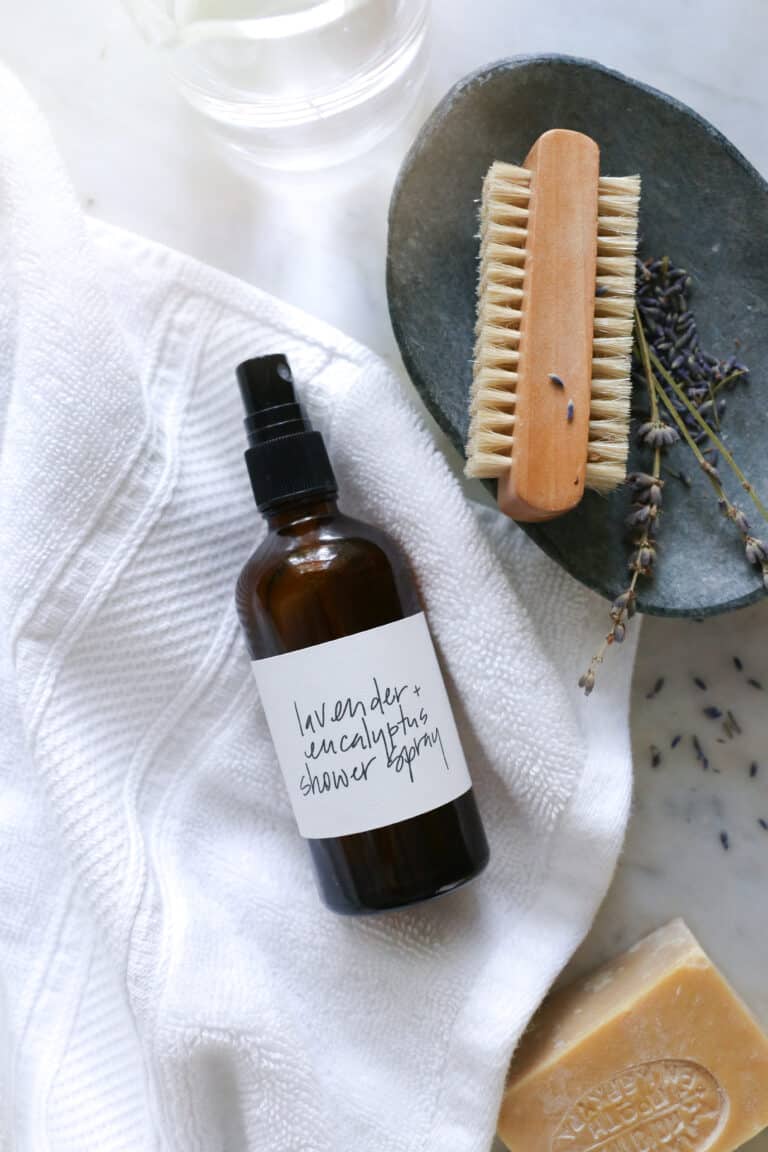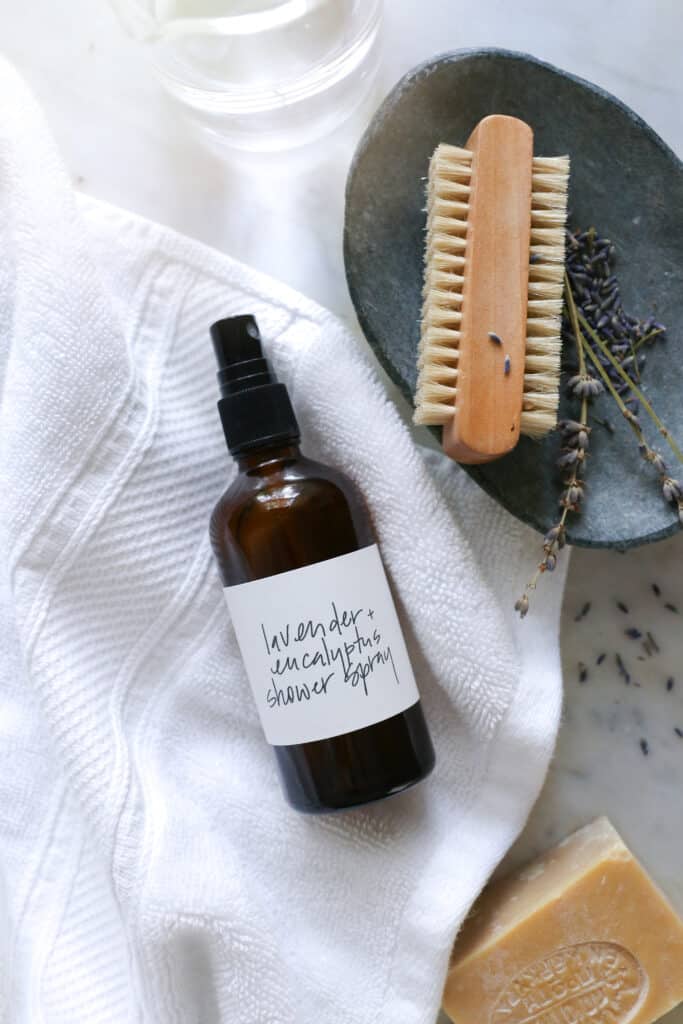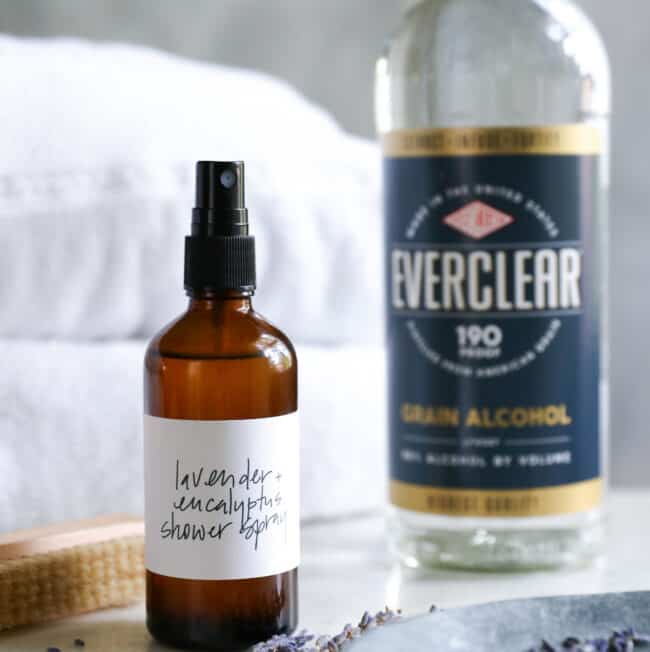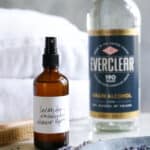 Print
Homemade Eucalyptus & Lavender Aromatherapy Shower Spray
Add a few spritzes of this spray to your shower, then let the steam diffuse & disperse the essential oils.
Instructions
Combine Everclear and essential oils in a glass spray bottle. Replace the lid and shake well to disperse the oils in the alcohol.

Fill the rest of the way with water (approximately 1 cup). If using a smaller bottle, try to keep the ratio of 1 part Everclear to 2 parts water, as best you can.

To use, turn the shower on hot and let the bathroom fill with steam. Spritz the aromatherapy mist 2-3 times into the shower and allow the scent to diffuse throughout the air.
Notes
If you'd like to customize the scent blend used for your aromatherapy shower spray, simply keep the ratio of Everclear and water the same and add your favorite essential oils. As long as you cap the total amount of essential oil used to around 50 drops (per 1 ½ cups of liquid), you can switch up the scent profile to meet your needs!
56