I have never met a bath bomb I didn't like, but these shimmery, skin-soothing bath bombs might just be my new favorite. Once we reach adulthood, baths are typically reserved (and needed) for relaxing after a long day or soaking away aches and pains.
They're rarely, if ever, just for fun—but these change all that. With a handful of ingredients, you can toss these colorful coconut oil bath bombs together in a matter of minutes, and you'll be splashing away your troubles in less than an hour!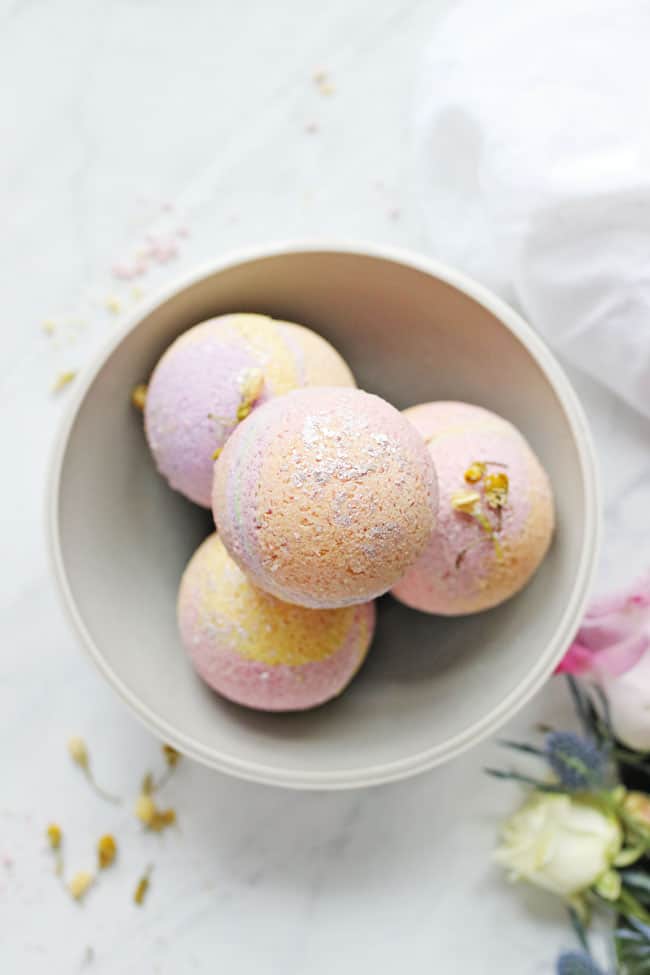 Coconut Oil Bath Bomb Recipe
Not only are these beauties pretty to look at (insert heart eyes emoji here), but they're super easy to make. Seriously! I know that a lot of homemade bath bomb recipes hardly ever turn out looking like the store-bought ones.
But these have a secret ingredient that actually helps them to pop out of the mold in one fell swoop. No breaking, crumbling, or sticking.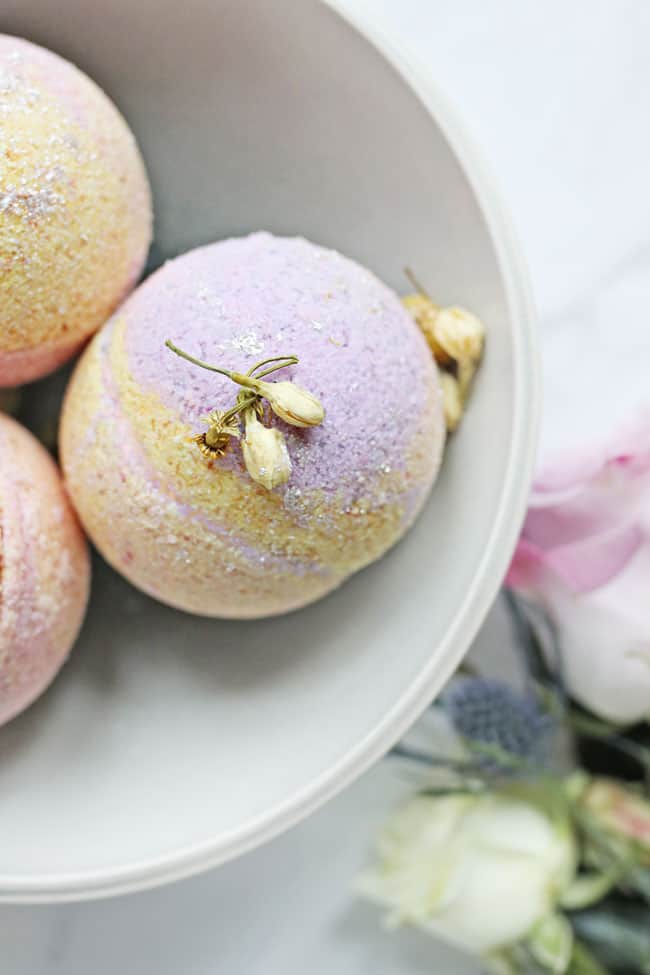 We love coconut oil!
Want to know what the not-so-secret ingredient is? (Just kidding, that's a trick question.) It's coconut oil. Simply put your bombs in the freezer for a few minutes, and the coconut oil hardens enough to prevent breaking. It's a game-changer.
Plus, the skin-soothing benefits of these babies are endless. Here are some of the other good-for-you ingredients:
Epsom salt in baths soothes achy muscles, relieves stress, and detoxifies the body.
Baking soda in baths calms itchy, irritated skin.
Almond oil moisturizes dehydrated skin.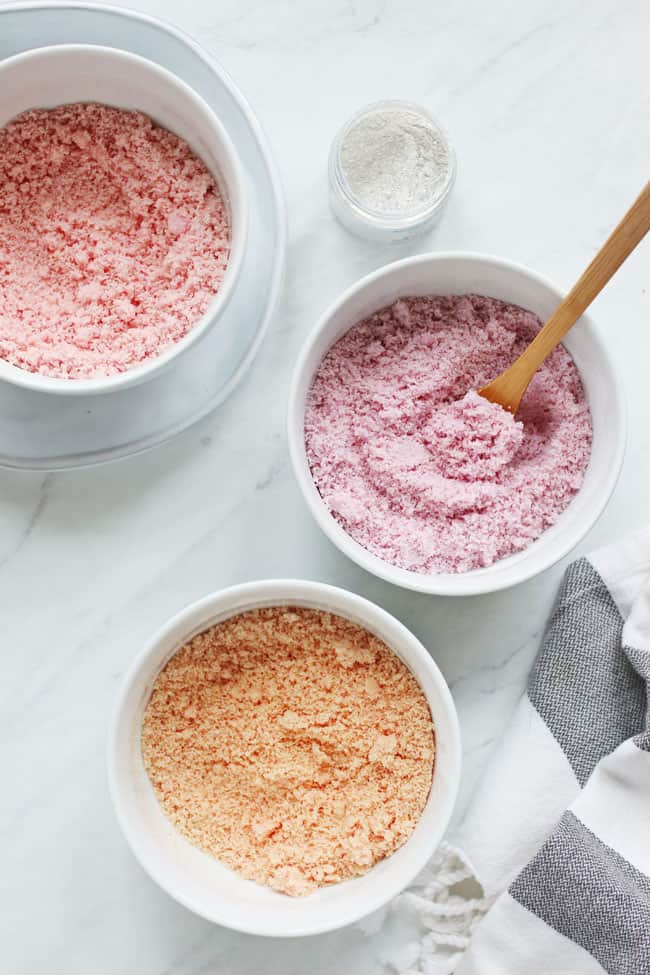 To get the pretty colors, I added a little vegetable-based food coloring to the mix. Just a couple drops were enough to create a soft pastel hue, plus a light touch means I don't have to worry about soaking my skin in dyes. Then I added a little pinch of silver mica, so they sparkle when the light catches them.
Coconut Oil Bath Bombs FAQ
What can I use in place of the almond oil?
Any liquid-at-room-temperature oil will work. I love jojoba, avocado, or olive oil for baths.
Will coconut oil make my tub a slippery mess? How can I prevent this?
While there's no way to really keep the melted coconut oil from leaving a slight film on the bottom of your tub, you can get rid of it (after your bath, of course) by sprinkling some baking soda on the tub floor and gently buffing it in. Then rinse everything down the drain.
And, as always, be super careful climbing in and out of the tub until you're sure all oil has been completely washed away.
Is the cornstarch necessary?
No, it's not. Feel free to leave it out or replace it with an equivalent amount of baking soda.
Is citric acid necessary?
Yes. Citric acid (along with the baking soda) is what makes your bath bombs fizz.

My bath bombs came out very crumbly. What gives?
There are a few reasons this might happen, but here are some things you can do to prevent it:
1. Make sure to combine the coconut oil with the dry ingredients while the oil is still pretty warm and in its liquid form, then mix everything together very quickly. If the oil hardens before you've had a chance to evenly disperse it throughout the mixture, you'll have a clumpy mess that won't stick together properly.
2. If #1 wasn't the problem, you might need to add a little bit more coconut oil. Simply put everything back in a bowl (microwave for 10 seconds if your bombs have hardened), add more warm coconut oil and stir well. The mixture should then hold together like wet sand before you even pop it in the freezer.
3. Make sure to pack the baking soda mixture tightly into your molds to help everything hold together.
Do you need to add water to this recipe?
Nope! Just coconut oil. Adding water kicks off the fizzing reaction that causes most bath bombs to fall apart before they've had a chance to dry out.
Can I use mica for color instead of food coloring?
I don't recommend it. Using large amounts of mica can be hard on the lungs. But you can use turmeric, chlorella, or beetroot powder for color if you like.
After 20 minutes in the freezer, do I take my bath bombs completely out of the mold?
Yes. If it's cold outside, you can continue to let your bath bombs sit out on the kitchen counter, sans the mold. If not, you should transfer them to the refrigerator until you're ready to use them.
Can I add milk powder to my coconut oil bath bombs? How much?
Sure. I would start by adding whole milk powder to make ¼ of a cup total. But be sure to add more coconut oil as needed until the mixture holds together like wet sand.
Do these have to dry out or cure overnight before wrapping and giving as gifts?
Since there's no water in these, they don't really need to cure, since sitting out overnight won't help anything "dry." But they do need to stay cool (below 76°F), or they will soften and crumble.
I added too much coconut oil, and now my bath bombs won't come together at all. What can I do?
Just add equal parts baking soda and citric acid until you get back to a wet sand consistency.
I heard that mica is dangerous and/or you need to use polysorbate 80 in the recipe to keep it from ringing the tub. Is this true?
I only recommend using a tiny amount of mica (a "dusting," if you will) on the top of your bath bomb for looks. There is a negligible risk—to either your health or your tub—when using it in such small amounts. And including a chemical such as polysorbate 80 may even pose more of a health risk.
To be safe, always use mica powder away from a draft (open windows, fans, etc.), and don't transfer large amounts of it from one container to another, as that can kick up dust.
I don't have a bath bomb mold, what can I do?
If you don't have a mold to make circle bath bombs, don't fret. You can pack the bath bomb mixture into a muffin tin or ice cube tray, and they will still work just fine. Use a silicone mold, if you have one, to make removing the bath bombs easier.
More bath bomb recipes!
On a bath bomb making roll?
Here are 6 more fun recipes to try:
This post was medically reviewed by Dr. Jennifer Haley, a board-certified dermatologist with extensive experience in medical, cosmetic, and surgical dermatology. Learn more about Hello Glow's medical reviewers here. As always, this is not personal medical advice, and we recommend that you talk with your doctor.
627