When my husband and I are short on time and patience in the morning (which, let's be honest, is all the time), we like to frequent a neighborhood market that makes the best smoothies. One of our favorites is a banana and orange number that tastes incredible and boasts the most amazing skin-smoothing benefits.
I would seriously drink it every day if I could, but rather than spend a small fortune on my smoothie fix I set out to make my own version of the facial-in-a-glass that I love so much.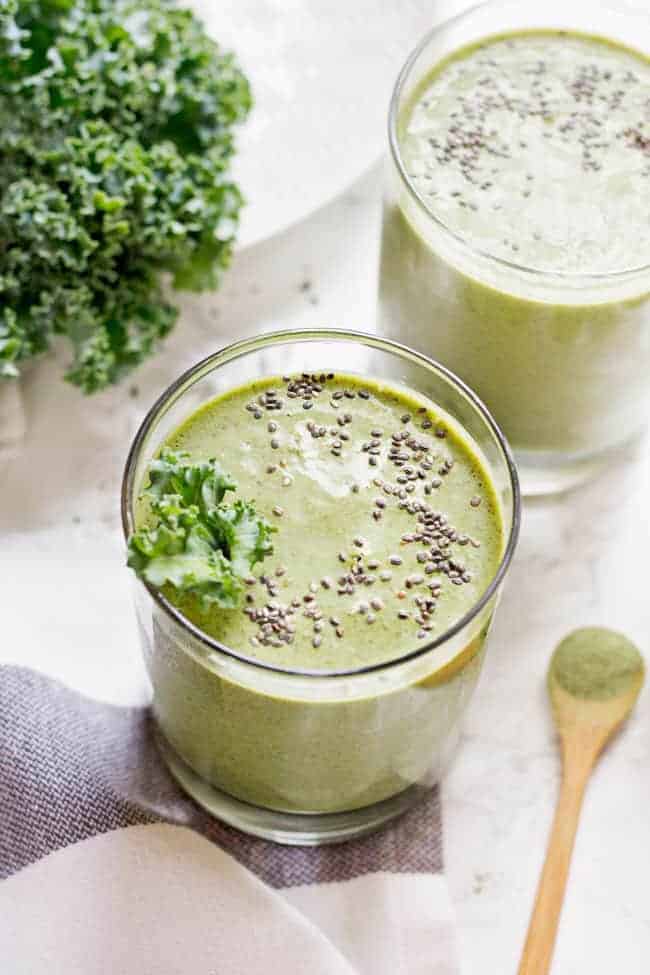 Drinkable Facial Smoothie
So what's the secret to the perfect skin-firming smoothie?
Lots of healthy fats to keep skin hydrated and feeling supple
Beta-carotene and vitamin C to fight free radicals
Probiotics to keep digestion humming and reduce inflammation
Collagen, a major building block of skin, to help plump wrinkles from the inside out
To get the biggest beauty benefit from your smoothie it's important to eat strategically. Mixing carotenoid-rich produce with healthy fats helps you to absorb more free-radical fighting nutrients. Combining vitamin C with leafy greens helps your body soak up more iron. And taking probiotics with a piece of fresh fruit (which acts as a sort of "prebiotic") helps the bacteria set up shop in your digestive tract.
Because foods play off each other, it's not just what you eat but how you eat that really gives you glowing skin.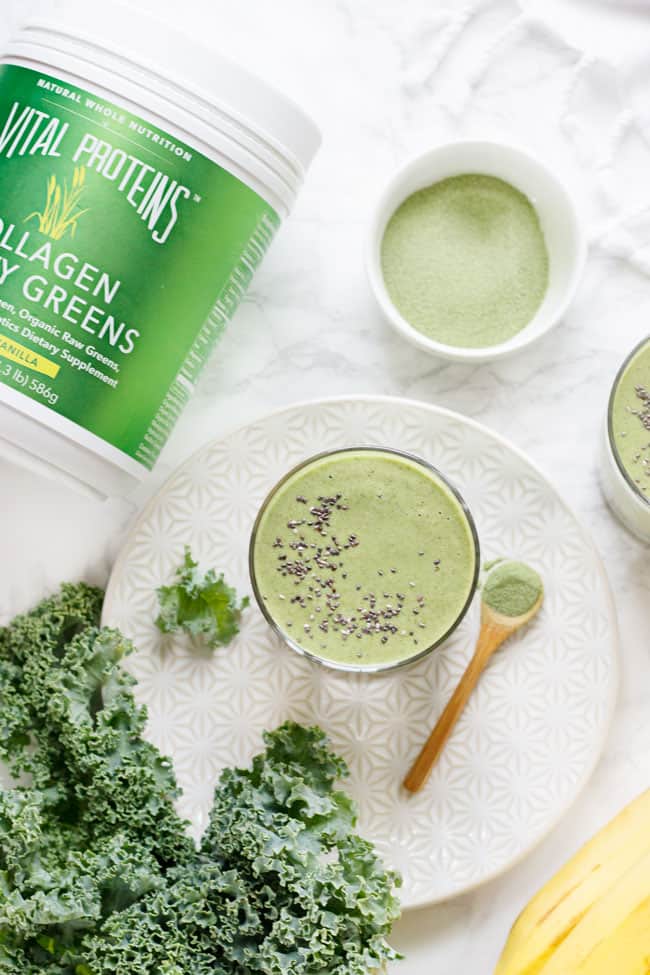 You can get most of your skin-boosting vitamins and minerals from fruits and vegetables, but collagen is found mainly in meat products. Think fatty fish and bone broth – not a welcome addition to fruit smoothies. And simmering bone broth for hours on end in the heart of summer doesn't sound all that enticing either. That's where a supplement like Vital Proteins Collagen Beauty Greens comes into play.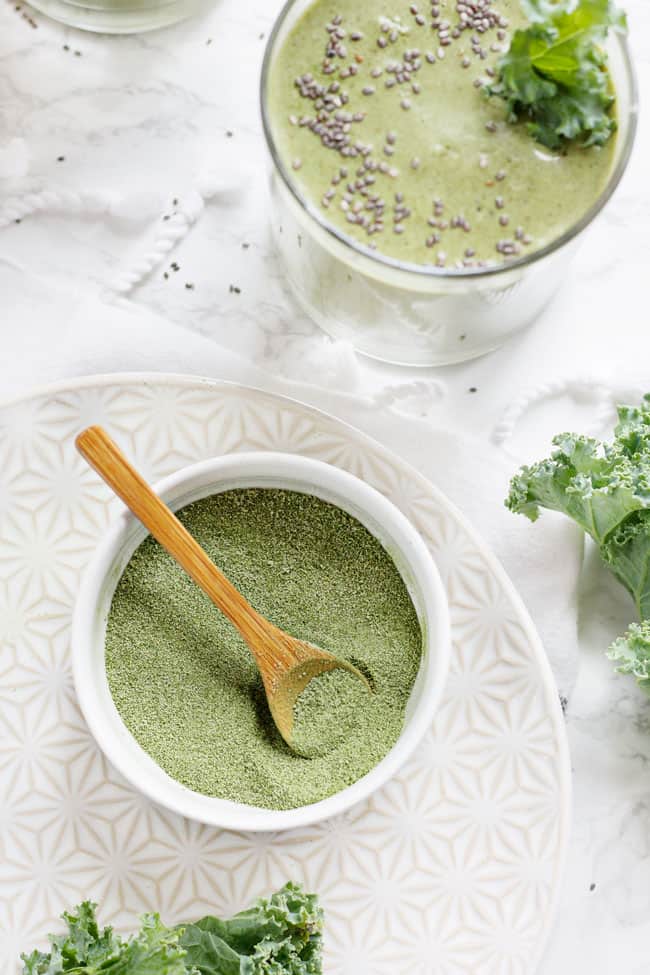 Made specifically to repair skin and reduce the signs of aging, Collagen Beauty Greens is loaded with collagen peptides, hyalauronic acid and probiotics to give you a glowing complexion in a glass.
A single scoop contains three servings of greens and 10 grams of protein, both of which help to keep you full long past breakfast and give you an all-day energy boost. And with almost 10,000 mg of collagen peptides per scoop, you can say hello to healthier skin, hair and nails in no time flat.
And my favorite part? Unlike most green powders, it doesn't taste too overpoweringly green (it actually tastes pretty darn good), so go ahead and mix it with juice or coffee, or blend it into your morning oatmeal if smoothies aren't your thing.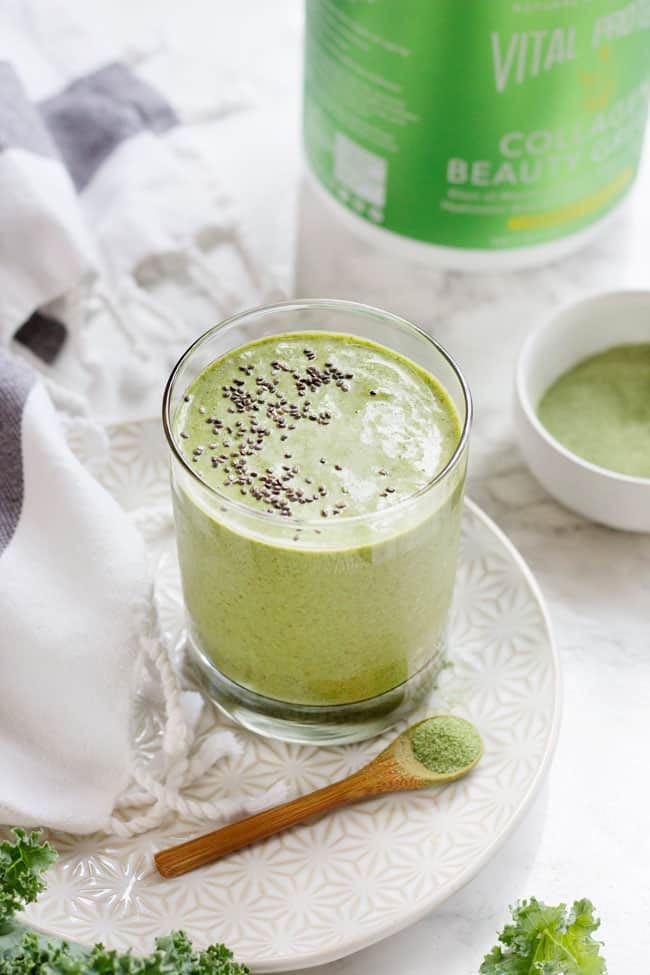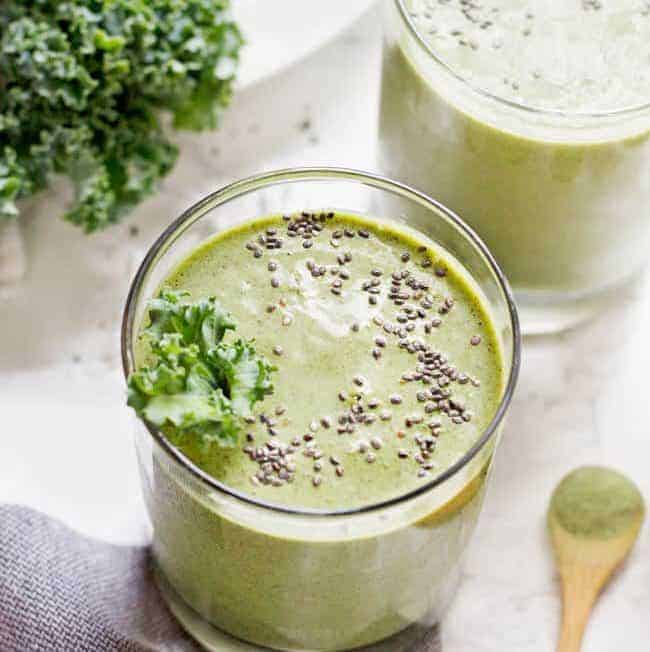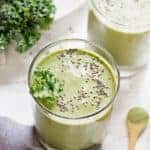 Print Recipe
Collagen Facial Smoothie
This skin-firming collagen smoothie is like a facial in a glass
Ingredients
1 ½

bananas

1

whole orange peeled

2

tablespoons

almond butter

½

cup

almond milk

1

tablespoon

chia seeds

1

tablespoon

coconut oil

2

kale leaves

7

ice cubes
Instructions
Place everything in a blender and blend on high until smooth. Serve immediately.
This post is sponsored by Vital Proteins but the opinions and text are all mine.
32