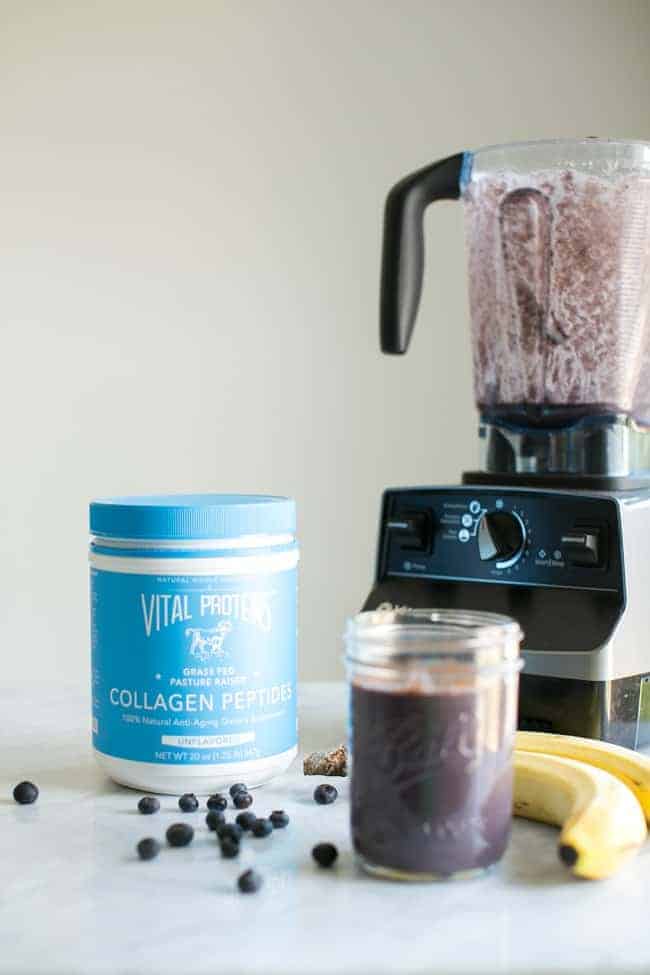 We've partnered with Vital Proteins to write this post, but all opinions are our own.
Collagen protein has been everywhere lately, but what is it? And is it really better than other forms of protein? Like any other supplement, it's important to do your research before you start incorporating it into your diet. Here's what you need to know about collagen supplements.
What's the difference between other types of protein and collagen protein?
Collagen is the most abundant protein in the body and it's a key constituent of all connective tissues. Collagen provides the infrastructure of the musculoskeletal system (considered the "glue" that holds the body together!) and it's the primary building block of skin, hair, nails, tendons, cartilage, bones and joints.
Collagen protein is sourced from parts of animals that contain a lot of connective tissue. Most collagen protein powders are bovine collagen, meaning they are derived from the cartilage, bones and hides of cows. Ideally, those cows were grass-fed and pasture-raised. Vital Proteins is my favorite brand for high quality bovine collagen protein. You can also get chicken, fish and egg collagen.
There are many other types of protein powder supplements on the market–whey, casein, soy, pea, rice, hemp, etc. Each protein powder has its own unique benefits and drawbacks; they differ in terms of bioavailability and effects on muscle synthesis, etc. What I love about collagen protein is that it contains approximately 97% protein and it's supplied in a form that is easily absorbed and digested by the human body.
It's dairy-free (unlike whey and casein), fat-free, carb-free and sugar-free. Since it's unflavored, it easily mixes into virtually anything (even water!) and doesn't contain any sketchy "other ingredients" which can be a big issue with some protein powder supplements. Collagen protein is just simple and pure, which makes it my preferred protein powder supplement.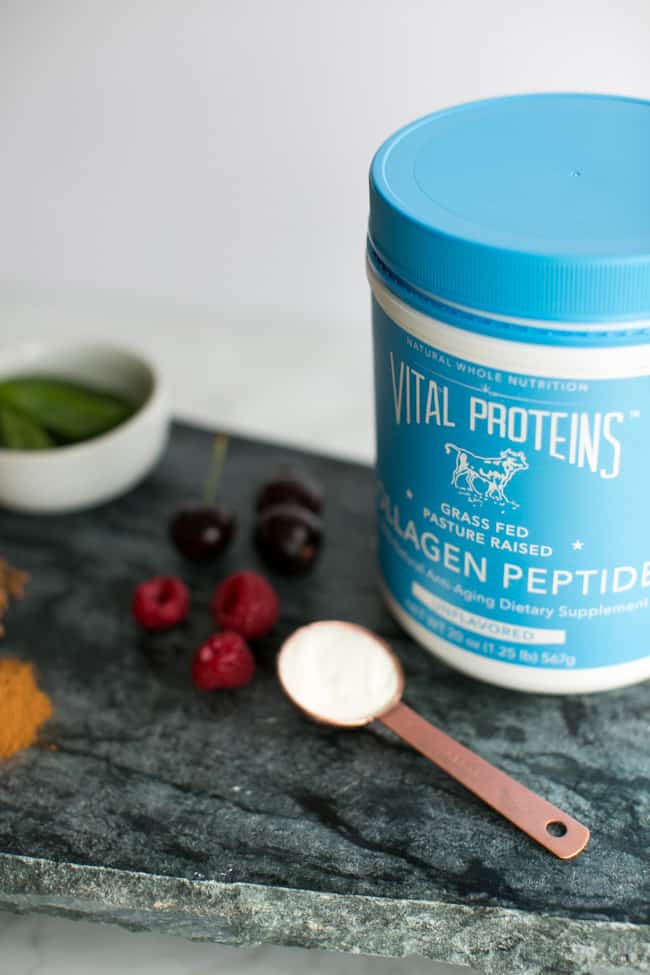 What are the health benefits of collagen?
There are many, but here are five ways collagen can boost your health:
Promotes beautiful skin – Collagen is one of the primary structural elements of skin. By providing your body with supplemental collagen, you're giving it the building blocks (amino acids) it needs to produce enough of it. Supplemental collagen has been shown to help improve skin elasticity, reduce wrinkling and may even protect against the aging effects of sunlight.
Heals the gut – Collagen helps form connective tissue and heals damaged cell walls. In the gut, it works to heal and seal the intestinal lining and restore the gut's mucosal layer.
Keeps joints healthy – Supplementing with hydrolyzed collagen has been shown to manage inflammation and reduce joint pain.
Boosts metabolism – Collagen is a rich source of the amino acid glycine, which helps convert glucose into energy that feeds muscle cells. Increasing lean muscle mass increases your metabolism!
Keeps you calm and helps you sleep – Glycine is also helpful in decreasing anxiety and promoting mental calmness. Studies show that taking 3 grams of glycine (found in a 20 gram serving of collagen) before bed improves the quality of your sleep.
What's the difference between collagen peptides and other forms of collagen?
When looking for collagen protein, you may come across names like "collagen hydrolysate" and "collagen peptides," which are the same thing. Collagen peptides refers to collagen protein that has been broken up into smaller pieces.
They contain the same amino acid profile as collagen protein but they have a lighter molecular weight. This allows the peptides to be highly bio-available, digestible and soluble in cold or hot liquids. They are also unflavored and easy to mix into smoothies, soups, or even water.
The other form of collagen protein you may come across is gelatin. Gelatin is the cooked form of collagen. It offers the same amino acids, but its molecular weight is higher than that of collagen peptides so it is not soluble in cold water. It dissolves only in hot water and causes liquid to gel. You can use gelatin to thicken sauces and soups, or to make gummies and puddings.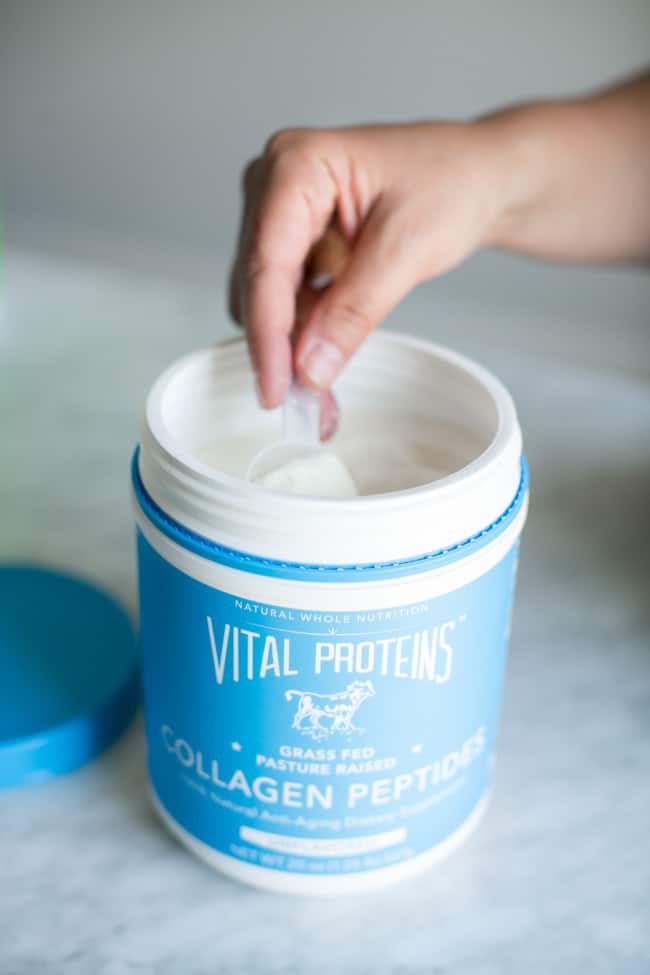 Who can benefit from collagen supplementation?
Anyone looking for a clean and pure protein powder with health, beauty and anti-aging benefits. As we get older, the production of collagen begins to slow down and cell structures start losing their strength. Collagen provides the amino acids your body needs to produce youthful skin, beautiful hair, strong nails and healthy joints.
What are the easiest ways to incorporate collagen peptides into my diet?
Bone broth is the original gelatin source. For chicken bone broth, the most collagen-rich bones to use are necks, feet and backs, but you can also use a whole chicken if that's easier. For beef or lamb bone broth, I recommend using marrow bones, knuckle bones or oxtail.
You'll know your broth is full of gelatin if it gels in the fridge. (Don't worry, it will liquefy again once heated.) If you can't be bothered making it yourself, you can buy it at natural foods stores or there are a handful of companies who ship frozen or shelf-stable broth to your door.
Roasts with lots of connective tissue will also produce meat and broth full of gelatin if you cook them low and slow, like in a slow cooker. Collagen-rich cuts like chuck roast and shanks are perfect for this.
Or add a scoop or two of collagen peptides to your daily drinks or meals–even easier! Here are some simple serving suggestions:
Smoothie – Add 10-20 grams (1-2 scoops) of collagen peptides to your liquid breakfast
Butter coffee – Combine 1 cup of freshly brewed coffee + 1 tablespoon of grass-fed ghee or coconut oil + 1 scoop Vital Proteins collagen peptides + 1 teaspoon of cinnamon + 1 teaspoon of vanilla extract + a pinch of sea salt in a blender and blend on high for 30-60 seconds until frothy. You can also stir collagen into a plain cup of coffee or tea.
Oatmeal – Add 10 grams (1 scoop) of collagen to your oatmeal, along with some healthy fat (like 1 tablespoon of nut butter) for a well-balanced breakfast.
Soups – Add a scoop to a pureed vegetable soup for light and clean dinner.
Protein packed side dish – Try this teriyaki cauli rice.
You can even stir into plain water pre-or post-workout for performance and tissue repair.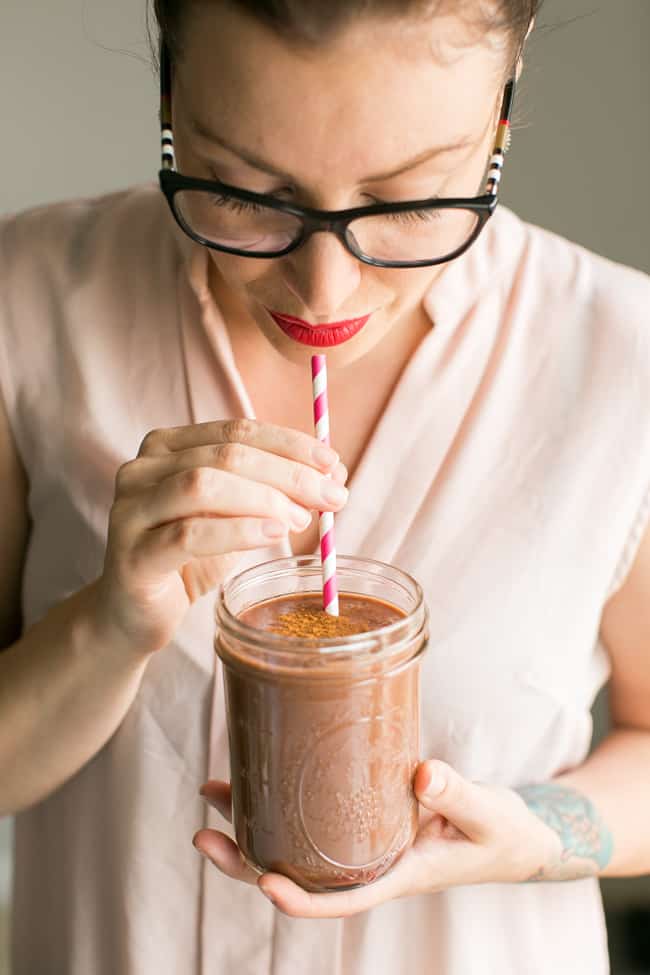 Do you take collagen supplements? What's your favorite way to use them?
115