Want stronger nails, thicker hair, or clearer skin? Then you need collagen. A good collagen supplement is not only a must-have for your beauty routine, but it also benefits your entire body [source]. Taking supplemental collagen provides the amino acids your body requires to produce youthful skin, beautiful hair [source], strong nails [source], and healthy joints. Here's what you need to know about collagen supplements and how to add collagen to your diet.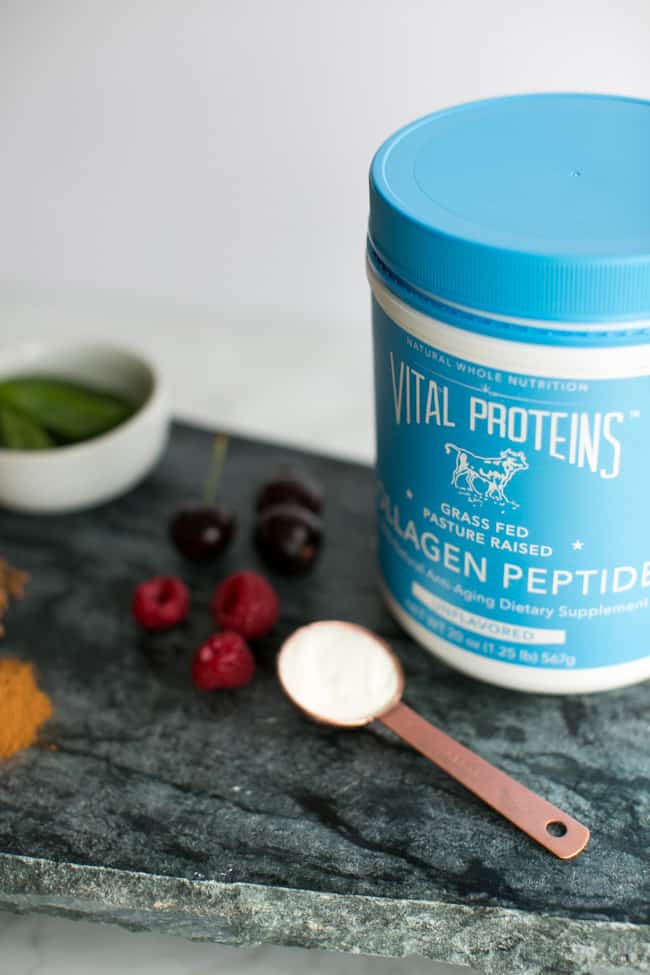 What's the difference between other types of protein and collagen protein?
Collagen is the most abundant protein in the body, and it's a key constituent of all connective tissue [source]. Collagen provides the infrastructure of the musculoskeletal system (considered the "glue" that holds the body together), and it's the primary building block of skin, hair, nails, tendons, cartilage, bones, and joints.
Collagen protein supplements are mostly sourced from parts of animals that contain a lot of connective tissue. Most collagen protein powders contain bovine collagen, meaning they are derived from the cartilage, bones, and hides of cows. Ideally, those cows were grass-fed and pasture-raised.
You can also buy products with collagen sourced from chicken, marine life [source], eggs, plants, and more [source].
There are many other types of protein powder supplements on the market—whey, casein, soy, pea, rice, and hemp. Each one has unique benefits and drawbacks; they differ in terms of bioavailability and their effects on muscle synthesis. What I love about collagen protein is that it contains approximately 97% protein, and it's supplied in a form that is easily digested and absorbed by the human body.
It's dairy-free (unlike whey and casein), fat-free, carb-free, and sugar-free. Since it's unflavored, it mixes easily into virtually anything (even water!) and doesn't contain any sketchy "other ingredients," which can be a big issue with some protein powder supplements. Collagen protein is just simple and pure, making it my preferred protein powder supplement.
What are the benefits of collagen?
There are many, but here are 5 ways collagen can boost your health: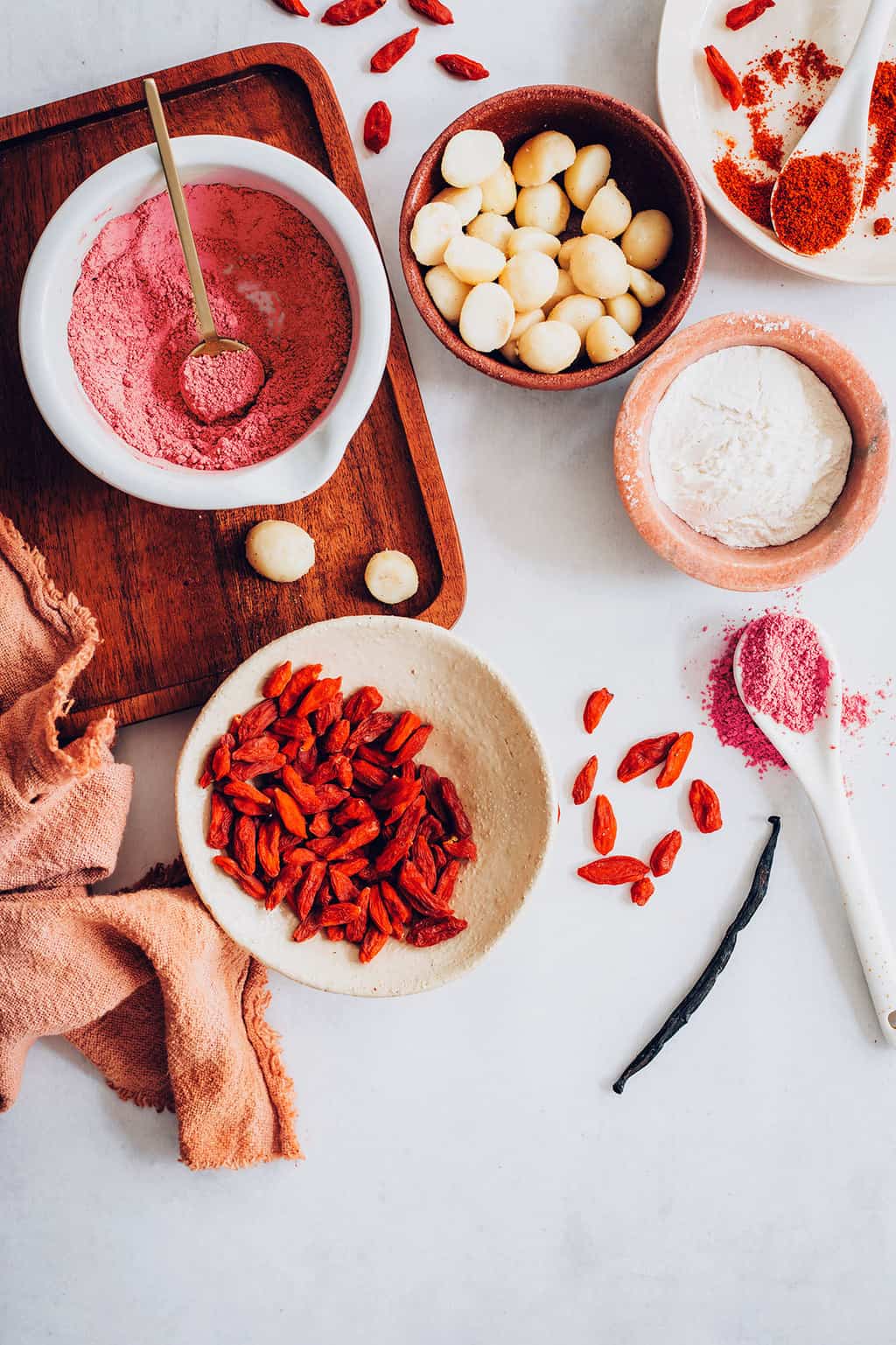 Promotes beautiful skin
Collagen is one of the primary structural elements of skin. By providing your body with supplemental collagen protein, you're giving it the building blocks (amino acids) it needs to produce enough of your own. Supplemental collagen has been shown to help improve skin elasticity [source] and hydration [source], reduce wrinkling [source], and may even protect from the aging effects of sunlight [source].
Heals the gut
Collagen helps form connective tissue and heals damaged cell walls. In the gut, it works to heal and seal the intestinal lining to restore the gut's protective mucosal layer [source].
Keeps joints healthy
Some studies have shown that supplementing with hydrolyzed collagen can help to manage inflammation and reduce joint pain [source], but not all have demonstrated a significant benefit [source].
Boosts metabolism
Collagen is a rich source of the amino acid glycine [source], which helps convert glucose into the energy that feeds muscle cells. Increasing lean muscle mass increases your metabolism!
Keeps you calm and helps you sleep
Glycine is also helpful in decreasing anxiety and promoting mental calmness. Studies show that taking 3 grams of glycine (found in a 20-gram serving of collagen) before bed improves the quality of sleep [source].
What are collagen peptides?
When looking for collagen protein, you may come across names like "collagen hydrolysate" and "collagen peptides," which are the same thing. Collagen peptides are the smaller components of collagen protein. They contain the same amino acid profile as collagen protein but have a lighter molecular weight [source].
This formulation allows the peptides to be highly bioavailable, digestible, and soluble in cold or hot liquids. They are also unflavored and easy to mix into smoothies, soups, or even water.
The other form of collagen protein you may come across is gelatin, which is the cooked form of collagen. It offers the same amino acids and has been shown to improve collagen synthesis [source]. But its molecular weight is higher than that of collagen peptides, so it is not soluble in cold water. It dissolves only in hot water and causes liquid to gel. You can use gelatin to thicken sauces and soups or to make gummies and puddings.
Easy Ways to Add Collagen to Your Diet
Bone broth is the original gelatin source. When making chicken bone broth, the most collagen-rich bones to use are the necks, feet, and backs, but you can also use a whole chicken if that's easier. For beef or lamb bone broth, I recommend using marrow bones, knuckle bones, or oxtail.
You'll know your broth is full of gelatin if it gels in the fridge. (Don't worry, it will liquefy again once heated.)
If you can't be bothered making it yourself, you can buy it at natural foods stores, or there are a handful of companies that ship frozen or shelf-stable broth to your door.
Roasts with lots of connective tissue will also produce meat and broth full of gelatin if you cook them low and slow, like in a slow cooker. Collagen-rich chuck roast and shanks are perfect cuts for this.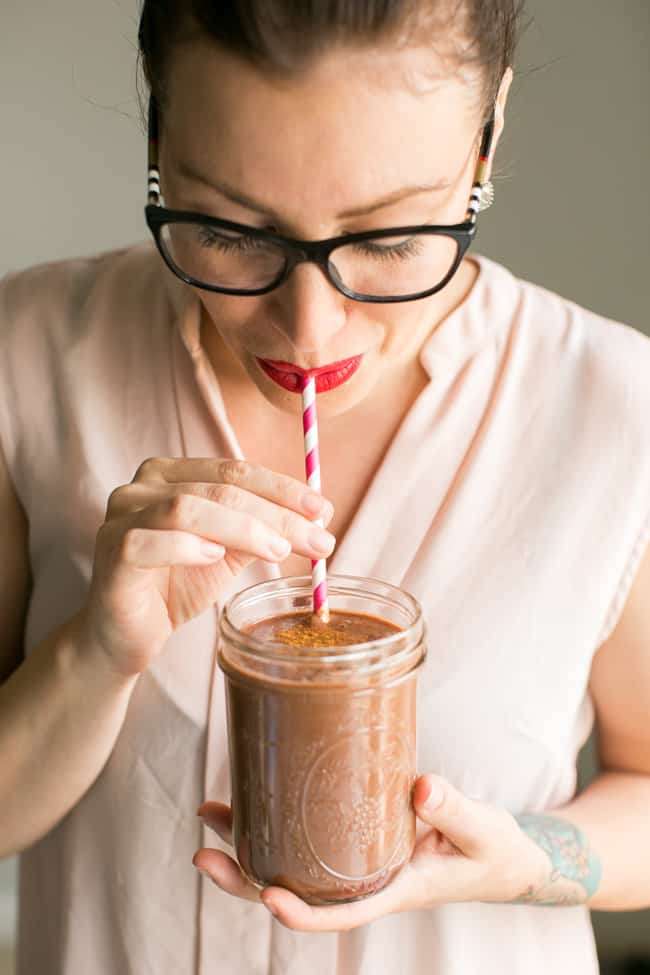 Ways to Use Collagen Peptides
Try adding a scoop or two of collagen peptides to your daily drinks or meals. Here are some simple serving suggestions:
1. Morning: to promote beautiful skin
Collagen is one of the primary structural elements of skin, and supplemental collagen has been shown to help improve skin elasticity [source], reduce wrinkling [source], and may even protect against the aging effects of sunlight [source].
Here are a few easy breakfast options:
Smoothie – Add 10 to 20 grams (1–2 scoops) of collagen peptides to your liquid breakfast.
Butter coffee – Combine 1 cup of freshly brewed coffee + 1 tablespoon of grass-fed ghee or coconut oil + 1 scoop of collagen peptides + 1 teaspoon of cinnamon + 1 teaspoon of vanilla extract + a pinch of sea salt in a blender, and blend on high for 30–60 seconds until frothy. You can also stir collagen into a plain cup of coffee or tea.
Or just stir pre-made collagen creamer into your coffee.
Oatmeal – Add 10 grams (1 scoop) of collagen to your oatmeal, along with some healthy fat (like 1 tablespoon of nut butter), for a well-balanced breakfast.
2. Post-workout: to keep muscles & joints healthy
Nutritionists recommend a protein-rich snack after a workout to help your muscles and joints recover. Collagen not only makes a good protein source, but hydrolyzed collagen has also been shown to manage inflammation and reduce joint pain [source].
Here are some protein-rich snacks to have post-workout:
Smoothie – 1 scoop of collagen peptides or whey protein powder, a handful of greens, ½ cup of berries, 1 tablespoon of almond butter or ½ avocado, almond or coconut milk, plus a dash of cinnamon. Or try one of these smoothie recipes.
Golden milk latte – Make it with full-fat coconut milk, turmeric, cinnamon, and a scoop of collagen powder.
Bone broth – With an abundance of amino acids, bone broth prevents muscle breakdown and increases your metabolism.
You can even stir collagen powder into plain water pre- or post-workout for increased performance and tissue repair.
3. Before meals: to heal the gut
If you're concerned about gut health, collagen can help by working to heal and restore the gut lining.
Our holistic nutritionist recommends downing a shot of apple cider vinegar before eating to stimulate stomach acid production, which is a great time to add collagen as well. Your food is more effectively digested, leading to better nutrient absorption.
If you're brave, you can add 1 tablespoon of apple cider vinegar to 2 ounces of water.
4. Mid-day: to keep you calm
Collagen contains glycine, which helps decrease anxiety and promotes mental calmness [source]. Add collagen to an afternoon matcha latte for a dose of L-theanine, an amino acid that helps to improve focus and mental alertness [source].
Soups – Add a scoop to a pureed vegetable soup for a light and clean dinner.
Protein-packed side dish - Try this teriyaki cauliflower rice bowl.
5. Bedtime: to help you sleep
The glycine in collagen is also helpful at bedtime. Studies show that glycine promotes and improves the quality of sleep [source]. Taking collagen along with functional ingredients like melatonin and magnesium supports deeper, more restorative sleep.
Here are a few bedtime elixirs to try:
Make a sleep-inducing banana tea or bedtime smoothie, and add a scoop of collagen.
Make your own Melatonin Gummies with collagen.
Add collagen to an Adaptogenic Midnight Milk.
Make a soothing herbal tea with pink beauty collagen milk (recipe below).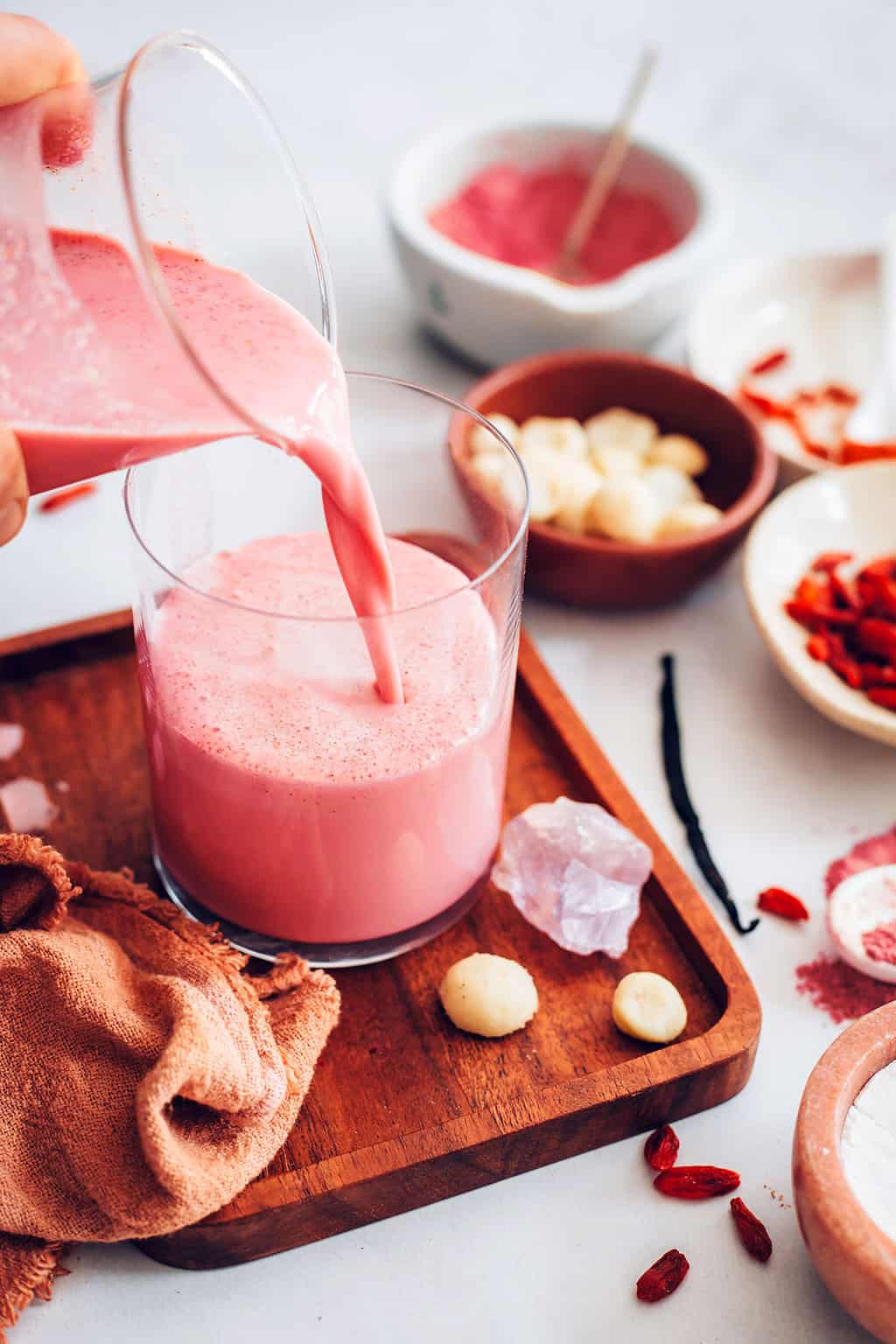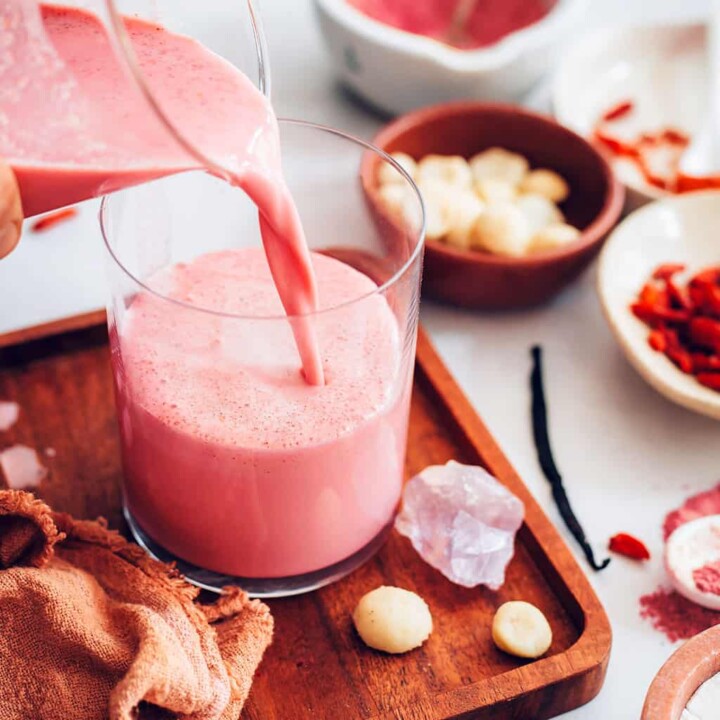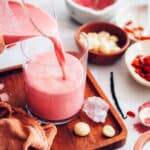 Print Recipe
Pink Beauty Collagen Milk
This Pink Beauty Collagen Milk helps give your skin a natural glow from the inside out. Bonus: It tastes amazing, too!
Instructions
Drain and rinse the macadamia nuts.

Combine all ingredients in a blender and puree on high until smooth. If needed, add more water until you get the consistency that you like.

Without straining it, transfer the macadamia creamer to a glass jar and store in the refrigerator for up to 4 days.

To use, pour ¼ cup creamer in freshly brewed coffee and gently stir.
Nutrition
Serving:
1
/4 cup
|
Calories:
128
kcal
|
Carbohydrates:
3.9
g
|
Protein:
1.7
g
|
Fat:
12.9
g
|
Saturated Fat:
2.1
g
|
Sodium:
7.3
mg
|
Sugar:
1.6
g
Collagen Supplement FAQ
What are collagen supplements?
Collagen supplements are a type of dietary supplement that contains collagen protein. They come in various forms such as powders, capsules, and drinks.
What are collagen peptides?
Collagen peptides are a type of collagen protein that has been broken down into smaller, more easily absorbed particles. They are often used in collagen supplements.
Why should I take collagen supplements?
Collagen supplements are commonly taken for their potential benefits on skin health, joint health, bone health, muscle mass, and blood vessels. They work by providing the body with additional collagen protein, a structural protein that is essential for many tissues in the body, including skin, bones, and joints. Collagen can be found in animal sources such as beef, chicken, and fish. There is limited scientific evidence to support the use of collagen supplements for hair and nail health. However, some people have reported improvements in these areas.
Can collagen supplements help with weight loss?
There is no direct evidence that collagen supplements help with weight loss. However, they may indirectly contribute to weight loss by increasing muscle mass and metabolism.
Are collagen supplements vegan?
Collagen is derived from animal sources, so collagen supplements are not suitable for vegans. However, there are vegan alternatives to collagen supplements, such as plant-based pro-collagen powders.
References (in order of appearance):
1. Harris M, et al. Developments for collagen hydrolysate in biological, biochemical, and biomedical domains: a comprehensive review. Materials (Basel). 2021.
2. Kalman DS, et al. The effect of oral hydrolyzed eggshell membrane on the appearance of hair, skin, and nails in healthy middle-aged adults: a randomized double-blind placebo-controlled clinical trial. J Cosmet Dermatol. 2020.
3. Hexsel D, et al. Oral supplementation with specific bioactive collagen peptides improves nail growth and reduces symptoms of brittle nails. J Cosmet Dermatol. 2017.
4. Ricard-Blum S. The collagen family. Cold Spring Harb Perspect Biol. 2011.
5. Rahman MA. Collagen of extracellular matrix from marine invertebrates and its medical applications. Mar Drugs. 2019.
6. Rodríguez MIA, et al. Collagen: a review on its sources and potential cosmetic applications. J Cosmet Dermatol. 2018.
7. Kim DU, et al. Oral intake of specific bioactive collagen peptides reduces skin wrinkles and increases dermal matrix synthesis. Nutrients. 2018.
8. Asserin J, et al. The effect of oral collagen peptide supplementation on skin moisture and the dermal collagen network: evidence from an ex vivo model and randomized, placebo-controlled clinical trials. J Cosmet Dermatol. 2015.
9. Hou H, et al. The effect of pacific cod (Gadus macrocephalus) skin gelatin polypeptides on UV radiation-induced skin photoaging in ICR mice. Food Chem. 2009.
10. Chen Q, et al. Collagen peptides ameliorate intestinal epithelial barrier dysfunction in immunostimulatory Caco-2 cell monolayers via enhancing tight junctions. Food Funct. 2017.
11. Schauss AG, et al. Effect of the novel low molecular weight hydrolyzed chicken sternal cartilage extract, BioCell collagen, on improving osteoarthritis-related symptoms: a randomized, double-blind, placebo-controlled trial. J Agric Food Chem. 2012.
12. Liu X, et al. Dietary supplements for treating osteoarthritis: a systematic review and meta-analysis. Br J Sports Med. 2018.
13. Li P, et al. Roles of dietary glycine, proline, and hydroxyproline in collagen synthesis and animal growth. Amino Acids. 2018.
14. Bannai M, et al. New therapeutic strategy for amino acid medicine: glycine improves the quality of sleep. J Pharmacol Sci. 2012.
15. Juher TF, et al. An overview of the beneficial effects of hydrolysed collagen intake on joint and bone health and on skin ageing. Nutr Hosp. 2015.
16. Shaw G, et al. Vitamin C–enriched gelatin supplementation before intermittent activity augments collagen synthesis. Am J Clin Nutr. 2017.
17. Kim DU, et al. Oral intake of low-molecular-weight collagen peptide improves hydration, elasticity, and wrinkling in human skin: a randomized, double-blind, placebo-controlled study. Nutrients. 2018.
18. Aguirre-Cruz G, et al. Collagen hydrolysates for skin protection: oral administration and topical formulation. Antioxidants (Basel). 2020.
19. Nobre AC, et al. L-theanine, a natural constituent in tea, and its effect on mental state. Asia Pac J Clin Nutr. 2008.
20. Kawai N, et al. The sleep-promoting and hypothermic effects of glycine are mediated by NMDA receptors in the suprachiasmatic nucleus. Neuropsychopharmacology. 2015.
This article was medically reviewed by Dr. Gina Jansheski, a licensed, board-certified physician who has more than 20 years of practice experience. Learn more about Hello Glow's medical reviewers here. As always, this is not personal medical advice, and we recommend that you talk with your doctor.
156