Capricorn (December 22–January 19) is the sign that ushers in each new calendar year. Like the sign's symbol, the goat, Capricorns are undaunted by obstacles. They put their heads down with their goals in mind and push upward, one step at a time, delaying gratification for what they know will eventually be a sweet reward.
Understanding Capricorns
Inspired by visions of achievement and success, Capricorns can be very goal-driven and self-motivated. They are associated with the 10th House of astrology (career and social status) and may attach a large part of their identity to their work and how successful they are or appear to others.
Every sign in the zodiac has some associated traits that can be considered strengths. In the case of Capricorn, these could be inner strength, willpower, motivation, direction, stability, and practicality.
And each sign carries a few other traits that could be considered weaknesses—Capricorns may be workaholics and can be competitive, materialistic, restrictive, and tunnel-visioned. Because they are ruled by boundary-boss Saturn, Capricorns can sometimes be practical, rigid, and rule-bound to the extreme.
Learning how to lighten up, release the white-knuckle grasp on their earnings, and leave more room for spontaneity and play in their lives can do wonders for their work/life balance and quality of life.

Capricorn Crystals + Essential Oils
If you're looking for light and innovative ways to play with the energy of your zodiac sign, you might try incorporating some astro-aligned essential oils into your daily self-care regimen or learning how to use crystals to balance out your star signs (or moon or rising signs, for that matter!)
Want to work with crystals but not sure what to do? Here is a guide on the basics of healing crystals, as well as one on how to cleanse and charge them to get you started.
9 Best Crystals for Capricorn Sign
To amplify, project, or work in alignment with Capricorn's practical strengths, go for the down-to-earth red, brown, and black stones. Try these:
This is the most widely-known birthstone of Capricorn babes and a strong choice for earthy, root-chakra energy.
How to use: When you're looking for more confidence, inner strength, security, resilience, and maybe an extra dose of success and social recognition, wear a garnet crystal to help keep you on your A-game.
Capricorns are known to be stable, confident leaders—thanks, in part, to the fact that they are a Cardinal sign. And with Saturn at their backs, they also have big boss energy, are adept at setting boundaries, and do what it takes to smash their goals.
How to use: Tiger's eye is one of the best stones for discovering your inner strength to lead with confidence and for finding your inner wildcat. Keep it in your pocket for important meetings and presentations.
Although it's not an "earthy" color, this beautiful emerald-green crystal is a somewhat lesser-known birthstone for Capricorn. It is used for attracting wealth and prosperity, as well as for seeking protection from risk.
How to use: Financial success and stability are big motivating factors for this sign, and for any of us approaching the new year with plans of working hard, saving more, and investing for the future, malachite might just be the stone to keep in your pocket.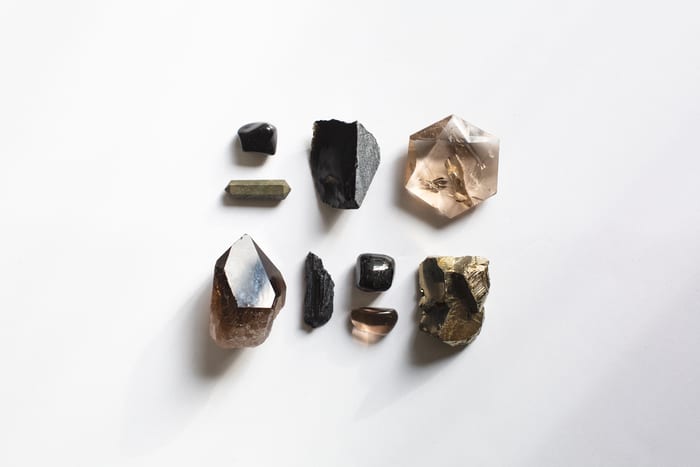 For increasing focus, improving productivity, and attracting abundance (three of Capricorn's strengths), pyrite is a great choice. As Forbes Magazine reports, "If a life coach were a crystal, it would be pyrite."
How to use: Keep pyrite at your desk, as it will also offer EMF protection for those long hours you'll no doubt be spending at your screen… it IS Capricorn we're talking about here!
Black Tourmaline is one of the most grounding and protective crystals out there. It works with the stable, foundational earth energy of the root chakra and will help absorb any negativity sent your way as you climb the ladder of success. Know the line, "new levels, new devils"?
How to use: Wearing this stone will help keep the heavy effects of naysayers and whisperers off your back so you can rest easy and stay focused on your glow-up.
Capricorn Crystals to Balance Energies
To offer balance to the Saturnian energies of Capricorn and encourage a softer, more intuitive, and more flexible energy, reach for the lighter white, purple, or blue stones of the upper chakras. Try using these:
Ah, just the name angelite feels soft and calming, and this powder-blue stone might be just what Capricorns need to take the edge off. It can also help with the seventh chakra's spiritual insights, helping you to feel more awake and connected with the beauty of life around you.
How to use: When stubborn practicality or the drive to thrive takes over, it may be time to get quiet and tune into the more subtle whispers of your inner guidance and intuition. Keep it close by as you meditate or take a relaxing bath.

The sweet, gentle healing energy of rose quartz is a must-have for any healing crystal collection, but it's especially helpful for those of us who, like Capricorns, may be self-critical and push ourselves to the limit to achieve perfection.
How to use: Keep it close by on your bedside table or tuck it into your bra. It's like a warm hug, a "take it easy," and a reminder that it's okay to be soft and vulnerable sometimes.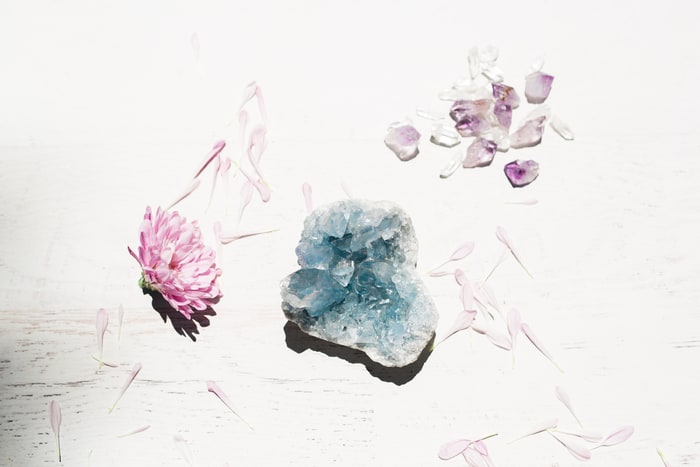 Capricorns aren't exactly known for their moderation, and while a driven nature can help them get ahead, it can also lead to burnout and fatigue. They are big, bright leaders who go to extremes to achieve whatever they've set their minds to. Think all-or-nothing energy, with fasting, cleanses, or Dry January on one end and all-nighters, marathon training, and 30-day challenges on the other.
How to use: Amethyst is a fabulous crystal for whenever we are pulled to extremes and in need of temperance. It can be a balm to Caps who realize it's time to find some regulation and balance for longevity's sake.
This soft, powder-blue stone is associated with the upper chakras and helps those like Capricorns who are more root-bound to awaken to their inner wisdom and insights. Celestite is thought to soothe overactive mental energy, stress, and anxiety and helps with sleep.
How to use: If work-related insomnia or restlessness is an issue at bedtime, try keeping this crystal by your bed. It is also said to help one find balance and temperance in communication, which is a coveted skill of any team leader.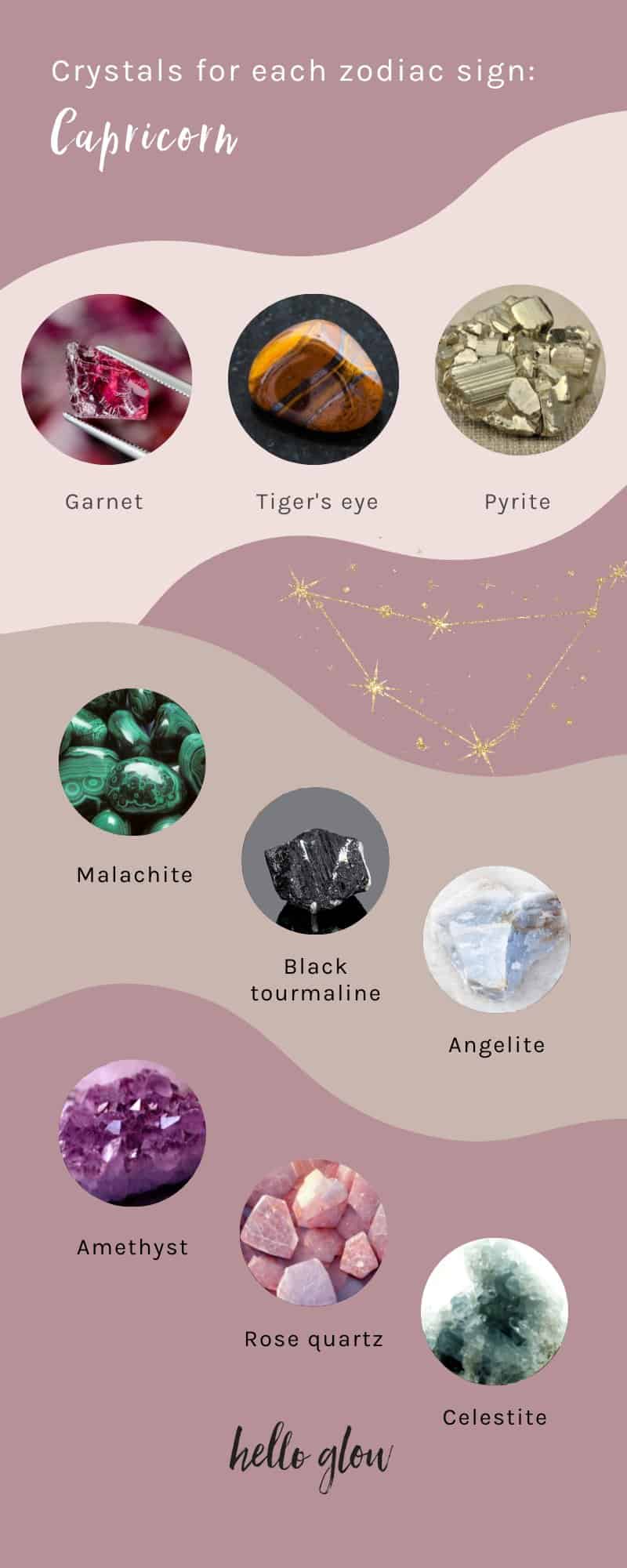 Whether you're a Capricorn or just looking to augment your self-directed, inner-goat energy during Capricorn season, try working with a few of these stones and see where it takes you. Already using crystals to help you in the realm of work/career/reputation? Let us know your favorite go-to stones and how you use them to get ahead!
25