For many of us, the word chakra brings to mind a whole slew of connotations–think hippie yogi chanting on the beach at sunrise. But while it might sound like new age mumbo-jumbo, the concept of the chakra as we know it has been present in Buddhist scholarship since the 8th century.
The chakras are described as little coils or collections of energy found along an energetic path that flows alongside the central channel of the nervous system (spine/brain). You can visualize them as little pit stops along an open highway. Much in the way that the brain embodies both a physical entity (the actual physical organ) and a subtle-body entity (the mind), the chakras are the unseen energies that have associations with specific locations in the physical body.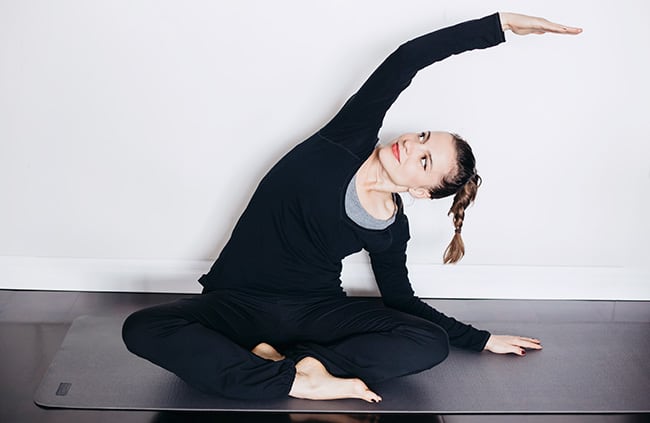 In an ideal scenario, this energy is able to flow freely up and down the central channel, leading to feelings of wellness and balance. But since we don't live in a vacuum, we are all exposed to trauma, injuries, interactions and incidences which impact both our bodies and our minds. Over time, our responses to these life events can lead to blockages and we can become stuck in patterns of thought and behavior that prevent us from feeling at peace. By bringing our awareness to these tiny pockets of energy, we can see what dysfunctional patterns may have developed and work to bring ourselves back into a place of balance.
If you notice that you are operating from a state of imbalance in one or more of the chakras, there are many different ways to approach healing. A good entry point for beginners might include surrounding yourself in or wearing the color of the chakra, meditating to music in the key of the vibration (or play the pitch during meditation), carrying a balancing crystal in your pocket, or incorporating yoga poses that bring circulation and vitality back to the area in question.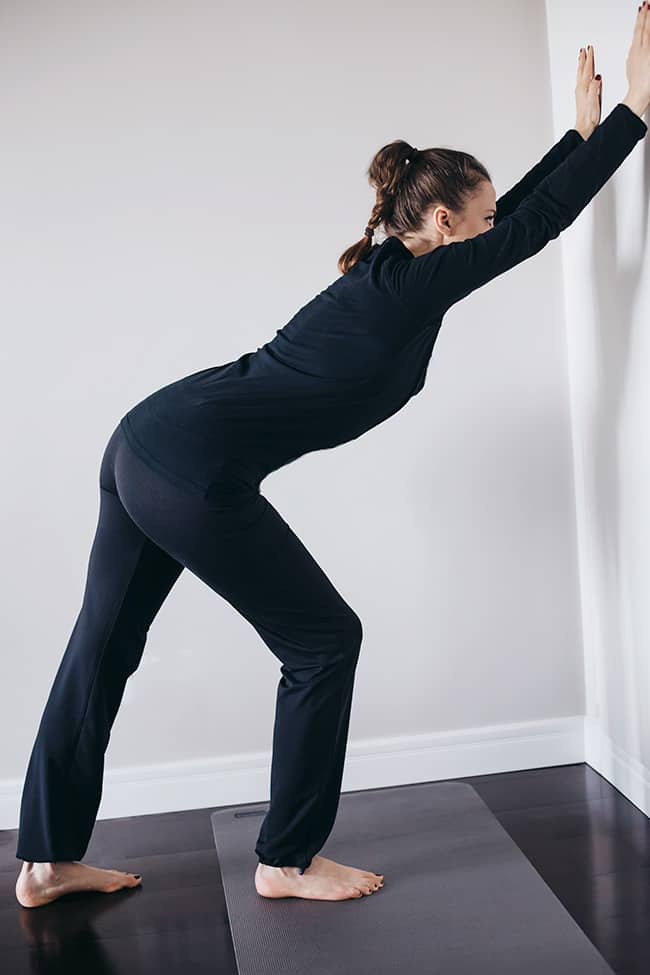 Sometimes you might feel that one area is blocked, while another might be overactive. Or you might notice that once you have created a sense of wellbeing in one area, another may suddenly require your attention. We are a living system; every day we take in energy and give it out. Our energetic bodies as well as our physical bodies can feel overused and tired, or neglected and sluggish.
Below you'll find a quick run-down of the seven chakras. Take note of what resonates with you in terms of how you have been feeling lately. Try working with the idea of opening or balancing that area for a few weeks and see what can happen when you bring a specific plan of healing to an area in much need of some TLC!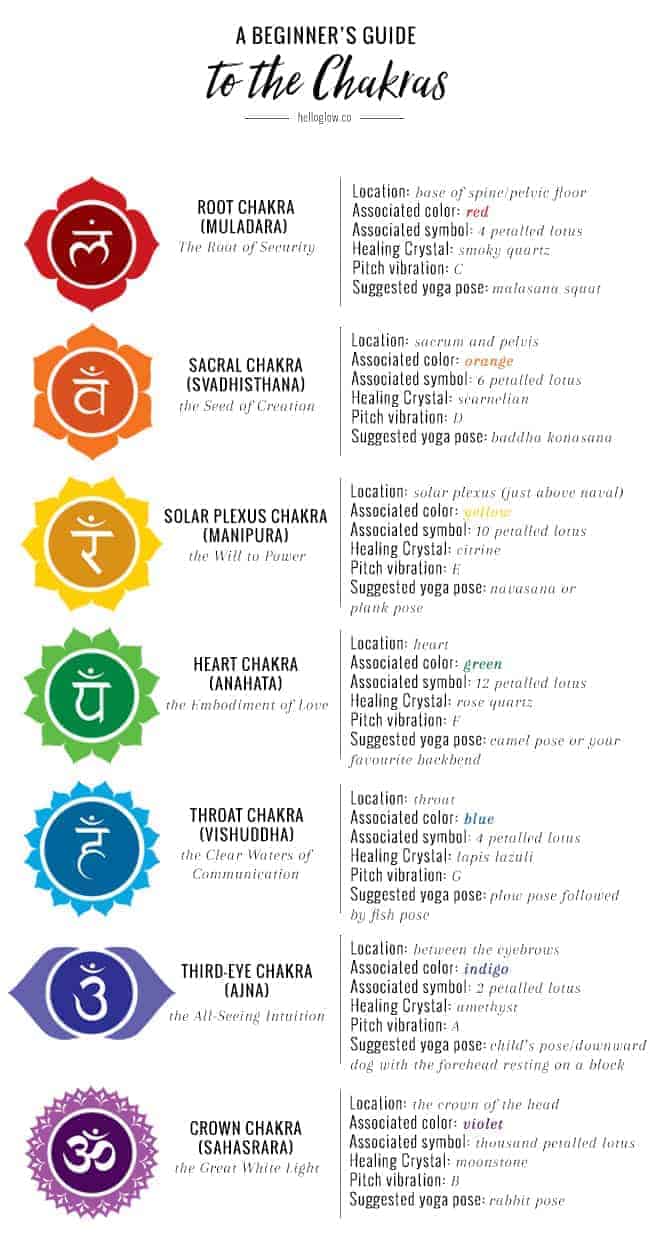 1. Root Chakra (Muladara) — the Root of Security
When there are blockages at this level, we might feel depressed, ungrounded and unimportant, or as if we must struggle to meet our basic needs. A balanced root chakra makes us feel safe and supported. We feel as if we belong and deserve to take up space in the world. Many anxiety disorders stem from issues at this level. If there is overstimulated energy here, we may become greedy, selfish or may operate largely from a place of self-interest.
Location: base of spine/pelvic floor
Associated color: red
Associated symbol: 4 petalled lotus
Healing Crystal: smoky quartz
Pitch vibration: C
Suggested yoga pose: malasana squat
2. Sacral Chakra (Svadhisthana) — the Seed of Creation
The sacral chakra is the seat of our creativity. When energy flows easily here, we feel inspired and impassioned, playful and sexy. It governs our ability to feel the flow of desire, to create and procreate. When there are blockages there can be reproductive issues, fear of pleasure and our creative abilities feel stifled. Overstimulated, we can become scattered and unfocused in our activities, starting projects that never see completion or we might find ourselves endlessly seeking pleasure.
Location: sacrum and pelvis
Associated color: orange
Associated symbol: 6 petalled lotus
Healing Crystal: carnelian
Pitch vibration: D
Suggested yoga pose: baddha konasana
3. Solar Plexus Chakra (Manipura)— the Will to Power
The solar plexus chakra is our power house. When we are blocked here we feel weak and powerless, as if we lack the strength to create or face change in our lives. It also affects our abilities to maintain personal boundaries. When balanced, we feel in control of ourselves, we believe in our our own personal power, we stand our ground and are strong when confronting necessary changes. Overstimulation here can lead to bossiness and an unhealthy need to control or subjugate others.
Location: solar plexus (area just above naval)
Color: yellow
Symbol: 10 petalled lotus
Healing Crystal: citrine
Pitch vibration: E
Suggested yoga pose: navasana or plank pose
4. Heart Chakra (Anahata)—the Embodiment of Love
The heart chakra not only governs our ability to give and receive love to and from others, but also our ability to fully love ourselves. When we are stuck here, we may find we carry a lot of negative internal dialogue about not being worthy of love, or of not being enough. Our ability to love ourselves first is essential, or our relationships may develop in a state of codependence rather than true communion. In balance, we are confident and forgiving, and we practice and value compassion and kindness to self and others. Overstimulation here could lead to issues relating to extreme empathy. This is when we absorb so much of what others feel that our own emotional boundaries aren't respected. Often times people who work in fields related to healing can unintentionally take on the emotional struggles of those around them which can affect both their mental and physical health.
Location: heart
Color: green
Symbol: 12 petalled lotus
Healing Crystal: rose quartz
Pitch vibration: F
Suggested yoga pose: camel pose or your favorite backbend (such as cobra, bridge, bow or wheel).
5. Throat Chakra (Vishuddha)—the Clear Waters of Communication
When our throat chakra is blocked we may fear communication and lose our ability to speak our truths. Sometimes we may actually get a sore throat when we aren't saying what we need to say! Is there something you need to vocalize that you're afraid of bringing out into the open? In balance we find the ability to speak freely in a level-headed manner. We are unafraid of our truths, and are willing to share it openly. An overactive throat chakra may express itself as fiery explosions of anger, mindless chatter, or harmful gossip. A balanced throat chakra allows us to express ourselves clearly and concisely.
Location: throat
Color: blue
Symbol: 16 petalled lotus
Healing Crystal: lapis lazuli
Pitch Vibration: G
Suggested yoga pose: plow pose followed by fish pose (or supported fish pose)
6. Third-Eye Chakra (Ajna) — the All-Seeing Intuition
You know that deep-seated feeling that tells you if you're on the right track or about to do something you know you shouldn't do? Or that spark of dialogue that lights up when you are making decisions? Many of us have years of practice silencing our intuition and pushing away our inner guides, but that doesn't mean that we've lost the ability to feel our way down the right path. Spending time tuning in to your inner voice can be a powerful and profound practice. In balance, we listen to our true selves, not to our fears, no matter how scary the message. Overstimulation here can lead to hallucinations, daydreaming, or the inability to be grounded in real-world thinking.
Location: between the eyebrows
Color: indigo
Symbol: two petalled lotus
Healing Crystal: amethyst
Pitch Vibration: A
Suggested Yoga Pose: child's pose/downward dog with the forehead resting on a block
7. Crown Chakra (Sahasrara) — the Great White Light
The crown chakra governs our ability to feel connected, spiritual, joyful, and fulfilled. It is also the chakra which involves thinking, learning, processing, and our search for meaning. When we are clear, we feel as if we a part of the world. We listen and think and understand and feel the connections that are everywhere. We are open to new perspectives and welcome the evolution of thought. When we are blocked, our thinking is rigid and unyielding, we are resistant to new ideas. When we are overstimulated here, we think we have all the answers or we might find that our thoughts have become obsessive.
Location: the crown of the head
Color: violet
Symbol: thousand petalled lotus
Healing Crystal: moonstone
Pitch Vibration: B
Suggested Yoga Pose: rabbit pose. If you have any neck injuries, seated meditation with a block resting on the top of the head is a great option.
There is much to be said and understood about the chakras and the nature of this subtle body energy, and one could easily dedicate years to their study. If you're interested in digging in and learning more, there is a wealth of information both on the internet and in scholarly texts.
It can be an unusual concept to open up to at first, but to think that the body contains a wealth of information relating to our thoughts and feelings is not necessarily a far-fetched one, and in fact many cultures around the world have wellness systems that focus on the flow of energy through the body. Whether you believe in these little energetic spirals or not, spending time thinking about where you may be in a state of imbalance can bring about a realization that some changes need to be made, and it might also provide that kick of inspiration you need to get back on track!
165