We recently helped you choose the right crystals for your Zodiac sign (otherwise known as your sun sign), and thought it would be helpful to share the essential oils that align with the energies of each as well. These aromatherapist-approved essential oil suggestions incorporate the overall energy of the sign, the planetary ruler and its qualities, the dominant element, and the related astrological house. Check out your sign for a fun ways to incorporate essential oils into your routine.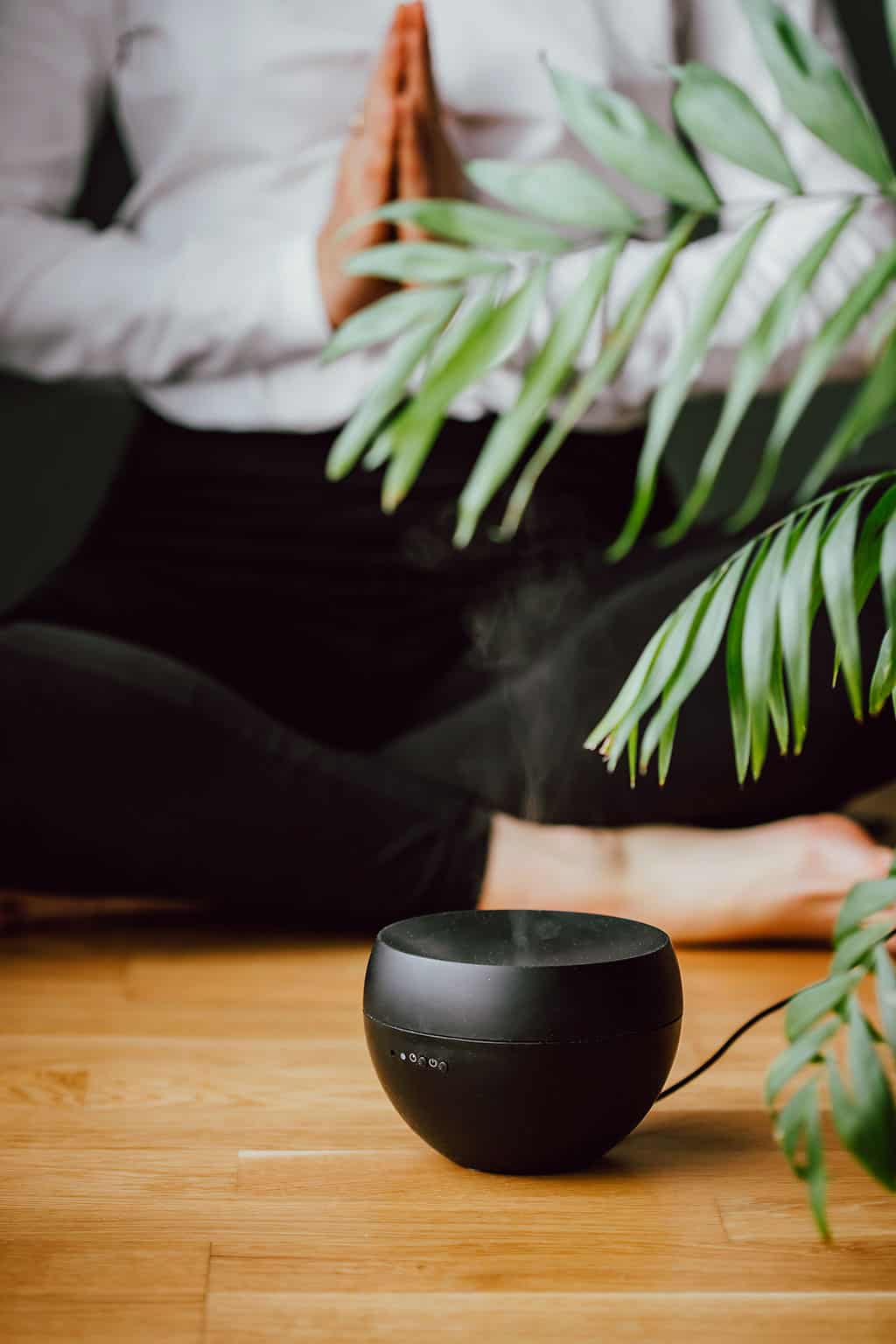 How to Use Essential Oils for Your Zodiac Sign
If you know your rising sign (also known as an ascendant), you may want to check out that sign's oils when you want to project clarity in your persona; in more quiet, reflective moments, working with the oils of your moon sign might be more suitable. Use these oils in active or reed diffusers, in room sprays, or mixed with a carrier oil and worn on your skin (check for skin sensitivity and contraindications for oils before use).
Aries (March 21-April 19)
Element: fire
Planet: Mars
Astrological House: 1st house of self/ego
Energy: bold, confident, motivated, provocative
For the cardinal fire sign of Aries, think bold, fiery, and uplifting scents… no wallflowers around here! Since this sign is also aligned with the first house of self, there really is a desire to be seen as a strong, purposeful, confident individual, and as such, the scents should reflect not only smouldering fires, but also a bit of daring.
Try ginger essential oil for that warm, spicy glow, or pink peppercorn oil for a slightly sweeter and fruitier kick. Tobacco absolute oil is another great smoky option here.
Taurus (April 20-May 20)
Element: earth
Planet: Venus
Astrological House: 2nd house of value and resources
Energy: grounded, sensual, slow, dependable
Taurus is a slow, steady energy that likes to stop and smell the roses…literally! This is known as being the most sensual sign, and as they are also ruled by Venus, love being surrounded in a beauty that they can also take pleasure in.
If you're a Taurean who is fond of florals (all ages and genders can enjoy their luxe appeal, they aren't just for Grannies anymore!), jasmine is a bright and beautiful choice.
For something more earthy and grounded, a rose absolute oil (which can be more expensive and hard to find) is pure bliss. Sandalwood will also align well with the earthy energy here, offering a powdery softness which can appeal to Taurus' quest for comfort.
Gemini (May 21-June 20)
Element: air
Planet: Mercury
Astrological House: 3rd house of communication, expression, movement
Energy: communicative, curious, changeable, impulsive
Gemini is both mutable (changeable) and an air sign, so there's a lot of shifting and movement going on here. Represented by the twins, Gemini often has two (or more!) sides, and can adeptly shape-shift depending on the needs of the circumstances. They love learning and sharing information, and are aligned with the throat chakra which is represented by the color blue.
As such, sweet indigo-hued blue tansy essential oil would be a great choice, and it can also help to calm the waves of frenetic energy. Bergamot oil is another possibility, as it's a different twist on a citrus and is said to help with focus, something a Gemini may be looking for.
Cancer (June 21-July 22)
Element: water
Planet: moon
Astrological House: 4th house of family and home
Energy: nurturing, intuitive, tenacious, emotional
As a water sign ruled by the moon, there's a whole lot of emotional depth going on in Cancer's world. Ebb and flow is a daily reality for them, and so emotional comfort and safety is of utmost importance.
If cozy vibes and heart-hugs are key, lavender essential oil would be an obvious choice (and it's also helpful with relaxation and sleep, which is moon territory.)
But since lunar energy is also strongly correlated with women and women's health, both geranium and clary sage are helpful oils for menstrual "moon cycle" challenges. They also happen to be calming, comforting scents you may want to spritz on those wool blankets!
Leo (July 23-August 22)
Element: fire
Planet: sun
Astrological House: 5th house of play, children, pleasure
Energy: fun, entertaining, courageous, performative, friendly
Leo is a bright and shiny sign, the only one ruled by the fiery brilliance of the sun. Like the sun, Leo energy is warm and inviting, and all who gather near feel the strength of its rays. They know how to get attention just by being themselves, and show courage in their self-confidence and self-expression.
While any wild scent would really align well with Leo's personality, bright, sunny, citrus scents are perfect. Sweet orange, grapefruit, or lime essential oils smell like summer, and that's Leo's vibe in a bottle.
Virgo (August 21-September 22)
Element: earth
Planet: Mercury
Astrological House: 6th house of daily life/routine, health
Energy: focused, organized, practical, perfectionistic
The grounded, practical, reliable earth energy of Virgo is less stubborn than Taurus and less headstrong than Capricorn, but just as solid. Ruled by Mercury, Virgo has the gift of communication and movement like Gemini, but prefers to use that gift in a way that's tried and true, and follows predictable routes. They tend to be careful types, concerned with their health and optimizing their routines.
Green woodsy oils such as juniper, juniper berry, and petitgrain all have a sweeter, fruitier lightness to their earth, making them a great choice for this mutable sign. Tea tree oil would be a must-have for any Virgo's arsenal, perfect for all of that health-conscious cleaning!
Libra (September 23-October 22)
Element: air
Planet: Venus
Astrological House: 7th house of partnership
Energy: balanced, cooperative, fair, considerate
Libra is symbolized by the scales, which represents their balanced nature, but also their ability to see both sides, consider various options, and cooperate reciprocally in relationships. As such, it makes perfect sense that the 7th house of partnerships is aligned with this sign of equality and reciprocity.
Single note oils could work well for Librans—for example, ylang ylang, as it's known as an aphrodisiac with a very soft, inviting, Venusian quality to it, or rose oil for its association with beauty and sensuality—two note blends composed of complimentary opposites is another idea; think floral/wood, or a citrus/resin.
Scorpio (October 23-November 21)
Element: water
Planet: Mars/Pluto
Astrological House: 8th house of death, transformation, sex, and shared resources
Energy: mysterious, private, determined, ambitious
I've never understood why this sign gets such a heavy rap—Scorpios are often represented as being overly jealous, resentful, and secretive, and while that can occasionally be true (as with anyone), nobody can come close to their seemingly unending depth.
Sure, like the scorpion, they may be more comfortable in the dark, and ready to sting if they feel threatened, but they are incredibly tough, resilient, skilled, and successful at moving through waters others would be too afraid to traverse.
Essential oils that align well with this energy are heady, musky, resinous oils that nod to Scorpio's innate depth and complexity—try patchouli, frankincense, and amber oils.
Sagittarius (November 22-December 21)
Element: fire
Planet: Jupiter
Astrological House: 9th house of travel, expansion, and higher learning
Energy: freedom-loving, adventurous, knowledge-seeking, optimistic
Wild and free Sagittarius is a breath of fresh air. They bring with them great ideas, the courage to take a leap of faith and try new things, and the intelligence to figure out just how it can be done. Like their symbol the archer, they take aim and let their dreams fly, sometimes to the other side of the globe.
Often characterized as students of life or die-hard wanderlusters, Sagittarius craves new experiences much like the other fire signs, and the scents they use should reflect that—in other words, the best oils for a Sag are exotic, hard to find, or previously unknown to them. Try yuzu for a clean citrus, agarwood (oudh) for something grounded, or copaiba for calming.
Capricorn (December 22-January 19)
Element: fire
Planet: Saturn
Astrological House: 10th house of career and reputation
Energy: driven, focused, motivated, competitive
The earth energy in Capricorn is strong and steady, but also can be harnessed to plow through barriers and limitations like a wrecking ball. Symbolized by the goat, Capricorn is strong and resilient, able to climb any mountain, no matter how tough the terrain. They are often workaholics, career-focused, and achievement-oriented, and make for excellent providers because they love to see their stability support others.
Essential oils that are best for Capricorn help them stay on task and get it done: peppermint oil and rosemary oil are both known to increase focus and concentration, and provide perfect "pick me ups" when another coffee just isn't going to cut it. Nothing but coffee will do? Try coffee essential oil (Coffea arabica)!
Aquarius (January 20-February 18)
Element: air
Planet: Uranus
Astrological House: 11th house of community, networks, and culture
Energy: innovative, rebellious, cutting-edge, unpredictable
Aquarians are future-forward and inspired by the potential of what's possible. They are openminded, expansive thinkers who conceptualize the next big wave out of thin air, and are able to see how things connect, and work around obstacles with their outside-of-the-box problem solving. Since they are often driven to create a better future, social justice and environmental implications are important.
The best essential oils for an Aquarian are organic and sustainably-sourced, and come from crops that are easy to grow and harvest such as lemon oil, tea tree oil, and lavender oil. Combining them in unique ways also satisfies their desire for innovation!
Pisces (February 19-March 20)
Element: water
Planet: Neptune
Astrological House: 12th house of karma, spirituality, life purpose, mystery
Energy: mystical, sensitive, imaginative, romantic
The dreamy, Neptunian energy that governs Pisces lends them an intuitive, watery depth, and an almost mystical nature. They have very rich internal worlds, and may feel connected with spirit or passed ancestors, have revelations come to them in dreams, and deeply trust their inner knowing.
Answers arise when they tune in to their feelings rather than their thoughts, and the best essential oils for a Piscean help them tap into their spiritual nature. Traditionally devotional scents such as palo santo, sandalwood, or myrrh are great choices for Pisces, and may be best worked into mystical rituals or used on altar spaces.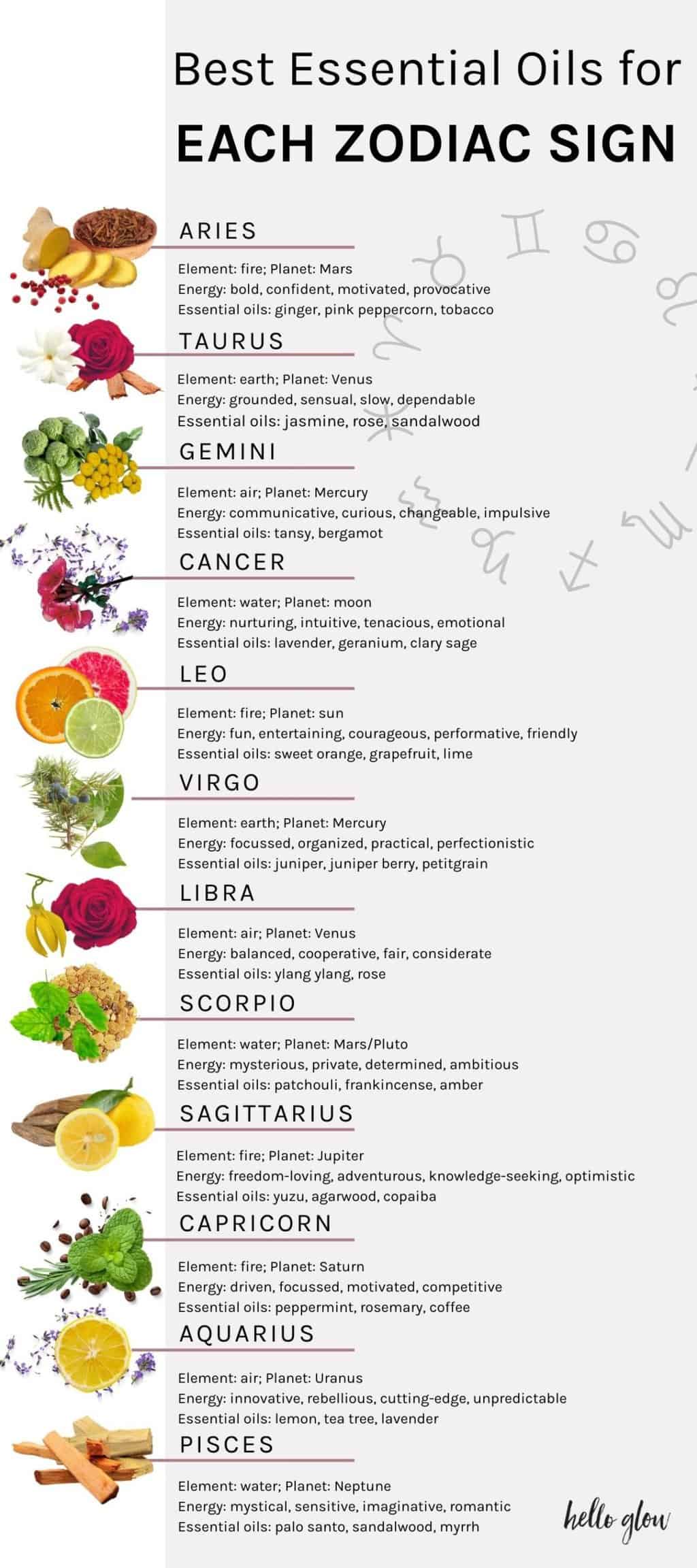 15