We could all use a little more of the "beneficial bacteria" in our bodies — you know, the probiotics. Probiotics are the friendly bacteria taking up residence in our digestive tracts. They do a lot of important work for keeping our guts–and our immune systems–healthy and balanced.
Many people who suffer from IBS find daily probiotic intake to be helpful, and it's also especially useful in the treatment of more acute digestive woes, whether caused by antibiotic use or infection. Probiotics are helpful for oral and vaginal health, weight loss, and some research shows them to be effective for some skin conditions, such as eczema.
6 Ways to make a probiotic smoothie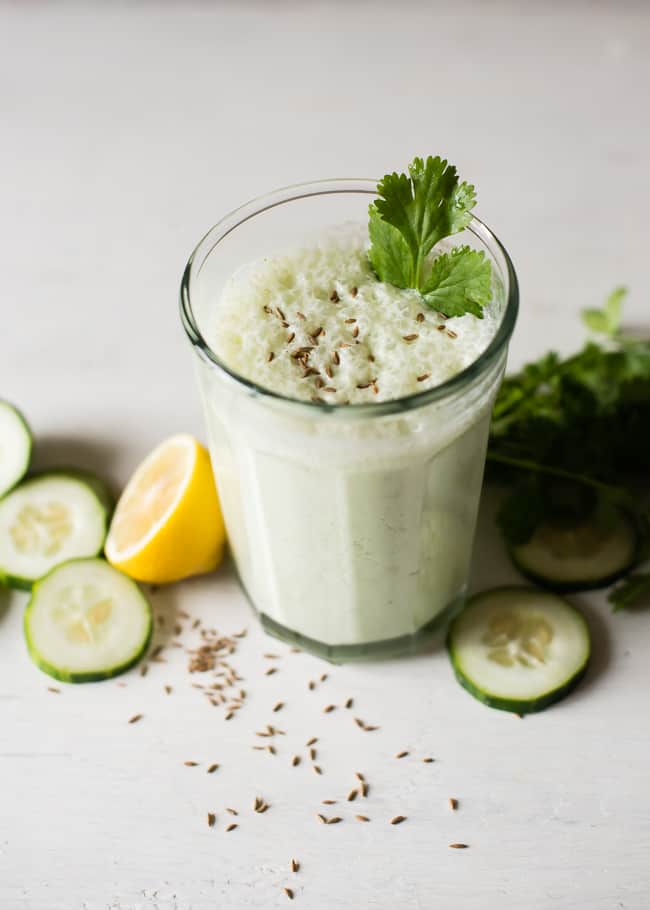 There are a myriad of ways to get your good bacteria. You can up your intake of foods with natural probiotics, like homemade kimchi or sauerkraut or try a supplement. But guess what's one of our favorite options? Smoothies! Here are 6 delicious ways to make a probiotic smoothie.
1. Unsweetened Yogurt
Swap the milk in your smoothies for yogurt, which can improve the symptoms of bloating. It is pre-digested and the milk-sugar is already broken down, making it easier for the body to handle it.
Avoid low-fat or high sugar content brands. Plain yogurt is delicious and more nutritious and there is no use for added sugars when you can add sweetness to your smoothie by adding fresh fruit or a drizzle of honey.
Try these recipes:
2. Probiotic protein powder
When you up your intake of increase of protein, fiber, probiotics and living, fermented foods you can start to curb cravings and sugar intake. Find a protein powder that delivers protein, probiotics, prebiotic soluble fiber and digestive enzymes in an easily mixable form that helps balance the good and bad bacteria in our digestive tract.
Plus, a probiotic protein powder blend is a great way to add good bacteria to your smoothies if can't do dairy or you're not a fan of the tanginess of yogurt or kefir.
Try this recipe:
Blueberry Pre- & Probiotic Smoothie
1 scoop protein powder
8 ounces unsweetened almond milk
1/2 cup frozen blueberries
1 tablespoon chia seeds
1/2 avocado
3. Kefir
The probiotics in kefir can help normalize digestive troubles, and one 8-ounce serving of kefir delivers up about 20 percent of your daily calcium needs, as well as good amounts of vitamin B12, biotin and phosphorus along with a whopping 10.5 grams of protein.
Those who are lactose intolerant have an easier time digesting kefir since the lactose has been fermented. If you don't love the taste of kefir, try a probiotic milk.
Try these recipes:
Berry-Almond Smoothie
3/4 cup plain kefir
1 tbsp almond butter
1/2 tbsp chia seeds
1/2 cup raspberries
Banana-Pumpkin Smoothie
1/2 cup pumpkin puree
1 banana
1/2 cup plain kefir
2 dates
1/2 tsp pumpkin pie spice
1/4 tsp cinnamon
1 tbsp maple syrup (optional)
Ice
4. Coconut Yogurt or Kefir
Coconut yogurt is full of good gut-friendly bacteria and dietary fiber, and coconut kefir is easy to make at home. It does not contain protein like cows milk yogurt does, but it does have medium-chain fatty acids. The extra fat will help keep you feeling satisfied, but if you miss the protein, add some protein powder or 1-2 tablespoons of chia seeds, which will make the smoothie even thicker.
Try these recipes:
5. Kombucha
Have some kombucha in the fridge? Add a serving of it to your next smoothie for a dose of healthy bacteria and probiotics. The enzymes and antioxidants in this fermented tea support the immune system and promote a healthy digestive system.
6. Raw Apple Cider Vinegar
Not only is organic, raw, unpasteurized and unfiltered apple cider vinegar, such as Bragg's, great for salad dressing, skincare and boosting the immune system (as well as many other household uses), it's a natural probiotic. Drinking ACV can be tough, though, because it has a super strong taste so try hiding it in an elixir or smoothie recipe.
Try these recipes:
Apple Cider Vinegar Protein Smoothie
1 cup baby spinach
1/2 cup frozen zucchini
1 apple, chopped
1 teaspoon cinnamon
1 tablespoon apple cider vinegar
1 tablespoon walnut butter
1 scoop collagen peptides
1 cup water
ACV Mango Smoothie
1 cup frozen mango chunks
2 tbsps raw cashews
1 tsp to 1 tbsp apple cider vinegar
1 cup coconut water
1 scoop vanilla protein powder
1/2 cup ice
148