Have you ever wondered how the stars look so darn shiny on talk shows? Body highlighter. AKA, shimmery body lotion.
There are a lot of brands that have shimmer products and bronzing oils now, but they're actually really easily to DIY. Short of sprinkling yourself in glitter (which I'm not opposed to!) this homemade lotion with shimmer will give you a warm, sparkly – but still subtle – glow.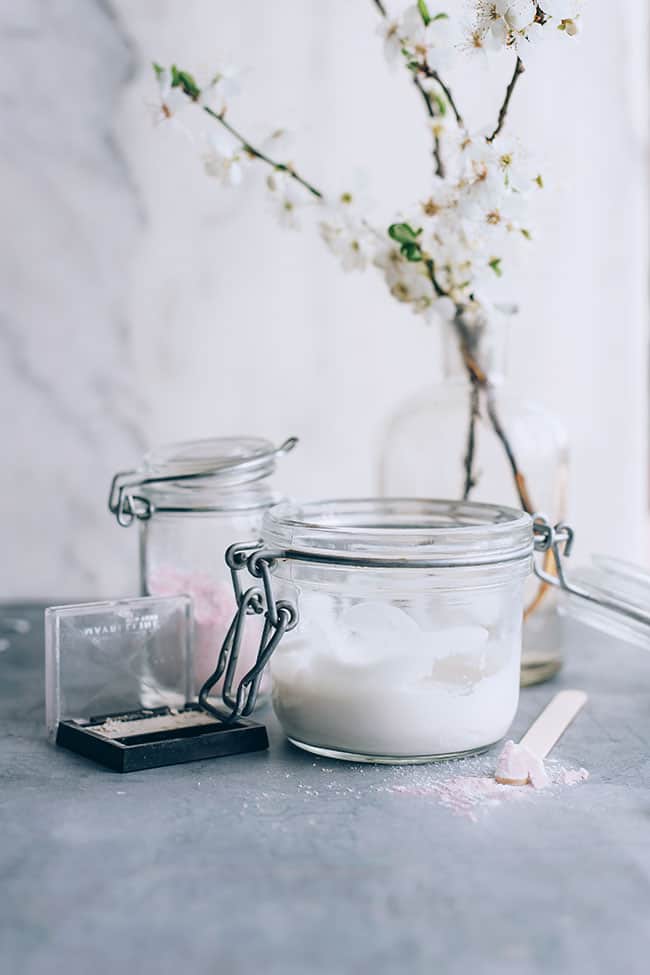 Homemade Lotion with Shimmer
The best part about making a DIY shimmer lotion is that you can tailor it to your exact skin tone. If you have cooler undertones, a paler gold or even slightly silver shimmer will be far more complementary than a more bronze-colored powder, which has the potential to pull very orange and Jersey Shore—not what we're going for here!
Ingredients
Your favorite lotion. I used Aveeno, my favorite everyday lotion.
Any mineral highlight or shimmer powder. If you can't find a cheap one, you can use eye shadow that has some sparkle. Look for a warm tone rather than a silver color.
A jar or travel bottle and something to stir with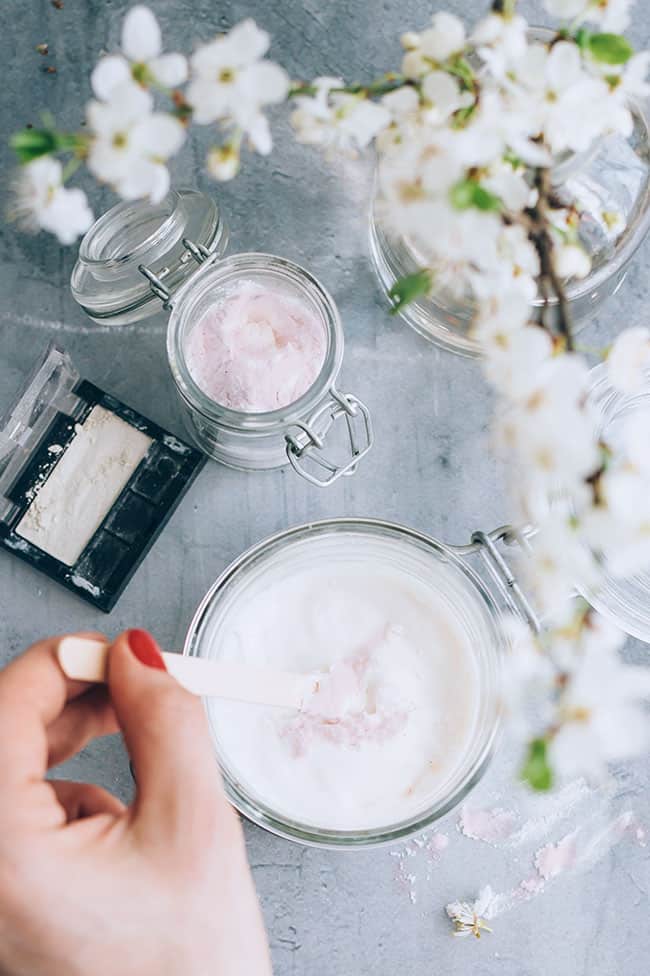 Instructions
Put your lotion in a jar and sprinkle in the powder. If you are using eye shadow, you can scrape with a knife. Start small with about a 1/4 teaspoon and add more as needed. A little goes a long way! Stir until the color is uniform.
Pro tip: Use a piece of paper folded in half to cleanly pour your shimmer powder into the jar, instead of getting it everywhere!
Notes
Make sure that whatever powder you use is already well broken up before adding to the lotion—if it's still in big clumps, it's going to stay in big clumps when you mix it in the lotion. It won't evenly distribute and you'll be left looking patchy if you try to put it on your skin without blending it properly.
This is also a great way to use up a broken powder highlighter. We've all accidentally dropped our fave highlighters before, right? Sometimes you get lucky and it's totally fine (phew) but sometimes we're not so lucky and the whole thing has shattered. RIP, highlighter! If you've got a highlighter that you've been putting off re-pressing, this is the perfect way to give it new life.
I added some sparkly white eye shadow, just to see what it would do since I was worried it would make me look ashy. But combined with the warmer color of the mineral shimmer powder it just added some extra sparkle!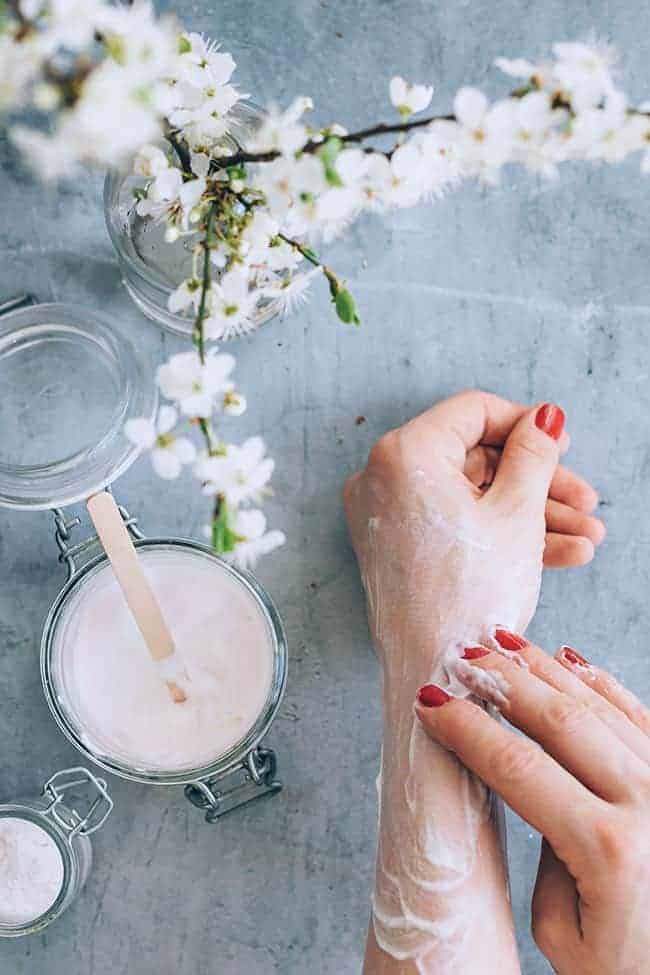 How to Use Shimmer Lotion
While you can use your homemade shimmer lotion all over your whole body for intense, disco ball-like radiance, you can definitely apply it to strategic areas to mimic that all-over glow. Across the collarbones to the shoulders (especially if you're wearing an off the shoulder top) brings a whole new glow to your look.
A little tiny bit blended out over your cleavage brings a subtle hint of attention to your girls—if you want it. All over legs lends an "I just came here from the beach" vibe. Wherever you decide to use it, it's a surefire way to make your skin look super radiant and sunkissed—plus, you didn't even need to spend any extra coin on the premade stuff. Looking great and saving money? I call that a win-win!
And for a little extra spreadability and gorgeous dewiness, feel free to add a little bit of your favorite oil to the mixture. Sweet almond, jojoba, and grapeseed are perfect for this. Adding pure oils adds more intensity and shine to skin than a lotion would, so if you want to shine like a diamond, don't forget the oil!
Let me know if you try this out and how it worked for you!
Shimmer Lotion FAQ
Can I add glitter to my lotion?
If you want a more noticeable sparkle, you can try using a natural mica glitter. Just be careful not to let it "puff" into the air while using it because it's not great for the lungs.
Will this shimmer lotion rub off on my clothes?
This is a temporary lotion, so it may rub off on clothes. Use sparingly and avoid applying to skin that comes in direct contact with clothing.
Will this irritate my skin?
That depends on the ingredients you use. If you use a natural body lotion and non-toxic shimmer eyeshadow, it shouldn't irritate skin or clog pores.
257