Problem skin can be a battle long after those awkward teenage years, and sadly as we get older it's not just limited to monthly breakouts anymore. I know this all too well! In fact a couple years ago I went on vacation and came home with just a liiiittle too much sun–as well as a raging case of sun-induced dermatitis of the face. It was awkward, itchy and confusing for both my dermatologist and myself. But when a topical steroid couldn't touch it, I took matters into my own hands and turned to some natural remedies. One of them being this magical honey balm known as Egyptian Magic.
How to Make Egyptian Magic
In case you have never heard of it, Egyptian Magic is a skin potion that has been said to help soothe everything from eczema and irritation to acne and burns. While the company doesn't make medicinal claims about its product, I can tell you first hand that it's the only thing that worked on my stubborn dermatitis.
Egyptian Magic is made from a combination of olive oil, honey, beeswax, pollen, royal jelly, and bee propolis. Although the list of ingredients is a little long and head-scratchingly intricate (bee propolis?), trust me when I say this stuff works miracles and you'll be singing its praises within minutes. Bee Propolis, in fact, has been incorporated in various skin care products because of its admirable soothing and healing properties, with an added bonus of protecting against bacteria.
But Egyptian Magic doesn't just fix skin problems, it's also an all-around skin balm that can be used for almost anything. It doubles as a face cream, eye cream, lip balm, moisturizing hair mask, shaving cream… and the list goes on and on.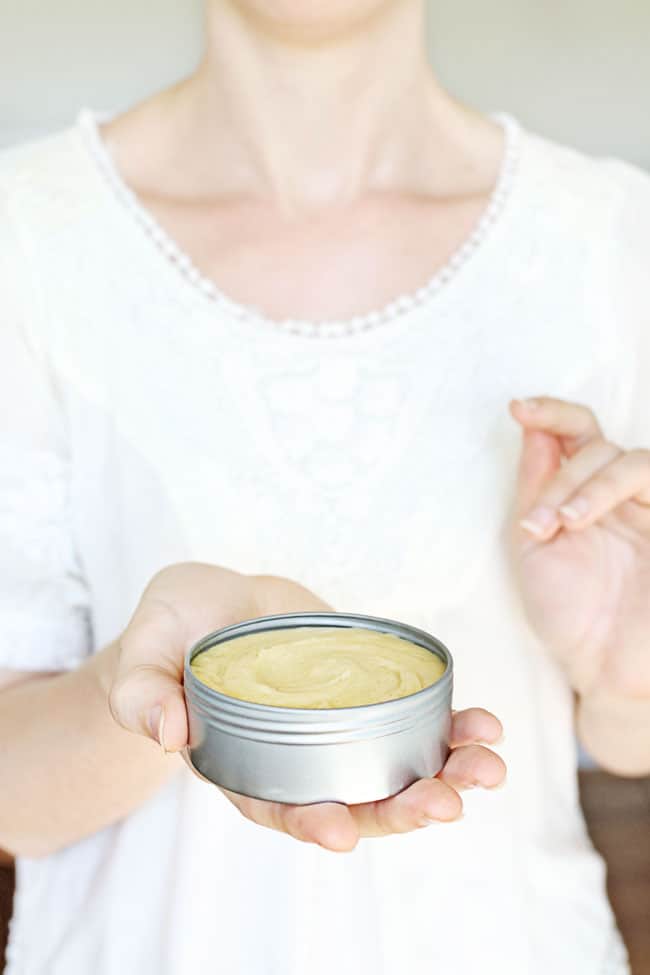 Each of the ingredients is beneficial on its own, but together they work to soothe, heal and protect skin. Olive oil acts as a moisturizer to help make skin soft and supple. Beeswax helps the skin retain moisture by creating a protective barrier. Honey and royal jelly boost collagen in the skin while bee pollen fights free radicals and makes skin look younger.
To use, simply apply some to your face and neck at bedtime and wake up to softer, healthier looking skin. Or use it as a spot treatment for hormonal breakouts, rashes and scrapes. But just remember that since it's oil-based, it works best if you warm it in your hands for a second or two before applying it.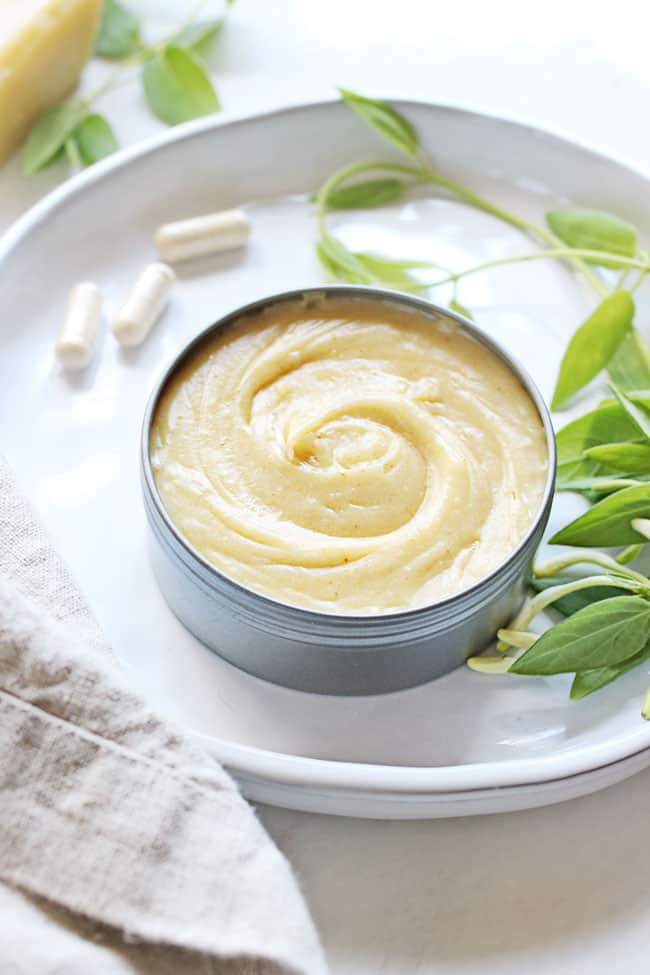 And in case you're wondering what to do with all those leftover ingredients, save them and make this amazing honey hand balm (a little dollup of bee propolis will really give it a boost) or add some royal jelly to your morning smoothie for some added vitamins and minerals. If you experience any skin irritation or itching after application it is important to reach out to your dermatologist as some may develop a skin allergy to the above ingredients over time.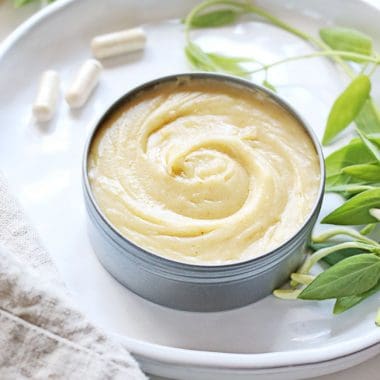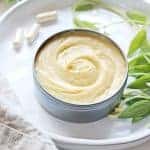 Print
DIY Egyptian Magic
We'll show you how to make your own Egyptian Magic, our favorite skin salve for eczema, breakouts, healing, and more. It really is magic!
Equipment
Microwavable container

Electric mixer or wire whisk
Instructions
In a small microwavable container, combine the olive oil and beeswax. Microwave in 20-second intervals until the beeswax is completely melted. Stir to combine. Set aside the beeswax and olive oil mixture so it can cool for about 5 minutes, but don't let it harden. 

In a separate bowl combine the honey, pollen, bee propolis and royal jelly. Stir together as best you can but don't worry if the ingredients don't completely mix together just yet.

Add the honey mixture to the olive oil mixture, and using an electric mixer or wire whisk, whisk everything together until it emulsifies into an opaque, creamy substance. Spoon into a small jar and store in the refrigerator to prevent separation.
Notes
To use, soften a little Egyptian Magic between your fingers and apply to clean, dry skin or hair. If using as a hair mask, let it sink in for about an hour before washing with shampoo.
This post was medically reviewed by Dr. Rina Mary Allawh, M.D., a dermatologist who performs adult and pediatric medical dermatology, skin cancer treatment and cosmetic dermatology. Learn more about Hello Glow's medical review board here. As always, this is not personal medical advice and we recommend that you talk with your doctor.
289