Note: We recently updated this recipe to include an emulsifier and preservative to keep the honey from separating and your balm from going bad prematurely. If you prefer a more natural product (and can overlook some separation), stick with the first recipe. Otherwise, we recommend following the emulsifier recipe.
Raise your hand if your skin takes a beating during the cold winter months. Unless you're lucky enough to live in the tropics, it's safe to say that your hands are most likely chapped from frequent washings and the elements and are badly in need of a little extra TLC. But one thing you learn rather quickly during the winter is that high-quality hand balm can cost a small fortune—especially if you're looking for something thick and creamy but also non-toxic.
Luckily, this homemade honey balm is the perfect antidote for all your dry-skin woes. Just slather on a little bit in the morning and wave goodbye to dry, cracked, irritated hands. For an added boost, apply before bed, cover with cotton gloves, and let this recipe work magic on your hands overnight.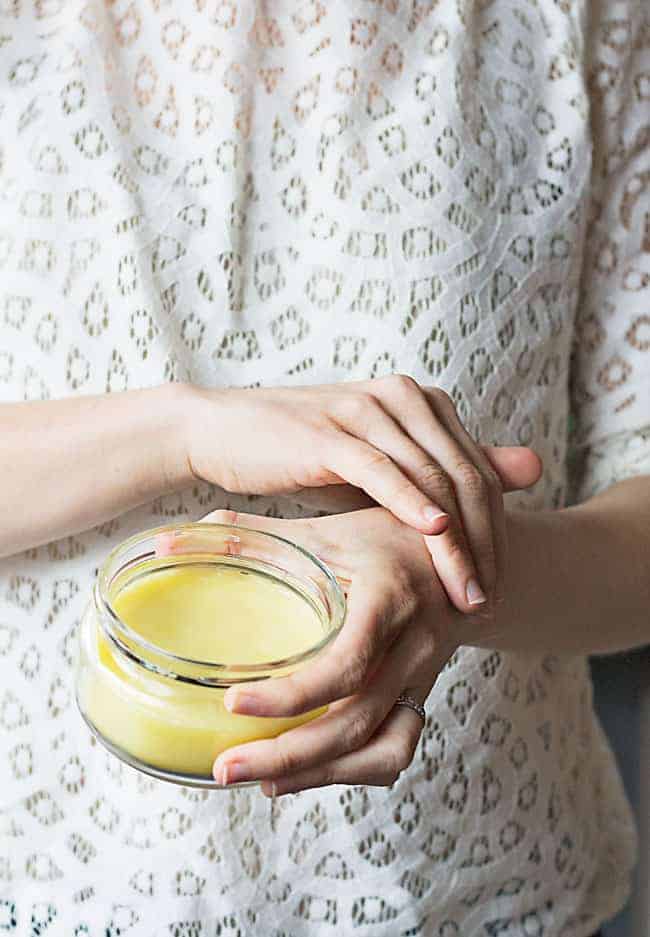 Rich Honey Hand Balm
Trust me when I say that this stuff works miracles. While it makes an amazing hand balm, you can also use it as an after-shower lotion, cuticle cream, hair conditioner, or for anything else that might need a little extra moisture this winter. My husband even has a jar of his own that he uses as a beard balm and sparingly as a hair gel.
But the real beauty of this balm is that it's made with beeswax and raw honey, so it's thick (and I do mean thick!) enough to lock in moisture while the honey helps heal wounds and calm irritation [source].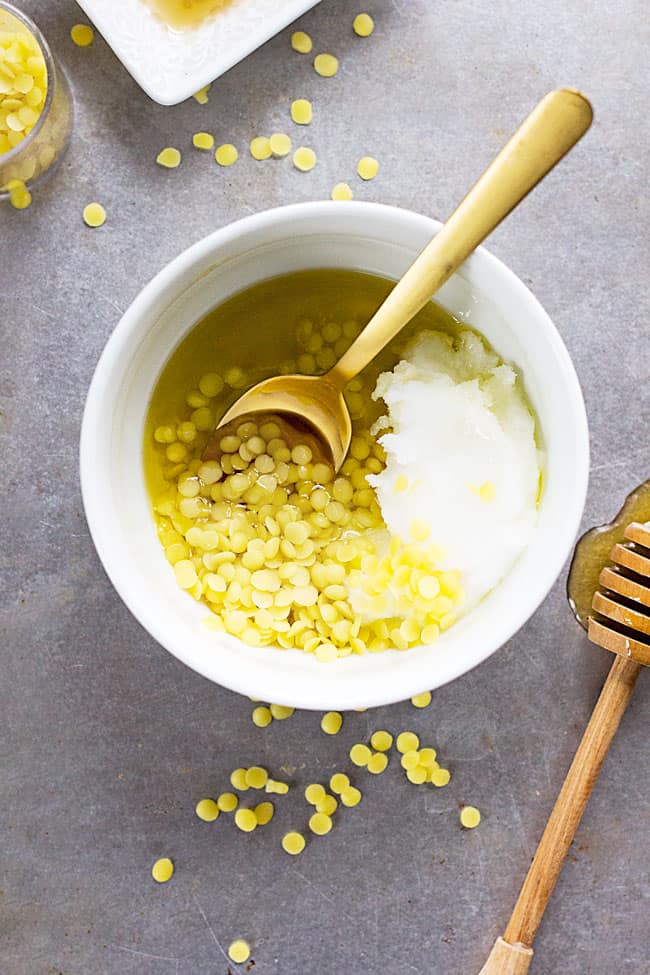 In addition to its calming and healing properties, here are several other ways honey helps combat dry winter skin:
Antimicrobial
Honey is naturally antibacterial and antimicrobial [source], so it can keep skin bacteria in check and help prevent future infections.
Anti-inflammatory
Honey has been directly observed to reduce skin inflammation after being applied to wounds [source]—what better way to soothe chapped, red hands!
Balances skin pH
Because it's slightly acidic, honey helps regulate skin pH [source], thus promoting skin healing and regeneration.

Natural moisturizer
The sugars in honey act as natural humectants [source], meaning they help increase moisture in the skin and reduce dryness, even after being washed off.
High in nutrients and antioxidants
Honey delivers key amino acids, vitamins, enzymes, and antioxidants to skin cells [source], helping to nourish the skin and prevent free-radical damage.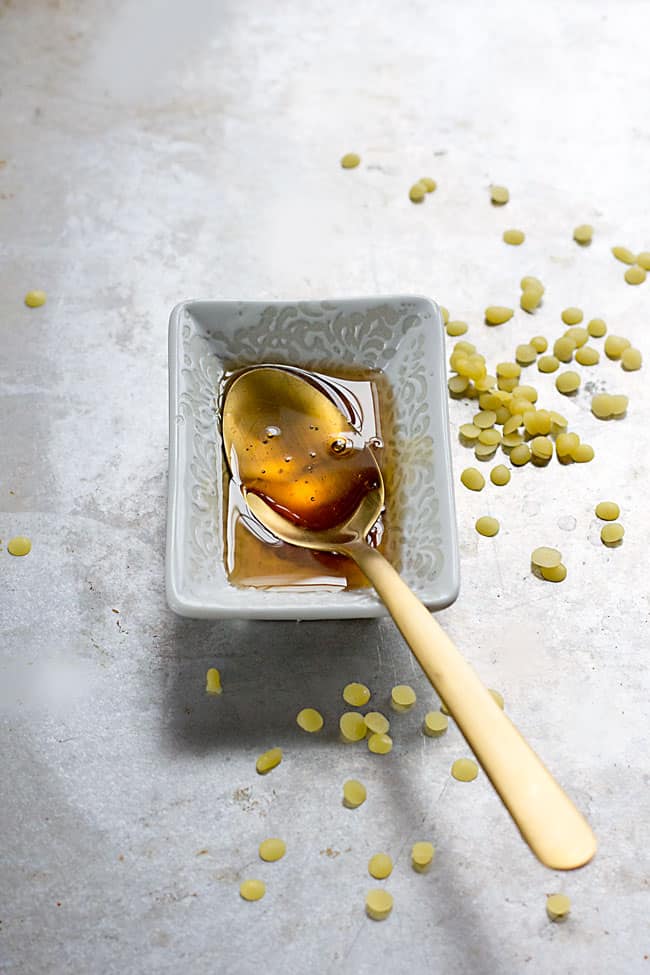 When it comes to texture, this recipe is somewhere between a firm wax and a creamy oil. But if you would like a thicker, more solid balm, increase the amount of beeswax.
If you would like a creamier, more spreadable balm, add more oil. It's a rather forgiving recipe, so feel free to play around with it until you find the texture that is right for you.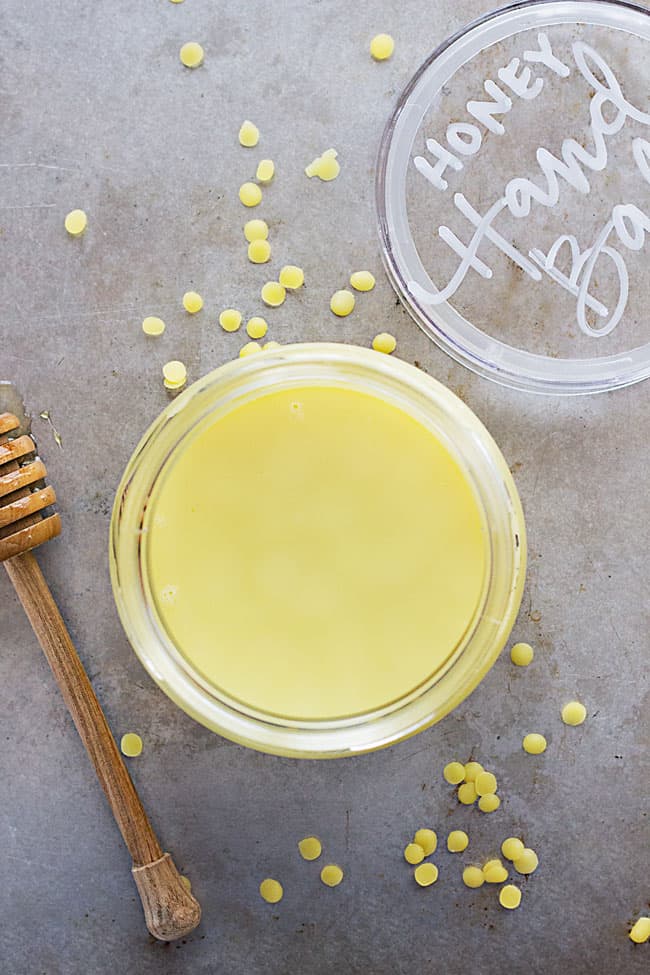 A note about choosing scents: This time of year, something wintery is always a good choice. Try adding eucalyptus essential oil or something simple and classic like lavender and vanilla. I would stay away from cinnamon because, while it smells super warm and festive, it can be rather irritating on the skin. To a lesser degree, peppermint falls into this category, too—a little goes a long way.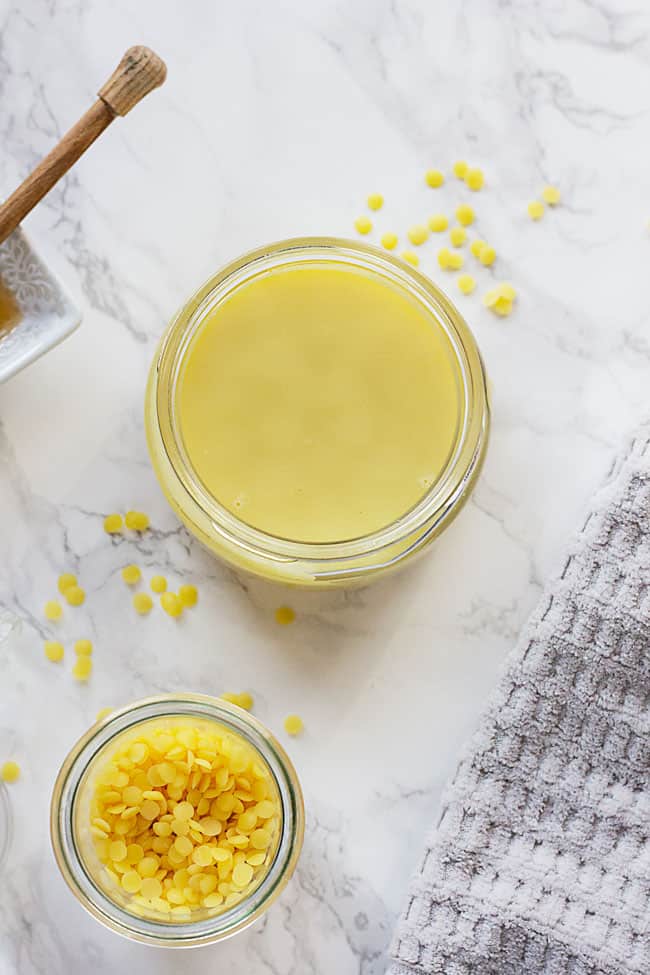 Honey Hand Balm FAQs
We've been getting a few questions in the comments I wanted to address.
What if the honey settles at the bottom?
I've made this a few times over the years and haven't had this issue when making my balm. I noticed a tiny bit of settling, which is natural, but nothing to write home about. If you see a lot of separation (like all of the honey ends up at the bottom of your container), it could be caused by the brand of honey or the temperature of the oils when you added the honey.
Let the melted oils cool as much as possible (think: barely lukewarm but still soft) before adding the honey. If you still see separation, you can always use an electric hand mixer to blend the oils with the honey, once the balm has completely cooled, then spoon it into your containers.
You can also use an emulsifying wax to hold everything together (see the second recipe below).
Can I use other oils in place of the almond/olive oil?
Yep! Any liquid-at-room-temperature oil should work.
Can I use other butters in place of the shea butter?
Yep! Any solid-at-room-temperature butter should work.
What's the shelf life?
Without a preservative, it should last 1–2 months without needing refrigeration. With a preservative, it should last about a year. But like all homemade beauty products, if you notice a change in smell or consistency or if you see mold, toss it out.
This post was medically reviewed by Dr. Jennifer Haley, a board-certified dermatologist with extensive experience in medical, cosmetic, and surgical dermatology. Learn more about Hello Glow's medical review board here. As always, this is not personal medical advice, and we recommend that you talk with your doctor.
230