The fragile skin around our eyes is usually the first area on our face to age with fine lines and wrinkles, the ones we so un-affectionately term 'crow's feet.' The reasons for this are we have fewer oil glands in this under-eye area to keep the skin lubricated and protected, and we're constantly squinting and smiling. We also can fail to apply sunscreen to this area because of its fragility, leaving it prone to sun damage and premature aging. One way to treat and protect this delicate area is by regularly applying a vitamin A- and E-rich homemade eye wrinkle cream.
But guess what? You don't need to buy the fancy creams at the store – unless you want to, that is. This under eye cream is made with apricot kernel oil, vitamin E and lavender to replenish nutrients, soothe delicate undereye skin and fight free radicals.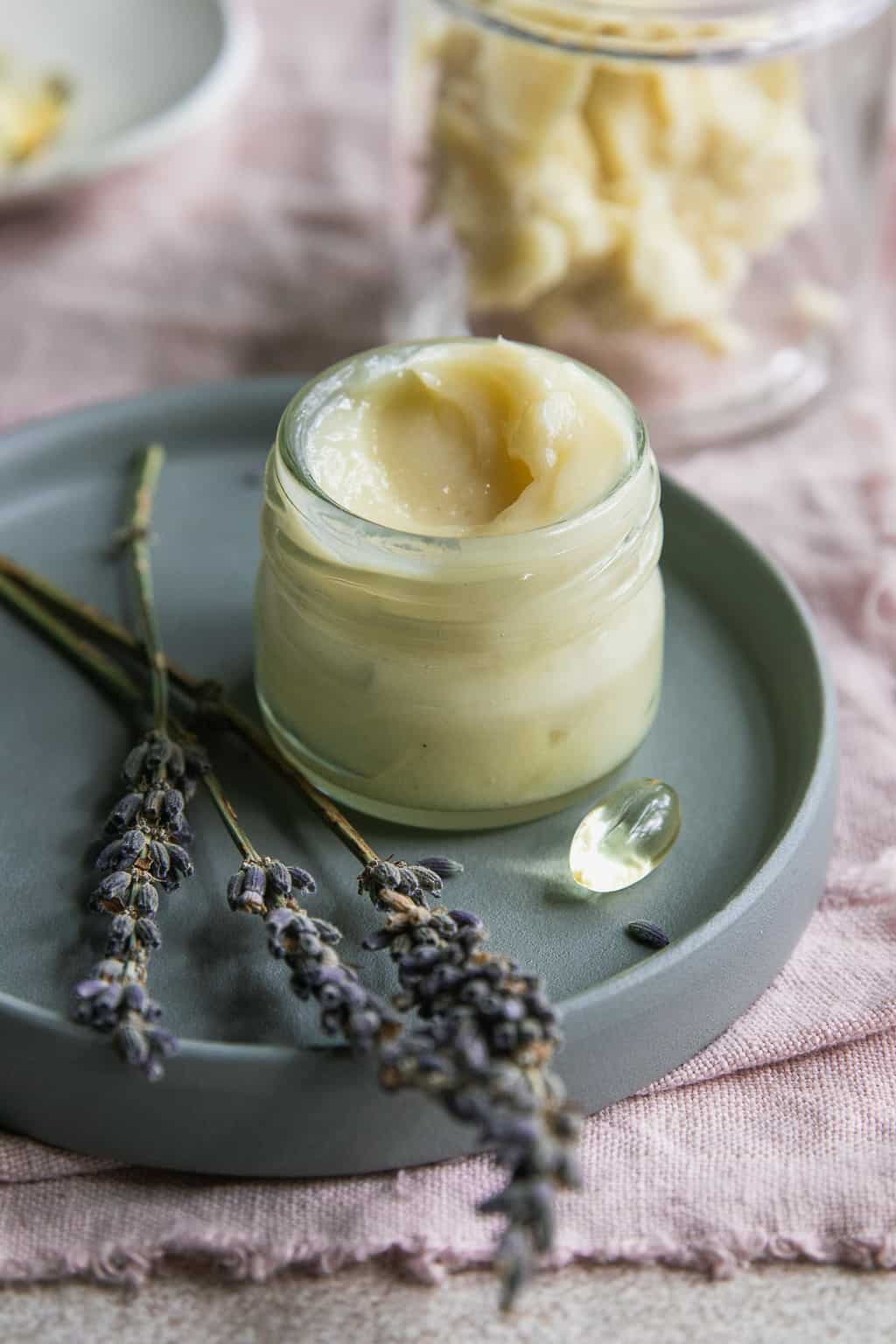 Vitamin-Rich Homemade Eye Wrinkle Cream
Simple to make at home and perfect to use day and night, apply this eye anti-wrinkle cream recipe using your ring finger on the eye's orbital rim, both underneath the eye and just beneath the eyebrow.
[Why the ring finger? Well, of all your fingers, the ring is said to be the weakest. Therefore, it exerts the least amount of pressure and is perfect for using on the delicate skin around the eyes.]
How this eye cream works:
Apricot kernel oil is full of vitamins A and E and will help with easy absorption, but if it's hard to find, you can substitute with almond oil. Vitamin A slows the breakdown of collagen, while vitamin E is considered the most important antioxidant because it protects cell membranes and prevents damage to enzymes associated with them [source].
Vitamin E is so great for skin that we went ahead and added more of it, so you can reap all the skin-soothing benefits it has to offer.
Beeswax is used to thicken the eye cream, but it also has properties benefiting the skin. The anti-inflammatory properties of beeswax help puffiness or swollen eyes. Beeswax also is rich in vitamin A. Sealing in moisture, beeswax is also an addition to cosmetics needing extra hydration. Despite all these amazing benefits, if you can't find it locally, beeswax can be substituted with soy wax, which is all natural as well.
Shea butter is also anti-inflammatory and has high concentrations of fatty acids and vitamins. Which vitamins? Vitamins A, E and F! And that's not all, shea butter aids in collagen production.
Lavender essential oil has been shown to help speed up wound healing and promote collagen synthesis, which can improve quality and condition [source].
Talk about a powerhouse, we've combined these mighty ingredients into one anti-aging eye cream.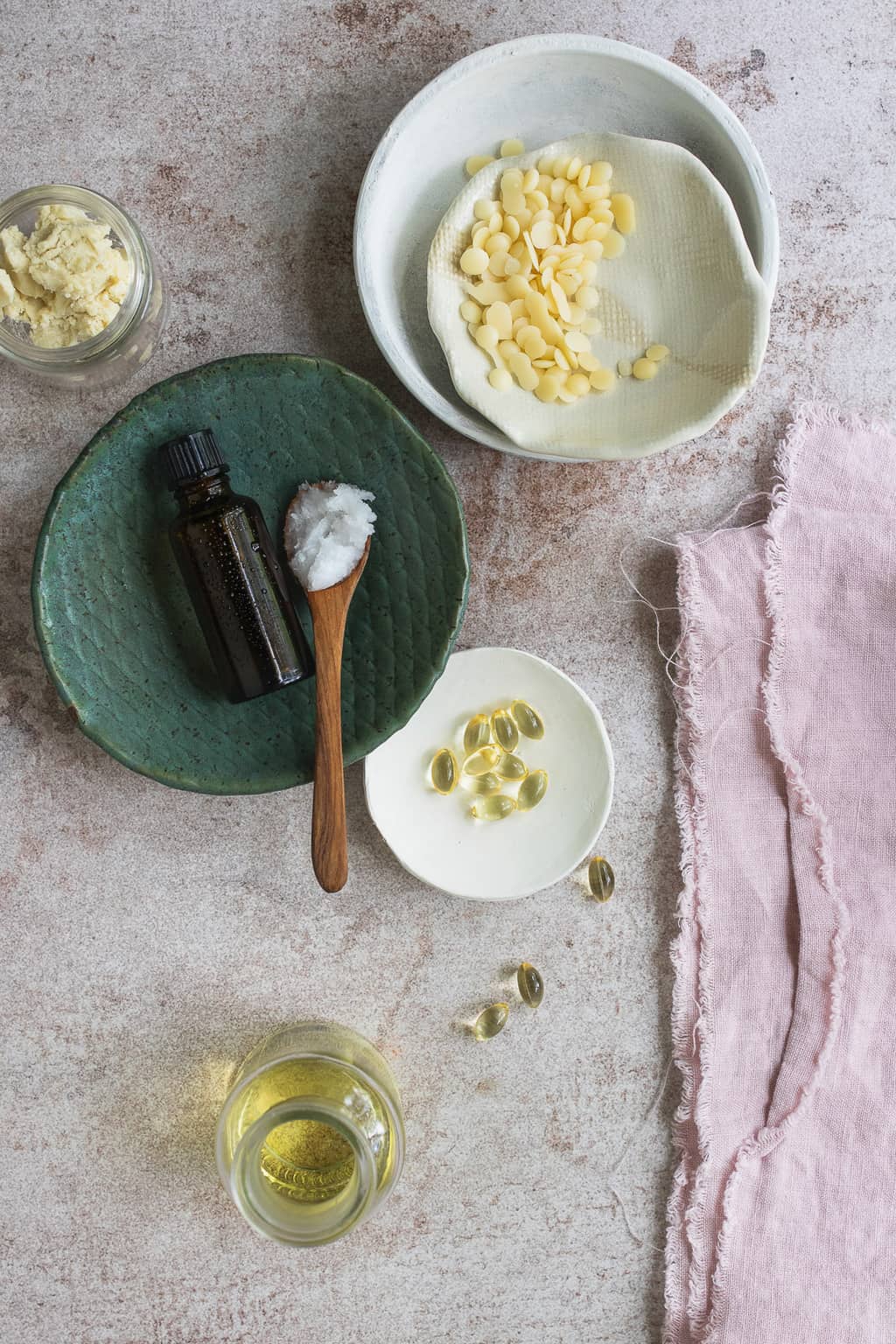 How to Customize Your Eye Cream
This eye cream is idea for wrinkles, which is why we focused on ingredients that soften lines and help hydrate skin. But what if you have dark circles? Or puffiness? Here are some optional ingredients you can add to your wrinkle cream to target specific problem areas.
Dark circles - Caffeine is said to help constrict blood vessels, which may in turn help reduce dark undereye circles. Finely ground green coffee bean extract powder is a gentle source of caffeine, which can be applied topically.
Dry skin - Jojoba oil is an similar to our skin's own sebum, making it a gentle and effective skin conditioner.
Puffiness and eye bags - Chamomile tea has significant anti-inflammatory properties, which may help with some of the underlying causes of eye puffiness.
How to Apply Eye Cream
The skin around the eyes is thin and delicate (but we already mentioned that, right?), so you have to be careful in how you apply it. Always use light pressure, and remember, a little goes a long way.
1. Using your ring finger, scoop out a pea-size amount of eye cream. This should be enough for both eyes.
2. Starting at the inner corner of the eye, dab several small dots of cream under your eye, around the outer edge, and underneath the brow bone. Repeat on the other eye.
3. Still using your ring finger, gently tap the eye cream into skin. A soft tapping motion helps stimulate circulation and drain lymph, without pulling or stretching the delicate skin.
4. After applying eye cream, wait several minutes before applying concealer or eye makeup.
5. For best results, use eye cream both morning and night.
Eye Cream FAQ
Will eye cream work on frown lines?
Absolutely. Despite the name, this eye wrinkle cream can be used anywhere you tend to develop fine lines and wrinkles.
When should you start using eye cream?
The earlier the better. As soon as you notice fine lines or wrinkles developing, I recommend adding a high-quality eye cream to your daily routine.
Should I use eye cream every day?
Yes, eye cream should be used daily, for best results.
How long will this cream last without preservatives?
Because all oils tend go rancid over time, it's best to use this preservative-free eye cream within a year. If you would like to add a preservative, try a mild, chemical-free preservative, like Leucidal Liquid.
Have you started to use an anti-wrinkle eye cream yet? If you don't want to DIY, here are some of our favorites. I recommend my clients begin using an eye cream at a fairly early age, usually in their mid-20s, and never quit.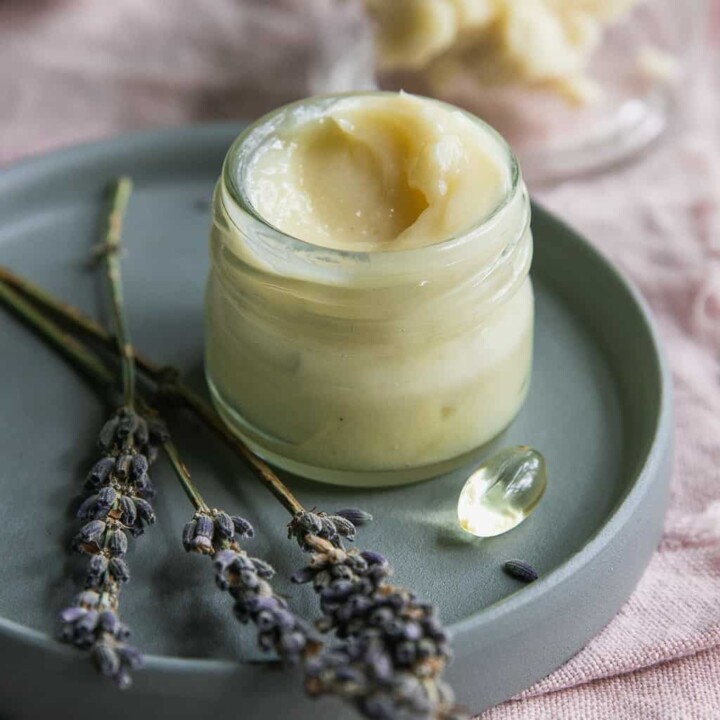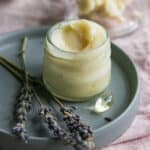 Print
Coconut Eye Wrinkle Cream Recipe
Coconut oil, shea butter, apricot kernel oil and essential oils combine in this vitamin A- and E-rich homemade eye wrinkle cream recipe.
Equipment
Double boiler

or microwave-safe bowl

2 2-ounce aluminum tins

or a small glass jar
Instructions
Combine the coconut oil. beeswax, apricot kernel oil and shea butter in a double boiler or microwave-safe bowl. Heat on low until the oils are completely melted.

Let cool for 5 minutes before adding the lavender essential oil and vitamin E oil. Stir well.

Pour the oils into a 2-ounce tin or glass jar. Set aside for several hours to cool completely. Apply once or twice a day, prior to putting on makeup. 
Notes
Once the eye cream cools, it will have a smooth, somewhat hard surface. To make it creamy, like mine, simply stir it after it's cooled.
Store the eye cream in a cool, dark place for up to 1 year.
203