The week before your period can be a bear. Can I get an "Amen!"? Many women encounter premenstrual syndrome (or PMS) symptoms that range from annoying to debilitating: bloating, acne, depression, irritability, nausea, headaches…the list goes on. This soothing, hormone balancing balm uses raspberry leaf and evening primrose oil to help regulate hormones and calm some of these frustrating symptoms.
The Essential Ingredients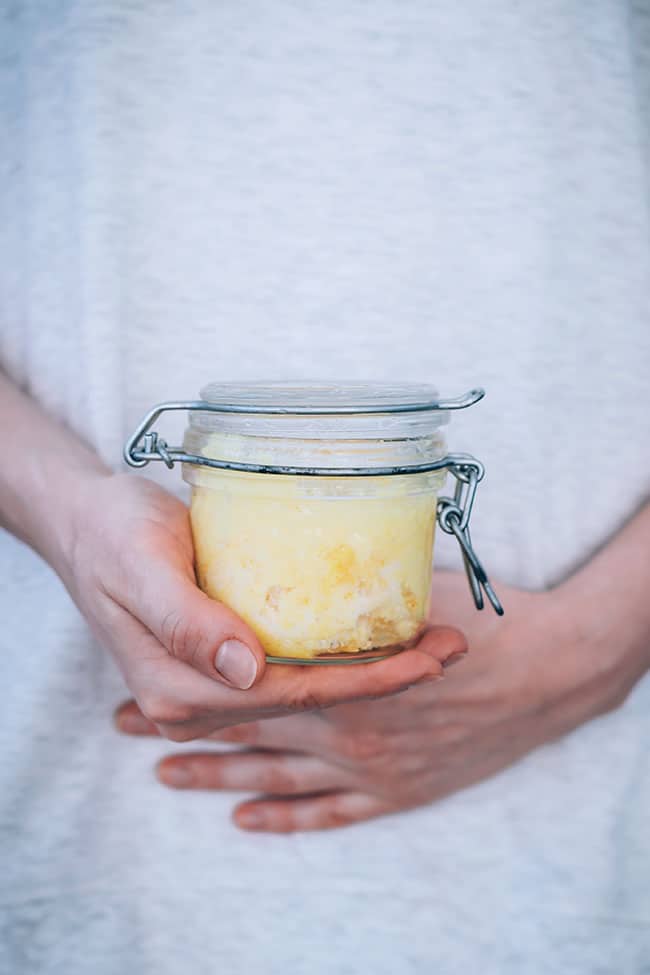 Raspberry Leaf
Packed with valuable nutrients like vitamins A, B, and C, magnesium, iron, and potassium, raspberry leaf is well-known for being a go-to herb for women's health. Because it naturally strengthens and tones the muscles of the uterus, the raspberry leaf can ease uncomfortable menstrual cramping. The herb also aids in detoxification from excess or artificial hormones that throw off your natural balance.
For further assistance during PMS week, the nutrients in raspberry leaf help calm nausea and boost the immune system. And if all that wasn't enough, the powerful herb also has astringent properties. This means it heals and soothes inflammation both internally and externally, caring for everything from rashes to intestinal issues.
Evening Primrose Oil
Our second star of the show is the oil made from the seeds of the evening primrose plant. This oil contains essential omega-6 fatty acids, important components in the body's regulation of inflammation and hormones. Evening primrose oil has been known to help reduce symptoms associated with PMS such as headaches, irritability and breast tenderness.
Peppermint Essential Oil
As an added bonus, this balm includes several drops of the aromatic peppermint essential oil. When applied to the abdomen, peppermint aroma serves to decrease bloating and nausea. The smell of peppermint also clears up mental fog, lifts your mood and can help relieve headaches.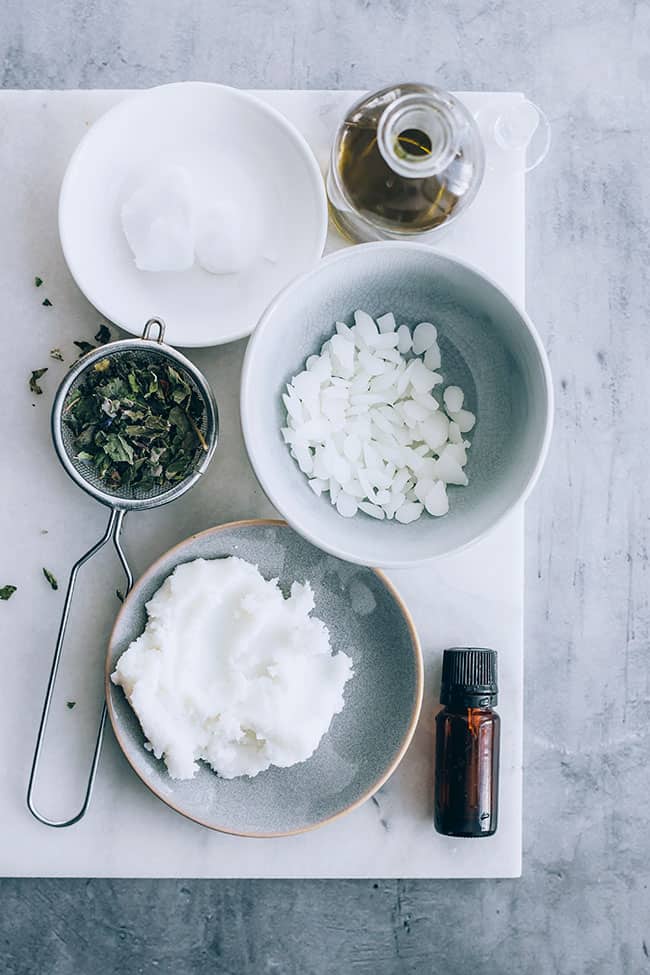 How to Make a Hormone Balancing Balm
To start crafting your own hormone balancing balm, you will need to first infuse some oil with raspberry leaf. Here is a simple guide for a step-by-step reference. Using the quicker heat method, I infused a large handful of loose raspberry leaves in about ⅓-½ cup coconut oil.
Now gather all the rest of your ingredients:
You will also need a double boiler (or a saucepan with a heat-proof bowl on top), something to stir the melted ingredients, and a container with a lid that has been thoroughly cleaned and dried.
Begin by bringing a few inches of water in your saucepan to a low simmer. Add everything, except your peppermint oil, to the heat-proof bowl and set the bowl on top of the saucepan. When your ingredients are melted completely, remove the bowl from the heat and add 10-15 drops of peppermint essential oil. Finally, stir to mix everything together.
Pour the melted mixture into your clean, dry container and let it sit until the balm is firm. Keep the finished product in a cool, dry location.
Enjoy your balm any time symptoms arise by applying it to your abdomen and lower back.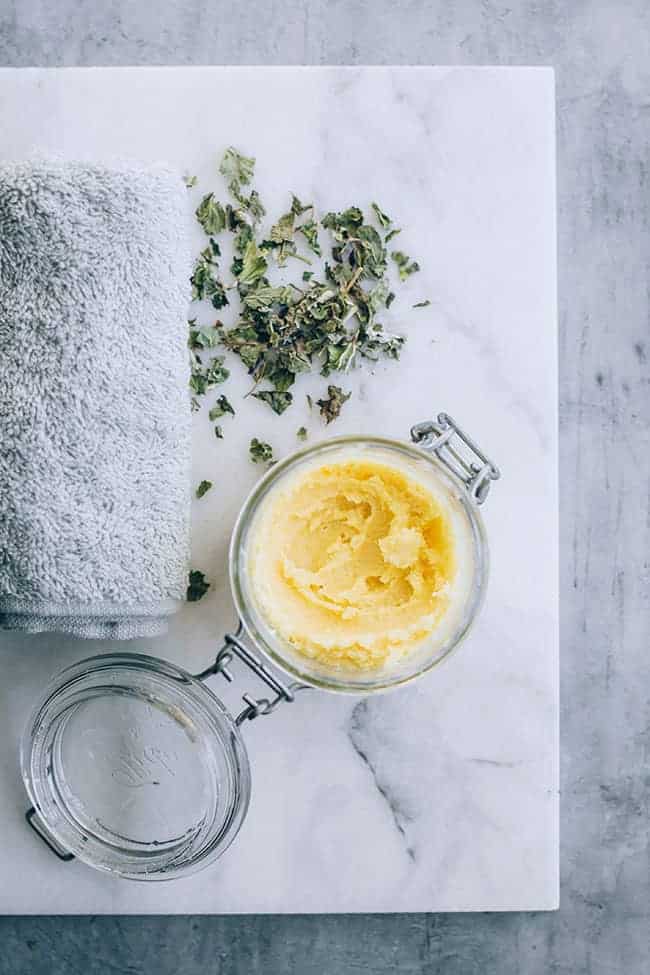 This post was medically reviewed by Dr. Kimberly Langdon, M.D., a university-trained obstetrician/gynecologist with 19-years of clinical experience. Learn more about Hello Glow's medical review board here. As always, this is not personal medical advice and we recommend that you talk with your doctor.
Photos by Ana Stanciu
25