The week before your period can be a bear. Can I get an "Amen!" here? Many women encounter premenstrual syndrome (PMS) symptoms that range from annoying to debilitating: bloating, acne, depression, irritability, nausea, headaches...the list goes on. This PMS balm uses lavender, clary sage, and marjoram to calm some of those frustrating PMS symptoms and decrease period pain.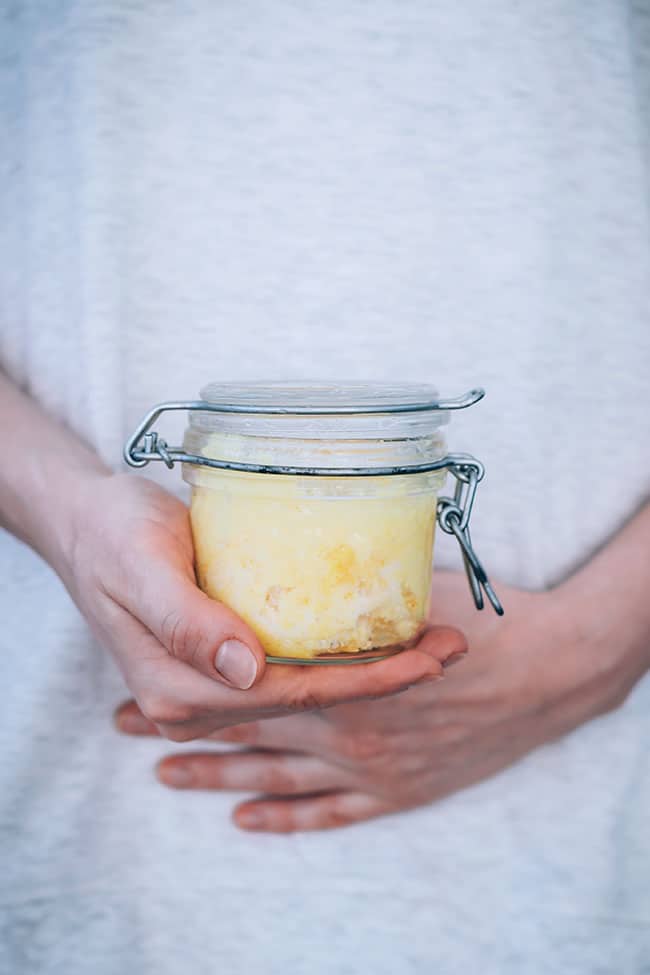 Essential Oils for Pain

This soothing PMS balm relies on three scientifically-backed analgesic herbs, lavender, marjoram, and clary sage, to help decrease the duration of pain and inflammation [source] caused by hormonal fluctuations. When combined with massage, aromatherapy has been shown effective in managing dysmenorrhea-associated pain [source].
Lavender essential oil
Lavender has historically been used, both topically and in aromatherapy, for its soothing properties. One 2015 study found that lavender essential oil is a potent pain reliever and anti-inflammatory [source]. When used in aromatherapy, lavender oil was also shown to be effective in decreasing the severity of cramps [source].
Clary sage essential oil
Clary sage is often used in conjunction with other essential oils for reducing period pain. One small study found that a blend of clary sage, marjoram, cinnamon, ginger, and geranium essential oils massaged into the abdomen once a day decreased menstrual pain more than acetaminophen [source]. Another study found that combining clary sage, lavender, and marjoram effectively reduced the duration of menstrual pain [source].
Marjoram essential oil
Sweet marjoram has a variety of medicinal uses thanks to its antioxidant, antibacterial, and anti-inflammatory properties [source]. Marjoram is also what gives this balm its warming properties.
If you'd like more warming effects, then go ahead and add more marjoram essential oil. If you have sensitive skin, you might like less marjoram oil. It's completely up to you!
How to Make a Pain-Relief PMS Balm
Since this recipe relies on essential oils for its healing benefits, you want to be careful not to overheat the oils, which changes their chemical composition and makes them less effective. I recommend using a double boiler or a saucepan filled with water and a heat-proof bowl over the top to gently melt the carrier oils and beeswax.
Then let the carrier oil mixture cool to approximately 158°F before adding the essential oils. While you don't need a preservative, it's best if you store your balm in an amber jar to keep sunlight from breaking down the oils.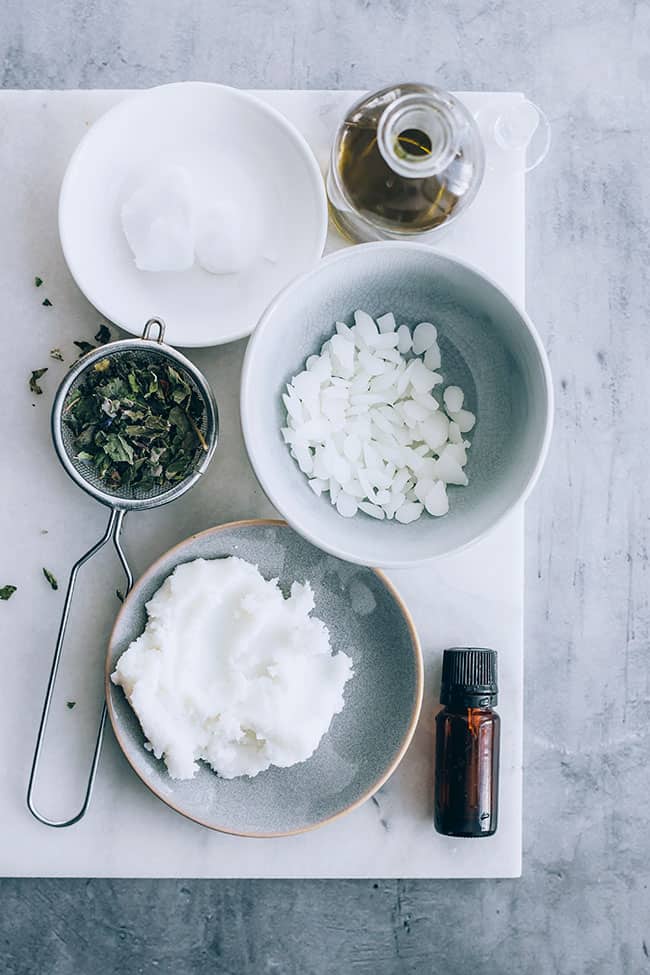 PMS Balm Recipe
—2 tablespoons coconut oil
—2 tablespoons sweet almond oil
—1 tablespoon shea butter
—2 tablespoons beeswax (or candelilla wax)
—36 drops lavender essential oil
—18 drops clary sage essential oil
—18 drops marjoram essential oil
—Saucepan with a heat-proof bowl on top (or a double boiler)
—8-ounce jar with lid
Instructions
Begin by bringing a few inches of water in your saucepan to a low simmer. Add everything except for the essentials to the heat-proof bowl, and set the bowl on top of the saucepan. When your ingredients are melted completely, remove the bowl from the heat and let cool for 3 to 4 minutes before adding the essential oils. Stir to mix everything together.
Pour the melted mixture into your clean, dry container, and let it sit until the balm is firm. Keep the finished product in a cool, dry location.
Note: If you want to formulate your mixture based on the study, you'll need a 2:1:1 ratio of lavender, clary sage, and marjoram at a 3% dilution. If you scale this recipe up or down, I would use an essential oil calculator to make sure you have the right ratio of oils.
How to Use Pain-Relief Period Balm
The effects of this balm take time to kick in, so you'll want to start using it before your period begins.
Starting the day after your period ends and continuing to the beginning of the next period (approximately days 8–28 of your cycle, assuming you're on a 28-day cycle), massage a pea-sized amount of balm into your lower abdomen.
Continue massaging your abdomen for at least 5 minutes. Thanks to the warming sensation, you may also find some relief by applying this PMS balm to your abdomen or lower back during your period or whenever cramps arise.
Photos by Ana Stanciu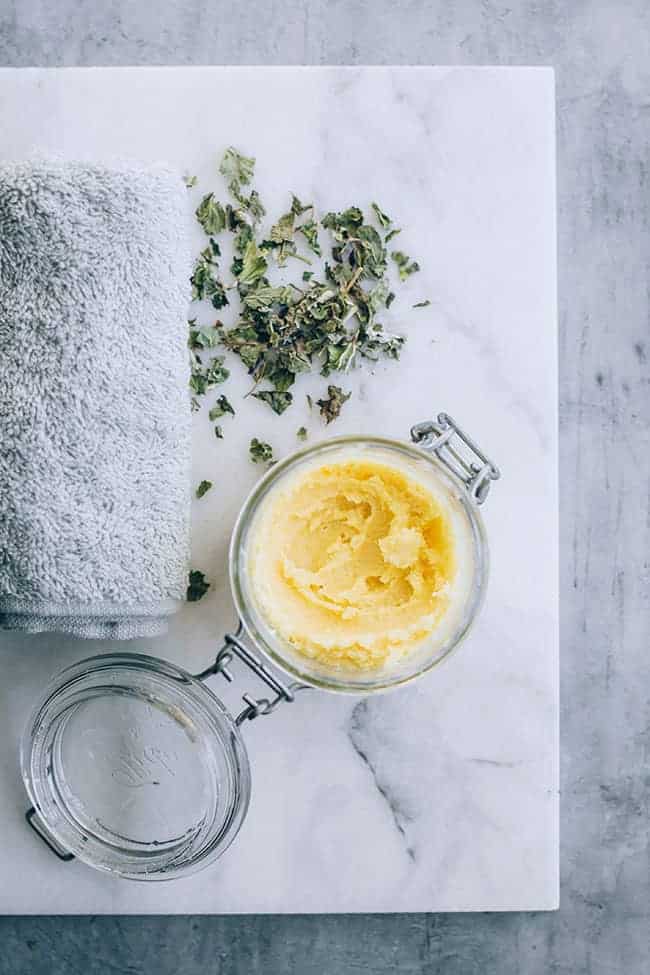 46