My sister and I have a fabulous tradition of treating each other to massages on our birthdays. We go together, which means I get to enjoy a massage even on her birthday. It's self-care that's easy to get addicted to, and now I'm certain that twice a year is not enough. And what better way to enhance a massage than with your own DIY essential oil blends!
Massage has many benefits, including improving circulation, easing tension and stimulating the body to release toxins. And when massage is combined with aromatherapy, a happy synergy happens. The mind and body benefits of essential oils help to enhance the benefits of massage.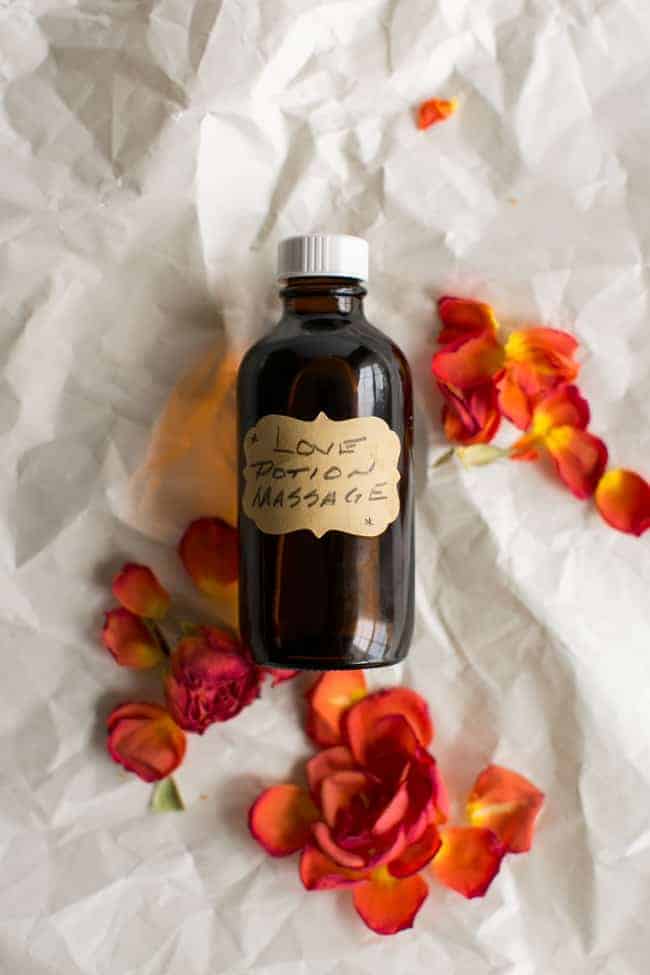 Here's a general DIY massage oil recipe to follow, along with 6 essential oil blends and uses. And just in time for Valentine's Day, we're sharing a recipe for you and your partner to share!
As always, be sure to do a patch test on the skin first to ensure you do not have an allergic reaction to any of these oils.
Basic DIY Massage Oil Recipe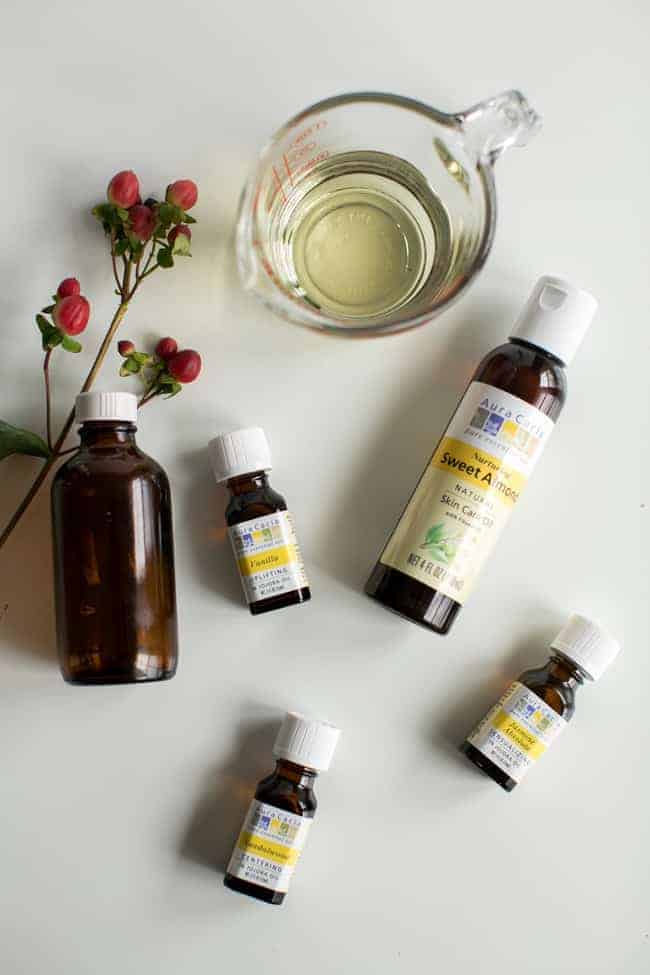 Supplies needed
1 ounce of a carrier oil such as sweet almond oil, apricot kernel, sesame and grapeseed oil.

10-12 drops essential oils. Select oils that will complement the goals of your massage. Read all safety information before choosing and using your essential oils.

Dark glass container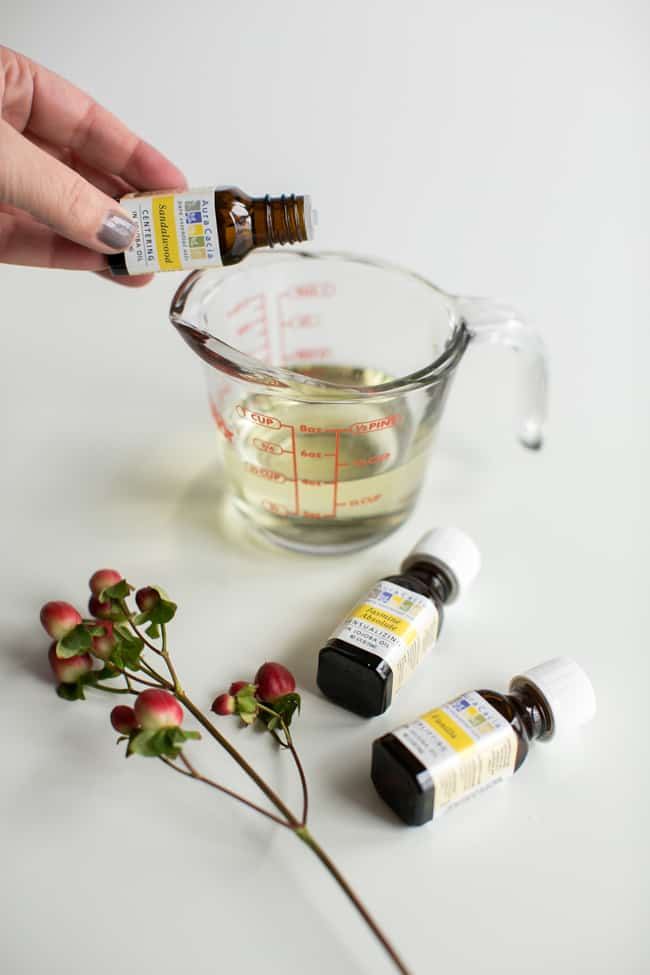 I find it's easier to measure out the carrier oil in a separate container, like a measuring cup. Then slowly add in the appropriate essential oils. Pour the massage oil into a dark bottle and shake well to combine.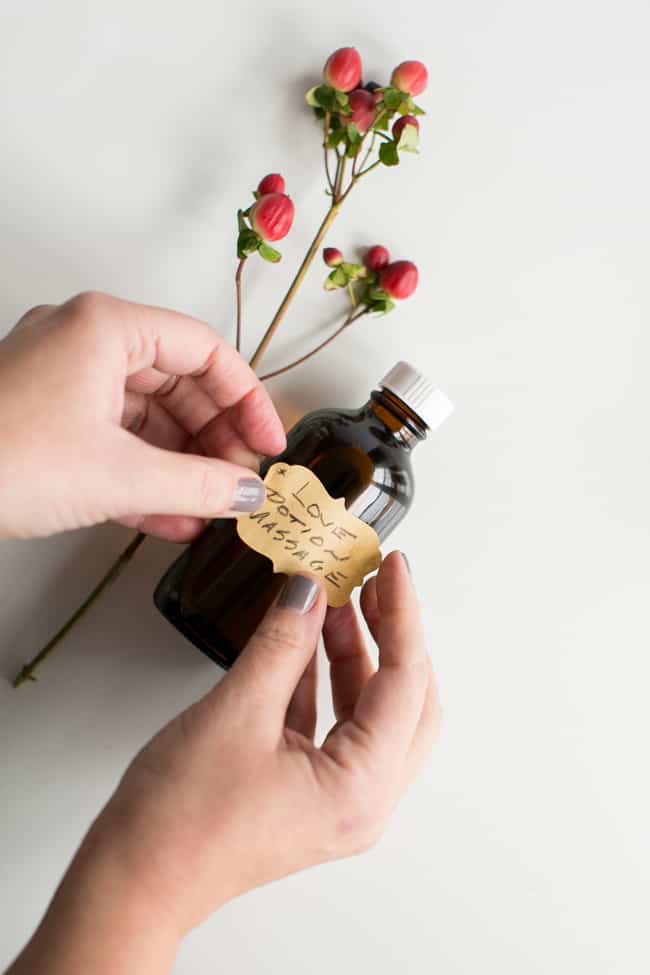 Don't forget to label your creation! You think you'll never forget, but trust me, it's harder to remember than you think!
Shake well before each use. Pour about 1 teaspoon into hands and gently massage into skin. This recipe can be doubled or tripled for a larger batch.
7 Massage Essential Oil Blends + Uses
It's easy to make your own massage oils. My dilemma is always how to use them! It's not like there's a folding table just sitting around the house. Much less an extra 60 minutes and a masseuse at my beck and call.
Good news: we've got a lot of different massage ideas for you. Need help studying? Try a head massage. Can't sleep? Foot massage is the way to go. Entering 'mature' skin territory? A face massage can tone loose skin.
Valentine's Day is around the corner so we couldn't miss the opportunity to create a romantic blend!
1. Love Potion Massage Oil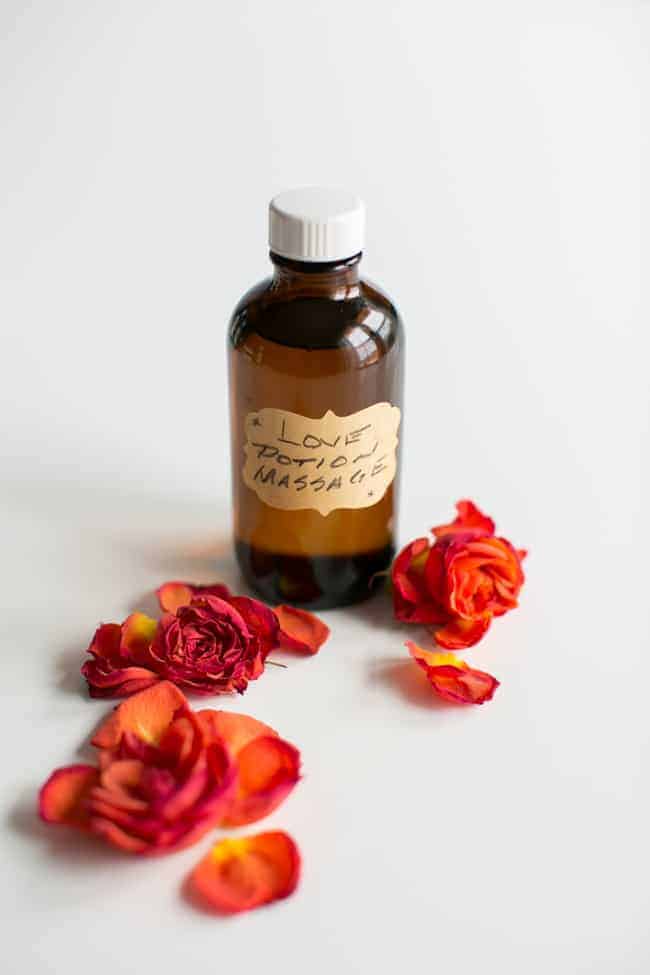 8 drops sandalwood essential oil
3 drops jasmine essential oil
2 drops vanilla essential oil
Add the essential oils to the base recipe above. Use ½ to 1 teaspoon to massage your partner.
2. Relaxing Hand Massage
Give your hardworking hands a little TLC with this blend that will soothe and nourish your skin.
3 drops neroli essential oil

2 drops frankincense essential oil

2 drops bergamot essential oil

2 drops sweet orange essential oil

1 drop sandalwood essential oil
3. In the Zone Head Massage
A head massage is my very favorite thing. I could have my kids brush and play with my hair for hours! It does wonders for tension, and this essential oil blend will keep you focused and alert.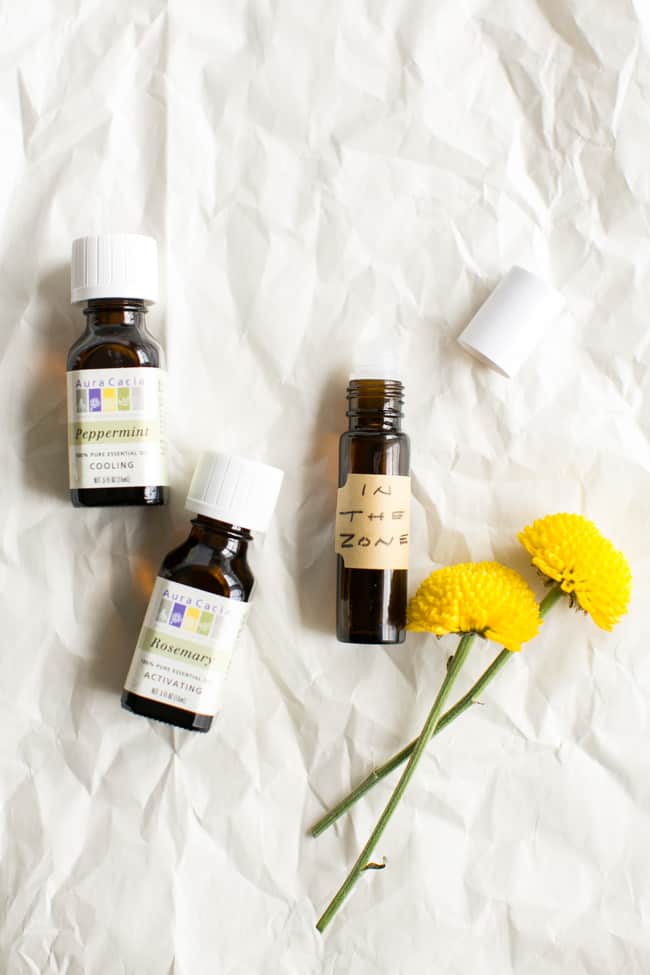 6 drops peppermint essential oil
4 drops rosemary essential oil
Add the essential oils to the base recipe above. Massage ½ teaspoon into temples and at base of neck to invigorate and enhance concentration.
4. Calming Nighttime Foot Massage
I've talked about the relaxing magic of nightly foot massages. If an herb-infused balm is too much work, try this massage oil that takes less than a minute to make (for real).
10 drops Roman chamomile or lavender essential oil
Pour a small amount into hands and massage into feet.
5. Soothing Face Massage
Add a short massage to your nightly skincare ritual and your face will thank you.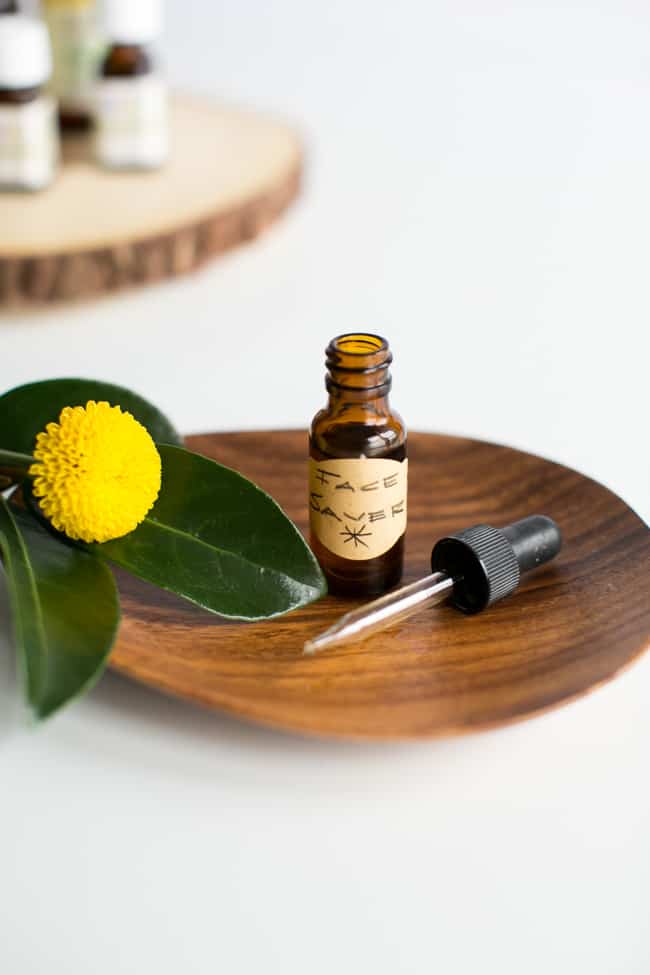 3 drops frankincense essential oil

3 drops rose absolute essential oil

2 drops geranium essential oil

2 drops carrot seed essential oil
Add essential oils to a carrier oil like jojoba or rosehip and shake well. After washing your face apply a few drops of oil to your fingertips. Gently massage into skin with small circles, starting at the chin and working upward.
6. Activating Leg Massage
Stimulate the lymphatic system with massage in combination with dry brushing.
4 drops juniper berry essential oil

2 drops grapefruit essential oil

1 drop cypress essential oil

1 drop lemon essential oil

1 drop sweet orange essential oil
Massage into skin with upward-circular movements, focusing on areas with cellulite. Can be applied before or after dry brushing.
7. Ayurvedic Aromatherapy Massage
One of the main ways Ayurveda strives to restore equilibrium is through clearing the pathways in the body so that everything can move freely and allow the various functions to happen easily. In this case, massaging the body with the Blissed Out oil gets the blood and lymph moving, while inhaling the Breathe Easy Blend helps calm and restore easy breathing.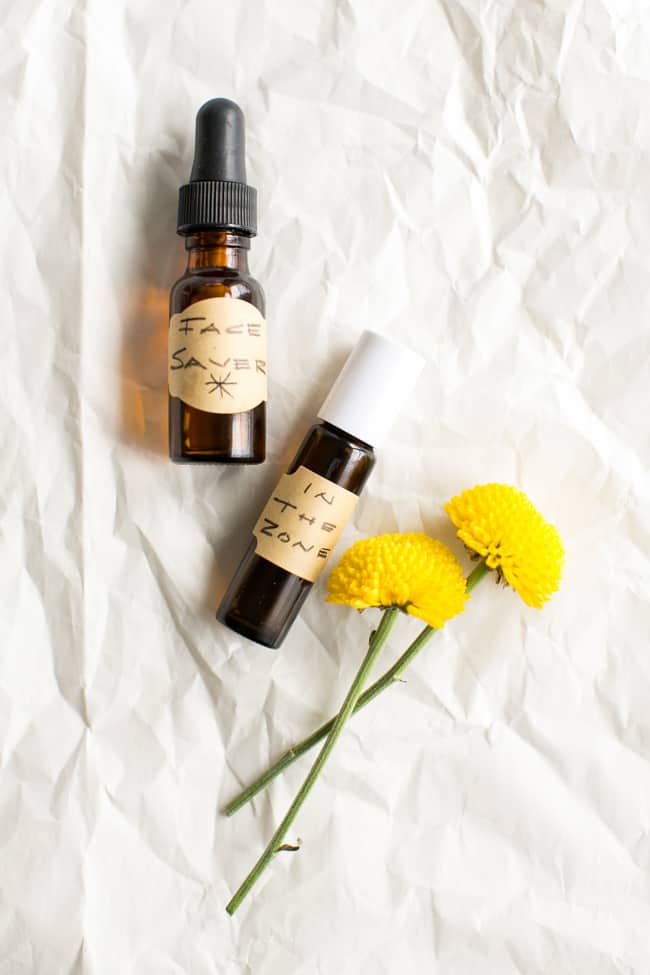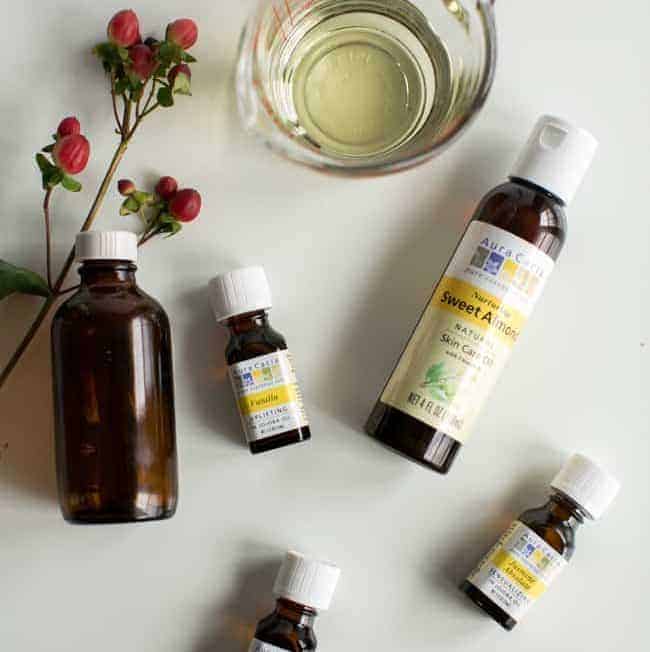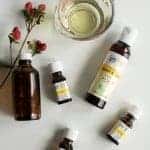 Print
Ayurvedic Relaxation Technique + Aromatherapy Blends
Materials
Breathe Easy Inhalation Blend
Instructions
Make up the two blends by mixing each blend in its own bottle.

Run the bath and make sure the room is warm.

Inhale the Breathe Easy blend and think of a favorite or beautiful place.

Inhale again and imagine all the muscles in your body relaxing.

Store the Blissed Out oil somewhere handy so that you can inhale it anytime you need to relax.

Pour a small amount of the Blissed Out oil into the palm of your hand and warm by rubbing your hands together.

Massage the face by rubbing the oil in with nice firm circles across the forehead and across the cheeks and chin.

Massage the whole body in the same way and give the bigger muscles a few squeezes too, particularly the shoulders and neck.

Soak in the bath and think about beautiful places and favorite things.

Repeat this treatment every couple of days if you're going through a stressful patch and continue monthly for maintenance.
This post was medically reviewed by Dr. Holly Smith, a board certified physician in nephrology and internal medicine with a background in nutrition. Learn more about Hello Glow's medical review board here. As always, this is not personal medical advice and we recommend that you talk with your doctor.
624