Adding essential oils to the bath is one of my favorite things. Baths, in general, are amongst my favorite things for relaxation and improving my mood after a long day. Adding just a few drops of essential oil to your bath can help create a spa-like experience right in the comfort of your own home.
Essential oils are concentrated plant extracts that are derived from various parts of the plant, including the leaves, flowers, and roots. They are known for their therapeutic properties and can be used to promote relaxation, ease muscle tension, and calm the mind. Some of the best essential oils for use in the bath include lavender, chamomile, ylang-ylang, eucalyptus, and peppermint oil.
When using essential oils in the bath, it's important to dilute them with a carrier oil like jojoba or fractionated coconut oil to avoid skin irritation. A few drops of essential oil can be added to the carrier oil before being added to the bathwater. Alternatively, you can combine essential oils with a vegetable oil or bubble bath to create a fragrant and luxurious bath experience.
A good, leisurely soak is just about the perfect combination of self-care and wellness. Baths have been used for centuries for their health benefits like reducing stress and increasing circulation, as well as alleviating muscle aches and improving the health of your skin.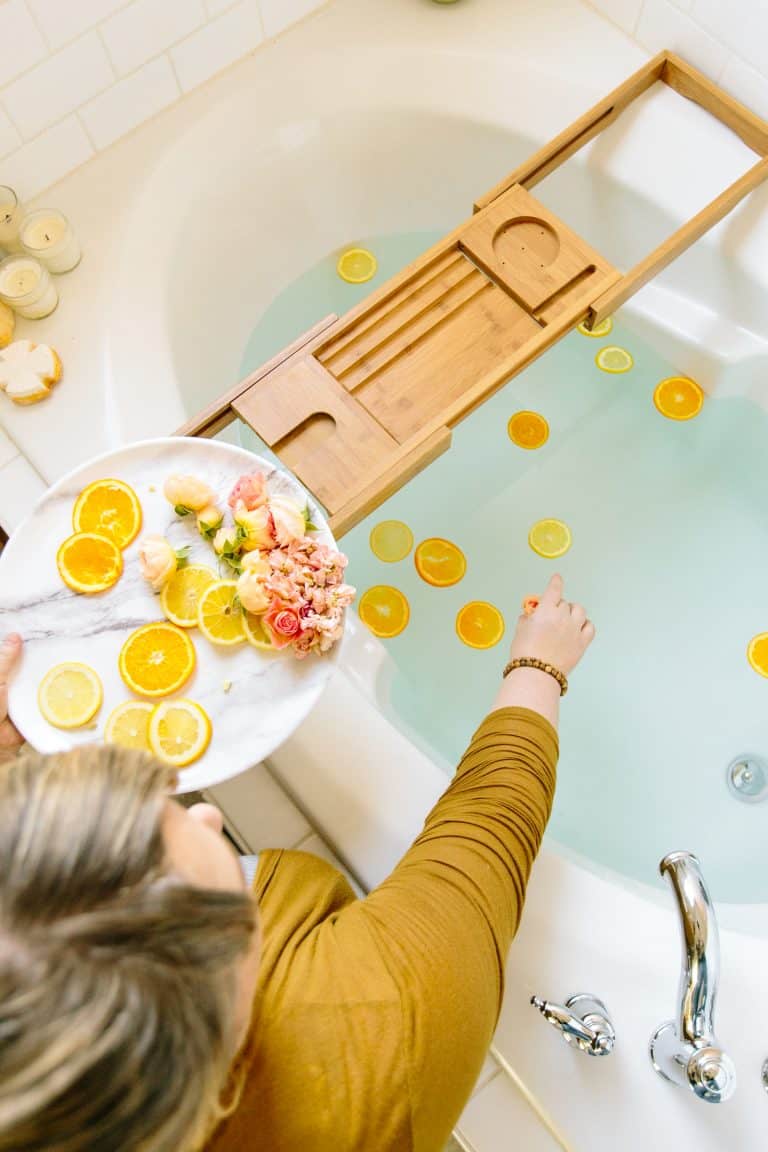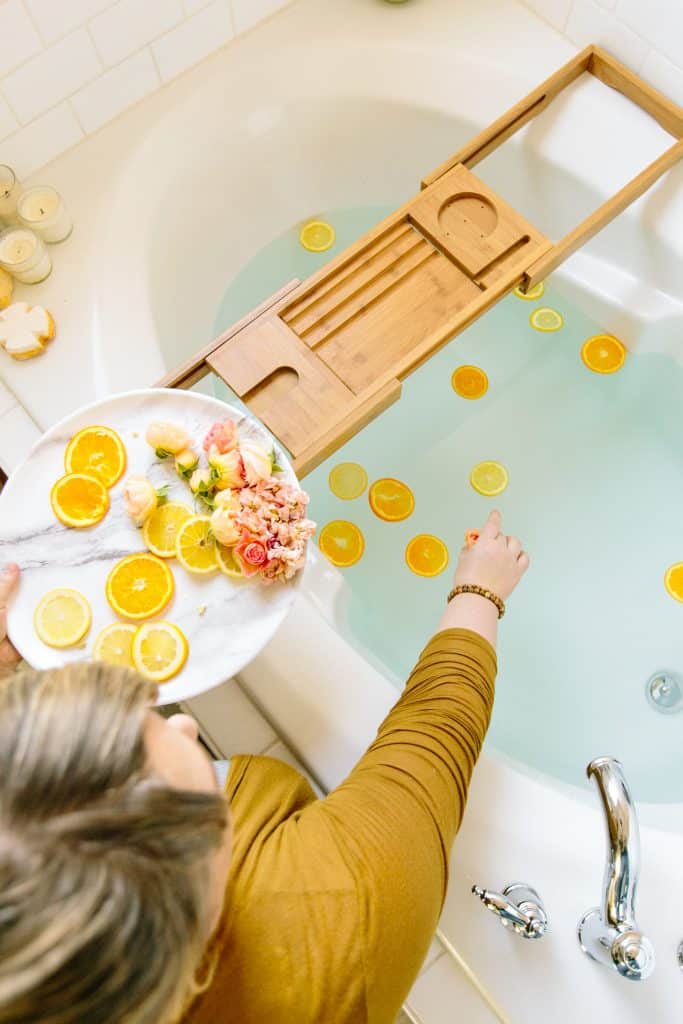 Essential oils in the bath? Here's what you need to know
If you've added essential oils to your bath, chances are you've made a few errors. During my essential oil courses, I realized I was doing it all wrong! I'm especially cautious with adding essential oils in the bath because it can impact your whole body—red, irritated skin ruins the entire experience pretty quickly.
These tips will help you get the most out of your oils without experiencing any unpleasant reactions.
Do not add essential oils directly to the water
We all know that oil and water don't mix. So if you pour essential oils directly into the bath, the drops will just float around on the top of the water. When you get into the bath, they come in contact with your skin and are essentially undiluted, which can sting and cause irritation.
Dilute properly
The Tisserand Institute, the expert in using essential oils safely, recommends mixing 5–20 drops (1–4% dilution) of essential oil into 1 tablespoon of a carrier oil like apricot kernel, grapeseed, jojoba, or sweet almond. Again, the oil won't dissolve in the bath but will float on the surface of the water. You can go ahead and rub those drops into your skin because the essential oils have been diluted into the carrier oil. Just be careful because things can get slippery!
Want a bubble bath? You can also dilute essential oils in liquid foaming products like castile soap, body wash, or shampoo.
Things that don't dilute essential oils:
Milk

Epsom salt

Baking soda

Glycerin

Aloe gel
All of these are water-soluble, which means they will dissolve in the bath, leaving the essential oils to float around undiluted.
When making bath salts, add your essential oils to a carrier oil first. Then stir that into your salt concoction. This way, as the salt dissolves in the water, your essential oils won't be floating around undiluted.
Even better, use an emulsifier
How do you get essential oils to actually mix with the bath water itself? Use an emulsifier. One option is Polysorbate 20, a mild surfactant derived from coconut oil's lauric acid. It's used to emulsify oils, specifically fragrance or essential oils, into water.
To use Polysorbate 20, stir together a 1:1 ratio of emulsifier and essential oil. If you're super patient, you can wait a couple of hours to see if there is any separation. If there is, add a bit more emulsifier. Then add to your water-based products or salts.
Don't use oils that can irritate the skin
As much as we love essential oils, there are some that don't belong in the tub. Avoid essential oils that can irritate the skin or mucous membranes. This includes basil, lemongrass, oregano, thyme, nutmeg, peppermint, cinnamon, clove, black pepper, and bay.
Mix up the perfect blend
Honestly, with endless essential oil combinations, it can be intimidating. Starting with your bath goal in mind helps narrow down your choices. Are you stressed? Sore from a tough workout? Having trouble with insomnia? These easy blend recipe suggestions from Essential Glow will get you started. Just remember, your nose knows you best, so choose the scents that appeal to you and don't get hung up on having the 'right' oil.
Romantic: Use a blend of rose, cardamom, and vanilla.
De-stress: Mix up clary sage, bergamot, and lavender.
Sore muscles: Combine juniper berry, lavender, and marjoram.
Energizing: Try lemon, sweet orange, and rosemary.
Add essential oils last
The time to add your oils is after the bath is full, and you're in it. Don't add the oils while the water is running, or their lovely scents will evaporate before you get into the tub. If you're combining your essential oils with a carrier oil, another option is to slather the diluted EO mixture all over your body before you get in the tub. You'll get the benefits of absorbing the oils and enjoy the fragrance.
This post was medically reviewed by Dr. Holly Smith, a board-certified physician in nephrology and internal medicine with a background in nutrition. Learn more about Hello Glow's medical review board here. As always, this is not personal medical advice, and we recommend that you talk with your doctor.
64