I'm a firm believer in the healing power of warm showers. Hot water, steam, and a little aromatherapy can make anything—and I seriously mean anything—better.
After battling a stubborn sinus infection for weeks, I finally took my own advice and hit the shower for an aromatic eucalyptus steam session. Even though I was taking medicine at the time, eucalyptus and steam actually improved my symptoms without that foggy feeling you get with meds. Not only was it relaxing, but it was a whole lot cheaper, too!
Here's how to make your own aromatherapy steam room with nothing more than fresh eucalyptus and a hot shower.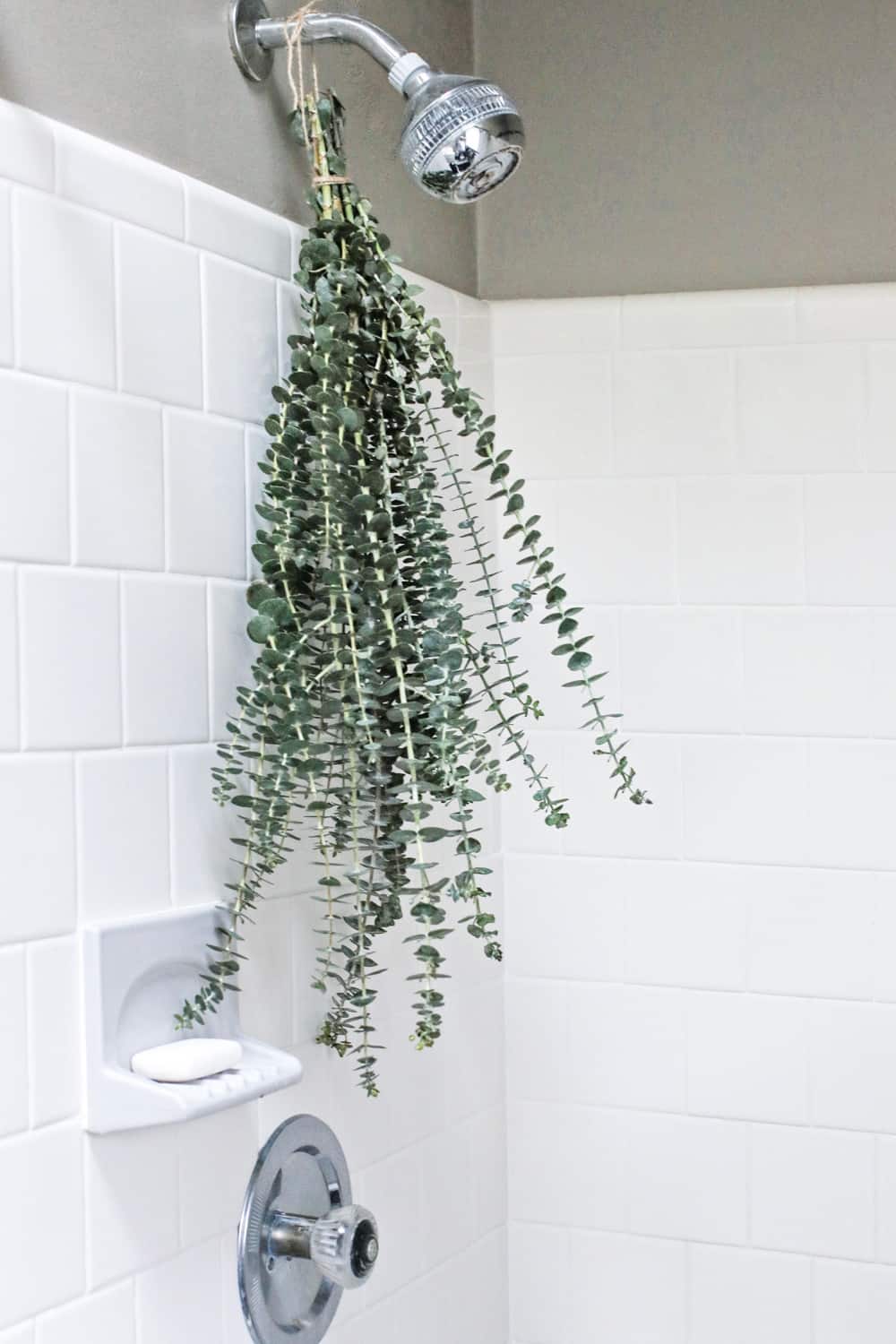 How to Make a Fresh Eucalyptus Shower
Eucalyptus is a godsend when it comes to relieving cold symptoms and healing respiratory issues. Eucalyptus has long been known to provide healing benefits because it's naturally antiviral, antibacterial, antifungal, and anti-inflammatory [source].
Fresh eucalyptus has antiseptic properties that help to kill germs [source] and open up the airways in your nose and throat. It has been used for inhalation to help break up mucus, relieve sinus pressure, and soothe nasal passages so you can breathe more easily [source].
To turn your bathroom into a sinus-clearing steam room, simply buy a few branches of fresh eucalyptus from a local grocery store or florist. I found a few different kinds of eucalyptus at Trader Joe's for cheap, but you'll want to use baby blue eucalyptus (as opposed to the large silver dollar variety) if you can find it. It has strong antiseptic properties, and of all the eucalyptus plants, it's by far the most fragrant.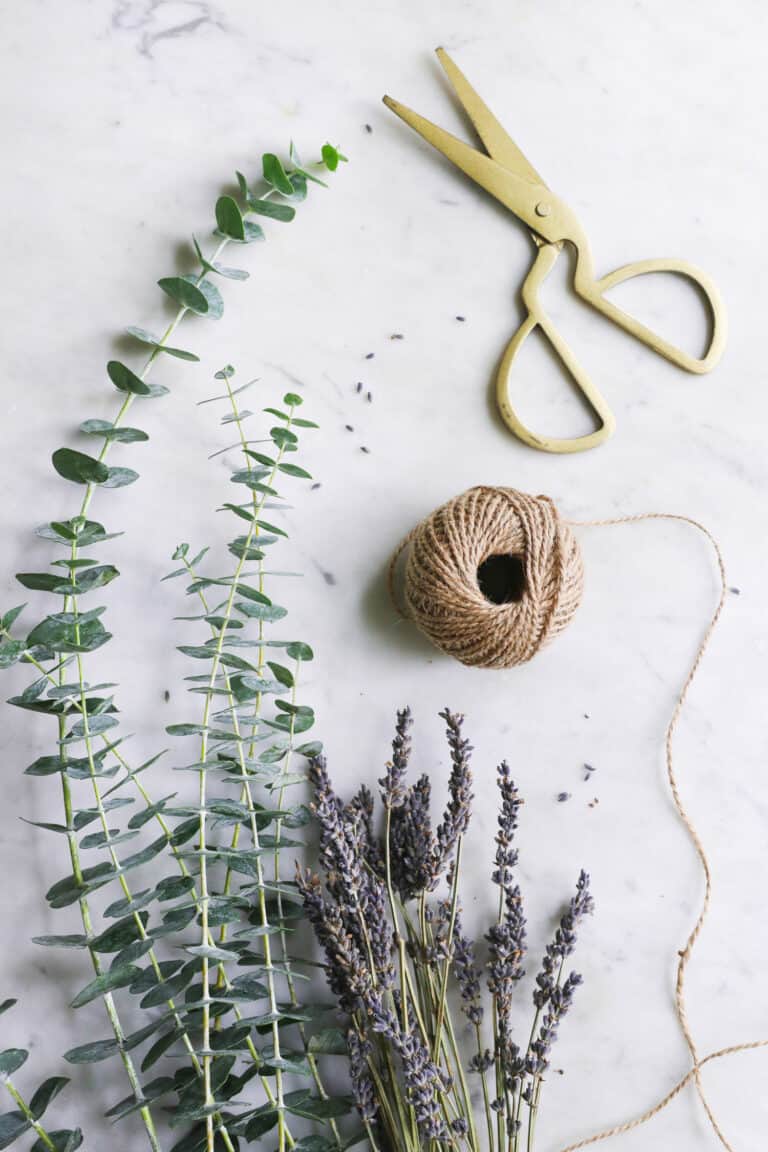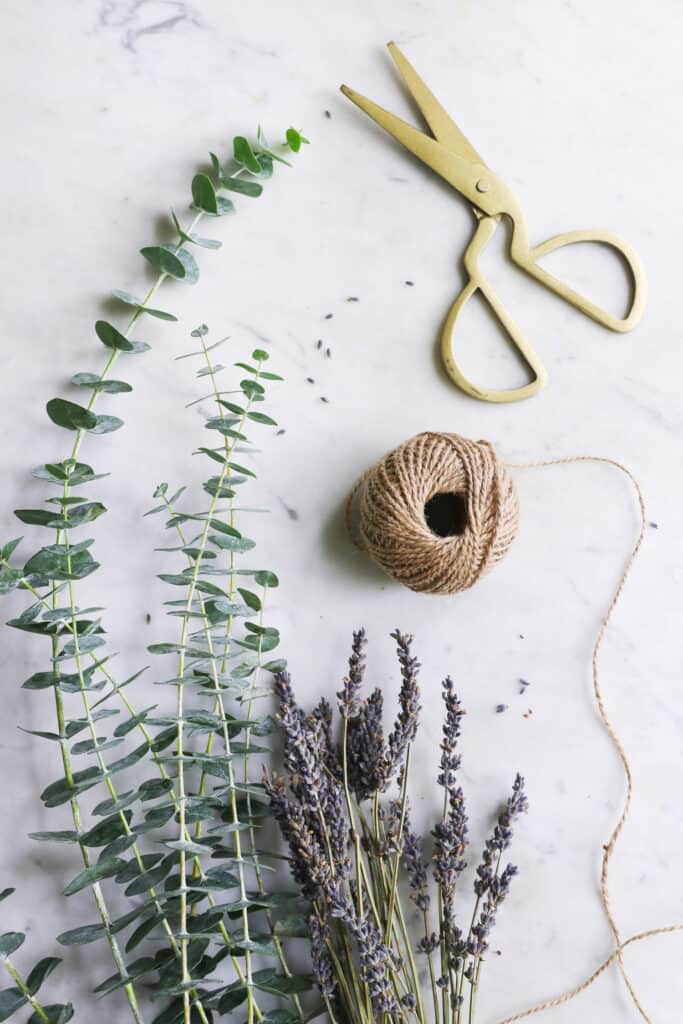 What you need for a eucalyptus shower
I also like to toss in a few branches of lavender. It makes for a pretty bouquet, and you get to reap the soothing benefits of lavender [source] while you're at it. But this isn't 100% necessary if you don't have it, so you can either choose different flowers and herbs—heather, rosemary, or thyme would also work well—or skip it altogether.
The only other tools you need for this project are some twine, scissors, and a shower.
Once you've purchased your branches, start by removing the packaging and separating the eucalyptus into single branches. If you're pressed for time, you can leave them together, but I find that they're harder to manage that way. You'll also want to strip the leaves from the base of the branches, so you'll have a clean surface around which to tie the twine.
Next, gather roughly 10 to 15 eucalyptus branches together. Place a small bundle of lavender on top, and tie everything tightly at the base with string or baker's twine. Leave enough twine to create a loop big enough to go over your shower head.
How to hang a eucalyptus bundle
Head to your bathroom and hang the bundle from your shower head. You'll want to position the branches so they sit in between the wall and the stream of water, not in the water itself. Lastly, shut the door, turn the shower on high, and let the bathroom fill with steam.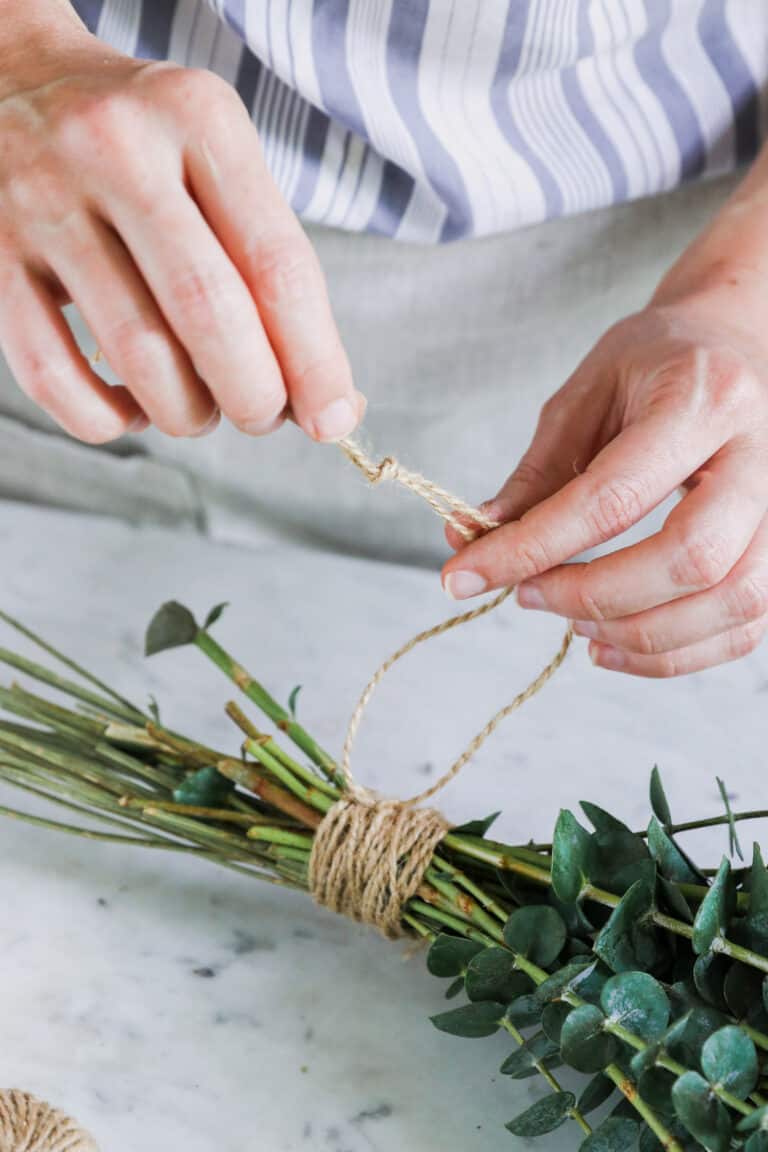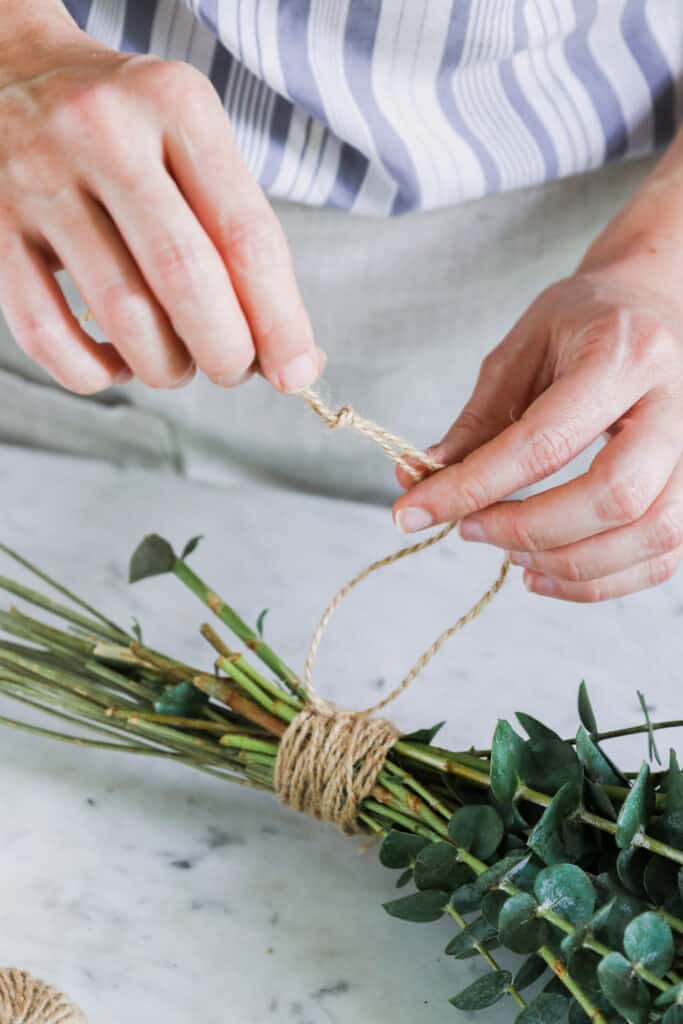 Eucalyptus Shower Steam Inhalation
Create your own steam inhalation remedy by sprinkling a few drops of eucalyptus and/or peppermint essential oil around the shower, then turn up the water to as warm a temperature as you can stand it. You can also use congestion-clearing essential oils or a shower steamer with menthol.
The hot steam helps extract the essential oils from the eucalyptus and disperses them throughout the air. Either hop in the shower or simply pull up a chair and breathe in the steam. You should feel its effects and start breathing better within a matter of minutes.
How to Do a Eucalyptus Steam without a Shower
To a pot of water, add about 3 to 4 tablespoons of fresh eucalyptus leaves or a few whole stems. Look for the baby blue eucalyptus as opposed to the silver dollar variety since it contains the oils we need. Bring it to a rolling boil.
Remove from the heat, and hold your face about 12 inches above the pot, covering your head and the pot completely with a towel. Take slow, deep breaths with your eyes closed to prevent irritation. Repeat as needed.
Essential oil inhalation
If fresh eucalyptus isn't available, its essential oil (EO) can be used in place of the fresh stuff. Eucalyptus EO is a popular ingredient in chest balms and muscle massage oils. It has a menthol constituent that helps us open up and breathe more easily.
Add 1 to 2 drops of oil to a sink of hot water. Hold your head over the sink, close your eyes, and inhale deeply; you can drape a towel over your head to trap the steam. This method is great for a stuffy nose and sinuses.
Or diffuse a few drops in a room with a simple reed diffuser, or buy a diffuser like this one that covers a larger area. You can also add 2 to 3 drops of eucalyptus EO to a humidifier or a pot of water on the stove. Avoid the direct use of eucalyptus with infants and young children.
Eucalyptus Shower FAQ
Can my eucalyptus bundle get wet
?
It's best if your eucalyptus stays dry (or as dry as possible) in the shower. Letting it get waterlogged can cause mold or mildew to form pretty quickly. Not only is it not great to breathe in mold, but it will create a mess that's difficult to deal with later.
How do you keep eucalyptus alive in the shower
?
You don't! Your branches will slowly start to dry out, turn brown, and lose their scent, at which point you'll want to create a fresh bundle.
Why isn't my eucalyptus fragrant
?
Fresh eucalyptus tends to be more fragrant than when it is dry or dead. Even if you start with fresh eucalyptus, as it sits, you'll notice the aroma fades over time. That's just one more reason to replace your eucalyptus bundle every week or two.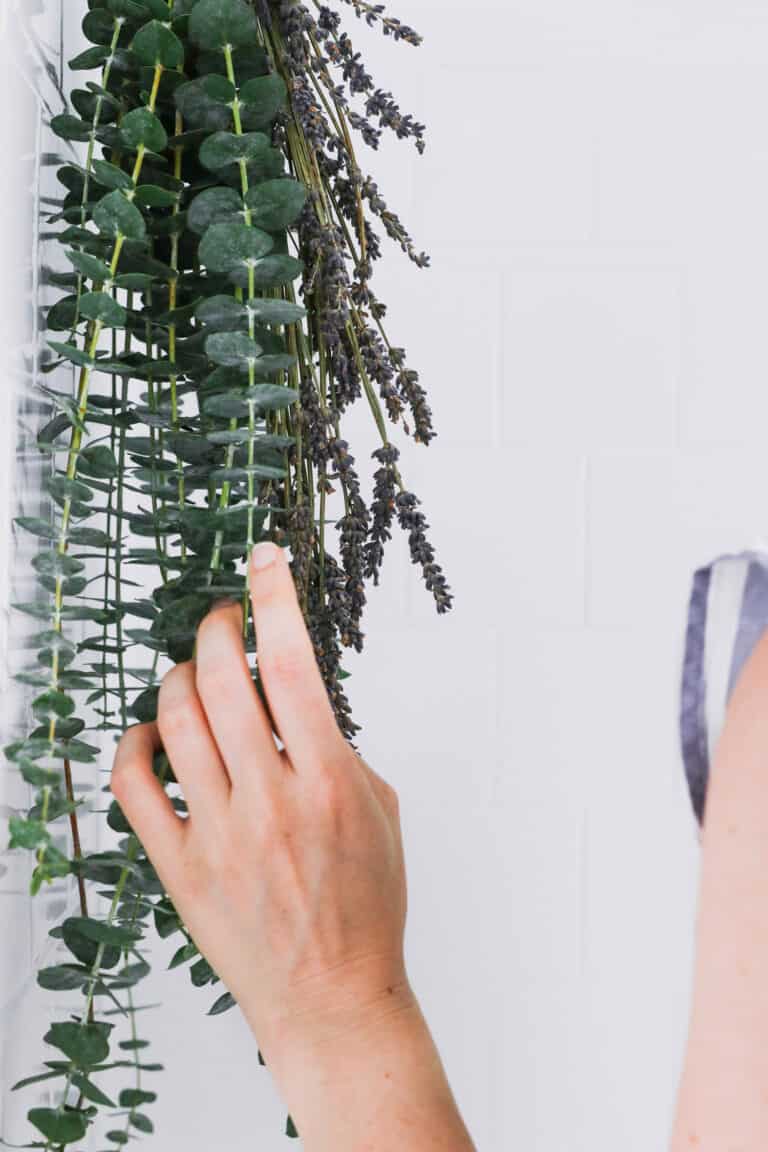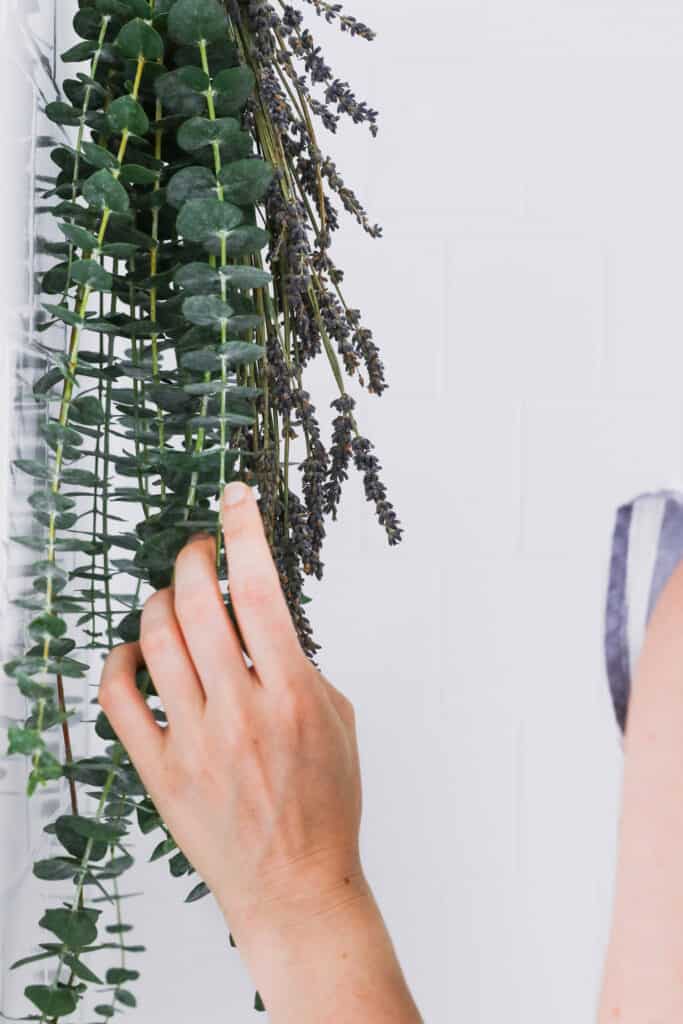 View this post on Instagram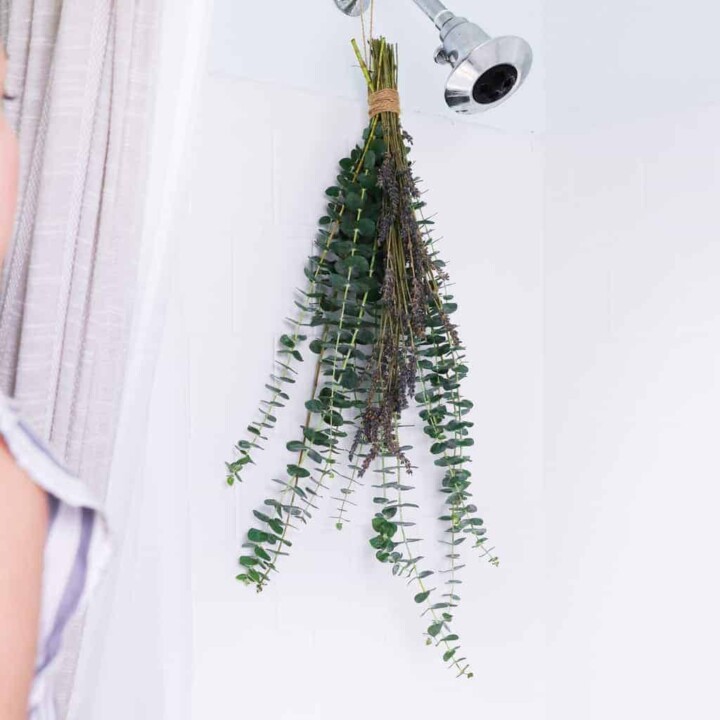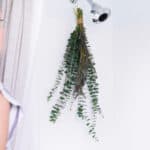 Print
How to Take a Eucalyptus Steam Shower
Feeling stuffed up and having sinus troubles? Here's how to take a sinus-clearing eucalyptus shower to help you breathe easier.
Equipment
String or baker's twine

Scissors

Shower
Materials
2–3

bunches

baby blue eucalyptus

fresh

1

bunch

dried lavender

or other flowers (optional)
Instructions
Start by breaking apart the eucalyptus bunch into single branches. Set the longer branches in one pile and the short branches in another. You can display the short branches in a separate smaller bouquet or try to use them in your eucalyptus shower bundle.

Strip the leaves from the base of your long eucalyptus branches. You'll want about 2 to 3 inches of bare branches that you can tie twine around.

Gather the branches together into a bundle. I placed the lavender on top, but you're free to mix it in.

Wrap the base of the branches about 10–15 times with twine. You'll want it to be pretty tight to keep the branches from falling out when hung upside down.

Flip the bundle over, and tie a knot at the back.

Tie a second knot about 5 inches away from the first knot. Make sure the loop is big enough to fit it over your shower head.

Trim the ends of the branches so they're all the same length.

Hang the bundle over your shower head so the branches are near, but not in, the stream of water.
Notes
To use, turn the shower on high and let the steam fill the room. Take long, slow breaths until you start to notice your congestion dissipating.
Leave the eucalyptus in the shower for up to a week (or until it starts to dry out and fall apart), then replace it with a fresh bundle.
References
1. Sabo VA, et al. Antimicrobial activity of Eucalyptus camaldulensis Dehn. plant extracts and essential oils: a review. Ind Crops Prod. 2019.
2. Sadlon AE, et al. Immune-modifying and antimicrobial effects of eucalyptus oil and simple inhalation devices. Altern Med Rev. 2010.
3. Horváth G, et al. Essential oils in the treatment of respiratory tract diseases highlighting their role in bacterial infections and their anti‐inflammatory action: a review. Flavour Fragr J. 2015.
4. Koulivand PH, et al. Lavender and the nervous system. Evid Based Complement Alternat Med. 2013.
This post was medically reviewed by Dr. Rina Mary Allawh, M.D., a dermatologist who practices adult and pediatric medical dermatology, skin cancer treatment, and cosmetic dermatology. Learn more about Hello Glow's medical reviewers here. As always, this is not personal medical advice, and we recommend that you talk with your doctor.
117