Aside from its versatility, the main reason I love lavender essential oil so much is that it's so beneficial for the skin. Seriously, it's one of the best essential oils for skin. Not only is it useful in a number of situations, but it's also incredibly gentle and can be used on just about any skin type. If I could only choose one essential oil to use on my skin, I would absolutely choose lavender. I add it to pretty much every one of my skincare formulations!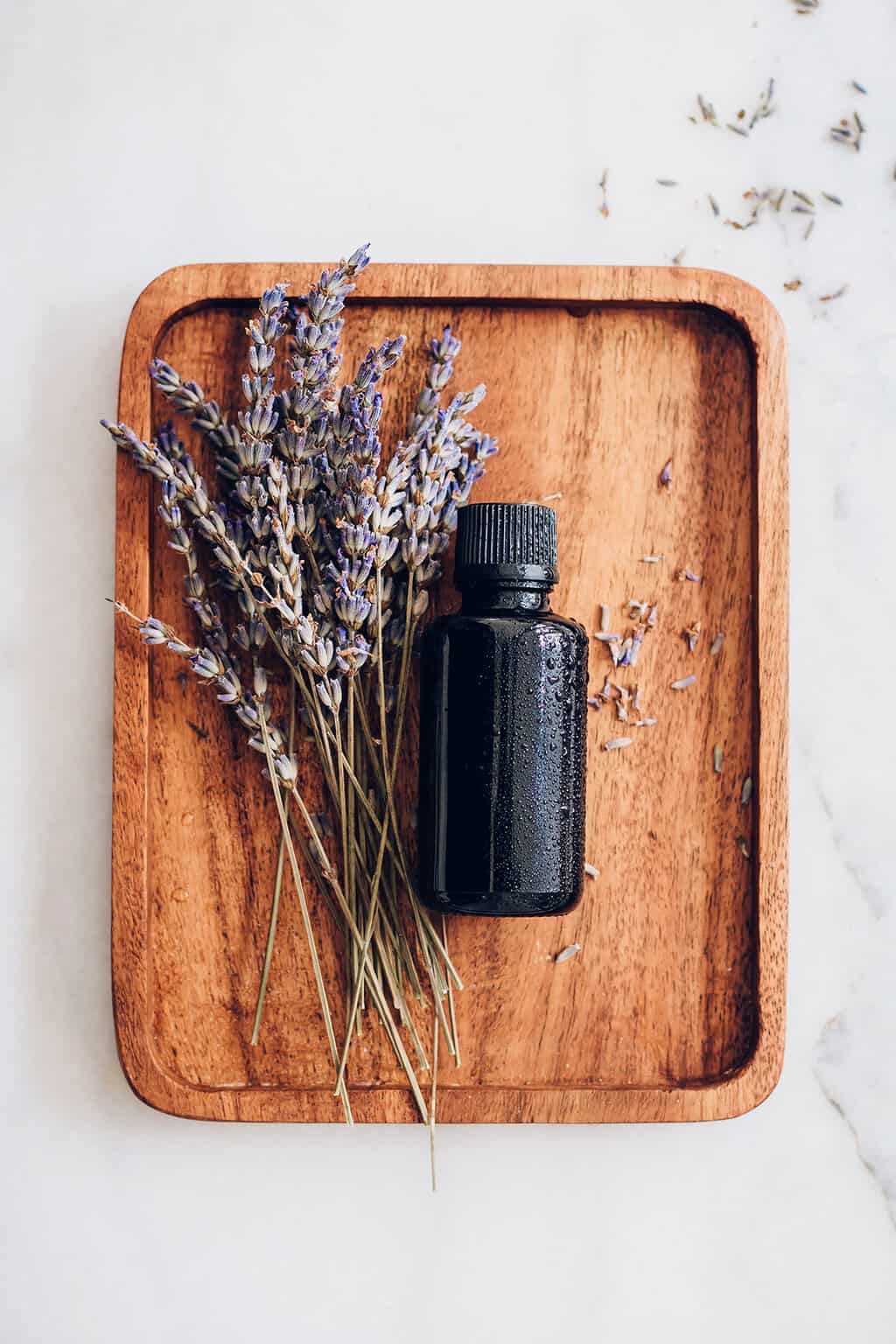 6 Lavender Oil Skin Benefits
So, what is it exactly that makes lavender so great for the skin? There are several reasons, and I'm going to share just a few of them with you today!
1
.
Speeds up skin healing
Scientific studies conducted with humans and animals have found that lavender may contain wound-healing properties [source]. This is one of the many reasons that lavender is a go-to for cuts, scrapes, and burns. It's an excellent essential oil to have in a first aid kit, so you can grab it at a moment's notice!
Use lavender in
:
all-purpose salve
A good all-purpose salve can be used as a lip balm, dry skin salve, first aid salve, or even a hair pomade. It's great for dry, chapped lips, parched winter skin, eczema, bug bites, burns, wounds, and more. I rarely leave home without at least a couple of my salves.
An added bonus is the fact that salves are actually really simple to make, and they're very customizable. You can use herb-infused oils or even just coconut or olive oil; combine your base oil with beeswax and essential oils, and there you have it.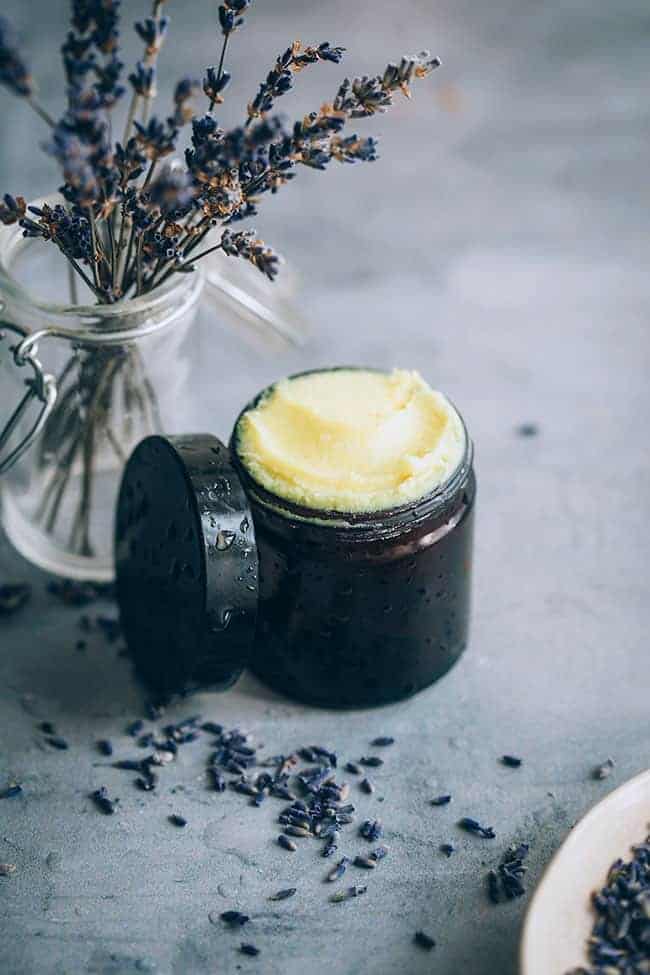 2
.
Promotes collagen production
In fact, one study found that topical applications of lavender oil promoted collagen synthesis and replacement, so wounds healed faster [source].
Use lavender in
:
facial oil
Revive dull and tired skin with an antioxidant-rich rosehip facial oil. Rosehip is also beneficial as an anti-inflammatory for anti-aging and skin regeneration [source] for burns, wrinkles, and scars, so it's the perfect partner for lavender to nourish and heal skin while you sleep.
3
.
Soothes irritated skin
Lavender has long been believed to contain anti-inflammatory properties, and scientific studies support this. An animal study published in 2018 found that topical (and oral) applications of lavender exhibited anti-inflammatory actions in skin conditions such as dermatitis, eczema, and psoriasis [source].
Use lavender in
:
body butter
,
lotion
,
and moisturizers
Body butter is a great product to have on hand for dry, irritated, or inflamed skin. Start with this body butter recipe, and simply add a few drops of lavender essential oil. The shea and coconut are super nourishing, and the lavender helps soothe unhappy skin.
You can also add lavender essential oil to lotions, massage oils, and bath recipes to help soften and condition your skin. Lavender is an excellent addition to a sensitive skin facial moisturizer.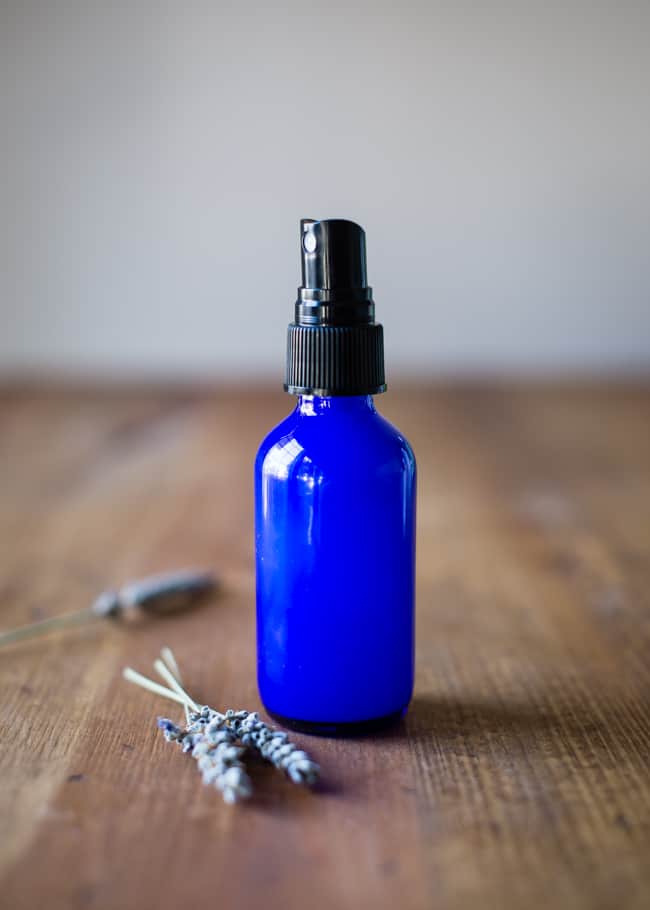 4
.
Fights free radicals
Lavender oil also contains antioxidant properties [source]. Free radicals are unstable molecules caused by stress, diet, toxin exposure, diet, and other environmental factors that can contribute to cell deterioration, cancer, chronic diseases, and the visible signs of aging, as well as the overall health of the body. Antioxidants have the ability to scavenge and reduce free radicals.
This is why antioxidants are so important for our health. It's crucial to consume antioxidants through our diets [source], but we can also utilize their benefits with antioxidant-rich skincare products. Antioxidants are great for our overall health and have the added bonus of helping our skin appear healthier and more youthful.
Use lavender in: facial serums
Keeping the facial skin nourished, moisturized, and protected from environmental damage [source] is key to having younger-looking skin. Antioxidant-rich facial serums are an excellent way to do this. If you make the serums yourself, they're incredibly affordable! Create your own facial serum, and don't forget to add some lavender essential oil.
5
.
Battles acne
Among the many beneficial properties of lavender are its antimicrobial properties [source]. Not only does this make it useful for wounds, but it is also supportive for skincare in general.
Because it combats bacteria, it's a great essential oil to use in formulations designed for cleansing the scalp and hair (shampoo, body and face washes), as well as for treating acne.
Use lavender in
:
Facial cleanser
,
body wash
,
scalp cleanser
Hands down, one of the easiest ways to add lavender to your cleansing routine is to add a few drops to your existing body wash or shampoo. However, if you like to make your own cleansers, try adding lavender essential oil to an oil cleanser or a cleansing balm.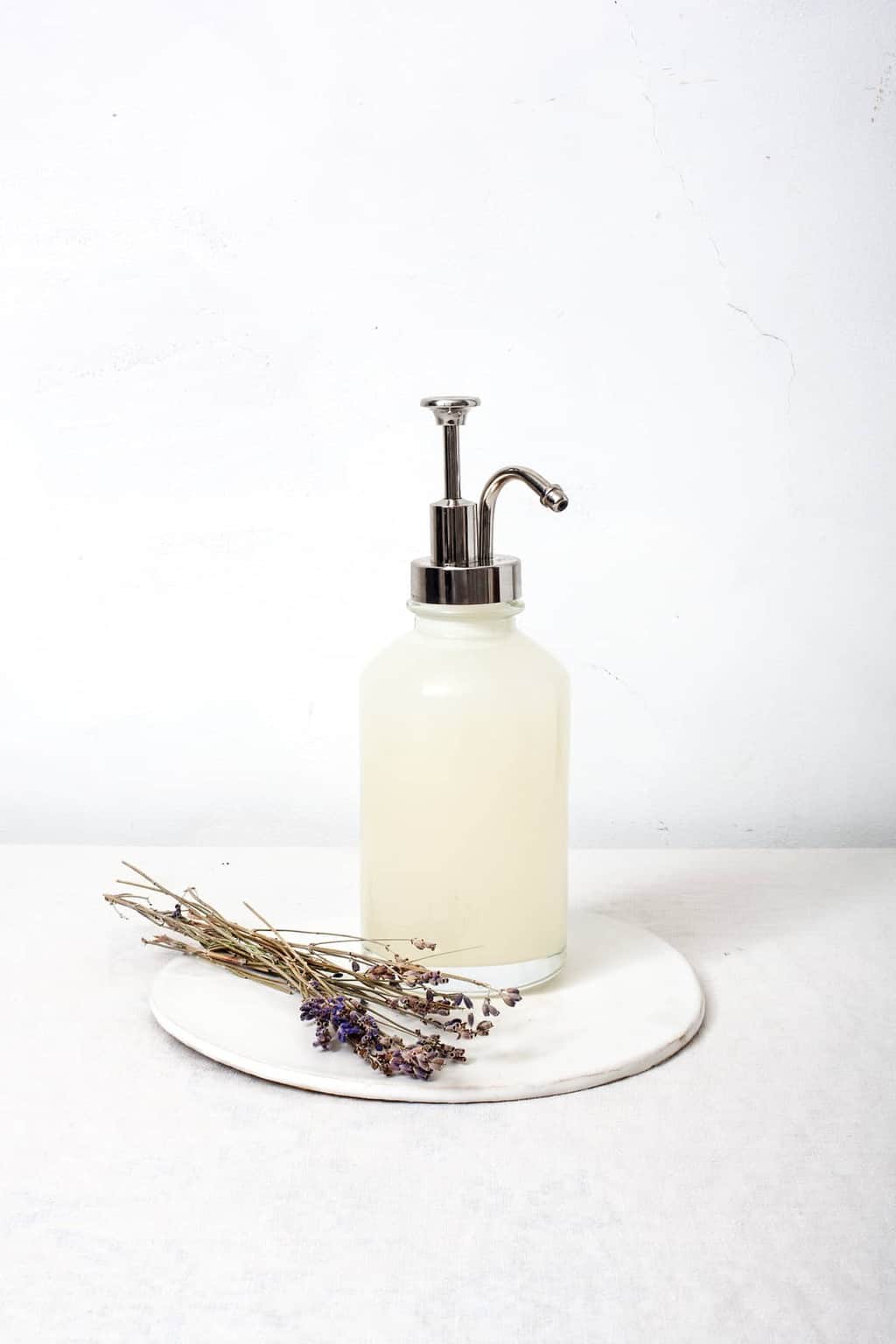 6
.
Tones
&
repairs skin
Refreshing lavender hydrosol is an excellent toner to revitalize skin. Use lavender in a refreshing face spray to tone skin after cleansing as well as to cool and repair sunburned skin.
Use lavender in
:
Toners
,
face and body sprays
Use lavender hydrosol with a couple of drops of lavender essential oil to make a simple homemade toner. This sunburn skin spray is incredibly cooling and soothing for dry or sunburned skin. Spritz all over to quench parched skin.
14