I know the thought of a yogurt face mask might sound messy, maybe even gross if you're not a big dairy fan, but hear me out. It seems like the older I get, the dryer my skin feels—and looks! And if you're stuck at home, now is the perfect time for a bit of skincare self-care.
Applying a yogurt face mask once or twice a week can do everything from restoring much-needed moisture [source] to lessening the effects of aging [source]. And that's just the tip of the iceberg.
Most of us are fairly familiar with the slew of benefits Greek yogurt contains for your body (if it's not already a staple in your diet, you should consider adding it!). It contains a heaping amount of probiotics, tiny microorganisms (living cultures of bacteria and yeast) that are good for your gut, as well as double the amount of protein found in regular yogurt and half the sugar to boot.
Well, it turns out that the magic that yogurt works on the inside of your body actually extends to nourish your skin, too.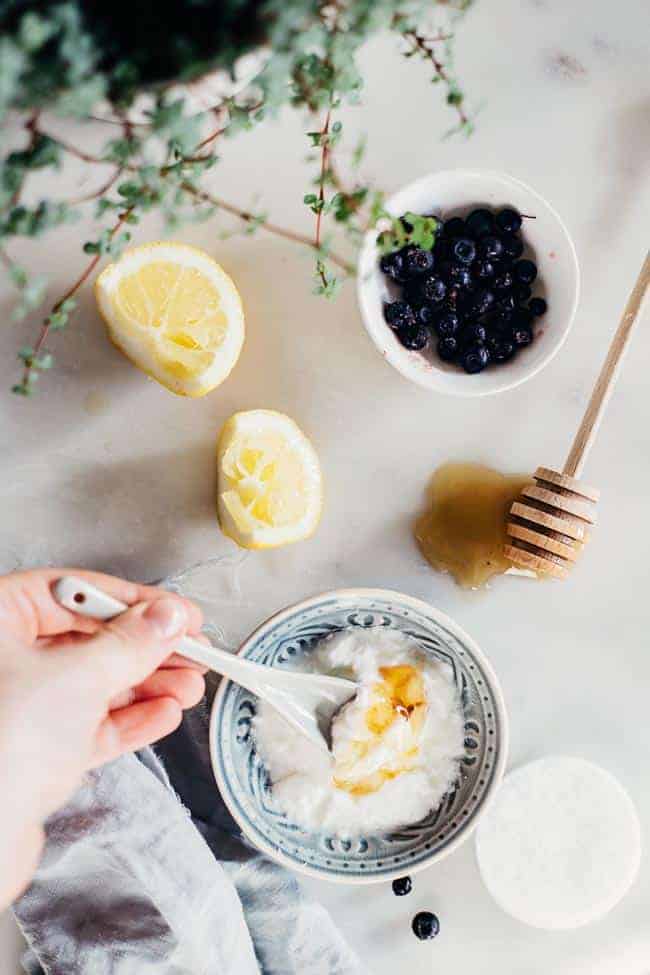 Benefits of Greek Yogurt for Skin
Given its extraordinary benefits for your body, you can only anticipate the wonders it can do for your face. Here are some of the ways yogurt can give you that fresh-from-the-spa glow:
Fights Acne
Fun fact: Greek yogurt has impressive acne-fighting abilities. That's because it contains lactic acid [source], which is a type of alpha-hydroxy acid (AHA) that you can find in many of your store-bought cleansers, spot treatments, and acne products. It's also loaded with probiotics, which may help restore your skin's bacterial balance and keep acne-causing germs from getting out of hand.
Gently Exfoliates Dry Skin
Another perk of lactic acid is that it's a gentle exfoliator, meaning it helps slough off dead skin cells [source] to reveal a smoother, brighter, and more youthful-appearing complexion underneath. One of the reasons your skin is drier and dulls with age is that those dead skin cells are sticking around too long.
Their presence even prevents moisturizers from penetrating. So, by gently and naturally exfoliating these dead skin cells, you can easily reclaim a more vibrant and dewy skin.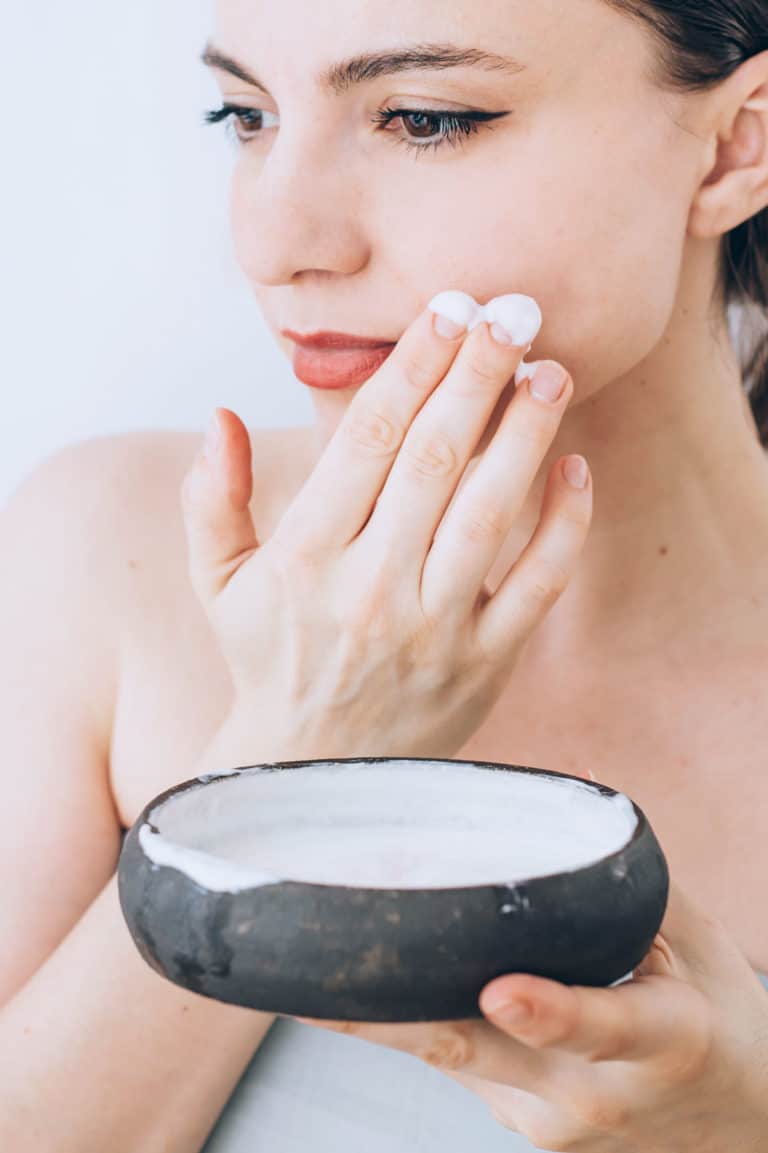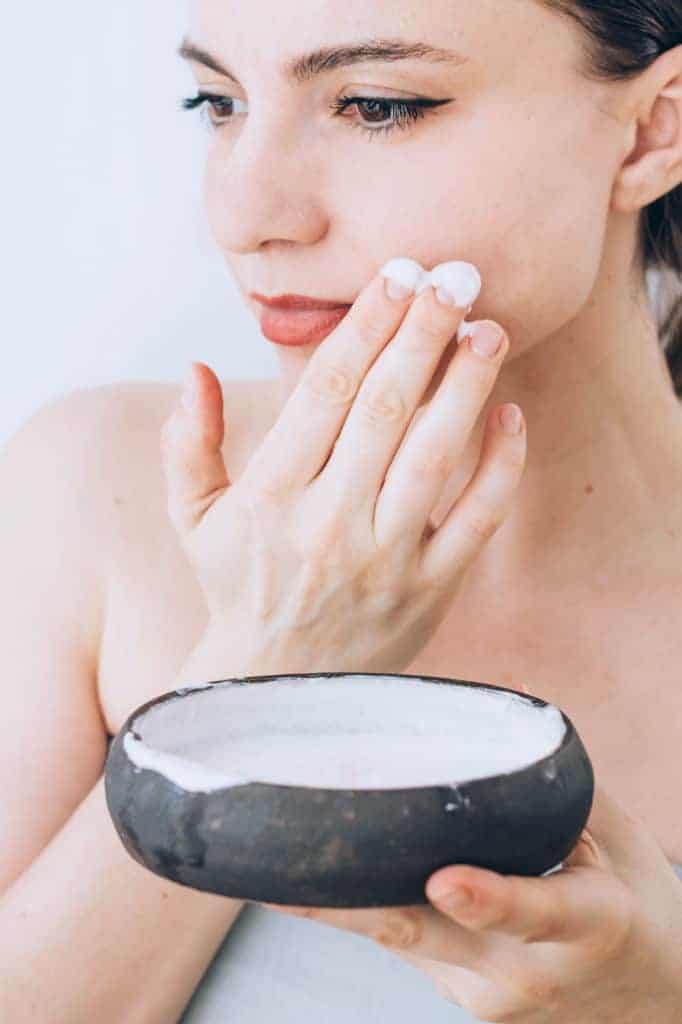 Boosts Moisture
Research has shown that yogurt may help replenish moisture in the skin, thus improving skin quality and elasticity [source].
Soothes Irritation
While the science on this one is limited, anecdotal evidence seems to suggest that you can use Greek yogurt the same way you would aloe—it helps nourish sunburned skin, thanks to its cooling effects.
Tightens and Firms Skin
And lastly, using Greek yogurt can also help reduce the appearance of wrinkles and fine lines, thanks to the fact that it naturally tightens and firms your skin (chalk it up to those AHA's again [source]). An all-natural chemical-free solution that I can buy for a couple of bucks at my local grocery store instead of hauling to Sephora? Certainly worth a try if you ask me.
Greek Yogurt Face Mask Recipe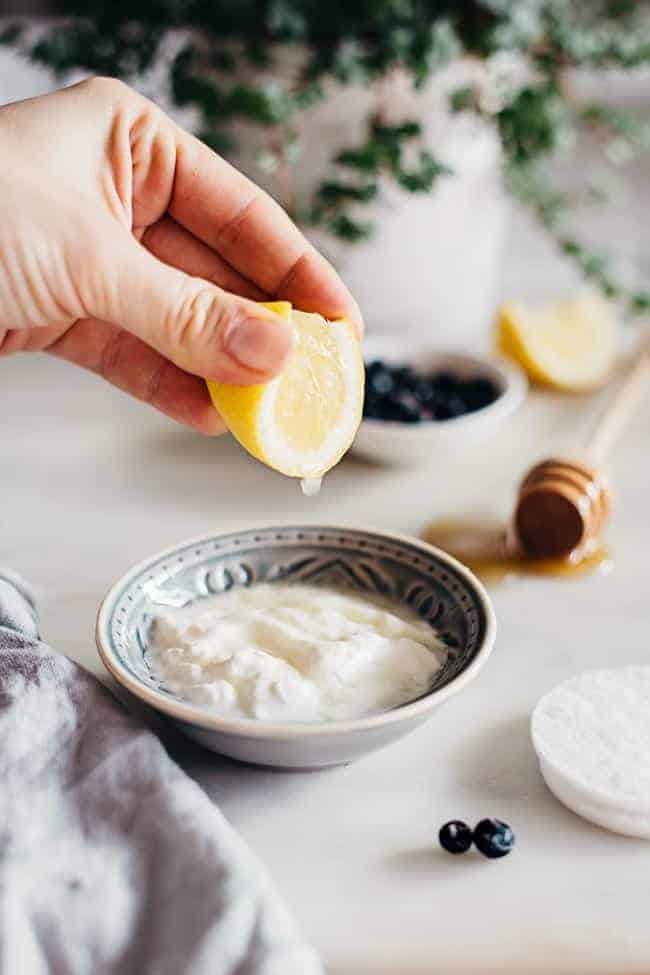 My go-to face mask recipe calls for just two ingredients: Greek yogurt and honey. But, different skin types often require certain additional ingredients. Here are a few things you can add to your mask to target your skin's specific issues.
Optional add-ins:
Dry skin? Mash and add 1/2 of an avocado or 1 tablespoon of facial oil or 1 tablespoon of raw honey.
Oily skin? Add 1/2 teaspoon of organic turmeric powder and 1 teaspoon of green clay.
Acne-prone? Smash 1/2 banana until smooth, and add 1 teaspoon of turmeric or 1 drop of lavender or tea tree essential oil.
Dull skin? Squeeze 1 tablespoon of fresh lemon juice—the citric acid is another one of those AHAs that will also help brighten skin [source].
Aging skin? Blend in a few blueberries for an additional antioxidant boost.
Redness and irritation? Add 1 drop of lavender essential oil and 1 teaspoon of aloe vera gel.
To make your yogurt face mask:
1. Combine 2 tablespoons of plain (unflavored) Greek yogurt and 1 teaspoon of raw honey (use more for extra moisturizing benefits).
2. Add your optional ingredients, like banana, lemon juice, or blueberries, to the yogurt mixture, and stir well.
3. Apply a thin layer of mask evenly over your entire face.
4. Let it sit for 20 minutes before rinsing your face with cool water and applying moisturizer.
Yogurt Face Mask Tips and Tricks
Here's how to make the most out of your Greek yogurt face mask regimen:
How long can I leave yogurt on my face?
We recommend wearing your yogurt mask for anywhere from 20 to 30 minutes. It gives you enough time to let the moisture, AHA, and probiotics sink in, but not so long that it causes irritation.
Can I apply it to my face daily?
When used too often, yogurt may disrupt your skin's microbiome and cause irritation. More isn't always better.
So it's best to use a yogurt face mask only 1–2 times a week and to always keep a close eye on how your skin feels after using it. If you notice any redness or irritation, lay off the mask for a bit, and give your skin a break.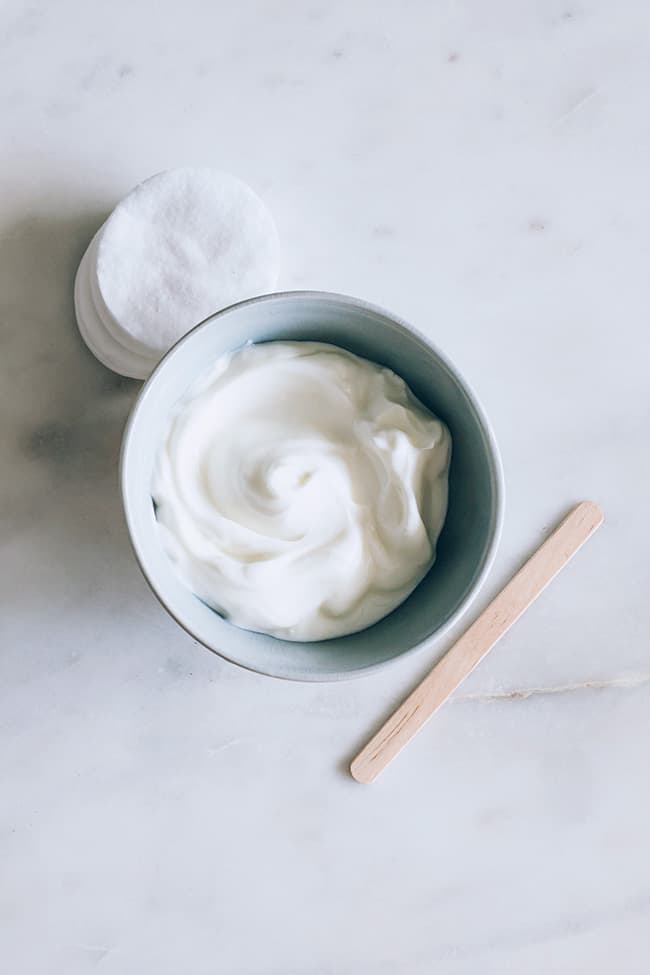 Can yogurt whiten skin or lighten dark spots?
Thanks to the lactic acid in yogurt, applying yogurt directly to skin may help fade dark spots and encourage cell turnover, leaving you with fresh-looking skin.
Which yogurt is best for face masks?
Any plain, sugar-free yogurt will work for face masks—make sure there is no flavoring in the one you use. Organic is best. I prefer Greek yogurt because it's thicker than regular yogurt, meaning it won't melt off quite as easily. It's also lower in sugar than other types of yogurt.
What else can I use in place of yogurt?
You can also use plain kefir or buttermilk since they both contain probiotics and share some of the same benefits as yogurt. I haven't tested either of these myself, so you might need to play around with the recipe to find one that works for you. And always test it on a small area of skin first to make sure you don't have an adverse reaction.
Will yogurt cause me to break out?
Everyone's skin is different, so it might. If you have a dairy allergy, it's best to opt for plant-based yogurt as opposed to traditional cow or goat milk yogurt (the bacteria can also ferment fructose to form lactic acid). And yogurt may sometimes clog pores, making things like acne and irritation worse. If you have acne-prone skin, spot test your yogurt face mask on an inconspicuous patch of skin to make sure you don't have a reaction or breakout.
Looking for more kitchen beauty recipes?
If you've got some time on your hands, here some more beauty recipes you can whip up in minutes:
Kick age spots and discoloration to the curb with these 5 natural AHA face masks.
Soften fine lines and wrinkles with 10 natural moisturizers you can find in the kitchen.
Say yes to self-care and whip up these 5 honey face mask recipes to soothe dry, irritated skin.
No spa? No problem. Here's how to give yourself a facial at home.
This post was medically reviewed by Dr. Jennifer Haley, a board-certified dermatologist with extensive experience in medical, cosmetic, and surgical dermatology. Learn more about Hello Glow's medical reviewers here. As always, this is not personal medical advice, and we recommend that you talk with your doctor.
Photos by Ana Stanciu
802