There are some ingredients that you almost can't go wrong with when attempting DIY skin care. And honey is definitely at the top of the list. This kitchen pantry staple has been used in food and medicine since the Stone Age. Here's why your skin loves honey face masks, too.
Meet the Experts

Marisa Garshick, M.D., a board-certified dermatologist at Medical Dermatology & Cosmetic Surgery (MDCS) in New York

Hadley King, M.D., NYC-based board-certified dermatologist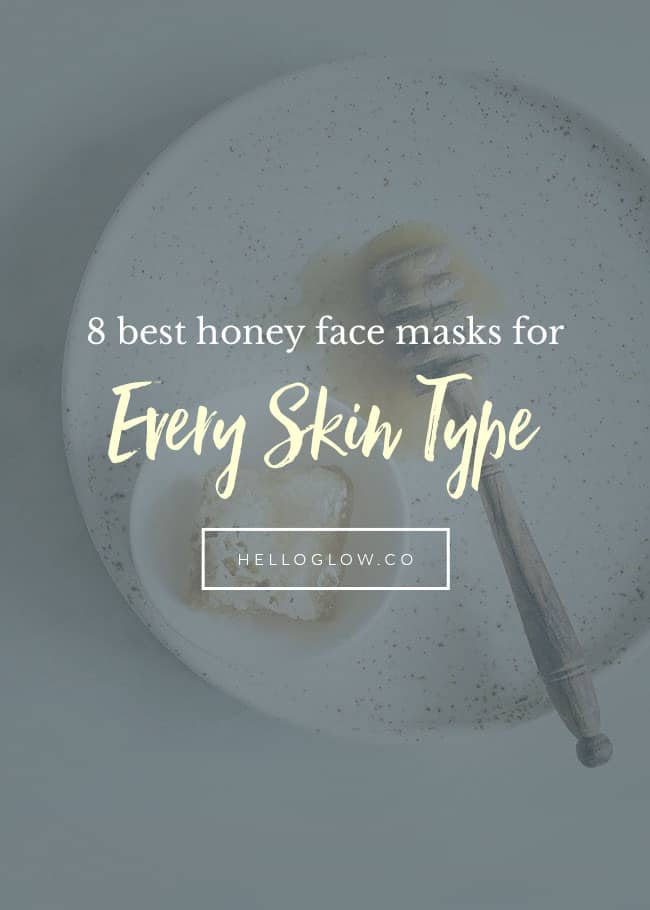 Why Honey?
Honey is naturally antibacterial, so it can help reduce inflammation and the acne-causing bacteria that can lead to breakouts, notes Marisa Garshick, M.D., a board-certified dermatologist at Medical Dermatology & Cosmetic Surgery (MDCS) in New York.
It's also a natural humectant that draws in moisture from the air [source], leaving your skin moist and smooth. And it can help break up excess sebum (oil) that might be clogging up your pores and leading to those pesky pimples.
You'll get the most benefits using raw, organic, unfiltered honey. And if you're willing to splurge, you can't beat manuka honey for its numerous healing properties. Coming from the Manuka tree in New Zealand and Australia, this honey is an antibacterial superfood with tons of immune system and wound care benefits [source].
Keep a jar around and dab the honey on acne, chapped lips, burns, and minor cuts. And if you're feeling sick and especially if you're coughing, it can really help to take a spoonful or two [source].
How to Use Honey on Your Face
We all spend money on skincare products, but sometimes it is okay to skip the fancy serums and splurge on good honey. You can use it to wash your face, make a scrub, or treat your skin to a weekly homemade honey mask. Honey is a great complement to any skincare regimen.
Here are some masks that are perfect to try for an in-home facial. Start with clean skin, and before applying the mask, lay a warm, wet washcloth on your face to open up your pores. After rinsing off the mask, wash your face with cold water, or use a toner to close the pores. Then apply a good face oil.
8 Honey Face Mask Recipes
Here are 8 simple recipes to get you started. Find the one that works for your skin type or the problem you want to address.
1. Honey & baking soda mask for acne-prone skin
Dermatologists love baking soda because it's both anti-inflammatory and antibacterial [source]. Combine it with exfoliating lemon juice and soothing honey, and you have a gentle but effective mask to help control acne.
—1 teaspoon lemon
—1 tablespoon organic raw honey
—1 teaspoon baking soda
Add lemon juice, honey, and baking soda into a small bowl. Mix well and apply over the face and neck. Avoid the area near your eyes (lemon juice and honey will both sting).
Don't turn this into a scrub by rubbing it into your skin. After 15 minutes, remove the mask with warm water, then rinse with cold water.
Due to the photosensitivity of the skin caused by lemon, apply this mask in the evening as explained after the first recipe, and always use a good sunscreen when going out the next day.
2. Honey face mask for oily skin
Clay masks are known for being helpful when it comes to controlling oily skin. But honey can be of assistance in this area, too.
"Honey may help to regulate sebum production, making it an excellent option for those with oily skin," says Dr. Garshick. Honey helps break up excess oil, and highly absorbent clay removes it while gently exfoliating.
Bentonite and Moroccan Red are two of the best clay choices for balancing the skin's natural oils. And they both have antibacterial properties to treat acne-prone skin [source].
—1 teaspoon organic raw honey
—1 teaspoon Bentonite clay or Moroccan red clay powder
—1 teaspoon organic, raw apple cider vinegar
Combine clay, honey, and apple cider vinegar in a small nonreactive bowl (never use metal when working with clay). Stir together and gently apply the mixture to your face and neck. After 15 minutes, remove the mask first with warm water, then rinse with cold water.
3. Honey face mask for inflammation
Green tea and honey are two ingredients that work anti-inflammatory magic on skin redness and inflammation [source]. This soothing combo is gentle enough for sensitive skin (do a patch test if you're worried). Both ingredients are potent antioxidants that fight free radicals and repair damaged skin.
—1 teaspoon matcha powder
—1 tablespoon organic raw honey
—1 teaspoon sweet almond orjojoba oil
Combine matcha powder, honey, and the oil of your choice in a small bowl and mix well. (If you don't have matcha powder, cut open a green tea bag and use the leaves.) Apply this to the face and leave it for 15 minutes before washing off warm water.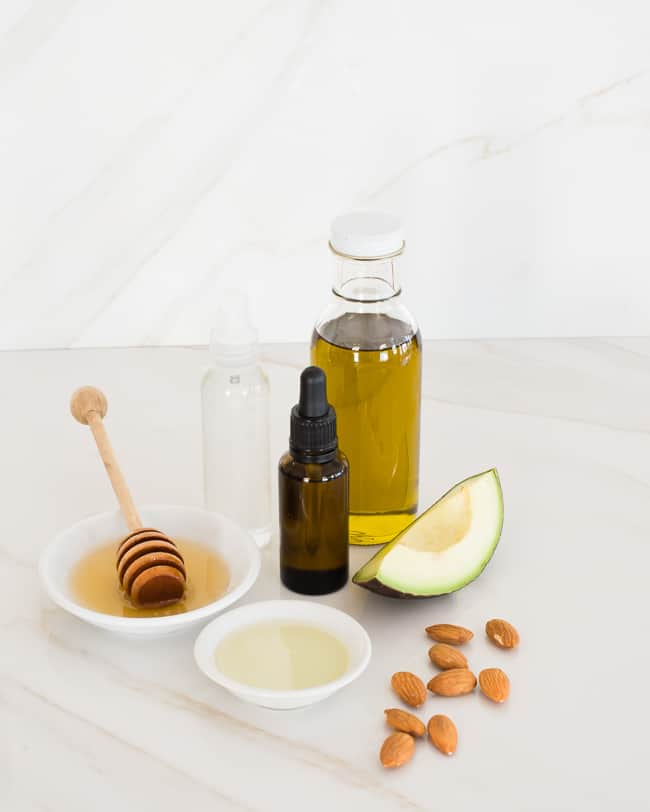 4. Honey face mask for dry skin
Honey and avocado are the perfect combo of hydrating ingredients for dry skin. Ground almonds gently exfoliate, and their good fats leave your skin feeling super soft. If you want to add even more moisturizing benefits, add a tablespoon of oil to the mixture.
—2 tablespoons organic raw honey (or 1 tablespoon honey and 1 tablespoon of an oil like jojoba or sweet almond)
—¼ avocado, mashed
—2 tablespoons almonds, finely ground
Add honey and avocado to a small bowl and mash together. Stir in the ground almonds. Spread the mixture over the face and neck, and after 15–20 minutes, rinse with warm water.
5. Honey mask for discoloration
Honey also serves as a natural exfoliator and helps to boost the skin's natural radiance, notes Dr. Garshick. "The antioxidant properties help to protect the skin against free radical damage, which can help reduce the signs of skin aging," she says.
A honey mask can be combined with turmeric to help with brightening or oils to help nourish the skin. "Topical preparations of turmeric have been shown to significantly decrease inflammation," explains Hadley King, M.D., NYC-based board-certified dermatologist. "The anti-inflammatory properties of topical turmeric may contribute over time to the overall appearance of the skin by decreasing redness, puffiness, and irritation." And yes, it is safe for daily use.
—1 teaspoon lemon juice
—1 tablespoon organic raw honey
—1 tablespoon yogurt
—¼ teaspoon turmeric powder
Mix all ingredients together in a small bowl. Apply a thin layer over your entire face and neck. Rest for 20 minutes and then rinse with warm water.
Repeat the mask weekly, or use the mixture as a daily spot treatment by dabbing it onto areas of discoloration. Results will take 2 to 3 months.
6. Honey mask to fight pollution
Vitamin E is a powerful antioxidant that not only repairs skin, but it also helps fight free radicals that damage the skin [source]. Air pollution and UV damage can cause inflammation and accelerate the skin's aging process. This mask combines honey and vitamin E to protect and repair at the same time.
—1 capsule vitamin E
—1 tablespoon organic raw honey
Combine both ingredients in a small bowl to form a paste. Apply it to your face for 15 minutes before rinsing with warm water and a washcloth.
You may find you need repeated washings to remove the entire mask. Follow up with moisturizer or serum.
7. Honey mask for sensitive skin
Oatmeal is often a go-to ingredient for irritated or sensitive skin. Its soothing properties help with conditions such as eczema or psoriasis. The anti-inflammatory properties of oatmeal [source] combined with the antibacterial components of honey make this mask an excellent choice for acne-prone skin that is easily irritated or sensitive.
—1 tablespoon manuka honey
—2 tablespoons cooked oatmeal
Mix the honey and oatmeal together to form a thick paste, and apply it to your face using your fingertips, giving special emphasis to irritated areas. Leave on for 15–20 minutes before removing it with warm water.
8. Honey mask for aging skin
Eggs contain lutein, which helps hydrate and repair skin tissue. The moisture-retaining properties of honey, combined with egg whites and their firming properties, create a dynamic duo for aging skin.
Adding these to the supportive cellular function that a few drops of frankincense provide, you've got a mask brimming with skin-strengthening properties.
—1 tablespoon organic raw honey
—1 egg white
—2 drops frankincense essential oil
Mix the egg white and honey, add in the frankincense, and apply the mixture to your face and neck. Avoid the eye area.
The aroma of frankincense also creates a relaxing atmosphere, so sit back and let the mask do the work. After 10–15 minutes, remove the mask with warm water and apply serum or moisturizer to your face.
For more DIY honey skincare ideas, try a honey hand balm for hurting hands or a honey massage for cellulite.

This post was medically reviewed by Dr. Jennifer Haley, a board-certified dermatologist with extensive experience in medical, cosmetic, and surgical dermatology. Learn more about Hello Glow's medical reviewers here. As always, this is not personal medical advice, and we recommend that you talk with your doctor.
529